It looks just like in a movie, when a small girl suddenly wakes up as an adult and successful woman. You can't believe in reality of what you see around just like her. With the only difference, that you still remember your 20 last years:) That is exactly, how you feel observing all those fantastic views from the Upper House hotel windows in Gothenburg (Sweden).
You can easily see the famous Liseberg amusement park as well as different city parts including the city center, which is only 10 minutes of relaxed walk away, from here.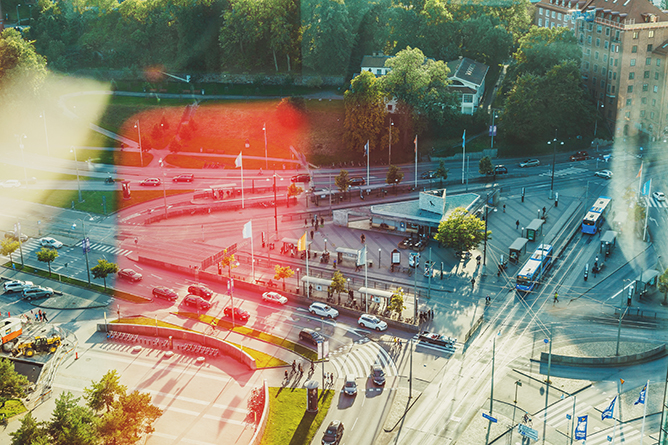 Do you remember, how I once told about that unusual swimming pool with the glass flooring? Well, it was the one from the Upper House! The hotel itself is situated on the 18-25ths floors of the Gothia Towers and the highest is the one. where breakfasts are served, by the way:) 
Here they serve cold appetizers, fruits, muesli, yogurts, pastries as a buffet. And the main course as well as hot drinks you should order. They offer 5 different dishes: porridge, pancakes, eggs, something else, that I don't remember… People in Sweden do normally drink black coffee for breakfast, but we asked for cappucino:) For the first time they failed a little with a foam, but the next day everything was perfect! Though, I personally didn't care at all, cause all that matters there is that outstanding panoramic view of a tiny city somewhere far below.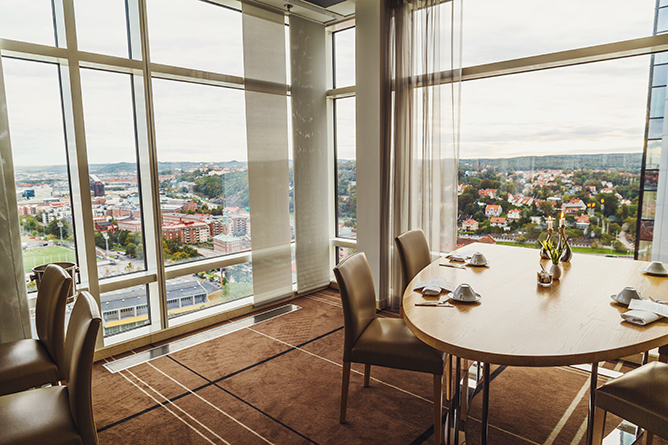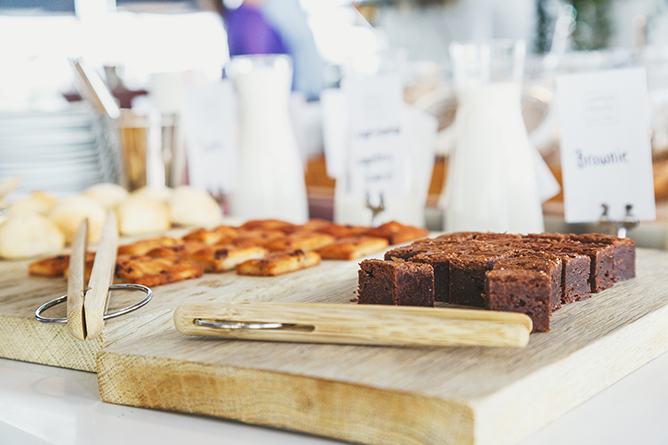 Upper House had only opened in Gothia Towers in year 2013, but is aleady rated as №1 hotel in Gothenburg by TripAdvisor. Though the hotel itself decently calls itself "4,5 stars". According to me, there is absolutely no reason to get rid of those 0,5 points! Everything is done at a very high level here: they offer bathrobe and slippers, fresh newspapers, pillows menu, two TVs (two! Seriously, how often do you use even one?), tea and coffee, good bar and other rich life specialties:) They even clean twice a day: first time in a morning and also prepare the room for night time (which means, making the bed, lay a towel and leave chocos – just like it was in St.Moritz).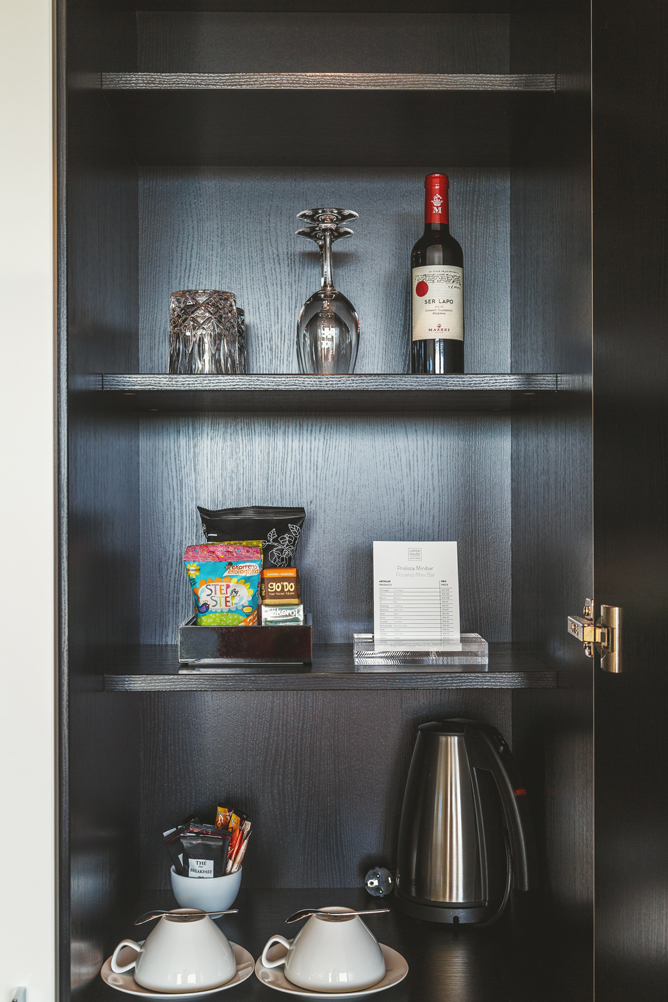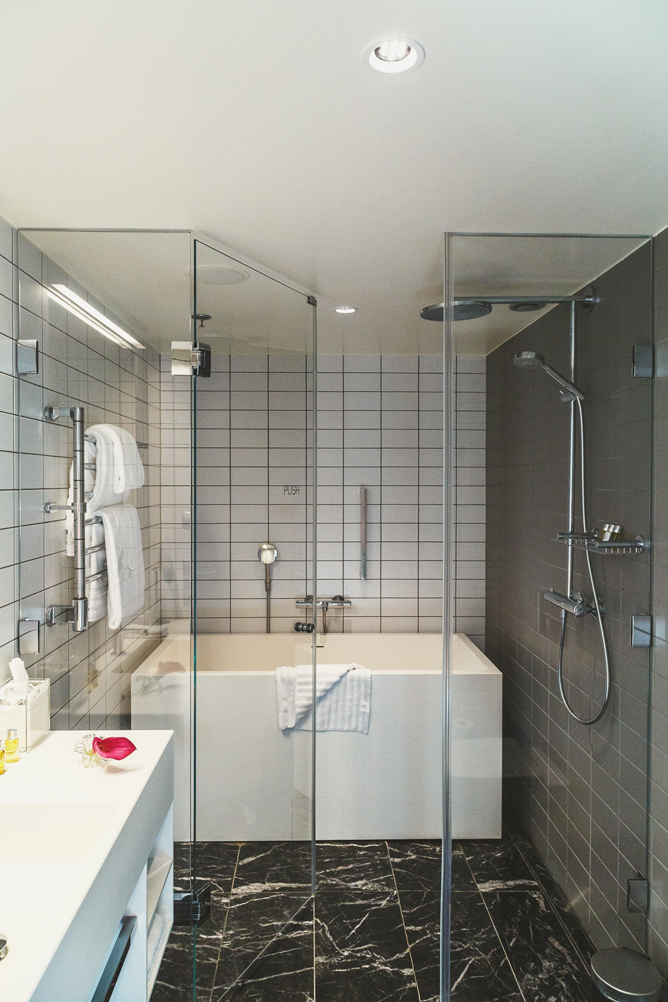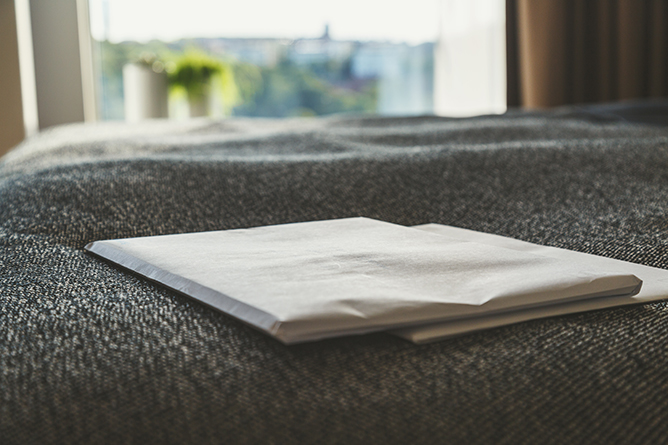 There are three Gothia towers today and they include two hotels, Europe's largest congress hall, severall restaurants and lots more, as far as I can imagine. Unfortunately, I didn't have time to explore everything there, though, according to how futuristic and cool looked the hall, it might have been really interesting!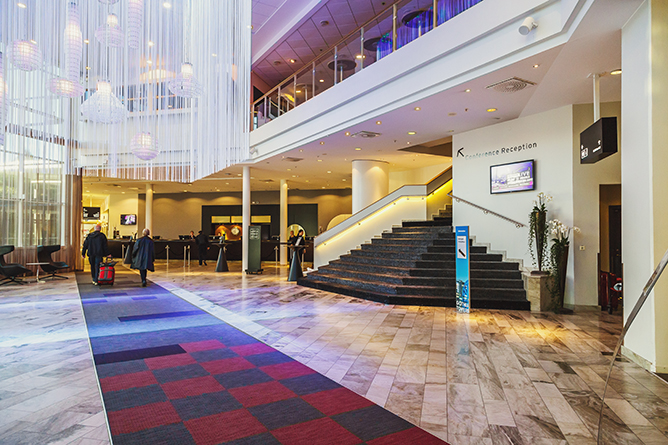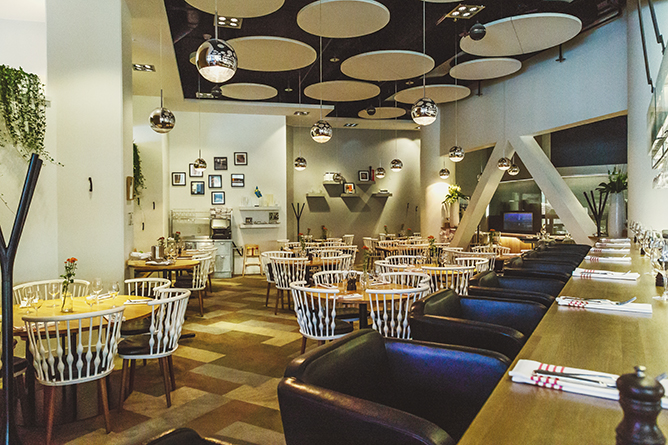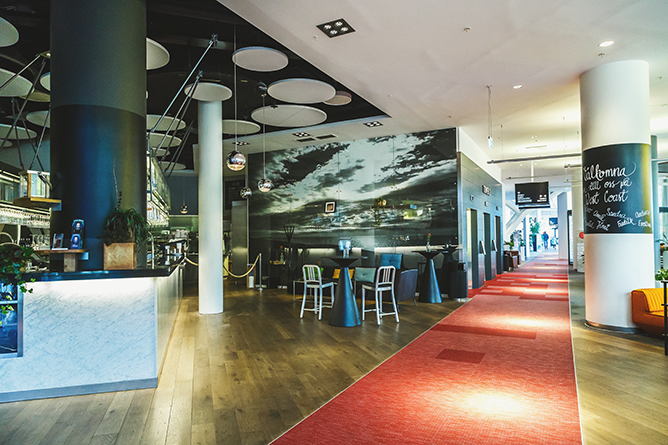 What I especially loved in Gothia Towers and Upper House is how many light and air is there everywhere. Large windows and a pool with a glass flooring is not all! Freankly speaking, it all starts in an elevator already. It is also a glass one and operates outside the tower. Moreover, they also have a completely transparent corridor between two towers as high as the 20th floor! It is definitely worth visiting especially because there is a really cool restaurant made for a fine dining and amazing sunsets. So all the design in hotel is made to make you feel like living somewhere in a sky. Crazy feeling:)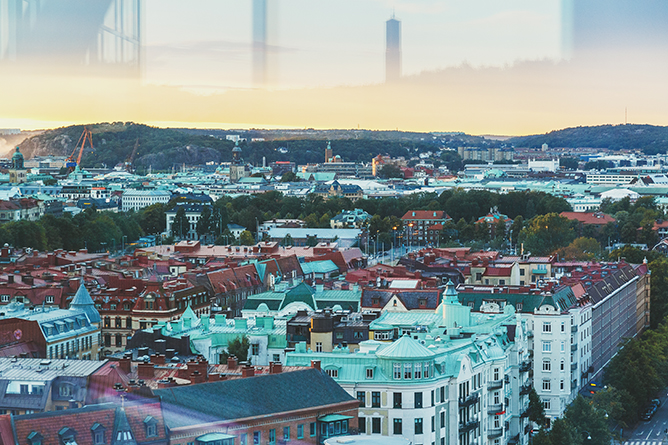 But let's speak a little more about the restaurant as soon as we already started:) In the second Gothia Tower, on the 25th floor, they have that Upper House Dining. Here you can try local seasonal food in its finest appearance. By the way, it's also famous for its giant shrimps' sandwiches – traditional swedish dish.
The menu here is really interesting and unusual. To begin with, they do not even have classical menu. You order a six-course dinner for 1 250 swedish krones (or about 10 500 rubles or 135 euros), a waiter finds out what you love, what do not eat, if you are eager to try something new and then chief invents your personal dinner. 
Everything is served really beautifuly, with long pauses and additional "compliments". Everything looks like they have at least one Michelin star. Sadly, they don't have any, but the place is very young, so, I hope, they will receive it yet!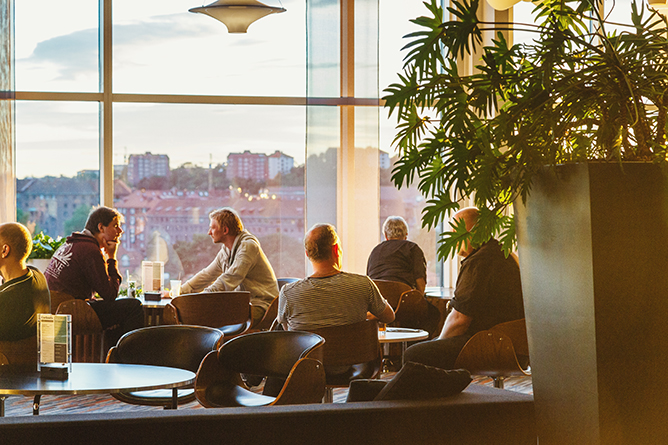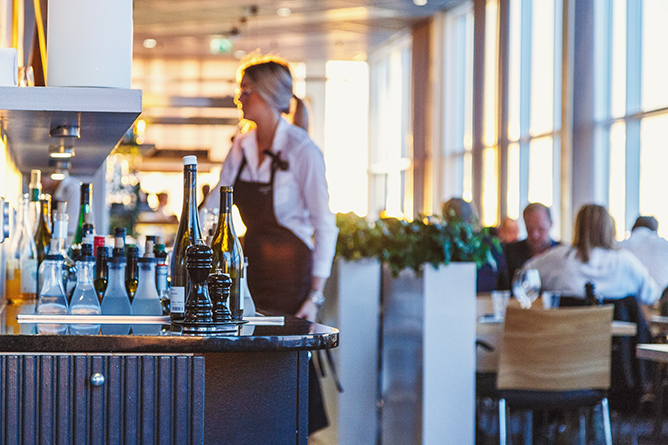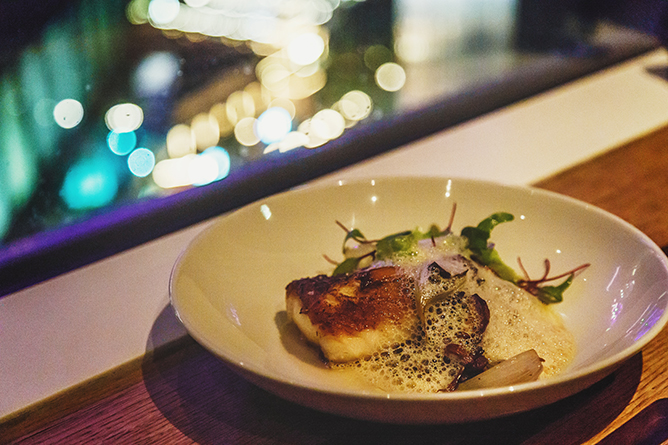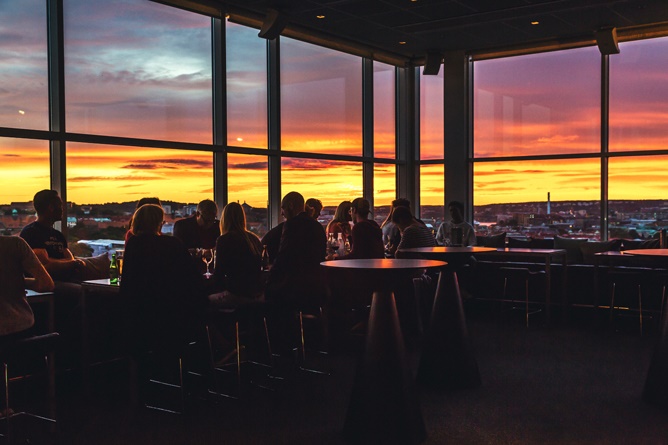 By the way, they don't work on Sundays and Mondays and is only opened after 18:00. 
Upper House Dining also offers New Year dinner. But with our new exchange rate it will cost you crazy 30 000 rubles (or 3 600 krones), but, I swear, if I only had that amount – I would have never hesitated.
And finally, I want to once again show you some SPA photos. Just in case you missed our "8 things you should see and try in Gothenburg". I didn't have a chance to make photos of THAT pool with a glass flooring, but I googled a wonderful blog that shows it just perfectly.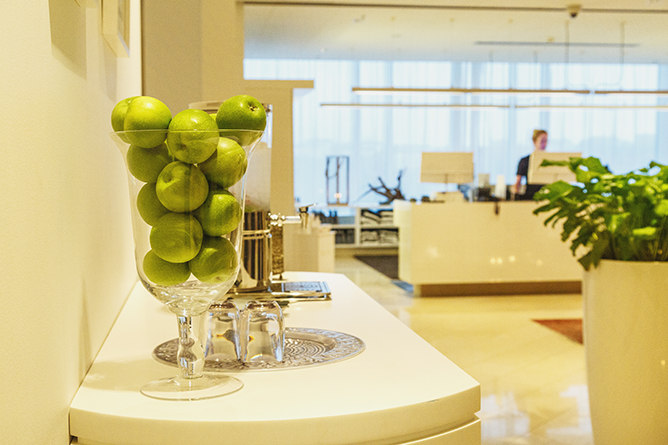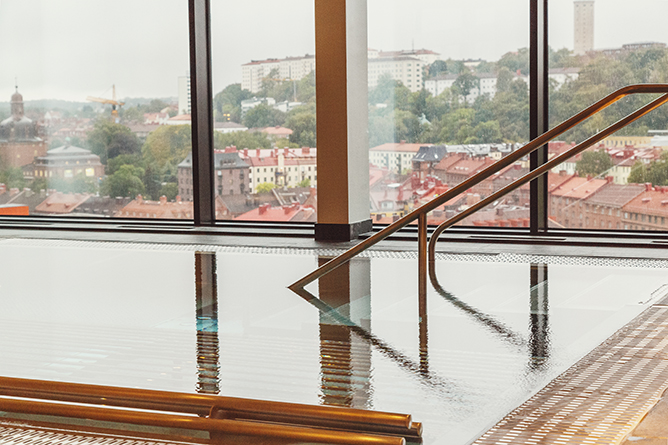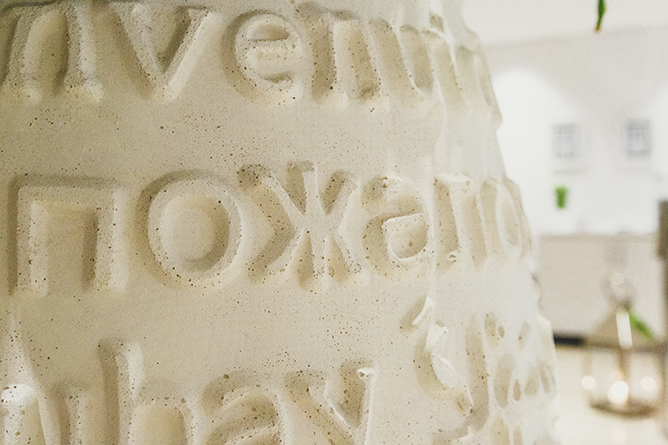 Honestly, I think you quite understand now how much can cost a room number in such hotel. But I will tell it anyway. For example, one night at the end of January costs 256 euros (almost 20 000 rubles). The weekend night of the same period goes for 323 euros (25 000 rubles).
So, did you like this "sky" hotel? Do you want to visit it one day?