GUM is a famous department store located in the very heart of Moscow, Russia. This mall have gone through many historical periods and have seen Imperial Russia, Soviet Union and modern Russia. For more than 100 years it has been serving people from all over the world. When was GUM built? What to do in GUM? What shops can you find there? Why GUM Moscow ice cream is so famous? Let's find out answers to these questions and discover 10 facts about GUM.
Want to know more about Moscow? Planning your visit to the capital city of Russia?
Check more articles about Moscow on our blog.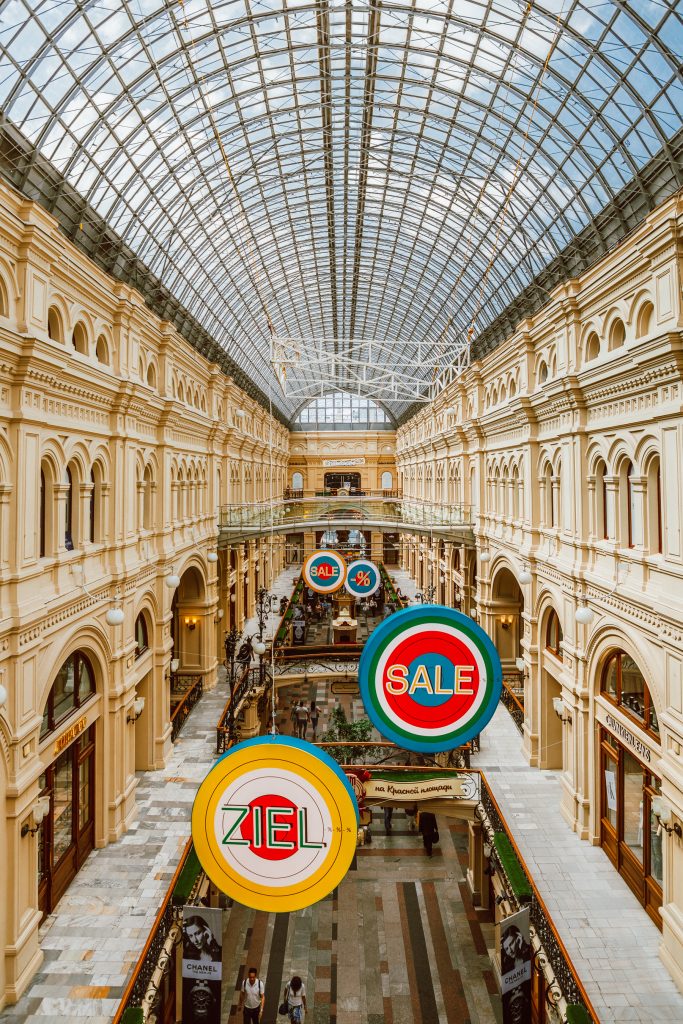 10 INTERESTING FACTS ABOUT GUM MOSCOW
1. GUM is located on Red Square in Moscow
Red Square is the most popular tourist destination in Moscow and in Russia (explore our list of 15 places you need to see on the Red Square). It's hard to imagine a better location for a department store than right opposite the Kremlin. Such an amazing spot for this mall was a problem a couple of times in the past though. In Soviet period, there were talks of replacing GUM with a high-scraper, the Pantheon or other building but luckily they never came true.
2. Pronounced in Russian as Glávnyj Universáľnyj Magazín⁠
As many of you know, Russia uses the Cyrillic alphabet, so actually in Russian GUM is written as ГУМ – Главный Универсальный Магазин. This literally means Main Universal Store. In Soviet union, the same abbreviation was used but it meant State Department Store. In Russian, both words start with the same letter: Glavniy and Gosudarstvenniy. Even now lots of people still call it by its former name.
3. The first building was constructed in the 18th century and was lost during the war with Napoleon⁠
This area (which is called Kitai-Gorod and can be translated as China Town) historically was always a place for trading. Years has passed, city has grown, but people were very much used to coming here for shopping. So in the 18th century, Catherine II hired Italian architect Giacomo Quarenghi to design a huge trade centre on the Red Square. During the war with Napoleon, this first building was lost in 1812 Fire of Moscow. Joseph Bove, who was working on restoring Moscow city centre after this fire, created design of the new trading rows on the same place. But it still wasn't the building we can see now.
4. The current building was opened to the public in 1893⁠
The current GUM Moscow building replaced Bove's structure and was opened to the public in 1893. It was a very modern design: elongated shop galleries were bridged with innovative metal-and-glass vaults, designed by Vladimir Shukhov. Even more than hundred years later, the interior of GUM and its construction look very impressive.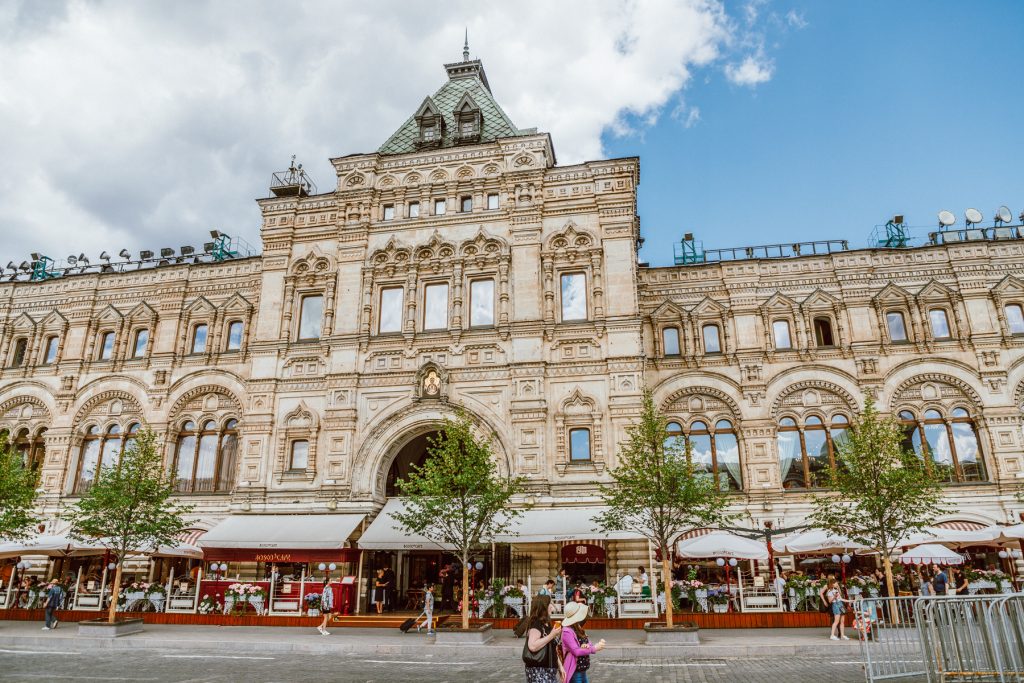 5. GUM Moscow is built in Russian Revival style
Also known as Pseudo-Russian style or Neo-Russian style, Russian Revival style was a very popular trend in architecture in the 19th century. It is an eclectic mix of pre-Petrine Russian architecture and elements of Byzantine style. State Historical Museum located next to GUM was built slightly earlier in the same style, so these two landmarks create an amazing ensemble together.
6. In the 1950s, queues of shoppers were extending entirely across Red Square⁠
Due to shortage of consumer goods in the Soviet Union, GUM was one of few places where people were able to get produce. Stock was extremely limited but locals had no choice, the country was slowly recovering after the World War II. In the 1950s, it was usual to see queues of shoppers extending across the Red Square and spending days to get inside.
7. Over 100 world-famous brands are presented in GUM⁠ Moscow
In post-Soviet era, GUM became a spot for luxury shopping. You can find the most expensive and exclusive brands here including Cartier, Gucci, Luis Vuittton, Burberry, Chanel, Hermes, Bulgari, Prada and others. There is also a soviet-style grocery shop, food court, cafes, restaurants and even a historical toilet.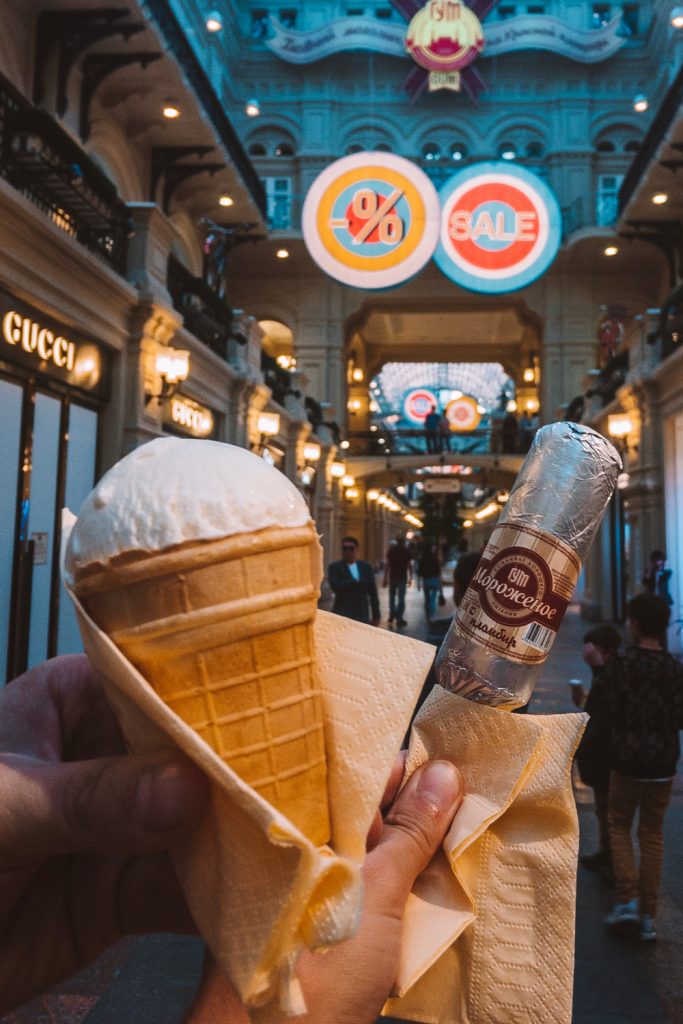 8. Famous ice-cream is sold in GUM⁠
GUM Moscow ice cream is one of the most famous snack/dessert of locals and tourists. This is a traditional Soviet ice cream made from old recipe. There are several options, but the traditional is vanilla ice cream scoop in a scone. It may sound simple but you can only judge after trying it because it's DELICIOUS. It's sold from a small stall on the ground floor. It's also reasonably cheap.
9. GUM fountain is a well-known meeting place⁠
GUM is a beautiful building with amazing interior design and one of the most beloved spots inside is the fountain plaza. The fountain is amazing and people love taking pictures with it. There is also a couple of stalls located around where you can buy Soviet-style soft drinks (GUM really tries to preserve the Soviet heritage). Great views to GUM fountain also open from upper levels and from the food court. The fountain is a well-known meeting place for locals and tourists as it can be seen from almost everywhere inside the department store.
10. GUM has a rival historic department store called TsUM
There is a similar historic department store TsUM that rivals GUM in size, elegance, and opulent architecture. TsUM is located near the Bolshoi Theatre (around 5 minutes walk from GUM). TsUM is the largest fashion department store in Eastern Europe with seven levels. Even though TsUM is located in old building (1908), its interiors were refurbished multiple times, so it has feeling of a modern mall. Like GUM, TsUM sells luxury goods, but there are corners not a separate boutiques inside.
---
Did you know any of these facts? Want more articles like this? Reach out to us on Instagram and tell us what you are interested in.
More information about GUM can be found on its official website. Available in English, Russian and Chinese.
Love visual content? We have lots of videos about Moscow, Russia as well as other travel videos
on our YouTube channel.