Blogging doesn't have to involve a lot of gear. It's 2020 outside, so almost everything can be done with just a mobile phone or tablet. Writing, photography, video, editing, promoting – your smartphone can do it all. Here are our tips for creating content on a mobile device and how to blog without laptop.
You know like in movies they show writers, journalists and bloggers working on the go, in a cafe or at the park? And you always wanted to do the same but thought it's impossible? Of course, there are so many things involved in blogging and lots of people think that you need a powerful computer to work on your website or blog. Good news is – in 2020 you can do everything on your phone or tablet! There are tools available for us bloggers to make our lives easier and also our bags or backpacks lighter.
In this blog post, we want to share some of our tips on how you can create high-quality content for your blog or website without laptop. We tried all of these tips ourselves and found out that it's possible and even more fun to go computer-free. These tips will be helpful for both people who want to start their blog investigating on what gear they might need for this and also for experienced bloggers who want to optimise their workflow, save some money and also free up space in their carry on bags.
DISCLAIMER: this post contains affiliate links, so we may get commission if you purchase products using these links. It doesn't affect the price you pay and we only recommend services and products we know and use.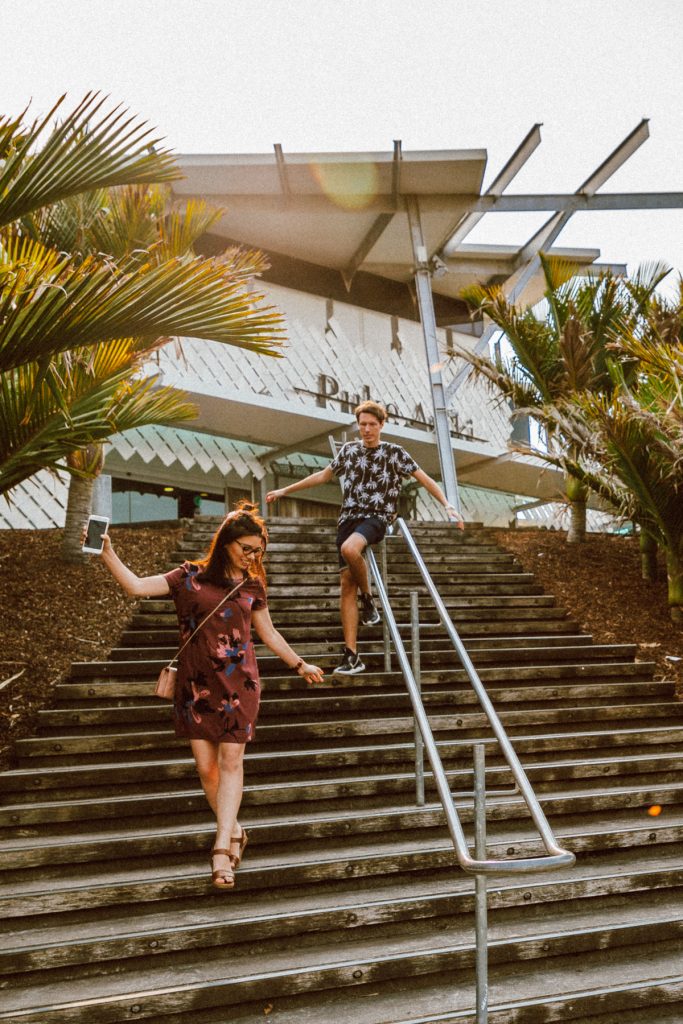 DO YOU NEED A LAPTOP TO START A BLOG?
First of all, let's find out, do you need a laptop to start a blog. In our opinion, no, there is no need for that anymore. Recently we were going through the process of registering a new website for our side project, so this information is very fresh. With all the modern tools provided by hosting companies, you can do everything in the browser of your mobile phone or tablet with no need to use any other software for coding or anything like that.
So very briefly the process of setting up a self-hosted blog looks like this. You open up your mobile browser. Search for a hosting provider (we use Fozzy as their service is amazing). Choose your domain name, hosting options, CMS (this is the platform your blog is built on, Wordpress in most cases) and pay for it. Then you'll get all the instructions on to your email. You'll have a link to your new blog's admin page, log into it and you're ready to rock n roll.
Of course, you might want to change your blog's theme and appearance, create new categories, pages and install plugins to make your work easier and more effective. You don't need a laptop for that either. Everything from this list can be done in your phone or laptop browser or via the dedicated app (Wordpress has one but we don't use it). Maybe and only maybe there is a small chance that some very deep tweaking of your theme or plugins may require an extra piece of software, but it wasn't the case for any of our projects in years. Oh, and you can also set up a new email address with your blog's domain name in it and add to your Mail app or use web version.
Now you're ready to write your blog posts!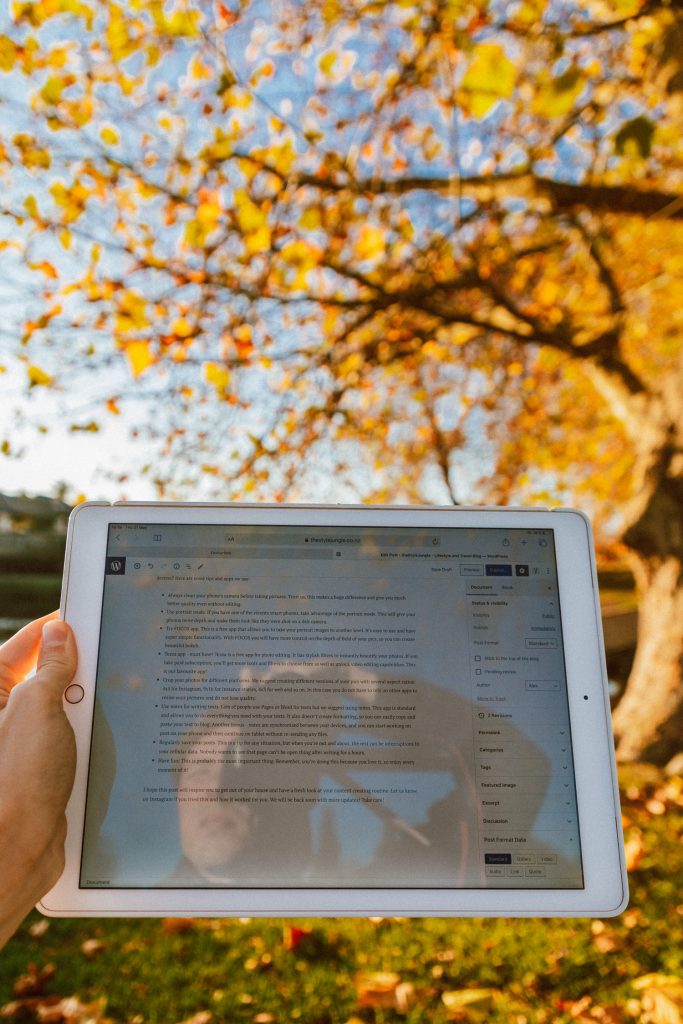 CAN I DO BLOGGING FROM MOBILE?
Now when we know that you don't need a laptop to start your blog, let's find out how to blog without laptop. From our experience, all blogging tasks can be done on your mobile device if you use right tools. It doesn't matter if you want to use a mobile phone or a laptop. In some cases, we prefer using our iPad as it has bigger screen and it's easier to type text and edit photos on it, but it's just a matter of taste. With phone screens being so large nowadays, you can edit a pic with no problems.
Even though you don't need any additional software to write texts on your mobile device, there are still things to make it easier, more comfortable and safe. It's important to remember, that blogging requires internet connection and the faster it is the better. But there still can be interruptions to your cellular data or Wi-Fi connection. And if you are in the middle of writing a post in your browser and hitting that save button when there is no connection… You are risking to lose all your work. There are 2 ways of dealing with this: saving your post every couple of minutes or writing it in a text editor and then copy to your CMS. We also have an extra tip on how you can arrange your writing workflow with free apps coming with your phone. Make sure to check the list of tips at the bottom of this post.
One of our favourite parts of blogging from mobile is that you create all content on ONE device. You can take pictures with your phone's camera, edit them, upload to your blog, add your text and hit publish. No more transferring via email, Dropbox or AirDrop. But if you want to use your DSLR for taking pictures or making videos, that will work too. Most manufacturers have their own apps to help you organise and transfer files from camera to mobile devices. For example, Canon app does allow you to transfer both JPEG and RAW files right to your phone's camera roll. And from there you can use another app for editing, let's say Adobe Lightroom, Tezza, VSCO or any other you prefer. Same thing with video. There are even apps that offer you the same tools as your desktop Final Cut (but they are quite expensive). But there are plenty other apps like Inshot or Videoleap for creating beautiful edits worth posting on blog and social media.
Mobile Lightroom presets are a huge help when editing pictures on the go. You can get a professional edit in just seconds. We are currently working on our own Lightroom Presets that will be available very soon. If you want to be notified when they are available for purchase and get a discount, subscribe to our newsletter. We send our updates once a month with lots of interesting stuff included in every email!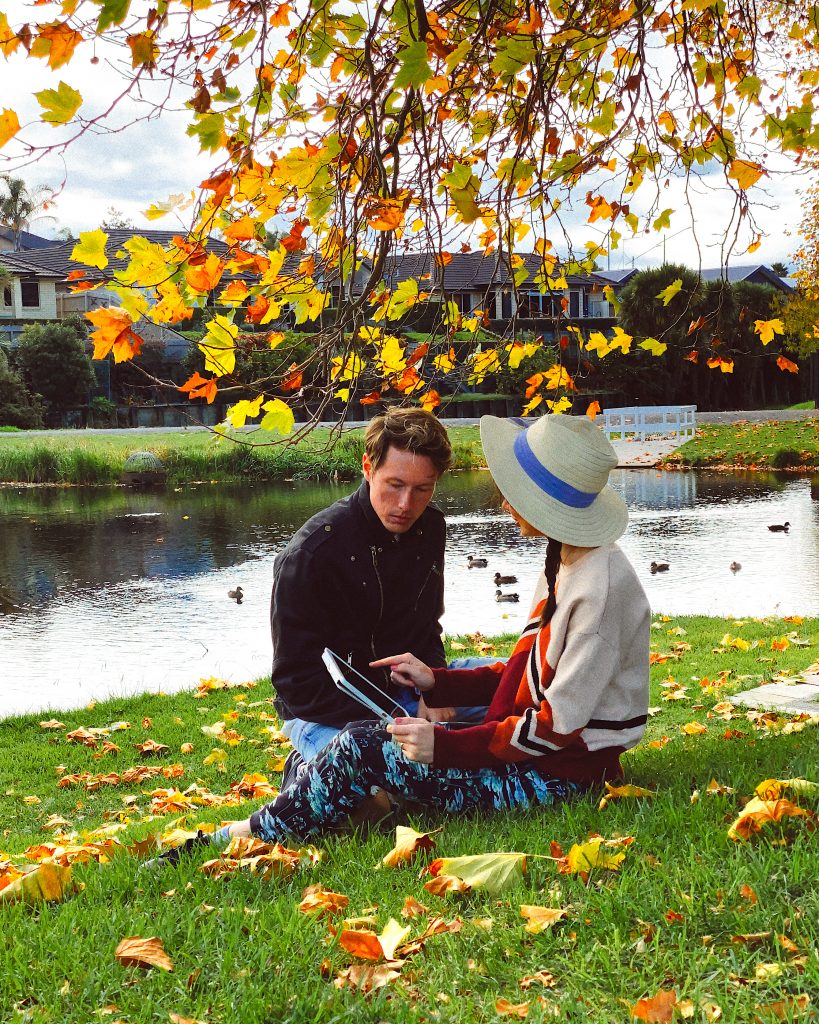 HOW DO YOU PROMOTE YOUR BLOG?
Now when our content is ready, we can (and must) promote it to reach wider audience. There are so many ways to promote a blog post which is probably worth a separate article. But let's focus on a couple of things you can do on your mobile to get more views.
As we are using only mobile devices, it is much easier to promote blog on social media. Instagram app, for example, has way more tools than a website version. Share an update on stories with a swipe up link. Film a short sequence and tell people how excited you are about this new piece of content. Add a couple more swipe ups and tell your followers to visit the link. Clear call to action will definitely give better result than just a screenshot or a pic with no guidance.
Doesn't matter if you have a business page on Facebook or not, make sure to share a link on your personal feed as well. Send a link via Messenger to your close friends. The more traffic you can generate, the better. You need to build your audience, so friends and family is a very good foundation for that.
If you are an experienced blogger, you have your email list and newsletter subscribers. Mailchimp is the most popular service and it has a mobile app that allows you to create new emails, campaigns, work on your list, analyse the performance and do many other things on the go.
Lots of other platforms and tools have their own apps or available in browser to help you promoting your content. We are talking about Pinterest (and Tailwind that helps you massively with it), LinkedIn, YouTube, Telegram etc. No matter what you want to use, it can be done completely laptop-free just on your mobile phone or tablet.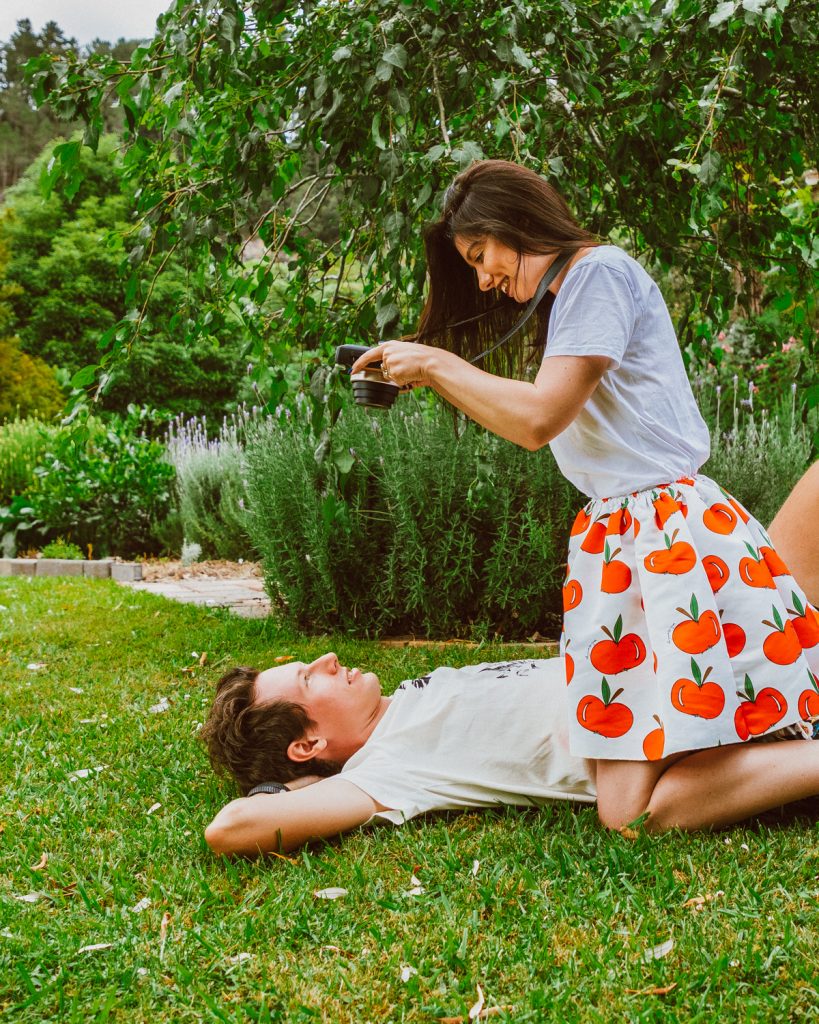 10 TIPS FOR CREATING CONTENT ON A MOBILE DEVICE (AND HOW TO BLOG WITHOUT LAPTOP)
Use notes for writing your blog posts. This is the standard app, it doesn't take any extra storage space on your phone, it's free and it's offline, so you don't risk losing your text in case there is no Internet connection.
Always clean your phone's camera before taking pictures. Trust us, this makes a huge difference and gives you much better quality even without editing.
Use portrait mode when taking pictures. If you have one of the recents smartphones, take advantage of the portrait mode. This will give your photos more depth and make them look like they were shot on a DSLR camera.
Try FOCOS app. This is a free app that allows you to take your portrait images to another level. It's easy to use and it has super simple functionality. With FOCOS you will have more control on the depth of field of your pics, so you can create beautiful bokeh.
Tezza app – must have! Tezza is a free app for photo editing. It has stylish filters to instantly beautify your photos. If you buy paid subscription, you'll get more tools and filters to choose from as well as unlock video editing capabilities. This is our favourite app!
Crop your photos for different platforms. We suggest creating different versions of your pics with several aspect ratios: 4×5 for Instagram, 9×16 for Insta stories, 3×2 for web and so on. In this case, you do not have to rely on other apps to resize your pictures and do not lose quality.
You can set up synchronisation between your devices, so all your notes, pictures, emails, calendars and so on will be available everywhere. This will allow you to start your work on a phone and then move to a tablet and back if needed.
Make sure to create backups of your mobile device. It happens that phones are being lost or stolen and it's not that difficult to break your device. Nobody wants to lose their content, so do backups regularly!
Get a charging case or a power bank. You will definitely need it as you will be using your device more often and on high brightness. As your mobile phone is also a PHONE, you might need it to connect with people, so having it charged is a good idea.
Have fun! This is probably the most important thing. Remember, you're doing this because you love it, so enjoy every moment of it!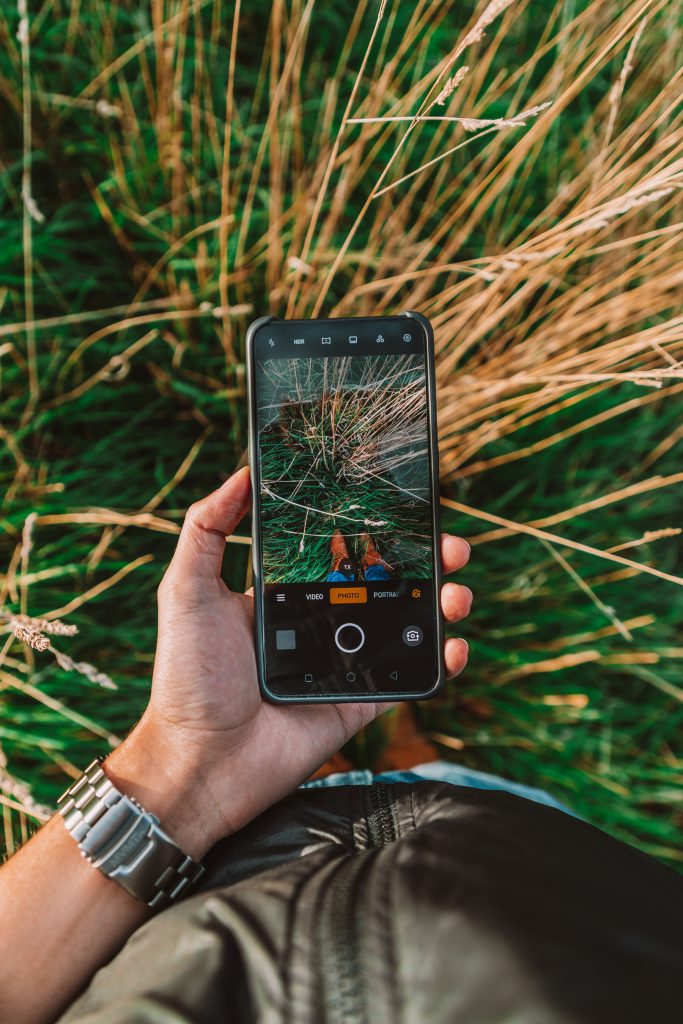 ---
Just to showcase what is possible in terms of all-round content creation on a mobile device. Check out our post Autumn in Tauranga. All the photos were shot and edited on the iPhone and the text was written on an iPad while admiring beautiful Autumn views in our local park. As you can see, it looks great and this approach made our workflow much easier as we don't have to carry our huge DSLR camera or heavy laptop with us. Now we can create our new blog posts anywhere anytime. So can you!
If you have any questions on how you can start your blog or if you need other blogging tips, feel free to send us a message on Facebook or Instagram. We are always happy to chat! And this will help us to understand what posts we can create in future to help other bloggers on their journeys.