Red Square is definitely the most popular tourist destination in Moscow. More than 20 million people visit it every year. Red Square is a big landmark with lots interesting places on and around it. To make the most out of your next visit, here is a list of 15 things to see at Moscow's Red Square and nearby.
Almost every person on Earth have seen images of the Red Square (yes, maybe even with tanks on it), but there is still lots of confusion when it comes to planning your visit. People usually ask 'What is there to do in Red Square?' or 'What time does the Red Square open?' or even 'Do you need to book in advance to visit Red Square?'. Let's answer these questions and learn what you can see at Moscow's Red Square and nearby.
Red Square Tourist Info
Red Square is the main square of Moscow, so it's always full of people. Despite popular belief, there is no entry fee or tickets to Red Square. It's open to public 24 hours 7 days a week. The access can be limited due to celebrations and events though, especially in late April – early May when military parade and rehearsals take place.
How to get to Red Square? The easiest way is by using Moscow Metro. On the map, you can find the red star symbol showing the location of Kremlin and Red Square. Closest stations are Okhotny Ryad, Teatralnaya and Ploshchad Revolyutsii. You can also do a short walk from Aleksandrovsky Sad, Kitay-Gorod or Lubyanka.
What are the places to see at Red Square and nearby? There are numerous landmarks located next to Red Square including Kremlin, Bolshoi Theatre, Zaryadye Park, GUM and others. Let's take a closer look at 15 things to see at Moscow's Red Square and nearby.
15 things to see at Moscow's Red Square
Kremlin⁠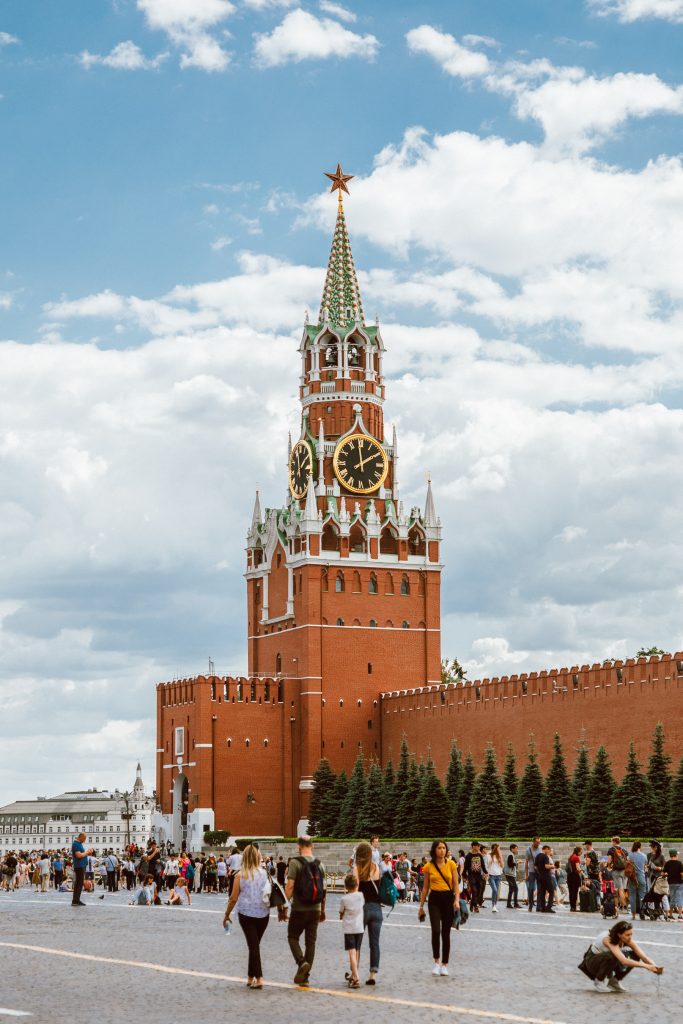 ADMISSION: from ₽1,000RUB | $25NZD | $16USD | €15EUR
The Moscow Kremlin and Red Square can't be imagined without one another. This is definitely the most well-known site of Russia and Moscow in particular.
Kremlin is a medieval fortified complex built in 1482–1495. Former residence of tsars and later – of Soviet government, now is the residence of the President of the Russian Federation and also a museum complex. Since 1990, the Moscow Kremlin and Red Square are listed as UNESCO World Heritage Site.
There are 19 towers surrounding the Kremlin, with Spasskaya being the most famous. This is the clock tower where you can see and hear the Kremlin Chimes. On the 9th of May, during the military parade on Red Square, the Minister of Defence drives through the gate of Spasskaya tower to start the ceremony. In Soviet period, large red stars were placed on 5 Kremlin towers. There is the 20th tower called Kutafya which is not the part of Kremlin walls and now serves as the gate for visitors.
To entry the Kremlin, you have to book a tour. There are different options including the guided tour around the Kremlin territory (available in English) and tickets to museums and exhibitions. You can visit official website and book your tour online or pop by at a ticket office in Alexander Garden and try your luck there. As there are only a few tours available every day, we definitely recommend purchasing your ticket online. Red Square is free for tourists to visit, no tickets required.
If you like pictures in this post, make sure to have a look at 15 photos that will make you want to visit Moscow.
St Basil's Cathedral⁠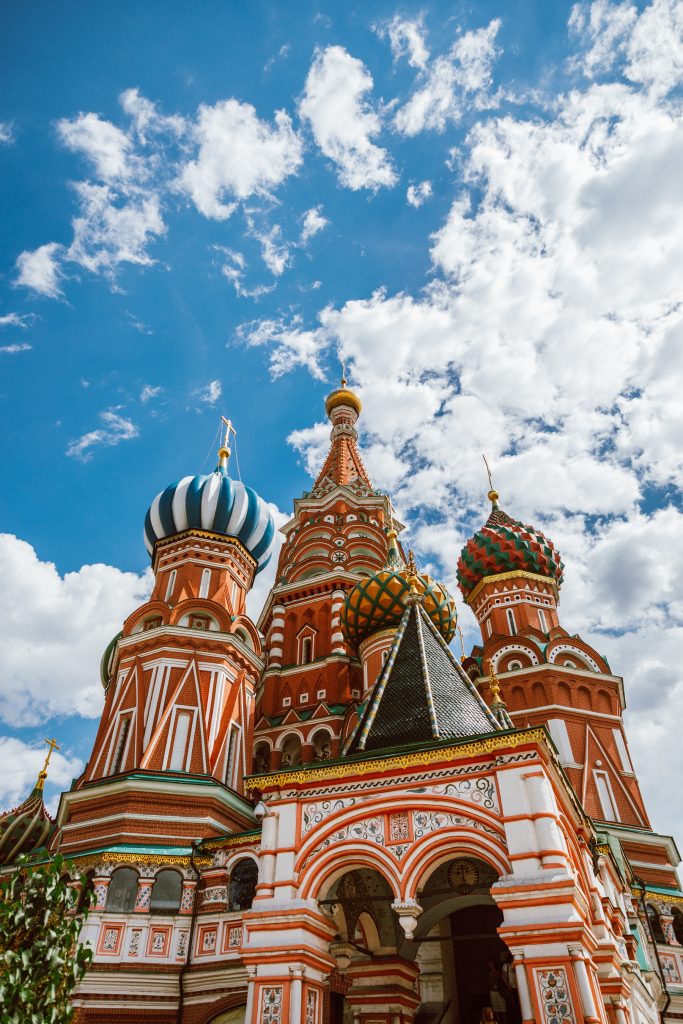 ADMISSION: from ₽700RUB | $17NZD | $11USD | €10EUR
St Basil's Cathedral is the most well-known attraction on Red Square alongside Kremlin. Visitors often confuse St Basil's Cathedral with the Kremlin itself.
St Basil's Cathedral was built between 1555 and 1561 by order of Ivan the Terrible. This beautiful building was Moscow's tallest at the time. There is a myth that after the construction, the architect was blinded so he couldn't recreate it anywhere else. Although it's not proven by any historical records, you can probably understand where this legend comes from when looking at this masterpiece of a cathedral.
In 1923, St Basil's Cathedral became a museum. During Soviet Era, there were numerous plans as a part of rebuilding of Moscow to destroy this church and put a high-rise on its place but fortunately, that never happened. Nowadays, there is still a museum inside, but also regular Christian services are taking place.
You can purchase your St Basil's Cathedral tickets online or through the ticket office located near the cathedral (on the left hand side from the entrance). We are not aware of any limitations in tickets availability, and there is usually no queue at the ticket office. Audioguide is available in Russian, English, Chinese, French and Spanish.
GUM department store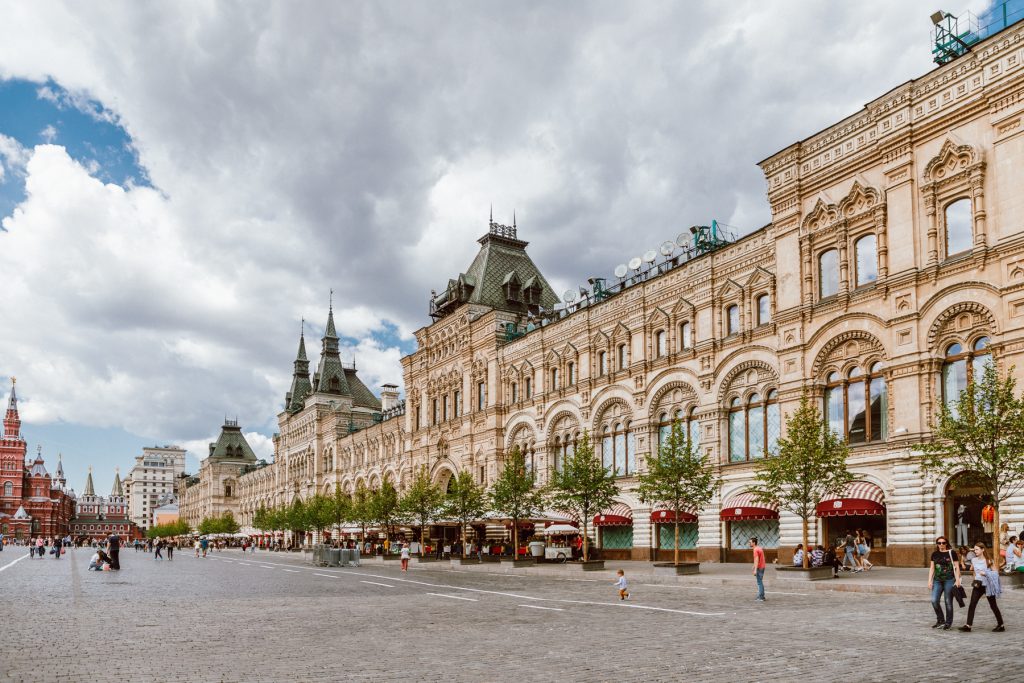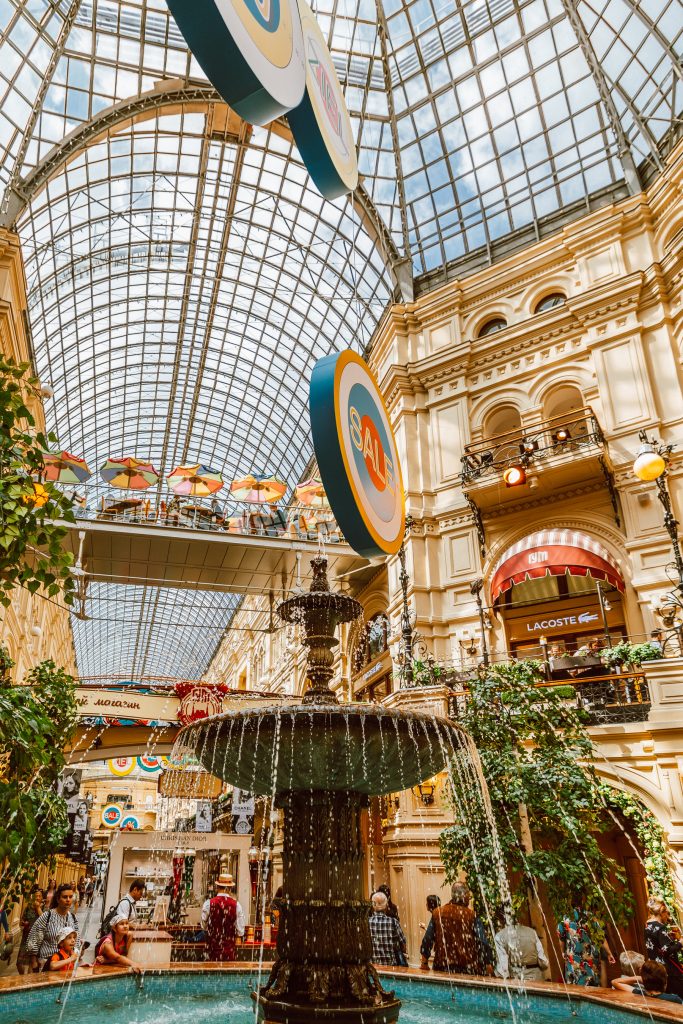 ADMISSION: free entry
GUM is a department store located on the Red Square right opposite Kremlin and Lenin's Mausoleum. GUM is known as State Department Store (as it was in Soviet Era) but it literally translates from Russian as Main Universal Store. It was built in 1893 in Neo-Russian style of architecture and more than century later it's one of the most beautiful buildings in Moscow.
Nowadays, GUM is serving as a luxury shopping mall with lots of different boutiques inside. You can find multiple high-end fashion brands there including Burberry, Chanel, Cartier, Etro, Bvlgari, Agent Provocateur, Lacoste, Paul Smith and many others. If you're not into shopping, there is much more to see inside GUM.
Famous GUM fountain is a popular place to meet friends for Moscow locals and a wonderful place for touristic pictures. Lots of cafes and restaurants offer cuisine from around the world literally for any budget. You can also try famous Soviet ice-cream there which is served from a small kiosk by ladies dressed in Soviet-era uniform. And that ice-cream is DELICIOUS! Another interesting and unusual place to visit in GUM is a historical bathroom (there is an entry fee). There is also a soviet-style supermarket and a movie theatre located inside GUM. So plenty to do! For more information visit GUM website (in English).
Lenin's mausoleum⁠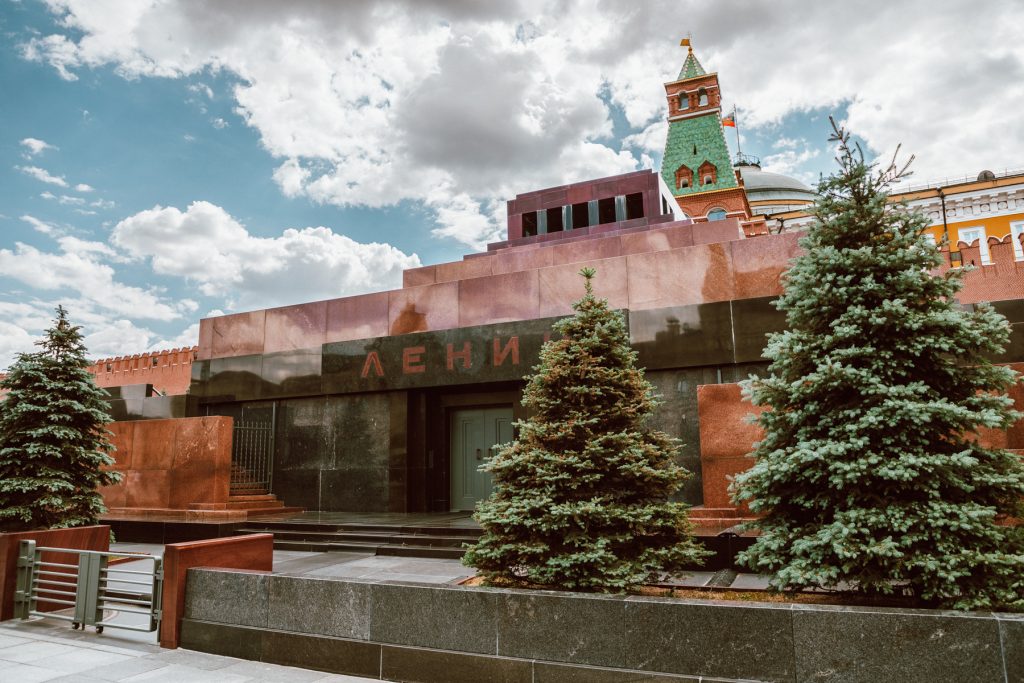 ADMISSION: free entry. Open on Tuesday, Wednesday, Thursday and Saturday 10am – 1pm.
Located right at Moscow's Red Square, Lenin's Mausoleum is difficult to miss in a cityscape. This monumental granite structure is the resting place of Soviet leader Vladimir Lenin. His preserved body has been on public display there since shortly after his death in 1924. This mausoleum was also used by Soviet leaders as a viewing stand for military parades on the Red Square. Lenin's body was to have been transferred to the Pantheon upon its completion but the project was cancelled. At some point, the body of Stalin was located at the same Mausoleum but later it was moved to the Kremlin Wall Necropolis (read about it below).
Although lots of people take pictures from the outside, you can actually visit the Mausoleum and see Lenin's embalmed body. There is false information on the Web that you need to buy a ticket to get to the mausoleum. Don't do this, it's a scam. The entry is free, you need to line up in a queue from the Red Square. Lenin's Mausoleum is open on Tuesday, Wednesday, Thursday and Saturday from 10am until 1pm (as on March 2020). As far as we know, photos and videos are not allowed inside.
Kremlin Wall Necropolis⁠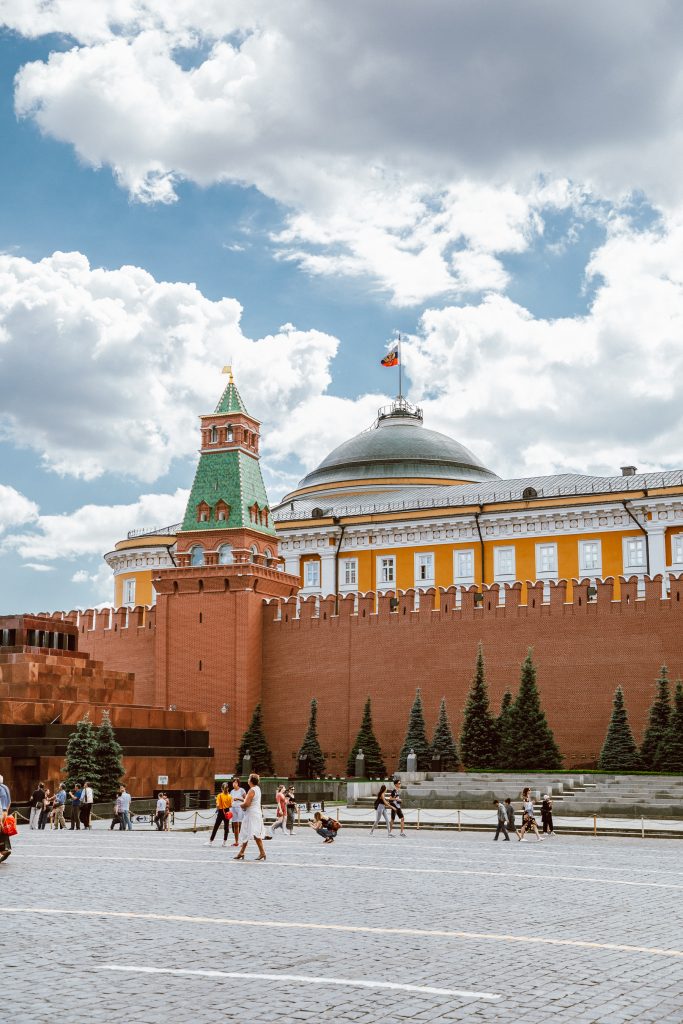 ADMISSION: free entry. Open on Tuesday, Wednesday, Thursday and Saturday 10am – 1pm.
Probably the least known place at Moscow's Red Square, Kremlin Wall Necropolis can be visited as a part of Lenin's Mausoleum tour. This memorial contains graves of Soviet leaders including Stalin, Brezhnev, Andropov and Chernenko as well as many other famous people. For example, this is the resting place for the first man in space Yury Gagarin, Soyuz 11 spaceship crew, writer Maxim Gorky, marshals Rokossovsky and Zhukov.
Kremlin Wall Necropolis is located near Lenin's Mausoleum between Nikolskaya and Spasskaya Towers. The entry is free and the Necropolis can be visited only at the same time as Lenin's Mausoleum: Tuesday, Wednesday, Thursday and Saturday 10am – 1pm. Photos and videos are not allowed there.
State Historical Museum⁠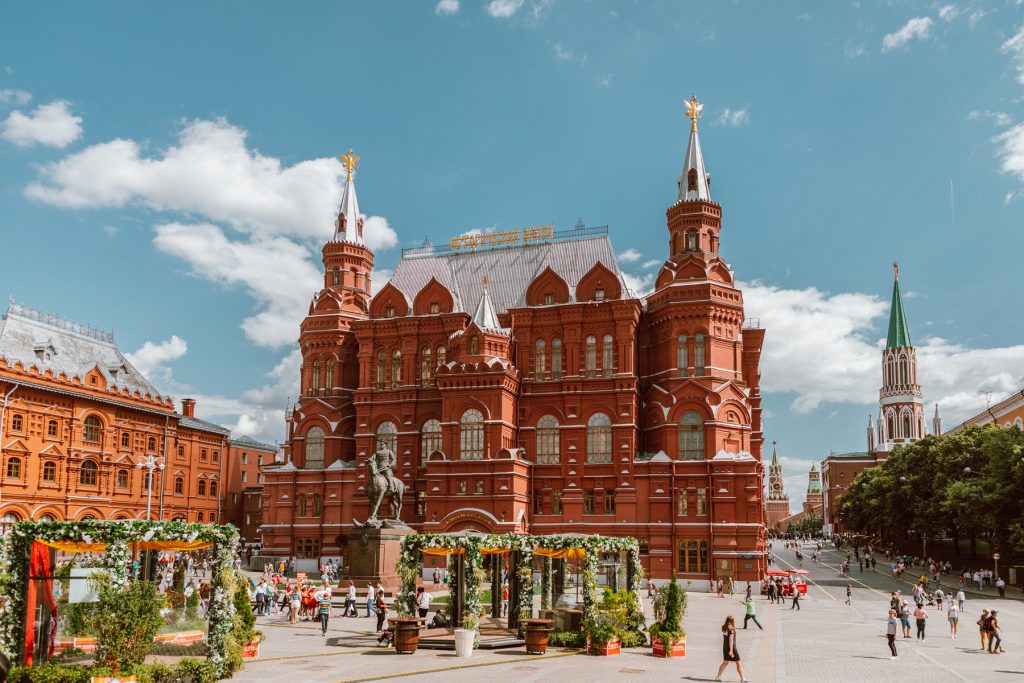 ADMISSION: from ₽500RUB | $12NZD | $7USD | €7EUR
With one facade facing Red Square and another facing Manezhnaya Square, the State Historical Museum is hard to miss. Founded in 1872, it received its beautiful neo-Russian style building in 1875—1883. This museum specialises in Russian history and has a collection of items from relics of prehistoric tribes, through priceless artworks acquired by members of the Romanov dynasty. State History Museum is the largest national Museum in Russia with full collection around 5 million items (only about 0,5% of this number is available to public).
Interiors of this fairytale-like building were decorated in the Russian Revival style by famous painters Viktor Vasnetsov and Ivan Aivazovsky. The exposition starts in a majestic Ceremonial Entrance Hall with "The Genealogical Tree of Russian Rulers" painted on the vaults. Other impressive items include a longboat excavated from the banks of the Volga River, gold artefacts of the Scythians, birch-bark scrolls of Novgorod, manuscripts going back to the sixth century, Russian folk ceramics, and wooden objects. Depending on what expositions you are interested in, plan at least a couple of hours for your visit.
The State Historical Museum is open every day in Summer with a couple of day offs (11 June, 2 July, 6 August). In Autumn-Spring season, Tuesday is a day off. You can find working hours and more information on their website. Tickets start from 500 rubles or 900 rubles with audioguide (available in English, Chinese, French, Spanish and Russian). We recommend booking online to avoid long waiting times.
Monument to Minin and Pozharsky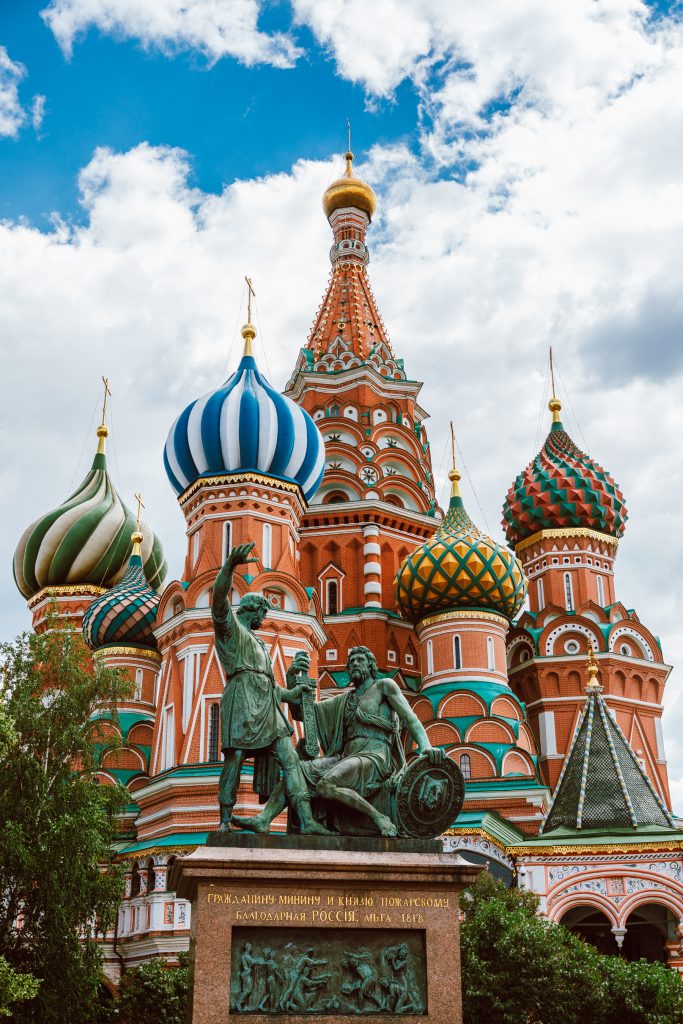 ADMISSION: free
Monument to Minin and Pozharsky, one of the oldest (if not the oldest) sculpture monument in Moscow, can be found near Saint Basil's Cathedral on Red Square. Built in 1818 and originally located in the very centre of Red Square, this monument was relocated to its current position 1931. There is a legend that it was relocated because it came to be an obstacle for military parade during Soviet times. Actually Red Square was overcoming the renovation process when building Lenin's Mausoleum, afterwards this monument took its current place and Red Square started to look almost like we can see it now.
Minin and Pozharsky gathered an all-Russian volunteer army and expelled the forces of the Polish-Lithuanian Commonwealth under the command of King Sigismund III of Poland from Moscow in 1612. This victory put an end to the Time of Troubles, one of the darkest periods in Russian history. The Minin-Pozharsky monument was placed to commemorate the 200th anniversary of that significant date. Monument is a 8 metres high bronze statue designed by Ivan Martos.
Usually, Monument to Minin and Pozharsky is quite easy to miss on Red Square as it's dominated by the look of St Basil's Cathedral. It's also a very crowded place as it's located right next to the entry to that colourful church. Although, it's not so hard to spot when you know where to look.
Zaryadye Park⁠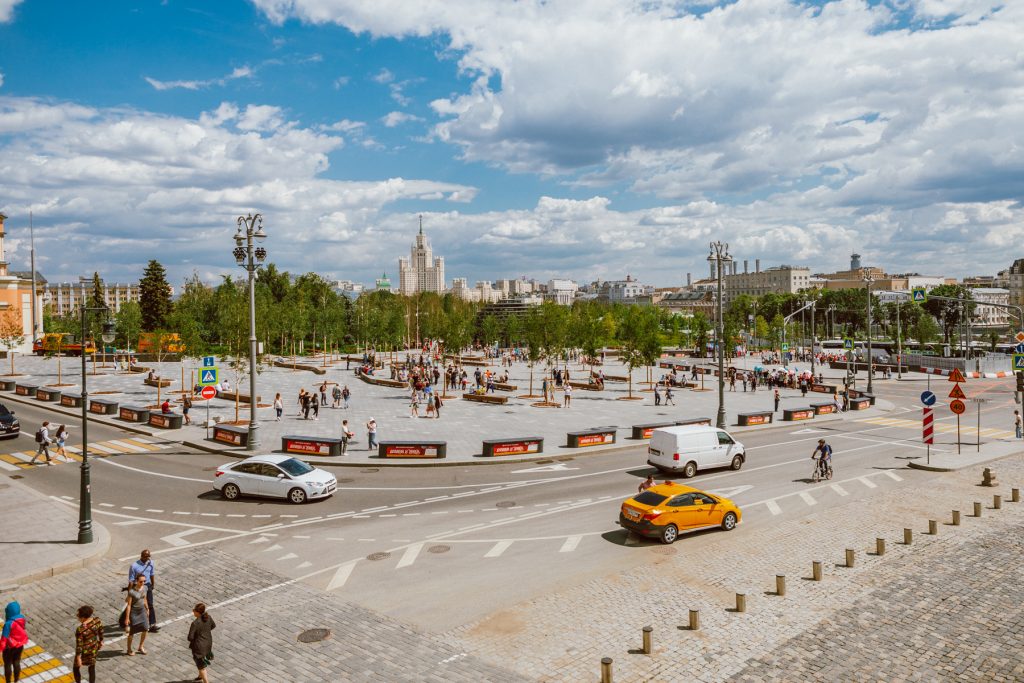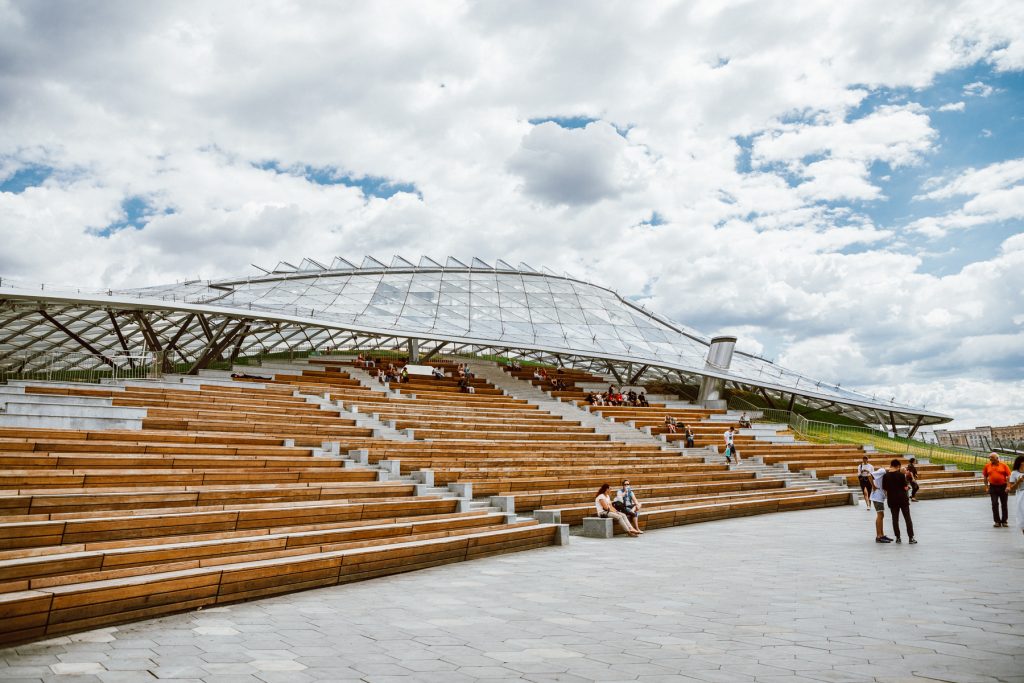 ADMISSION: free
Zaryadye is one of the newest parks in Moscow located in a very historical part of the city centre. Opened in 2017 on the remains of the large Russia Hotel, Zaryadye occupies 78,000 square meters of land next to Red Square. This park offers picturesque views to several Moscow landmarks including Kremlin, St Basil's Cathedral, GUM, Moscow River and Kotelnicheskaya Embankment Building – one of Stalin's Seven Sisters buildings.
Zaryadye is open all year and is free to visit. The park is divided into four climatic zones: forest, steppe, tundra, and the floodplains. There are many facilities and attractions to visit in Zaryadye including the floating bridge over the Moskva River, Znamenskiy Monastery, Old English Court, Concert Hall, multiple restaurants and cafes. All of these landmarks are naturally placed in park's landscape with some of them located underground. Some of attractions have entry fee and limited working hours. More information about Zaryadye and its attractions can be found on its website.
There is so much to see in Zaryadye, we simply can't put all the info in this article. We are currently working on the post dedicated to Zaryadye Park and its history. Make sure to check it out.
Nikolskaya Street⁠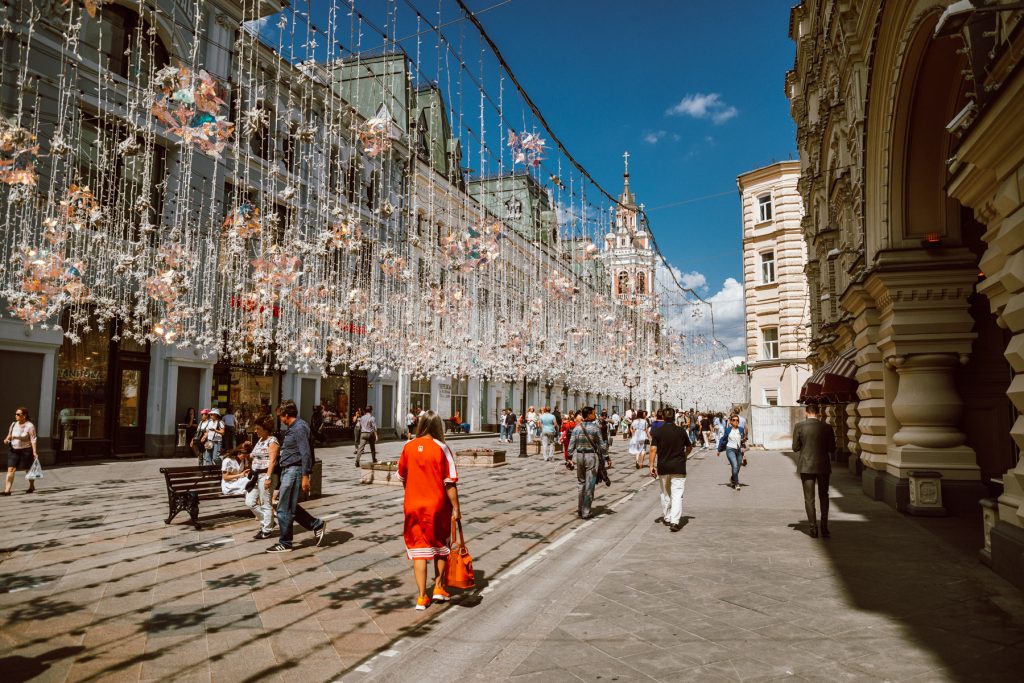 ADMISSION: free
Although Nikolskaya street is a very beautiful and historical walking street, we wouldn't have put it to the list of 15 things to see at Moscow's Red Square just a couple of years ago. Everything changed during FIFA World Cup 2018 when football fans were partying at Nikolskaya street day in and day out, so this street gained international popularity. Now lots of guides include this walking street in their tours.
Nikolskaya street starts from Red Square and connects it with another historical landmark – Lubyanka Square. It is one of the oldest streets in Moscow – first mentions date back to 13th century. In 2013, this street was renovated and pedestrianised, making it perfect for walking in the city centre. Some of the historical buildings you can see on Nikolskaya Street were built in 17th century including several churches. Nowadays this pedestrian street is a popular spot for luxury shopping. GUM Department Store is located on the corner of Nikolskaya Street and Red Square. Lots of other shopping centres and boutiques can be found along the street with the most luxurious stores situated in the neighbouring Tretyakovsky Proyezd.
Alexander Garden⁠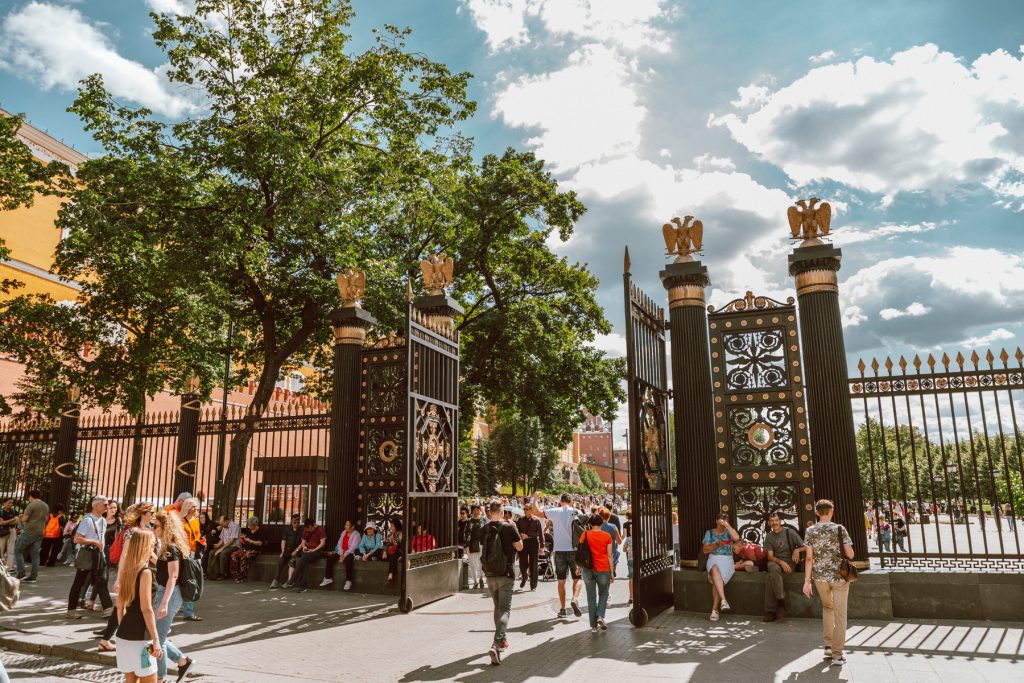 ADMISSION: free entry
Located alongside Kremlin Wall, Alexander Garden is home to many historical monuments and landmarks. To get to the main entrance of this park, walk down from the Red Square towards the State Historical Museum and then turn left. You'll see beautiful gates with eagles on top – symbols of Russia.
Alexander Garden was founded in 1812 after the Napoleonic Wars to commemorate the victory. As Moscow was severely damaged by war and fires, the city needed huge renovation project and lots of building were badly in need for an update. Tsar Alexander I ordered architect Osip Bove to lay out the park near Kremlin and the construction took place between 1819-1823. Nowadays, Alexander Garden is one of the most popular places in the city centre and a green oasis in Moscow's concrete jungle.
There is lots to see in Alexander Garden. Near the main entrance, you can find the Tomb of the Unknown Soldier⁠ (more info on it below). Another interesting thing to visit is a faux ruined grotto which offers amazing views to the park from its lookout. Further down you can find the only Kremlin Tower that is not part of walls – Kutafya, it's located inside the park and serves as entrance to Kremlin. There is a very new sculpture located on the far side of Alexander Garden – this is the 17.5-metre-high Monument to Vladimir the Great, opened in 2016.
Alexander Garden is a public park, so you can enjoy it free of charge. It's open 24/7 with some limitations on the 9th of May when there are ceremonies at the Tomb of the Unknown Soldier.
Tomb of the Unknown Soldier⁠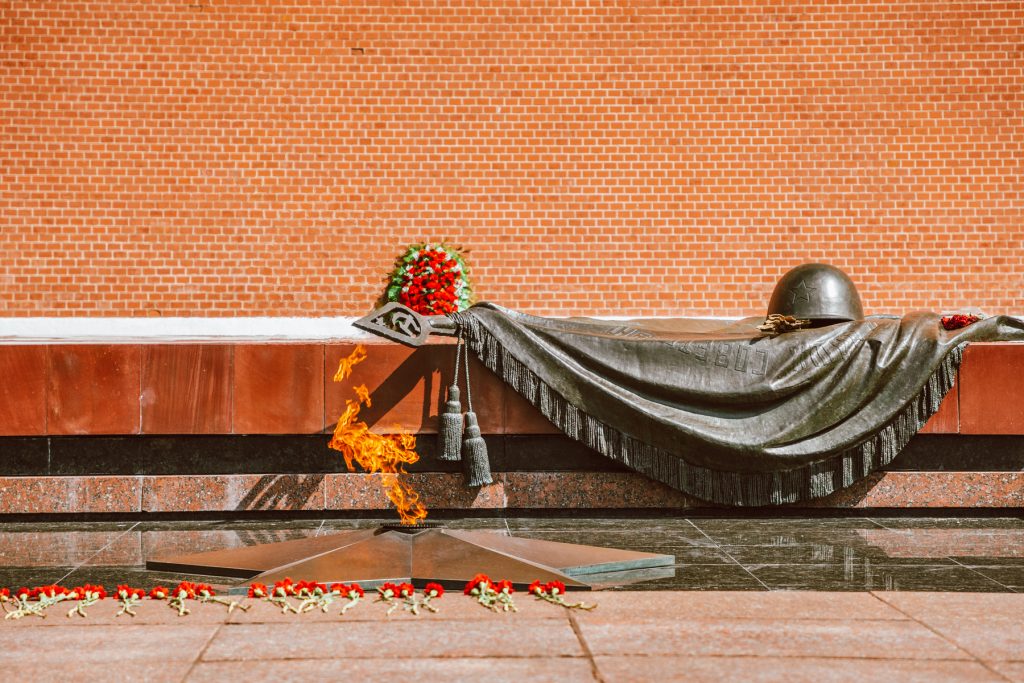 ADMISSION: free
Tomb of the Unknown Soldier⁠ is a World War II memorial located in Alexander Garden near Moscow's Red Square. Located right next to Kremlin Wall, this is the main war memorial in Russia and the place of celebrations on 9th of May and 3rd December.
Tomb of the Unknown Soldier is decorated with a bronze sculpture of a laurel branch and a soldier's helmet laid upon a banner. There is the Eternal Flame in the centre of the memorial. To the right of the tomb, lining the walkway are dark red blocks with incapsulated soils from hero cities: Leningrad, Kiev, Stalingrad (Volgograd), Odessa, Sevastopol, Minsk, Kerch, Novorossiysk, Tula and Brest, Murmansk and Smolensk. Further to the right of these monuments is an obelisk in red granite, listing the names of 40 "Cities of Military Glory".
Every hour on the Tomb of the Unknown Soldier a Changing of Guard ceremony takes place. The entry is free at all times with some limitations during 9th of May celebrations. To be sure to get a great view at a Changing of Guard ceremony, come 10-15 minutes earlier.
Hotel Moskva (Four Seasons Hotel Moscow)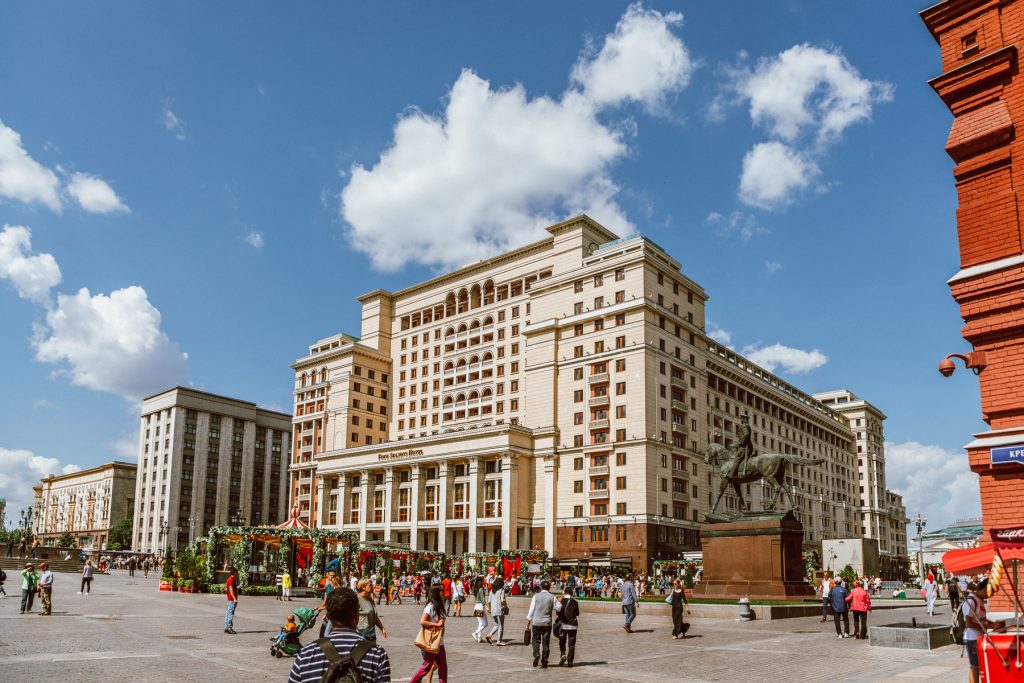 ADMISSION: free entry to shopping gallery and restaurants; rooms from ₽41,000RUB | $1,000NZD | $620USD | €560EUR
One of the most impressive Soviet buildings in Moscow and also a luxurious hotel, Four Seasons Hotel Moscow is a modern replica of the historic Hotel Moskva, which previously stood on the same location. Located literally a couple of steps away from Red Square, this is arguably the most prestigious and expensive hotel to stay in Moscow.
Even if you're not ready to spend around $1,000NZD per night on your stay, you can still enjoy this hotel. Its facade is the exact replica of the building constructed in 1930s. Interestingly enough, you can spot this facade as a line drawing on the label of Stolichnaya Vodka (we just can't miss a chance to mention vodka in the article about Russia, sorry). There is a huge shopping mall inside this hotel – to get there use a separate entrance. This shopping area offers luxury goods as well as clothing by Russian designers. A couple of cafes and restaurants are located in Hotel Moskva including Starbucks.
Manezhnaya Square⁠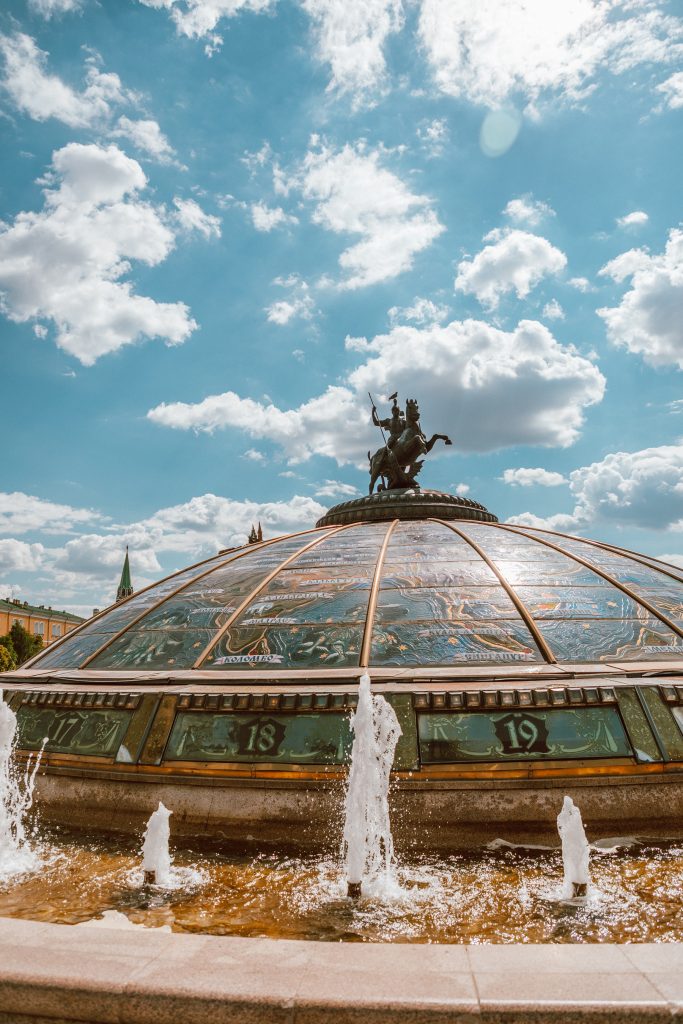 ADMISSION: free entry
One of the biggest squares in the city centre of Moscow, Manezhnaya Square offers amazing panoramic views to the Hotel Moskva, State Historical Museum, Tverskaya Street, Manege building, Kremlin and Alexander Garden. Constructed in 1930s as a part of Soviet Moscow rebuilding project, it's now a favourite place of leisure for both tourists and locals.
Manezhnaya Square is laid out alongside Alexander Garden and creates a shared space combining old park with Soviet designs and post-Soviet architecture. In 1997, 12 fountains were installed between these two landmarks and a huge underground shopping centre Okhotny Ryad was opened. Multiple fast-food cafes and restaurants are located at Manezhnaya Square offering affordable food options with amazing views of the city centre.
Bolshoi Theatre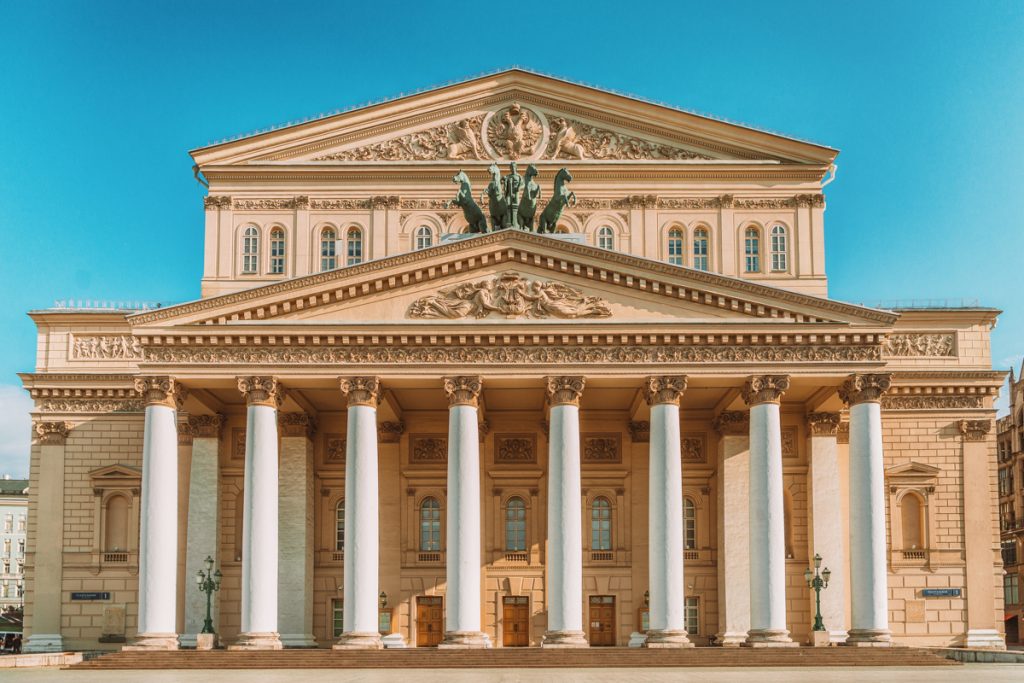 ADMISSION: tours – from ₽2,000RUB | $48NZD | $30USD | €27EUR, performances – from ₽3,500RUB | $1,000NZD | $84USD | €47EUR
It's not right on Red Square but it's hard to imagine the list of 15 things to see at Moscow's Red Square without Bolshoi Theatre. Located on the Theatre Square, it's 5 minutes walk from Red Square to Bolshoi. Bolshoi Theatre is one of the biggest in Russia and one of the most well-known in the world. Founded in 1776, its current building was constructed in 1856 and can accommodate around 1,800 people.
If you want to visit one of Bolshoi Theatre performances, when booking, make sure to check what stage it is taking place on. There are 2 buildings for Bolshoi Theatre with the one near Red Square being the historic and having the amazing interior. On their website, you can book tickets online and clearly see the price and stage for a selected performance. Some of popular ballets are being sold out quite quickly, so make sure to book in advance.
There also are guided tours available in English. This is a cheaper way to see theatre's interiors as well as a great way to learn more about history and operation of the Bolshoi.
---
If you like this list of 15 things to see at Moscow's Red Square and nearby, check out other Moscow travel guides on our blog. For example, Top-15 interesting places to visit in Moscow.
Do you know other places that are not on this list? Or other interesting facts worth adding to this page? Send us a Direct Message on Instagram and we will be happy to update this article!
MOSCOW VIDEOS:
If you like visual content as much as we do, take a look at our Moscow Travel Videos playlist. We are constantly working on adding more videos to it with different guides. Also consider subscribing to our YouTube channel ?
BOOK HOTEL IN MOSCOW:
Disclaimer: this post contains affiliate links. If you buy goods or book services via these links, we may get a commission. This does not affect the price you're paying. Information and prices are correct at the time of publishing (March 2020). Please refer to attractions' official websites for the most up-to-date information.