New Zealand is a miracle. No matter how long you live here, no matter how often you venture on a new adventure and discover new corners of this picturesque country, there is always many more to see and experience! Should I try to name all the 'must-see' and must-do' things in New Zealand, I'll grow old and die before I finish. Let me narrow down the list to the North Island. This part of the country, unfortunately, is often underestimated both by local and international tourists. I get it, nothing beats the astonishing beauty of the South Island! Nevertheless, North Island has its breathtaking and exclusive gems as well. I should admit, we're still on a mission to see them all, so don't be surprised if you don't find some of the places you've heard a lot about in this article – we might've not ticked it off our own 'must-do' list yet. This list of 50 incredible places on the North Island of New Zealand includes solely the spots we've personally checked out and approved. Rest assured, you won't be disappointed!
NORTHLAND
Keen to spend a few more days in New Zealand's only subtropical region? Here is a detailed guide to Northland. In a rush? Read further for the main highlights:
Cape Reinga. Since we're talking North Island, why not start from the northernmost point of the country. Especially when it's something so special, spiritual and incredibly beautiful as Cape Reinga. When planning a trip here, make sure you have food with you, as there are no cafes or shops around. And if you're traveling by car, arrive well before noon – this place gets way too crowded when the bus tours arrive!
Te Paki Giant Sand Dunes. I've promised you astonishing surprises worth leaving more popular South Island of New Zealand for, remember? Well, how about crazy desert-like landscapes that suit more countries like Qatar or UAE than New Zealand? Te Paki Giant Sand Dunes cover such a large area, sand is all you'll see all the way to the horizon! Rent a sandboard at the bottom of the dunes if you feel like an extreme activity today.
Whangaroa Harbour. For a taste of real, untouched New Zealand, spend a night here. It's the most spectacular place with lots of beautiful short walks with 360 views over the harbour. Tranquility and wild nature at its finest.
Poor Knights. World's best snorkeling, anyone? I kid you not, Jacques Cousteau included Poor Knights into Top-10 places for diving and snorkeling in the world! Jump on board of Dive!Tutukaka cruise for a day of jokes, swimming, SUP-surfing and kayaking at these remote and scenic islands.
Pompallier Mission. There won't be a lot of museums among places to see in New Zealand – we're all about nature and outdoors after all. But this place in Russell is worth a quick stop. Pompallier House is New Zealand's oldest surviving industrial building that hosted country's first printing company. All the machines and tools are still in such an excellent state you won't believe they are twice older than my granny.
Tane Mahuta. There are several things New Zealand is known worldwide for – kiwibirds, kauri trees, All Blacks… But let's get back to kauri trees. Tane Mahuta is the country's oldest and largest kauri tree. Its estimated age is between 1,500 – 2,500 years. It's so huge, it's almost impossible to comprehend. Though lost in the middle of a bush, Tane Mahuta has a convenient short pathway from a carpark and a lovely tiny café next to it. Great spot!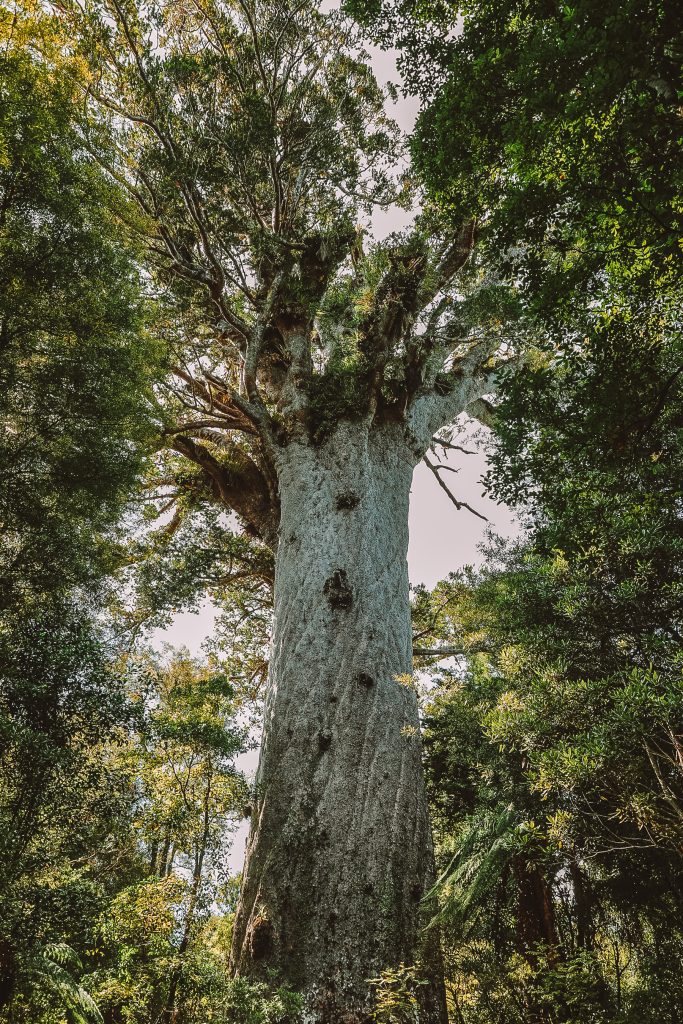 AUCKLAND
Brought up in a giant megalopolis, I personally had enough of cityscapes and would've skipped Auckland on the North Island itinerary without any hesitation. But there is me and there is the rest of the world for whom allocating a couple of days to boil in this enormous pot of characters, sounds, smells and adventures might be not the worst idea after all. If you decide to hang out in Auckland, just go with the flow and visit as many busy streets, bars, luxurious boutiques as you can. Because that's what life in a big city is all about after all, is it not?
Sky Tower. Difficult to find a better spot to admire 360 views over the biggest city in New Zealand than the tallest building in New Zealand! Sky Tower also attracts adrenaline-junkies with its Sky Walk and Sky Jump.
Mt Eden. The highest extinct volcano in Auckland is conveniently located only 5 km from CBD and boasts awesome views over its skyscrapers, huge bridges and, of course, Sky Tower. The walk up the top is short and easy and so worth the effort!
Hunua Falls. Though not super-tall or super-powerful, this waterfall is nevertheless one of the most spectacular on the North Island. There is something special about this secluded little spot, surrounded by trees and high walls.
Muriwai Beach. One of quite a few black sand beaches nearby Auckland, Muriway beach stands out because of the large gannets' colony that resides here. There are a few viewing platforms that allow you to observe the life of these proud birds from different angles. Smells awful but gosh, how beautiful it is here!
Anawhata Beach. A hidden gem among West Coast black sand beaches, Anawhata is remote, isolated and absolutely spectacular. You might as well visit a more touristy and popular Piha beach that is not too far from it but you'll never end up having the entire beach to yourself there as it happens quite often at Anawhata. Be careful, there is 10 km gravel road to the final destination – is your car equiped for that?
Giapo. This is not our average ice-cream parlor! Giapo gelattos are true masterpieces in a world of desserts. Sky Tower shape, selfie frame or wrapped in traditional Maori bread – this ice-cream is your best photo opportunity in town. Oh yes, and it's obscenely delicious as well.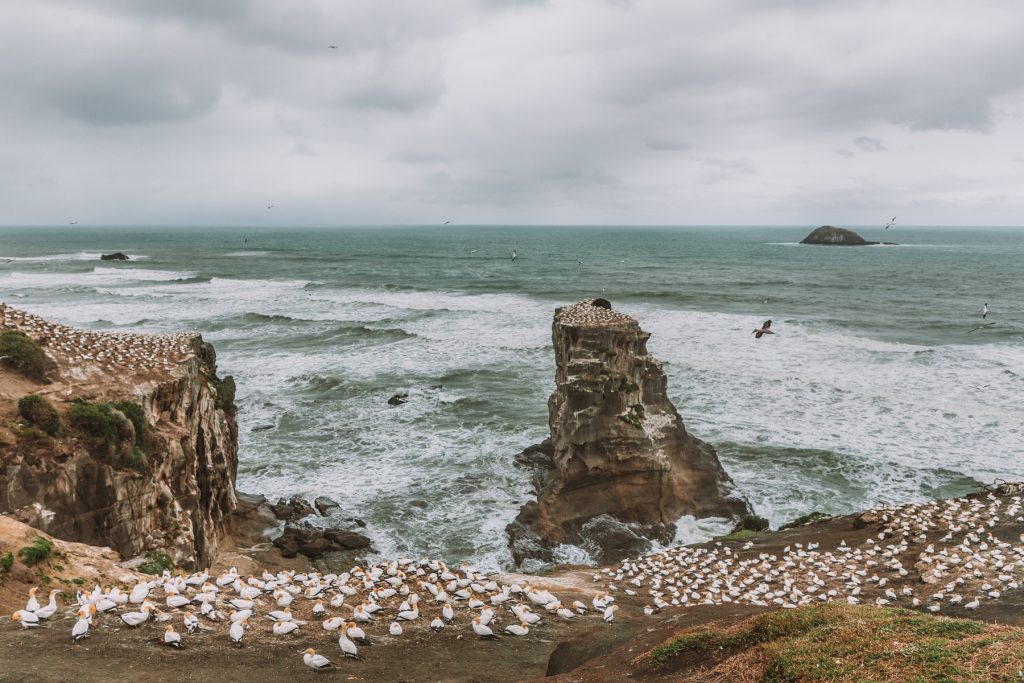 THE COROMANDEL
We have been to this region twice and each trip was perfect. There is something in traveling through the untouched Coromandel Peninsula landscapes that recharges and unwinds in no time. Escape the civilization with our Coromandel guide 1 and Coromandel guide 2.
Cathedral Cove. Of course, there is no trip to the Coromandel without a walk to Cathedral Cove, a filming location for one of 'Narnia' scenes. A giant arch in the rock, beautiful beach, random stones and rocks peeking from the ocean and even a waterfall (well, kinda) – this place truly is an epitome of unique New Zealand nature! Allow at least half a day – a walk is approximately 30 minutes one way (or 90 minutes if you walk from Hahei as we did) but it actually takes twice that time, as it's so spectacular you'll want to stop every hundred metres for another photo.
The Lost Spring. Oh, Whitianga! Lovely little coastal town. But the best thing here is definitely the luxurious hot pools. The mineral springs feeding the pools have 16,000 years old water that is super healthy and great for skin. The Lost Spring is beautifully designed – with grottoes, swinging bridges and volcanoes. And you're even allowed to take your drinks into the pool, isn't it cool?
Driving Creek Railway. Fun, unusual, with epic views – this attraction has everything you might expect from a must-do activity. The only narrow railroad in New Zealand takes you through the native bush, a series of bridges and tunnels all the way up the hill for some remarkable views of the Coromandel Peninsula. Note, that in order to book tickets online, you have to do that at least two days prior to your visit. You can also purchase tickets right there but the next trips might be already fully booked when you arrive.
The Road 309. Don't be surprised if your GPS will be avoiding this road all the time – there are much more comfortable options to travel than an old gravel road! But 'comfortable' very rarely means 'interesting' and 'scenic', am I right? The Road 309 is generously sprinkled with beautiful locations like Waiau Waterfalls, memorable walks like Kauri Groove Walkway and fun activities like The Waterworks. Take your time and explore 'em all!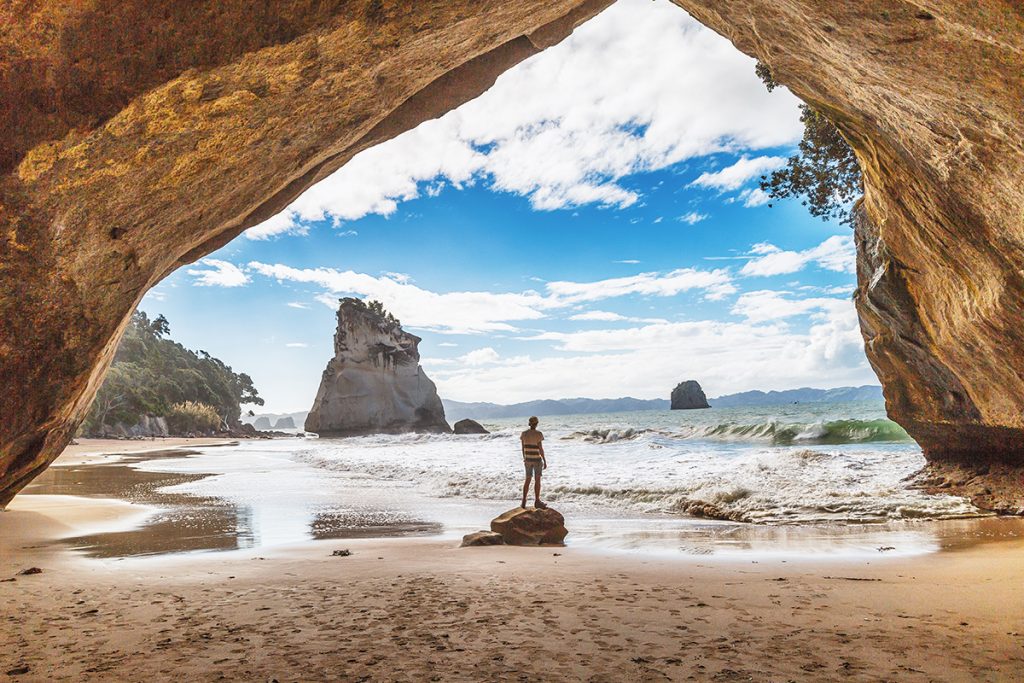 BAY OF PLENTY
Mount Maunganui. One of Top-10 most photographed views in New Zealand, the scenery you'll see from the top of The Mount is extraordinary. A narrow strip of land surrounded by ocean – this is where you truly feel New Zealand is located at the very tip of the world. By the way, the beach right next to it was named 'Best beach in New Zealand' quite a few times. Worth having a quick memorable dip in summer!
Tauranga Historic Village. A cute lil' area in Tauranga that showcases what was the life like in this region a good century ago. Cobbled streets, lovely church, cosy café with homestyle food and even an actual functioning radio operated by volunteers (pop in, by the way, they are always happy to give a free tour around!).
Karangahake Gorge. There are hundreds walks in this place but if you only have time to do one, pick Windows Walk. It's a short loop, that will take you through the rich gold mining history of the region (walking inside the tunnels with your iPhone torch included!).
Our Place Tauranga. Just as Christchurch used to be known for its unusual container city, Tauranga CBD was revived by this latest add-on to its scene. Delicious (almost legendary among locals) street food, cute shops and pop-up stores, live music and its own herbs garden. This place is a perfect choice for catch-ups with friends!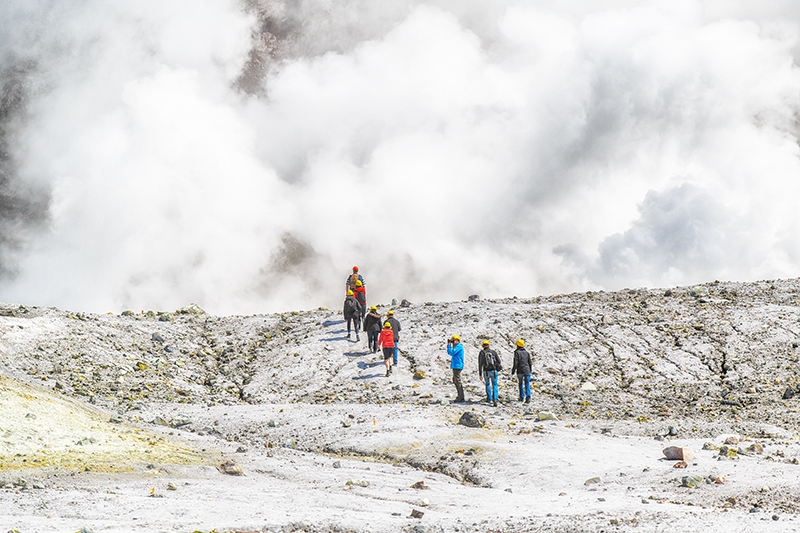 ROTORUA
I've already written a detailed guide on things to do and places to see in Rotorua but if I had to choose just a few, here are my absolute favourites.
Wai-O-Tapu Valley. There are so many geothermal valleys around Rotorua and each has something special to offer but if you can only visit one, it should hands down be Wai-O-Tapu. This place is breathtaking – with Champagne Pool, Devil's Bath and other colourful bubbly lakes, it's probably the most scenic geothermal valley of all. Everything being so close to each other that it only takes about 40 minutes to walk around (way more with photo stops, of course) is a lovely bonus.
Te Puia. I know, I know, I've promised just one geothermal valley. But Te Puia is different from any other park in Rotorua. The main reason to come here is not for bubbling mud (there are more impressive parks for that, to be honest) but for its extraordinary Pohutu geyser – it erupts almost every hour and grows to a height of 30 m. Mesmerising, absolutely unique phenomenon!  
Polynesian Spa. Coming to Rotorua without spending a few hours in legendary geothermally heated pools would be a crime. Polynesian spa is the oldest and the biggest local spa facility. My advice – if you can, come here on work day and preferably in the morning – chances are, you'll share endless pools with just two or three other guests. In the evening and on weekends there are buses and buses of tourists arriving to Polynesian spa every half an hour. Not a great time to relax and unwind at all!
Redwoods Treewalk. Suspension bridges in between the giant red trees of Whakawarewa Forest? Count us in! Every time we're at the Treewalk, there is something new – a new viewing platform with glass floor, a new bridge, etc. So exciting! By the way, you can purchase one ticket for both day and night walk. With all the lights and lanterns hanging from the trees, it's like a fairy tale.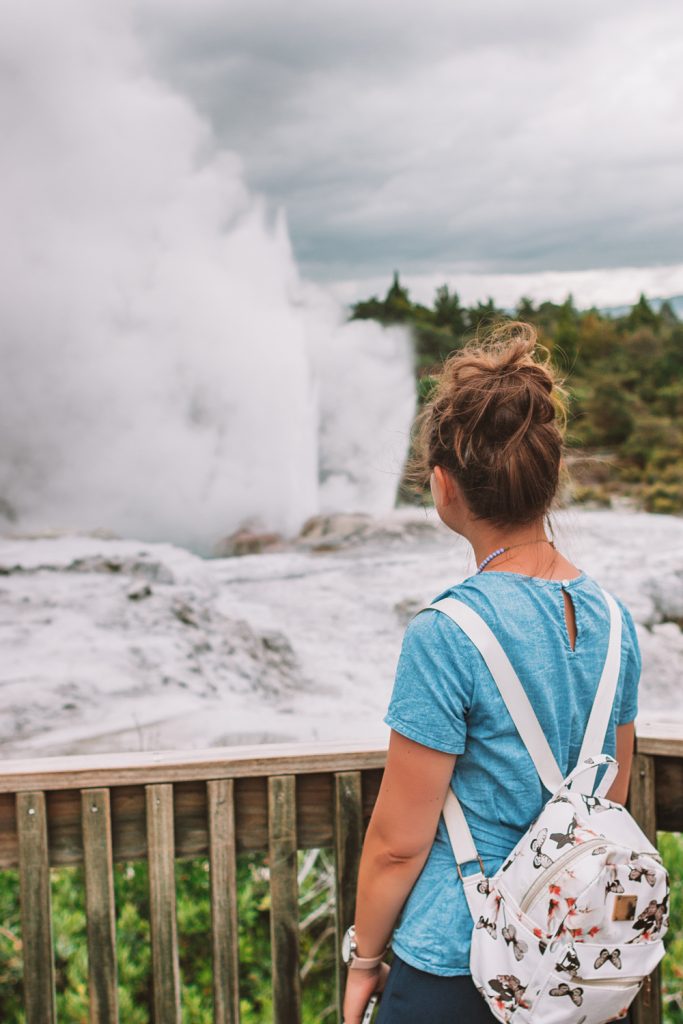 WAIKATO 
Hobbiton. Of course, a rare visit to the North Island happens without a trip to Hobbiton. I have even heard that some international tourists visit North Island solely to see 'Lord of the Rings' filming locations. Huge mistake… But you're reading this article because you're keen to truly explore this beautiful slice of paradise, #amrite? Pro tip for a better photo opportunity from someone who'd been to Hobbiton five times: pick a tour with the longest break after it (depending on season the longest break is either 20 or 30 minutes). This place is so crowded – you'll be thankful for not having another group behind!
Hamilton Gardens. Blah, what is that I haven't seen in gardens before, you might be thinking right now. Well, don't! Hamilton Gardens are special – it's a labyrinth of different themed gardens: from ancient Asian to modern American, from fantasy gardens to tropical jungles, from gardens described in classic books to cute sustainable backyards. Behind every corner and door is something new and completely different from where you've just been. Isn't it exciting?
Bridal Veil Falls. All the way down in Raglan is one of the most spectacular North Island waterfalls (here are some more outstanding waterfalls of the North Island). It's huge and easily accessible, which gives you an amazing opportunity to enjoy its views from different angles.
Wairere Falls. Waikato boasts amazing waterfalls. But Wairere definitely stands out among them all. It's the highest waterfall on the North Island! This 153 m giant is hidden deep in the bush, so you'll have to walk for about an hour to reach the first viewing platform. But what a spectacular walk it's going to be! Through the bush, over the bridges, along the walls covered with emerald moss – pure fairy tale!
Arapuni Suspension Bridge. Located close to the cute lil' town of Cambridge, that we love for its marvelous churches and the overall historic vibe, this is one of the largest swing bridges in New Zealand. The height and the views will literally take your breath away!
Classics Museum. An impressive collection of over 100 retro-cars and all sorts of car-related things. This place is so colourful and fascinating, not only the avid car-lovers will love it. After a tour around, grab your lunch at Jukebox Diner – the best homage to the positive style of 50's you'll find around!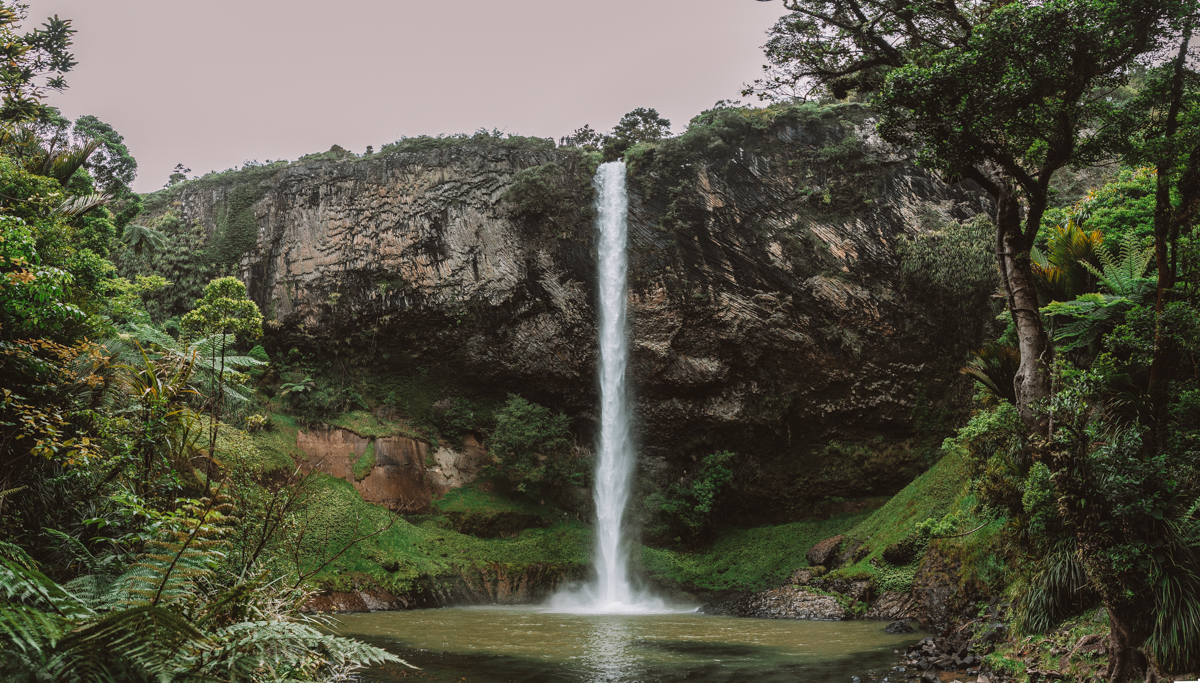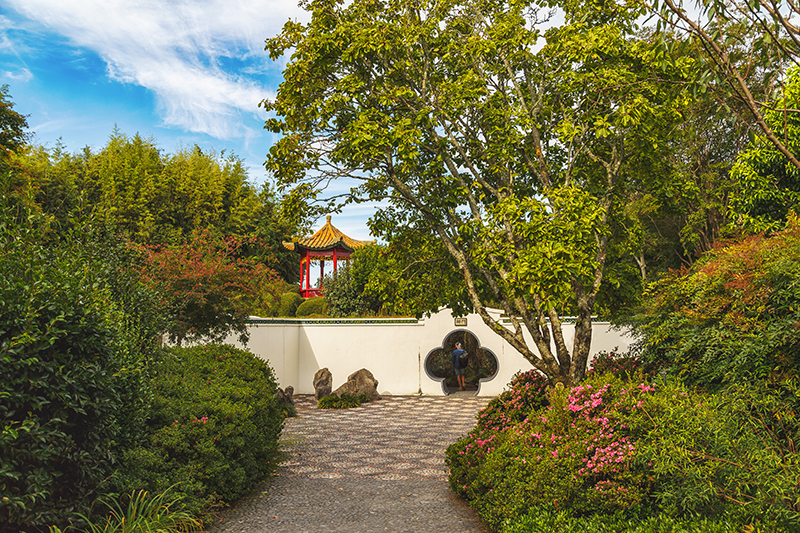 HAWKE'S BAY
Saying it's our favourite region of the entire North Island of New Zealand certainly wouldn't be an exaggeration. We have been to Hawke's Bay so many times and have seen so many wonderful locations, it's almost impossible to choose just a few. But to begin with, why not to have a look at the best accommodation in Napier?
Napier. Let's start with the capital town of the region itself. A.k.a 'the art-deco capital of the world', Napier was re-built in a fancy art-deco style after a terrible earthquake doubled by fire that happened here back in 1931. The best way to explore this town is by foot (it's not big), the most elegant – in one of the gorgeous retro cars you'll spot outside Masonic Art Deco Hotel at all time. 
Cape Kidnappers. An iconic landmark with impressive history and New Zealand's largest colony of graceful gannets – what else do you need? Ah, maybe just one little detail – to get there on board of a retro-tractor! Yes, there are more traditional bus tours or luxurious helicopter tours as well. But I repeat – TRACTOR!
Te Mata Peak. Don't be lazy and venture on a 10 km walking track around these hills – sometimes difficult, sometimes easy, sometimes even a bit scary and dangerous, that will be one of the best walks of your life, I promise. If you Are lazy, you can drive all the way up to Te Mata and enjoy the views without any adventures (blah).
Mission Estate. The oldest winery in New Zealand (established in 1851) is the most aristocratic place out there! We love lunching here – the outdoor part of their restaurant overlooks the almost endless rows of grapes and they serve very delicious and beautifully-presented food here. Nothing more to wish for!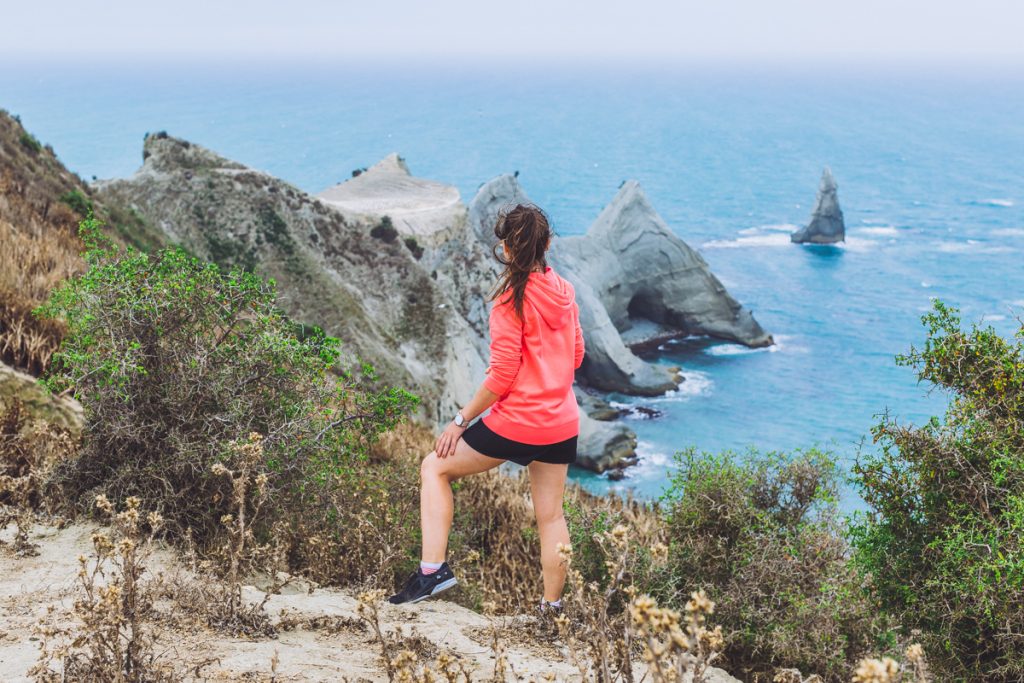 TAUPO
Huka Falls. Officially one of the most visited sights of the North Island of New Zealand (beware, Hobbiton!). Huka Falls is so powerful and its colour is so extraordinary turquoise, that it's definitely a place not-to-be-missed. If you're brave enough, there are rafting opportunities as well. 
Maori Rock Carvings. Lake Taupo is the largest lake on this island, so consider exploring it a closed deal. Make it more meaningful by booking a yacht tour to 14-metres high Maori artworks carved on a rock. This extraordinary historic piece can only be seen from water!
McDonald's on a plane. Wait, what? But seriously, since you're in Taupo anyway and this wicked thing is located right in the town centre, why not to check it out! Where else will you see McDonald's inside a plane.
Otumuheke Stream. You must've seen enough of hot pools by now but bear with me, this one is pretty special, I promise. The thing about Atumuheke Stream is that it's not a man-built pool filled with healing water as in the Coromandel or Rotorua. It's an actual stream, a piece of wild nature! Only it's hot. And it flows right into the cold Waikato river. You can alternate hot and cold baths without even leaving the water. Surreal!
Craters of the Moon. Hard to believe but these Lunar landscapes were actually created by humans! Though, most probably, accidentally. In 1950s the nearby power station lowered underground water levels in the area and that action caused an increased steam production. Unlike Rotorua geothermal valleys, this one is not smelly and doesn't have lakes as such. It's more like… a boiling land?! Definitely deserves a stop when you're around!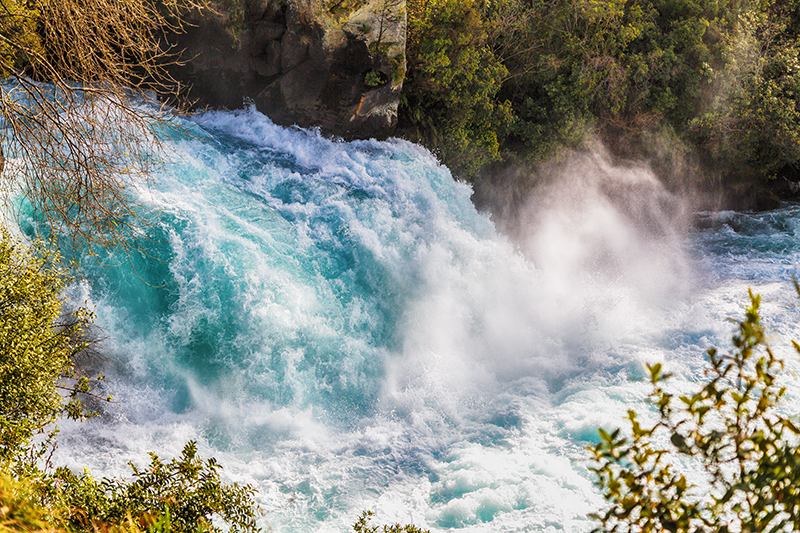 TARANAKI
Te Rewa Rewa bridge. Mighty Mount Taranaki is rarely NOT hidden by the low hanging clouds. But if you're lucky to spot it under the clear blue skies, the best perspective will be from this picturesque bridge.
Len Lye Centre. If you Google 'New Plymouth', chances are you'll see photos of Len Lye Centre first. The architecture of this contemporary art museum would easily blend into the streets of New York City or Berlin or Madrid or any other art-capital of the world. In New Plymouth, its impressive exterior stands out immediately – so unexpected and untraditional for New Zealand it is. Many media even call this place 'controversial' but I'll let you decide whether it's controversial or genius for yourself. As you know, this line in art can be very subtle.
Forgotten World Highway. One of New Zealand's official scenic routes, this road is so unusual that despite the absence of any world-famous sights along it, missing out on this one-day road trip would be a major disappointment. First of all, because there is a cute little 'republic' of Whakamarama half-way, where you'll be able to get your passport stamped or even purchase a local passport! Find more on Forgotten World Highway here.
Nevalea Alpacas farm. Though technically it's not Taranaki region, Nevalea Alpacas farm is conveniently located just 10 minutes away from the Forgotten World Highway and I don't want to confuse your entire schedule by placing it into a different region JIt's the largest alpaca farm in New Zealand (we're talking over 800 alpacas), where you can feed, walk and pet these cuties. 
Pukekura Park. A beautiful park in the heart of the city is a backdrop for many local events and concerts. But even on a quiet day, it's a curious place to explore. You can manually turn on a real waterfall, walk on a scenic bright-red bridge or indulge into a coffee and yummy food in The Tea House by the lake. But crème de la crème of this place are the Fernery and Display Houses – cosy and unusual glasshouse with staircases cut through the soil, tiny fish pond and other surprises.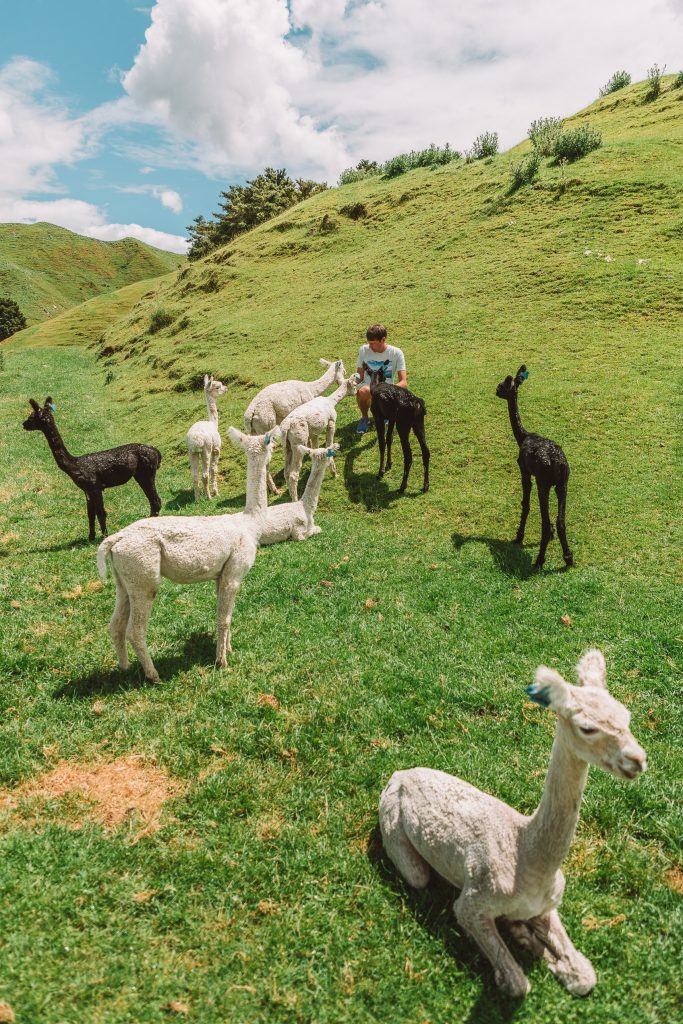 WELLINGTON
Te Papa Museum. A FREE national museum? Yes, please! Te Papa is a celebration of modern architecture and boasts enlightening exhibitions on New Zealand's history, flora & fauna. Set aside half an hour for a hot cuppa at a cosy café upstairs!
Wellington Botanic Garden. Accessible by Wellington's postcard Cable Car, this garden is simply magnificent. It all begins from a breathtaking view over the capital that opens up from the Cable Car's final stop. The garden then descends down the hill, leading you from one themed area to another and finally brings you to an epic rose garden.
Mount Victoria. Yet another viewing platform with landscapes so beautiful, it's impossible to believe what you see is for real. The hallmark of Wellington is the proximity of the airport to the town (seriously, we once WALKED from the airport to our accommodation), and when at Mount Victoria, you see airplanes so close and low, sometimes it feels like you're standing higher than they fly.
Weta Workshop. This is where the magic of 'Lord of the Rings' and 'Hobbiton' was taking place. Weta Workshop has the most interesting and insightful tours behind the scenes of how they've worked on the legendary movies. Sadly, you're not allowed to film or take photos!
Ataturk Memorial Park. Tucked away from major sights, this park is beyond anything. Precisely speaking, it's not even a traditional 'park' as such – rather a pathway atop the cliffs with water splashing aggressively down below, strong gusts trying to knock you down and, yes, airplanes flying low as they always do in Wellington.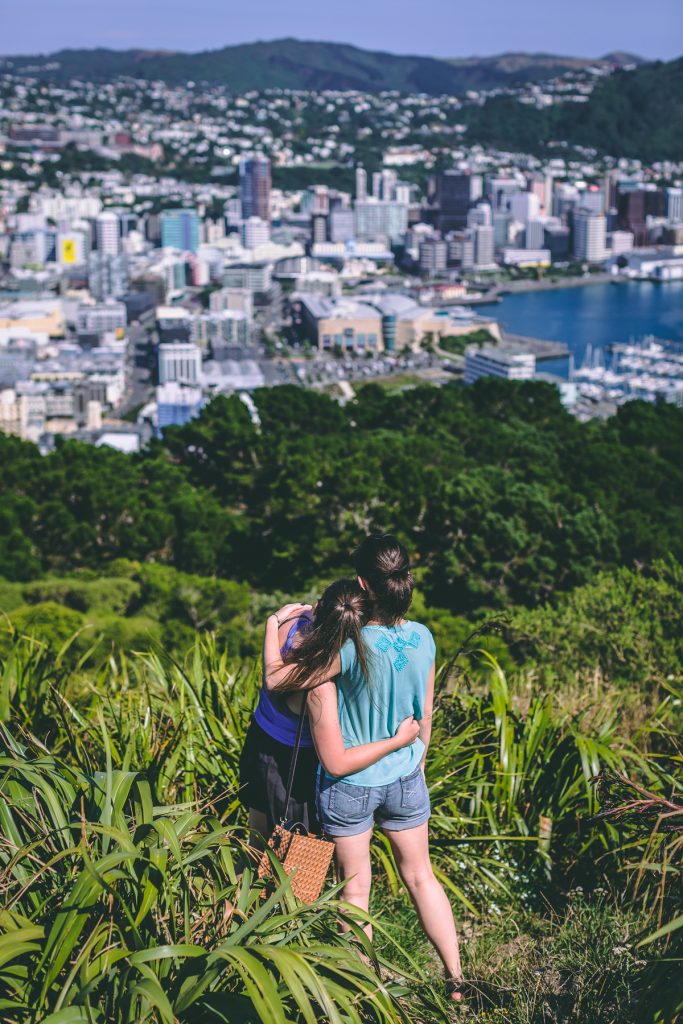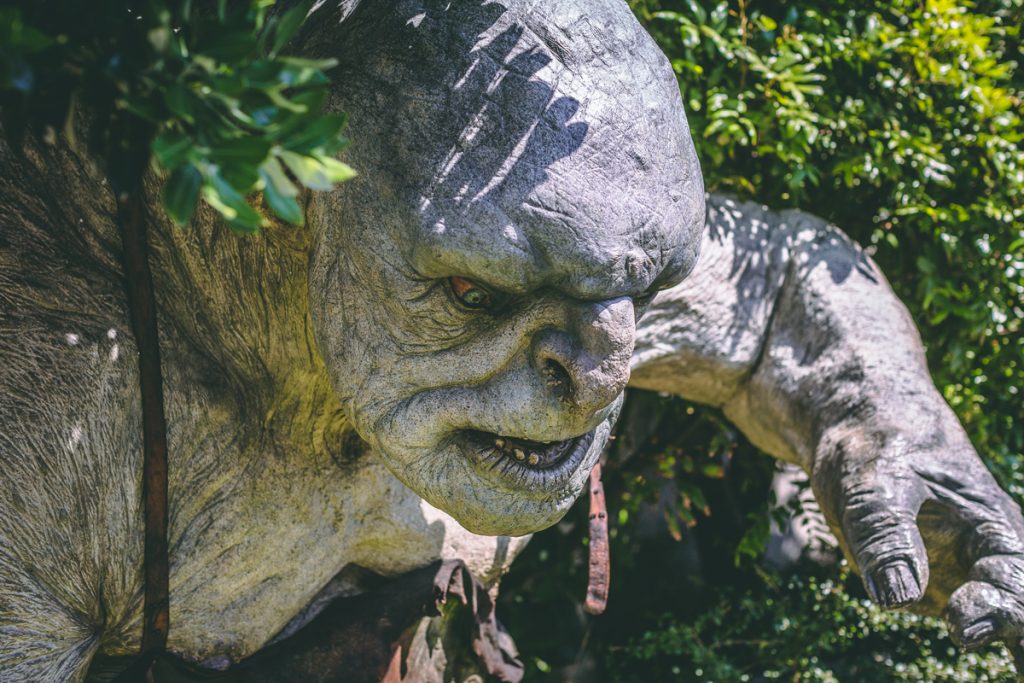 NEW ZEALAND NORTH ISLAND TRAVEL VIDEOS
We have an extensive collection of New Zealand travel videos with many of them dedicated to North Island attractions. You can watch them from playlist below or alternatively subscribe to our YouTube channel to discover more content.
---
Liked this post? Pin it: