Gorgeous Northland is the ultimate summer destination. Some love relaxing at the tropical-like islands generously sprinkled around Paihia. Others, armed with their backpacks and hiking boots, prefer to explore all the tracks around Whangarei or less popular (but oh so wonderful) Mahinepua Harbour and Whangaroa Harbour. Some dive into local history in Kerikeri or drive all the way to see Tāne Mahuta – New Zealand's oldest and largest kauri tree. Others dive literally – be it at Poor Knights islands, officially one of Top-10 diving spots in New Zealand, or somewhere else. There is so much to see and do for people with different interests, budgets and life situations. But ask anyone, they'll agree that the northernmost point of New Zealand – spiritual Cape Reinga, fun Te Paki giant sand dunes and thrilling 90 Mile Beach – is always beckoning. There is something unique about this destination that always attracts local and international visitors all year round and no matter how many times they've been there before.
What to see at the northernmost part of New Zealand?
A trip to Northland's furthest end normally includes three main attractions: 90 Mile Beach, Cape Reinga and Te Paki giant sand dunes. It doesn't mean there is nothing else to see there but these places are so cool you'll want to stay longer at each and, let's be honest, this tip is quite far from the nearest towns, so the drive back and forth will easily take an entire day.
So, if you want to visit all three, don't plan to see anything else this day, leave your hotel early and get ready to be back late! Oh, and pack your lunch and snacks! This part of the country is quite wild and the nearest cafe/store is before the sand dunes. We felt hungry after exploring Cape Reinga, so had to drive all the way back to grab food and then back again to sand dunes (and then back again haha. Ask us about good planning!)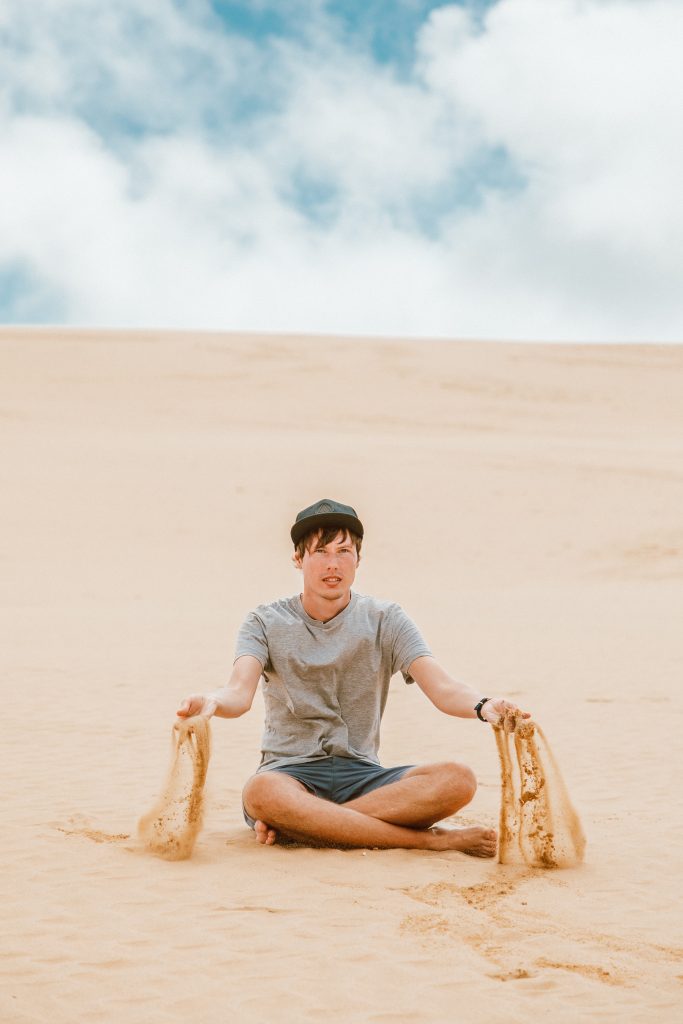 How far is Cape Reinga?
Because Cape Reinga is known as 'the northernmost tip of New Zealand', many people think it's so remote and unreachable, it will take you many hours to drive there. Well, actually you can easily drive all the way up to Cape Reinga, visit the other local points of interest and return back to the town where you're staying in just one day!
We drove to Cape Reinga from Kerikeri, which is 192 km or around 3 hours. Many people prefer to stay in Kaitaia – 111 km or just over 1.30 hours of driving. I know there are also bus tours departing daily from Paihia (213 km).

Cape Reinga is a special place in many aspects. I've already mentioned its geographical position, which definitely makes it very attractive for tourists, but what's also really breathtaking about this place is seeing Tasman sea and Pacific ocean collide, creating colourful waves and whirlpools.
It also has sacred meaning for Māori people, as it's believed to be the place where the souls of deceased leave the Earth to join their ancestors.
If you have a car, driving all the way up to Cape Reinga first is a great idea, as you'll have this entire place to yourself. Tour buses normally don't arrive until lunch time. And once they're there, Cape Reinga gets pretty crowded. No more tranquility, no more photos without 10 extra people in them.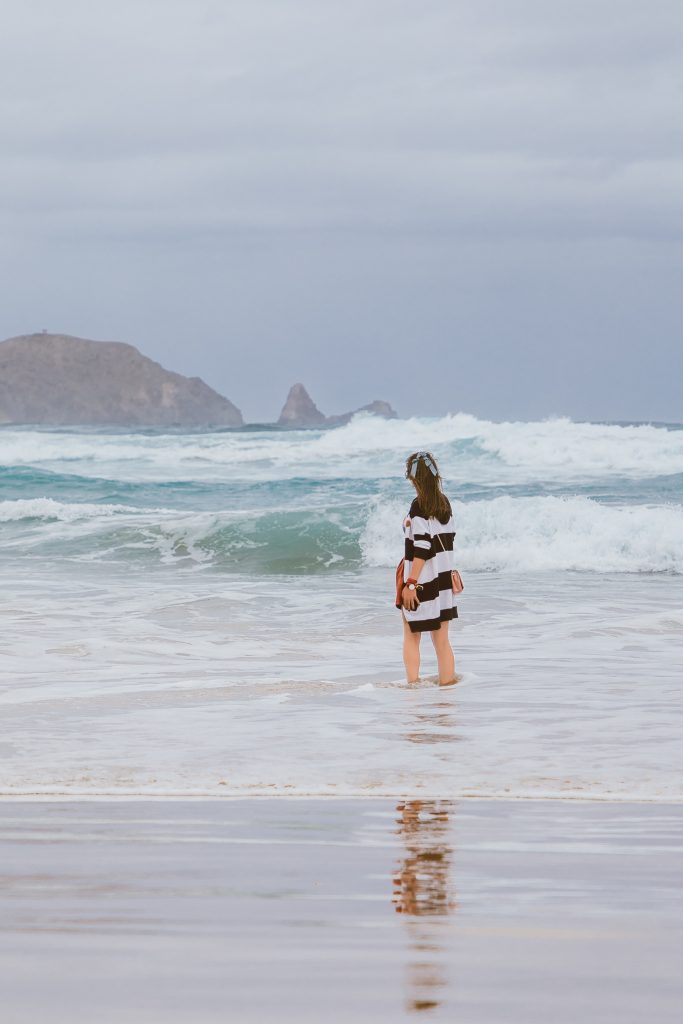 What to do at Te Paki sand dunes?
Have fuuuuuun! We couldn't believe our eyes when we climbed the first dune – sand mountains were everywhere! It's not the most typical New Zealand landscape, let's get that straight, so you don't expect much before you first see it. A hill or two maybe. But it's a real desert! A whole different Universe! Very-very impressive. In case an excessive amount of exclamations in my sentences don't tell enough, here is a bit of stats for ya: Te Paki sand dunes can be up to 150 m high and stretch for 10 km in length and 1 km in width. MASSIVE!

You can also rent sandboards ($10-$15) here to slide from the top of sand dunes all the way down. Some of them are almost vertical – I couldn't breath while simply walking down, can't imagine people sliding down with a crazy speed, haha! But it's, no doubt, a cool experience.
P.S. You'd better have a special set of clothes for this experience with you. Sandboard or not, sand will be everywhere 🙂 So, it's nice to get changed.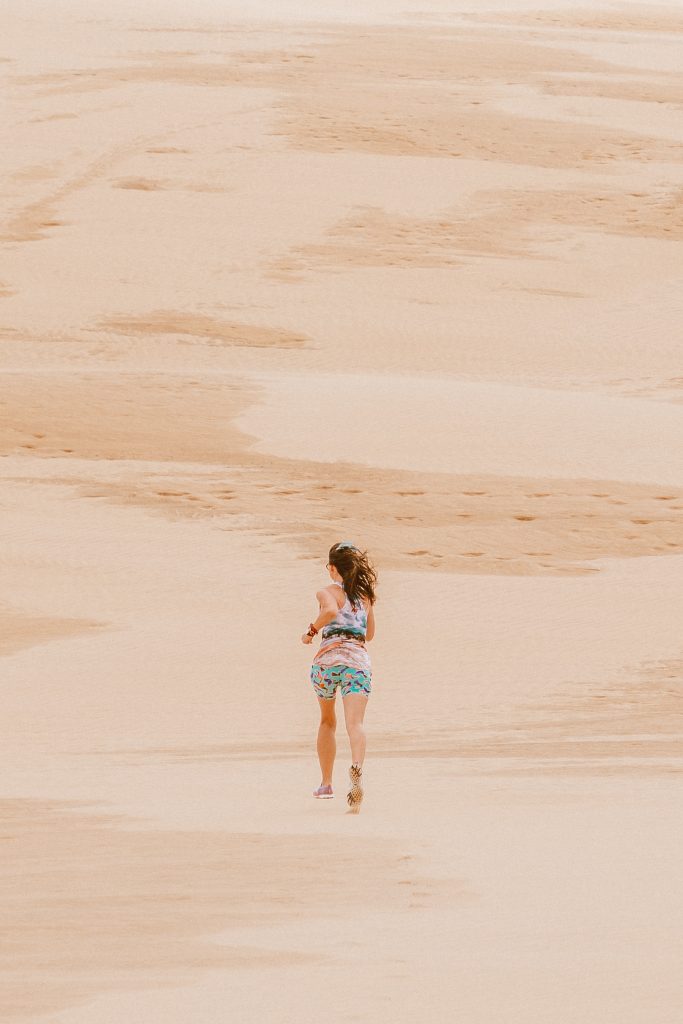 Can you drive at 90 Mile Beach?
Yes, you can! And it's so much fun and is an absolutely surreal experience, especially on a sunny day, when you can't tell sky from water, water from sand, up from down (just kidding). But you should have 4WD to drive along the beach! And most rental companies won't allow you to take their cars to the beach.
For your own safety, keep closer to the centre of the beach – wet sand by the water and too dry sand on the opposite side are where the cars get stuck the most. Also, though it's a beach and calls for something reckless, keep in mind you're actually on a highway and should follow the same rules as you would on any other highway around the country.

90 Mile Beach is one of the longest beaches in New Zealand and, of course, a MUST TRY BEFORE I DIE experience. And even the fact that in reality, it's not 90 miles long can't make it any less amazing. The beach, in fact, is only 88 km (or 54 miles) long. Though no one knows for sure, why is it called '90 Mile Beach', there is one legend, that this beach was discovered back at times when people were still riding horses. Horse can cover around 30 miles per day and it took first explorers three days to gallop from one side of the beach to another, so they assumed it was 90 miles long. They just didn't realise horses are moving a bit slower on sand 🙂
In order to reach 90 Mile Beach, look for signs saying there is car access to the beach nearby and pick the one that suits your road trip plan. There are 4-5 of them along the beach. The first one when driving up is at Ahipara and the top one is right where the sand dunes are (but you'll have to cross the stream, so it's weather dependant and also not for every car).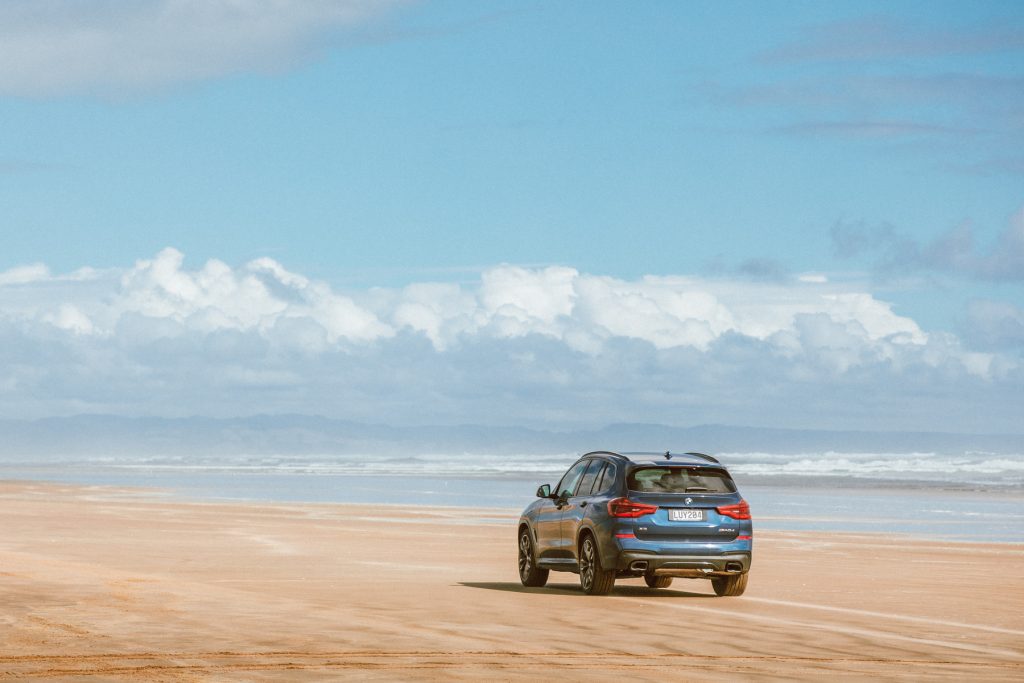 Another option is to take a bus tour – buses drive to Cape Reinga along the 90 Mile Beach and even make a few stops along the way, if I'm not mistaken. Bus tours will cost you around $155-$200. But it won't give the flexibility of exploring the region at your own pace.
To wrap up the day
On a hunt for a perfect dinner spot after an amazing trip up North? Fish 'n Chips shop in Mangonui (132 km from Cape Reinga) has a proud (and giant!) sign 'World Famous Fish and Chips' on its wall. Quite a recommendation, isn't it? World-famous or not, they do reeeeeeally great food and the views are exceptional. Even though we had accommodation for that night booked at Whagaroa Harbour, we still made a wee detour and never regretted it!
If you're interested in learning new skills and get certification, check out this website.
LIKED THIS POST? PIN IT!