Velassaru was our first stop in Maldives and we have only reached this beautiful island late at night, all sleepy and tired after a long flight from New Zealand. Knowing that we'll only have one full day to explore the resort before moving deeper into the atolls, we decided to take maximum out of it. And here are some not to be missed things everyone should do at Velassaru Maldives!
WHY VELASSARU
There are over 140 luxurious resorts in Maldives with 10 new being opened every year. Some of them are ultra high end and posh, others are eco-friendly and relaxed, some are tiny, some are huge…
But Velassaru – I would say it's sort of a golden middle! This resort combines all the best features of any other places around the country, without going too bananas about them. It is located 20 minutes from Male, which is not too close to become a distraction from your peaceful holiday due to the endless airplanes, and not too far to make you bored while getting there. It is neither too big, when you have to ride buggy from one corner to another (though you can do it here, if you wish), nor too small. It is relaxed enough to walk barefoot everywhere, but offers some fine dining options in the evening to make the most out of your beautiful evening gowns, that I'm pretty sure you always have in your suitcase. You can bring your big family here and everyone would feel welcomed and entertained, or you can leave everyone home and have a perfect honeymoon with your partner. There are a lot of things to do here, but if you wish to hang out on your terrace overlooking the beach with the book for an entire day (real life example), you'll never regret it, as Velassaru proudly has the most beautiful villas in my own rating. And! They are so generous in complimentary desserts and in-room snacks, that you'll never run out of them!

WHAT TO DO AT VELASSARU
1. Breakfast at Vela. We only had one day and an entire resort to explore. Obviously, we started with breakfast! Vela is probably the most laidback (the barefoot kind of laidback) restaurant at Velassaru, so you're free to choose your table and stay there for as long as you want. Saying that they have the most generous gourmet breakfast in Maldives wouldn't be an overstatement as well. At least, Vela is def number one among all the five resorts we have visited! Pancakes, all sorts of eggs, cornflakes, tons of fruits, fresh juice, cheeses, yummy pastry, international meals, hot cooking stations – I was so impressed with the choice, I could literally stay there forever. Add lush green scenery around – and you're in foodie's paradise.
2. Massage at The Spa. If you're looking for an iconic Maldivian pic for your Instagram, The Spa is the place you need to visit! Their famous pool with a lagoon view is all you could ask for: endless turquoise water on one side, beautiful contemporary overwater bungalows on the other. There is also a relaxing steam room next to it. We loved it so much! But before jumping into this vicious circle of pool and steam room, treat yourself to one of the wonderful massages, offered at a beautifully decorated overwater treatment rooms. Alex and I went for a traditional Balinese method, that is all about relaxation, aromatherapy, skin rolling and delicate pressure. Exactly what was needed after a long flight! After 60 minutes of pure heaven we were also treated to some snacks and hot tea (eating is pretty much all you do in Maldives! This and snorkelling). On scale from 1 to 10, it definitely was a big 10!
3. Soaking in the outdoor bath of your own villa. Remember I mentioned spending a day at your villa? That is something you can easily do here! We stayed at the spacious beach villa and it was the most spectacular accommodation of the entire trip. A celebration of natural light coming from a full-length glass doors, opening directly to the beach, all stone and teak interior and giant gates to the garden bathroom, stuffed with L'Occitane products and everything you need to feel beautiful and loved. I enjoyed spending time lying at the outdoor couch with my book, while sipping Nespresso coffee and snacking on a giant fruit platter they offer upon arrival. But the highlight of the day was definitely a long bath session. We don't have a bathtub at home, we only have a shower, so we obviously couldn't resist the temptation to fill it with water and jump in immediately.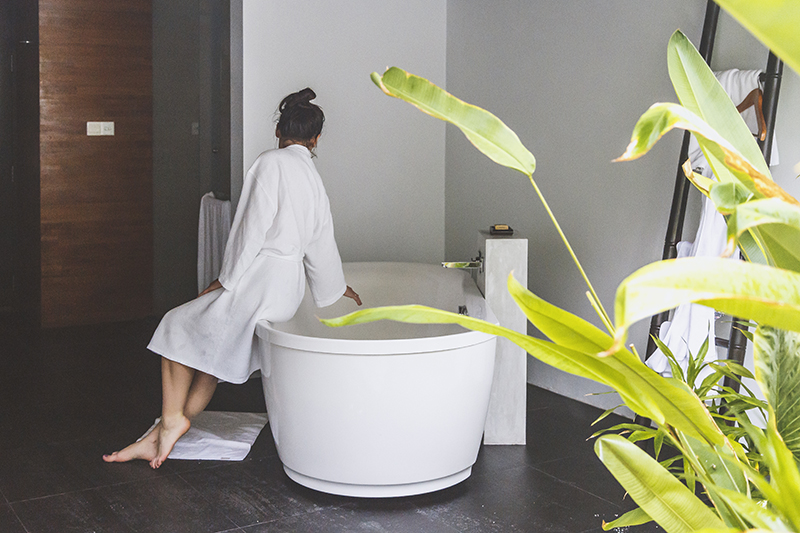 4. Dinner at Sand. Because how else to spend evenings in Maldives, if not at the water's edge, looking at the stars, with your feet soaked in warm sand? This restaurant offers several private dining pavilions with an intimate and very romantic atmosphere. Choosing from all the mouthwatering Pan-Indian Ocean options was a torture – I wanted to try everything! Alex went all in and ordered his first ever grilled lobster (43 USD for a half). By the way, that is the place where he ate the most delicious Black Angus beef carpaccio (24 USD) ever. None of the resorts after were able to beat that taste! We chatted to our friendly waiter and learned a lot about how the staff of the resort lives (and that they get cold at night and use blankets when the temperature outside gets below 26 degrees).
Obviously, there is so much more to see, try and do at this resort – you can enjoy beautiful sunset cruise with a champagne, learn to dive or calm your mind at yoga class, you can participate in a romantic photoset or chat to a marine biologist, sweat at the gym or make new friends at one of the two bars and five restaurants. The list of activities is almost endless! As you know, we only had one day to spend at this picture-perfect resort with soft white sand and crystal-clear water, but I hope we'll have another chance to explore more of Velassaru one day.