There are two types of mountains: beautiful and super-beautiful. But there is also a third category – mountains, that will change your life forever! I don't know why, but Alps for me are exactly like that! Everything is very special about this place: landscapes, people, sunrises seen through the terrace, food. My first experience of exploring the Alps was in Switzerland. And I left my heart there forever! Who knew, Austrian Alps would be so familiar but so new at the same time. No matter, if you're in love with the mountains like me or didn't have a chance to become a fan yet, while visiting Europe's most skiing country, you will definitely discover all the advantages of winter holidays.
Seriously, people do ski during the winter and summer in Austria (they have resorts opened 365 days per year!), there are over 800 skiing resorts in general and almost every citizen prefers to spend his winter weekend in mountains or at least watching skiing championships. So be sure – you will get your 100% of joy and happiness here!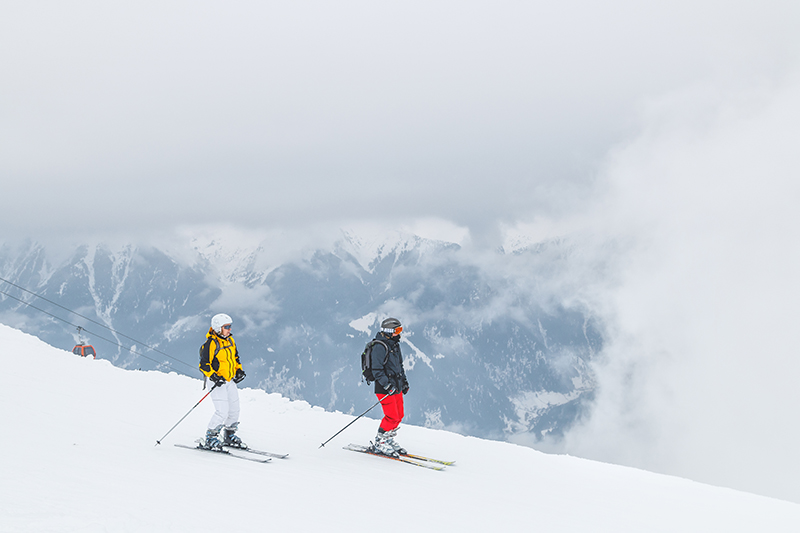 Where to ski in Austria
Best Austrian ski resorts are located around Salzburg. People even call it "the mountain heart of Austria". You will probably have to fly there with a connection flight in Vienna or Munich. We had a short connection in Vienna where took a tinny cosy plane further. It was so small, that they even returned us our luggage immediately after landing, so we didn't even have time to look around and admire the mountains seen already from the airport.
And trust me, you already have a lot to stare it while landing! As I already mentioned this place is really special and unique. A land of mountains, rivers and snow. A land of such huge spaces that you feel as tiny as you never did. Mountains do look epic from the skies!
But at that moment I couldn't completely enjoy the views because was so eager to finally get to the Bad Gastein resort and meet my favorite mountains in a close. This resort is only 100 km from Salzburg, so the final trip promised to be very quick.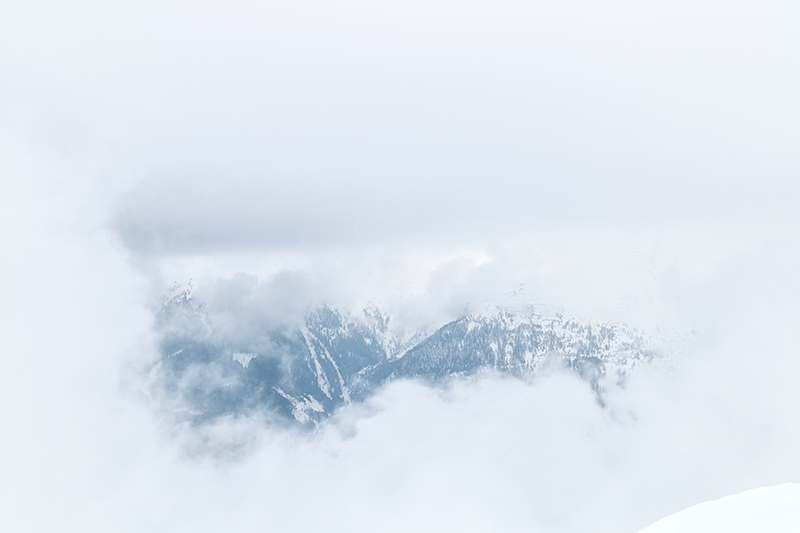 Where to stay at Bad Gastein
Gastein valley is so out of this world! I would rather say it is a fantasy came true. Just imagine: alpine village located around the giant precipice with a waterfall inside. A perfect place for Torus and Loki to build their new castle! This view you will get from your hotel room, from restaurants, from stores and of course just wandering around the streets. But if you are brave enough to have a closer look on the waterfall, you are more than welcomed to try Flying Fox – a sliding rope across the precipice. Don't worry, it's even slower that you probably want it to be, so it's not scary at all and allows you to enjoy the views.
Not surprisingly this resort is so much loved by the "first people". The emperor Wilhelm I, chancellor Otto von Bismark and Sigmund Freud – all visited Gastein. Probably, they brought this aristocratic and Belle Epoque feeling to the resort, that it preserves till the modern days. You definitely feel like living in a royal castle while staying here.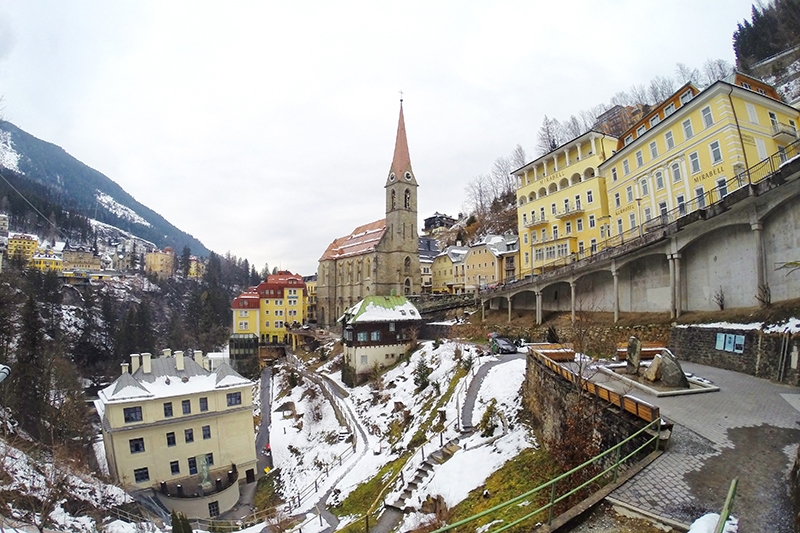 In order to be treated like a queen, check-in to the Grand Hotel de l'Europe, that is only 100 meters away from the waterfalls. This historical building operates as a hotel since the year 1909 and, of course, all the famous people always stayed here. By the way, there is one more attraction to pay attention at inside – the famous Ginger'n'Gin restaurant. Where else would you see 100 kinds of gin in one place! And the food there is always made with love:)
But this time we chose not so historical but really cosy and welcoming hotel – Zum Stern in Bad Hofgastein. Should mention it suits its name completely – observing the stars from the local terraces is a pure pleasure! If only I knew how to take pictures of the stars… Zum Stern appeared to be a very nice place with huge and beautiful rooms, with a true alpine lobby (with delicious snacks and drinks for guests!). Saying nothing about the breakfasts! In a light restaurant decorated by the morning sun and flowers. Can't think of anything more pleasant than having a hot cup of coffee in here before heading up to the mountains. A room for two in this hotel will cost you 115-130 euros during the winter season.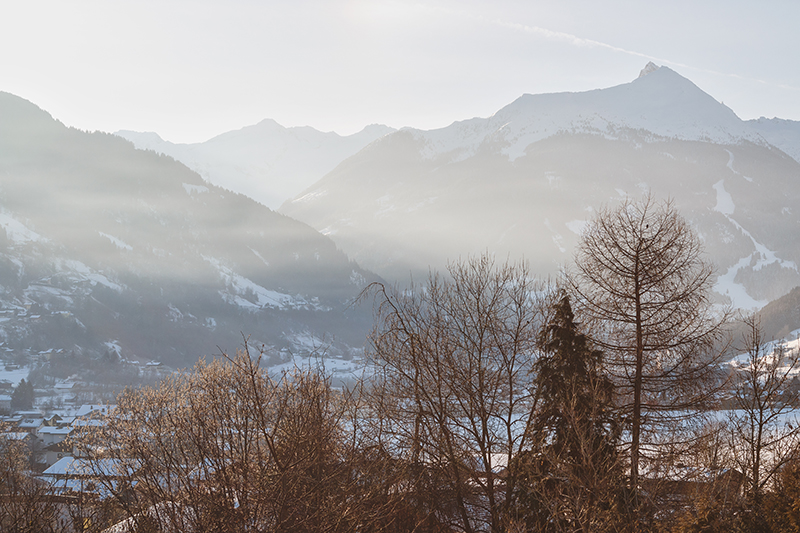 Balcony view. 
Bad Gastein slopes
What Austrians really good at is making every moment of your skiing or snowboarding really different from the previous one. They combine the nearest mountains in a wide chain of slopes, offer universal passes, send buses to the furthest points and do their best to make you feel happy during the day.
Gastein valley is one of that huge skiing areas. Over 205 km of slopes are organized in between 2251 and 1000 meters above the sea level. I was really impressed by how different they all are! One was really wide, with the 180 degree views around the valley, the other – just a narrow path in between trees and wooden fence (perfect place to meet Santa!).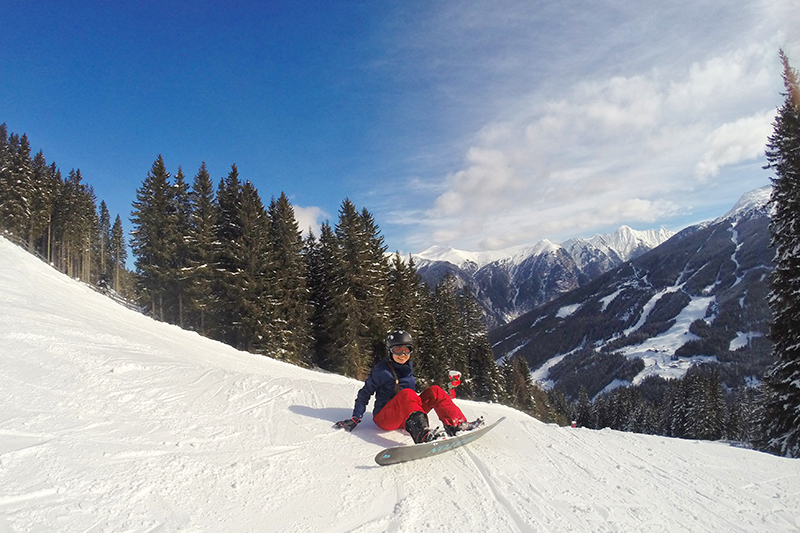 Despite the fact that local slopes are meant to be for the advanced skiers and snowboarders, I felt really comfortable there. I would even say – sometimes it is even easier there than in Russian "Gorky Gorod". Excluding the places where the slope becomes really horizontal, of course. It was my first ever experience to face something like that, so for the first several times I had to walk or to ask passing by skiers for a lift. In a couple of attempts, though, you begin to understand how to pass them on a speed:)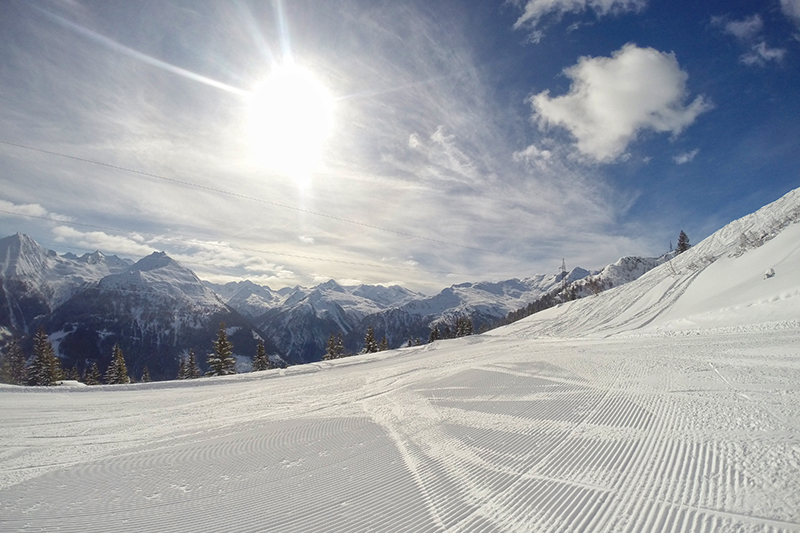 There is a hidden gem on the highest point of the resort (2300 meters to be more precise)  – 140-meters long suspension bridge! Trust me, the view is awesome. I would recommend to wait until the bridge is empty and take a picture from a camera hidden at the very beginning of the bridge – it sends pics to the web-site, where you can download them from. Worth it:)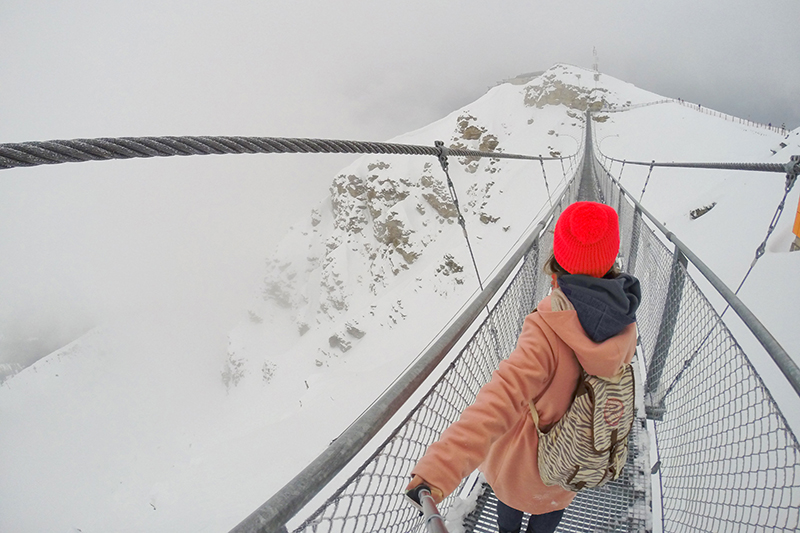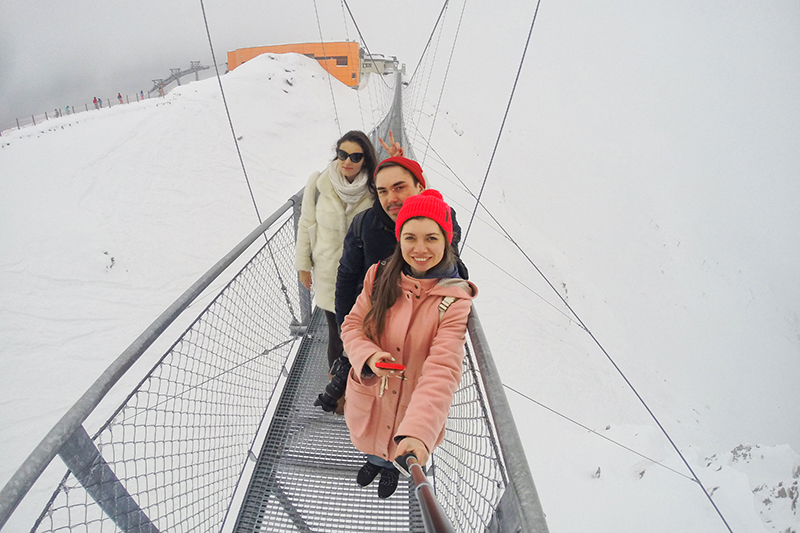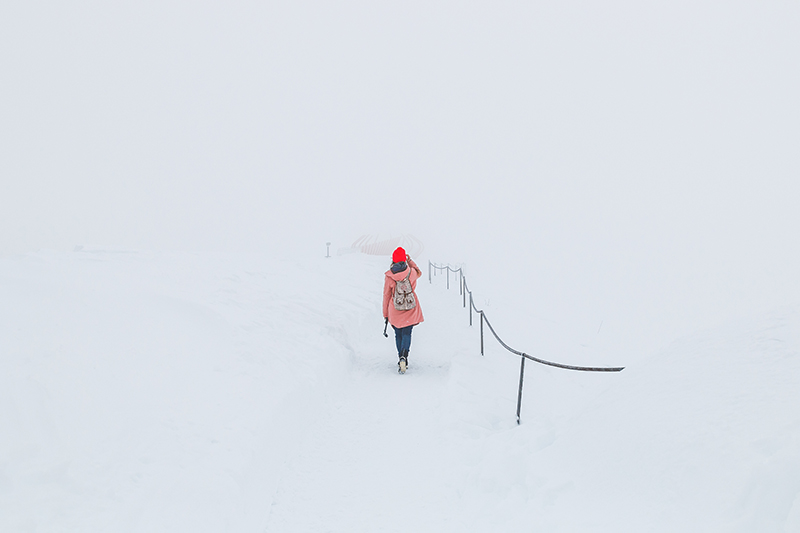 Spa and therme in Bad Gastein
Though I didn't have enough time to visit our hotel pool (so me! Remember how I missed the spa in the six stars hotel if Switzerland?), you just can't miss swimming in Bad Gastein. This place is famous for its thermal sources. There are 17 of them in Gastein and each has its unique offer.
Gasteiner Heilstollen are probably the most unusual experience you will get here. Those are the real groves made in search of gold. No idea if they have ever found the gold there, but they have definitely discovered healing radon (legend say that all the miners recovered from rheumatism while working there!). So now there is a real hospital under the earth! You can improve your health in general, recover from lungs' or bones' pains. By the way, girls do also love radon spa for the amazing glowing skin they get after!
This place looks extraordinary. First of all, you're taking a small narrow train 1 800 meters down the tunnel of the Radhausberg mountain – the lower you go, the warmer and wetter it gets. The newbies should take the first stop and choose any bed in a grove they would like. Here they stay for half an hour – relax, meditate, breath. I felt so wonderful that even fall asleep, but some of the girls were really stressed by the weight of the mountain above them. In half an hour the same train brings you up to the sunlight again, here you will drink delicious juice and get dressed. That's it fir the first time! Of course, if you're planning a whole treatment, local doctors will offer you a special customised programme of how often, how long and how deep should you go. Unfortunately, you are not allowed to take pictures there, so I have nothing to show now…
But you can take as many pictures as you want while relaxing in Alpine Thermes. And trust me, you want those pictures! They have amazing outdoor pool, warm enough to hand out there in any weather.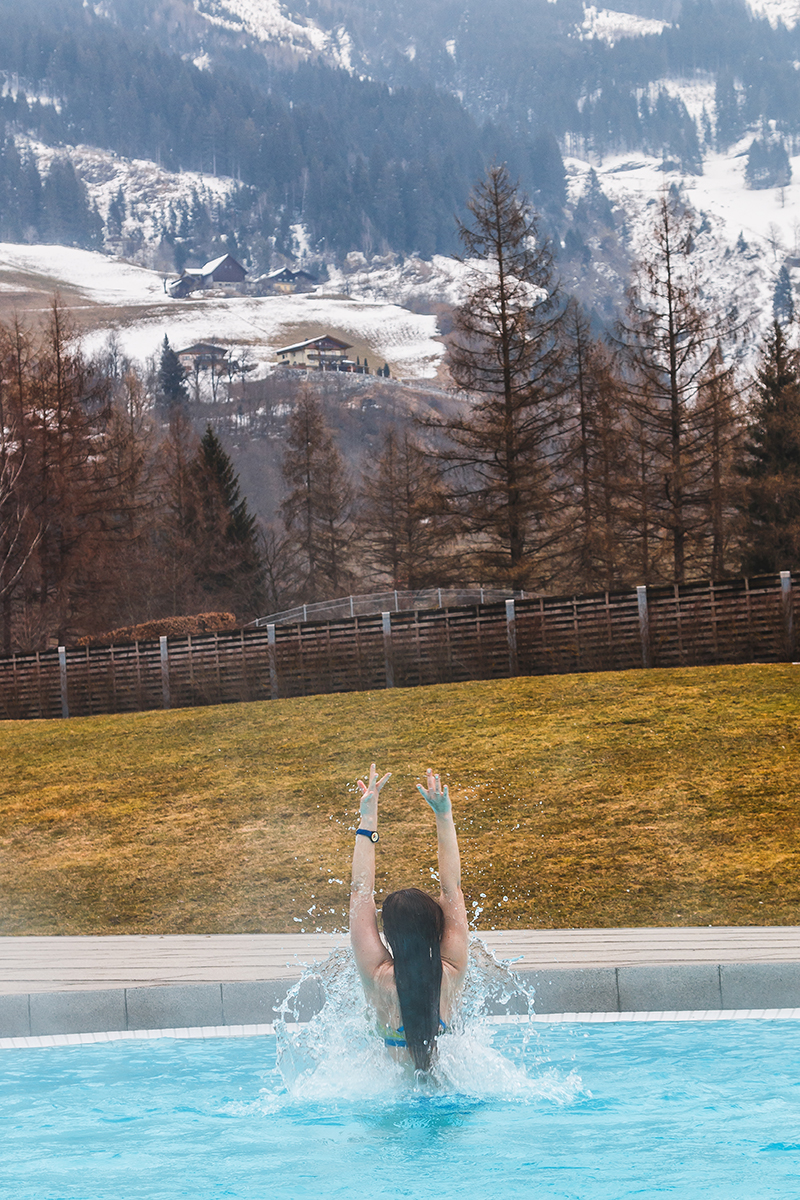 The best option is to buy a 4 hours ticket for 27 euros. Just enough time to explore everything inside and to try all the saunas (forbidden to enter if you're wearing a swimming suit. Here, I warned you!).
Where to eat in Bad Gastein
After a fun day in Alpine Thermes walk to the Gastein Alm – a nice wooden restaurant right across the river from the thermes. You will love the interior as well as the food! They serve local food made from local products – crispy, smelly, beautiful. This potato salad was above any expectations!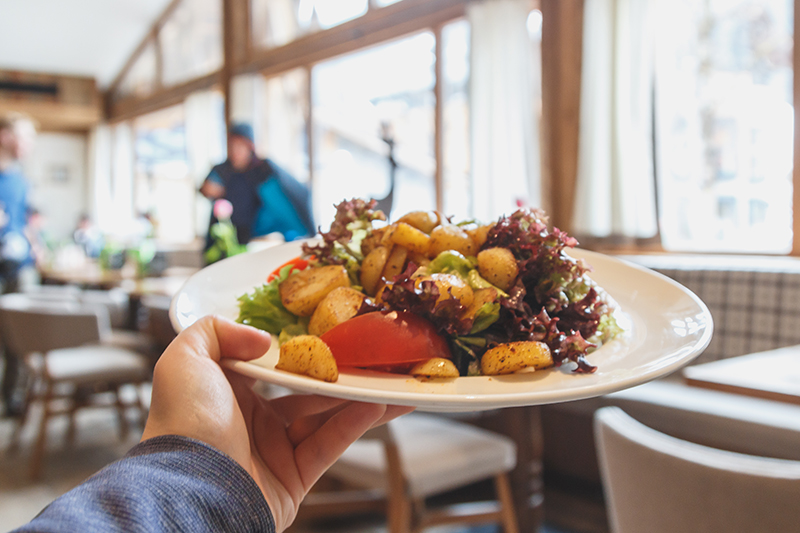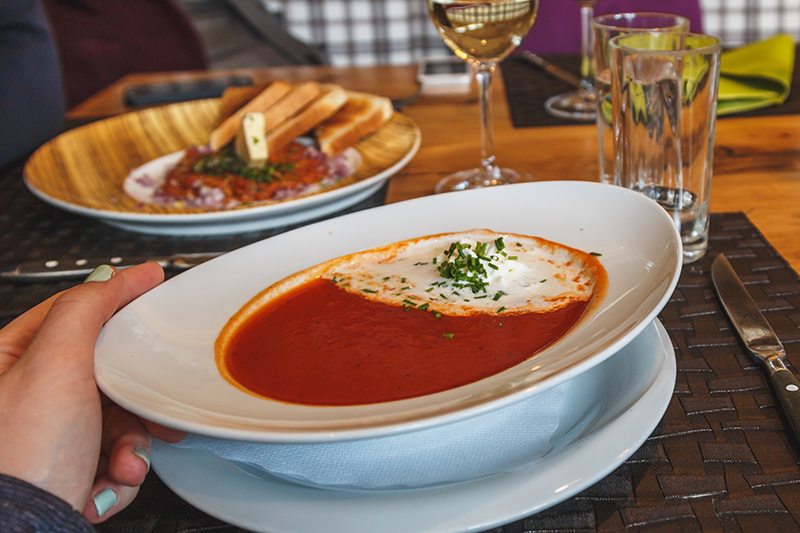 What an atmosphere do they have in this restaurant! People come here either from the slopes wearing their huge skiing costumes and shoes or after relaxing in the thermes – all red and smily:) This is exactly the type of relax – friendly, warm, sociable – I love the most about the winter vacations. Something you never get in tropical countries:)