Visiting Moscow two years after we left was a pretty surrealistic experience, should I say. On one hand, you know every single corner and know for sure where to go and what places maybe not that worth spending the time and money. On the other hand, I couldn't believe my eyes – so much has changed in such a short period of time!
Of course, of course, FIFA World Cup 2018 have finished and Moscow just couldn't humiliate herself in front of so many foreign visitors. That's what Russia was always really good at – shaking off her favourite sleepy mode and doing the impossible right before the deadline. Anyways, what I'm trying to say is that besides simply being impressed with all the positive changes, we've also really enjoyed visiting new places. After all, even if you're traveling to the country you've spent the most part of your life in, you're still traveling ABROAD and want to be a tourist for a while. New 'Kosmos' (Space) pavilion definitely stood out among them.
READ MORE ARTICLES ABOUT MOSCOW, RUSSIA
'Kosmos' is one many pavilions at VDNKh – Russian Exhibition of Achievements of National Economy (think Expo like the one Eiffel Tower in Paris was built for). Most of the pavilions are devoted to Russian regions or different former Soviet Republics, whereas others have not geographical, but thematic exhibitions inside. This particular building was firstly opened back in 1931 and was always the best place to explore space and engineering achievements. Sadly, we never had a chance to see it, because since 1991 it was taken over by random gardening, auto and other expos. So 'Kosmos' is not just a new fancy exhibition, it actually has a very long history. And the fact that this historical building has finally been renovated and upgraded, literally gives me goosebumps.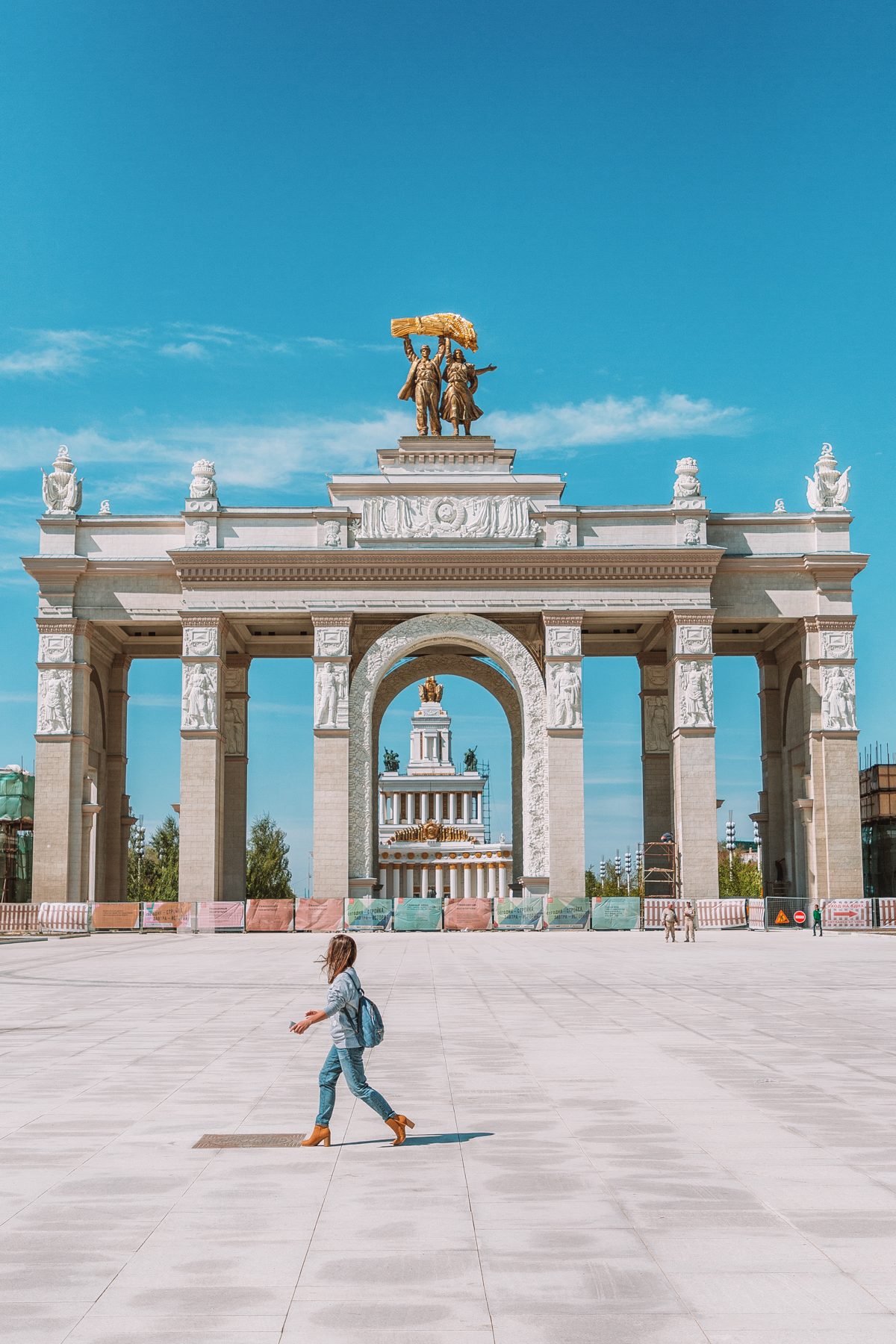 Main entrance to VDNKh
Not surprisingly, booking our tickets was the first thing we did upon arrival (well, after only clawing our way through the terrible jetlag maybe). The tickets are 500 rubles ($12-13 NZD) per person. Apparently, booking them online wasn't the best decision, because the tickets are issued with the particular time of entry. We arrived early and had to wait for 45 minutes… I didn't waste my time and indulged into delicious ice-cream sold next to the pavilion, though. If you buy tickets at the entry, you can go inside immediately, no matter the time.
But no more extra words! The main thing is what's hiding inside the expo everyone is talking about? OMG, we have spent four hours there and trust me, could have spent even more if I didn't have a pre-paid workout in the evening:)
The icing on the cake (let me start with the main part, ok?) of this interactive, super-modern and mesmerising expo is definitely the reconstructed MIR station, epic spaceship hanging high above the rest of the artifacts. You have definitely heard of this space station, that operated in low Earth orbit from 1986 to 2001, once – the largest artificial satellite in orbit. It also held the record for the longest continuous human presence in space at 3,644 days. Overall, if there is such thing as a 'space legend', MIR is definitely the one. At the moment you can only observe it from the outside, but sooner or later they will also allow guests to enter the spaceship and have a look from the inside. Wow, that should be awesome!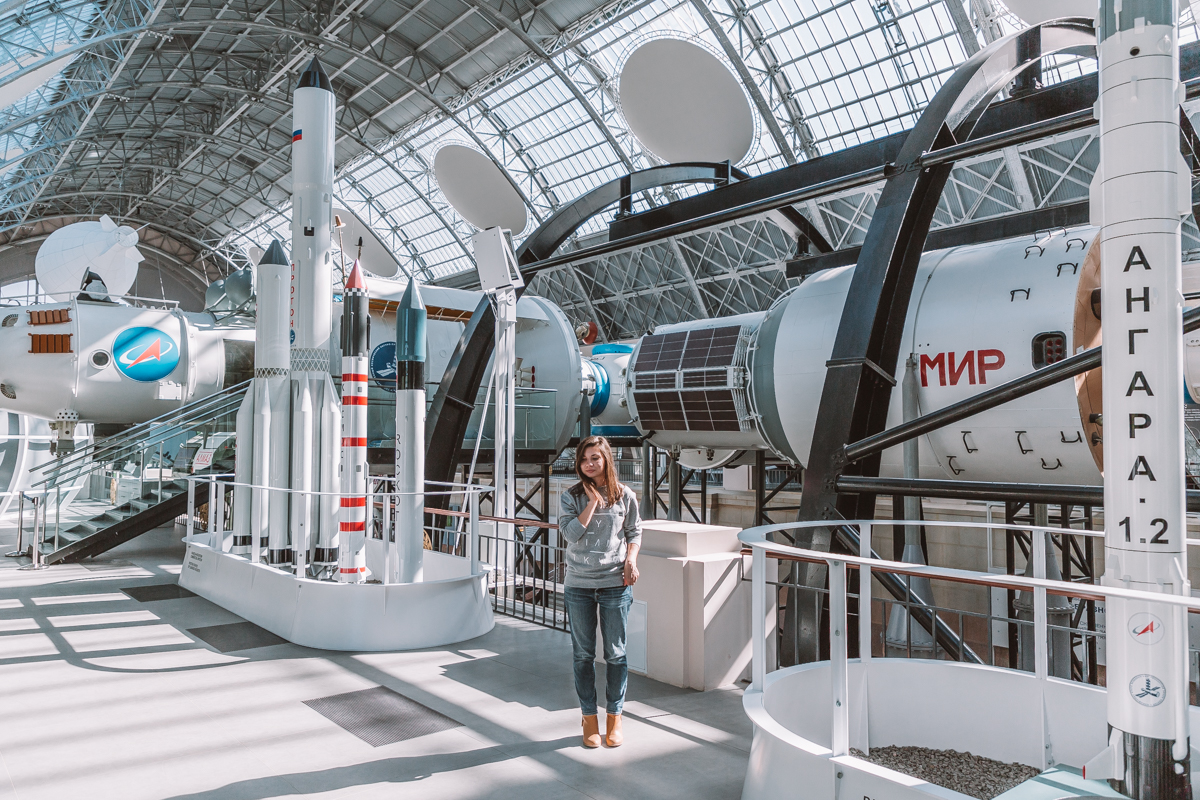 MIR space station at 'Kosmos' (Space) pavilion
The rest of the gargantuan building is stuffed with over 120 unique artefacts: spacesuits, smaller versions of the Earth's satellites and cosmodromes, six funny bubble spheres, that are actually 5D cinemas that will make you feel a part of the astronauts' team or will guide you through Sun, Moon and different planets. Pretty much everything here is interactive. You can experiment with zero gravity, play games and explore space food. I also loved the 'hidden' surprises that are different books, articles and astronauts' personal belongings, hiding in small drawers, that you have to open first to discover additional info. But the best part were the simulation capsules. A short queue – and you're inside, getting ready for a real space mission. So much fun!
Another thing worth to be mentioned is an impressive reconstruction of the pavilion itself. Can you believe there were no original golden decorations on the walls for quite a while? They were all covered up with a boring grey painting during the Soviet Era. It was impossible to scrape it off, so artists literally reconstructed all the decorations following the shades and lines on the walls to return its former glorious look to the pavilion. Amazing job, right?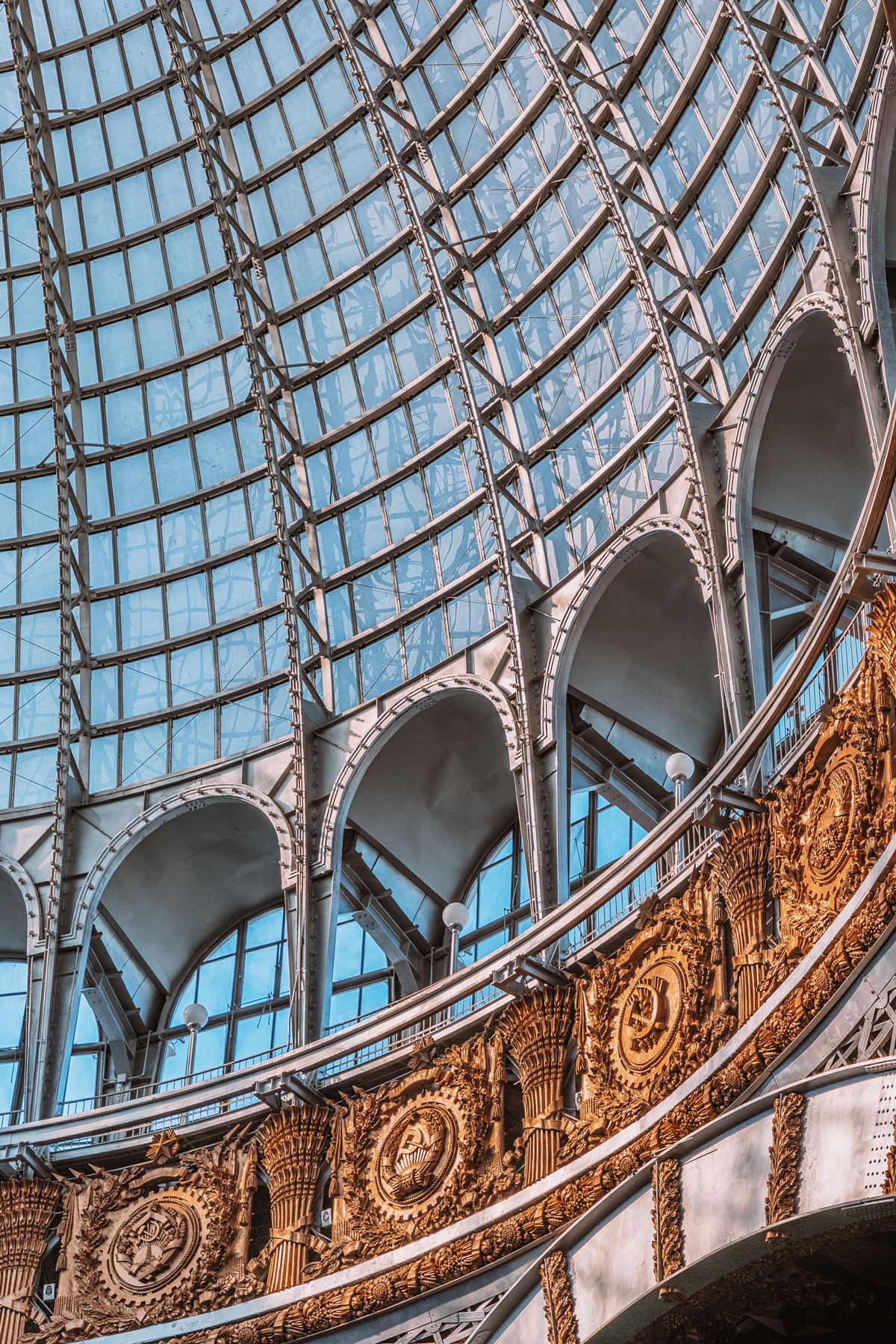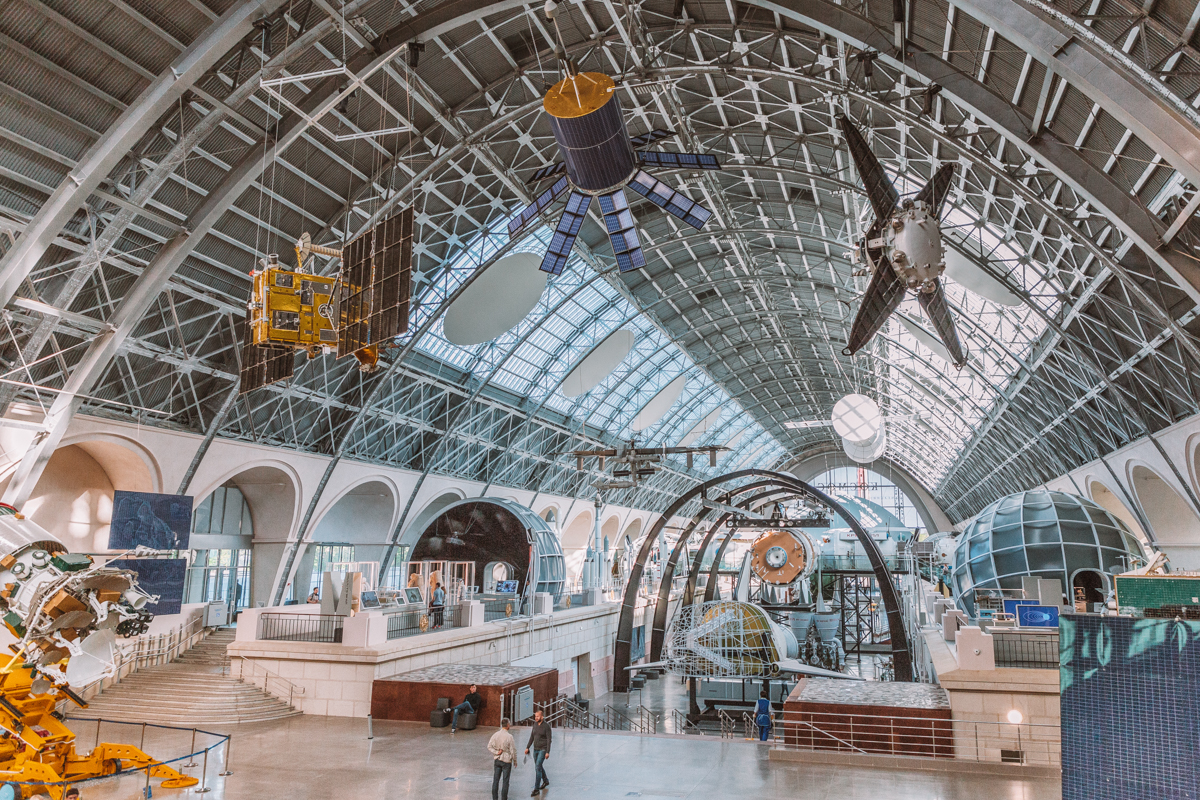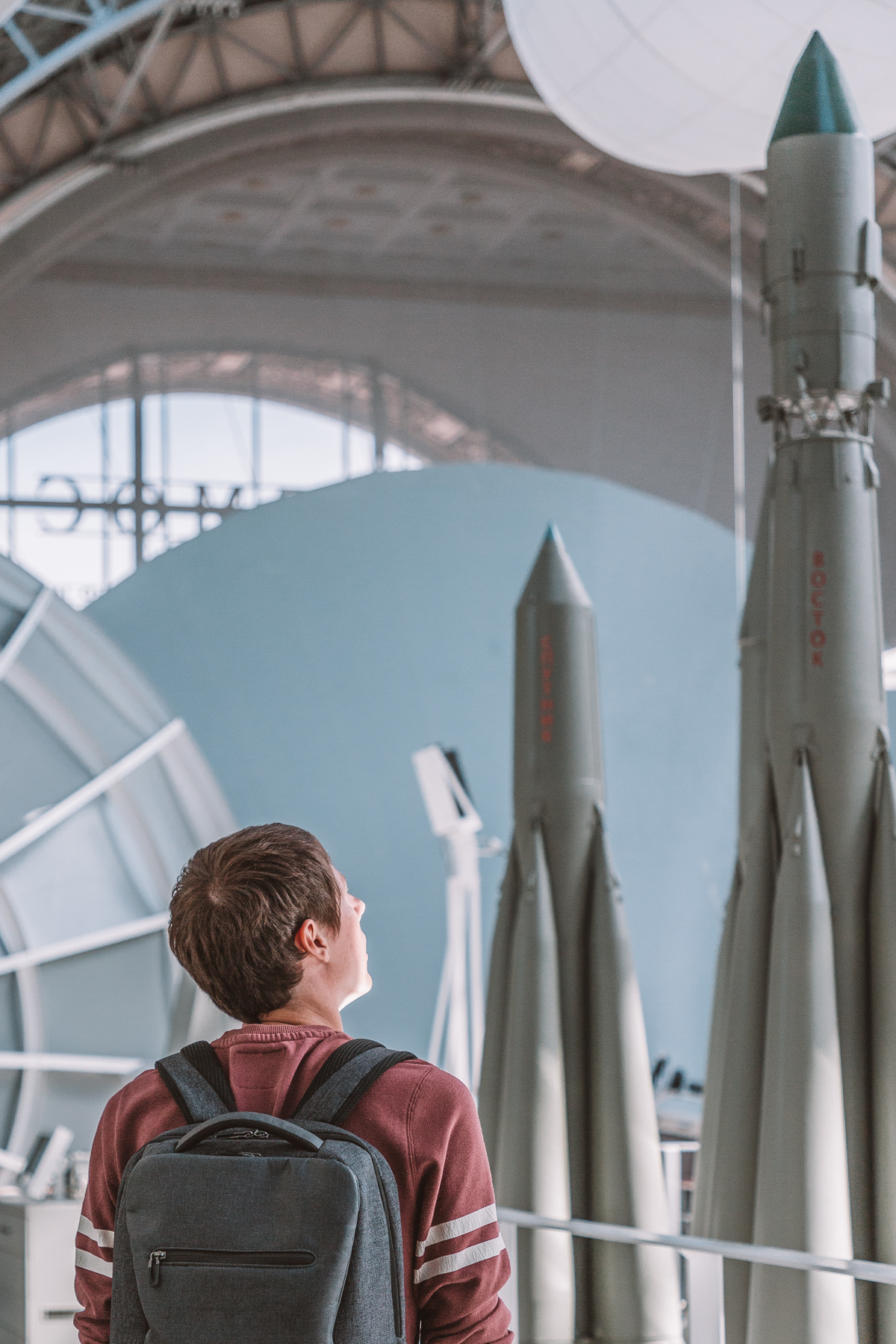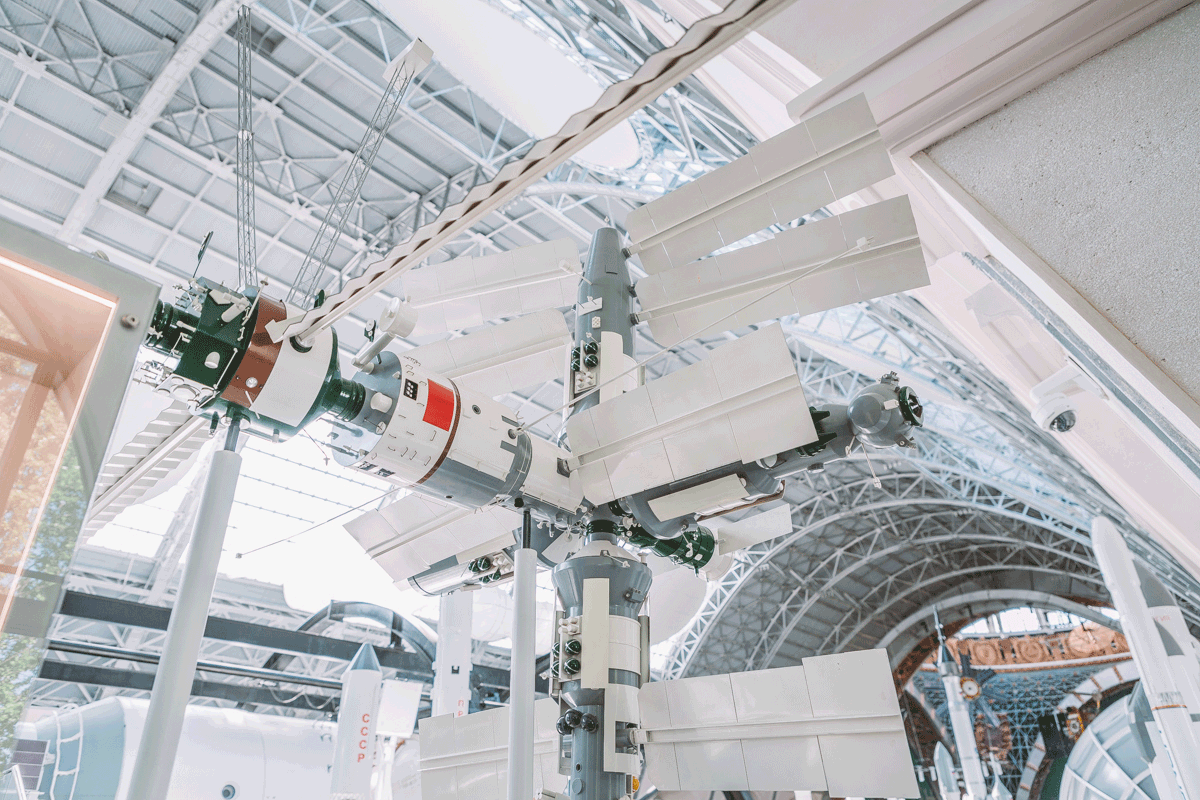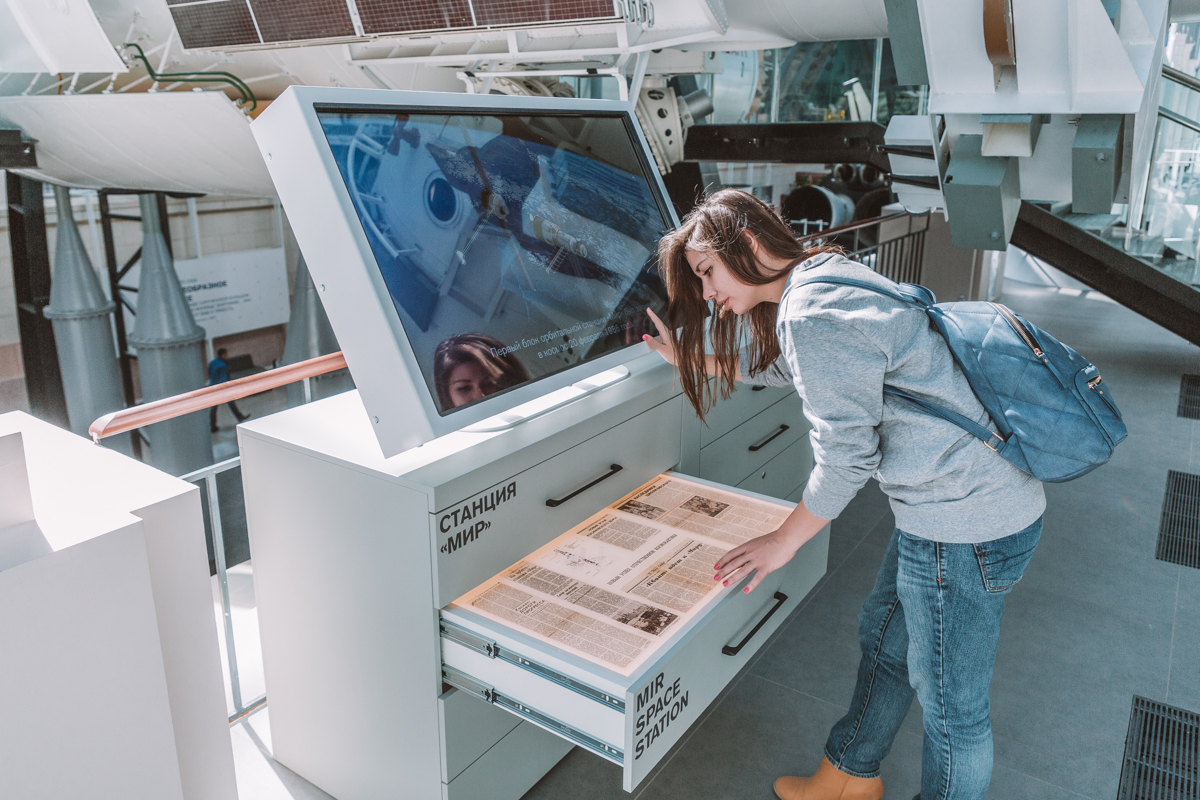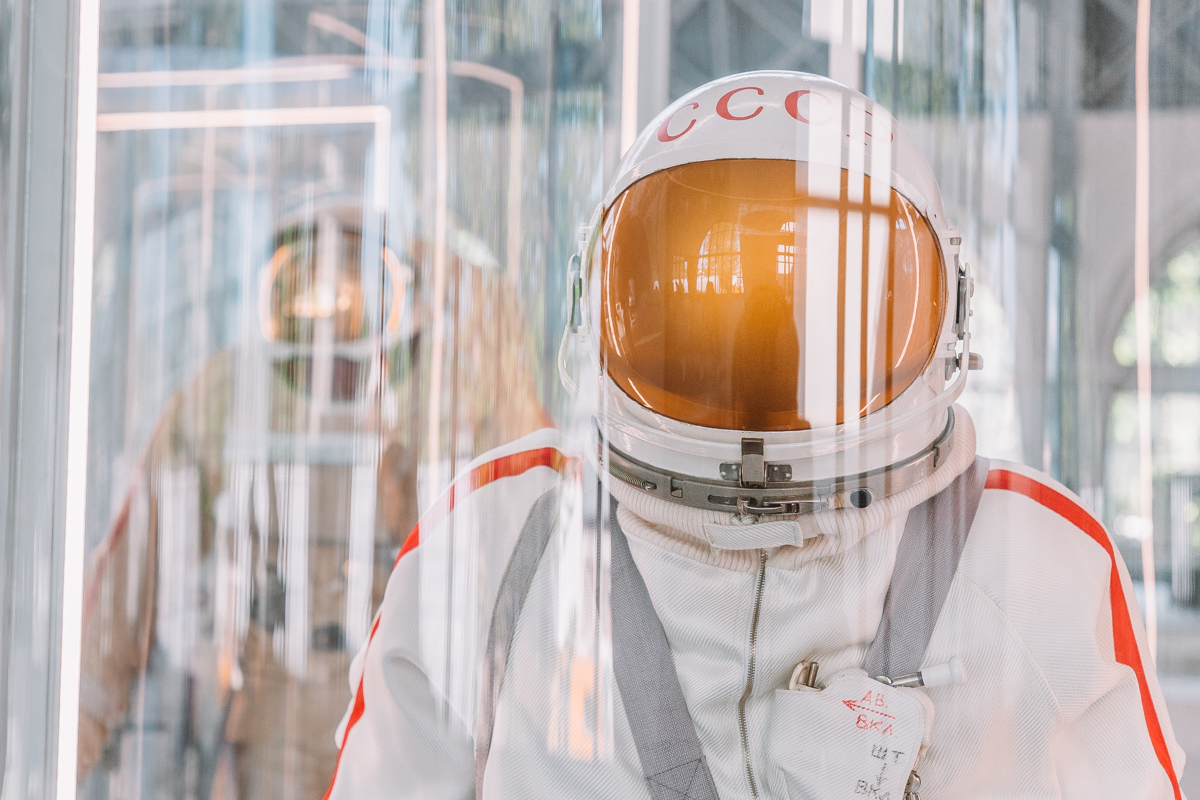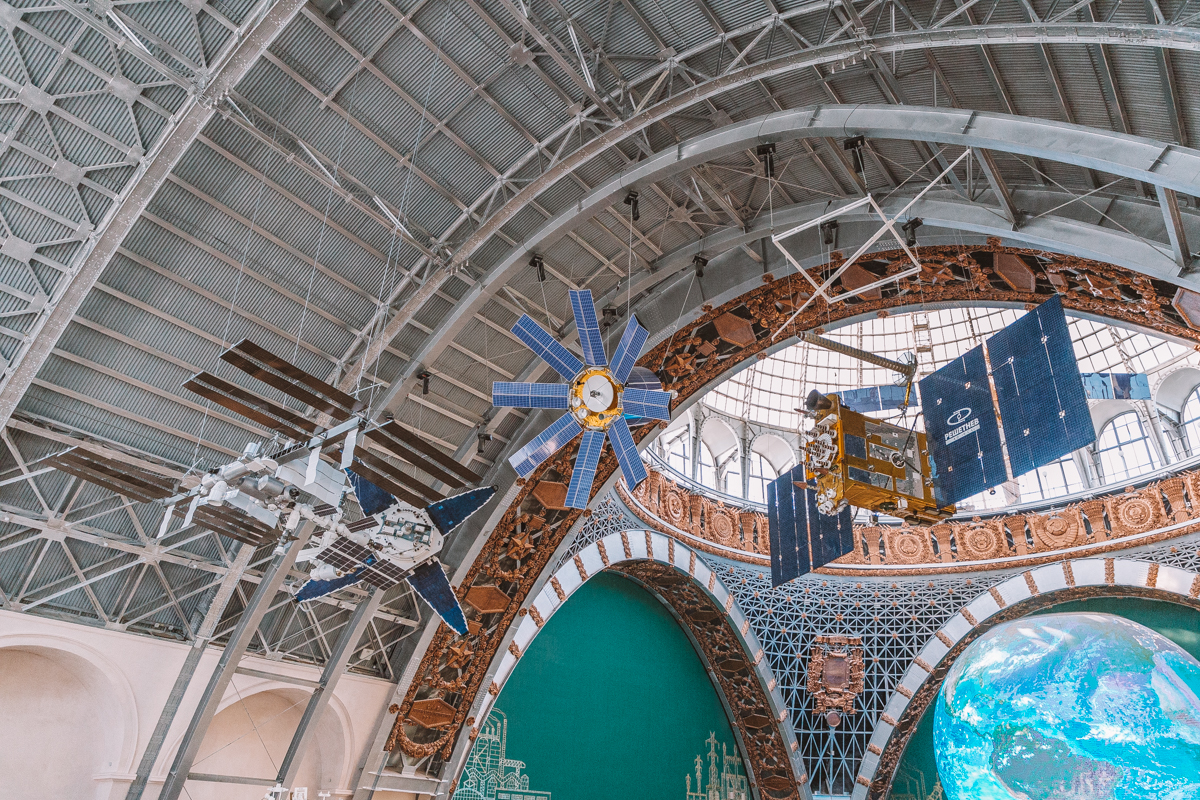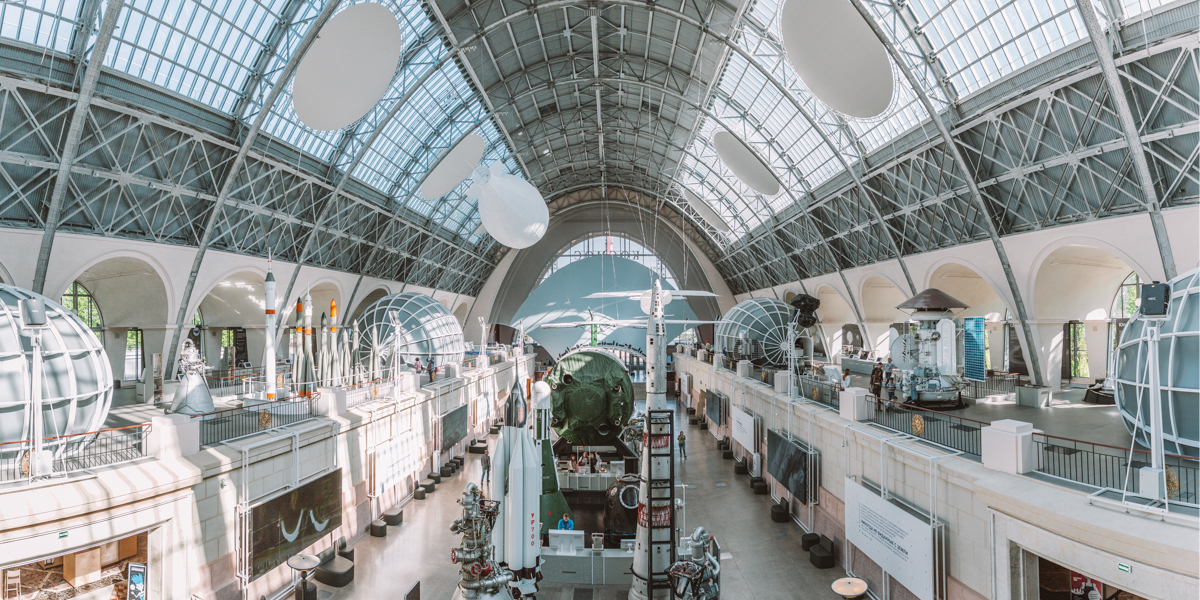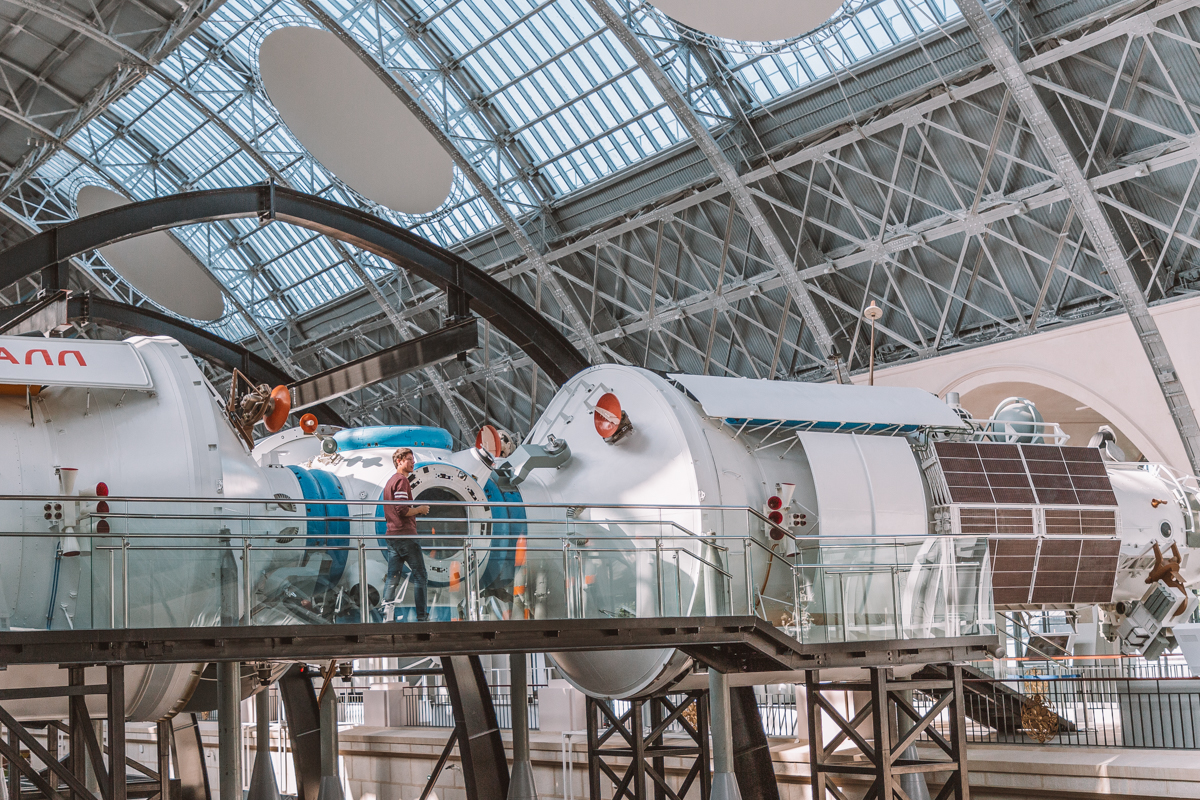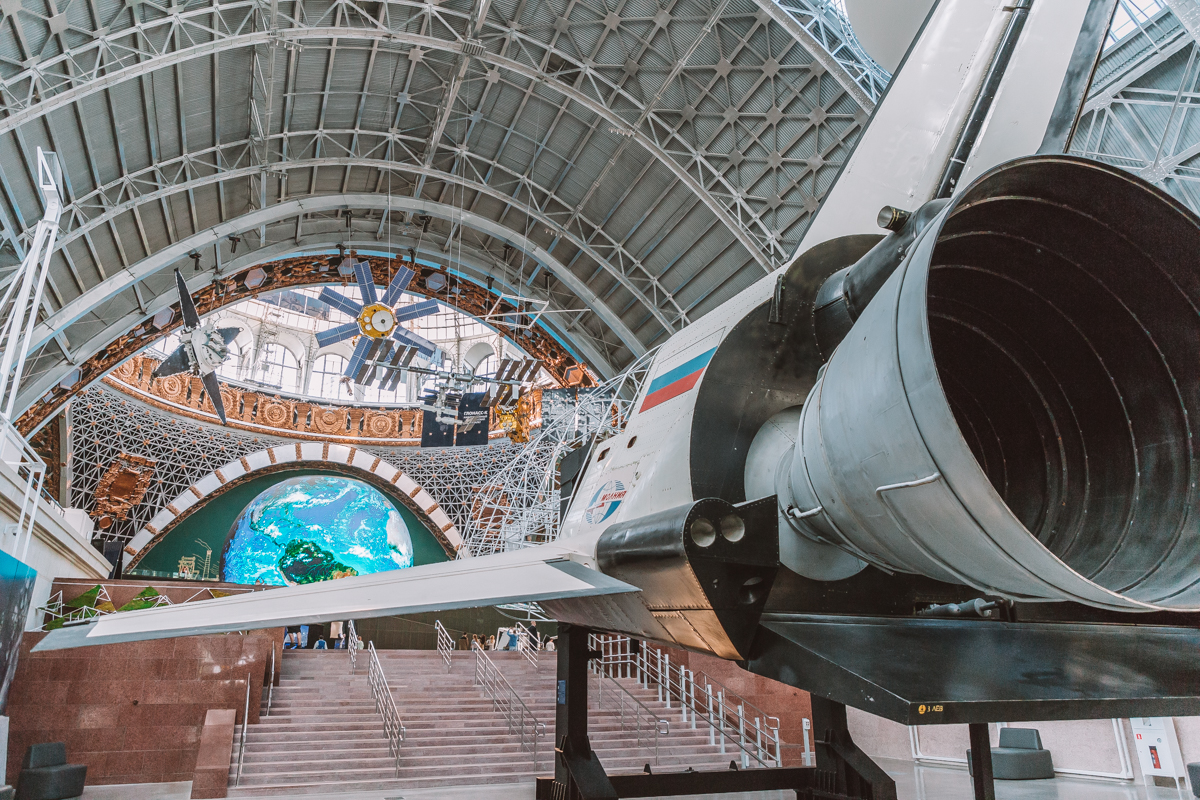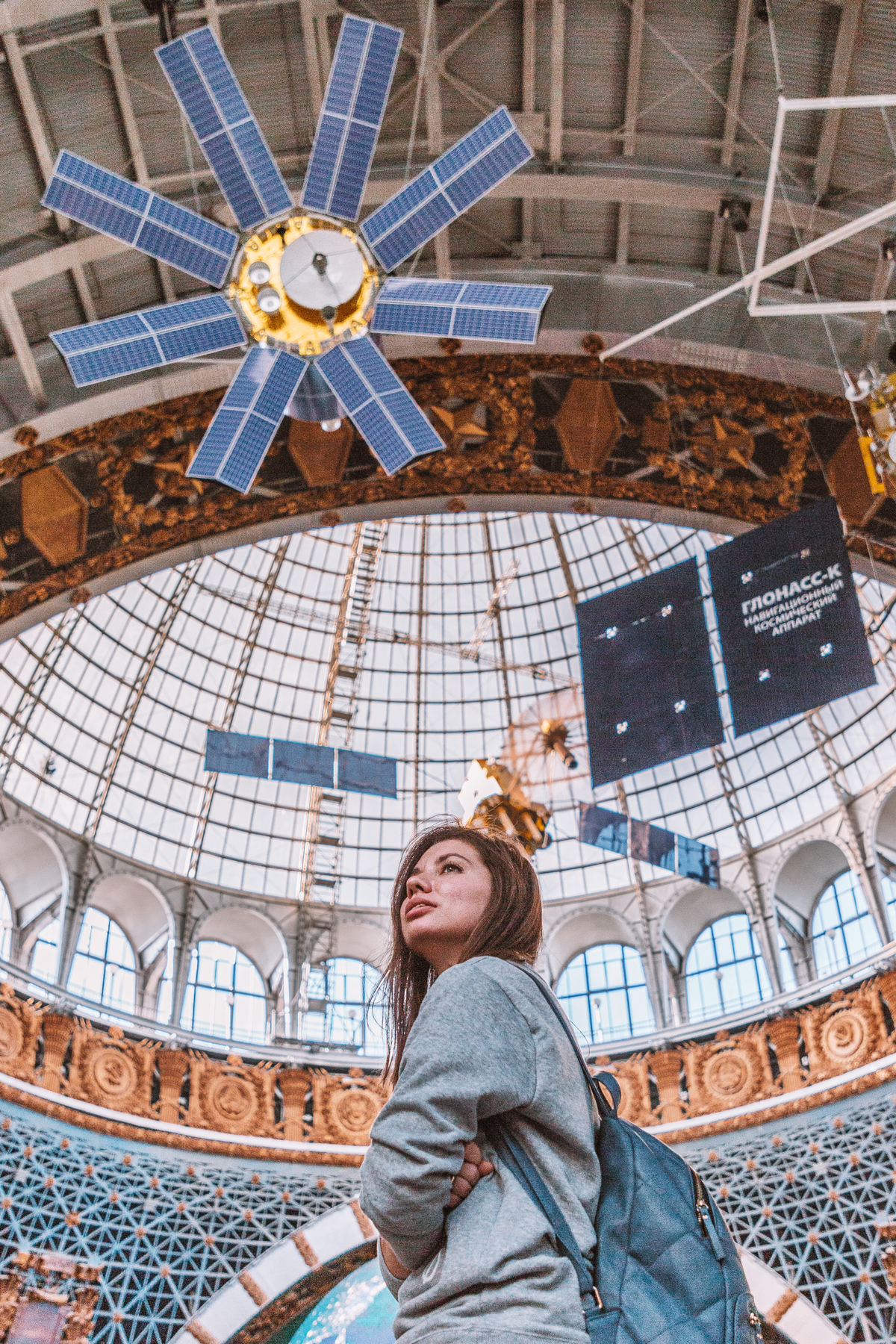 Pin this post: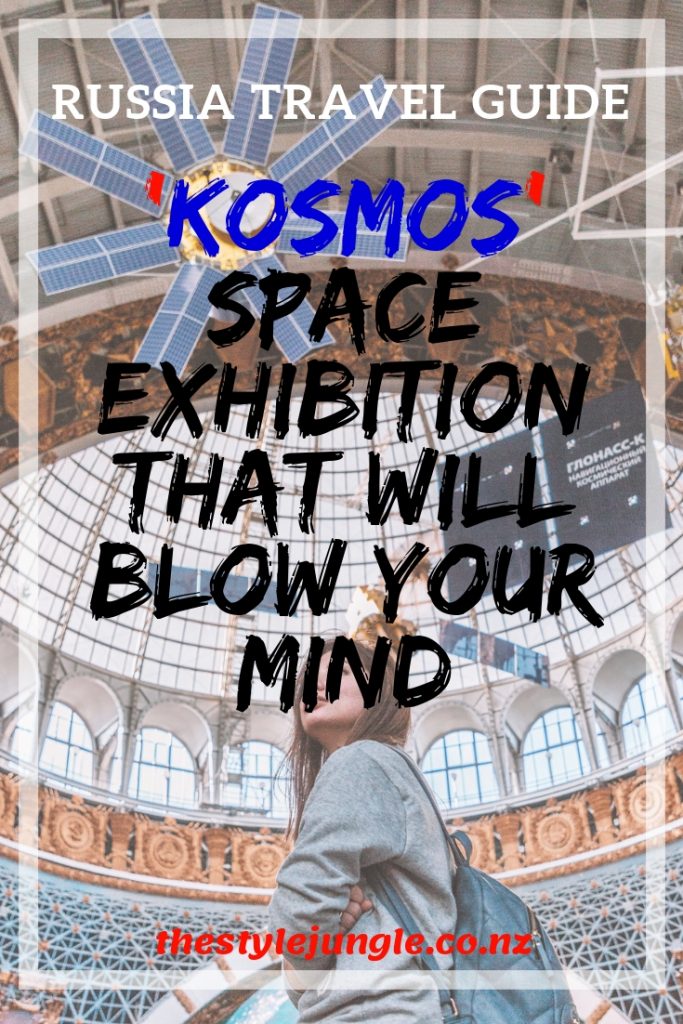 VDNKH KOSMOS PAVILION VIDEO
Here is a full guide to VDNKh expo including the walk-around inside the Kosmos pavilion. If you're interested in watching other Moscow videos, you can check them out on our YouTube channel.