There is something extremely romantic about road tripping through the Coromandel Peninsula. Narrow piece of land (40 km at its broadest point!), surrounded by ocean, makes you feel like being lost in the middle of nowhere even if you know for sure where exactly you are going.
Coromandel's rugged landscape is a perfect destination for tourists and photographers, but it's really tough to find a proper flat space to fit a town or a village there, so it's mostly uninhabited. Imagine, less than 30,000 people call this region home, with Thames being the only town with more than 5,000 locals. Instead, this region is known for its pristine beaches, majestic mountains and native rainforests with waterfalls and giant kauri trees within only arm's reach from the road.
The Coromandel Peninsula might be only 85 km long, but it has so much to offer! The best adventures require a good 1-2 days, though. Take the famous Coromandel Coastal Walk (10 km one way) or the overnight Coromandel Pinnacles walk. If you only have a weekend and have already seen the main must-do's like Cathedral Cove and Hot Water Beach, I couldn't recommend Whitianga-Coromandel area enough!
Pin this post: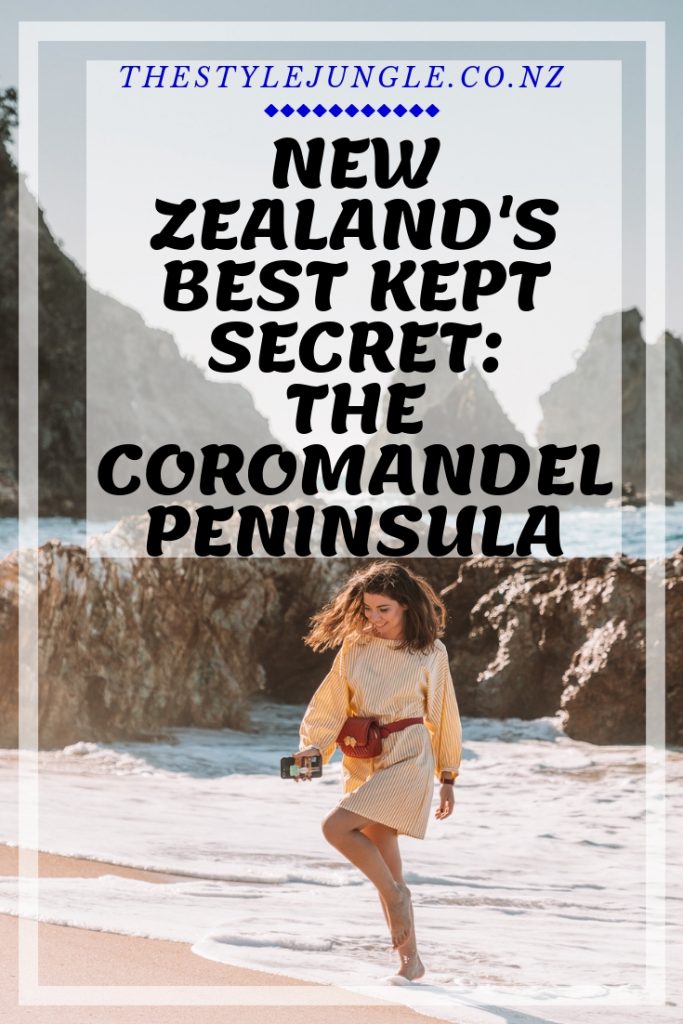 These two towns, located on the opposite sides of the peninsula, are somehow magically connected, so no matter where you stay, you'll travel from one to another all the time anyway. Wide and comfy SH25 and narrow gravel 'fragment of the past', The Road 309, form a perfect circle between them. Each road takes about 40-45 minutes. And there are so many amazing sights located along the roads, you won't need to go any further!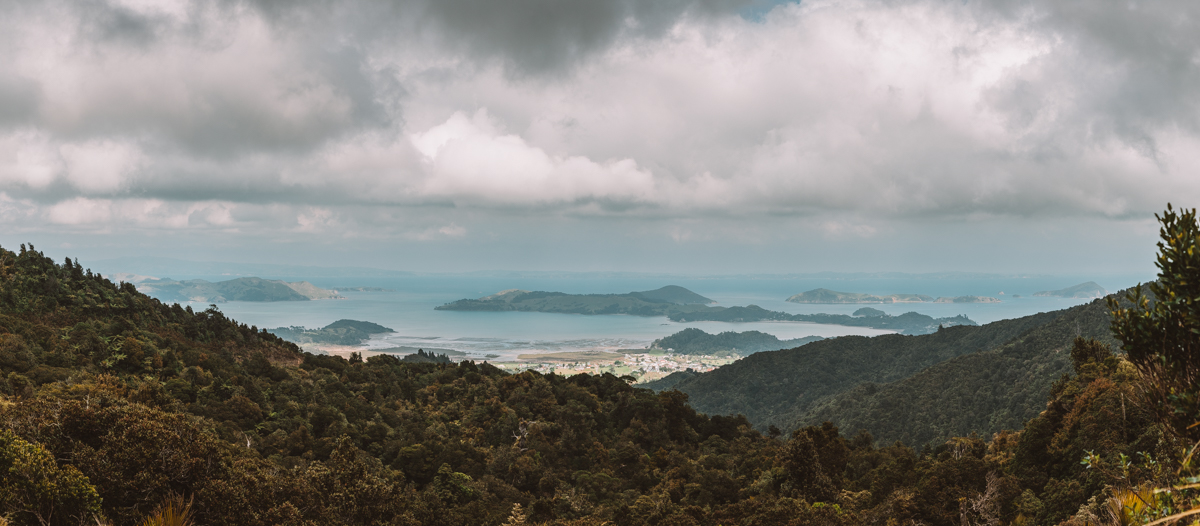 Whitianga
Whitianga is a cool little town with a gorgeous and very cosy beach, where families swim during the day and come for a BBQ at night. The town might be small, but it's so modern – Buffalo Beach Road boasts modern, spacious and supper comfy batches with big panoramic windows and glass walls, and I can imagine what a bliss it must be to stay here!
Though I definitely can't complain about our accommodation either. We've spent to nights at the sunny and bright Albert Number 6 motel with a beautiful view over that beach from the upper floor (and we were lucky to have a room upstairs). Absolutely loved their cute little rooms with a nice breakfast and just enough snacks to spend a pleasant evening!
There is a solid reason to choose Whitianga over any other towns, and that is The Lost Spring – gorgeous hot pools with 16,000 year old mineral water springs coming from 667 meters below the ground. This water is so good for your skin they even recommend to skip shower after! I love this space (especially the hottest pool in a 'volcano cone'), but honestly, I think it's heavily overpriced – $40 per person for 90 minutes, you must be joking! Nevertheless, for the second time in a row we couldn't resist the joy of having a relaxing evening at The Lost Spring. Neither should you! All those people who rated this geo-thermal area #1 activity in Whitianga on TripAdvisor couldn't be wrong.
Otama Beach
Just 20 km away from Whitianga lies gorgeous Otama Beach – secluded white sand beach, surrounded by dunes and picturesque rocks. That is the sort of nature that makes you forget about all your problems, tiredness and long road should you only stay one on one with the funny sounds produced by the sand, this amazing crystal clear air and warm sunset rays kissing your naked shoulders. A short walk, a little dip into the water and you're completely recharged and refreshed. To be honest, I was even a little more refreshed than I aimed to – those cunning waves!
On your way back pop by to Luke's Kitchen, located in Kuaotunu village, right where the gravel road from Omanu beach ends. They say, pizza is the best here! And thinking of all the smells, hanging around the charming and very friendly outdoor café, I couldn't agree more! Sadly, we arrived at dinner time and it was so busy, we couldn't even find a table! There should always be something to return for next time, right?:)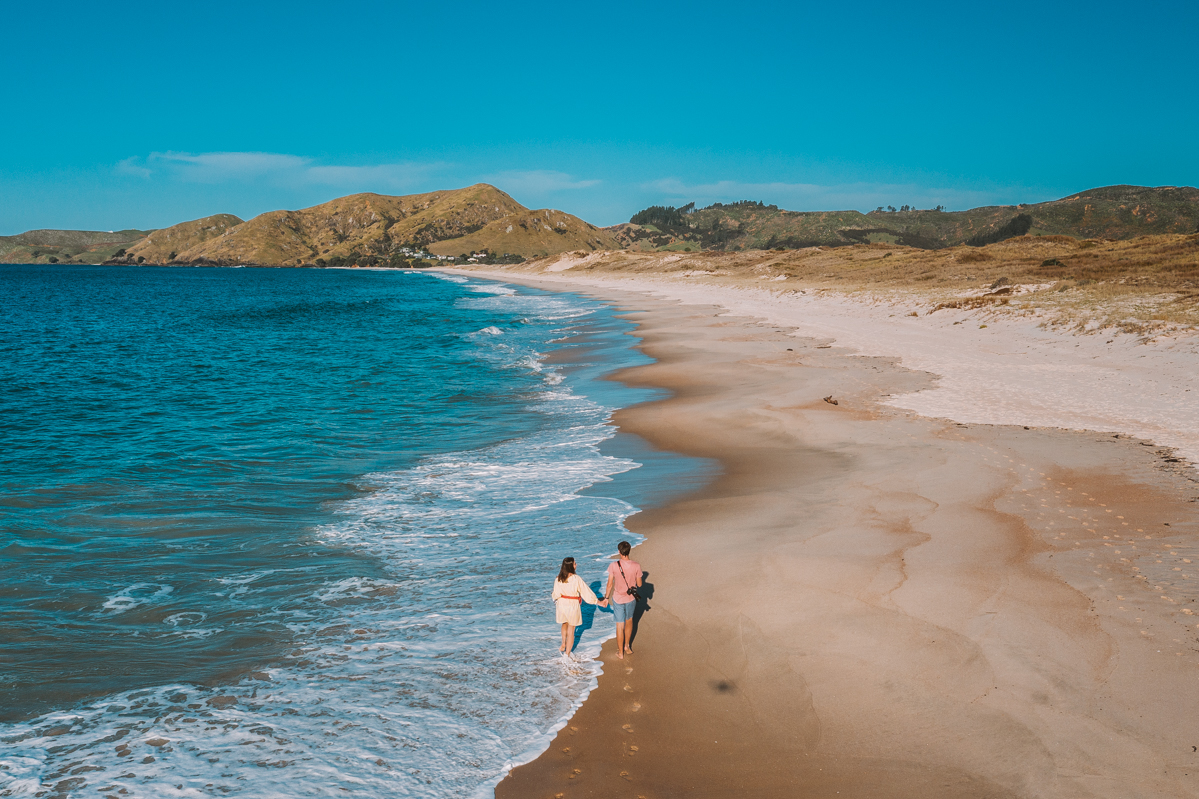 Whangapoua
Further down the 'upper part' of the Whitianga-Coromandel circle is the cutest small settlement Whangapoua, where we were greeted by the most peaceful morning: little girl swinging on one of the famous Coromandel beach swings, a couple of barefooted teenagers strolling along the main road, smiley man giving instructions to his sons that are about to improve their scooter game on a lawn. Local houses have literally no fences and the vibes of living between the house and the beach are everywhere.
We arrived here to explore enchanting Opera Point – another 'secret' beach, hiding 600 metres through the bush from the carpark. If you've never been to a tiny Maldivian island, that is probably the closest it gets to being all alone on a narrow piece of land. I don't know why, but being here is literally like being on an island. Was it because of the semicircular shape of the beach that hides the rest of the world from you? Or because of that crazily transparent water you normally don't expect to see outside the reefs? Or that diverse wild life with various birds, fish and even starfish we've met there?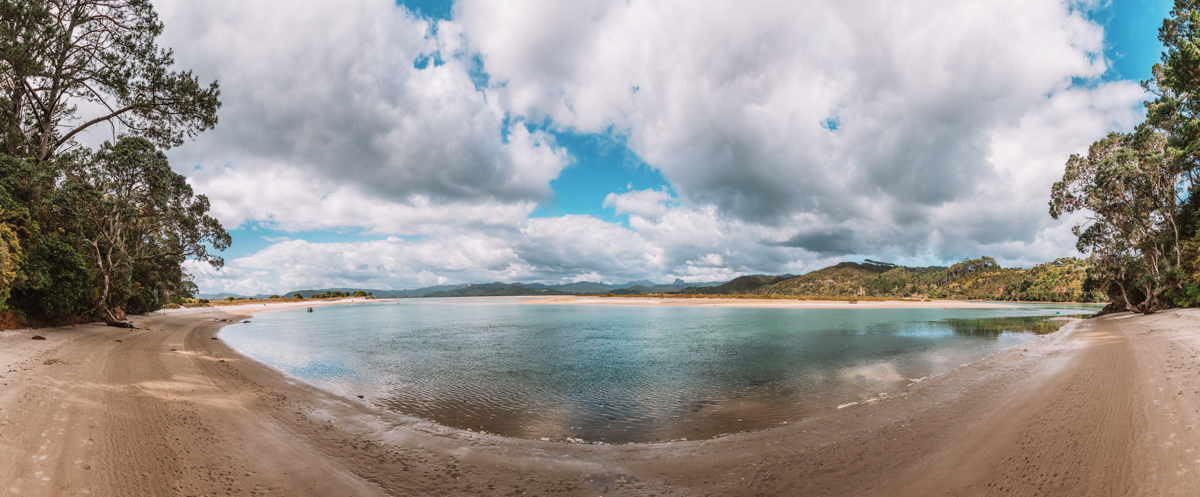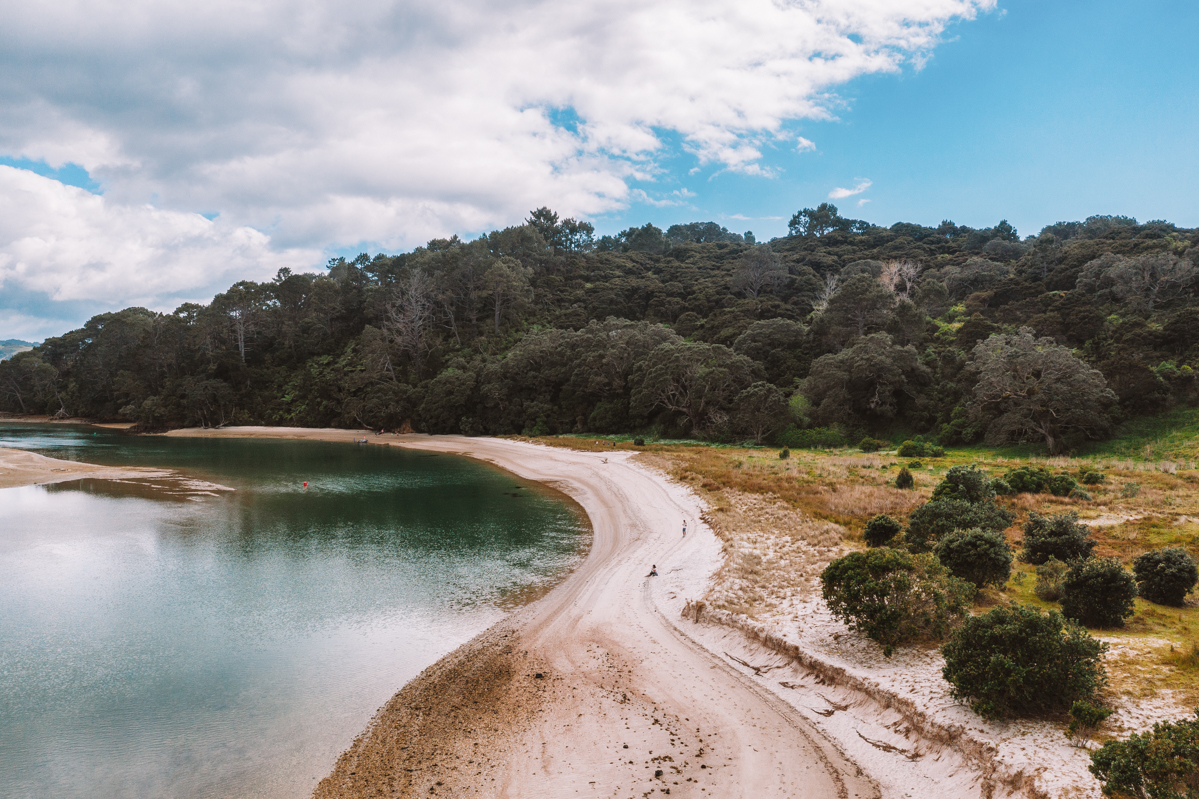 There is another legendary place to see in Whangapoua. I'm talking about New Chums beach. We have left it for the next trip, but if you're keen to see both white sand beaches of the town, just drive a bit further along the main road until you reach the dead end where the track to New Chums beach starts.
Coromandel
There is another short drive from Whangapoua to the town of Coromandel. And what a wonderful place it is! The first thing that grabs your attention are countless art galleries, art studios and museums along the main road. That must be a perfect destination for someone looking for an inspiration and a quality time of exploring local heritage.
This time though, we were keen to do something completely different and found ourselves at Driving Creek Railway – arguably the most famous local activity. Despite it's not even the high touristic season in New Zealand yet, we already couldn't buy tickets (35NZD pp) for the nearest ride and had to book spots on the next one. Luckily, funny little trains are departing every hour and a half. By the way, if you plan to arrive AND have a ride at certain time, make sure to book at least two days before on their website. Driving Creek Railway online booking system is a bit weird and wouldn't allow you to buy tickets in a shorter amount of time. We didn't know that and ended up with having some unexpected free time.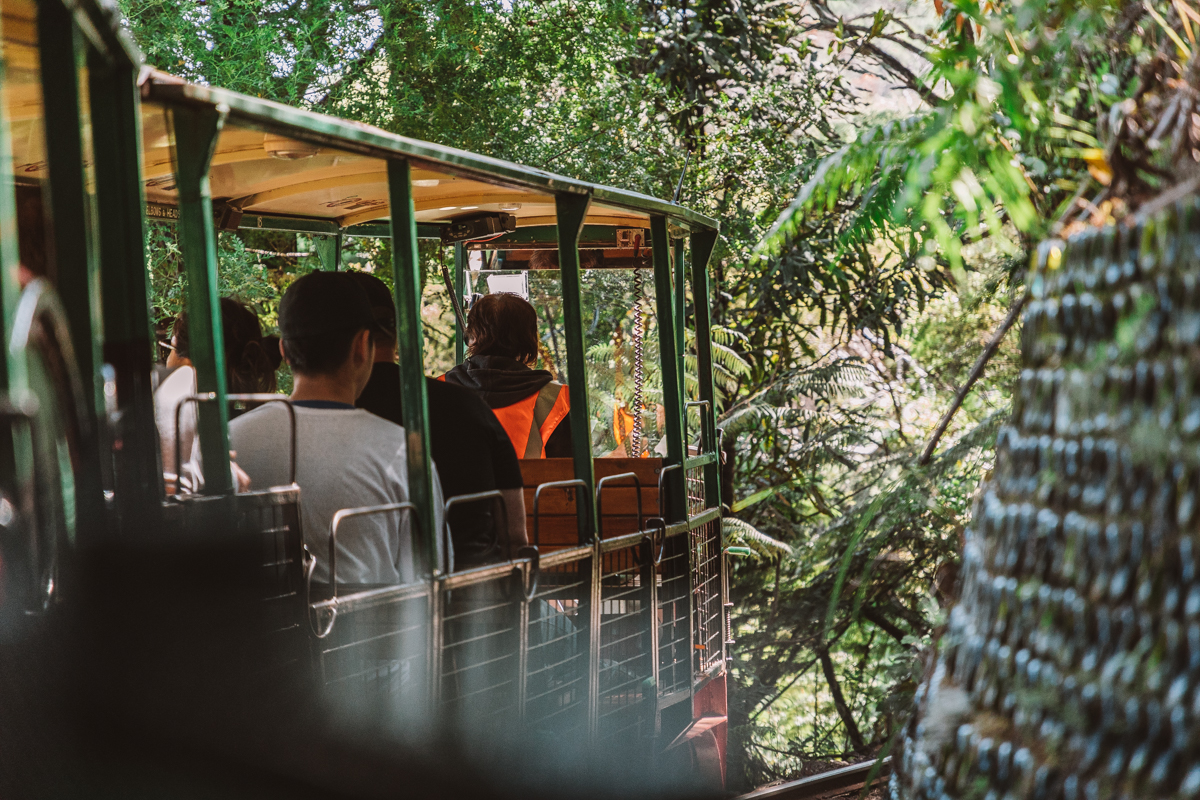 Well, at least, there now was an opportunity to check out lunch menu at the newest kid on the block – vegetarian Wharf Road. It appeared to be stylish, buzzing and smelling very-very nicely with delicious coffee. We have chosen to sit at the tiny courtyard with green plants in pots and eclectic tables, placed so close to each other you could literally steal a fried cauliflower or two from your neighbour's plate. Gotta enjoy the first really hot days of Spring! Alex went for his favourite mac'n'cheese (seriously, this man is so easy to please!), while I enjoyed insanely delicious soup – some sort of spicy Thai broth with wild rice and amazeballs veggies. P.S. Not TOO spicy!
But back to Driving Creek Railway (which is only 5 minutes away from Wharf Road café, in case you were wondering). The only narrow railroad in New Zealand climbs 2,7km up the hill to Eyefull Tower – stunning lookout to soak in the iconic Coromandel views. Bright red-and-green train takes passengers through the dense bush, a couple of breathtaking bridges, thrilling tunnels (that are so narrow and small you literally doubt the train will fit in there!) and loads of really entertaining sculptures and art pieces placed randomly here and there.
The craziest thing about this railway is that it was built by just one very creative enthusiast – Barry Brickell. He purchased this massive property back in 1973 and a professional potter himself, he decided to turn Driving Creek into a welcoming place for potters from all over the world to come, share their experience and learn something new. Apparently, pottery wasn't his only interest. Fascinated by railways and steam locomotives, he also started to construct his own little railway, using just a few homemade instruments in 1975. Trust me, no matter how impressive these facts sound they are nowhere near with what you experience on a little more than an hour-long tour. Seeing the scale of what Barry managed to create in a wild forest on a steep hill with just his hands make you understand how powerful we really can be if we are truly passionate about what we do. Don't act like boring grown-up and take a ride to see everything with your own eyes!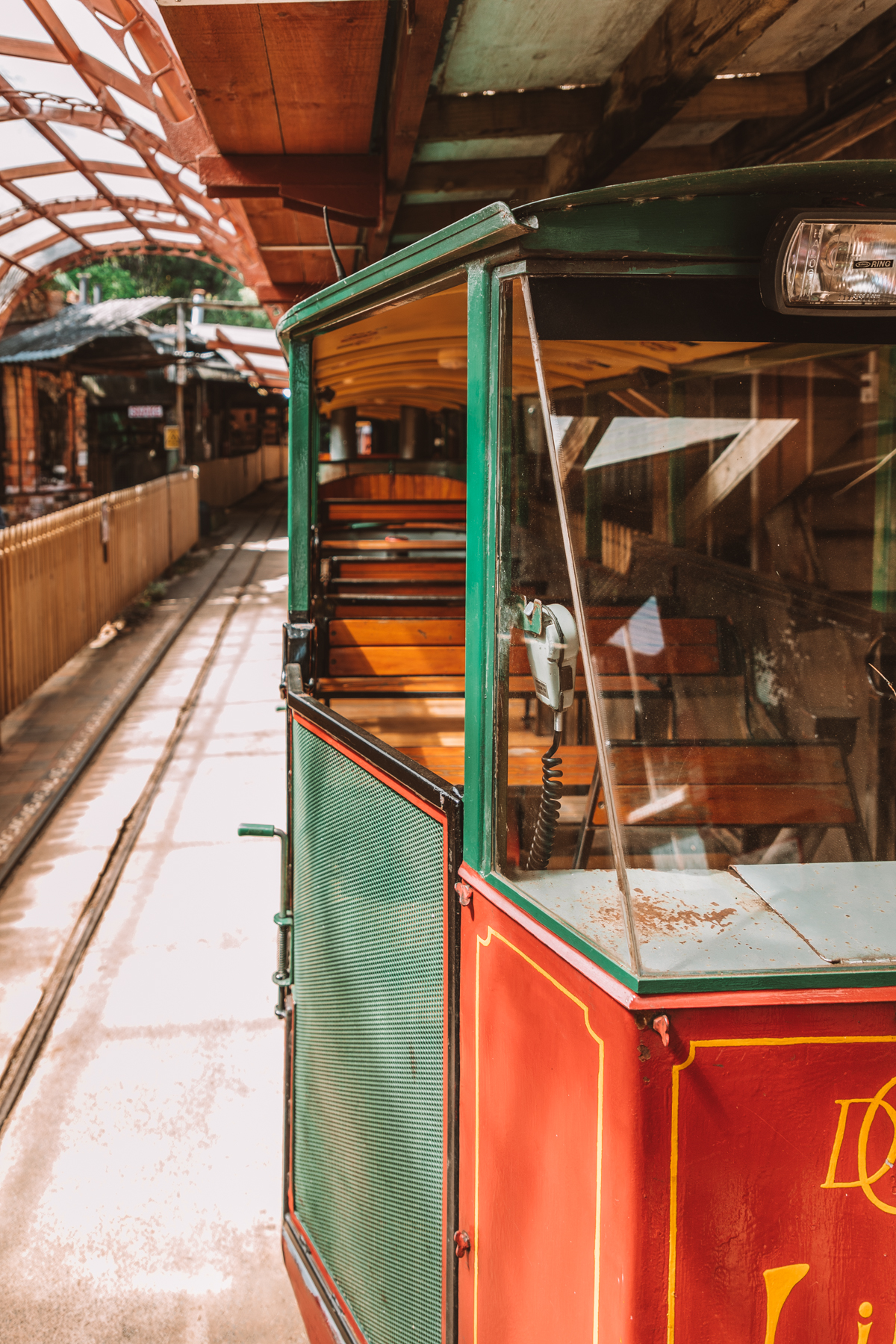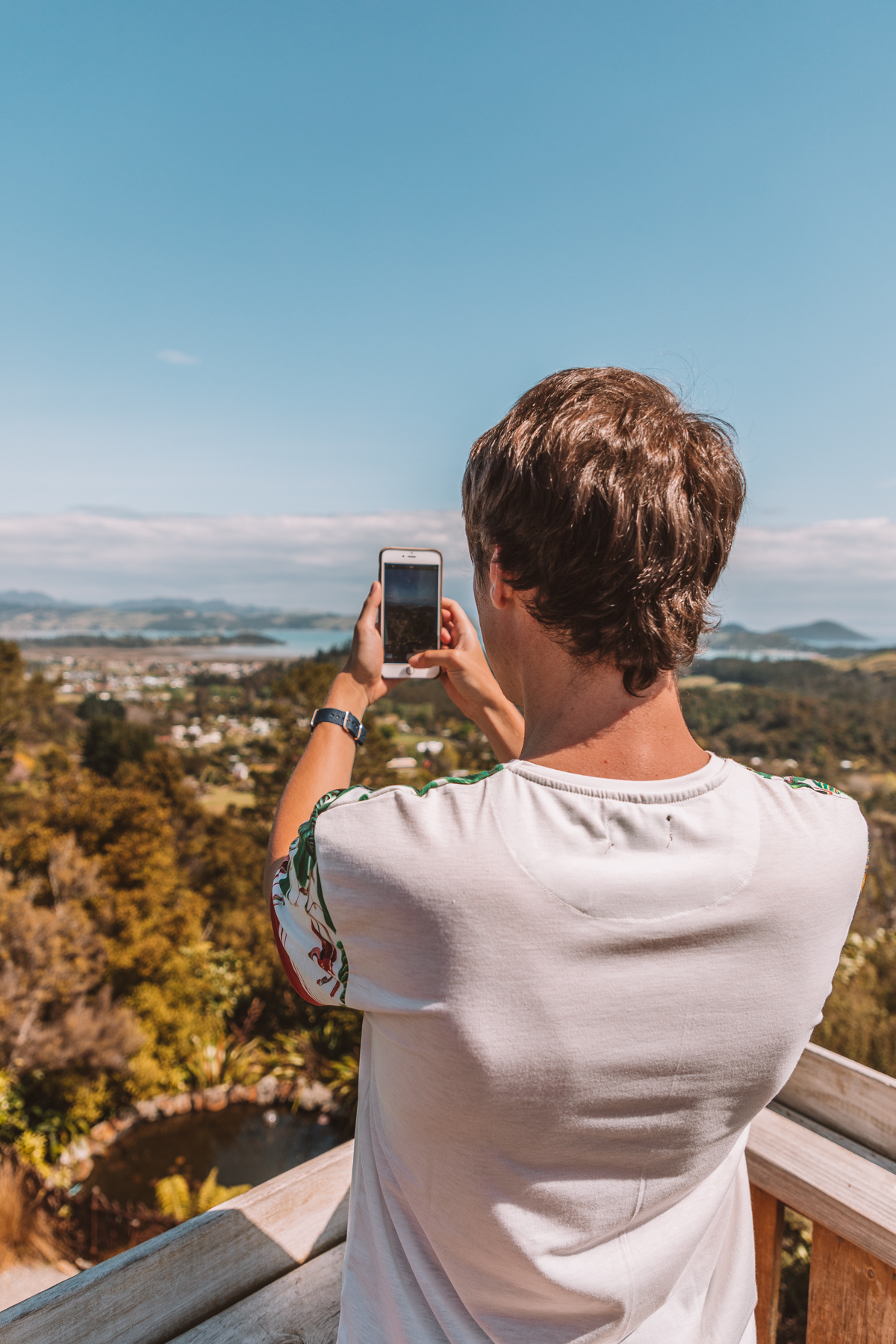 The Road 309
If you love raw, wild, breathtaking road trips, ditch the comfort of SH25! The Road 309 is the one to take from Coromandel back to Whitianga. Winding gravel serpentine takes you through the untouched pre-human era forest that will make you feel like the very first explorer of the region. Especially if you're lucky enough not to get stuck after a too slow campervan that ruins the whole atmosphere:)
There is way more to see on this route besides the view from the car windows. And the first stop is The Waterworks – merry attraction for all ages. It's not just your average amusement park. Over 70 attractions here were made of the upcycled and previously unused stuff, that received second life as a water-powered fountains, mills and God only knows what else. We didn't go inside this time, but had such a relaxing coffee break in a local café overviewing the park (I can imagine there is much more to see inside, of course, though the giant fountain seen from the terrace was impressive enough for us already!)
Just outside The Waterworks we passed by 'Stu's Wild Pigs farm' –probably the biggest unofficial tourist spot here – without even knowing it. We just noticed loads of pigs (some of them were smaller than a cat! I have never seen pigs so tiny before!) walking along the road, clearly demonstrating they belong here.
Further along the road is a textbook Waiau Waterfall – it has everything a perfect waterfall should have: picturesque drop, seen-through waterhole to take a swim and a very short walk from carpark, haha.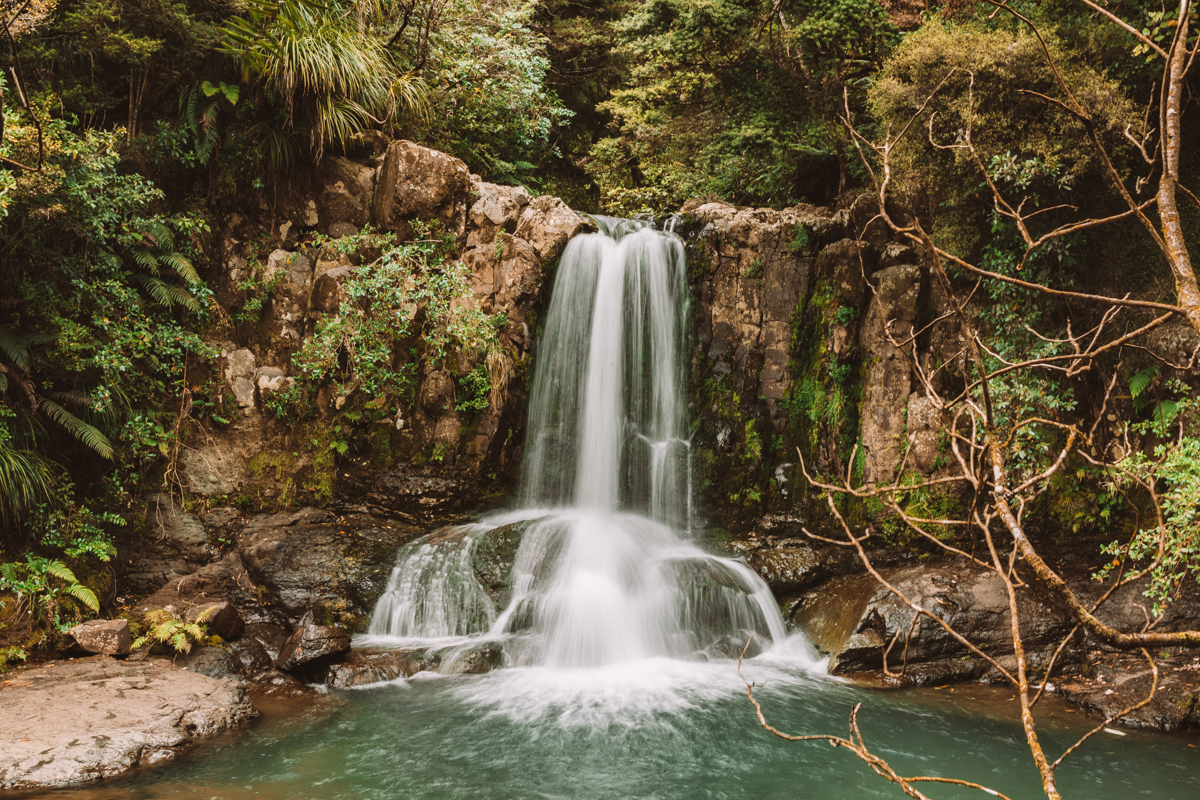 Drive a bit further and you'll notice another carpark – this one marks the start of Kauri Groove walkway. Short track is jam packed with views that will take your breath away. From a lookout point to observe the row of kauri trees in a distance, to a massive 'Kauri Twins' – two giants growing side by side, to the oldest (and widest) kauri trees in the region. These big boys are around 500-700 years old and they are literally immense! Signs along the track give a better understanding of how easy it is actually to hurt these trees by bringing soil and bugs on your shoes and what should we do to preserve our amazing native plants.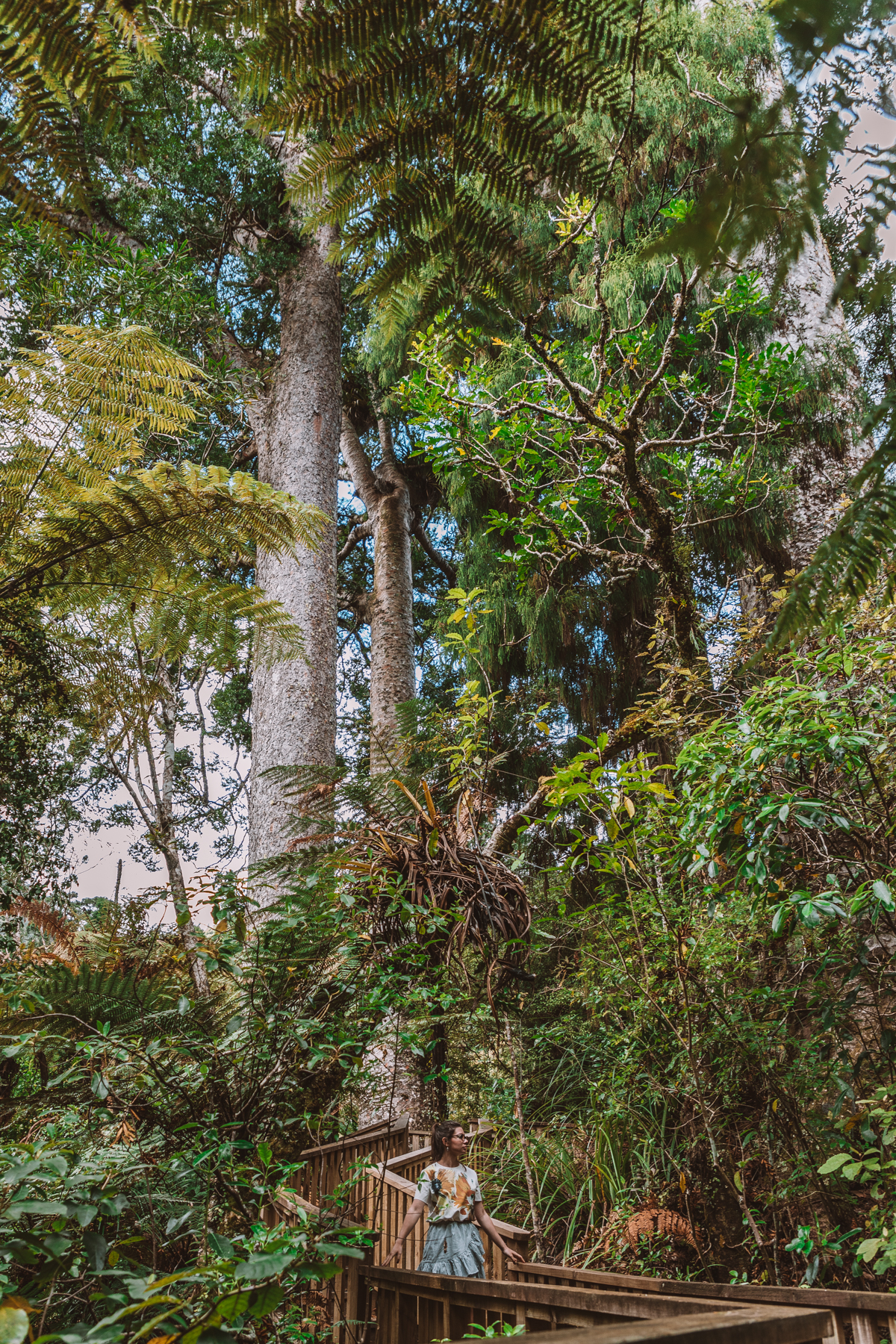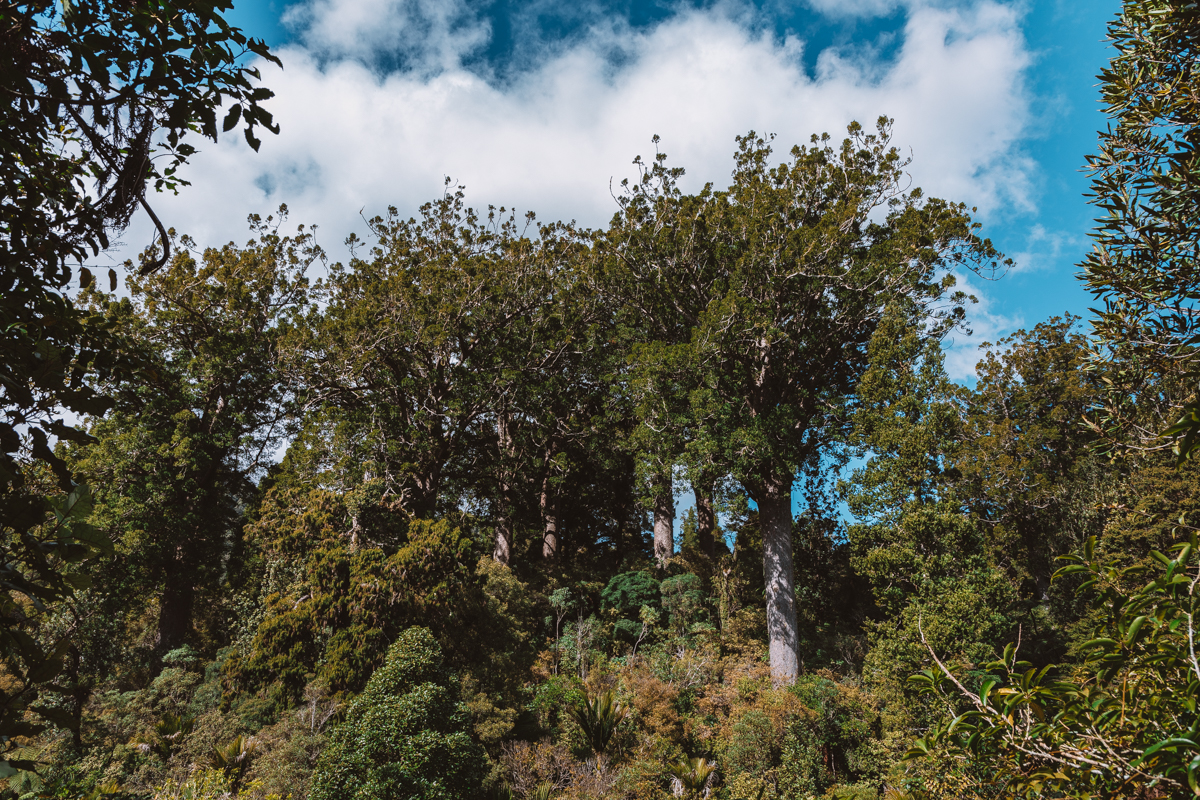 This was a very relaxing, beautiful and inspiring weekend. Hope my little itinerary will help you to discover a bit more of the stunning Coromandel Peninsula!