From one of the country's largest murals down in Invercargill to the works of international artists in Northland's Whangarei, I think it's fair to say, New Zealand boasts impressive street art. We might not had a chance to check out all the towns, known for their beautiful murals (Nelson and Dunedin – looking at you), just yet but here are the best places we've already seen and would totally recommend to all art lovers.
Napier
Art is in Napier's DNA. And how else can it be when we're talking about the 'ART Deco capital of the world'? No pun intended. On a serious note, there are so many murals in Napier already and we keep on discovering new and new paintings every time we visit this city.
There is strong gravitation towards marine topics in Napier's wall art. In 2016-2017, local and international artists came to Napier to participate in 'Sea Walls Project' – an initiative, that raises awareness towards the issues our oceans are facing these days: plastic pollution, overfishing, the increasing amount of endangered species, etc. In two years they've created 53 incredible artworks! Marine theme fits perfectly into the landscape of the city, surrounded by water.
Most of the murals are located in CBD, in a fancy Ahuriri area or around Napier Port. All these three areas are pretty close to each other, though not walking distance close (well, it's doable but not very enjoyable), so if you have a car, you'll be able to explore Napier street art in a day. Just park your car in each area and walk around. I would recommend to plan Ahuriri for around the lunch time – their bars and restaurants on West Quay street have the best views and lovely food.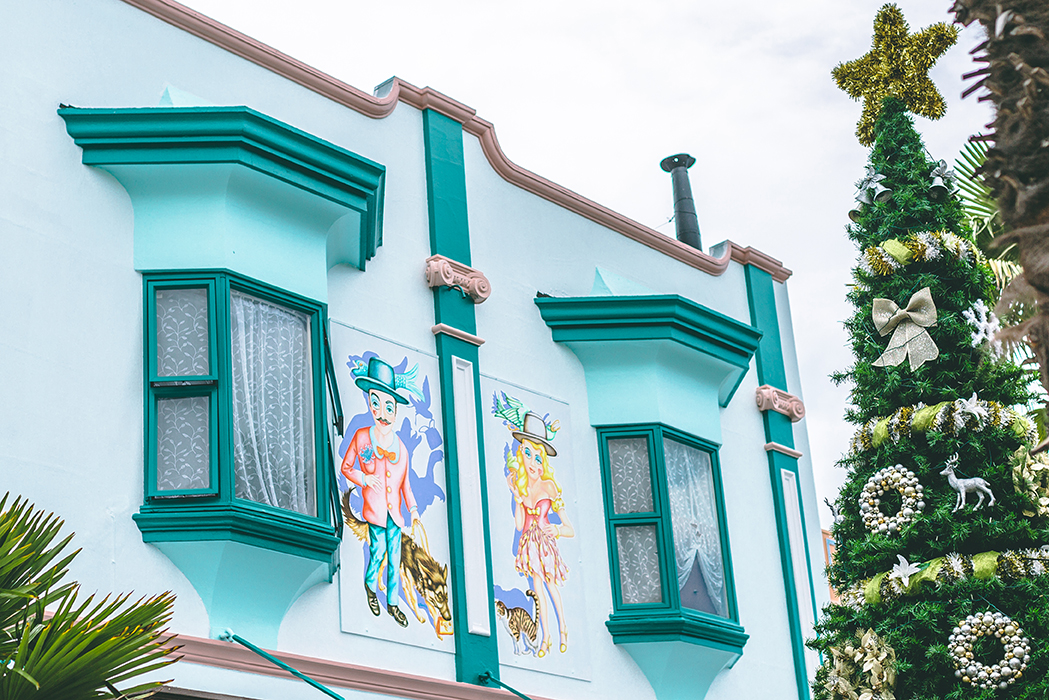 Tauranga
With famous street artists Mr G and Alex McLeod residing in Tauranga and Oi YOU! organising big international street art festival Paradox in 2017, this is a paradise for those who prefer to enjoy art while wandering around the city.
It's easy to spot large murals all around CBD – from the back wall of Tauranga Art Gallery to carpark at the corner of Spring and Durham streets. There are also a lot of amazing artworks at The Mount. Make sure you check out spectacular mural on Mauao's water tank, painted by Mr G in 2017 to show his support for members of Tauranga-based iwi Ngai Te Rangi. Some of the local masterpieces, though, are outside the touristic areas, like 2019s addition to Tauranga's street art scene – a huge piece by Erika Pearce at Farmlands store wall. Watch our video to see the whole process of creating this mural and our interview with the artist:
Use this map to find 52 murals (I'm pretty sure you'll spot way more while looking for these particular artworks, though). And since you now have great lunch recommendation for Napier, here is one for Tauranga as well – Brooklyn Patio Restaurant & Bar in CBD opens at 12 and serves the best pizza and linguini, it also has amazing views from the balcony of the upper floor and – conveniently – a mural right on its wall.
'Messenger' by Charles and Janine Williams (New Zealand), 2017. Dive Crescent

Untitles work by Sofles (Australia), 2017. Cameron road

'The Wall Builder' by Fintan Magee (Australia), 2017. Grey street
Christchurch
Since the earthquake in 2011, this vibrant city on the South Island of New Zealand is using street art to brighten up the walls of the buildings, damaged by the disaster, or to fit in the new flash buildings into the city landscape. Murals are everywhere you look in Christchurch! And they are so diverse and deeply meaningful, you literally can't peel your eyes off. From fiction characters to rugby heroes, from abstract colourful figures to very realistic (except for being super huge) native birds – you'll find everything you can possibly think of here!
There is an amazing interactive map of local murals, that also explains which ones are easy to see and which ones are currently partly hiding behind the obstacles.
Alex is in Christchurch at the moment – follow his adventures on Instagram @alexspodyneiko – and when he gets back, I'll ask him to write detailed street art guide for Christchurch.
Untitled work by Roa (Belgium), 2014. Rolleston avenue

'Lip mural' by Tilt (France), 2015. Corner Victoria street and Peterborough street

'She came from the stars' by Vexta (Australia), 2015. Cashel street
Do you agree that these are the best cities to enjoy street art in New Zealand? Or did I miss some cool places? Follow me on Instagram – @thestylejungle – and let me know!
LIKED THIS POST? PIN IT!