What can one do in under three hours? Well, I can write a short article, for example. Or bake a cake, when I'm in a mood. Or travel from Tauranga to Napier. But can one explore an entire city in just three hours? That's what Alex and I decided to check out on our layover in Qatar back in May.
To entertain its passengers on an 8 (or longer) layovers, Qatar Airways offers Doha City Tour. It used to be a free bus tour, but these days they charge 40 QAR (equals 16NZD) and the price includes guided tour, bottle of water and visa issued for the time of the tour. Quite a package! Pre-bookings for the tours are not available, so can only hope there will be a free space on the next one upon the arrival. Finding the tour stall was a bit of a challenge, as on board magazine points different place of the terminal. We were waiting for someone to appear there for quite a while, until I decided to get changed in a toilet and spotted the actual stall on my way there:) Luckily, they didn't have enough passengers yet, so we booked in.  
To be honest, I was a bit sceptical about this whole Doha City Tour idea. None of us is a huge fan of group tours – you don't have the flexibility to change your mind and pick another location or spend more time here and less time there. And I'll probably never fully recover after the 'Israel trauma', when our guide ordered in a bossy school teacher's manner 'Listen to me now, you will take photos later', when the sun was already so low we hardly had 10 minutes to capture the beauty of Tel-Aviv.
Though a chance to have at least a glimpse of the country we've never been to before awoke that travel bug, always sleeping somewhere inside. Moreover, the tour takes the pressure of organising the tour off you – all these taxis, maps, local rules might not be really worth the several hours of exploration before the next flight. And we decided to give it a go!
What do you get to see at Doha City Tour in Qatar?
The tour promises four stops: Katara, The Pearl, Museum of Islamic Art and Souq Waqif – most known Doha attractions.
Our excursion started with a 5 min stop at a viewing platform, overlooking Doha's colourful skyscrapers. I could hardly see the view on the other side of the bay, but was excited to get the first taste of the local lifestyle, with lots of people indulging into a take away food at the waterfront or enjoying the romantic scenery from their cars, parked all around. We even got to play with a local kitty, clearly hanging out with relaxing people in hope to get some food.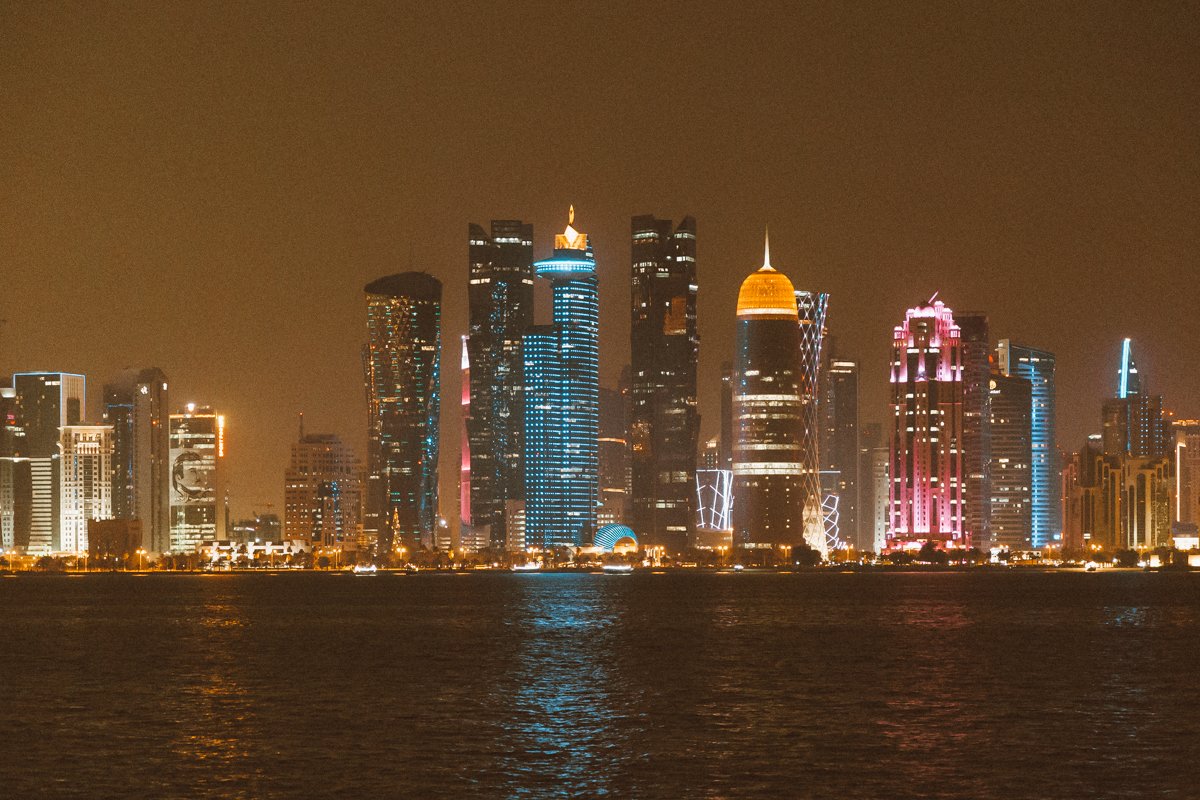 Next, our bus took us to Katara Cultural Village. 'Katara' is the way Qatar gulf was spelt in the maps of the early XVIII century, by the way. This village is still being built and updated to turn into the place, showcasing how different nations and cultures can overcome boundaries and explore and create art, literature, music together. It's also home to a mesmerising mosque and the famous 'Pigeons Towers'. 
I was so fascinated by the mosque and excited to explore every centimetre of its decorations! From the outside, it reminded me of the mosques in Tashkent, where I was living for the first ten years of my life – all these turquoise and purple mosaics look so familiar! Having a sneaky peek inside through the window (I know I know!), I couldn't get enough of the grandiosely decorated interior. Katara mosque was designed by the globally-known Turkish mosque designer, Zainab Fadil Oglu.
I wish we had more time to explore Katara Cultural Village (and preferably at day time, because it looked like nothing except for the mosque, was still operating).  Besides the mosque, it also hosts theatres, galleries, concert halls – isn't it exciting? If someone asks me about things to do in Doha, visiting Cultural Village will definitely be on the list, even though I didn't get to see a lot myself!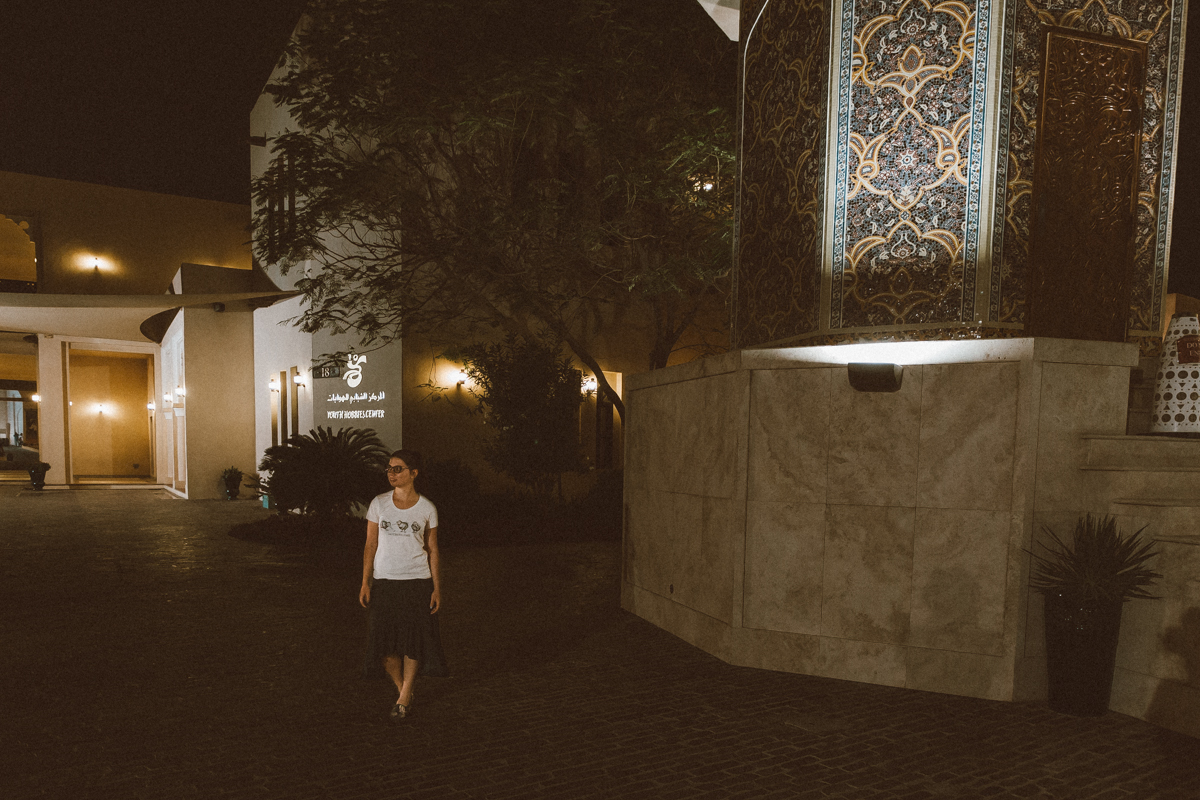 Quick jog through Katara, and off we go to The Pearl – artificial island, hosting Doha's most expensive apartments and luxurious boutiques. Planned to be finished by 2018 and already hosting around 12,000 residents, it still looks really uninhabited – most of the windows were dark… Storming through the shopping mall, and we are in a beautiful marina, surrounded by cosy cafes, posh yachts and more boutiques. Pretty much the way I expected Doha to look like – bathing in money and luxury.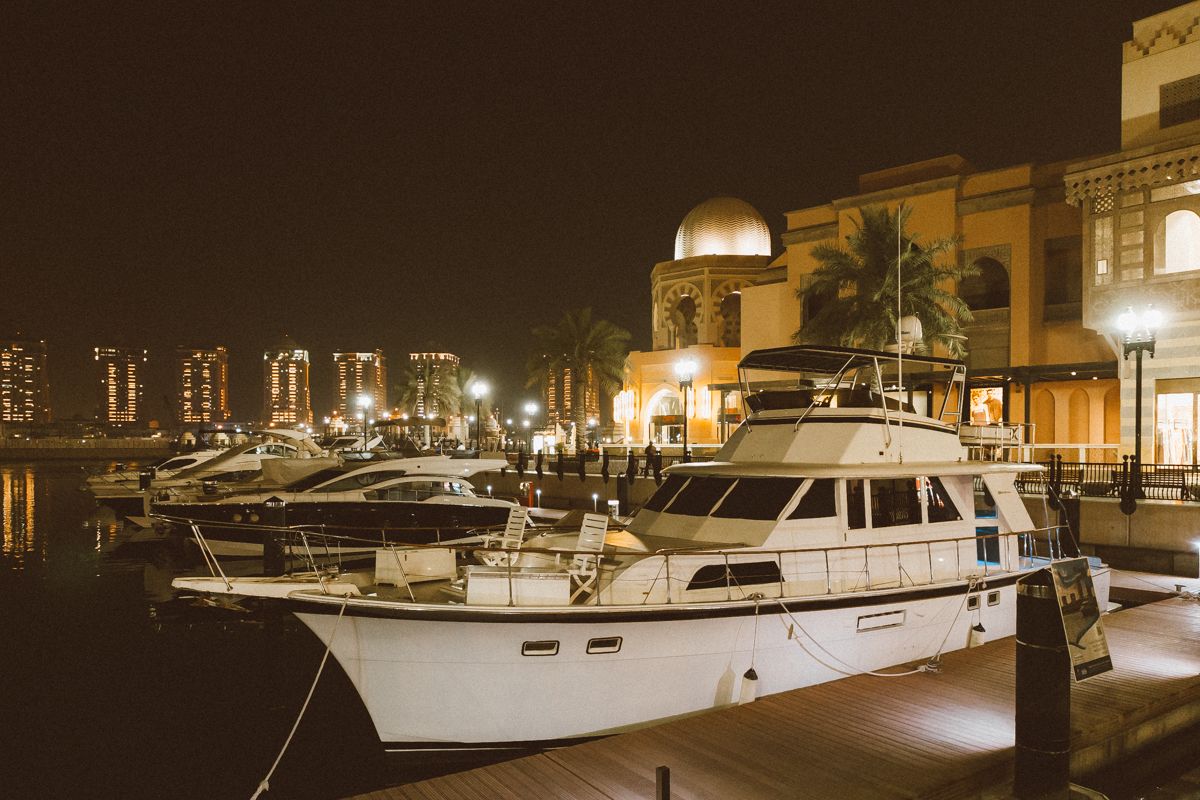 Finally, we reach the last stop of the tour – Souq Waqif, or the very traditional, chaotic and really authentic local market. Looking centuries old, it was actually only built around 100 years ago, destroyed by the fire in 2003 and rebuilt once again in 2006.
At night Souq Waqif boasts life, laugh, smells, sounds and flavours. It seems like all the Doha locals arrived here to meet their friends, have generous dinner, smoke a hookah or just wander through these gorgeous winding streets, where it's so easy to get lost. Our guide told, that it's the best place to buy souvenirs, but unfortunately only if you have cash. To be honest, I was dying to experiment with the cafe, who's logo copied Starbuck's so shamelessly, I might have not noticed the difference if  wasn't wearing the glasses:) I bet they must have EFTPOS with such branding! Don't you think so?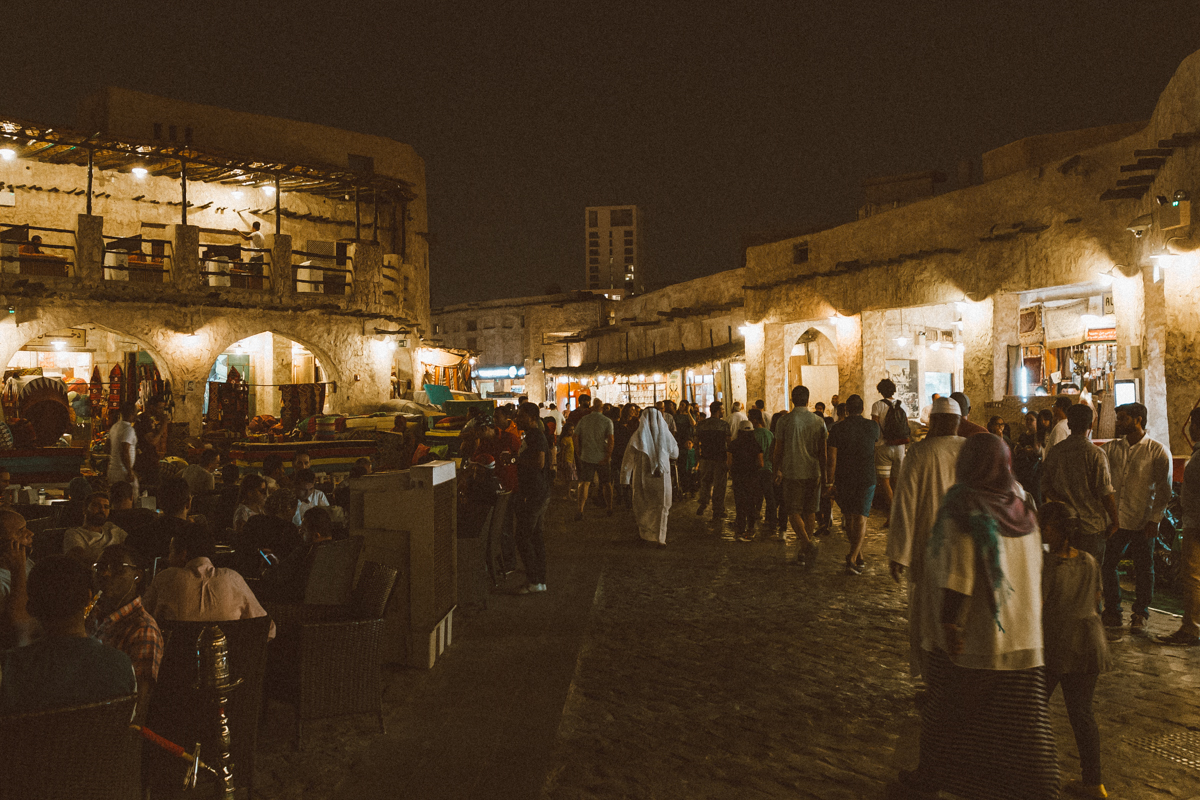 40 minutes later we return to our bus, that takes us back to the airport.
Is Doha City Tour worth it?
I'm still undecided. On the one hand, we had a chance to see new city and it was quite exciting indeed. On the other hand, I hardly remember our stops, as they were so short in comparison with the time spent on a bus… I certainly didn't have enough!
You should also know, that airport in Doha offers so many amazing facilities – awesome SPA with a swimming pool, massage and beauty procedures, comfy airport hotel, lots and lots of restaurants and shops, and even several free sleeping rooms. You can easily spend 8-12 hours here without leaving the airport, time will fly quickly and you'll feel refreshed and ready for the new adventures. The downside – no Doha exploration at all. And I doubt it's the destination many choose as a final stop of a trip, so you might probably not have a second chance to see it.
Luckily, we had two layovers in Doha – on our way to Moscow and on our way to Auckland, so we tried both options, and I'm glad we've opted for the variety 🙂 If you plan to only visit this airport once, it's totally up to you what to go for – a relaxing and comfy transit or a bit hectic, but still exciting excursion to Doha. You'll never be disappointed with the result!