District of Antonias, Albert and Strelnieku streets has many names: ambassadorial, Art Nouveau, Jugendstil. But the name doesn't change the meaning – it's one of the most beautiful places in Latvian capital (probably, after an Old City). That district is a place, where most of the buildings are decorated in Art Nouveau style and also where an Art Nouveau museum is located.
I was really surprised to understand, that we have already visited this district once. The thing is, I had no idea it was it:) But this fall, inspired by my Jugendstil hotel Mercure on Elizabetes, 21a, I decided to have a look around once again.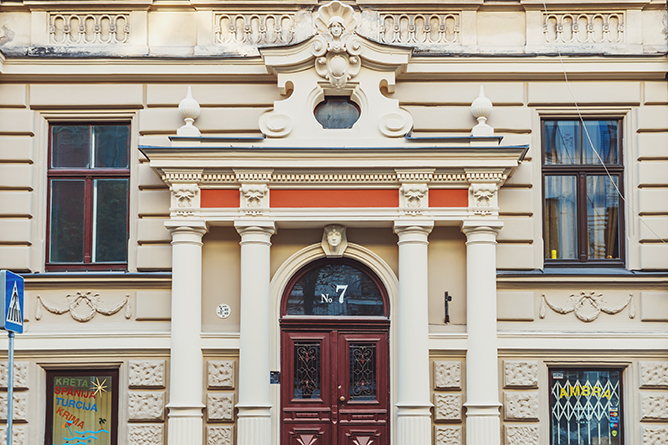 Riga is a well-know capital of modern style in architecture (together with Barcelona and Brussels). Local's call this style a German world "Jugendstil". Jugendstil buildings are a piece of art. You can meet plants, faces, animals and many other types of ornaments on them. So beautiful and so similar to the social networks, that we use today to show our lives, as well as XIX – XX century architectors and house-owners did with their buildings. They showed their love stories and even argues. Looks more like a realizm, than a modern to me! And behind those richly decorated faces were very practical rooms. Today there are filled with offices of differend kind.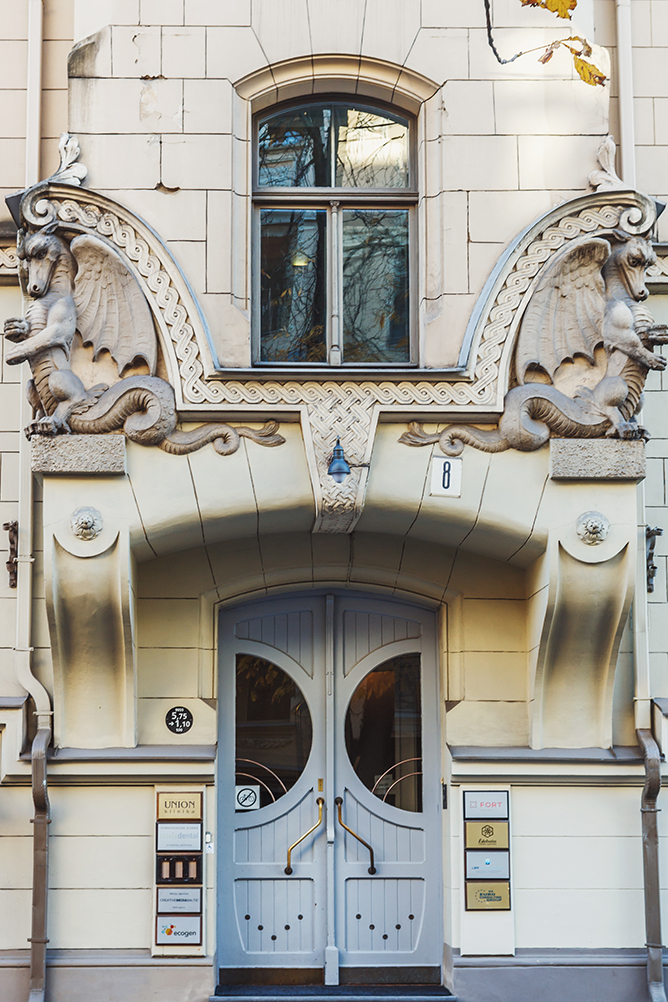 Albert's street is the best in that ambassy district. You can literally go crazy here:) Have a look at the house 2a, for example. It was built by Michael Eisenstein. Historians adore this house due to its fake floor (that didn't fit into my photo). It was made to let more light in, to fit more decorations and to balance its height with the nearest ones.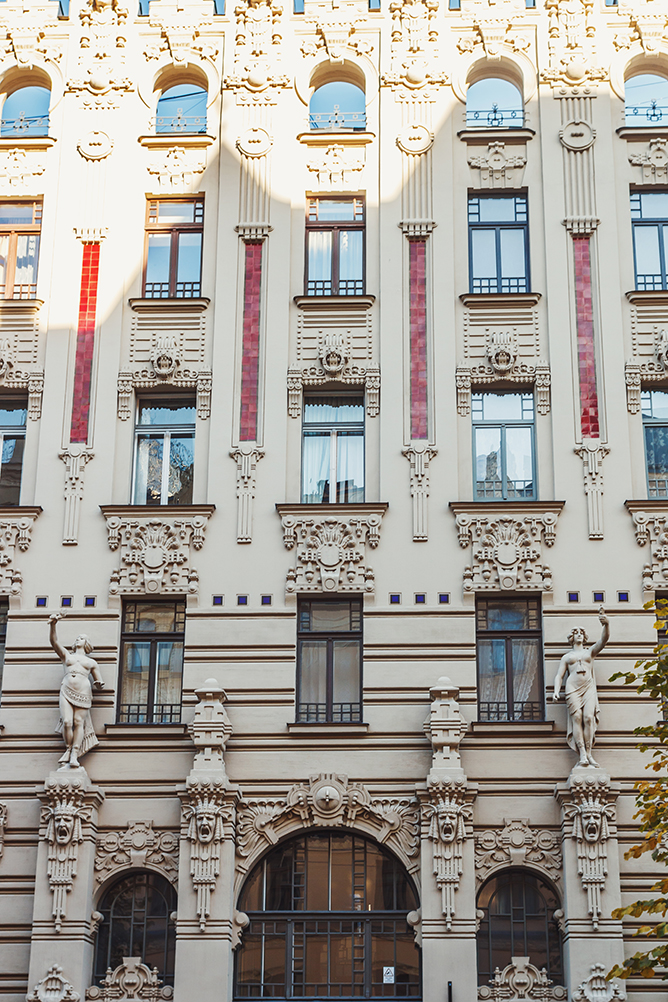 And here is a tradicaly known 13, where a department of Latvian political police made its violent processes in the beginning of 20-es. But, to tell you the truth, house wasn't a happy place from its first days. It was built in a year 1904, right after Russian fleet was defeated in a Russian-Japan war. Eisenstein decorated it with screaming female faces, Phoenix and sculls.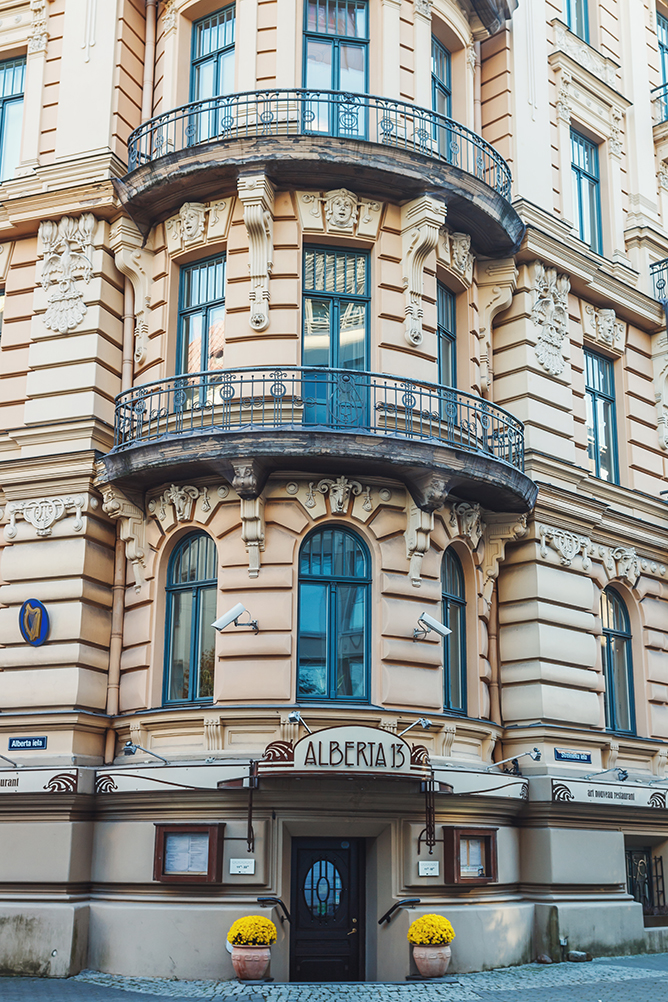 After looking through all three streets (which is gonna happen way faster, that you've thought), have a look at a local museum. Spoiler: it is small and not really emotional. But an excursion can't be full without it. Architect Konstantin Pekshen lived here and he was also the one to plan the building itself. You can easily find it, thanks to its high tower.
The best part of the museum – the giant stairs you will definitely want to post to Instagram immediately. Despite you can observe it without paing any fee, don't hesitate to pay 3,50 (or 6 euros after the 31st of April) and see the other parts.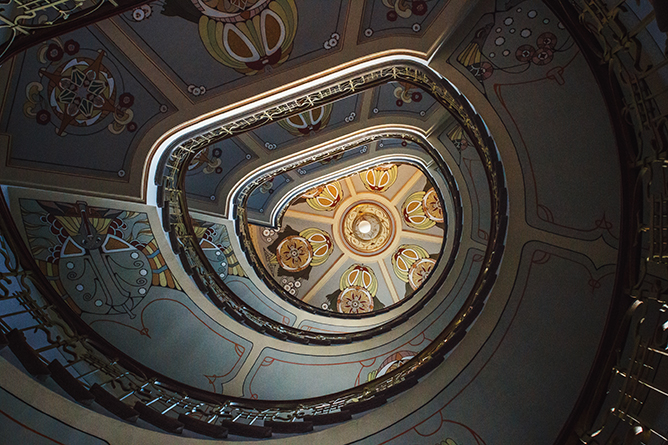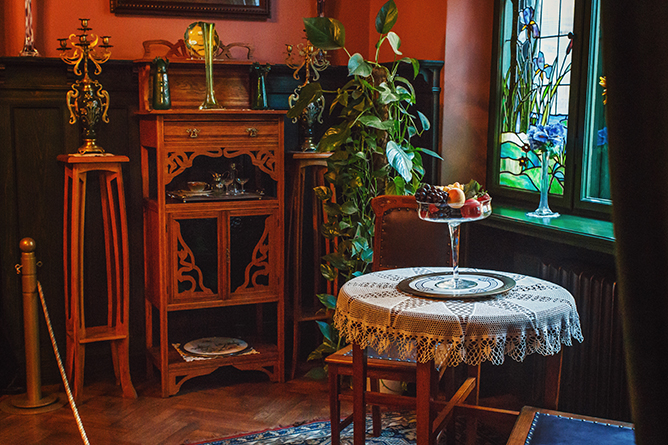 Ambassadorial district is located in a short distance from an Old Town, so you can enjoy silence and loneliness here. But on your way back to the city center don't forgwt to feed ducks in a park nearby or try local seafood in Riviera restaurant. Don't forget to pay attention on the houses on your way – you will definitely meet some more Jugendstil examples, cause 40: of Riga's houses are devoted to it.