If only I had to choose two of my favorite SPb palaces, I would definitely name Oranienbaum and Tsarskoe Selo. Visited the last one for three times and never ever got bored! This place, known not only as a hometown for many Russian Empresses, but also as a city where the most famous Russian poet Alexander Pushkin lived and studied, is equally fabulous for those eager to learn more about the history of the world's largest country as well as for those who are just looking for a picturesque place to have a walk and take a couple of remarkable Instagram pictures.
Our very last trip to Saint Petersburg was really special to me for several reasons. First of all, it was just a couple of weeks before we left Russia, what definitely made all the journey way more sensitive and emotional, and secondly – that was one of a few trips, that I made with my dearest mother. Though she'd been to Saint P. for several times before, she'd never yet seen my favorite Tsarskoe Selo ans it was so important for me to show her the place the way I see it: very romantic, deeply personal and unique.
For me, there is always something romantic and may be even a bit lonely about Tsarskoe Selo, no matter when you visit it – in summer or in fall (what is also quite an experience!). Probably that it because Catherine Palace has a strong touch of a feminine past and woman in Russia used to be always either hiding behind the back of a powerful man or ruling the country themselves, but actually left all on their own in both cases. And even today it is easy to imagine, how Catherine or other Empresses living there, used to walk through the gardens or riding a boat across the lake surrounded by their guards and servants, but truly alone in their hearts and minds.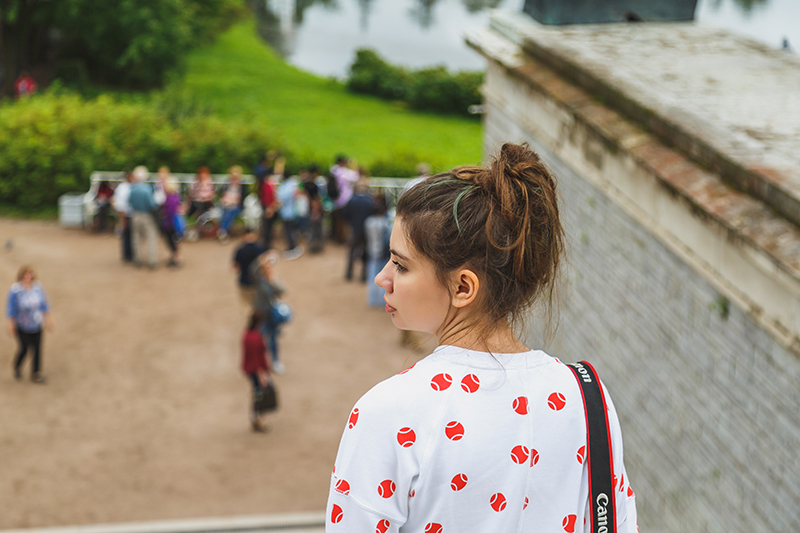 Bet, most of the tourists do never feel the melancholy I described. Otherwise they would have never visited Tsarskoe Selo and it wouldn't be one of the most popular tourists' destinations in the area, agree? And trust me, Catherine Palace IS popular. You can easily spend a couple of an hours queuing to get inside the Palace. That is why I always prefer to buy the ticket only to the gardens. Though you're definitely missing one of the most spectacular interiors ever (impossible to describe, better be seen once!), you are still getting some free tours in a smaller buildings, that are not that widely known. And the territory of the palace itself is so huge, that after walking there for several hours (and still not covering everything marked on a map) you never have a feeling of missing something.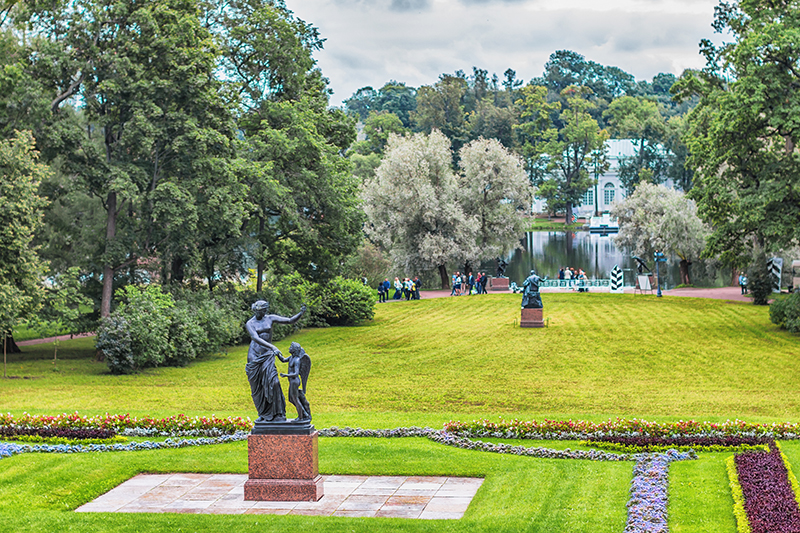 The best time to visit Tsarskoe Selo is early in the morning or closer to the evening – to avoid crows, coming here in the giant tourists buses. Just imagine, in summer time this estate is visited by over 7 000 people per day! I'm pretty sure you prefer a little more privacy while exploring everything around:) The park operates from 7 am till 11 pm (talking about the high season!) and the Palace only opens at 12 o'clock and is welcoming visitors til 5 pm (that is the best time to not be in Tsarskoe Selp, actually!).'Tsarskoe Selo is easily accessible by train from the Vitebskij station or by bus departing from Moscowskaya subway station. It will only take you about 30 minutes to get to Pushkin, where the epic Palace is located.