New York City is definitely one of the most desired tourists' destinations on Earth! Also known as Big Apple, this beautiful city can steal your heart forever as well as make you wanna run out of there as soon as possible. We have visited New York twice and spent over 4 months there in total. And yet do we dream about coming back! Isn't it a good reason to check out our New York City guide before going to this City of Big Dreams?
This article will help you to figure out how to get to the city from the airport, how to navigate and what to see in NYC, what to eat and where to stay in New York, as well as what souvenirs to bring back.
Head directly to the important part if you don't want to read all the guide (don't tell me, I will be mad!!):
What to know before going to New York City
You should understand one thing: NYC is a real city jungle. And no matter how well you are prepared, you will still face some unexpected moments. We will try to explain the most common things to make the first few days in the Big Apple not that challenging.
New York consists of five regions: Manhattan, Brooklyn, Queens, Bronx and Staten Island. If you're here only for 1-2 weeks, you will probably only see the first one (big enough to never get bored). Though some determinant Russians also visit the famous Brighton Beach – Russian community in Brooklyn (as if there weren't enough Russians back in the home country).
NYC citizens speak over 800 languages. Of course, at least basic English language would be helpful, but you still have good chances to meet someone who understands your language.
Though New York City Pass sounds really attractive (only $122 for 6 main sights – you save 42%!), you don't need it. And here is why: both American Museum of Natural History and The Metropolitan Museum of Art are free to enter (donations are appreciated!), so as 9/11 Memorial (you still have to pay for the Museum, but it also has its free day). There is also the Statue of Liberty (free to see from the Staten Island Ferry, if you are not aiming to hug it). And what is left? Top of The Rock ($34) and The Empire State Building ($34 or $54) observation desks… Told ya!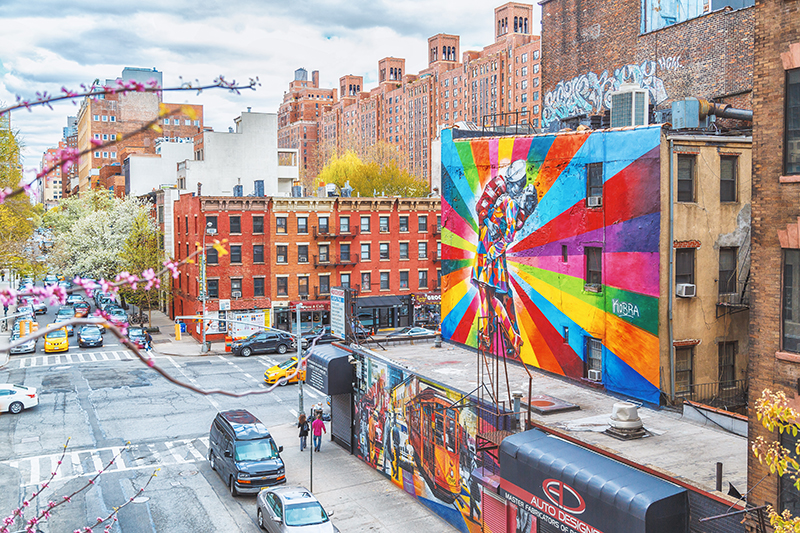 Mind the American power sockets! They look like a freaking out face:) You will need power adapter to 110 Volts and 60 cycles to match that face expression.
In case of emergency call 911 (that is not a movie trick, but an actual line).
Official drinking age in NYC is 21. Restaurants are very strict with that and carefully check your ID. Stores do not sell alcohol to youngsters as well. You also can't buy cigarettes if you're under the legal age (they are so expensive, you'll probably wouldn't even want to try!).

Arriving to New York City
NYC is huge. Not surprisingly it has several international airports: JFK, Newark and LaGuardia. We were lucky to always arrive and depart from JFK, so don't feel weird or lost there anymore.
JFK offers 30-minutes free Wi-Fi. Not too much, but pretty enough to double-check your hotel's address or make a reservation if you're a last-minute person (highly NOT recommended in the Big Apple, welcoming millions and millions of tourists!).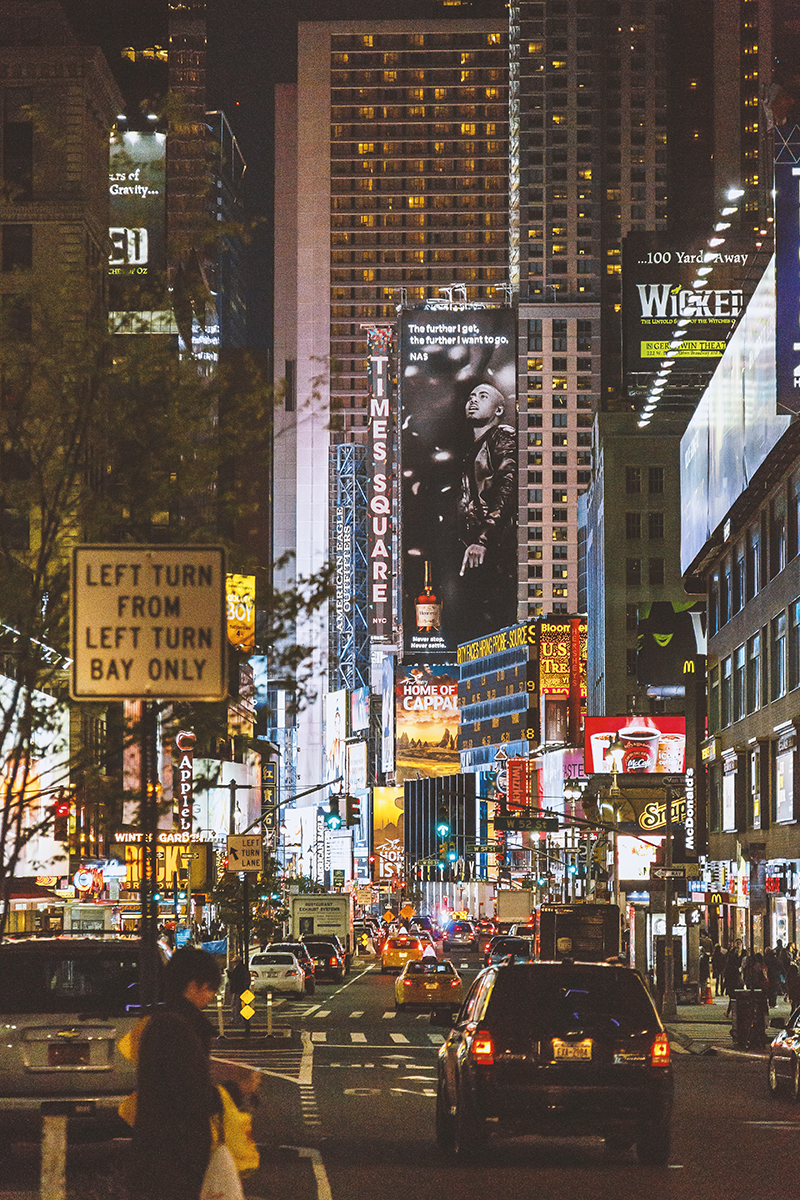 It goes without saying, you will also easily find ATM machines all over the airport, so don't worry about not having cash in advance. Though if you already have some cash, but not dollars (who knows?), Currency Exchange points are at the terminals 1, 4, 7 and 8.
John F. Kennedy airport is located in Queens, 25 km away from the Times Square. Don't be fooled by the numbers – it IS far! All the way from the airport to the city centre takes about 1.5 hours. So getting to Manhattan is probably the first tricky thing you're facing when coming to the Big Apple.
The cheapest way to get to the city centre is by taking AirTrain to Jamaica Subway Station first and transferring to one of the many lines approaching Times Square (or nearest stations) next. AirTrain connects all the six terminals of the airport and is free if traveling within the airport. But if you're transferring to the subway, the exit will cost you $5, add another $3.00 for a single subway ride to the hotel. And that's it! Compare to the minimum of $65 for a taxi ride – trust me, you will thank us for those $60 you already saved! Just in case you decide to take a taxi after all, there are heaps of them right outside the Arrivals.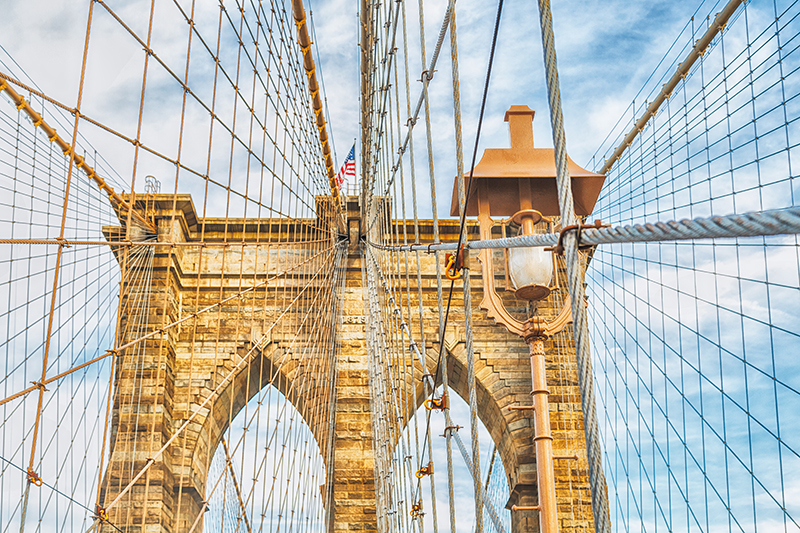 How to not get lost in New York City
Navigating in the Big Apple might look like a nightmare, but it is not that difficult at the end of the day, especially if you're not going further than Manhattan (and you probably won't leave the island too often as a tourist).
Manhattan is actually just a grid of numbered streets and avenues. 5th avenue divides the island into two halves with the West streets on the left and the East streets on the right. Downtown Manhattan and the indirect Broadway might add a mess, but at least you know Broadway is the longest avenue going North-South and will bring you to the needed destination sooner or later.
New York City is huge. With its 789 square km it is bigger than Singapore! Definitely not an option to walk from one sight to another. You'd better forget about the car as well – annoying traffic won't allow you to enjoy a holiday. Public transportation is really the best choice! It is perfectly organised and is used by 54% of citizens on a daily basis (always trust a local while traveling!).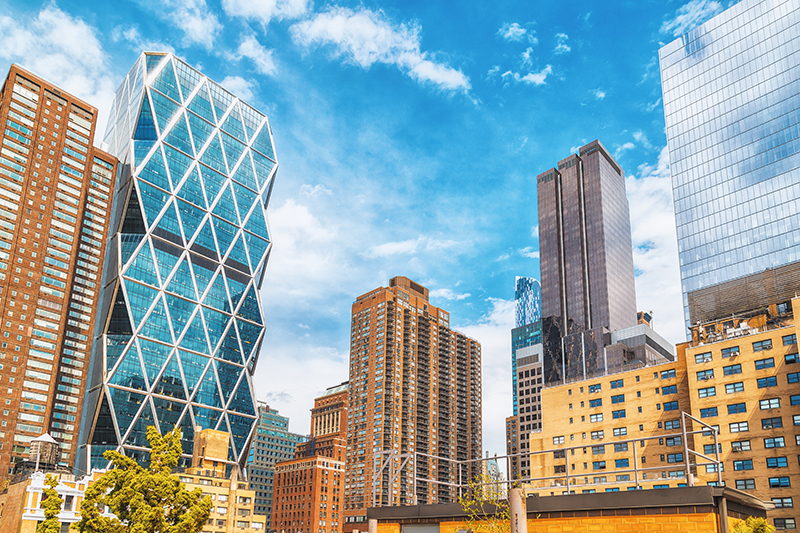 Though there are always a lot of buses running around NYC, we prefer subway. You might have heard lots of scary stories about how complicated local subway is. Well, makes sense when talking about the largest underground system in the world with its 500 stations! But everything is not that bad after all.
Here is everything you need to know about the NYC Subway. 1) There are two types of trains: local stops on every stop and express was made to transfer you from one part of the city to another as fast as possible. Make sure your destination is included! 2) Colours of the lines refer ONLY to the avenues along which the line runs, it is NOT an actual route. Pay attention to numbers or letters on a coloured circles at the front of the train, not the circles themselves. 3) Within Manhattan trains travel either UPTOWN or DOWNTOWN and the platform most often would be splited by the rails. Double-check the direction on the signs at the station to make sure you're on the right side.
Oh yes, single ride costs $3 and the unlimited 7-Days pass is $32. Both cover bus rides and two-hours transfer (subway to bus, for example).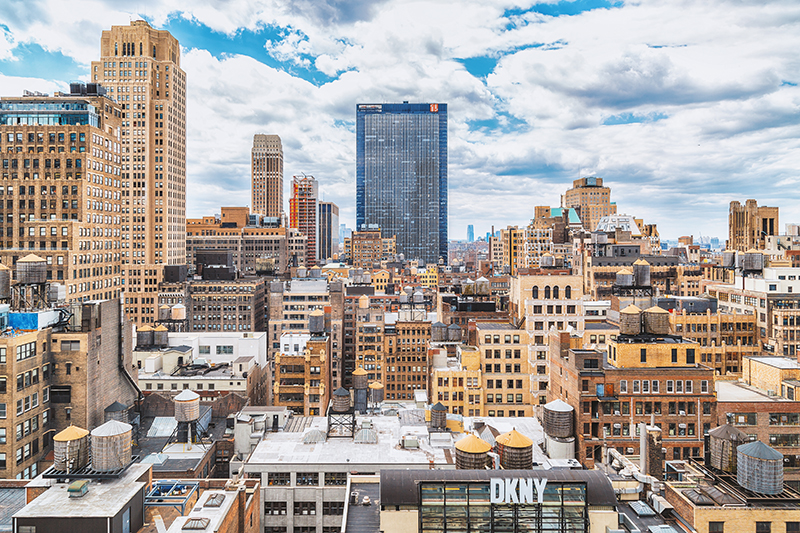 Where to stay in New York City
We had an opportunity to stay both in hotels and private apartments. In case with NYC, we would definitely recommend the second option. While Manhattan hotels are really pricey (the cheapest option was $100 per night and the room was TINY!), Airbnb offers thousands of affordable and cool places. For a short-term trip stick to the central streets. For example, we stayed on the Western side, between Times Square and Central Park. The street was quiet and the views from the rooftop we had an access to definitely added to the value of this accommodation!
On the other hand, there are that obvious advantages of staying at the hotel: delicious breakfast you don't have to cook, special rates for the main attractions, helpful reception desk, that wakes you up in time and orders taxi.
To make tough choice a little less complicated, we selected several amazing and not too expensive hotels as well as a couple of apartments that are currently waiting for guests.

Best New York City attractions
Of course, there is always something to discover in New York no matter how many times you have already visited this city. But here is my personal top of things to do and see (listed randomly):
Times Square. It goes without saying, Times Square is a must! This "Crossroad of the World" offers spectacular views and unique atmosphere all day long, but the best moment to visit Times Square is definitely at night. Because when else to enjoy all those shiny electric billboards? Take your time to sip on coffee at the stairs and admire the hectic Big Apple life around you. 
Central Park. A hero of so many NYC-based movies and officially "the lungs" of the city, Central Park is definitely a place to spend a day. While being at the very city centre you can't hear all the noise from here, so can relax and feed the tiny turtles at the lake, walk along the beautiful bridges or sunbath at one of the small and cosy hills.  
Columbus Circle. This beautiful square inside the traffic circle next to the Central Park main entrance is not even a sight itself. But as soon as it is my personal favourite place in the entire city, I just can't skip it! Whenever someone pronounces "New York" – that is the place I immediately imagine. The circle is surrounded by the iconic corporations – Time Warner and CNN headquarters, Trump Tower, etc.

Top of The Rock. Spectacular 360 degrees views are waiting for you at the 70th floor of the Rockefeller Center. Personally I prefer this observation desk to the one of the Empire State Building just because it feels more modern, more "New York City style". And who wouldn't love the famous square at the bottom that turns into an ice rink on Christmas? Adult admission is $34, but for an additional $15 you get Sun&Stars ticket, which means you can visit Top of The Rock twice within the 24 hours for a fuller experience! Web-site: topoftherocknyc.com
Radio City Music Hall. I would even say, not the Hall at the Rockefeller Center itself (though the building is outstanding both outside and inside – worth visiting!), but the beautiful fountain across the street. Honestly, that is one of my favourite places in the entire NY! Grab mouth-watering (an extremely cheap!) gyro from a street food caravan parked nearby (there is always a street food somewhere around in this city!) and enjoy it and the view of the Radio City and the busy 6th ave. Web-site: radiocity.com
Brooklyn Bridge. Definitely THE place in New York! The place you would want to stop and stare. The place you would want to listen to the well-known "New York New York" by Alicia Keys and Jay-Z. The place you would channel your inner Carrie Bradshaw like nowhere else. Visit during the day and return at night – those epic views do never disappoint. By the way, you can easily combine your day-time visit with the next attraction on the list – they are located in a walking distance. 
Staten Island Ferry. This unusual transportation is the main reason we never actually visited the famous Statue of Liberty! During our first visit to New York City we lived at Staten Island and were using free SIF from and to Manhattan almost on a daily basis. Orange boat not only offers one of the most scenic views over Manhattan (and New Jersey), but also runs closely to the Ellis Island. So we were literally passing by the Statue every other day! Who needs more? Funny, how casual Staten Island Ferry became to those living on the other shore, though it is an amazing experience for tourists! Web-site: siferry.com
Wall Street. New York is all about big opportunities, careers and skyscrapers for me. To face all these in one place go directly to Wall Street. Besides being extremely beautiful and, you know, NYC-ish, this crowded district actually includes lots of different attractions. No need to remind you of the bull statue, right? After doing what all tourists normally do with it, don't forget to find the picturesque Trinity Church, admire impressive Stock Exchange and grab a lunch in the buzzing Stone Street. 

High Line Park. The most urban sight you can imagine! This elevated above the streets park is located on a disused railroad line! It connects streets all the way from the 14th up to the 34th and reminds me of the post-apocalyptic movies, where the new life is created above the remains of the old one. Though High Line is not depressive or anything like that! It is green, well-groomed and modern. Sadly, I have just found out that the iconic, colourful and bright "Kiss" mural that added a lot to the High Line views was recently painted over with a grey paint:( Don't know what made the owner of the building get rid of the wonderful piece of art…  Web-site: thehighline.org
Grand Central. This railway station in the Midtown Manhattan is another evidence of the gargantuan NYC size. It has 44 platforms – more than any other in the world! But who cares about the platforms, to be honest! Grand Central Terminal is the city inside the city. Start your tour from the main hall with the informational booth in the centre. You have definitely seen this place thousand times before ("Friends with Benefits" flashmob is my favourite appearance!). Don't forget to pop downstairs for an impressive range of authentic city cafes! 

American Museum of Natural History. Beautiful, beautiful place! Of course, the largest museum of such type in the world (should I even mention those size records next time?). Yet another bonus – the admission is free! By the way, there are also free guided tours that run on a schedule! Though you can always pay as much as you wish to support its development. No chance anyone can explore the entire museum in one day, so prioritise the exhibitions! Dinosaurs and Native American History are definitely a MUST. Just watch our video in the beginning of this article – you'll see what I mean! So impressive and informative. Web-site: amnh.org
New York Public Library. NYPL is awesome. It stores Gutenberg's Bible and the original Declaration of Independence and is so amazing it took us some time to adjust before getting inside. Though sitting at the stairs in front of the entrance is already quite an experience, the main is waiting inside! There are free guided tours around NYPL at 11 am and 2 pm Tuesday-Saturday, but we prefer to be there on our own. Because silence, books and architecture is all you need. Make sure you visit Rose Main Reading Room – not only is it like finding yourself in Hogwarts, but also the ceilings of the room are a piece of art! Don't forget to take a picture with Patience and Fortitude – giant marble lions overlooking the 5th ave – before you leave. Web-site: nypl.org
Broadway musical. This is a world-famous attraction. Hairspray, Marry Poppins, Jersey Boys, Chicago, Phantom of the Opera – they all were or are on Broadway. Being in New York and not seeing Broadway show? Ridiculous! We have chosen Cinderella as our NYC musical debut:) The average admission fee is $70 per person, though the prices can obviously vary dramatically. Buy your tickets here: broadway.com
9/11 Memorial & Museum. National September 11 Memorial and Museum is a place of remembrance of the tragedy happened in 2001. It is a tranquil and respectful area, always full of people, so be ready to spend some time in a queue. The entrance to the outdoor memorial is free and the museum costs $24 (or $44 with a 1-hour guided tour), though they also have free admission Tuesdays (after 5 pm). Web-site: 911memorial.org
Metropolitan Museum of Art. MET is definitely one of the biggest and the most exciting museums in the world. Its exhibitions cover the history of art from the ancient Egyptian, Greek and Roman times up to the most modern contemporary art. No reason to run hectically from on room to another, take your time to enjoy those periods you personally feel attracted to the most. After the tour head up to the fifth floor where the outdoor Roof Garden Cafe&Bar is located. It offers amazing view over the Central Park as well as incredibly expensive food (no one minds if you bring your own lunch though). Web-site: metmuseum.org
Where to eat in New York City
Gone are the times when Shake Shack was on every tourist's must-try list. Nowadays you can enjoy burgers and fries from the famous fast-food chain without leaving Moscow. Though it doesn't mean there is a tiny little bit less glory in what New York City has to offer for all the foodies out there.
We definitely didn't dedicate enough time and efforts to explore local restaurants, but still here are some recommendations.
Chelsea Market. This place alone is enough to have delicious food every day without repeating a single dish! Chelsea Market might look modest from the outside, but don't judge yet! Impressive industrial design and the yummiest food from all over the world are waiting for you inside. You know, I don't eat animals, but for the rest of the world visiting Chelsea Market like a pro means going to the Lobster Place for the satisfying Clam Chowder ($6.25 for the medium size portion) and fresh lobsters, of course. Another options include tacos, burgers, pizzas, chocolates, smoothies, noodles, rolls – pretty much all kind of food you have ever heard of. Web-site: chelseamarket.com
Bubba Gump Shrimp Company. You will hardly find a more touristic place! But this Times Square seafood restaurant is a combo: delicious food, perfect view, great inspiration (Forrest Gump movie, obviously) and amazing opportunities (Chris Pratt was discovered while serving at Bubba Gump Hawaii!). You never know, you never know… Tip for the souvenirs lovers: if you answer the movie film quiz done by the waiters correctly, you get a small gift, and you can also keep a glass after finishing your drink. Nice! Web-site: bubbagump.com
Applebee's Neighbourhood Grill&Bar. Applebee's is not a fancy place, nor has it something unique to offer. Hey, it is called "neighbourhood" for reason! But if you want to experience something truly local, something all NYC citizens do every other Friday, you won't find a better place. Web-site: applebees.com
Robert. Robert officially has the best view over our favourite Columbus circle! Their desserts are also amazing, but Gosh, the view! Make sure you book in advance – not in a couple of hours, like we did – otherwise, you're not getting a table by the window. Perfect occasion to iron your evening dress! Web-site: robertnyc.com
Baked by Melissa. The cutest tiny cupcakes ever have the cutest story behind. Melissa Ben-Ishay was fired and that was a sign for her to start doing what she really loves. And we absolutely love the result. I mean, tiny cupcakes calories don't even count, do they? Web-site: bakedbymelissa.com
Magnolia Bakery. I know, I know, Magnolia Bakery is all over the world now, but where else would you eat exactly the same cupcake while sitting at exactly the same bench of Blecker Street brunch Carrie Bradshow did in a movie? I personally prefer banana pudding and Bloomingdale's on Third Avenue, though. Web-site: magnoliabakery.com
Yogurt City. Looks like we are 100% into the desserts whenever we are in New York. But trust me, America runs on frozen yogurt! Actually, it was here when I discovered this treatment for the first time. And absolutely loved it! There are tons of different frozen yogurt cafes around, but Yogurt City was just next to our house, so I feel special connection with it now. Web-site: yogurtcity.com
What to bring from New York City
I love NY hoodie. Because after all this "I Heart…" craziness started from here:) Be authentic, buy original!
M&M's. Common, not that boring (still delicious, though) family pack you can buy in any groceries store! New York has a huge, epic, enormous M&M's store right next to the Times Square: 72 two-story-high tubes filled with different colours and flavours of candies, 3 floors of everything from kitchenware to clothes branded with familiar heroes, etc. You can't resist THAT!
Books from Posman Books at Chelsea Market. Honestly, it might be the best book store I have ever visited! Not the hugest, not the oldest, not the most beautiful. But the range of books they have here makes my heart melt. They are so special and interesting, not something you will see in any store around. Definitely worth that extra weight in your suitcase!
NYPD branding. New Yorkers love their police. Why shouldn't you? Not in a mood to buy something useless – at least take a picture with a policeman. They never refuse to pose, checked it!
Bag with NYC subway map. You've been there. You survived. Let others know!