Did you know, that calories, eaten on weekends, don't count?:) Oh yes, it's true! That's why I can't stop myself from showing you some mouthwatering pictures of delicatessen I had a chance to try during my trip to Singapore in the beginning of the summer (oh, mama mia, it was so long ago! I wish this August could last forever…).
To begin with, local food is just as crazy fusion of everything, as the country itself here: haute cuisine from Europe is followed by a tiny asian street food shops, American burgers are being cooked by Italian chefs and an ice cream is made of beans. Interested? OK, so look inside this post!
My TOP-3 dishes
I'm not good at tasting food. As a matter of fact, I usually love everything I've been given:) But, you know, after some time something that looked so perfect suddenly wanishes from the memory, being pushed by a new culinary impressions. Only those stay, that create some kind of special links with my taste buds.
My very best champions are those cereal shrimps. It may sound strange, but, oh my God, how fantastic are they! Unexpected mixture of well-fried shrimps and a sweet cereal blows your mind. The best place to try this dish is JUMBO Seafood (we visited the one at Dempsey Hill – hidden in a green area place full of cafes, art galleries and small shops). JUMBO is actually been known world-wide for its chili crabs (which I will come back to really soon), but for me it's now only cereal shrimps symbol.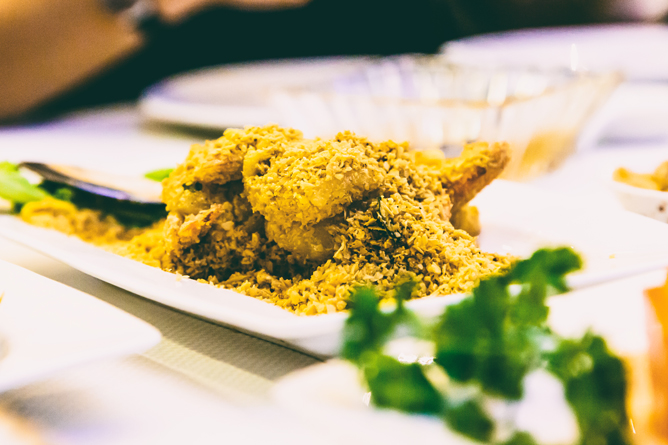 Second place belongs to, don't be surprised… a burger! Yes, that classical vegetarian burger with an organic veggies covered by a wholegrain bun from a cozy place, called Potato Head Folk. This cafe, honestly, looks a bit strange in Singapore. It would fit better in some of Californian or Florida sunny streets with an overview to an ocean, sand and roofless cars.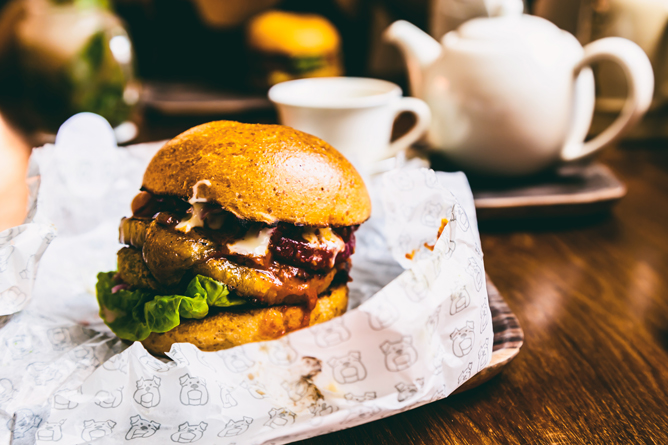 Obviously, it's a bit strange to choose typical european dishes for this top. But you should understand, sometimes it's not only about the taste… So just imagine: you are in an italian restaurant, situated in an old lighthouse (here is where the name of restaurant comes from), panoramic windows allow you to enjoy the view to high-end Marina Bay Sands together with around ten more sights, like Formula-1 track, football field on water and a concert hall built in a form of a microphone. It already looks like you live a full life, when suddenly it's being added by a fantastic dessert. So you can now enjoy the view while everything literally melts in your mouth! How can you ever forget that?
Traditional local cuisine, or what is a must to be tried in Singapore
Locals call themselves "peranakan" ("descendants"). They appear to be true descendants of chineese people, who arrived here many eyrs ago and married local, malay women. That is how their culture, language and, of course, cuisine were born. It's really hard to find something really local in Singapore so peranakan traditions are possibly the most authentic of all.
Peranakan kitchen has much in common with Chinese (logical!), but has it's own features, like, for example, remfakh (unique mixture of spices that are being used in almost every dish), that is usually accompanied by cocnut milk or chili.
Rice that provides almost every order in Singapore helps to balance spices in dishes.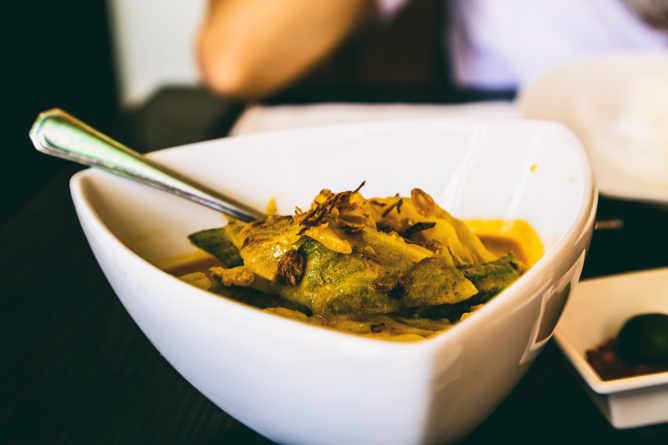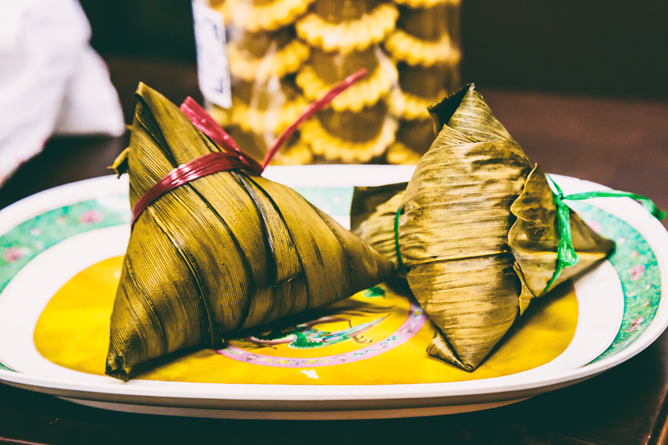 Obviously, there are a lot of high end places to try peranakan cuisine in Singapore. But as for me it is way more intresting and tasty to try it in any food courts. Only here you can get wonderful laksa – spicy soup with coconut milk and rice noodles with a lot of meat like chicken or seafood.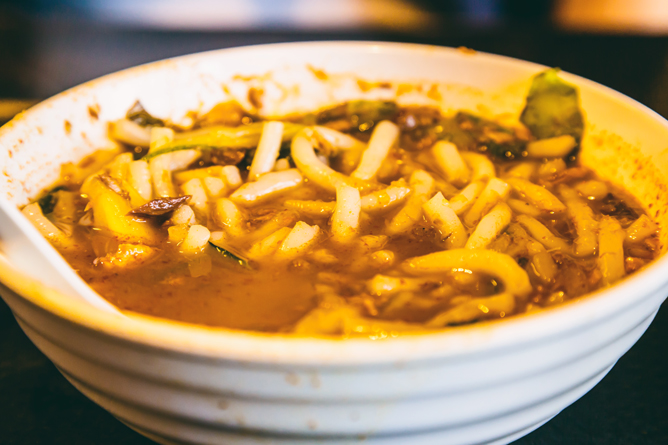 You can also try traditional malay breakfast here (even not in breakfast time). It consists of soft eggs, kaya-tost (fried bread with a sweetened mixture of coconut butter and regular butter), that you're supposed to dip into the eggs, and copi – sweet coffee with a condensed milk (not sure it's OK to drink it every day – way too sweet, but it's definitely worth trying!).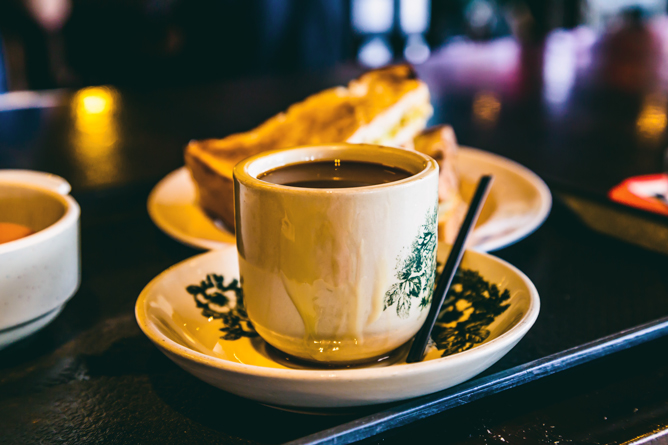 End your lunch with a local ice cream. Which is not an ice cream, actually. It's not even so sweet (especially after copi:) ). Ice Kachang, or frozen beans. That is what they call a dessert! They mix ice together with beans and everything, what they see nearby, like agar-agar jellies, condensed milk, syrups… Surprisingly, it's really tasty! And very refreshing, what is good in +33!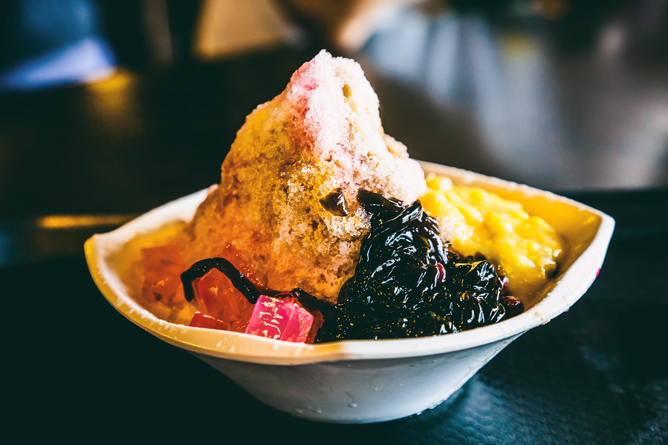 Singapore is a young country, so locals have literally to create new attractions. It can also been said about the food. Traditional peranakan cuisine is actually not so widely performed in here and Chinese one is not that local. So dishes, born here, are being kept and cultivated.
One of such things is well-known Singapore sling – a drink that was invented in Raffles hotel bar (by the way, if you see Raffles anything in Singapore – be sure this place is perfect, cause locals have so much respect and gratitude to British guy sir Raffles, that they only name the best after him), that still preserves that unique british colonial atmosphere in it. You will be as well given an unlimited access to nuts in this bar, that could be thrown right to the floor. This bar is being named the only place you can legally drop litter in in clean Singapore.
BUt if you're not about alco, just like me, than you should probably choose the degustation of famous chili crab. Visit JUMBO for the best options. Here you will be given apron to avoid dirty clothes and plaid to cover your personal belongings. The process of eating it can become quite challenging! Especially because it's covered by a tasty thick souse.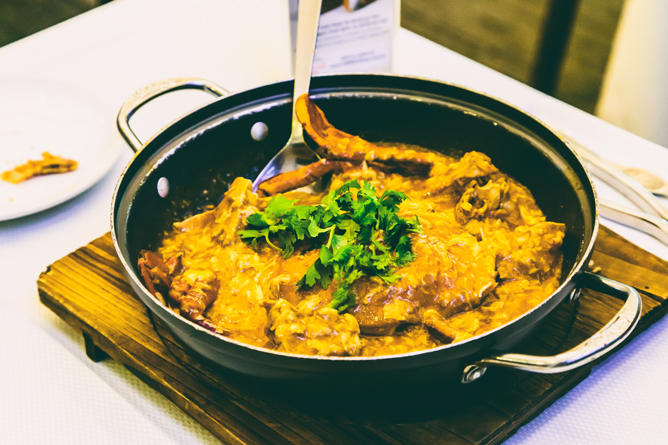 Other food
Here are some more photos of the food, we had a chance to eat during the trip:
1. Delicious fruits that were waiting for me in a room number.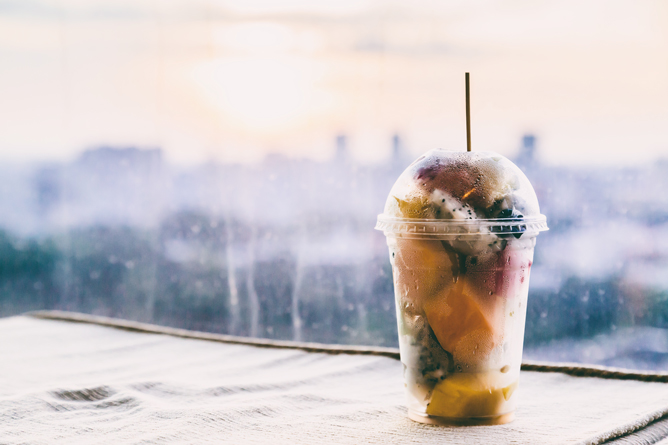 2. Some kind of seafood soup.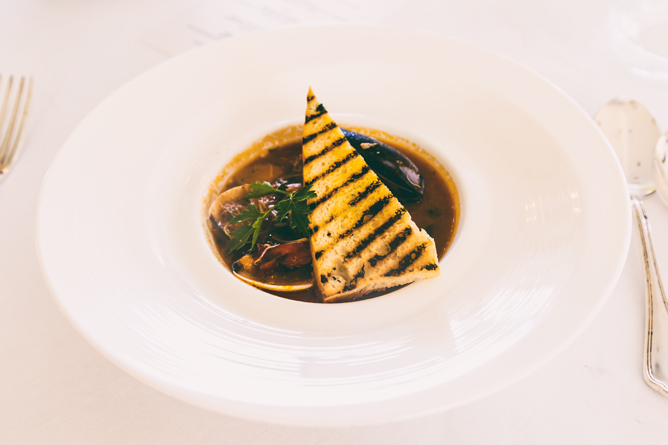 3. Fish.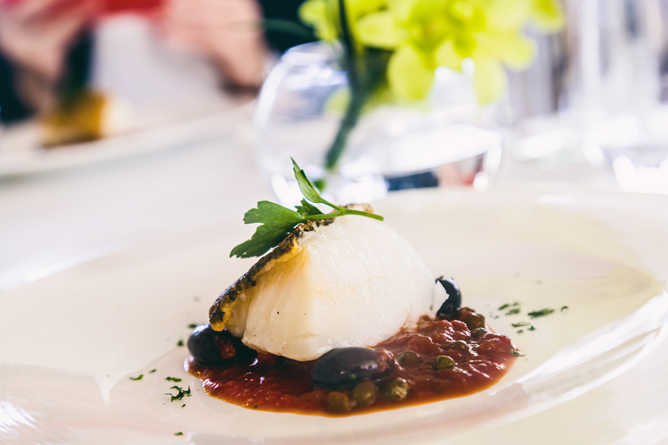 4. Very tasty, though not that beautiful, seaweeds.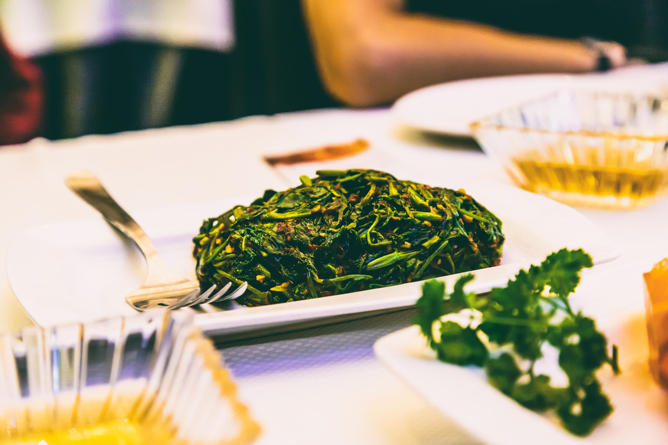 5 и 6. Strawberry, greens and flowers salad.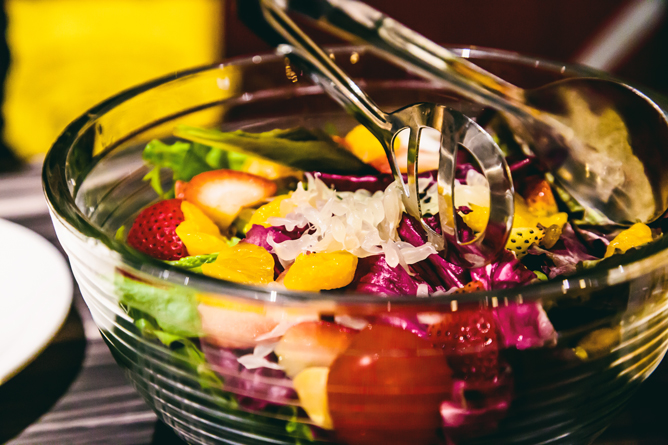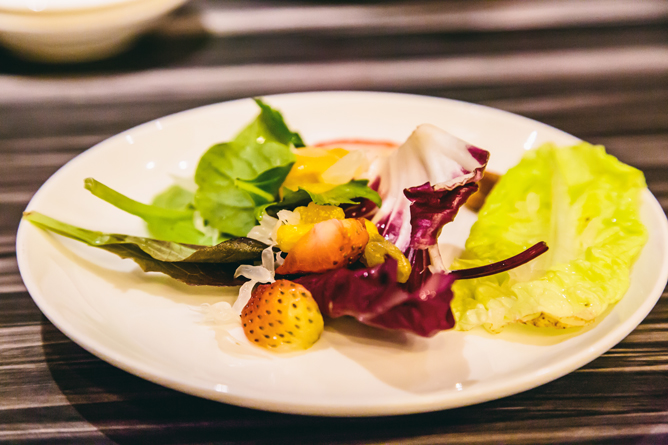 7. No idea what it was:)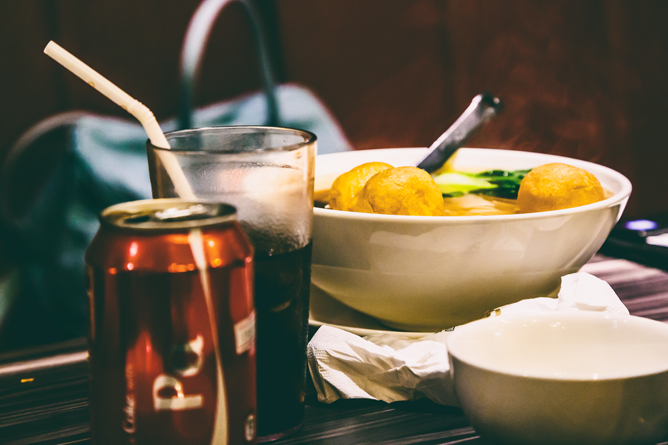 8. And that is fish skin in breading. How crazy is that?:)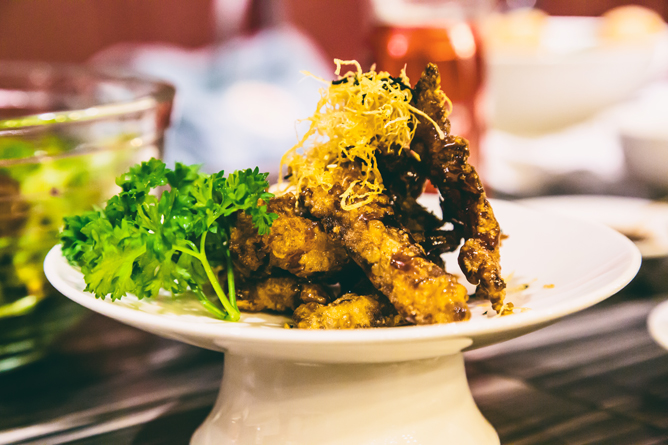 9. A beautiful tea, that is probably made of gold, cause this tiny cup was more expensive that a half of litre of a regular green tea.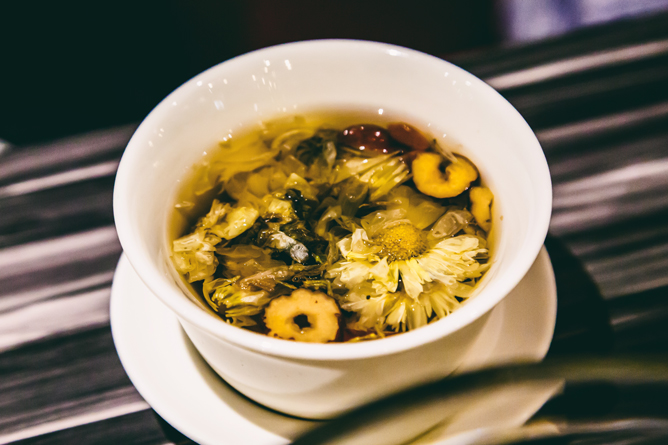 10. And traditional British tea sweets.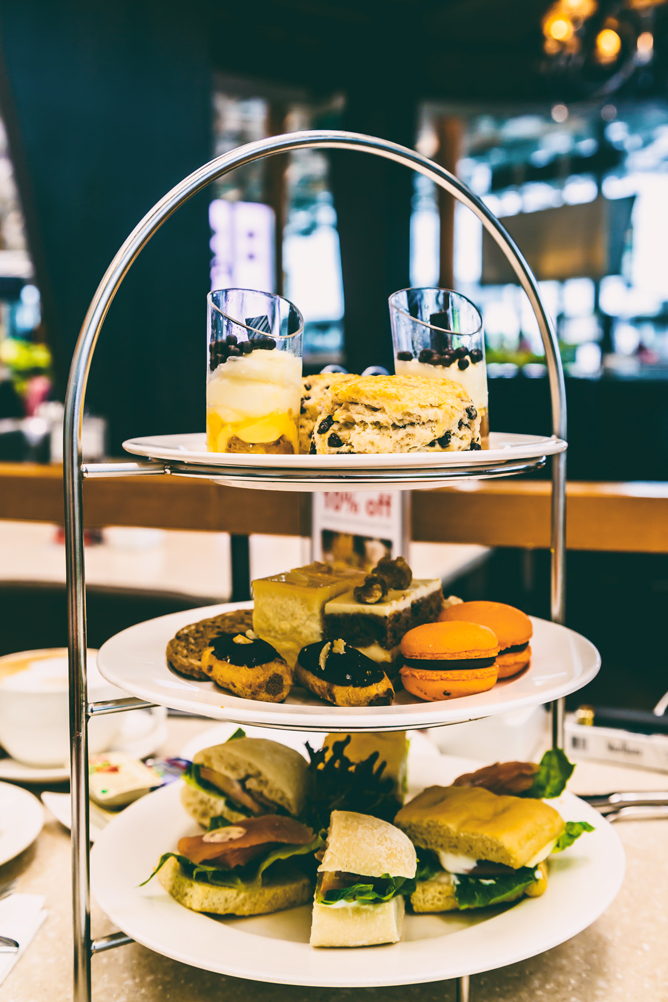 Window shopping
What else can show so perfectly that unusual mix of all over the world cultures in one place?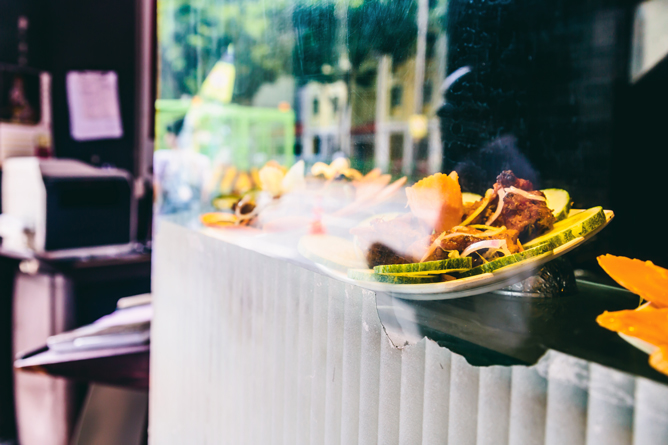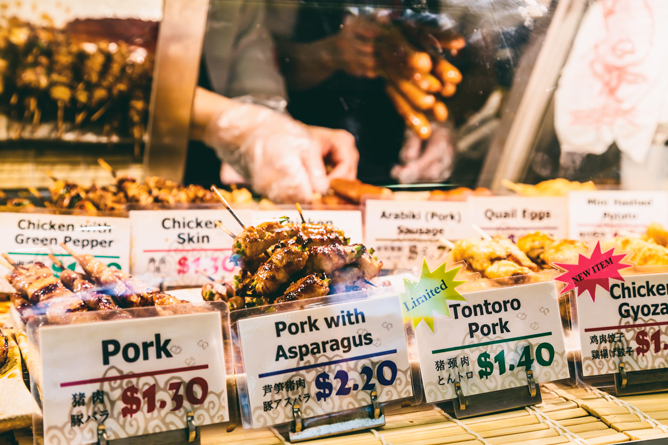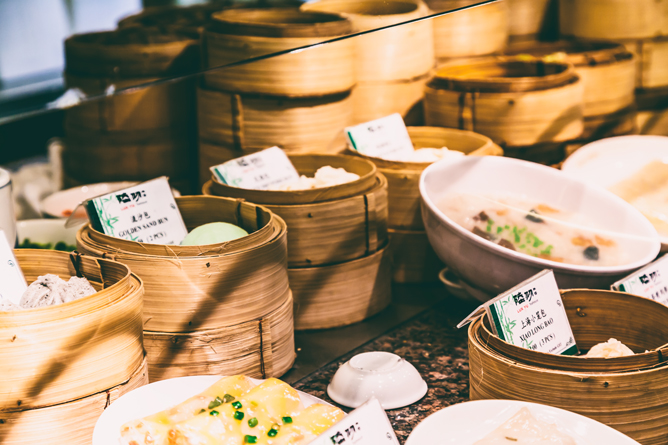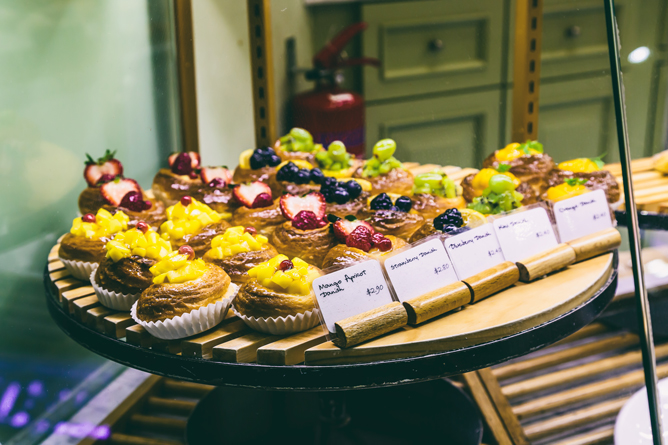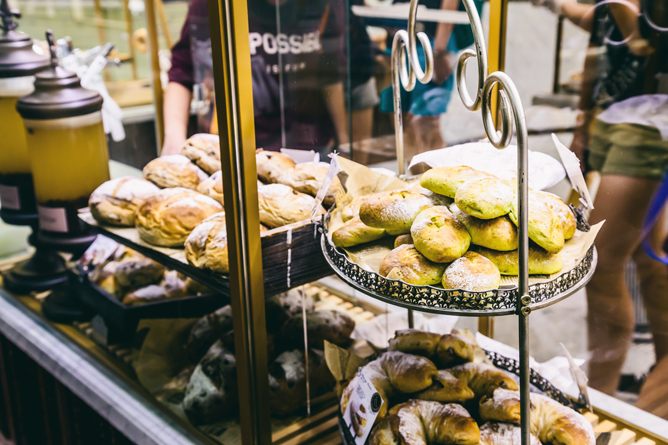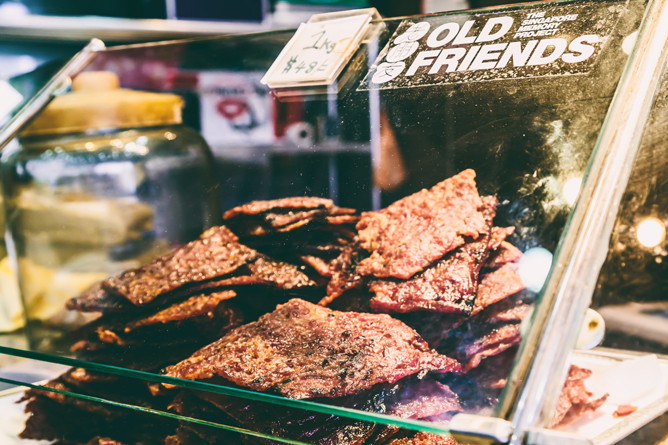 So that was the food you can find in Singapore. How do you find it?