During our first trip down to 'The Heart of North Island', Taupo wasn't even on our radar, to be honest. We intended to spend a night there and drive to Whakapapa Skiing Resort the next morning. Avid snow fans, we couldn't think of a better way to spend the whole weekend, rather than on the sunny beautiful slopes of Mt Ruapehu. Apparently, things don't always go the way you pictured it. At the bottom of the mount we were greeted by a severe storm, wind, rain and snowfall – pretty much all the natural disasters you can think of. We managed to have some fun anyway, but after pouring tons of water out of all our boots, jackets and helmets and a good half an hour in a hot bath, we decided to play safe and stay in Taupo on Sunday. And God, though I definitely didn't have enough snow this winter, I never regretted this decision. Taupo is a wonderful town with lots of exciting and unique activities.
Luckily, the weather didn't play another bad joke on us. The sun was shining, it was nice and warm, so we went to Taupo Boat Harbour. A scenic place right in between the Great Lake Taupo and Waikato River has lots to offer. From hiring a fishing boat to a posh cruises across the lake. But we went for something really special and booked electric yacht to Maori Rock Carvings.
This incredible sight can be only accessed from water. Imagine the disappointment of people, living right above the cliff, where the 14-meter high artworks are siting, and not actually being able to see them:) Anyway. There are several ways to get there – by a traditional cruise boat, in kayak or on a yacht. If you fancy something outstanding, pick the last one!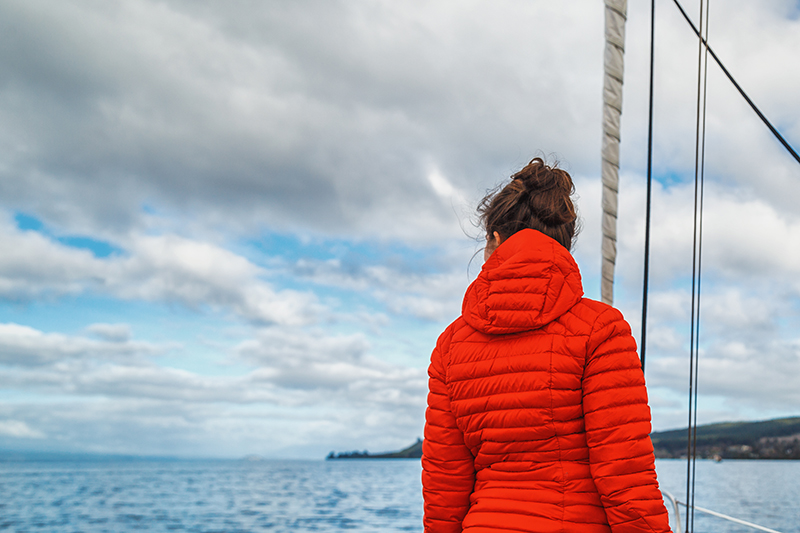 Sail Barbary makes two trips (10.30 am and 2.00 pm) to carvings every day in winter and three – in summer. For a funny $40 per person you don't only get a 2,5-hour tour on a beautiful yacht coming right out of the "James Bond" movies, but also a glass of hot drink or wine, chocolate fish and a postcard. What a nice package!
We were so delighted with this experience! Yes, Alex got a bit cold, but after borrowing a warm poncho from a captain, his mood skyrocketed. Because you can't be anything but happy observing the vast blue waters with enchanting volcanos of Tongariro, looking tiny from the yacht. To say nothing about all the emotions swirling inside, as soon as you get to the main point of the whole trip – Maori Carvings.
It took Matahi Brightwell and four other artists four years to complete their impressive portrait of Matahi's ancestor Ngatoroirangi.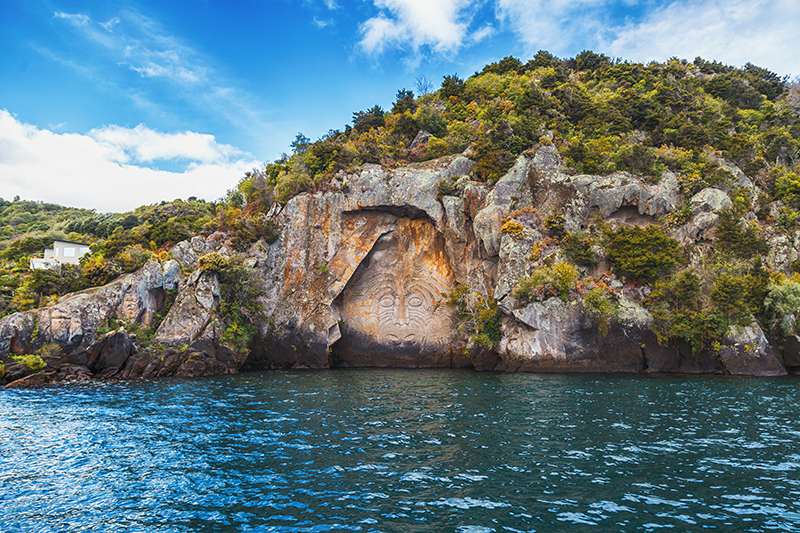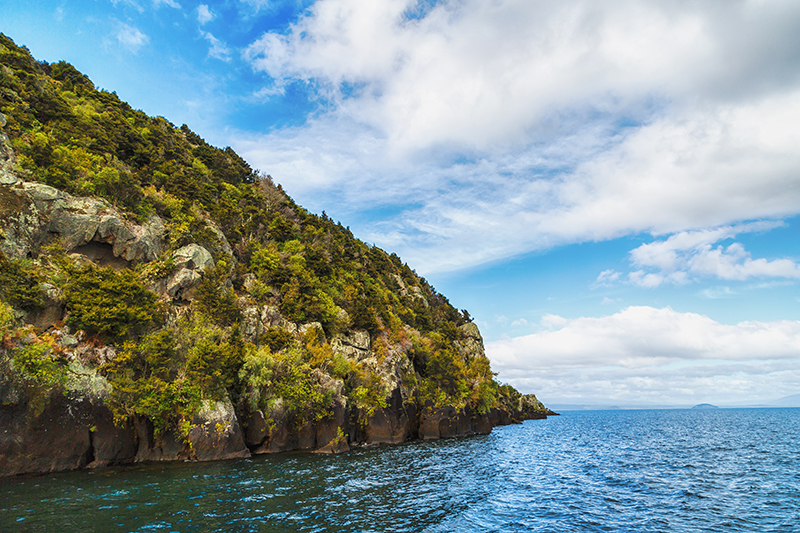 By the time we got back on terra firma, we were starving. So without any further delay we got ourselves settled by a cute tiny Stir Cafe, looking like it was converted from a campervan. Tickling the taste buds smells of crepes and good coffee had us sold! It was one of those abnormally warm winter days New Zealand is famous for, and our outdoor lunch with a beautiful view over the harbour turned into an amazing little moment of joy that you remember forever.
Of course, on a mission to explore Taupo we couldn't skip the most visited place of the whole regions – Huka Falls. This spectacular place is formed by Waikato river. Normally one of NZ's longest rivers is about 100 m wide and here it suddenly narrows to a 20 meters wide gorge with a dramatic 11 meters drop. Can you believe this waterfall can fill the entire Olympic swimming pool in just 11 seconds? It is a beast!! I was thrilled to see this power with my own eyes!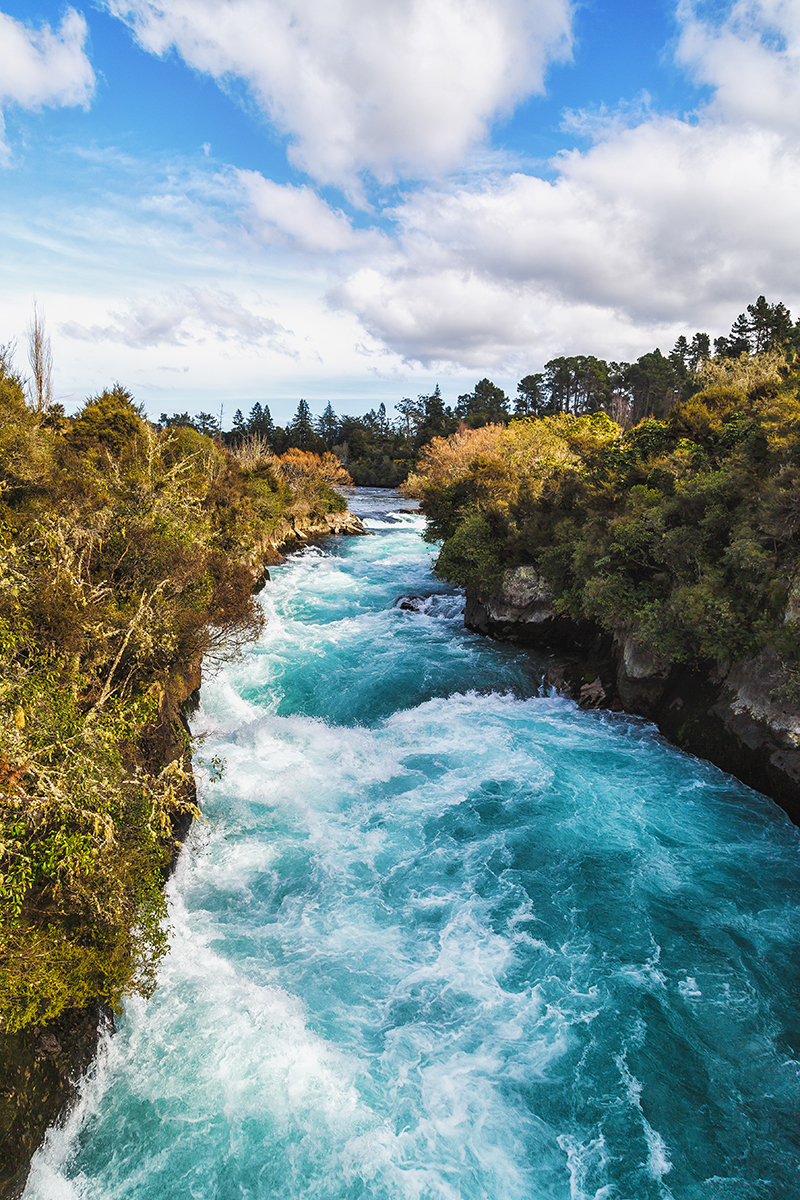 Huka Falls are only 10 minutes away from Taupo. Convenient car park is located really close by (I bet you will hardly find a place here in summer!). Though I would love to add a bit of extreme with the high-speed jet boat next time, this time we decided to explore the falls on foot. There is a short track along the falls that allows you to admire the beauty of the crystal clear blue water from the different angles.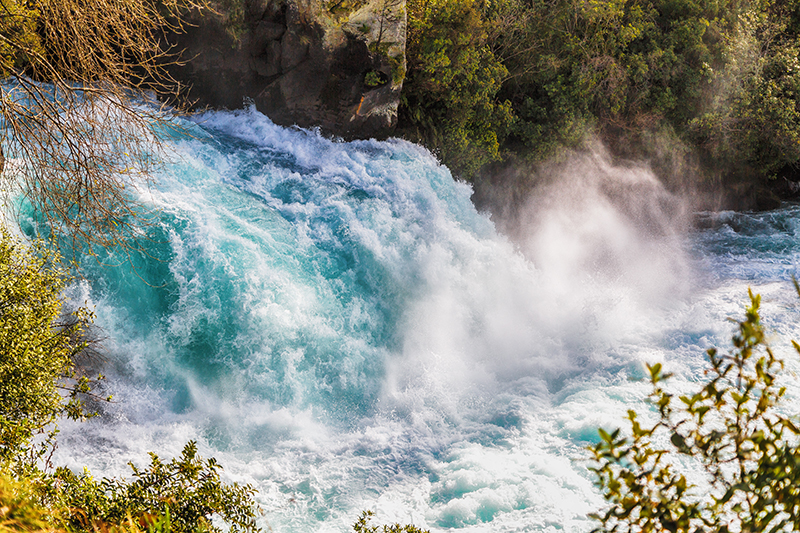 Another 2 km away from Huka Falls is Huka Honey Hive – the largest honey showcase of honey and honey-based products (they have skincare there as well!). Cute lil place, not to be missed when travelling with kids. We were tasting exotic honeys, watching live bees doing their job, indulging into an ice-cream and even playing some weird game in the outdoor garden.
Huka Honey Hive is a sustainable business, carrying after bees and preserving the planet. It was established 22 years ago by a smiley Dawn and her husband Blair. He is a beekeeper and Dawn is in charge of sustainable gardens, that nurture Huka Honey Hive bees.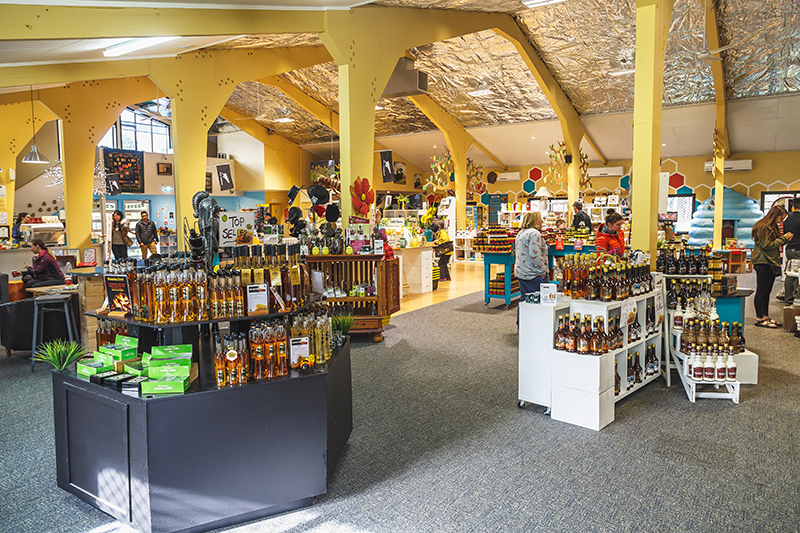 On our way back we found two more gems. The first one was a spectacular viewing platform with a great view over the Huka Falls. You will spot it right after the colourful airplane that sits on the road from Huka Honey Hive. There is the sign, pointing to a scenic lookout and it's only several meters away. It is probably the only lookout that allows you to see the whole Falls at once (the viewing platform along the river where we were earlier, only allows you to see the parts of it).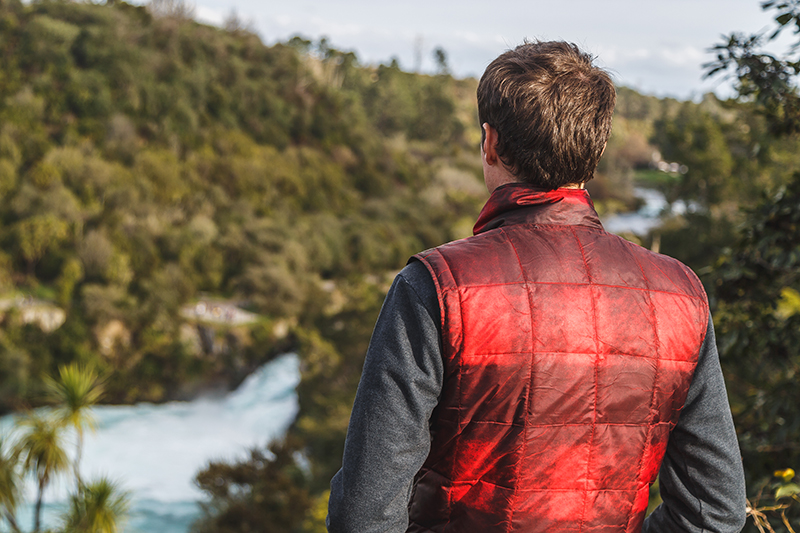 Another lookout is hiding right where Huka Falls Road meets Thermal Explorer Highway. Follow Loop Road to a breathtaking view over the whole Taupo – from the mountains all the way down to the lake with the admirable town in between. What a pleasure it is to hang out in your car in this tranquil place for a while. Perfect way to round up a busy, but joyful day.
By this time it was already getting dark (winter days!) and we were way too tired to do anything else, so after a quick coffee fix at BP, we went back to Tauranga. It was a magical and positive day in The Hearth of North Island and I would totally recommend the same itinerary for anyone eager to spend a day in Taupo.