Life looks totally different behind the Arctic Circle. The sun does never disappear during the summer days and never rises completely in winter, making snowy mountains look a bit blue like they should during the sunrise. And that is exactly the place, where the remoted, unbelievable, wonderful Lapland is located.
One of my main dreams came true this winter – we went on the edge of the Earth to find out if this winter's fairy tale really exists. More than two months have passed since our journey, but those memories still make me shiver. Probably, it changed my life forever! And today I'm going to show how (and for what price) can you see the Lapland.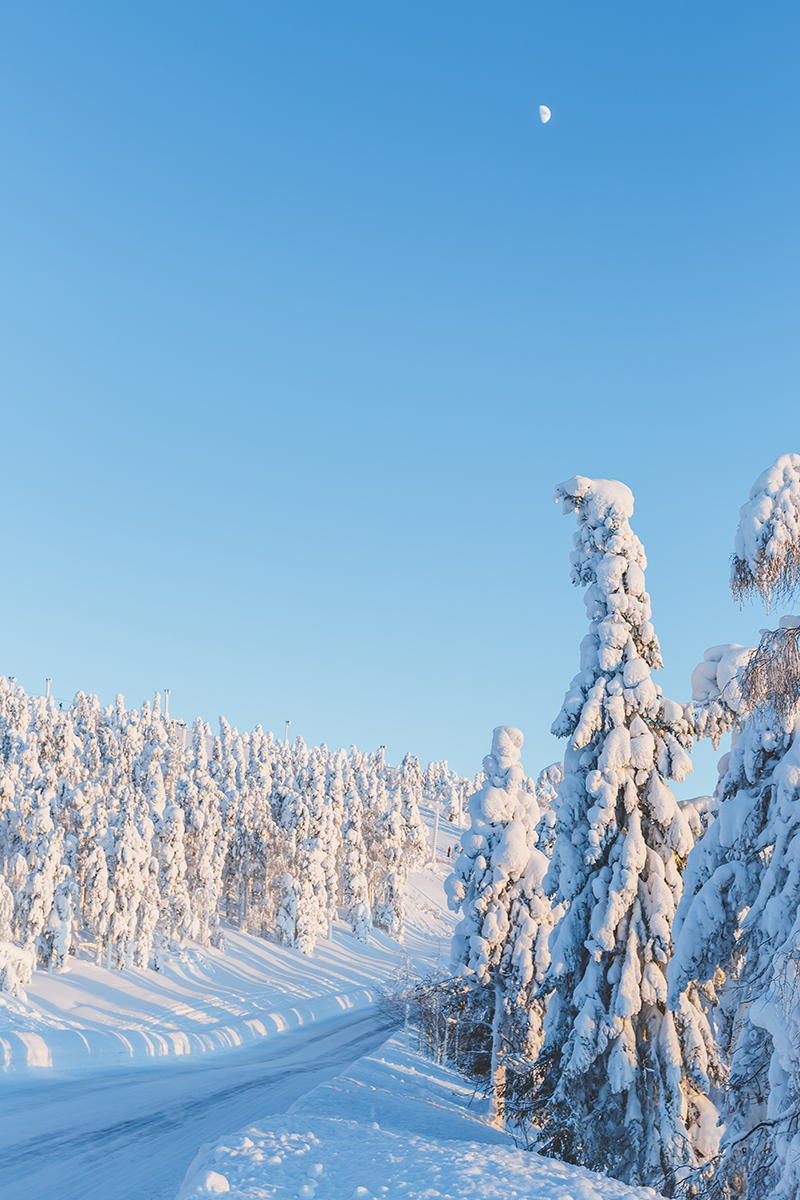 To tell you the truth, we didn't immediately come up with all the idea of travelling to the snowy Lapland. At first, we were planning to visit local capital city and the native town of Santa Claus – Rovaniemi. But the budget for high season appeared to be beyond any imagination. So we switched to the largest and the most popular ski resort – Levi. And do you know what? We didn't regret a tiny bit! Probably, the second choice was only better, cause Rovaniemi gets really crowded in winter and tourists' crowds didn't ever make any good to the local sights. And Levi, despite lots of locals, British and Russian visitors, remains a quiet "Alpine" small town with the perfect views, made to relax and enjoy every other minute.
A flight and an accommodation
Of course, any plans do always start with those two points. We knew in advance, that we're going to stay in an amazing house of Kytaja Golf at first, so were looking for the tickets from Helsinki. Finnair flight to Kittila (which is only 20 minutes from Levi) and back for two people with one luggage cost 15 000 rubles. There are several flights every day, so it's really easy to find a comfortable transfer if going directly from Moscow (unfortunately, there are no direct flights).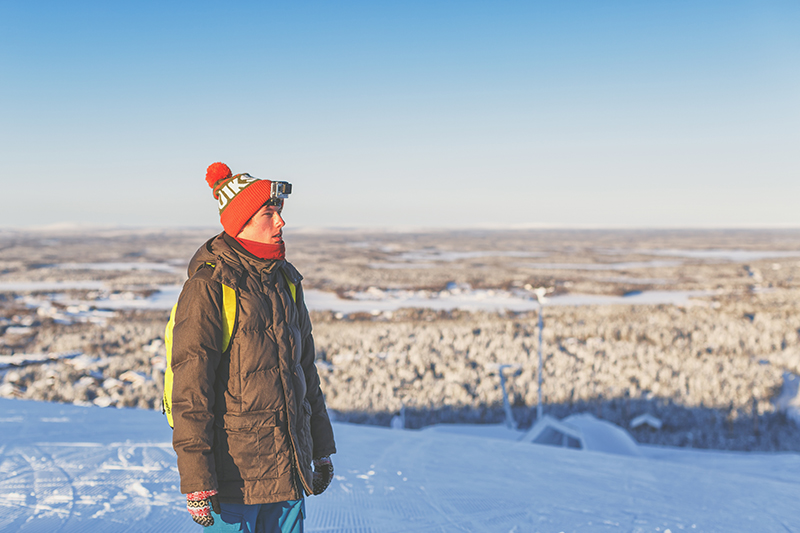 But while everything was clear and predictable with the flight, with the accommodation we suddenly picked a Jack Pot! And now we will pass it to you:) We were lucky to book an apartment in an Alpine house of Holidaystars Levi chain (guys have several different hotels across Finland) for only 285 euros for 3 nights! Yes, Lapland isn't the cheapest destination, so that amount is really "only" here:)
Why am I so happy about this apartment? Well, first of all, because they are just a minute away from the lifts up the Levi hill. A perfect location for skiers. Secondly, because each apartment has its own fireplace, sauna (you will approve that while staying behind the Arctic Circle) and kitchen, that is a money savior. And thirdly (and probably – the main point!) – they include ski passes in the price of an accomodation! And that saves 109 euros per person in 3 days! And you can also use this ski passes to travel on a bus, that moves between different lifts, for free. How cool is that?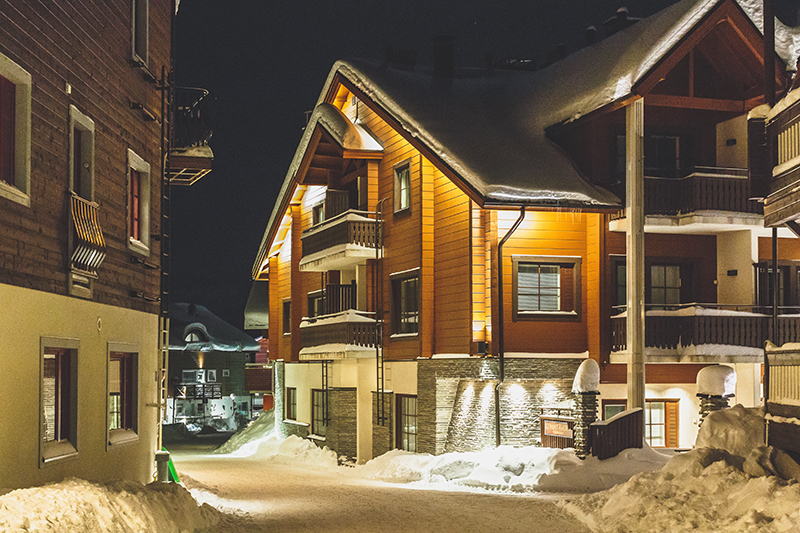 I absolutely enjoyed our cosy stay at Holidaystars Levi, though there were also some minuses – Wi-Fi was not that good, it was a bit too cold during the nights and the bedroom with two small beds also wasn't very welcoming. But, God, who even cares about Internet or sleeping in Lapland?
What to do in Levi
Knowing how much we both are in love with mountains and snowboarding, our decision to visit Lapland without sport activities might sound strange. But just before you will find out even a little about this region:) During the winter time, every meter in here turns into an amazing attraction, that might be called a lifetime experience and is worth trying no matter what, cause you'll probably won't get a second chance. People can ride a reindeer or a husky dog, walk with the snowshoes, look for Aurora Borealis while riding a horse, have lunch in an ice gallery, enjoy the national park views, do under-the-ice fishing… Probably, there are more activities, but Alesha used this part of our booklet for a fireplace, so I have nothing more to say:)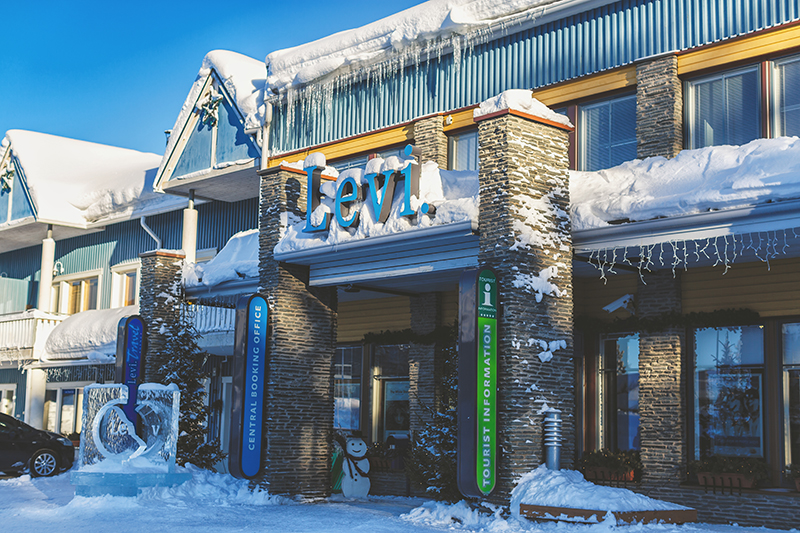 You know, a trip to Finland is probably the easiest one you will ever have to organize! They have the best tourist websites (this one is for Levi) with all the information about local sights and all the contacts you will need. Moreover, there are also special Tourism Boards, like the one on the picture above, where you can book an excursion or ask any questions about food or accommodation or anything at all.
Of course, the first thing we wanted to know, was where can we try snowmobiling and meet wonderful local animals (preferably – all at once!). They pointed to the next door – the office of Levin Tunturilomat, where a group of people was about to leave for a three hours snowmobile journey with a visit to the reindeer farm (with tea break already included in price).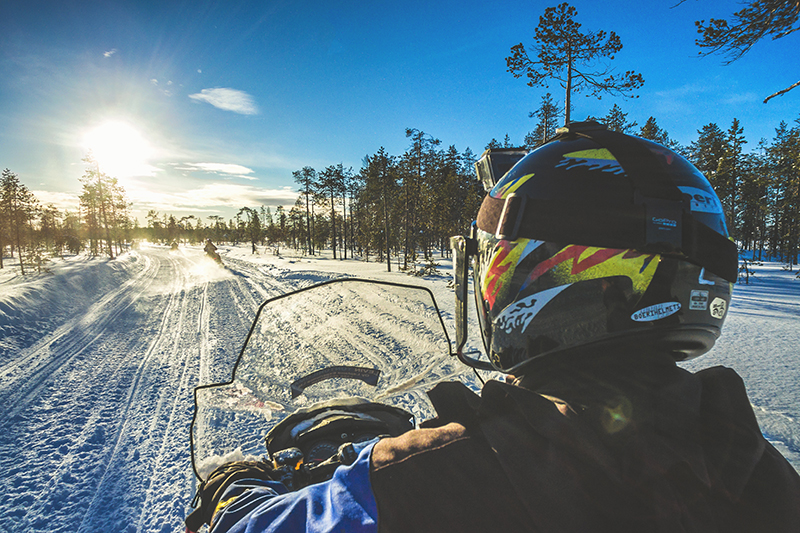 If I had to choose the best event of the whole our snowy journey, this ride would definitely be number one! I almost forgot how to breathe, while holding on Alesha's back. I just couldn't believe those sceneries weren't a miracle! Tha a Moon can truly stay on a sky all day long, that snow can be so white and soft, and trees – so densely covered in snow, that look just like enormous hills. My husband was so impressed, that offered to conquer this place:))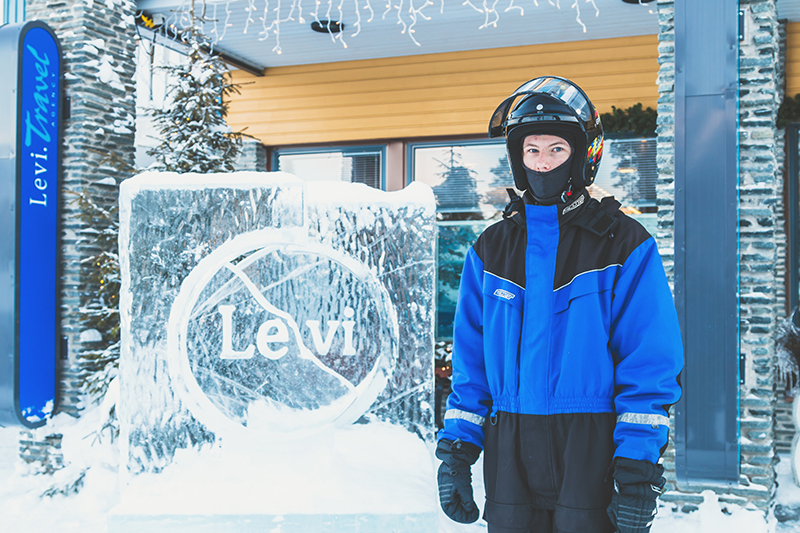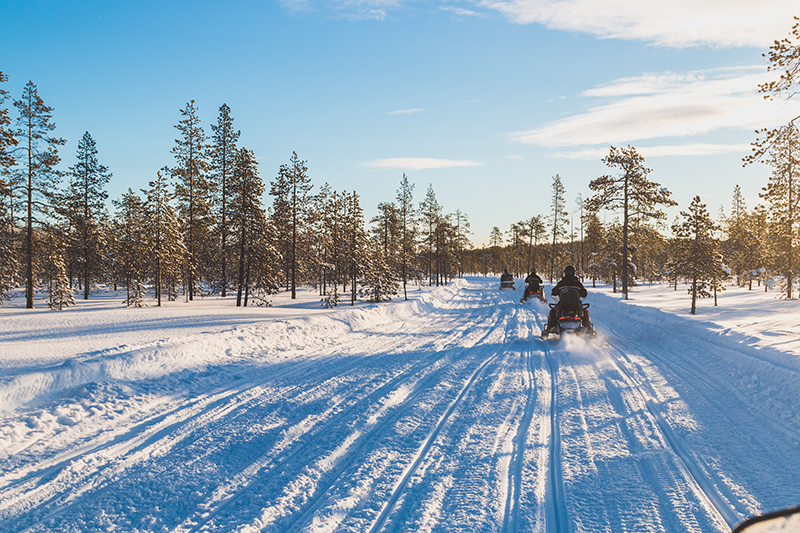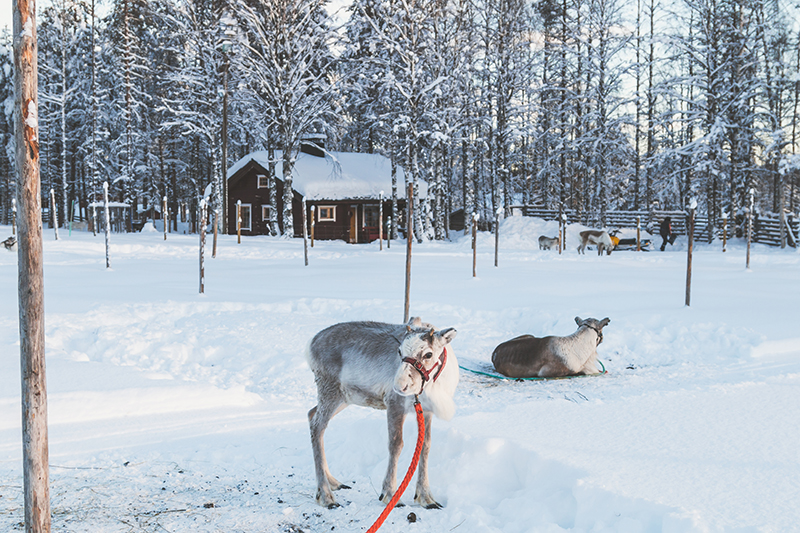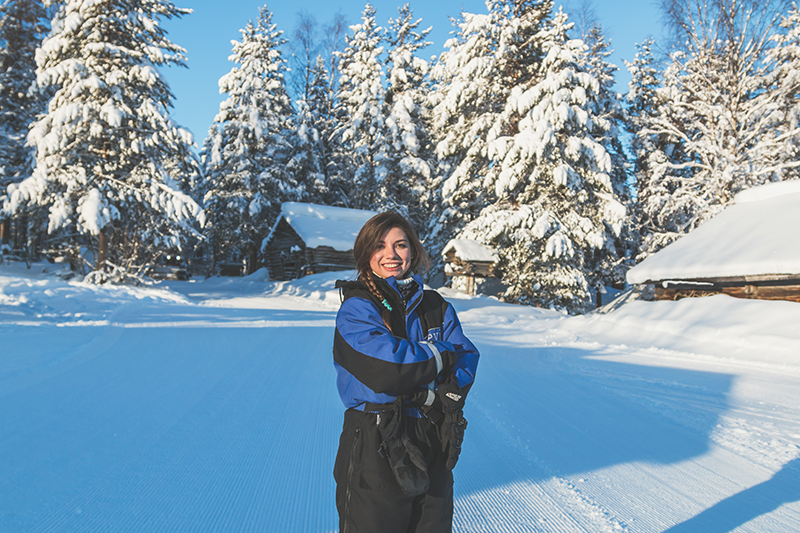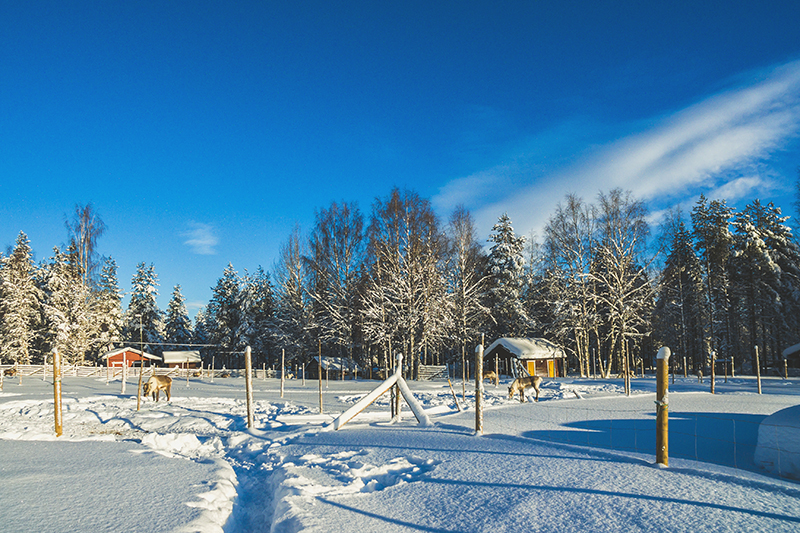 A guided walk costs 72 euros per person if taking one snowmobile for both like we did (otherwise – a little more). But after the excursion, we noticed one cool possibility – renting the cheapest snowmobile for the whole day will cost you 155 euros! It is probably the best option to explore everything around! And you shouldn't be scared, cause all the snowmobiling routes around Levi are marked with the special signs – no chance to get lost!
On the next day, we decided to find out, what another local company – Kinos Safaris – has to offer. We went to a snow-made hotel Levi Ice Gallery – one of the best-known Scandinavian attractions. This one was built by one of the Lordi leaders (that is the reason of all those scary faces on the wall) and includes snow restaurant, snow church, cinema and, of course, rooms.
Kinos Safaris looks bigger and more impressive, that the first organization. They are located in a small remote from other buildings and are surrounded by high trees and lots of snowmobiles. They have more attractions but also ask for bigger fees. For example, our journey this time cost 95 euros per person. Hot beverages and sweets were also included as the first time (though not in the ice restaurant).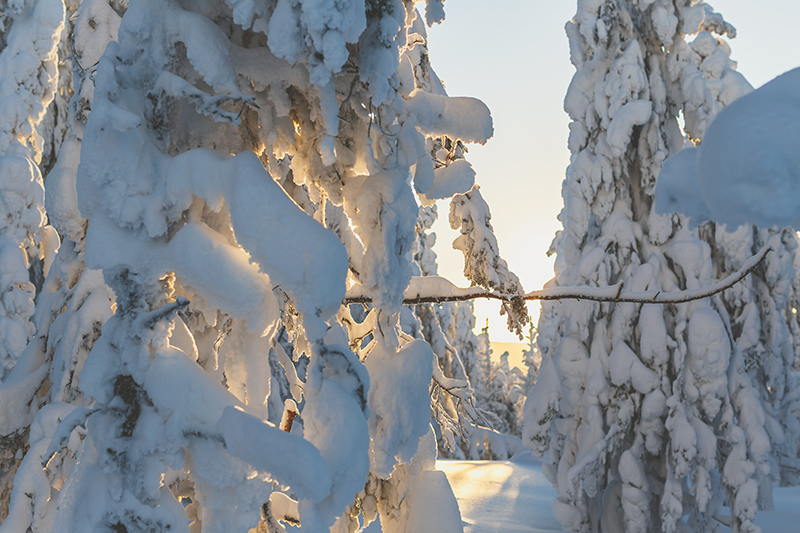 Honestly, this snow hotel was a disappointment. It didn't look inhabited at all: no one stayed in the hotel, the restaurant wasn't working… You expect more from the places like that:) So, if you will have a choice, better opt for something else – horse safari or snowshoeing, for example.
Of course, I was dreaming of hugging all local animals, but all the activities, connected with them, were too expensive.
But we were lucky to discover a cosy Kompiainen farm ruled by wonderful Anu Ruhala in only 2 km from Levi, where you can meet them without paying too much money. It is a perfect farm and the best zoo I could ever imagine! Anu has raindeers (one is 10 years old already!) and horses, that can give kids or adults a ride, tine piggy, sheep and a fluffy kitty, that was hidden in a warm house too soon to give him a hug.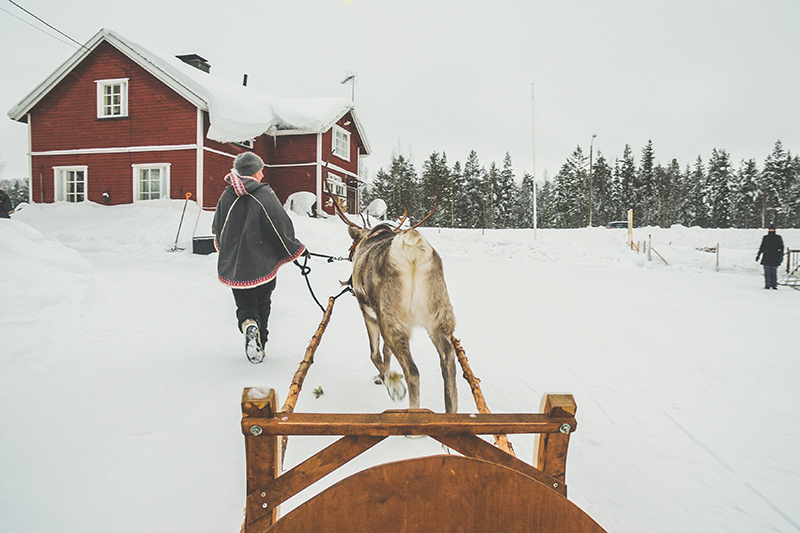 You can reach Anu's farm by that bus going between the lifts. One of the stops is located just by the sign, pointing to Kompiainen. About 200 meters through the silent village – and you will get to the farm.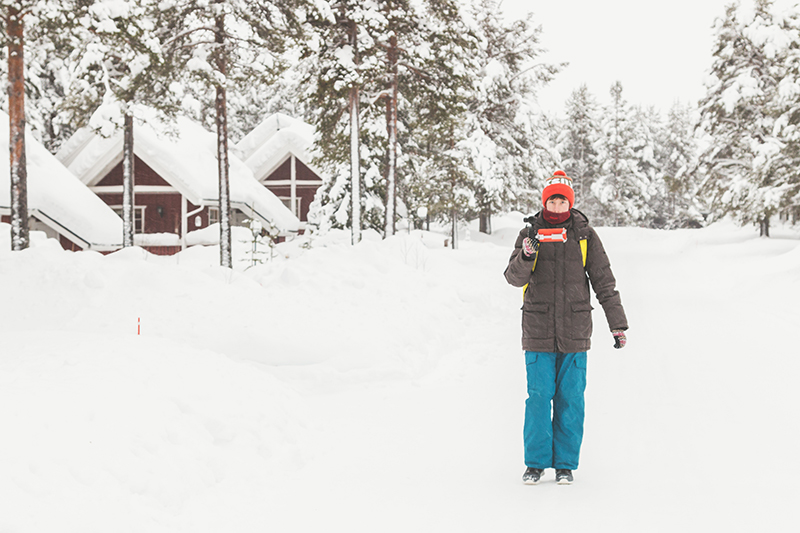 The entrance costs 8 euros, 8 euros more we paid for a ride and 2 more – for the food. That's all:) But how much pleasure instead! Sometimes you just need to turn into a child once again. I couldn't stop playing with them for ages!
Free activities
Not all wonderful moments should have their price:) There are a lot of opportunities for free entertainment in Levi. For example, watching Aurora Borealis. Northern Lights are not that rare phenomenon for the Lapland. You can spot them for about 200 nights per year. In order not to miss the right moment, check the official web-site – they are sending an alert on the main page a couple of hours before. We've also downloaded the special app (that didn't notify us, in case you were interested).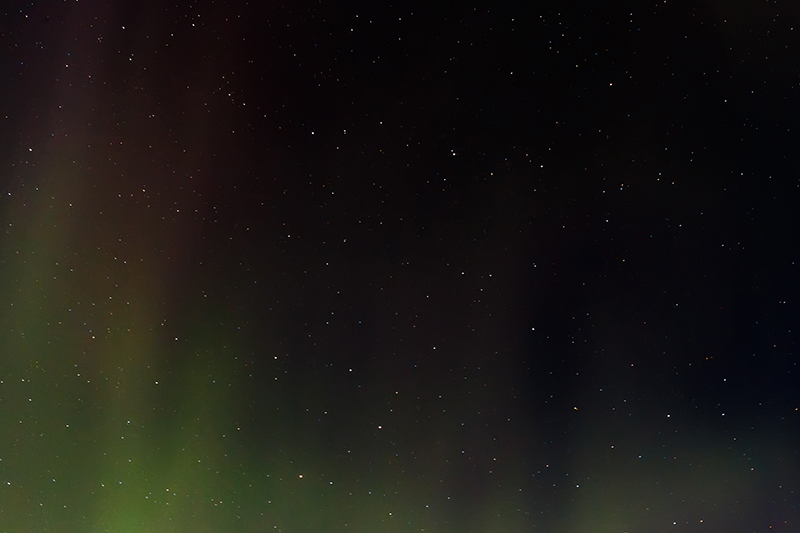 In order to see the Northern Lights, you have to go to the darkest corner possible, because city lights make it invisible. That is why all tourists organisations offer Aurora Borealis safaris with any possible transportation.
I really recommend to accept their offer, cause it's so hard to do everything right without any experience – you have no idea where, when and how would it be seen. Unfortunately, our emotions remained mixed: we have definitely seen it, but not the way we expected. And still, have no idea what mistake did we make.
But observing Aurora Borealis, after all, is an absolutely unique experience! You suddenly feel like you're touching the Universe and understand, how little you do know about our planet and nature. You feel connected with those giant flowers turning into snakes in the sky. I wonder, what would I feel while seeing the full "lights"?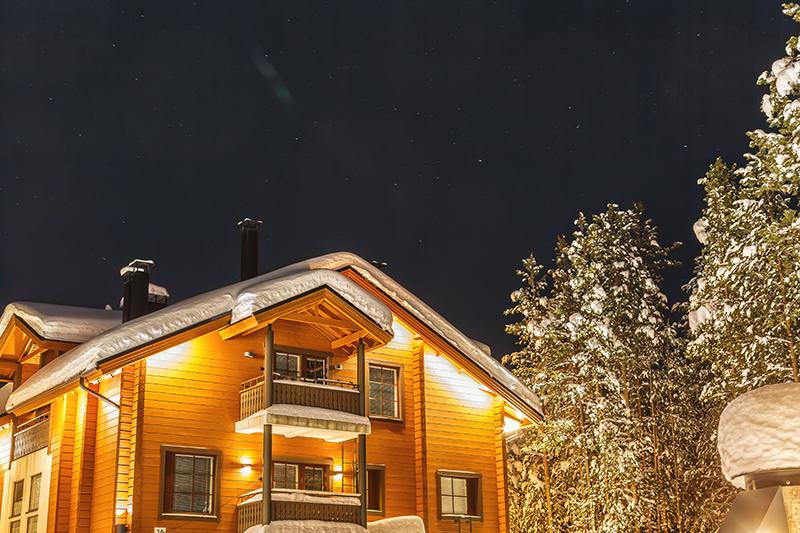 Walking through the mount peek with those amazing views over the giant territories of forests, frozen lakes and beautiful snow was another cool idea.  We took the Zero Point lift, which was the closest to our hotel. Hill in Levi is only 500 meters high, so the ride was short and on the top… On the top, we bumped into an absolutely different world! The one, where you can fall into a waist-high snow (what we did several times!), where the trees are located so close to each other, that you can't believe the sun is still shining in between them, where skiers and snowboarders (most of the last ones are Russian) are unexpectedly and chaotically appearing everywhere. Probably it was the best place to get lost!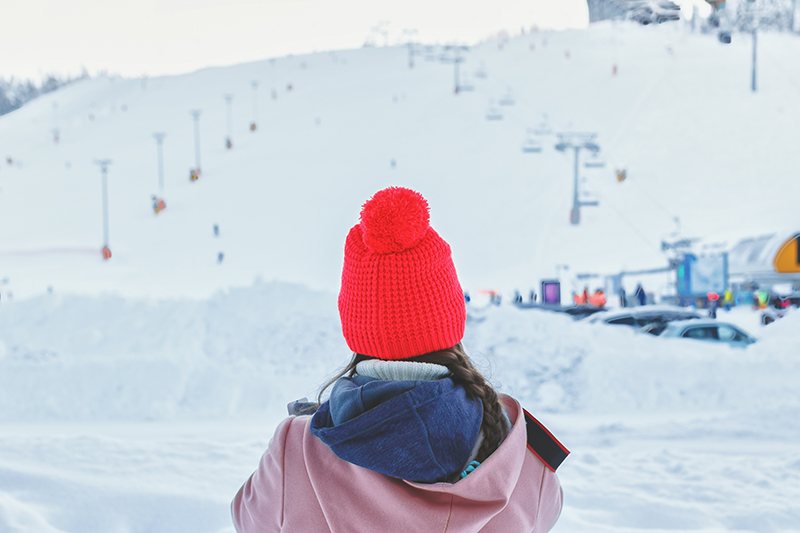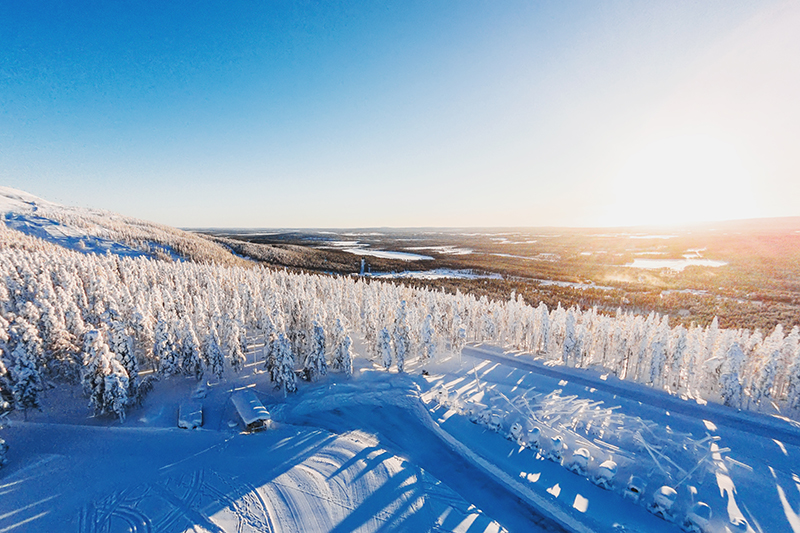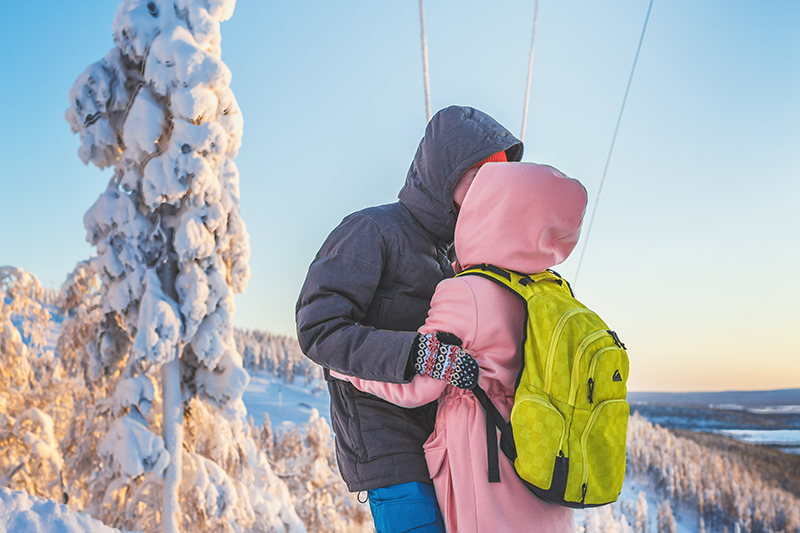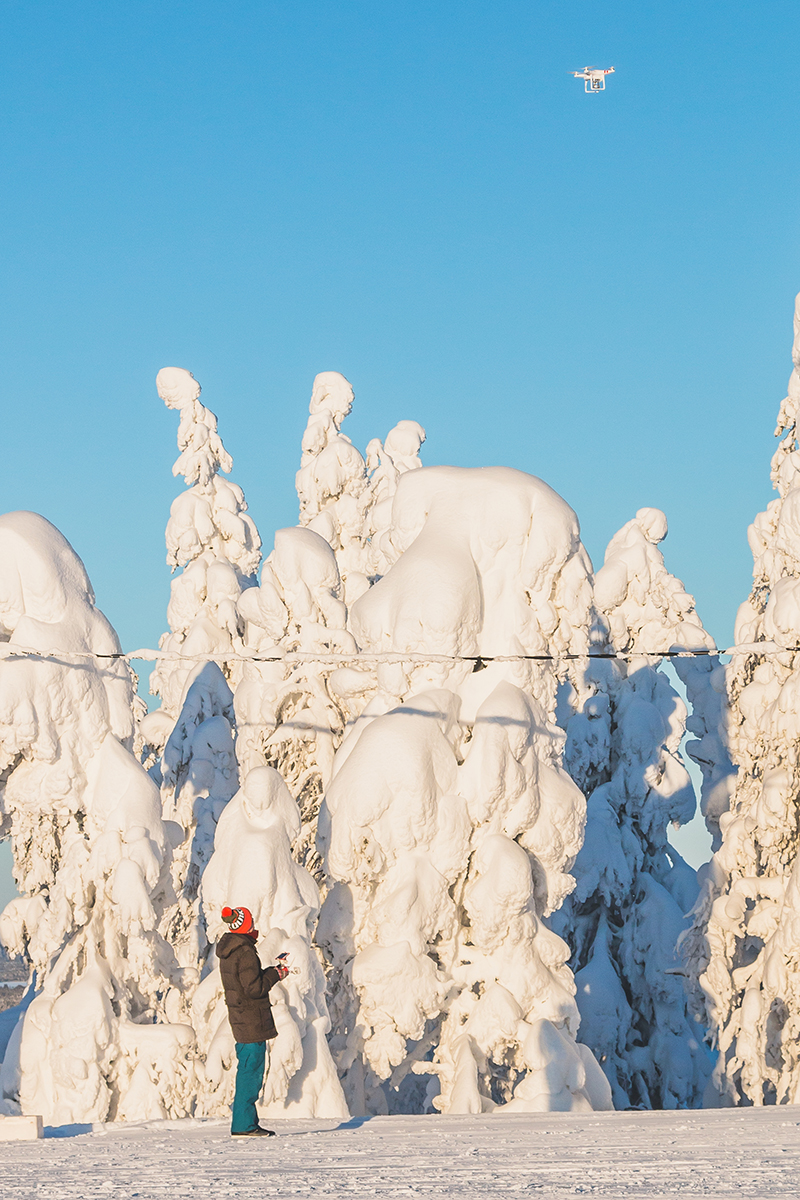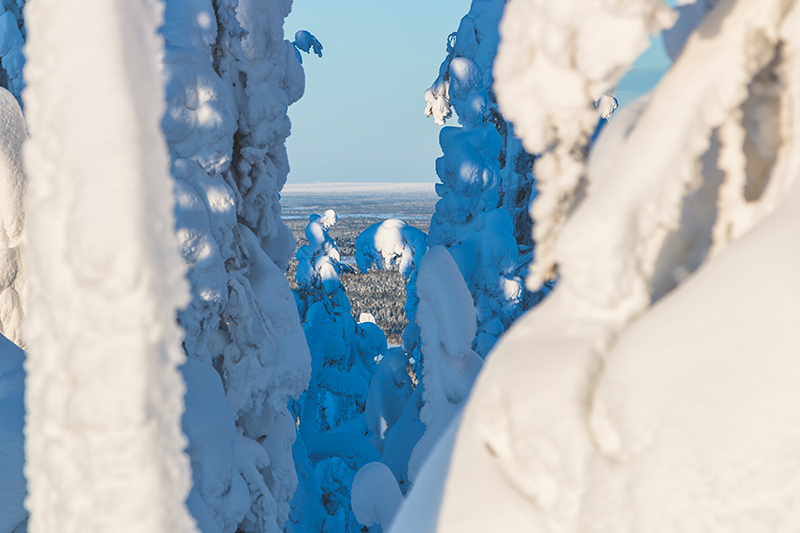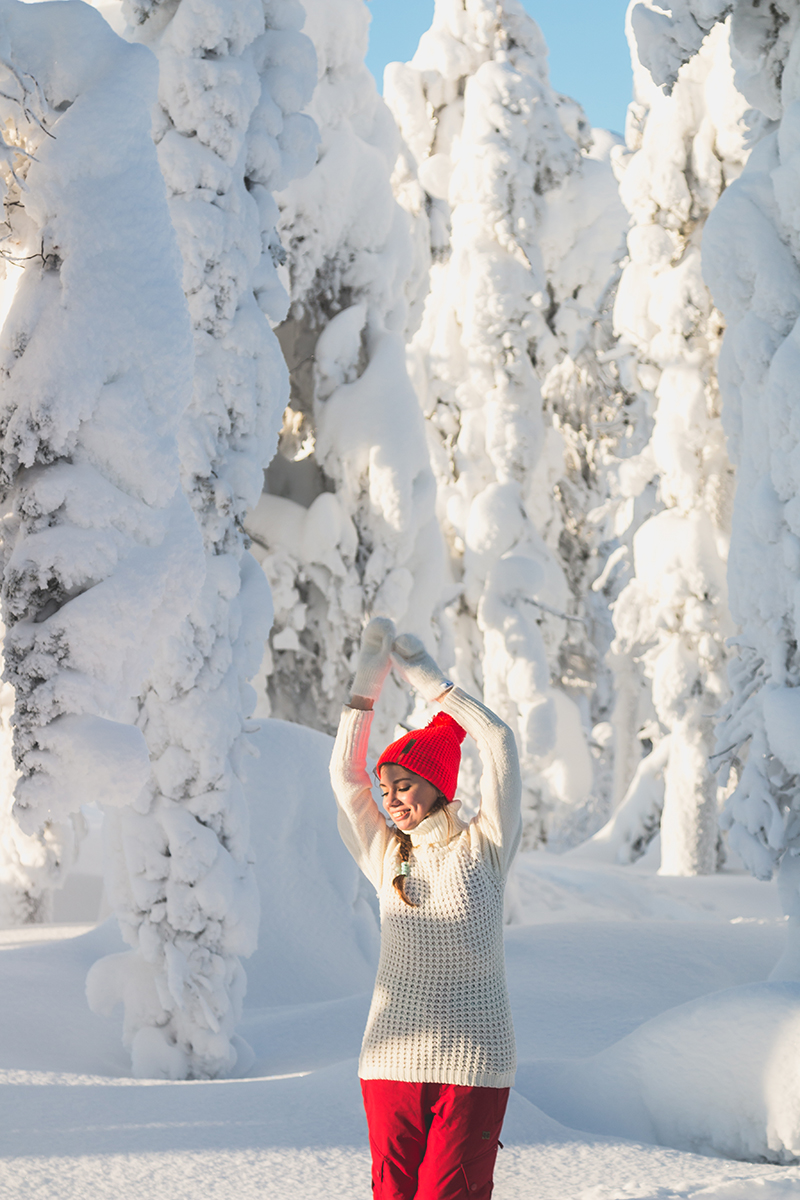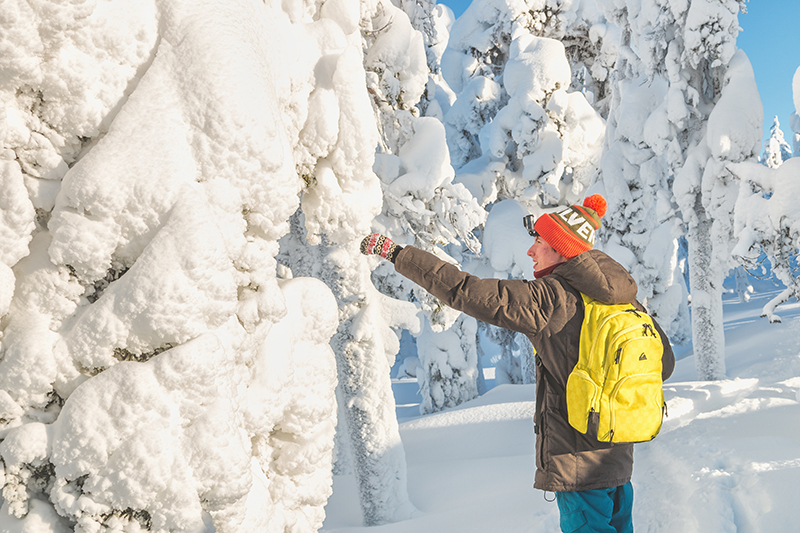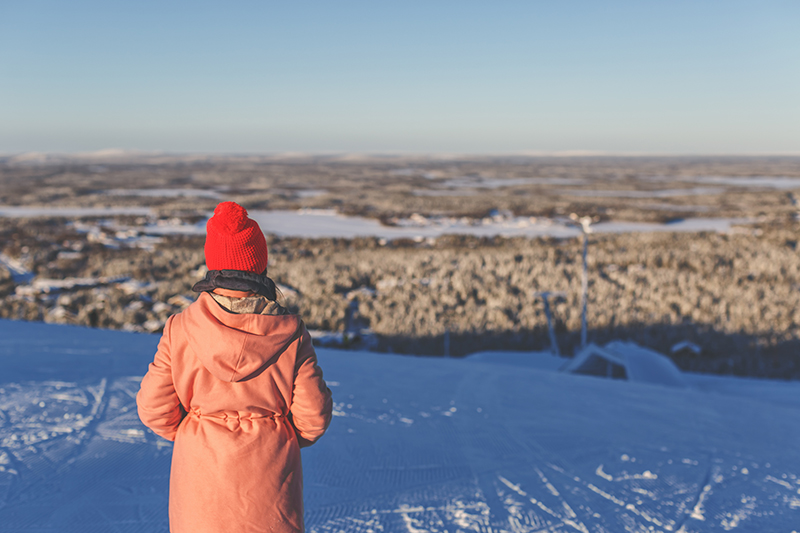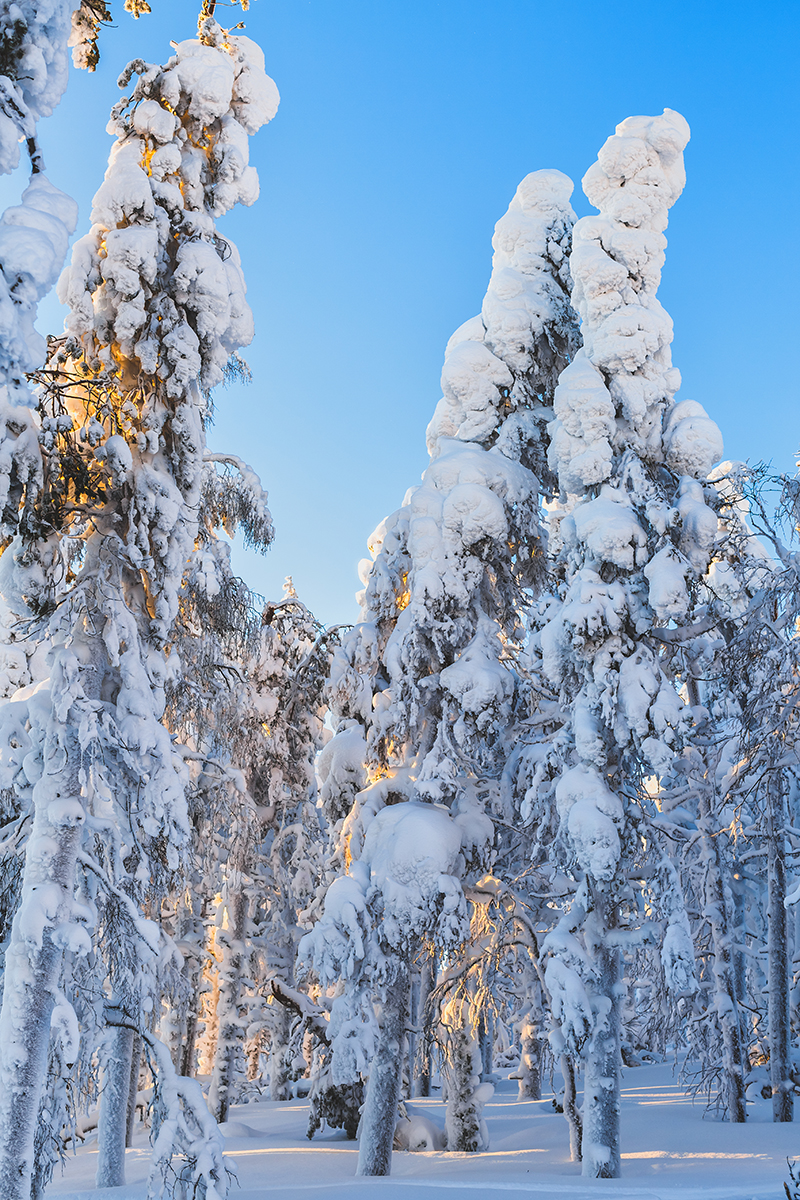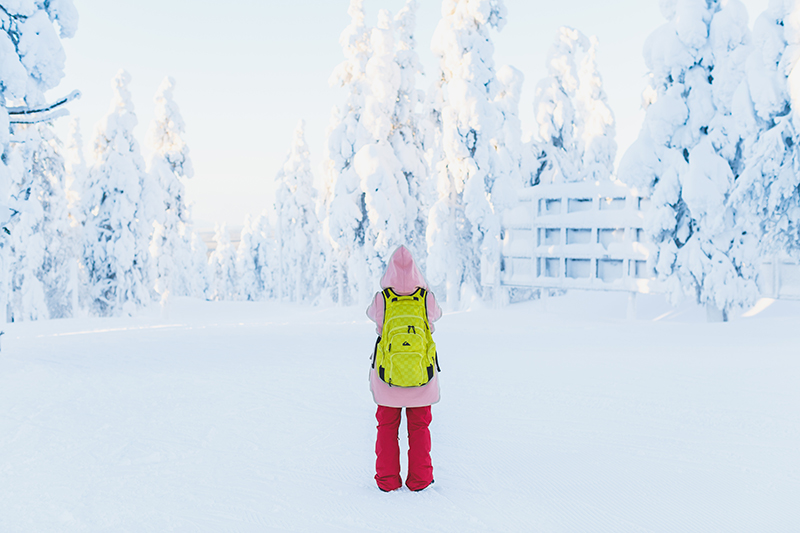 Besides from the uphill walk, on the Northern side, where we lived, people could also walk through the forest downstairs. To enter the walking path, face towards the Kids Land, where children are doing their first steps on the skies, and choose any path, marked with the special sign. On the road, you will often meet the destination marks in order not to get lost.
 I still can't understand, how can those two territories be so different! Up the hill, everything was so bright and positive with short trees and here the trees were much higher and darker, like in a mystic story. Brrr:)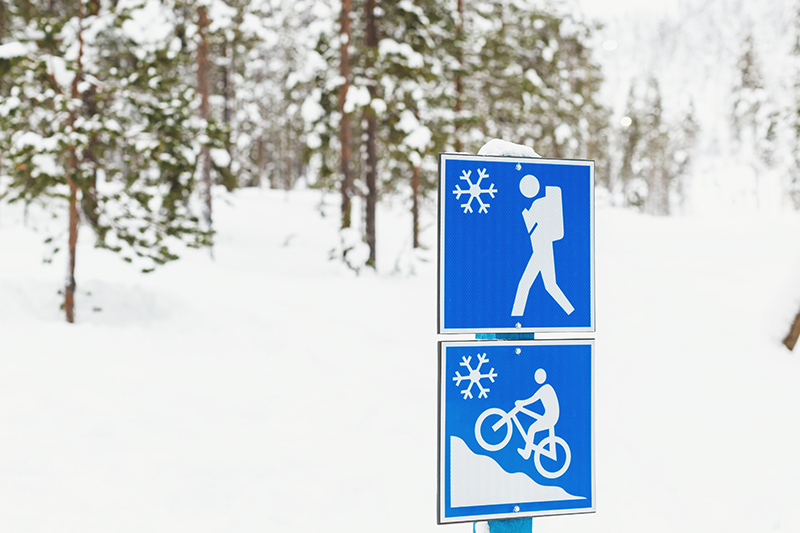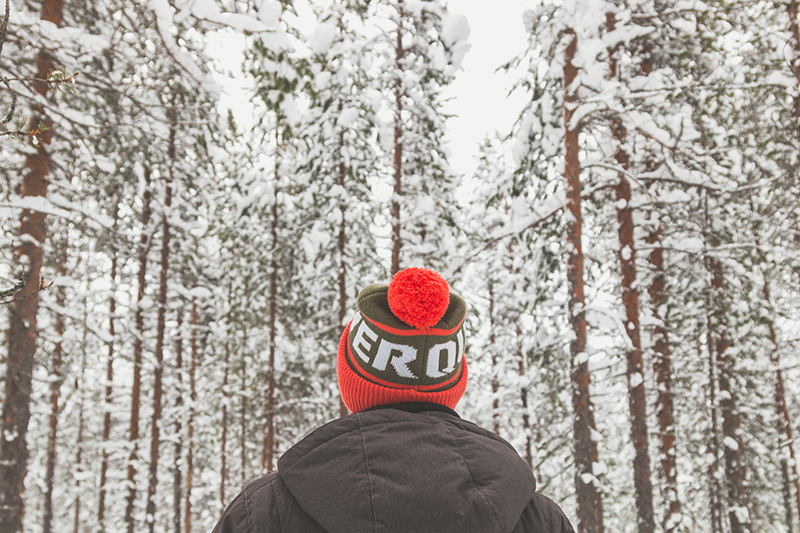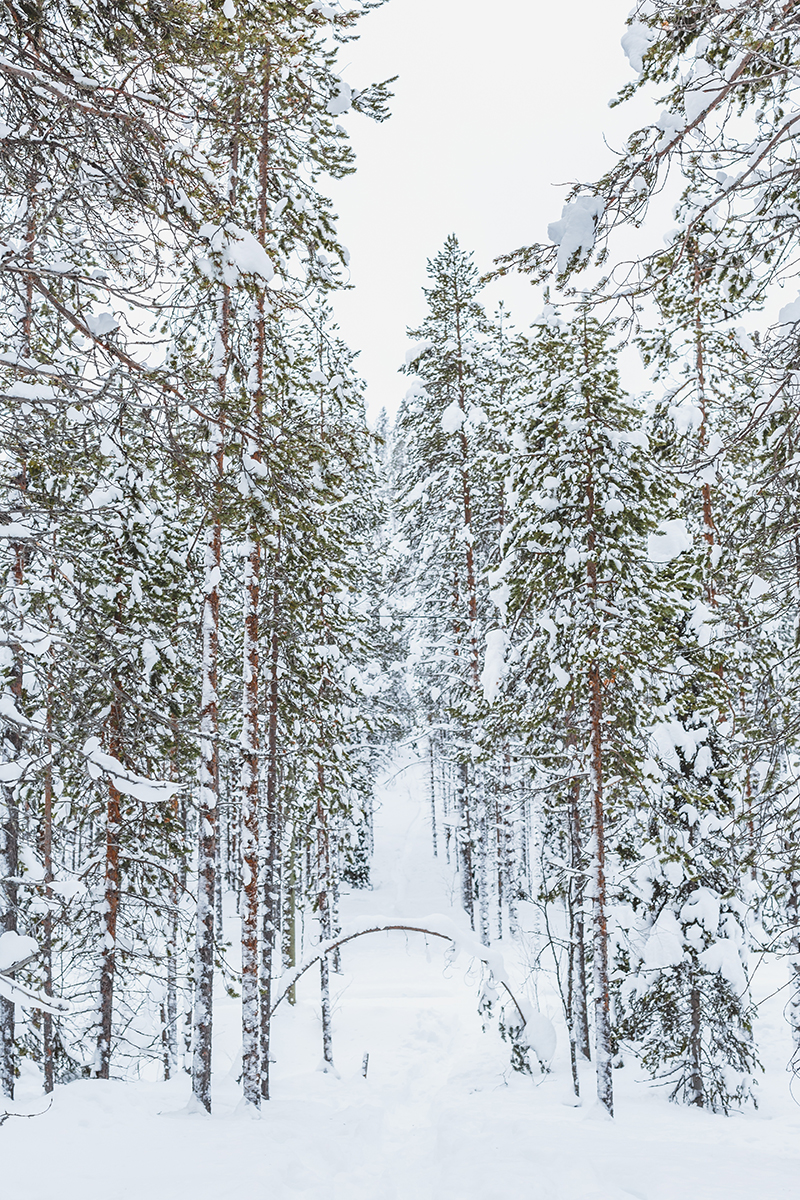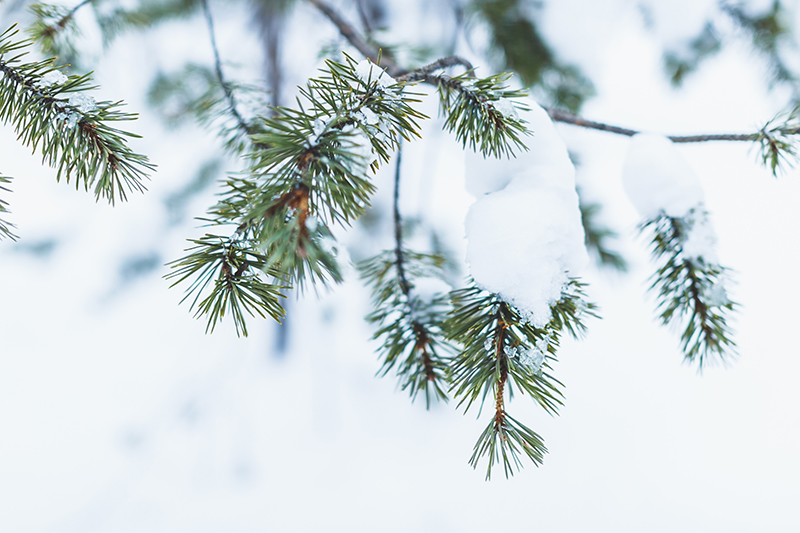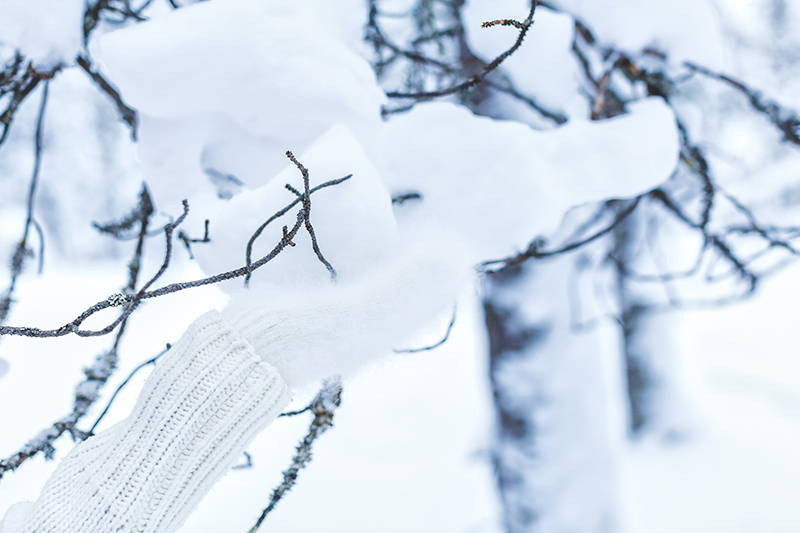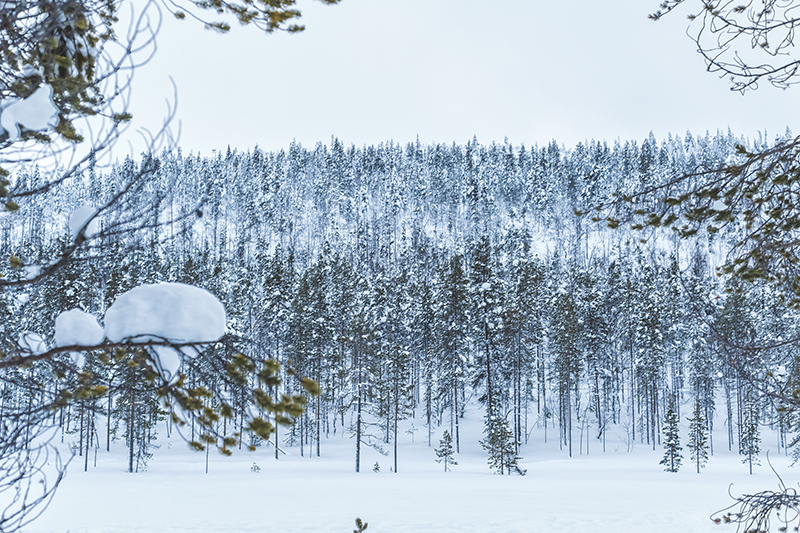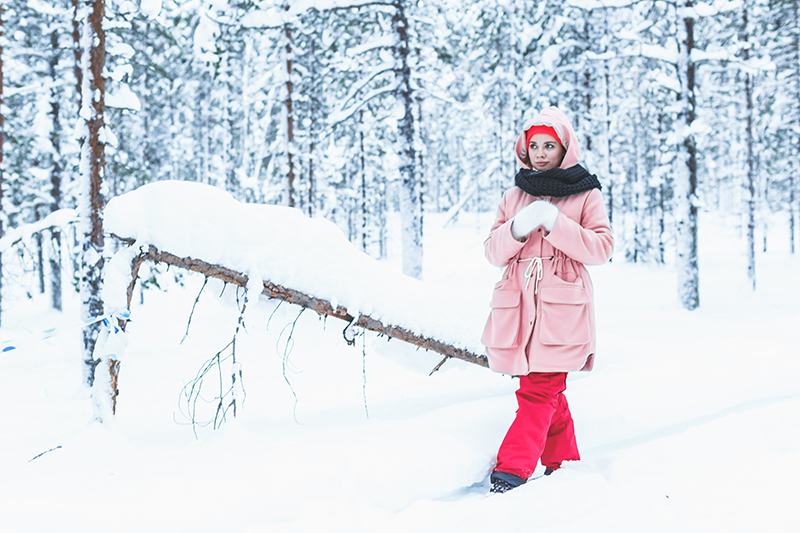 How much does the food cost in Lapland?
Lapland, of course, is not Greenland, so food might look expensive in here, but just because of the current currency exchange, not because it's really expensive:)
Our kitchen in the apartment saved a lot of money. We've spent about 30 euros in the supermarket and bought some veggies and fruits, sweets and meat. Bringing some rice, oatmeal and pasta with us was such a great idea! Because buying them during a trip can be really challenging – you never know should you leave everything for the next guests or take back home, where you already have everything.
There are so many beautiful cafes, bars and restaurants in Levi! Starting with a familiar Subway up to the fancy french brasseries and Italian restaurants – just make your choice. Once we've visited local confectionery Soma – it looked so attractive from the street!:) But frankly speaking, it wasn't even a confectionery, cause they serve soups, burgers, etc. But an interior with soft sofas and lots of pastel details looked just like that:) You can't imagine, how cool it was to relax there after a busy day!
Two desserts, cappuccino and tea cost us about 20 euros (what is definitely too much – you can have lunch for two in Helsinki for about the same amount).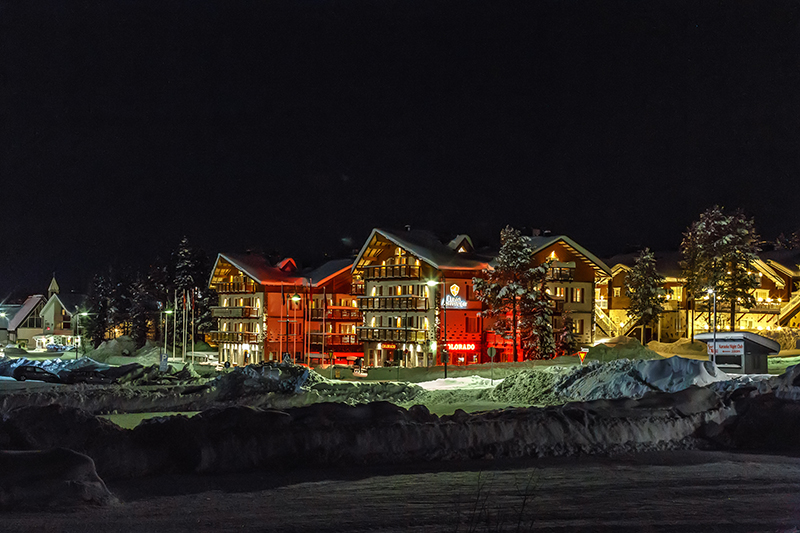 Summary
There are events that are worth any money. And visiting Lapland is obviously one of them. But let's count anyway. All together cost us around 1 750 euros (130 000 rubles). Oh yes, and 10 more euros for my favorite husky toy we've bought there:)