Think a little – woman's wardrobe is actually a very strange thing. If not to say – a miracle thing:) We adopted so many pieces from others (like overalls from gardeners, polo from golf, even heels were first invented for men!), so it can be hard sometimes to name a piece that is traditionally and originaly ours basic wardrobe detail. But I can predict that this summer a new sphere is growing so popular that it's time for us for a new adoption:) I'm talking about extreme sports, of course. Snowboarding shoes we were already wearing for a few seasons (some people call them "moon boots", but I still see the other analogy). Now it's turn for summer sports.
They are becoming very popular, even mega-super-duper-very-popular this season. At first I was just smiling looking at my friends to suddenly fell in love with longboard or scooter. I tried all this when there were no more than 15 longboards in all Moscow. But now businessmen wearing tie and riding a skateboard became so familiar that it can not even cause that kind of reaction.
Not surprisingly, we are starting to adopt some clothes of extreme sports lovers not paying attention on this. It's just way easier to appear at the office in a longsleeve (if you're not a slave of a formal dress-code, of course), rather than trying to suit your tie into the wind while riding.
Beware the old man in young guy's clothes. If he's over 35 and comes to pick you up looking as though he's headed for a skateboarding competition while you are dressed to go to a nice restaurant, this is not a good sign. Merrill Markoe
In order to check my idea, I went to the Boardriders shop at MEGA Belaya Dacha, where you can easily find all the stuff needed to ride a board (and when I say "ride a board", I mean… absolutely any) as well as lifestyle clothes. But the lifestyle part was less interesting for me this time. I wanted to try boarding clothes in real life!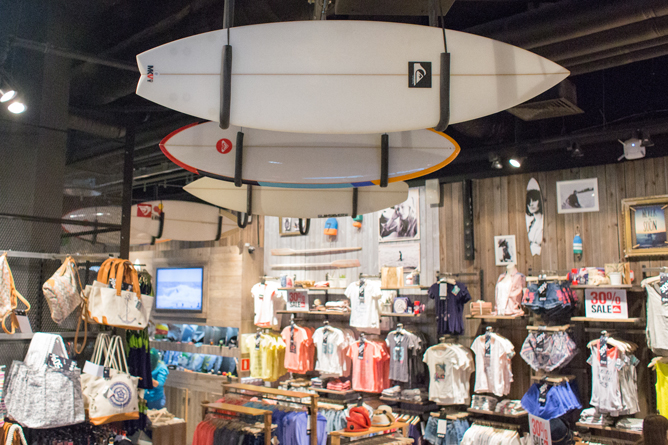 Shoes, for example. Longboard lovers choose high sneakers in order to prevent ankles from injury. They are protecting knees and elbows as well. With the help of longsleeves, hoodies and long shorts, for example. Longboarding style is quite relaxed and comfortable. Just like longboarding itself. That is why it became so popular even among totall anti-sportsmens. All longboarders wear to ride, you can easily wear in your every day life. I, for example, was in love with high sneakers and cool tops for all my life. But now I can proudly act like I belong to a modern subculture!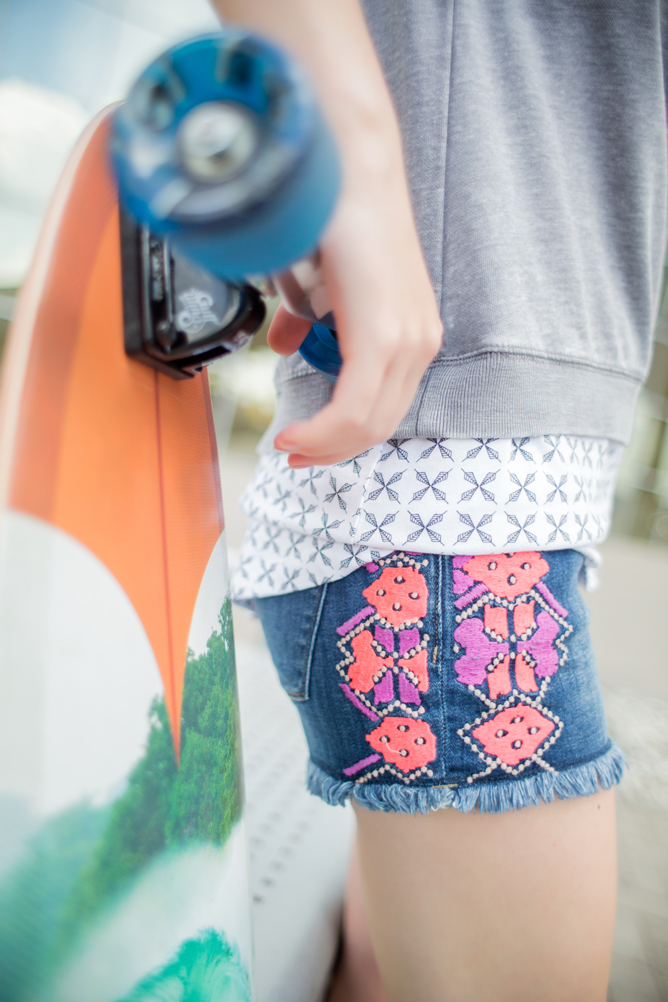 A little more difficult it was with skating clothes. There was no famous skater skirt (short and wide skirt) at the shop at all! Though, that is exactly the piece so commn to our wardrobe today, it doesn;t even need any more proofs. You have seen it even at the world fashion weeks like for hundreds times (the most demanded look was produced by Carven. Needless to say in a combination of skater skirt and bomber they didn't invent anything new, right?). Skatergirls prefer speciall skater shoes (like DC, Circa or Vans) – they have special cover to grind and the improved back and tongue. Though there are not particulary extreme wardrobe detail anymore, I still consider them too specific (just add black-and-wjite accessories and red fringe). So for my skater look I've chosen bright and lifestyle ROXY.
I consider skateboarding an art form, a lifestyle and a sport. 'Action sport' would be the least offensive categorization. Tony Hawk
To summ it all up, I should mention that "city-boards" clothes are quite suitable and common for all people. Small exeptions can easily be called "the matter of taste".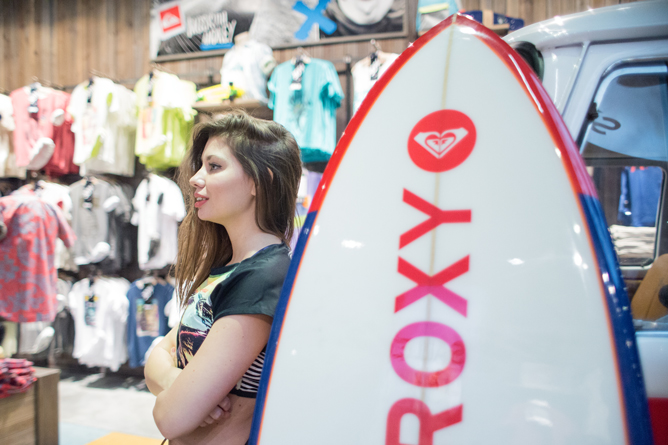 Surfing clothes are something way different. The thing is, it has special fabrics to suit the needs od surfers: like sun protection, water crush protection, fast drying and so on. But if you're not looking forward to spend all your summer in fountains than there is obviously no need to wear such clothes in town. In that case we can more likely talk about the shapes, not the pieces. Boardshorts, for example – they are cofortable, easy to move in. Why not to wear them even out of the beach? With a one-color top, for example.
So guys, be ready! To choose a board or to be mistaken as a board girl. No other options:)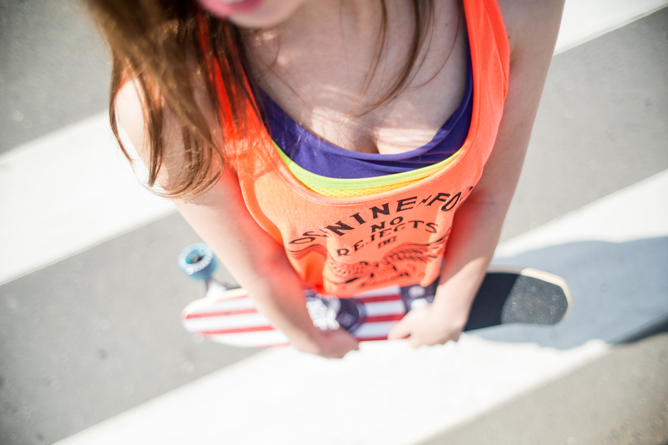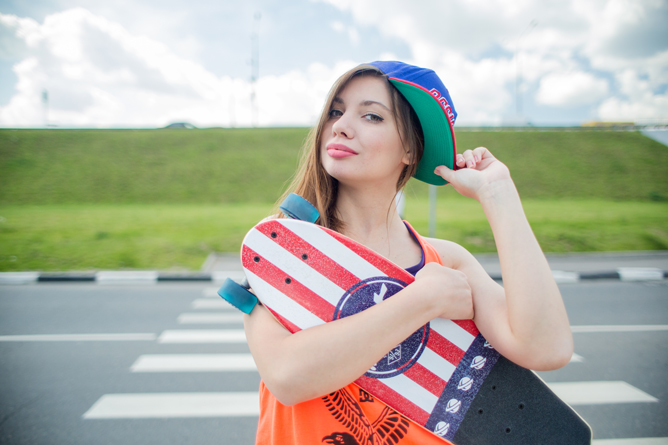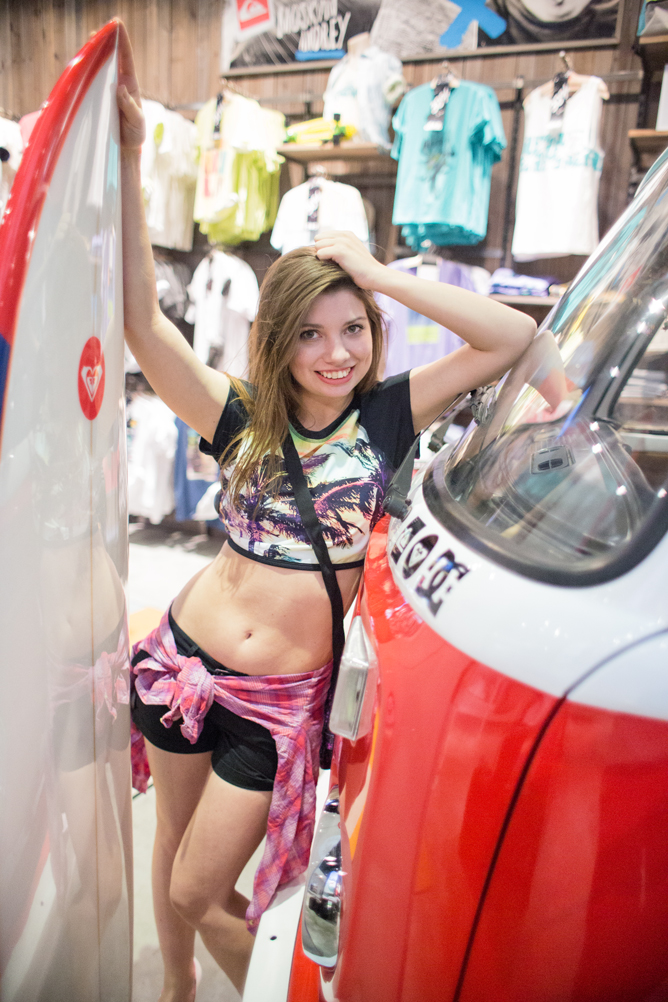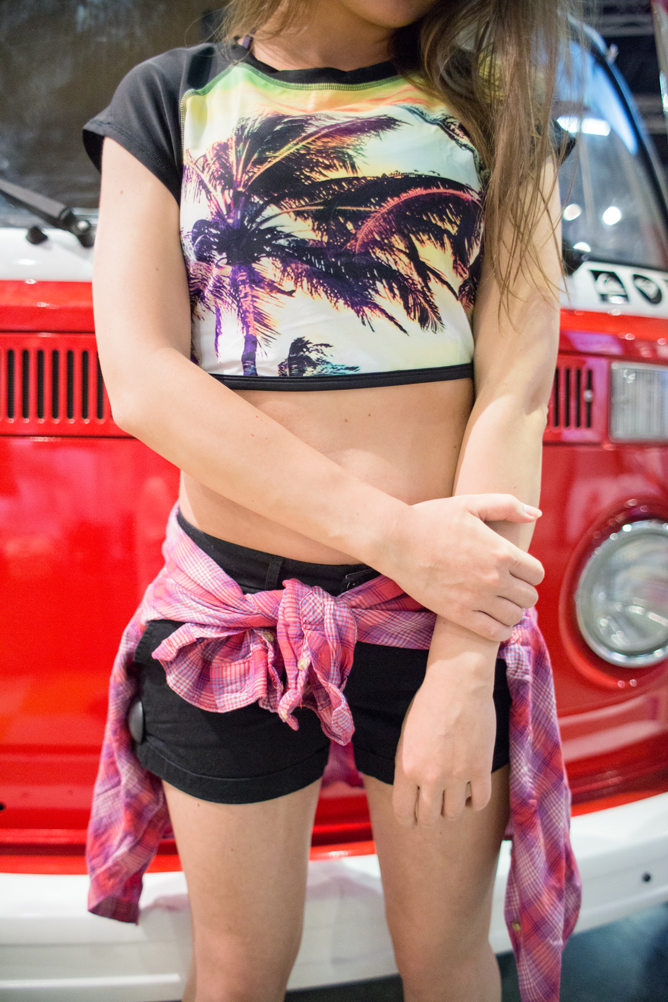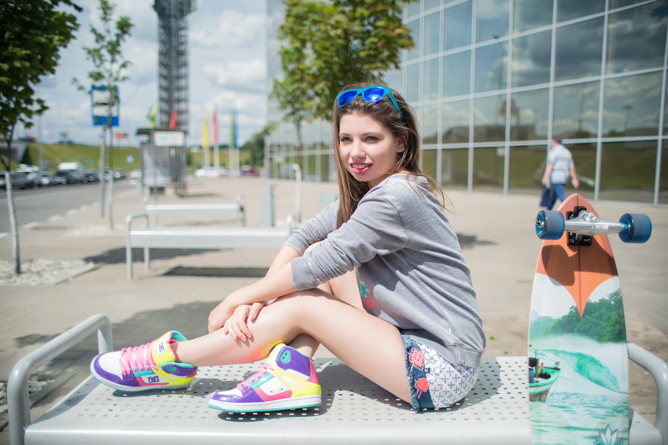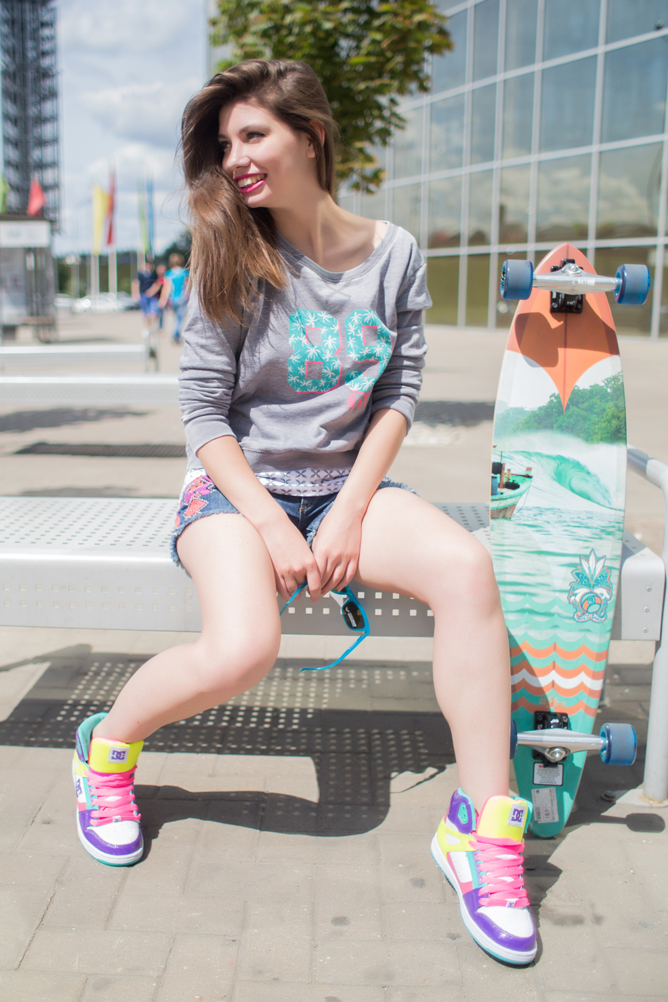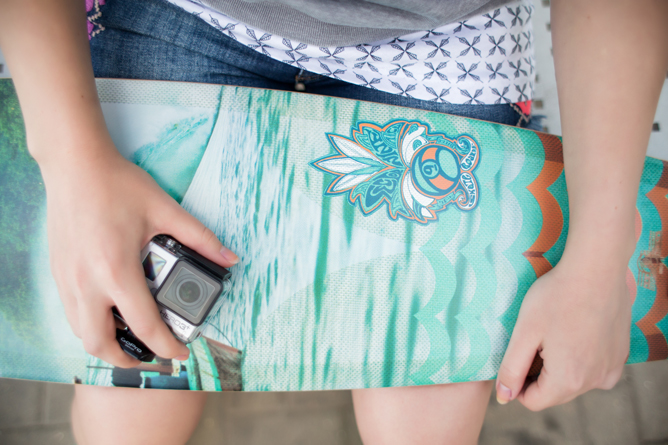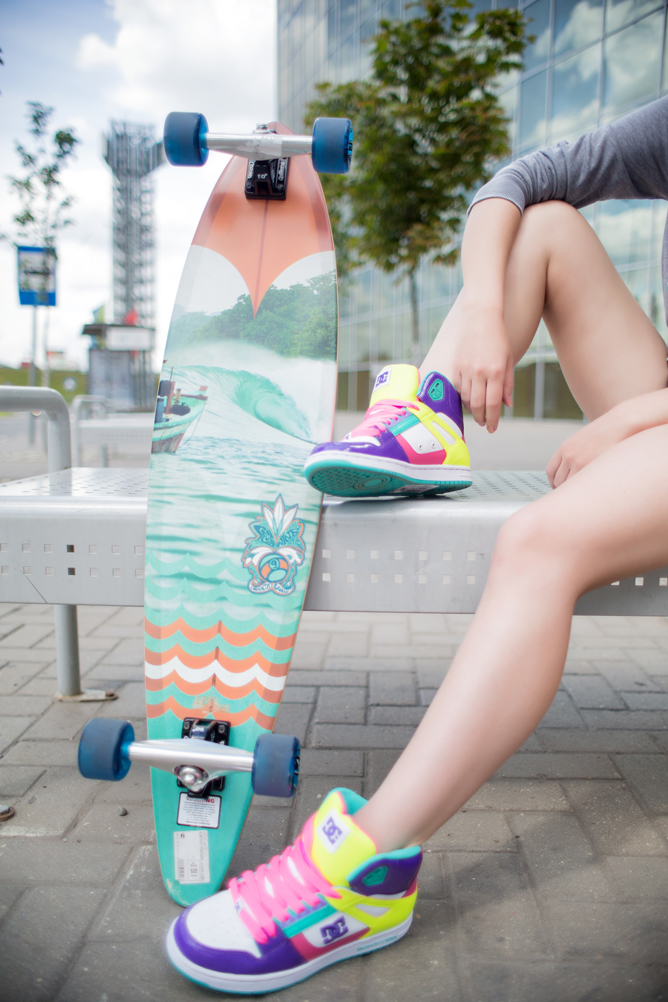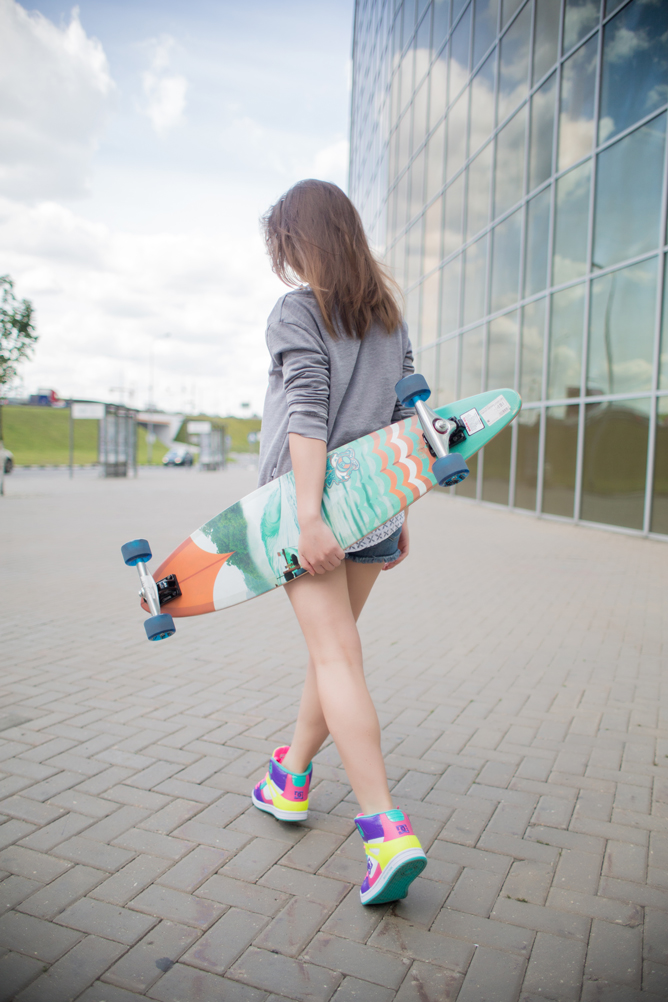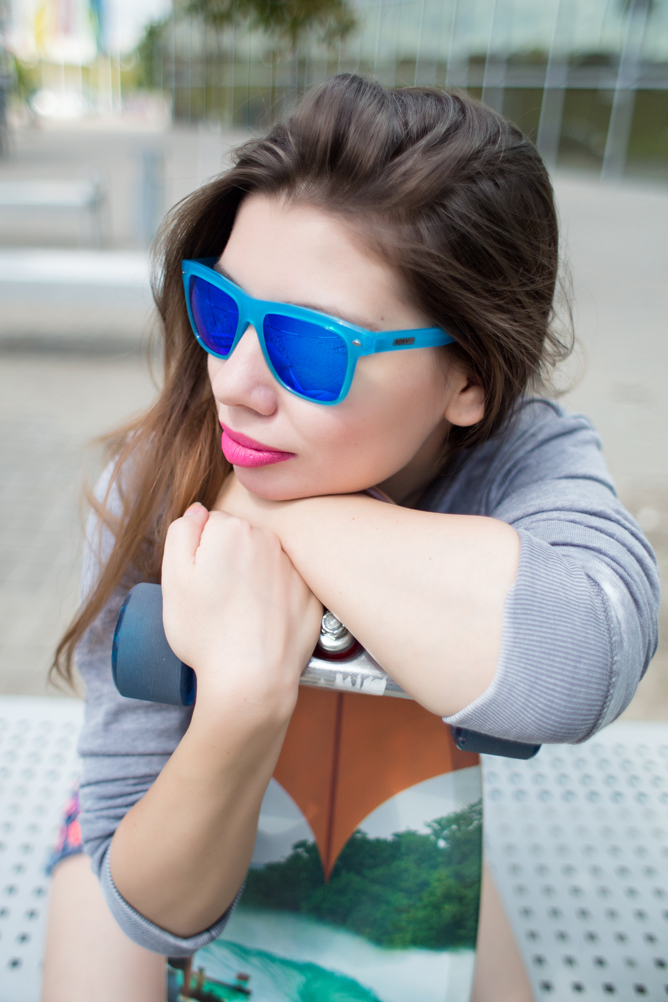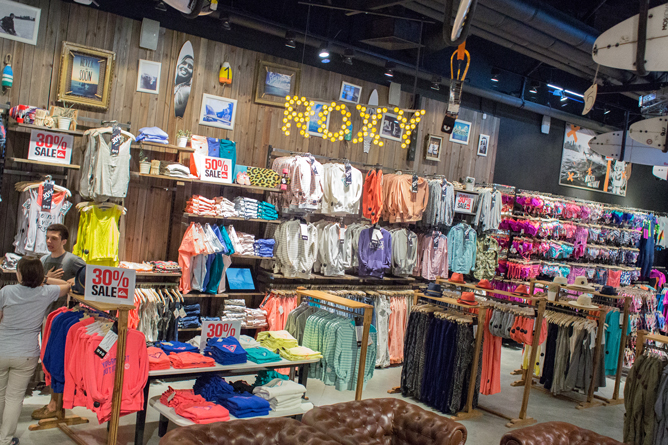 Thanks to Boardriders shop and ROXY Russia team for helping us in this photoshoot