There are a lot of people I truly admire. One can sing as an angel or is a perfect mother, other has wonderful hair or a flair to a good bargain, someone is always possitive, strong enought not to eat late or can cook marvelous brauni every weekend. But there are only few people who really inspire me. And trust me, they are absolutely unique! I'm going to tell you about them in a new column "Wonder Woman".
I met Alexis Ostrobrod on my first evening in Israel. Tiny and elegant in her classic black blouse she confidently answered journalists' questions about local designers: "For luxe visit this place and NN boutique is a must – she produces unique pieces in Israel traditions. If you're searching for original accessories don't miss a chance to see this street. But don't be late! They are closed early!" I was always jealous for people who know their city so well. Club? Call him. Souvenirs? Only there. Cheap and tasty food? Go here. I can predict my total failure in case someone needs my advice about Moscow. What of course, is not a compliment for me, but certainly adds couple of points to Alexis' personality.:)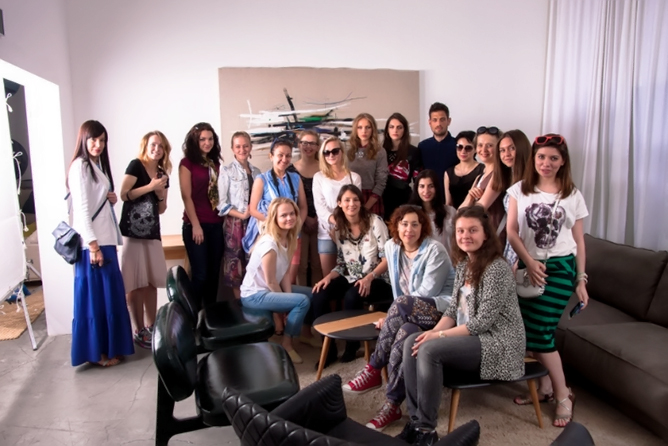 She is now a fashion director of Sela brand. But she is definitely not the one to be interviewed for this position. She grew inside the company established by her father – Boris Ostrobrod – after an immigration to Israel. She got used to regular visits to factories, textile exhibitions and offices since childhood. And she still was a teenager when she started the first for the brand eyeglasses line. Her fashion success is inspired by her mother Irina: "She is my fashion icon! I admired her outfits since childhood. She tought me some fashion rules and tricks, by the way". "Without any special preparing", – whispers young lady to me, pointing at her mother's jacket wich is exactly the color of her mandarine blouse, Alexis has chosen for Sela fall-winter collection presentation.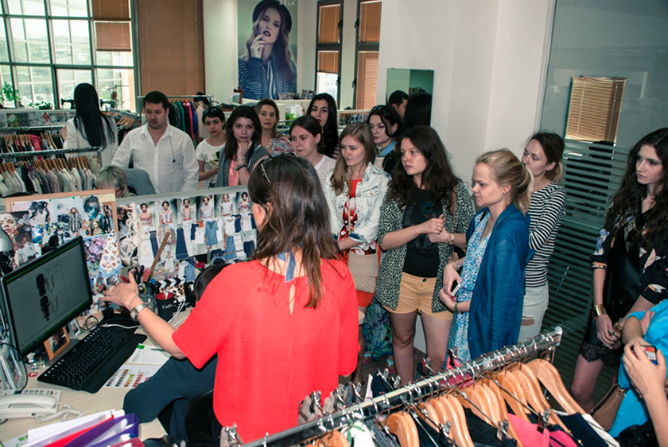 In her 20 Alexis was already one of Sela designers and later took control over men's department. "Yes, most of the designers are older than me now, but we never had problems with that. I started from the smallest position and had enough time to make friends with everyone, we understand each other and know how to work in a team. We are always together so we follow each other's results and know we can trust each other".
Our job is our life. I want to work with people whom I'm happy to spend time with. Our energetics and possitive are the reason of perfect results
Results are noticed not only by crew members, by the way. Do you remember my compliments to the latest campaign?:) "We work with one of the most popular Israel stylists, – says Alexis. – I'm sure you have to hire a new person to creat original outfits. Designer himself can't do this after working with the collection for such a long time. There is always a fresh approach needed. Of course, she listens to our ideas, first of all we explain how we see this collection, what we wanted to say with this clothes. Afterwards we discuss final looks with all the designers – everyone can participate and make suggestions".
Besides team job, spontaneity is also important during shootings. Remember the necklace by Israel designer Liat Ginzburg I was wearing yesterday? When our stylist noticed it, she quickly added it to an outfit of one of the models. That is how the necklace made it into the campain turning to be the final point of all the look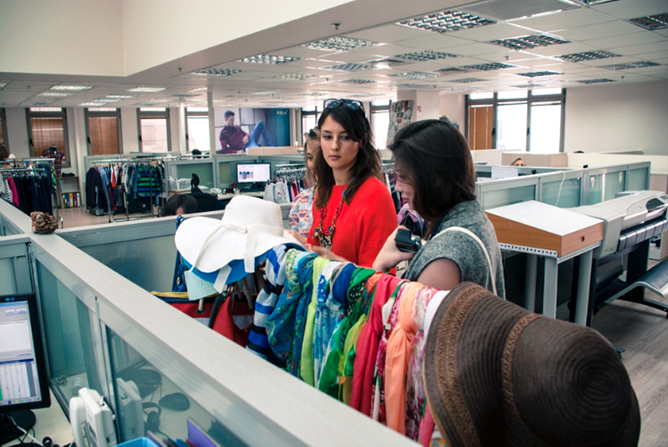 Each month there is a new Sela collection in shops. And trust me, there is nothing more impressive than the number of samples in Tel-Aviv office of this brand! Alexis confidently makes her way through the row of clothes: "Here we have our summer collection and those are some fabricks for spring. By the way, this is one of winter capsules moodboards". I wonder if they have office guide or a map to survive here!
In order to prepare all this enormous number of clothes in time, Alexis and her team should work really hard. She looks for an inspiration in the lates fashion shows, in favorite blogs (The Blonde Salad, Cherry Blossom Girl, Sartorialist) or movies (like Great Gatsby or Coco Chanel), in new exhibitions and popular museums, but the main sourse is, of course, traveling. "I vist Milan, Paris, London, Amsterdam. Observe how people on the streets get dressed, what fashion insiders wear now. I also can't miss local designers shops, always explore local folklore, and than share this knowledge with my team. That is how many Sela clothes were born!"
By the way, Alexis admitted that she often tries on new samples – so that she knows if they need some changes and improvements: "There can't be a single piece I won't wear myself in a collection". Though her personal style is a bit more calm and classical than what she creates. "That is only because I live among prints and colors. Modesty and simplisity help me to stay concentrated on what I've been working on. Nothing should disturb me!"
So how does she manage not just to find new inspiration form season to season, but to always stay herself after 12 hours working days, to shine and always be happy, inspired and inspiring person?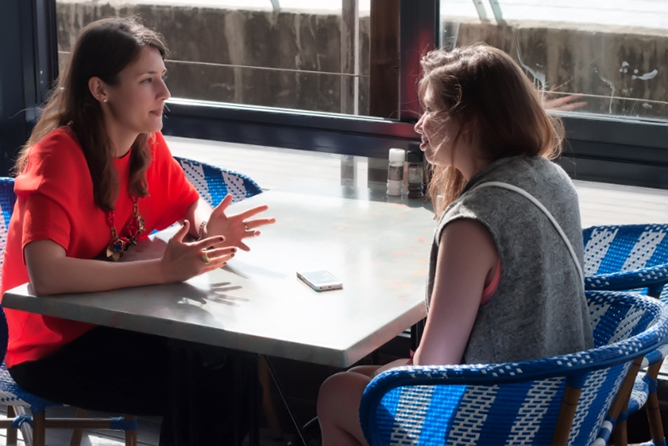 Everything should be done with love – that is my main motor. I grew up in fashion world. That is not only my profession, but my hobby. I live like this
And she also visits Sela shops to chat with customers and sellers, personaly reads all the mails send by clients from the official web-site and consider even the tiniest suggestion as the most important.
Her love to live and job, shiny eyes and a strong desire to be even better (recently she entered business school for a second education), her success in such a young age and (it goes without saying) personal style will inspire my own progress, creativity and style for a long time now.
Travel & event photos are provided by Sela