I've mentioned those buses so many times, that some people decided, I'm paid to do so. No! And don't even get a discount:) Though you won't need those, when traveling with Lux Express, cause it's probably the cheapest way to see Europe so far. And so comfortable as well, that you would definitely want to repeat the experience:) Trust a person, who tried them while suffering from a serious food intoxication and totally recovered during the trip!
Lux Express was founded in Estonia in year 1993 and was focused on becoming the best company to travel around Baltic countries on budget. Later they also added many other destinations. For example, today you can get to Berlin, Riga, Vilnius, Tallin, Helsinki, Krakov, Budapest, Bratislava, Prague, Varshava, Kaliningrad and so on. But be careful and double check if it goes from Moscow or Petersburg. Cause you can only get to Helsinki from Saint-P., for example. And it will cost you a funny 950 rubles (or even 550 when there is a discount). Petersburg – Riga ticket costs 890 rubles (3 135 if traveling from Moscow).
Those prices were the main surprise for me. Besides that, while walking around Riga, I even met an advertisement of a limited time offer – 1 euro trip from Riga to Vilnius! Isn't it even lower, than a public transport inside the city?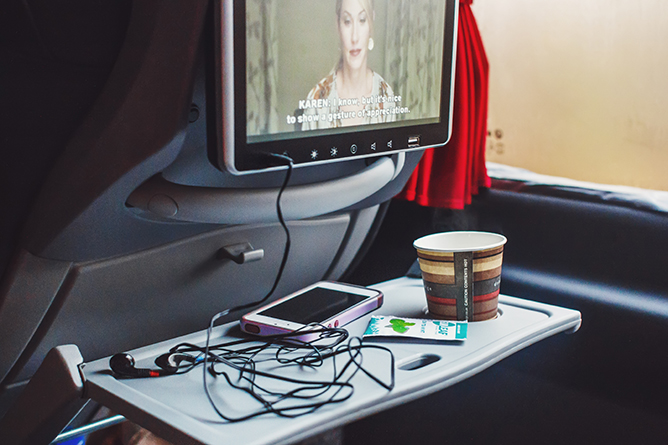 But the coolest part about such bus travels is how comfy it actually is! Of course, if time saving is not your priority:) In that case it's probably even better, than a traditional flight. First of all, due to those fantastic wide and soft seats, that are so cool to sleep in.  
There is a Wi-Fi in a cabin. You can use it via the TV or from your personal laptop (220V charger is in every seat). I would recommend to use TV for watching movies rather than using the Internet. Go for a lyrical and emotional "The Fault in our Stars" or a very funny "Vacation" with that genious baby-boy. Coffee, hot chocolate or tea, that are unlimited here, would be a great addition to your lazy evening. Though I only tried them in the morning, when my stomach was finally ready for some food, I still enjoyed everything:)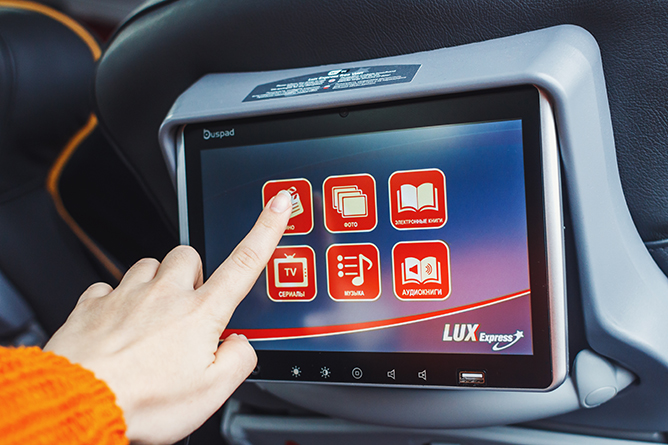 A journey from Moscow to Riga takes about 14 hours and you will only make two stops: for customs on a border and not far from it – to change the bus for those, traveling to Tallin. In Moscow the bus arrives to Tushinskaya subway station, whereas in Riga you will arrive directly to the historical city center.
The only disadvantage of this type of traveling is that their web-site does not always operates as you expect it to. You will more likely see "No direct routes found" even if you clicked on a "not-direct routes" check-box. I couldn't even find my route to Riga! But it looks like they know about the problems and are trying to fix it!