Our short trip to Verona was probably one of the most exciting experiences this year. And not only because it was our wedding journey:) But also because of how unexpectedly strong we fell in live with this city. Of how people live here, what they see everyday, what is realy important for them. But I already told a little about that. And what I yet never mentioned is our outstanding hotel. Without it our journey was probably not even close that perfect. Or perhaps it was, but definitely not that luxurious. 🙂
Due Torri Hotel – is a 5 stars hotel, placed on the St.Anastasia square (just about two minutes from Piazza delle Erbe and the legendary Casa di Giulette. Verona's largest church is also placed here. And what I'm going to say next is really crazy, but absolutely normal for Verona: it's construction started in 1290. 1290! And it's still here and looks perfect. Though, hotel building is not much younger. It appeared in XIV century. It worked as a hotel for a long time, but in XIX centure was named one of the best Verona hotels for the first time. Among others it welcomed such guests as Goethe, Mozart and Garibaldi. This building also witnessed one of French kings crowning and peace signing by Napoleon III and other historical persons. Good company for us, what do you think?:)
Due Torri Verona today is a part of Leading Hotels of the World association, which includes over 400 best of the best hotels all over the world. Just imagine, to get into this association hotel needs to succeed in 800 checkpoints. And of course they never warn in advance about an upcoming check.
Why on Earth do you need to know all that? To understand how we unexpectedly faced the luxe style of our hotel while still in the airport, where we met elegant Italian, dressed in a suit, with a plate with our names on it. We – tired, sleepe, with messy hair, dressed in hoodies and sneakers. He imperturbably carried our luggage to the taxi (E-Class Mercedes). All the road afterwords was totally humiliating. That akward moment when your driver looks better than you.
They got us their best room – presidential suite St.Anastasia with a view to that legendary church. People say, Paul MacCartney lived here (sorry for that, but I literally slept…in one bad with MacCartney?!). Decorated in an imperior style (as well as the rest of the hotel), it occupies about 100 square meters and, as we later found out, all the floor. But who cares about numbers! You finally understand how huge your room is when you can get from one bath room to another in several ways. That was the moment I seriously worried if we manage to see Verona. Because how can you leave the place you feel so good in?
But soon you wiil see it with your own eyes – we walked quite a lot. And now I'm gonna show you some photos from our extremely cool hotel.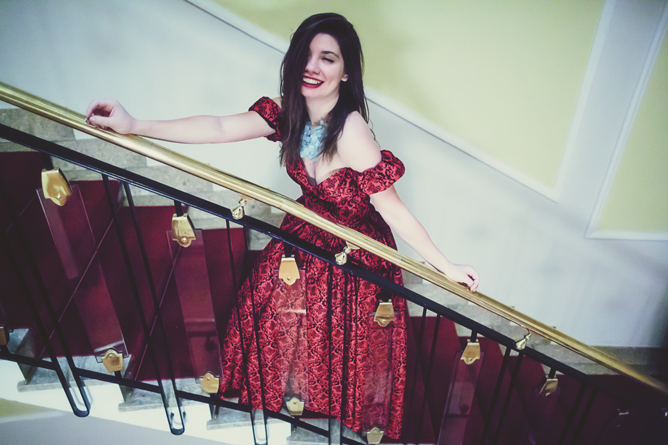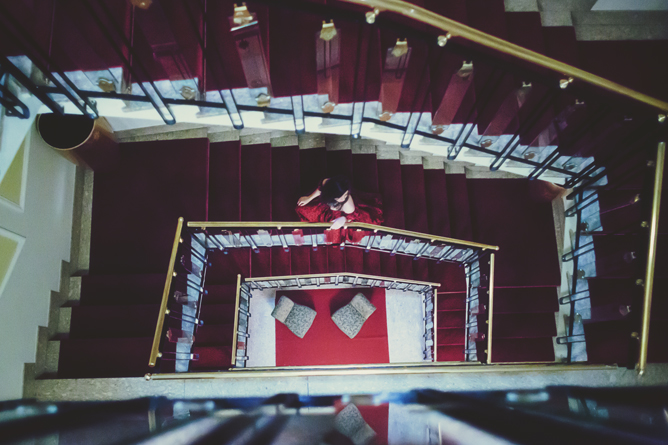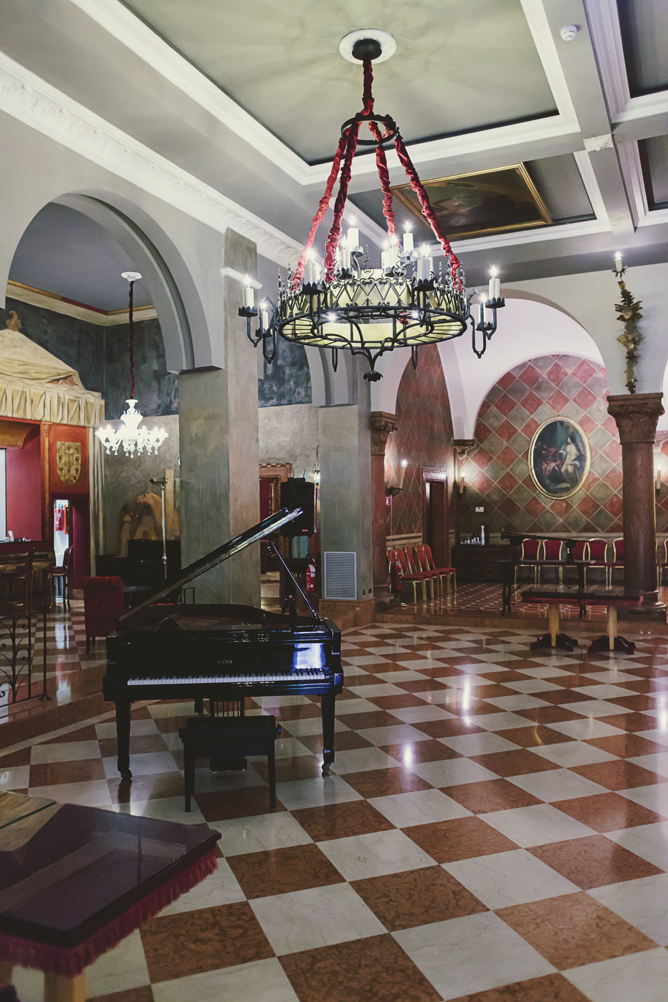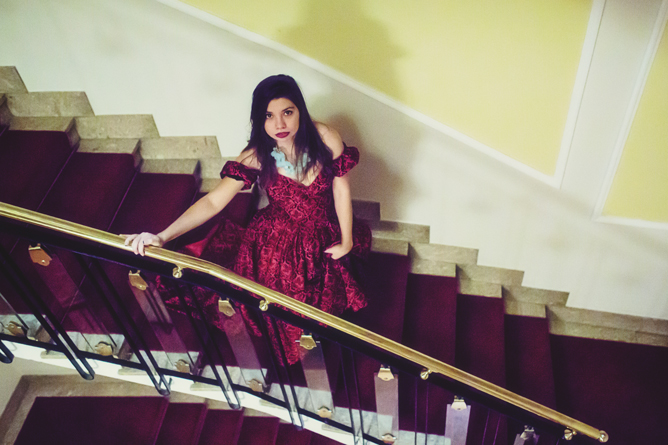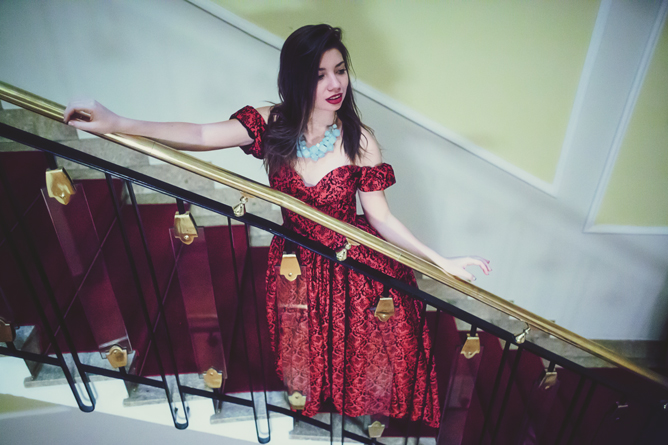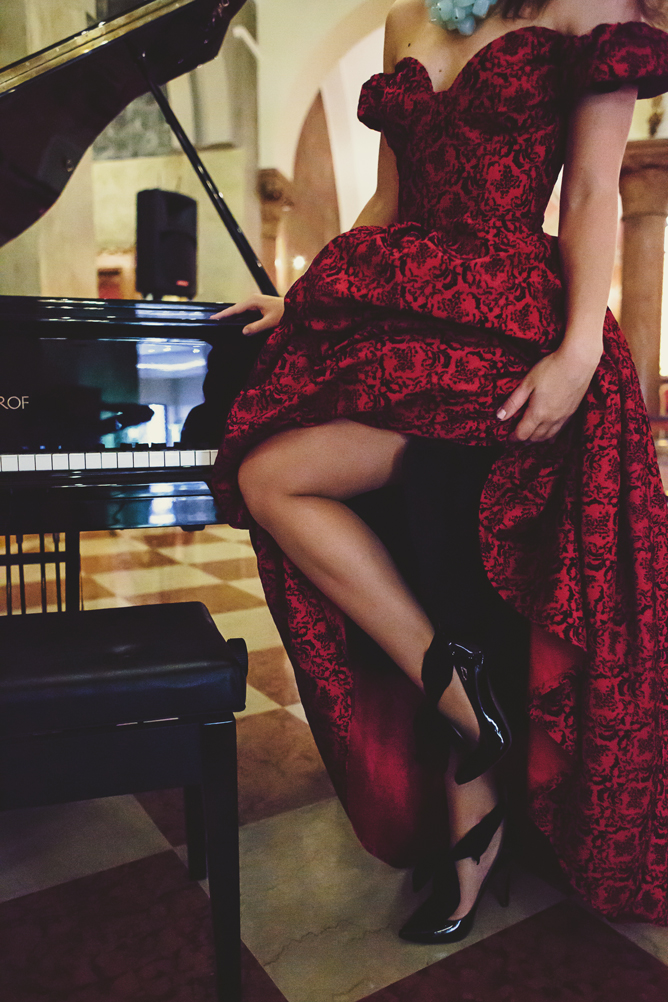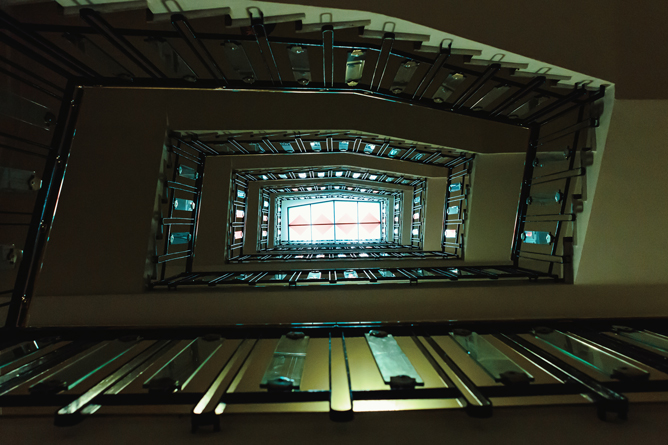 And here is how our room looked like (I wish I could ask what was my favorite place, but I just can't keep my mouth shut. This perfect bath room! I wil definitely have the same golden cocks in my own apartment one day):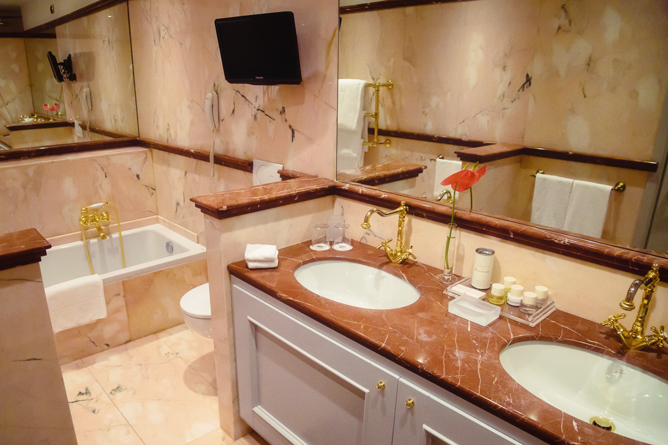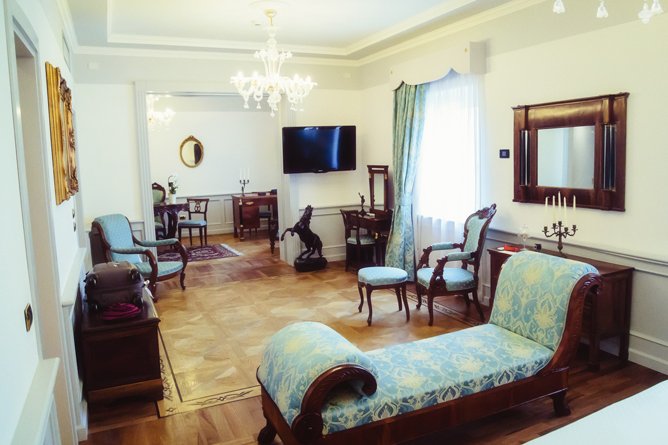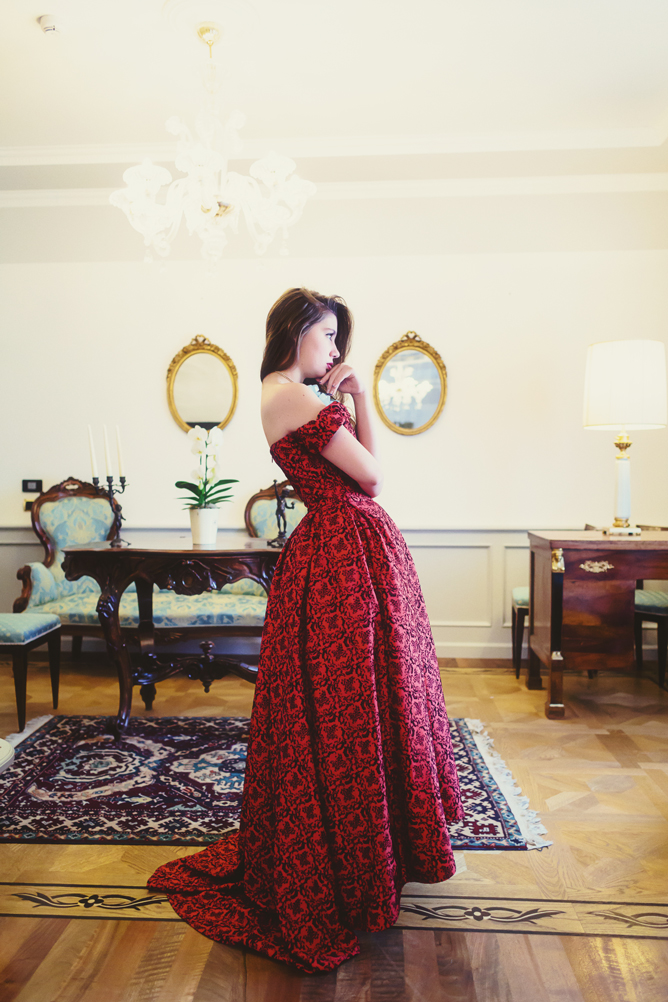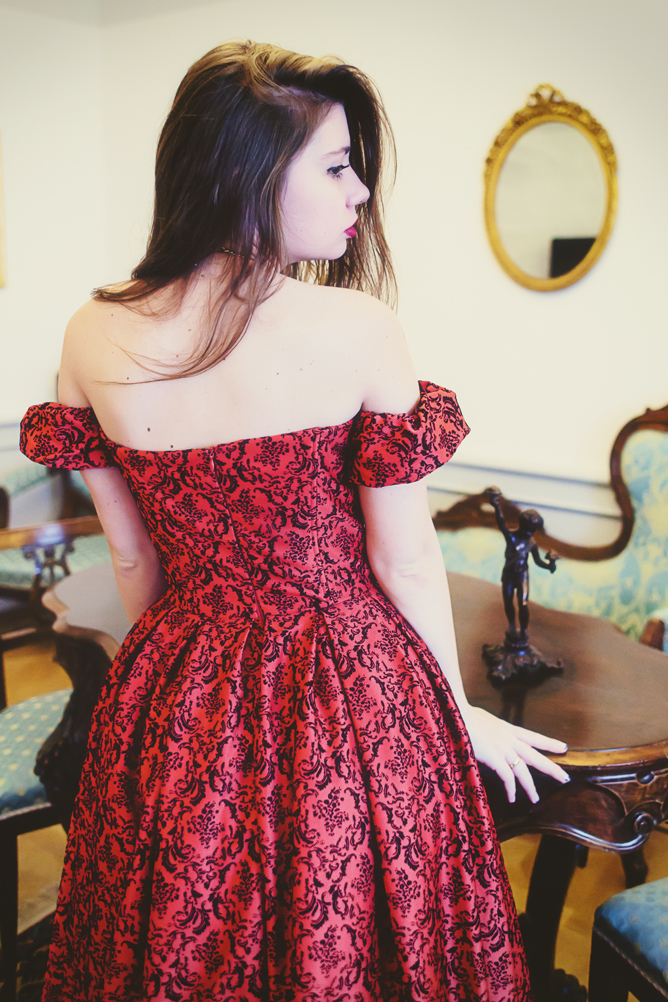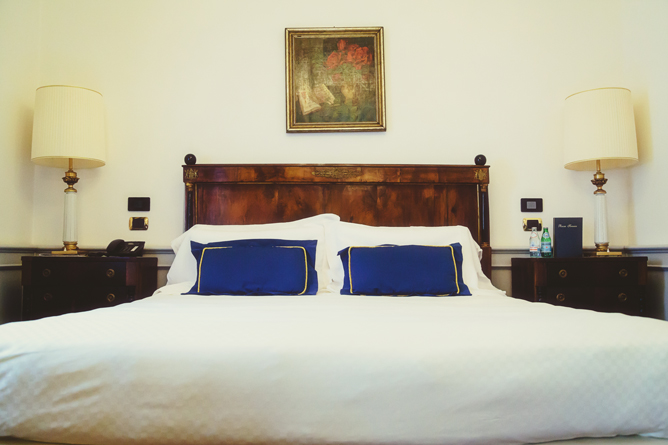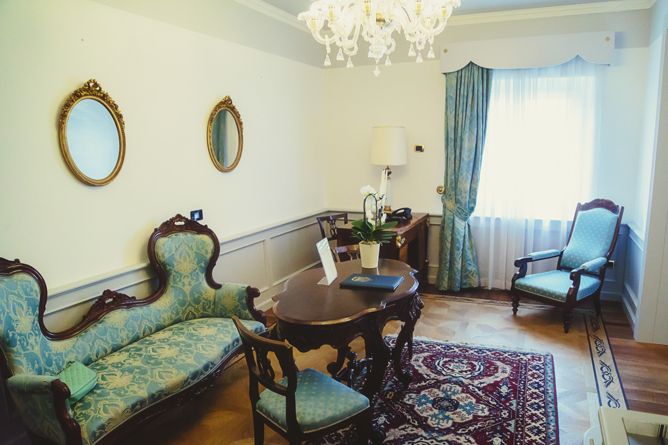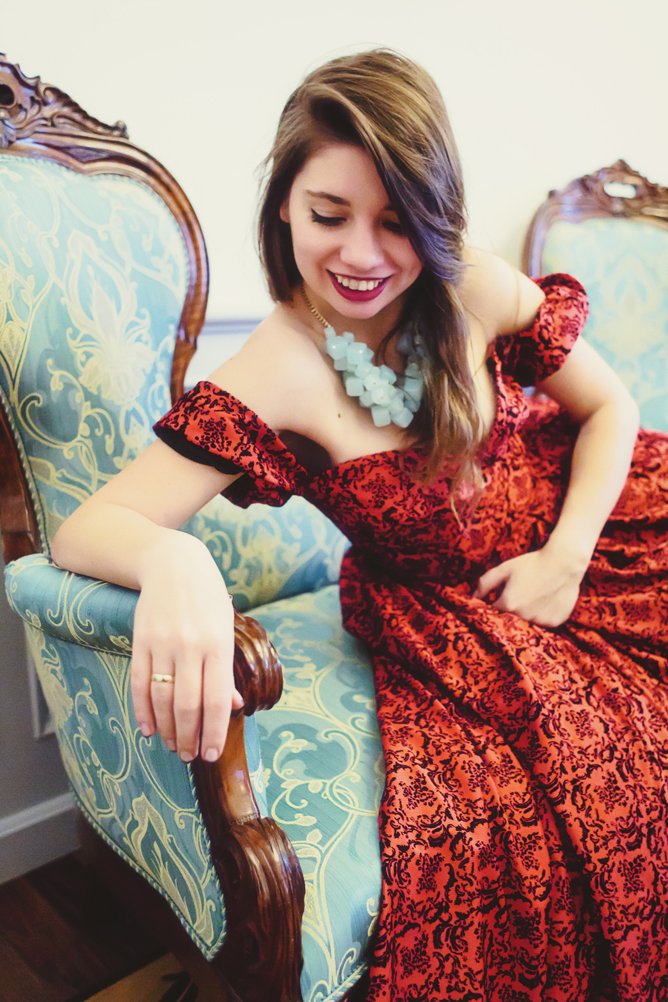 One of the main hotel attractions is a wonderful rooftop terrace. Unfortunately it is already closed these days (can you believe, it can be too cold for someone to drink wine and enjoy the view in+8, but they let us in for a quick watch: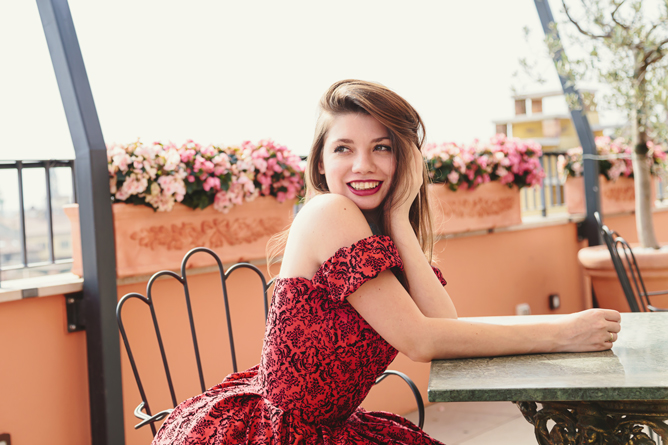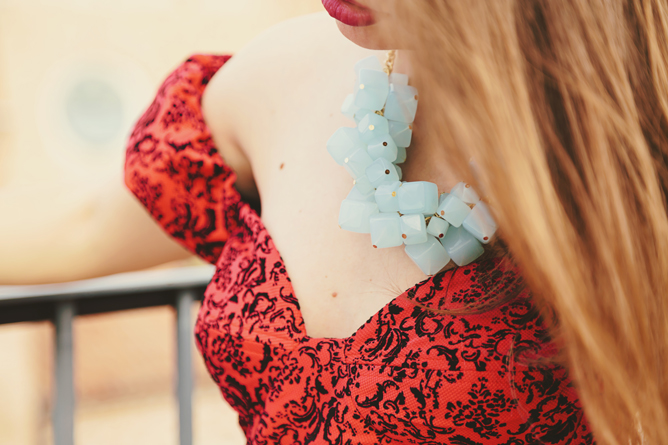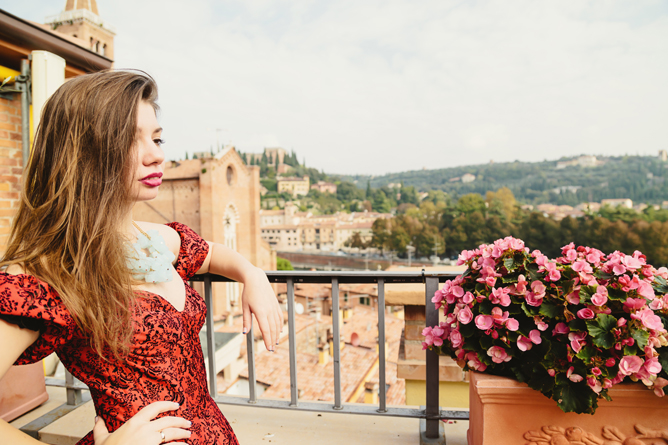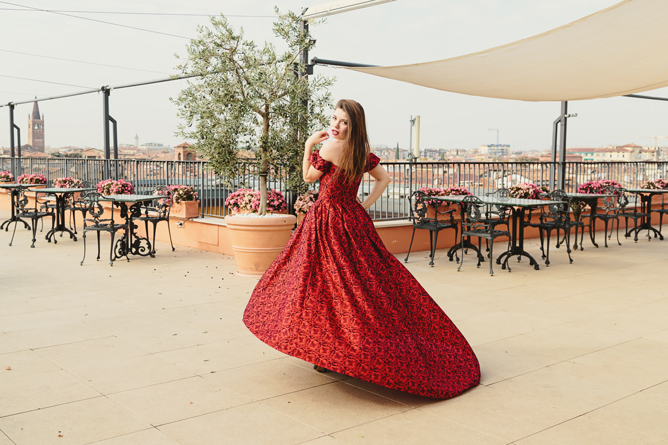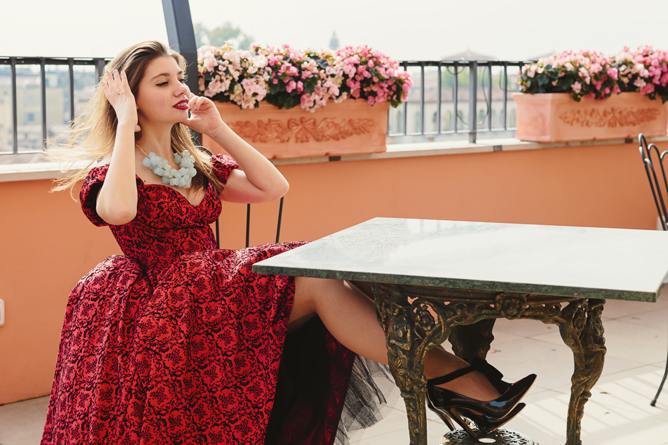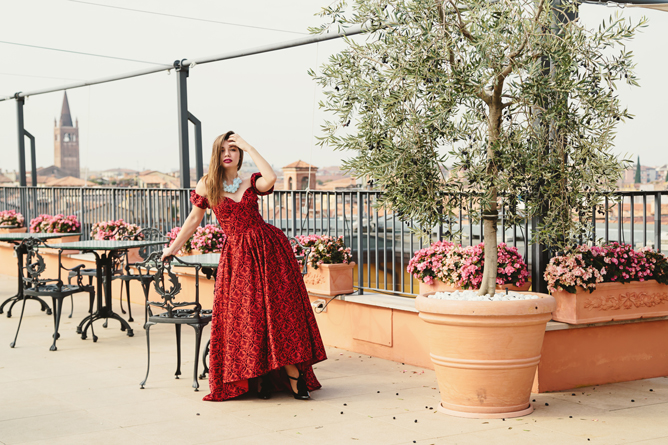 By the way, I'm wearing fantastic (and absolutely comfortable) dress by Bella Potemkina. I fell in love with it quite ago, but could never chose the right color (they have almost every) and the proper situation. And what can be better than wedding journey to Verona? And only red this time!
I'm wearing:
Dress Bella Potemkina
Necklace H&M
Shoes Chloe