Ulle Suurhans-Pohjanheimo is a designer after estonian brand Pohjanheimo. For 20 years she's been working as a haute couture atelier with minimalism aesthetics, when suddenly Ulle realized that she has reached the sky and to go further she needs to change something. At that time the first ladies of many countries as well as Viena Opera's artists were wearing Pohjanheimo. So that was the moment when Ulle started pret-a-porter line and now, at the beggining of April, she showed her fourth collection in Riga.
Last season fashion show was above all my expectations so this time I was waiting for the show impatiently. And I can hardly say what was the saddest about it – the end of the Riga Fashion Week or the end of this wonderful show. I still can't believe I was lucky enough to chat with Ulle the next day.
– First of all, let me thank you for the perfect show. I wonder, if it was heard at the backstage, but audience met every model with an applause.
– Honestly, you don't hear anything what is going on at the hall. All you can do is to walk out at the end, seeing nothing because of the lights and breath out in a relax… But thanks for liking it!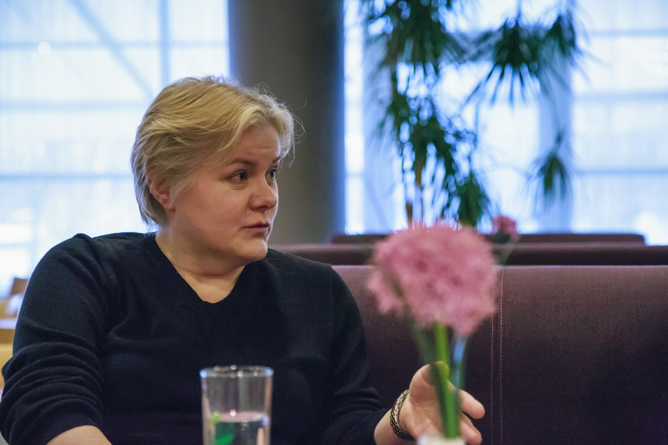 – And how actually your firendship with Riga fashion week started?
– Oh! I remeber quite well, how the first time we were placed together with newcommers. It was unexpected for us, couse our brand was already well known at that time. But Elena Strahova [Riga Fashion Week organizator] told us that our brand is totally new for Latvia and it's only up to us if we want to participate as newcommers or don't participate at all. We decided to accept the invitation and next season were already clothing the Fashion Week! I feel so comfortable in Riga. It's quite close from Tallin, everything is organized perfectly, everybody is doing their best, and I'm also in love with Latvian models. It's almost impossible to find models of one height and weight in Tallin. Last season we even took all girls from Riga for our show in Tallin.
– By the way, I noticed that models here are so called "real people" – they have breasts and hips…
– Yes! That is exactly what I like about them! They are tall, skinny but still in a perfect shape. Tallin models are bony, too skinny, with no breasts. They don't have the "meat" I need.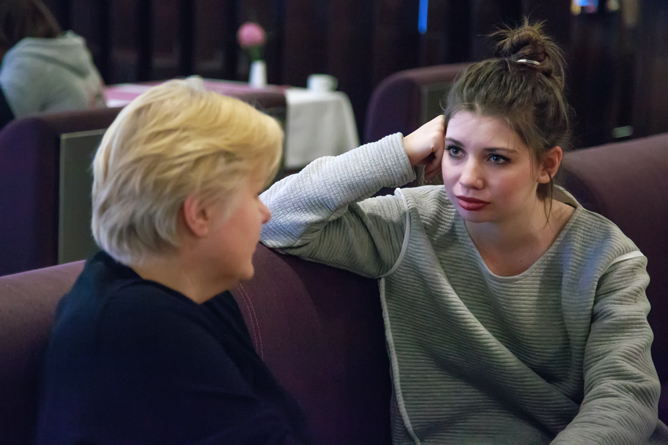 – You've mentioned earlier that you don't have fashion shows during Tallin Fashion Week. Why so, because of the customers?
– Tallin Fashion Week works in an other rhythm. They only show summer collections in spring. The main aim of that is to sell clothes stright from podium. And I'm showing winter at the same period of time. It doesn't make any sense for me. And there is no international press as well. Everything seems very local. Even in our small industry people managed to split in two groups and don't want to learn from each other, spending their time and talent on wars. At the same time we really have a lot of talented designers. What about customers – we have boutiques in Riga and Tallin. Also some pieces are sold in Stokholm but that is not our priority for now. And I also hope that this fall we will open Moscow store. Seems like we have found a nice place already!
– Do you already have some statistics about what people mostly buy in different countries?
– Yes, I think, I can figure it out! Scandinavians, for example, are very practical, they mostly choose everyday wear. Russia is a country of a feminine fashion, your clients are more about luxurious evening gowns. People from Riga are pragmatical – they prefer to think, to try on several times and buy ony then. They are never in a hurry!
– Your official web-site says that your dresses are "made with soul". What is your personal definition of this phrase?
– We pay so much attention to details! When you're working with minimalism aesthetics, there can't be anything unimportant! All the patterns are made by my employees, we never use the ready ones, sewing is also made by them – I have 10 dressmakers for now. But that is not just a professional perfectionism. I wear my dresses first, even before the collection goes on sale, trying to figure out if everything fits beautifuly, feels comfortable. I remember wearing a coat with army buttons for several months, trying to find out if they suit right for everyday wear. A small live is beeing lived with every of my dresses.
– Honestly, it was always hard for me to understand the minimalist's way of thinking. How on Earth is possible to show all the reachness of the world inspiring you in such a laconic silhouettes and neat colors?
– Freankly speaking, my first sketches often look rather different from the final result. While working I delete everything unneeded. For example, women today are fond of statement accessories. And my clients can visit business conference in the morning and cocktail party at the evening without having time for a change. So they take extra shoes and jewelry with them. I'm doing my best to create outfits ready to face any circumstances. I offer "frame" for a picture and each woman can decide what to draw inside. Each woman brings her own culture in my dresses. That is my idea.
– Many designers don't want any experiments with their clothes or combinations. Are you OK with them?
– Absolutely! My clients even call me sometimes to tell how they wore this or that dress. I always have some compliments or advice for them. But my stylist often offers such an iconic combinations that you don't even want to change them! Like evening dress with ballerinas at yesterday's show. It looked very modern, very new. If we fight stereotypes ourselfs, why should we prevent clients from doing this?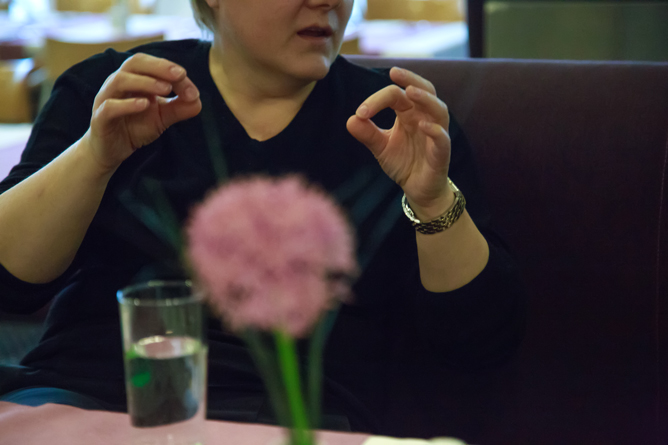 – Speaking about the stylist. Most Riga's designers don't work with them. Don't you think it's a huge mistake?
– I'm sure, all designers should work with stylists! When you're in a proccess, you pay a lot of attention to details and don't see all the picture anymore. I'm also that type of person. And when collection is almost ready, stylist come with a fresh view and shows me my clothes from the new side. Very important to have a human not personaly connected with clothes in a team. Only he can easily work with clothes and improve their presentation.
We want to thank LiveRigs.com
for a wonderful journey and a possibility of this interview