It's time to tell you all the truth! We visited New York not only to have rest and try all the bakery possible as you may have thought from my Instagram account (@thestylejungle), but also for some business meetings. Like that one with the representatives of American Eagle Outfitters to show you how the clothes of the brand are produced and what a life of the designer is all about. Clint Groom, men's denim and woven's sr. director, helped us with this.
Honestly, for a long time I didn't pay much attention to what is hidden behind mass-market brands. Seriously, we got used to the fact that luxe is all about designers and creative ideas whereas cheap brands can only copy their's styles without an ability to sew them properly.
Gosh, how wrong I was! Just imagine, men's clothes in American Eagle are being created by almost 30 designers! In multileveled Manhattan office Clint has his own space. He greets us with the question: "Are you looking for Clint? That's me". Tanned, tatooed, in washed jeans – he is an ideal representative of American Eagle style. Free, fun, smily. Clint knocks the football ball while saying: "Positioning of our brand starts here, in office. We don't try to be too serious. It's only clothes, not the rocket science at the end".
Even our big boss says – if you don't have fun of what you're doing, than why are you still here? That is why I love my job
Besides the football ball there are also flags and tons of jeans in his office. "We're now working on holiday collection. You should have come earlier – our mexican partners were here and the meeting was totally crazy! Too much to decide. For example, we created parrot print. For you it's not more than a parrot, but it's life for us: to color all the feathers, to make beak smaller and than bigger again. Cool print is born in argues, jokes, in between friends. Next week we're going to present back to school capsule. In any time we're working on four seasons. All on different stages. Isn't it crazy?"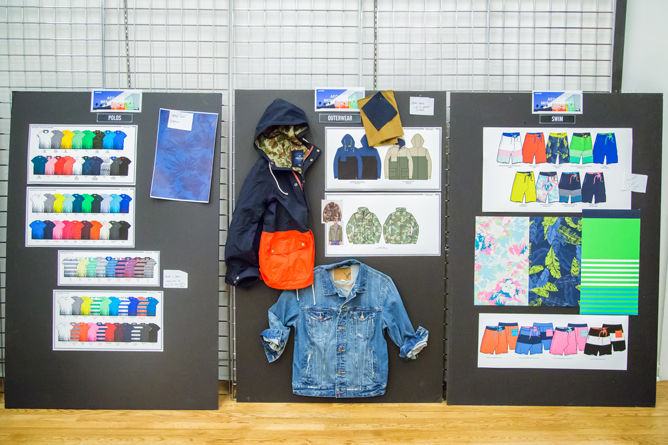 "How do you manage to stay inspired in such a hectic schedule?" – I wonder. Seems like I accidentally asked designer's favorite question, cause he becomes even more active: "I travel a lot! That is my inspiration. I visit our factories in Mexico, China, India, Shri Lanka, Cambodia, Vietnam. Once I was entering our Bangladesh factory, where our car was met by a security guy with gun. I shouted: "Stop the car! Stop the car!" He was wearing khaki uniform. But the color had almost faded and the uniform got unique approach. I needed that uniform! At first collegues brought me the new uniform, but I needed exactly the one on the security guy, so they gave him new clothes. He was so happy! And that was our number one selling color for 3 years! I told you – inspiration is everywhere!"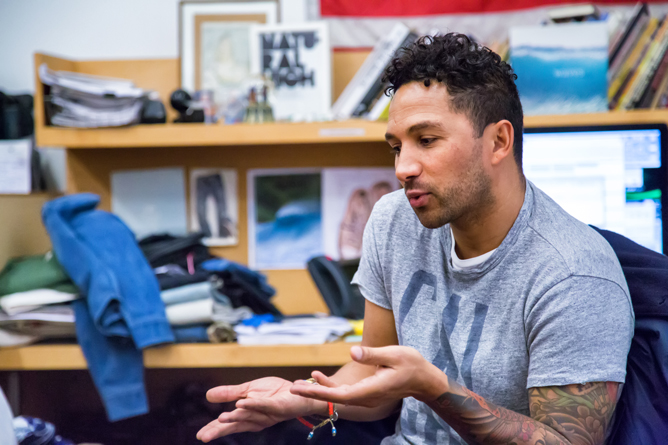 That was exactly the moment to speak about one of the main mass-market problems – lack of quality. But to tell you the truth, I never noticed anything like that in AEO: all buttons are tight.:) I have found out that there is a special quality control department in American Eagle. They not only observe the quality of clothes but the conditions for workers as well. Some factories turn to be a bit more expensive in that case, but this point is very important for the brand. So you can be sure your clothes are not only sewed well, but were produced in friendly environment. "I will stay overnight at the factory, showing them how exactly I want it to be done. We have such a good relationships, when they only see me, they know no one is going to bad today, but we all receive so much new knowledge afterwards. At midnight in India we are making product that will bring millions in Europe. I love to work like that. Good relationships are the most important. Doesn't matter if it's a CEO or a poor worker – they all deserve to be treated good".
Life gets better if you treat people right
Seems like all Clint's life is about being possitive and having fun. "I can't be happy everyday obviously. But happyness is our lifestyle, the moto of the brand. The most important is that we're not exclusive, we're for everyone. We don't force people to make any choice, they feel free and comfortable in our clothes, in our shops. We make real clothes for real people". "By the way, how did you come up with an idea to invite usual people in ads?" – "I think this was just a great idea appropriate for the brand. We don't have typical customer portrait. People from 12 up to 45 years old, unemployed or millionaires come to us and always find smth for themselves. it might be only a bracelet – doesn't matter! If our bracelet suits him, he suits the brand!".
The most important is to be real, cool, to have fun while living and shopping. That is what American Eagle all about
"Now you see that real people are the perfect option for us? ".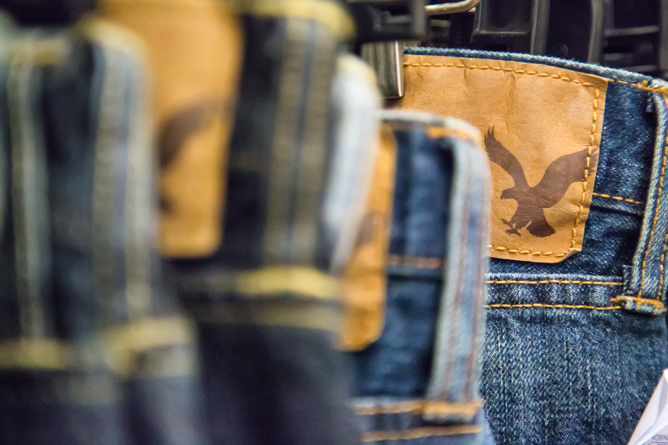 Such positioning, such number of new store openings worldwide should avoid any problems with the brand. But Clint still sees threat in growing competition with… technique! "A few years ago people would have spend 1000 dollars on jeans, t-shirts and shoes. Now they will probably spend money on jeans and iPhone. Seriosly, think of how many gadgets we have now. Each person has two or free items. They are turning to be the success symbols. So we have to do our best not to lose customers".
I don't know why, but I have a strong feeling that American Eagle guys will succeed in this competition. In a pinch they will be saved by girls. Cause we can live with the old fashioned tablet, but never without a rainbow assortment of t-shirts. Am I right?:)