I first met Hannah at the very beginning of her full-time "Real Rad Food" journey. After juggling her job at a local cafe and a passion for making raw cakes for quite a while, this smiley blonde made a bold move – she quit her main job and went all in. "Real Rad Food" cakes, slices and raw balls then became available at all the local markets and step by step made it into the fancy local cafes.
Healthy vegan treats took Tauranga by storm and are now conquering New Zealand! You can order raw balls to any place nationwide, cakes are being delivered all over Bay of Plenty and Waikato.
A year later, and I visit Hannah at her kitchen, where she now spends 50 hours per week, for another chat. It's 10 am and Hannah already has the nuts soaked and aromatic mixture for the new balls blended. It's time for some meditative cake decoration.
She fell in love with beautiful looking and healthy food (two definitions that would later become a cornerstone of her business) in Auckland, where she was studying geography and education. "I thought of becoming a teacher, but I knew that I wasn't really that passionate about that." Unlike about Auckland foodie scene. "That's where I discovered a different way of eating, turned vegetarian and then vegan." Hannah got a job at one of the first local raw cafes. "They were amazing to me and I learned heaps of raw kitchen secrets!"
While making her first steps as a raw/vegan chef, Hannah was also gradually building her social media following. "I started Instagram page. I was making food, taking photos and sharing recipes. Guess, that large Instagram food community I was involved into also gave me a lot of inspiration." Accounts that Hannah finds really inspiring are @sobeautifullyreal and @talinegabriel.
By the way, you will never believe how her signature Instagram style – white background and bright colours – is achieved! Hannah takes me to a nice and clean wall in front of neighbourhood's tiny coffeeshop. One wall, one tripod and endless cakes – that's how the magic is made!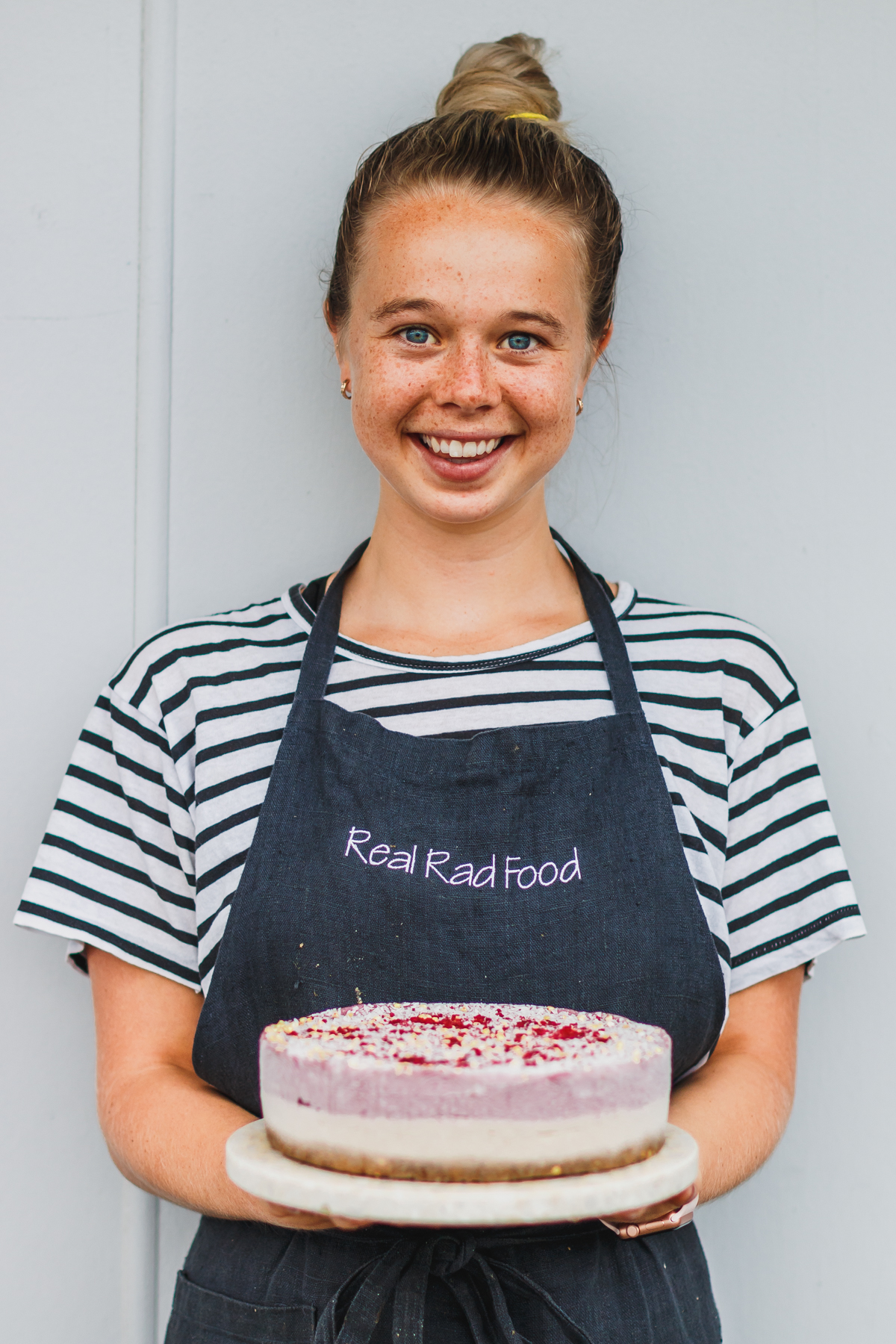 Perfectionist, this girl loves to be in control of everything she does – from Instagram pictures to e-commerce, marketing and communication. And cooking food, of course:) That's why even while being extremely busy at the kitchen during the day and glued to her website and emails at nights, Hannah Mellsop is still managing the whole project on her own. You can spot her wide smile at The Little Big Markets every Saturday and at Dinner in the Domain every Thursday. She personally visited every cafe with the samples of her cakes to get her first wholesales. Even trusting the raw balls boxes into currier's hands was a struggle. "Nationwide delivery is the biggest and most stressful decision I've ever made. I remember the first morning after launching it I woke up to 10 orders. Now I had to deliver them! It was the first time in my business, when I had to put my products into someone else's hands to get the job done. When currier arrived, I walked out of the kitchen door, holding these 10 boxes… and I felt like I was giving away my children! I was so nervous – these people had given me their money and there was no way I could check the boxes would be delivered in perfect condition. I have probably delivered a thousand of those boxes now, but I'm still stressing out every time."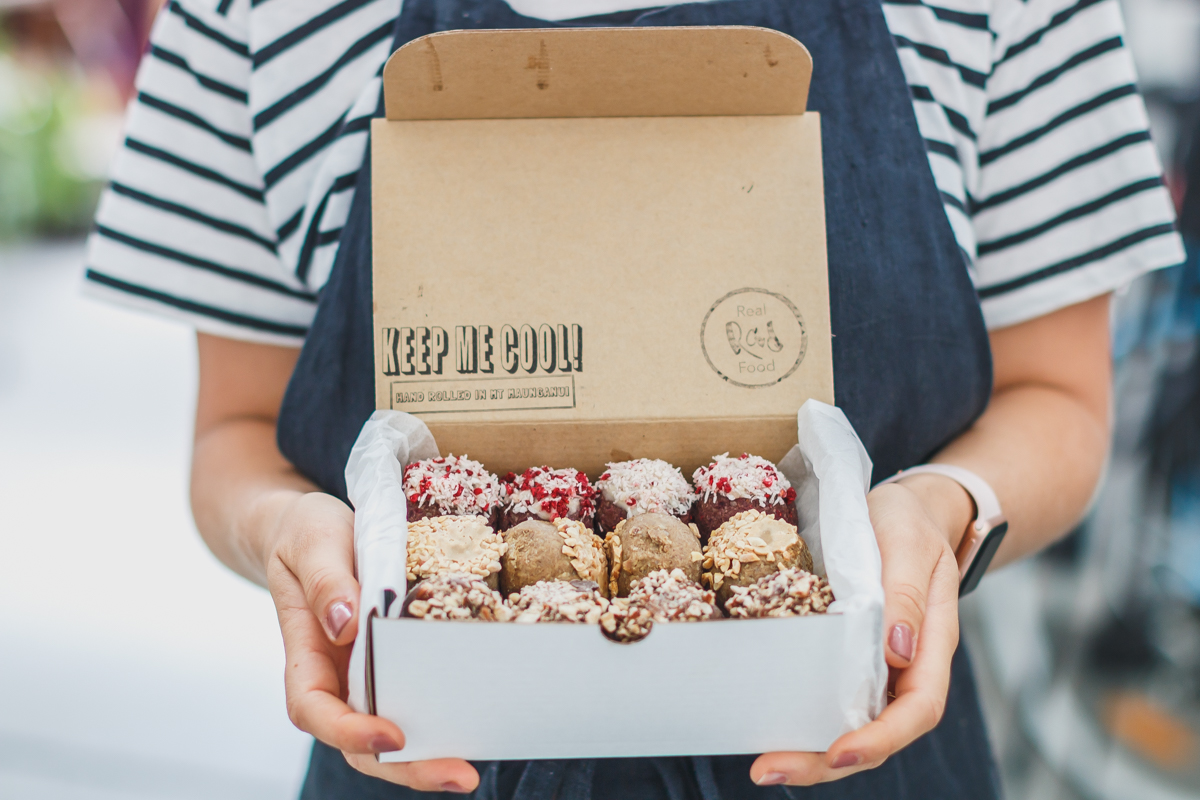 Luckily for her, beautiful House of Yoga is located right across the road from the kitchen. Regular morning workouts help Hannah to slow down and balance out her "go-go-go" attitude. Anyone else not surprised she had no vacations since starting her business?
"I feel this is the time to hustle. And that's fine. That's exciting! I'm working harder than ever, but I'm growing something special and that's really positive."
Obviously, I can't stop myself from asking what would her perfect day off look like. "I would wake up and go for a walk or yoga. And then I'd get a coffee. Always get a coffee! Actually I'll probably go to breakfast at Mixture or any other of my favourite places. When it's sunny, I like to spend time at the beach. I also like to go somewhere and take cool photos. I'd make a nice dinner. May be try to photograph my dinner for once, I haven't done it for so long! I'd listen to a podcast like Ace The Gram. I'm just into simple things in life, really."
Looks like photography is Hannah's next biggest passion after food. Or should I better say – they never were two different passions, rather a perfect combo? If you scroll here Instagram feed to the point where it all started, you'll see how many salads and unusual vegan meals she used to capture. It made me wonder why did she decide to limit her business to raw treats. "I always wanted my business to be quite niche. I feel like as soon as you spread yourself too thin, some areas might drop. No matter how much I love beautiful salads and savoury food, I don't was us to be average across the board. I want us to specialize at raw cakes and be the best that we can."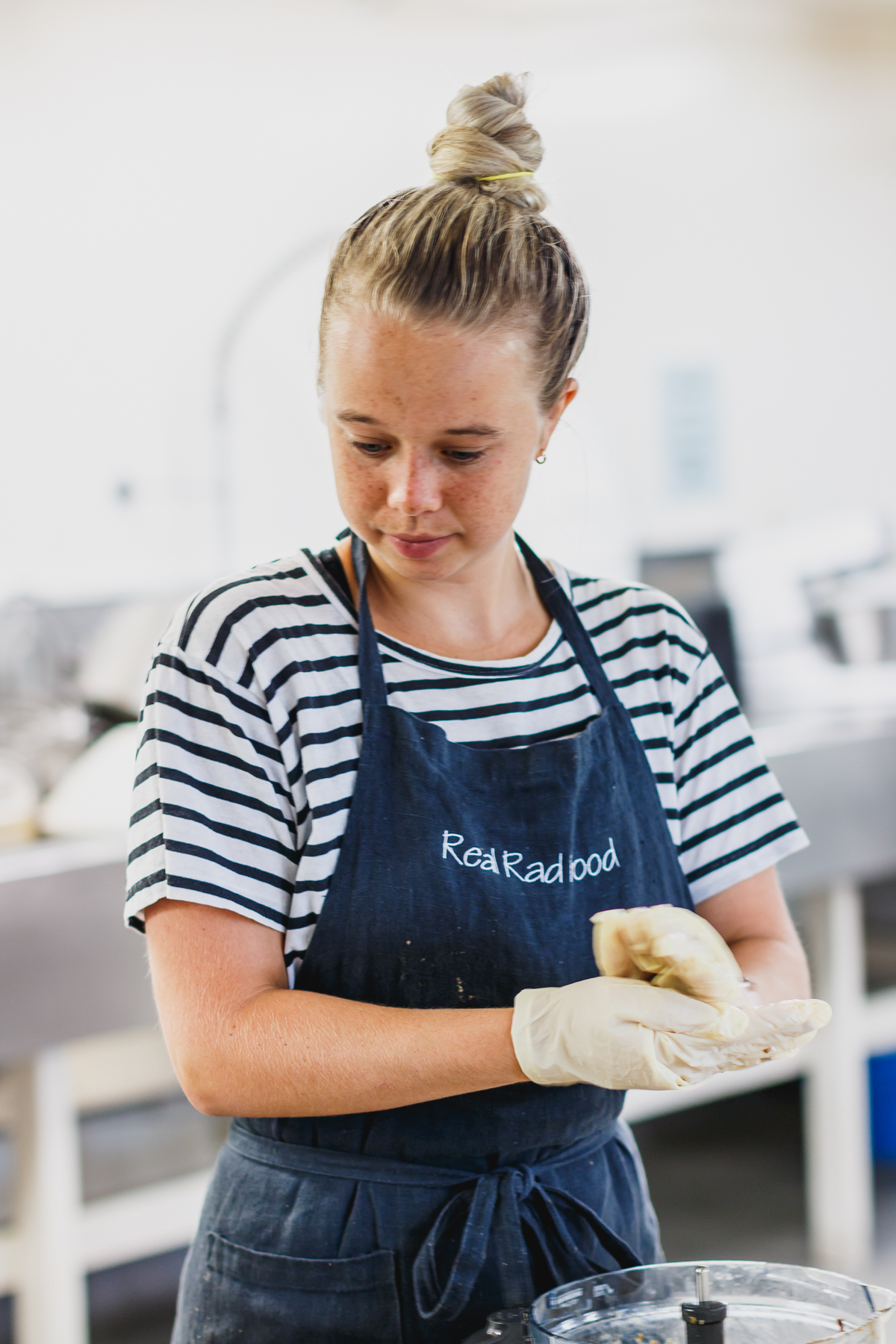 And niche business doesn't necessarily mean limited options! Hannah used to have "Test kitchen Tuesday", when she was experimenting with new flavours and textures, every week! These days she doesn't have the luxury of an entire free day without getting orders and wholesales ready, but still enjoys introducing new yummy ideas every now and then. For example, recently she created Cookie Dough slices that everyone went totally crazy about.
With winter's chill on its way, things at Real Rad Kitchen are only getting hotter. This season Hannah will most probably start training her first employee, so that she could devote more time and energy to blog on her website and finding new epic foodie places to stock her products. Which I couldn't be happier about, because the more wholesales she gets, the closer to my home (hopefully!) will I be able to indulge into my favourite Banoffee Pie Cake!