Last year our dearest friend Sharna McElligott, owner of vegan cafe The Nourished Eatery, published her very own book. That makes me excited for many reasons and one of them is because Alex took all photos for this book!
Calling 'In Our Cabinet' a cookbook will be an understatement. Yes, it's basically an endless vegan inspiration for bakers and anyone willing to eat healthy and delicious. But I personally think the most important part of this book is in the first few pages, where Sharna shares her story, a story of a young fighter who went from being bed-bound to owning a successful cafe in Tauranga CBD and killin' it. every. single. day. And I love this particular part the most not because being a writer myself I can't ignore the choice of bold, sharp, powerful words that in two seconds turn your whole world inside out (very important for a good book!). But because its just an amazing example of how we all should treat our dreams and fight for them no matter what. Seriously, do you know a lot of people who would deliver their vegan cakes by bus just to follow their passion of baking? I don't mind reading about such little heroes every now and then to remind myself that if I really want something to happen, I simply need to go and make it happen, no one will make it for me.
Sharna is a shy, quiet person and sometimes I feel that even my 'How are you today?' confuses her, yet she's a real magnet for amazing people. Tauranga creatives, kind souls and inspiring personalities, no matter vegan or not, all end up coming to her cafe regularly. Just like she does that in real life, in the book she wasn't the only one to write and share her thoughts, she also filled in 'In Our Cabinet' with many wise and beautiful phrases written by her friends: a whole section on why we all should go vegan by Erica Ransfield, lots of reviews and feedbacks from customers, etc.
But what about the recipes, after all? Well, there are 30 of them, they are all pretty simple and based on the ingredients we all normally have at home (or that are at least easy to find in any supermarket). But I kid you not, me being only me managed to master only one so far… called 'How to Melt Chocolate' haha 🙂
Of course, the main question of 'The Nourished Eatery' customers was – will or will not Sharna explain how to bake her legendary donuts?? Aaaand she did! I remember her being super worried about what if people learn how to make them and won't come to her cafe anymore. My dear friend, read the previous paragraph to get a better understanding of our baking skills and make sure you have enough donuts for tomorrow!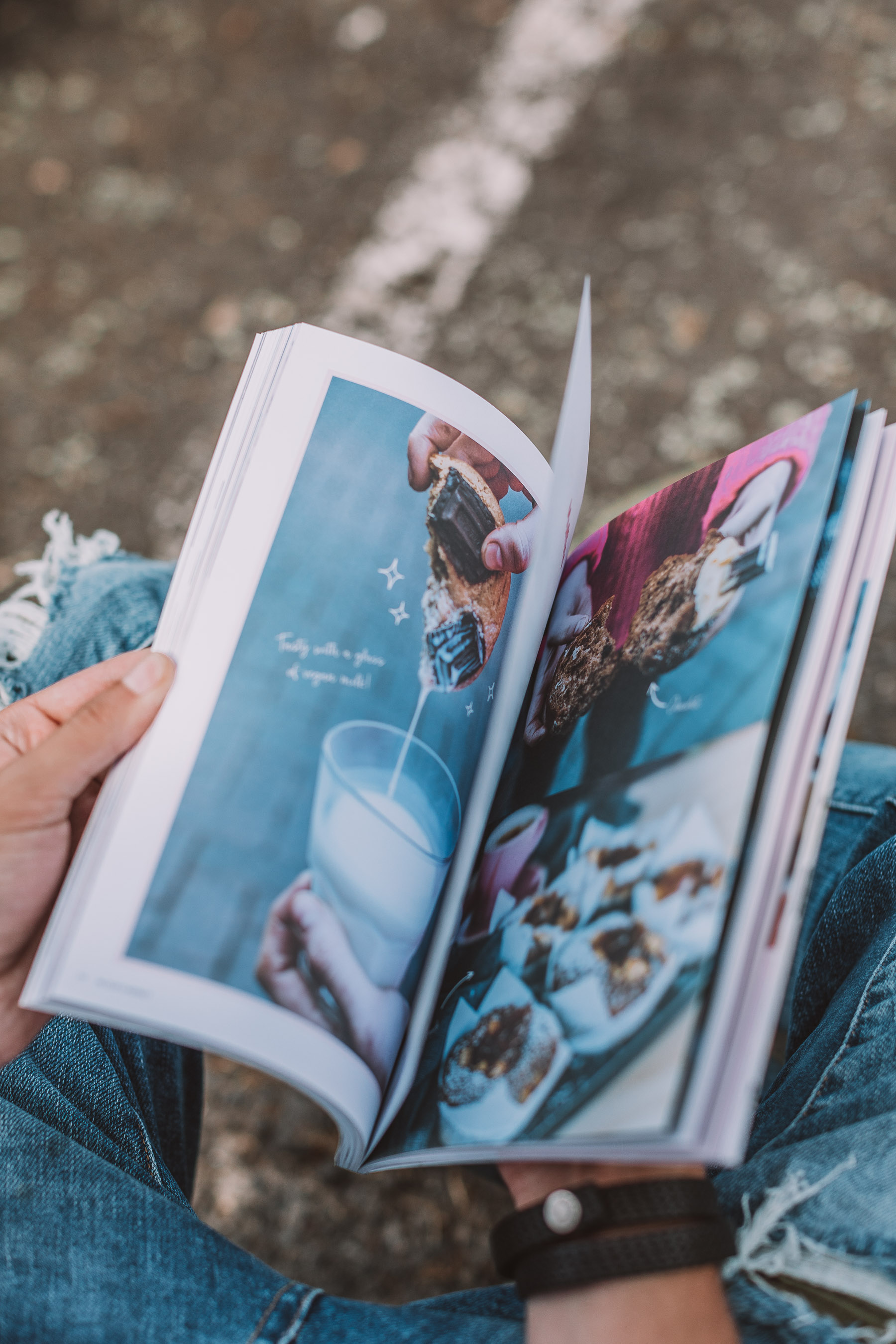 It was the first experience for Alex to take photos for the book. He was working with many magazines, filmed TV commercials, had his photo exhibited at The Strand and overall ticked off many photographer's 'must-do' boxes. But holding a book with his own photos in his hands was certainly super special! Working on this book was an exciting process and we're so proud of the result.
You can buy Sharna's 'In Our Cabinet' book in her cafe or on her website. The price of one copy is $45.