If I close my eyes, if I blink even for a second – it'll be gone. That feeling of being connected to the eternity, that overwhelming feeling of endless space above, beyond and all around me, that aching feeling of being nothing more but a blip in the immensity of the Universe. So, I don't. I don't blink and keep on staring through the glass roof into the night sky above Christchurch, where myriads of stars are living their impossibly beautiful, deceptively close, yet out of our reach life.
WANT TO KNOW MORE ABOUT CHRISTCHURCH?
WE HAVE THE ULTIMATE CHRISTCHURCH VIDEO GUIDE FOR YOU!
While I trace familiar silhouettes of constellations with my eyes, I can already feel the reality creeping in. It was so easy to imagine myself drifting on a space ship, surrounded by nothing but those mysterious stars, only a minute ago. The feeling was so vivid and bright, I could literally see my blanket giving in to the gravity and flying inches above my body. Yet now I'm back – lying in bed of the PurePod, tiny house, made entirely of glass and perched atop the picturesque hill not far away from Christchurch, feeling sorry my short lifespan won't allow me to see the glorious moment of humanity finally unlocking the mysteries of space and making this unknown territory accessible for many but also feeling incredibly happy to be right here, right now.
I've never seen so many stars in so many directions at once. At night, PurePod is like a lil capsule in space: stars are not only above you but also all around. I think that's what creates this unique feeling of drifting among the remote galaxies.
But it's not just the night that makes our stay at PurePod so special. Days here are pretty spectacular too! I mean, it's not every day that you get to stay in an ENTIRELY TRANSPARENT house (shower and toilets included), right? Of course, of course, there are curtains and blinds for those needing a bit more privacy but perfect location means absolutely no strangers and curious eyes around.
The price of a night at such place is $590 for two.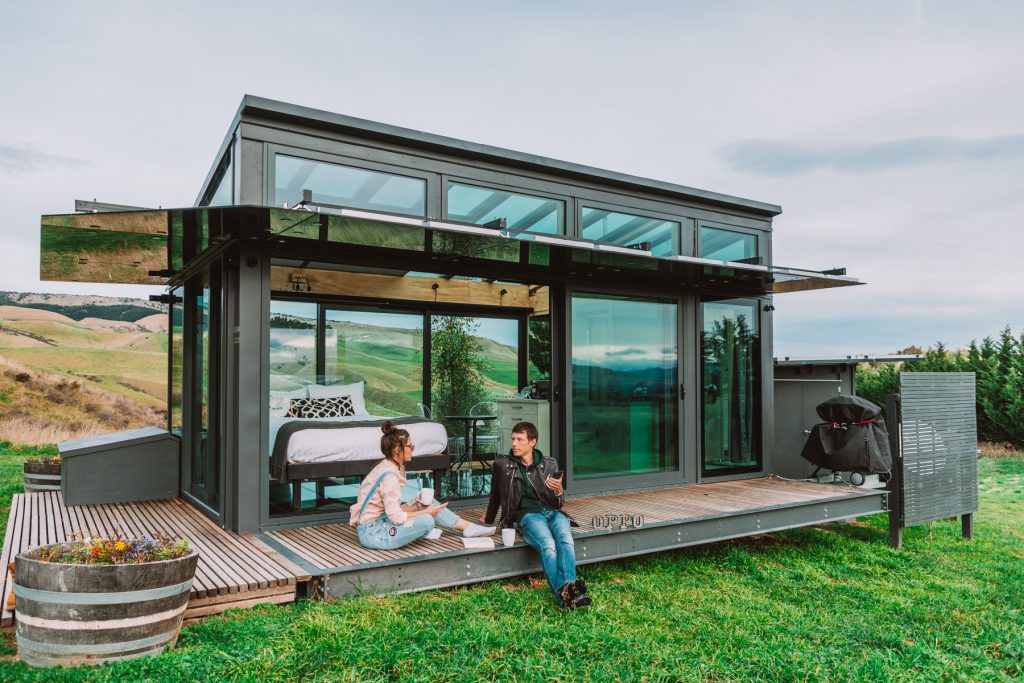 The owners also made sure we had enough nibbles for our afternoon tea on arrival and fresh fruits, veggies, vegan and meaty patties and lots more to cook dinner and breakfast – the fridge was about to burst! And we swapped a bottle of local wine for juice 🙂 As you can see, PurePods cater to any needs.
Dinner & breakfast package is additional $149 for two.
There is not much we can do around, since we were picked up at the airport and dropped off literally in the middle of nowhere, so no car and, honestly, absolutely no desire to leave this cosy little space 🙂 We explore the walks around, befriend a couple of cute sheep and finally accept the inevitable – this is not our ordinary 'see as much as you can or die' trip and the best way to truly enjoy it is to slow down and relax. I spend the rest of the evening reading in bed, while Alex takes photos and plays with OPPO phones that were inside our Pod for a special collaboration these two brands organized in winter – all visitors of PurePods could snap a pic with OPPO phone, post it to their Instagram account and get $1 discount for every 'like' they receive. Very creative and progressive!
We've only spent one night here and one night is definitely not enough. Escaping big city life for at least a weekend in one of PurePods around the country sounds like a much better idea. There are quite a few of them in different locations and we'll definitely visit some more in future!
You can learn more about this unusual accommodation on their website and if you're keen to check out other cool and interesting accommodations in New Zealand, here are some of our favs.