Four days ago vegan cafe The Nourished Eatery launched awesome deal – 30 coffees for $30. As soon as you can only have them with the unique in-house nuts&seeds milk, they see it as a perfect opportunity to educate more people on dairy-free products. I see at as a perfect chance to visit one of the favorite places more often. And for some people it might be a perfect reason to fall in love with this cafe. Though it's definitely worth it, cheap original coffees are not the only reason to love it, trust me. And here are some more!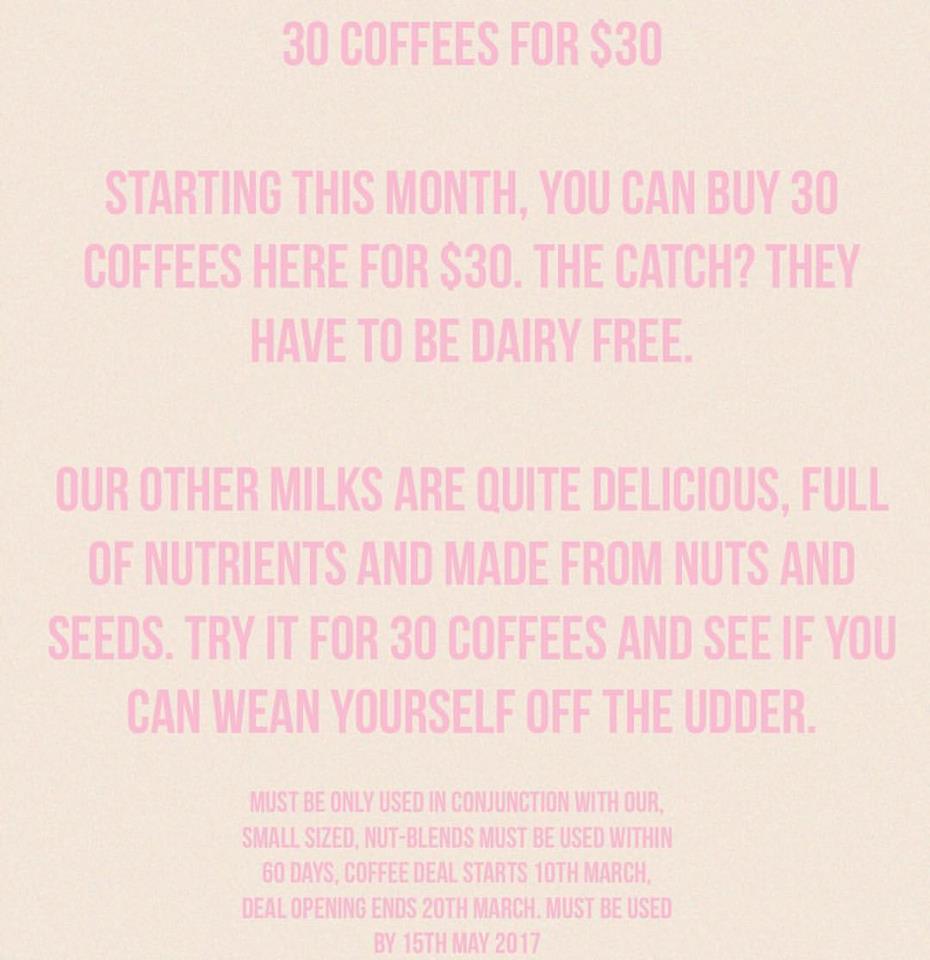 Reason #2: Sharna McElligott
Young beautiful lady you see as you only enter the cafe (signs: pink sweatshirt and giant smoothie blender in hands. Probably, pink as well!) is the owner of The Nourished Eatery. And she is an inspiration for each and every vegan/vegetarian/healthy eater out there. 
Her path to healthy vegan diet started in a year 2013, when Sharna was diagnosed with ME or Chronic Fatigue Syndrome. Don't blame yourself, if you're unsure what exactly that is, I had to Google it as well. And yes guys, that's a nightmare. When others might not even notice something is going wrong, people with this illness struggle inside, can feel extremely weak and unable to finish the task at any random moment.
But you will never hear Shar complaining on that. In fact, she is super positive and optimistic. "I feel much better now. A year ago I was super weak. But all these people cured me", – says she pointing at the full tables.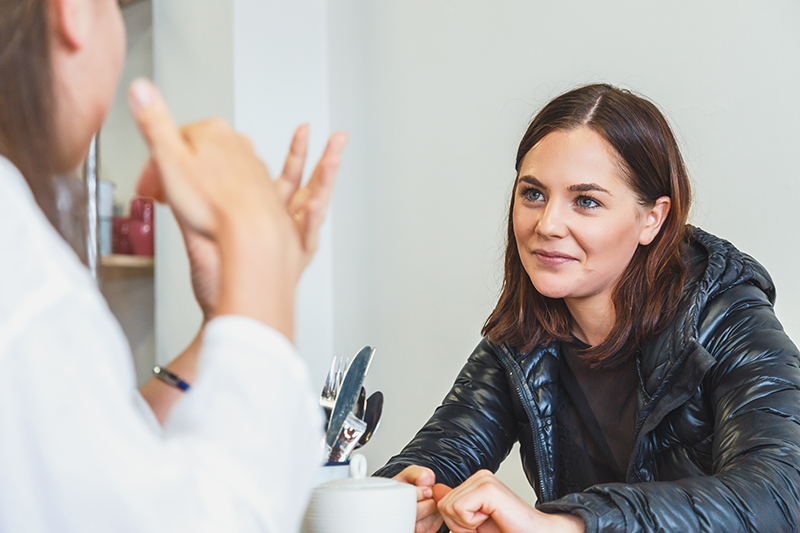 She started her business to be able to work as much as her body would allow her. At first, Sharna was selling vegan cakes, but the demand, growing popularity and her love to baking and cooking quickly turned small bakery to a spacious cafe with the full menu. 
Reason #3: Chicken Not Chicken
Thought your idea of adding a little lemon to the fried chicken for a better taste was creative? To cook chicken without even using the chicken itself is what I call creative. In The Nourished Eatery you can also try pork that is not really a pork (vegan, remember?), cashew cheese, epic cookie sandwiches and other surprising dishes. Saying nothing about that watermelon seeds, macadamias and sunflowers seeds mylk they are the first in the world to make!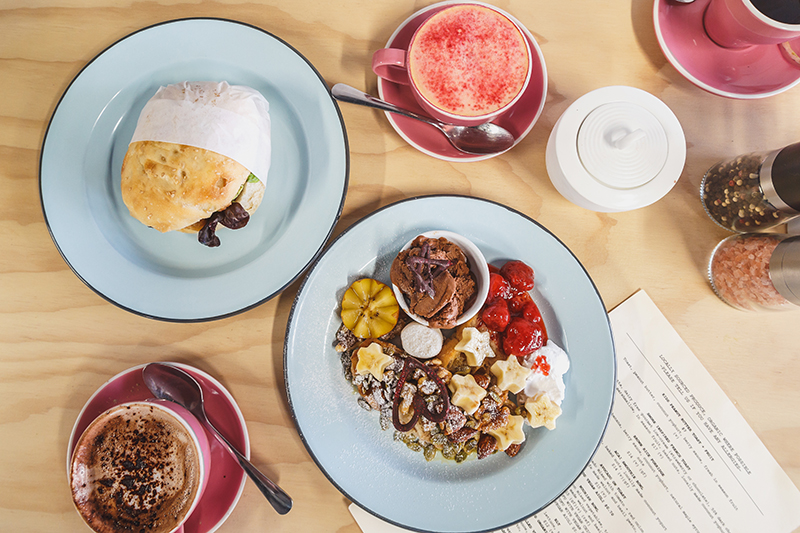 Of course, Sharna won't tell me her secrets. "It just happens. I just add a little this and that" is all I know about how to cook the vegan chicken. But after all, if even my husband, who calls my soy flat white "disgusting" and avoids all those super-duper creative vegan gourmets, loved the taste of the Chicken Not Chicken burger, I don't mind paying the chef for another portion of this perfection.
Reason #4: Support local
Food in here is cooked with the local products. I remember Sharna requesting for the best local avocados on Facebook. "And our tofu is made just down the road", – adds she before rushing down to the suppliers for an unexpected restocking. And it really took her less time than me – eating my vibrant breakfast.
"I think, it's important to support local people", – Sharna immediately dives into our conversation as soon as she is back with the pile of tofu boxes. – "Then more people can support us". Btw, one of the reasons I love our new lifestyle so much – everyone is friends with everyone and supports each other. Something you can never rely on in Moscow! How awesome is that?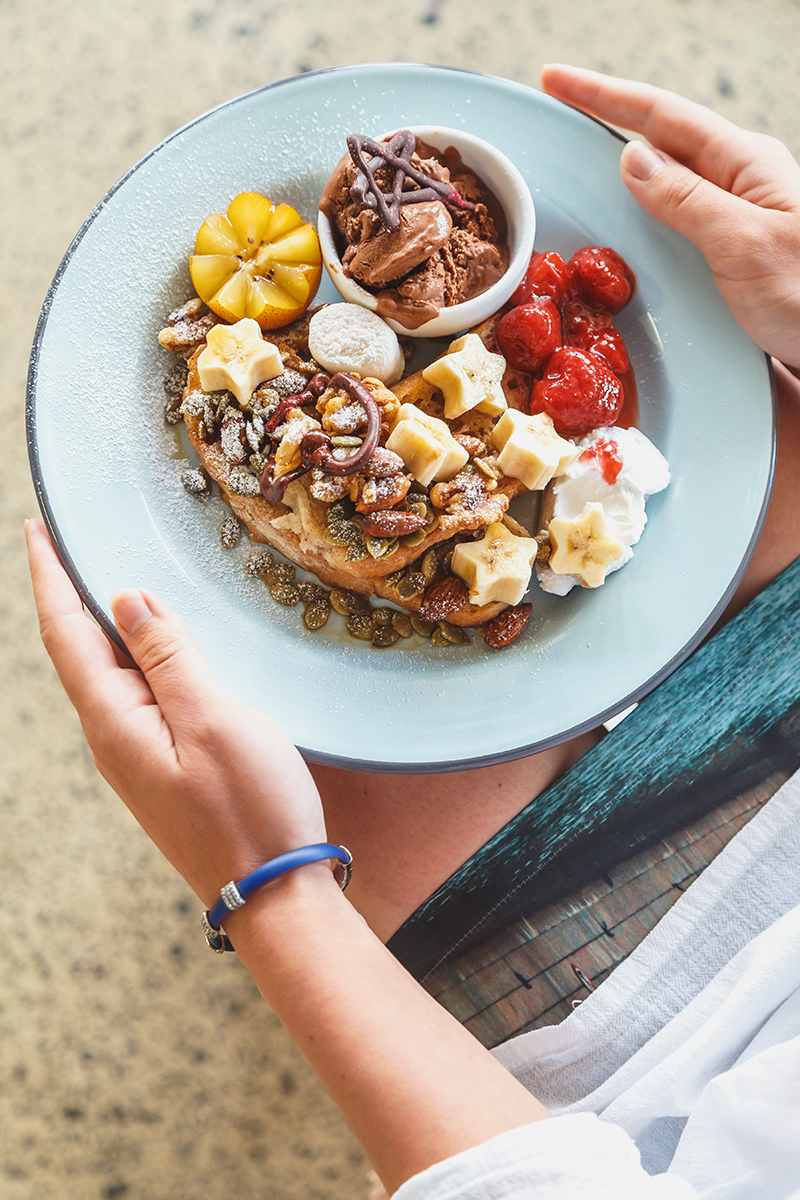 Reason #5: Being vegan is so cool!
While meatlovers are convinced all we eat on a daily basis are just fresh spinach and tomatoes (with an occasional rice), vegan diet is actually full of flavors, colors and imagination. To tell you the truth, I tried so many delicious dishes in the last four years, that, assume, I would have never even looked at if I wasn't avoiding meat: falafels, dolma, tabuleh, pumpkin soup (yummm!) to name just a few. And there is so much more to try! Most of the cuisines around the world have several signature vegetarian dishes, whereas the meat is normally cooked approximately the same way. So who is limited in choice after all?
And the vegan/vegetarian culture expands quickly in New Zealand. Even Tauranga alone has several amazing places to dine out already, saying nothing about other cities like Auckland, for example. By the way, for our readers from the largest NZ city, here is a must-visit recommendation from Sharna: "Do you know the Little Bird brand? We have their macaroons here. They have the most amazing cafes!  There are three of them, all in Auckland".