One common thing all resort managers in Maldives were telling us is how tricky it becomes to attract customers with the rise of the cheaper hotels and even backpackers' hostels options in this destination. 'Traditional' luxurious resorts install waterslides bringing you from your bedroom directly into the warm turquoise water of the Indian ocean, supply guests with free GoPro cameras to capture their underwater adventures, offer breathtaking special deals, launch new restaurants, etc. Even the newest resorts like like Dhigali, that was only four months old when we arrived, and four years old super-lovely Kandolhu  felt the need for change. Obviously, we were really curious to find out how does it go with the older hotels, the ones that have first started this whole white sand – palm trees – transparent water craze. So we made sure to visit the very first (!) Maldivian resort – Kurumba. Seeing how are they dealing with the new trends can explain a lot, right?
ABOUT KURUMBA
Hard to imagine now, but it was only 46 years ago, when there were no resorts, yachts and tourists in Maldives. There was no proper airport, no bank terminals, no first-class chefs, nothing! Only hundreds of islands with tiny fishing villages and incredibly beautiful untouched nature.
The first ever resort in Maldives was born on Vihamanaafushi island, not far away from Male (you can now spot all the airplane take offs and landings from your bungalow's hammock). It was an uninhabited island, devoted completely to coconut plantation. In 1972 the first hotel was opened here. To commemorate island's origin, Hussain Afeef and Mohamed Umar Maniku, currently successful owners and operators of several local resorts, named their first project 'Kurumba' ('coconut' in Dhivehi).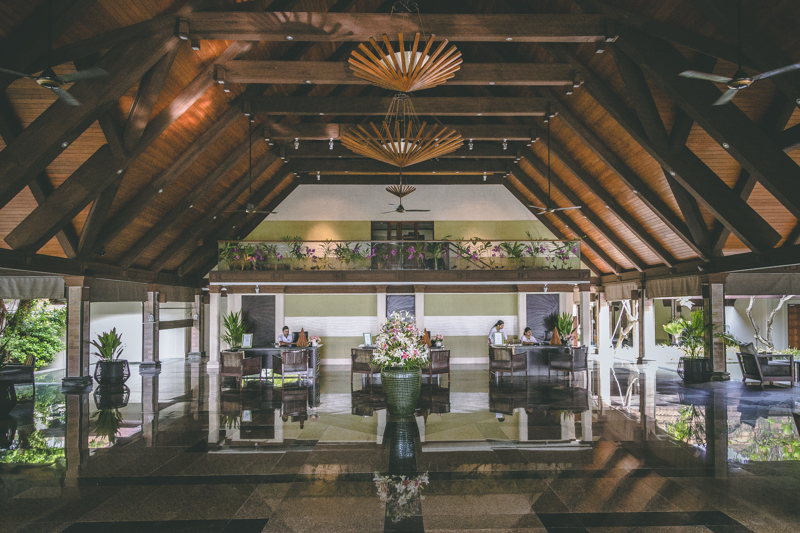 These days Kurumba is a world-class resort with 180 rooms, the most of them being traditional beach villas or pool villas. We have stayed at the beach villa and I loved it! Especially the outside couch that I never wanted to leave:) Beach villas here are not positioned directly along the beach, as you might have imagined, but forming sort of a circles. Staying in the furthest from the beach part of such "circle", we had a perfect view of the neighbourhood terraces, as well as they could see us all the time.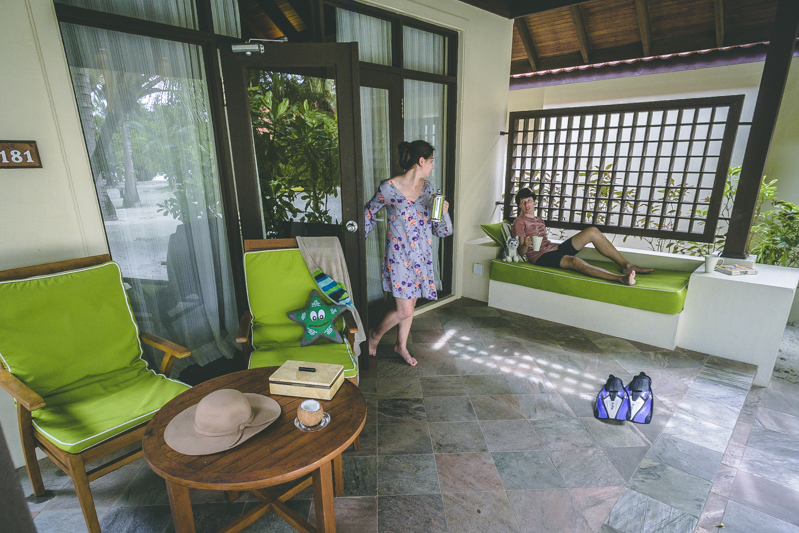 For a better privacy I would recommend garden villas, tucked in a beautiful bushes of the central part of the island.
There are also four gorgeous and absolutely luxurious twol-level Presidential Suites, that we had a chance to look at, and the one and only Royal Residence, that looks like a palace from the outside (it was occupied, so we couldn't have had a sneaky peek).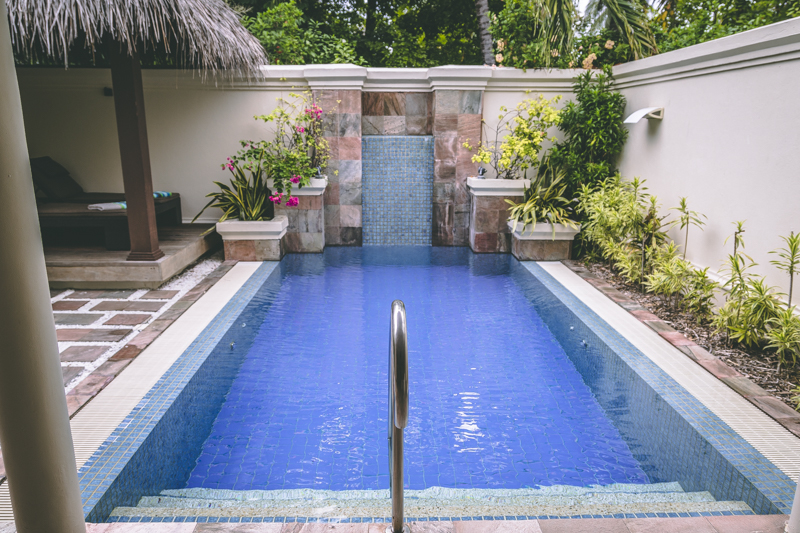 OLD AND NEW
46 years is a long time for any resort and Kurumba had obviously undergone several upgrades and transformations since, with the last one taking place in 2003. Though it might seem like not too long ago, you can still see the signs of an old-fashioned approach here and there. For example, we were really surprised to see asphalt paths. The rest of the resorts we have visited all had nice sand paths, that felt so natural in Maldives and suit their barefoot philosophy a lot. Kurumba's Majaa Recreation activity centre reminds a bit of a children's camp with corkboards and tiled walls. Not that those things REALLY bother a lot, but the devil is always in the details, as they say.
Despite these small imperfections, don't be so quick to judge Kurumba. Yes, it has been here for quite a while, but on the bright side – it's far from being stuck in the past, trust me! Sometimes it's just too hard to change something that was done earlier, with no examples, experience or competitors. But there's always a room for improvement and this resort takes the most out of it. For example, you can find ultra-modern glass-bottom yacht, that looks more like a spaceship, to observe underwater life only here! We did this tour and it was incredible – we spotted several sharks and one sea turtle, that looked incredibly busy digging a hole. Obviously, you see things clearer while snorkelling, than through a thick glass floor, but this is a cute option to swim further, stay dry and kids simply go beyond excited! By the way, vacaying at Kurumba means you have a choice of an excursions included in price and an hour at glass-bottom boat is one of them.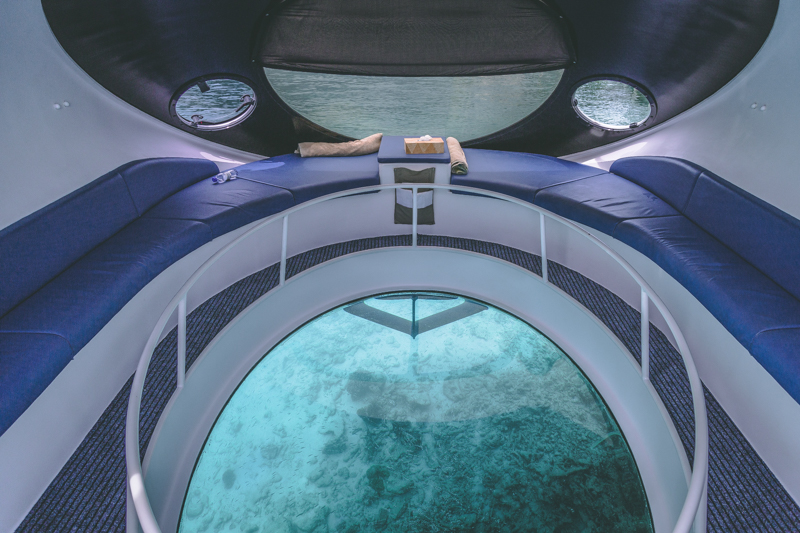 BEST THINGS TO DO AT KURUMBA
Kurumba is probably THE MOST active resort out of the five we have visited. So many activities planned there for each and every day, that there are always several tours, classes and shows are going on at the same time around the island. Snorkelling safari, fishing, seaplane photo flight, coconut painting class, Tai Chi, banana boat, tours to Male, cooking demonstrations… What a tough choice it was! To get yourself organized and not to miss on the things you might really want to try, they leave a brochure with free and paid opportunities for the next day at your villa every night. So convenient!
Here some of the activities we would totally recommend to participate in:
1. Green & Back of House Tour. Most of the Maldivian resorts prefer to hide their 'private' life, but Kurumba employees are happy to invite guests to see how everything works from the other side. We enjoyed it soooo much! Amazing Majaa recreation guide showed us around the rooms where employees live, showed their own cafeteria and explained how they work with online reviews to improve their performance, what rewards and bonuses can they get as the "Employee of the month". We were lucky to observe chefs working at the kitchen. Seeing how everything is kept perfectly clean, how they order best fruits and meat, how a reminder is set for every half an hour to watch their hands, etc. makes you really confident in what you have on a plate and keen to try more new dishes:) But the best part of the tour was a reveal of how they create electricity, purify water and sort out garbage. Have you ever thought how everything works on a small island? I had no idea! So it was really exciting! By the way, instead of sending their organic waste to landfill islands like many, Kurumba supplies Maldivian farms with compost. They also grow a lot of veggies and fruits, as well as all the plants they then plant around the island in their special gardens. My absolutely fav part was to discover how they produce coconut oil. Do you remember 'Kurumba' translates as 'coconut'? Obviously, you'll have it everywhere here! In food, at spa, as a room perfume. And they manage to produce enough coconut oil for all these needs in a small room with one machine in it! The whole process requires a lot of hand work and personal approach, which definitely added several points to the massage we had afterwards.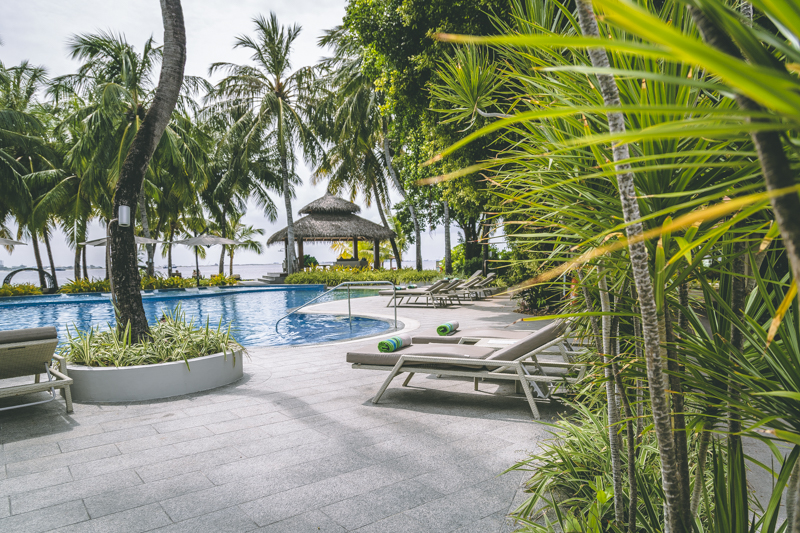 2. Maldivian Dance&Drums at Kandu Bar. WOW! Absolutely amazing! Kandu Bar is a breezy, open-air pavilion by the beach and main pool, well-known for delicious cocktails during the day and live music and Dj's at night. We had a chance to enjoy the performance of the local dancers and singers and it was so positive, authentic, relaxing and really-really unique. Guests were sitting around the stage in comfy low chairs, sipping on their drinks, chatting… Can't think of a better way to spend your evening while on a vacation!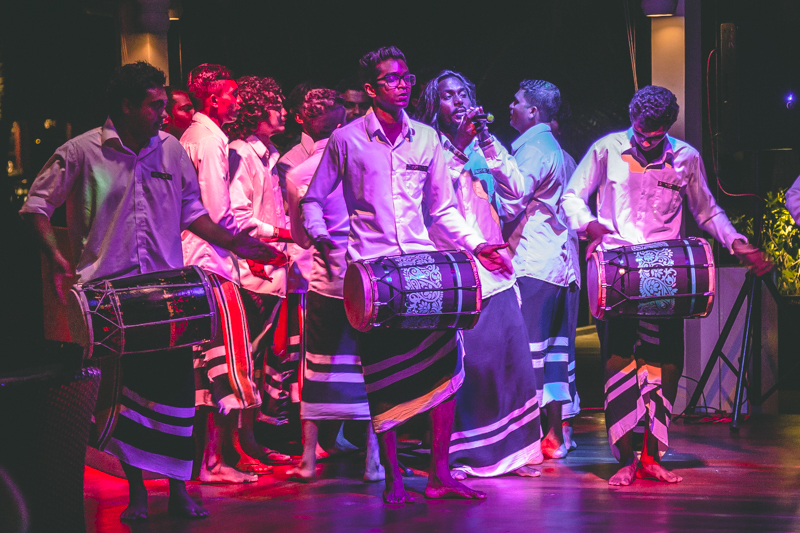 3. Snorkelling safari. Well, it might seem weird to go on a 'safari', when you get to see the most colourful fishes 5 steps away from the shore already. But experienced guides know secret spots that elevate experience to the next level. Kurumba's snorkelling safari includes boat ride to two beautiful reefs. No hotels around means the water will be calmer and even more transparent, and there's nothing like jumping off the boat in your snorkelling gear. Felt adventurous like never before. On a boat we could also snack on different fresh fruits – swimming makes you reeeeeally hungry.
4. Signature massage at Veli Spa. OMG! That was the best hour of my life! Signature massage at Kurumba's spa includes not only nice full-body pressure with hand-made coconut oil, but also hot sand poultice with local herbs, that we loved SO MUCH. What an unusual feeling it was! So relaxing and wonderful. Hands down the best massage we had in Maldives.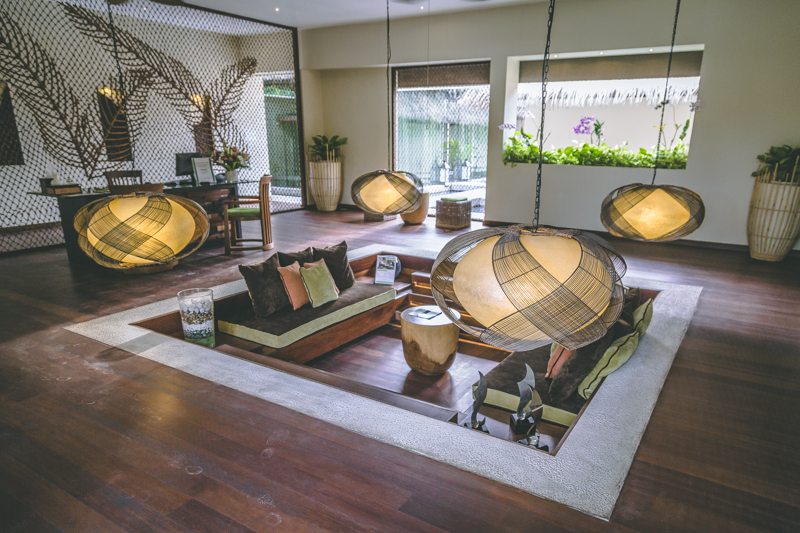 MORE KURUMBA PHOTOS