I'm such a loser in what concerns Germany. I love this country and language so much, but never ever yet had a chance to visit it without being in a crazy rush! Let's see: I saw the central square and Ford research center in Aachen (a city of students and fun!), ate sousages and walked across the embankment of Dusseldorf and, finally, had a quick night walk around Munich last September, while visiting it for only 24 hours. I have no idea, why all my trips to this beloved country are always so short!:) Hope to fix it, but yet just can't stop myself from showing you at least that tiny piece of wonderful Munich, I've seen. 
I should be honest with you, I arrived in Munich being totally torned, suffering through the job hell, when I already knew I have to quit, but couldn't do it yet, with that giant bruise under the left eye, that I accidentally did myself during this shooting, I also had to wait in a customs queue for an hour, forgot my only glasses and umbrella in a taxi…
So, that depression couldn't get any worse and luckily my dearest Natasha from the Glam agency invited me to visit Bavarian capital and entertained me with her positive stories and long talks. You won't believe it, but after our walk across the night Munich, I wanted to sing and dance! Not a tiny bite of a bad mood left!:) 
Looks like, all I really needed that day is to get to an astonishing Marienplatz with that famous town hall, where beautiful toys show the scenes from the city life a couple of times per day, and have a long, welcoming and open-hearted talk.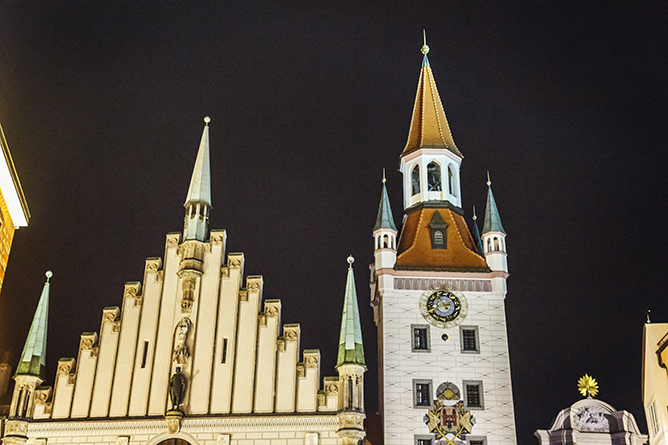 Despite being destroyed during the war and renowed in the 70-es in previous century, this building still looks so XV century:)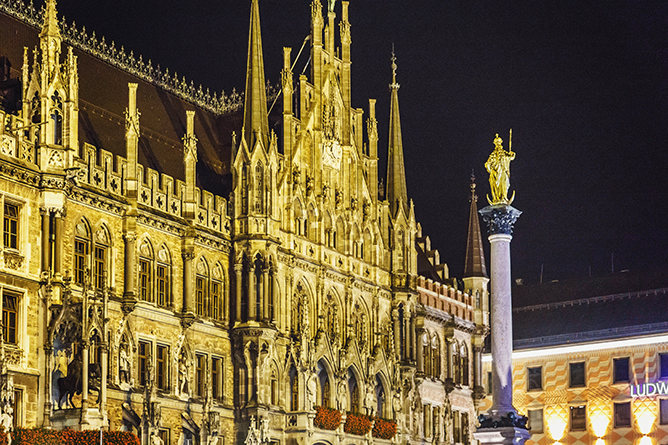 Munich is a city of millionaires. But not those, who waste money in Monaco casinos. Local people are intelligent, relaxed and may be just a little satirical. They allow you to think whatever you want of them and continue on living just the way they like. That's why any passing by cyclist or a girl, chewing pretzel, can be one of those running the world in the morning and doing that simple things in the evening just because they really enjoy it.
That's exactly what's the mood of Marienplatz is like. Leisurely and all-sufficient. You feel it immediately and suddenly become pretty sure, that everything's gonna be all right.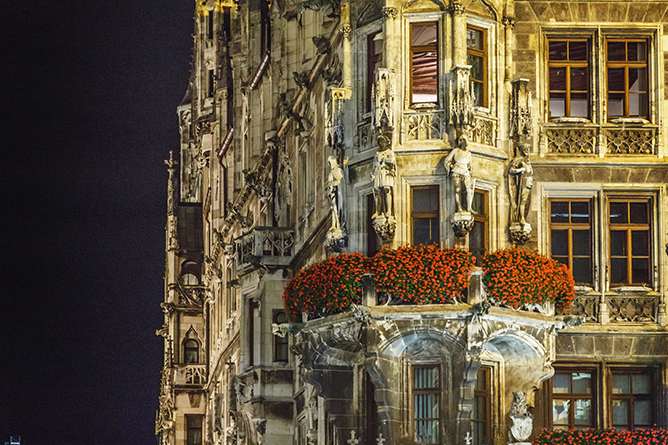 Don't hurry up to go furhter, when you're here. Let yourself rest for a while, go through all the tiny architecture details, feel the Munich vibes. Trust me, the rest of your walk will only win after that!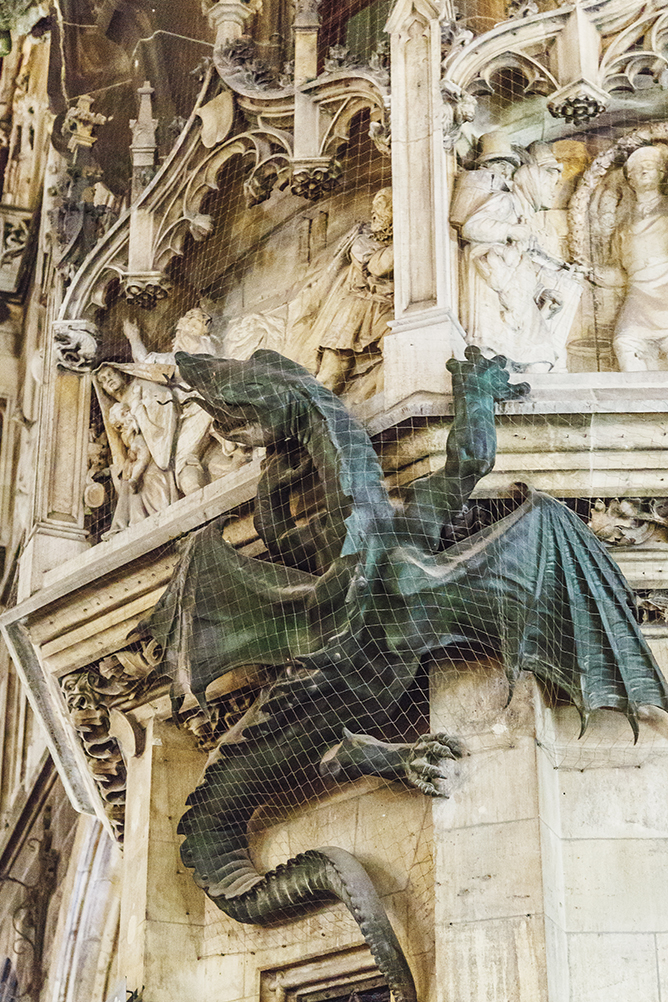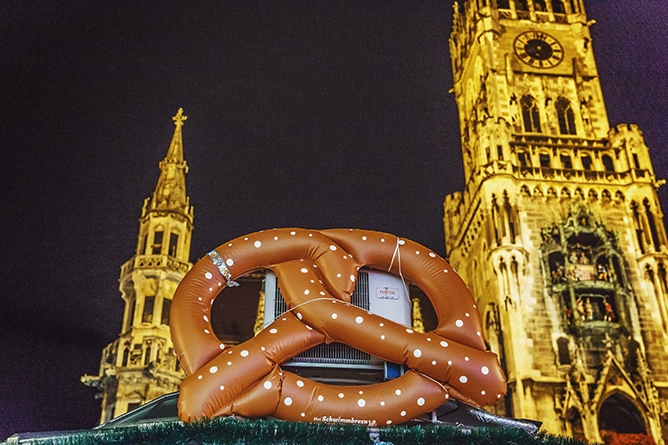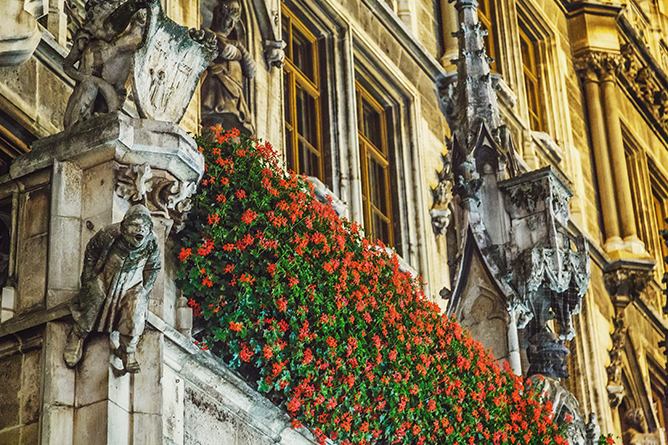 One more square of the Old city you need to see is majestic Odeonsplatz. While the first one is a really aristocratic lady, this one is a brave warior, it has that male mood. Probably, because of Teatinkirche – princes tomb. Not an occasion for having fun, right?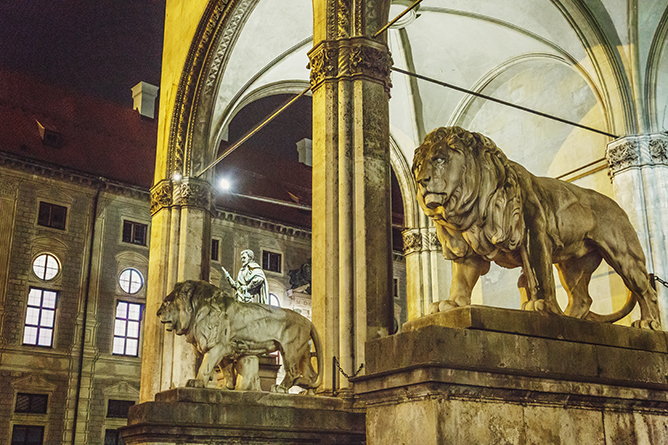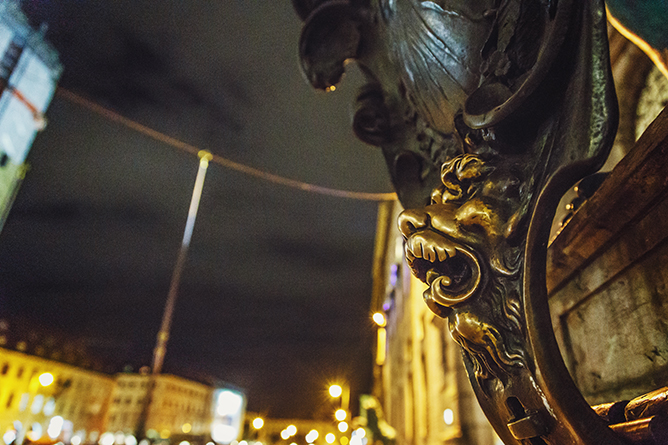 In order to get from one square to another you will have to walk through several really cosy and old streets, full of baroque and gothic buildings. It might take some time, cause every one of them is definitely worth taking a picture:) Different churches, hidden in a secret corners, famous brands and local designers boutiques, that sell dirndls – traditional bavarian costumes of an extreme beautiness, are located in here.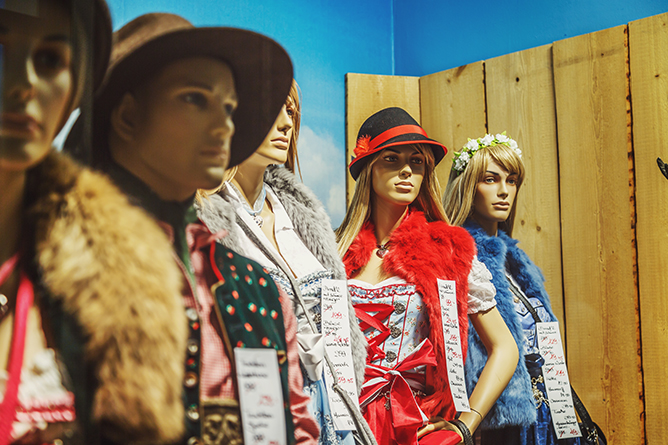 Somewhere in between the boutiques you will find a very famous Hofbrauhaus – a place to try local cuisine and beer, that was visited by Mozart, Lenin and even Hitler. But there are also hundreds of other, not so famous, but not less welcoming, cafes in the area.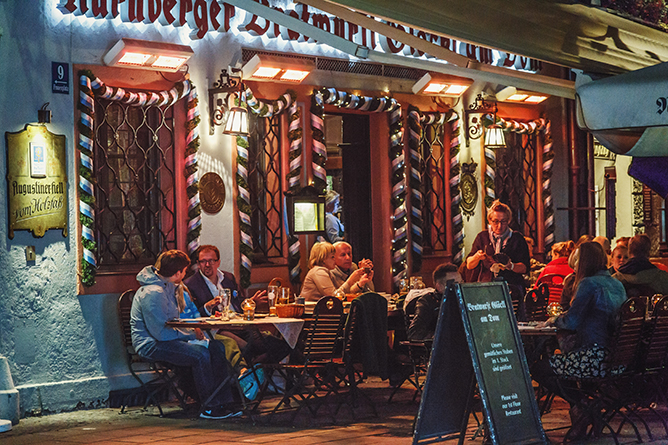 But let's get back to Odeonsplatz. Not far from it and an epic Residence building you will find picturesque Hofgarten and giant English park, that is, by the way, even bigger, than Central park in New York (not joking!). Walk to the locar Isar river, that has an unusual wave, popular among city surfers. Not that they were surfing there at night, I just know that fact from the videos, made for people learning German:) Of course, we didn't go for a walk across the garden at night, but at that moment I promised myself to return here in the morning to do some jogging. Unfortunatelly, it never happened, cause I probably was too tired to wake up earlier. Yet another reason to come back to Munich one day!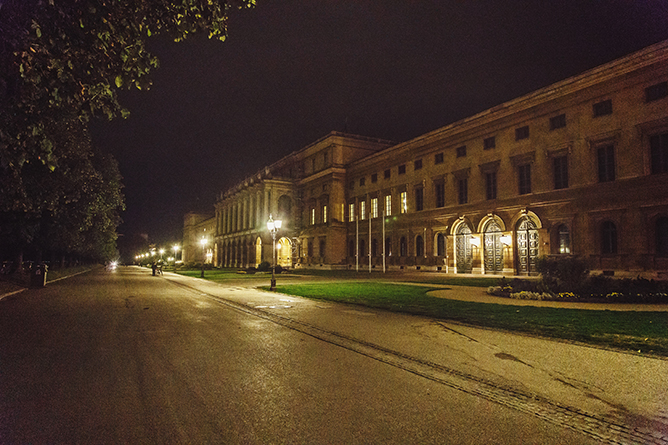 And you can finish your city center tour at Viktualienmarkt – a market square located on the right from the Marienplatz, where we started from. But it goes without saying, this place is better to be visited during the day time, cause we could only walk around the closed stalls. There are over 100 of them in there and some of them are being held by one family for several generations already! In the morning you can try local food, beer, buy some cheeses, herbal teas or souvenirs in here. This place is probably Munich's soul with thousands of tourists and local burgers, that shop for the best quality products in here.
Some more photos of the beautiful Munich at night