Those who know me longer that 3 minutes, surely know how much I adore everything that is connected with hair treatment. I already have a big collection and it continues to grow. Today I'm going to show you beauty stuff I use and that should be applied after hair washing or on dry hair.
Hope, you'll find my choce interesting and useful!
Moisture Kick by BC Bonacure (Schwarzkopf Professional)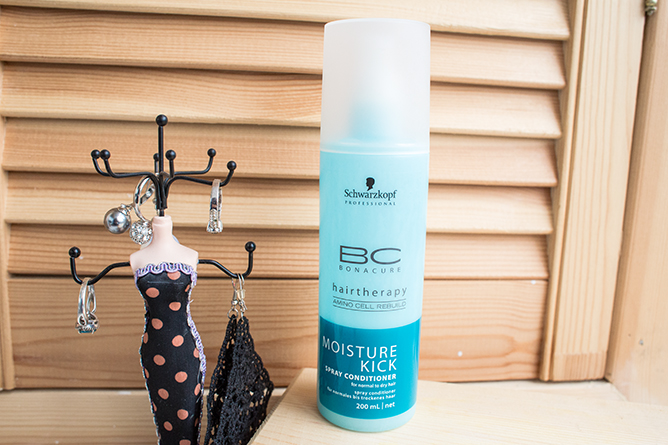 One of my favorites! This one is the best thing to moisture your hair – irreplaceble for those who use hairdryer every day. I use it every day no matter what I already used to cure my hair. 🙂
Naturaltech by Davines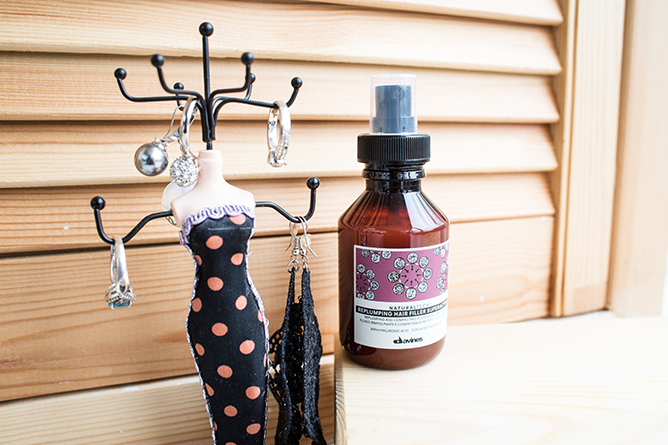 Label promises elasticity increasment, instant seal and so on. And it's really so! Even after first time my hair received great but soft volume I've never seen before. Seemed like I suddenly received some more hair. And I'm also a fan of its flavor – soft herbs flavor. It makes me think like I'm using some sort of remedy.
Full Repair by John Frieda spray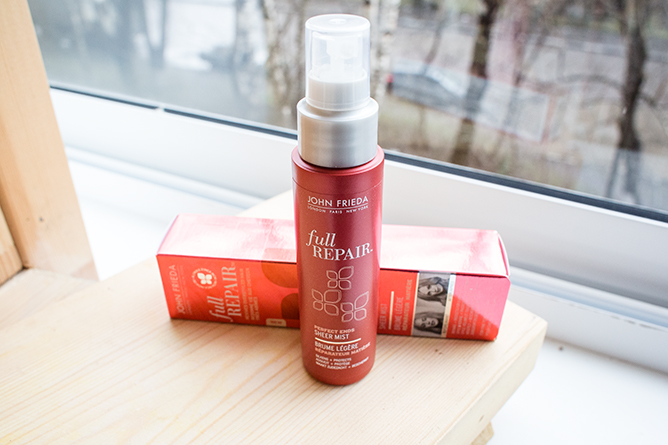 Probably, the most stylish treatment I possess. I can't even throw the packing away, cause they make the perfect pair. There is even a story of Inka Inchy oil written on it. Can't imagine more attention to details and love to their customers, than in this case. But more important that spray inside is as good as outside. I used it before the photoshoot for the fist time. I needed to wear stright hair that day and spray worked perfectly. For me it is ideal to be used befire evening events, when you need to add some glamour to your look. But for casual occasions I prefer some more volume.
Brilliant Brunette Liquid Shine from John Frieda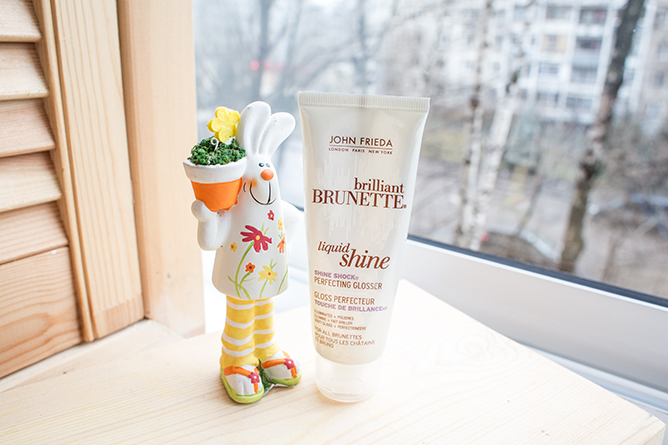 One more love from John Fireda. I've been using it for a long time already, now it nearly ended and I don't know what to do with it! As far as you could understand this one is a gel for brilliant shine of brunettes hair. It's a real fun to squeeze gel with shining parts in it! I'm using it only for hair ends in order not to look dirty at the end of the day.
Blond Me by Schwarkopf Professional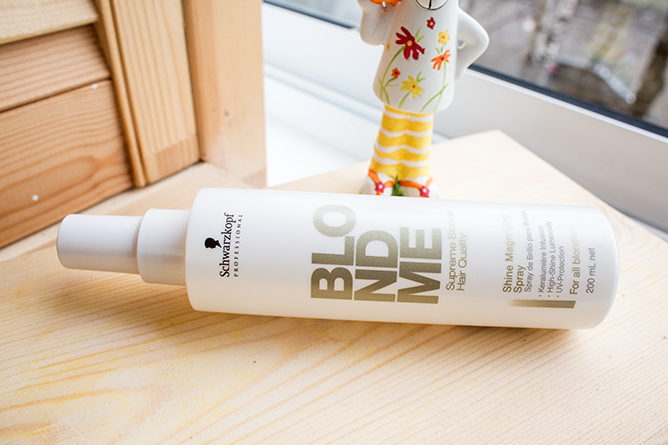 Don't be surprized! Though I'm not blonde for a long time already I couldn't resist. This spray should be applied on dry hair (in contrast with the previous one), smells good and shines good.
Dry Volumizing Shampoo by Garnier Fructis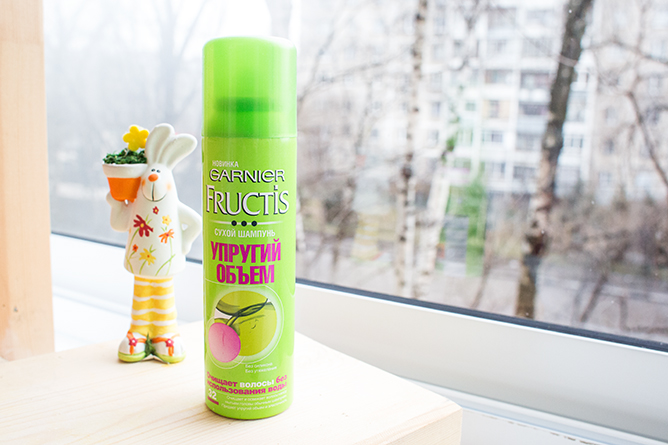 Honestly, not the best thing I tried. Sometimes I use it if I need to go somewhere nearby and definitely not meeting anyone familiar. Though it's easy to apply: spray – wait – use hairbrush, – and really makes hair look fresh I don't feel like they are goodlooking, so prefer to make pony tail and not to attract anyone's attention..
Luxe Oil by Schwarkopf Professional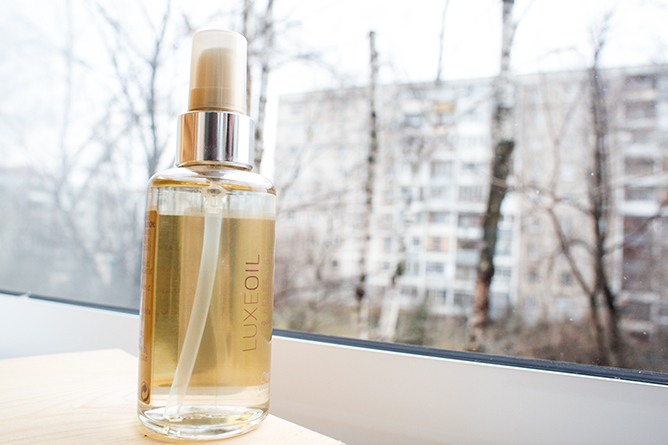 One more perfect finding. Oil should be applied on dry hair for better treatment and protection from all the pollution. I was surprised by how absolutely not sticky it appeared to be. Usually I use it together with Naturaltech for complex care before and after hairdryer. Together they are the best! Hair look like you're just out of the barbershop. Beautiful and "alive".
Spray "Nourishing care" by Dove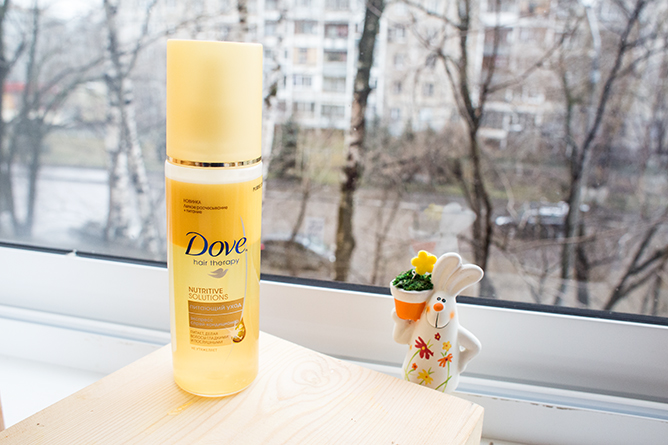 What I love about this spray is the fact that it can be used both on wet and dry hair. Almomds and argan oils make hair look really silky. But it misses volume a little when used that way, so I prefer to apply it on dry hair during the day to refresh them. And I adore its aroma!
Dualsenses Ultra Volume by Goldwell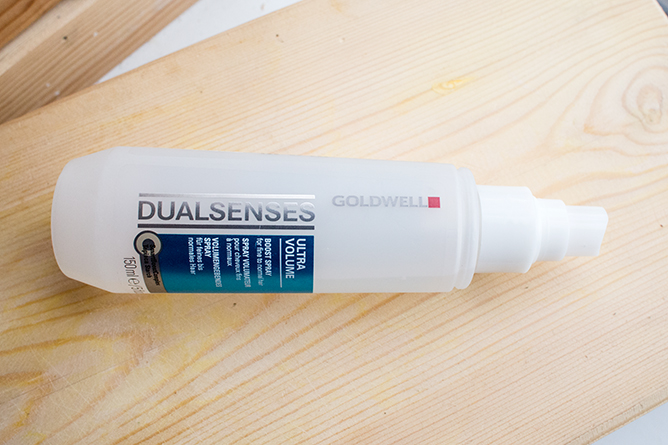 This one was kinda lost without the shampoo. Together they worked perfectly. And now there is no volume, no effect and even no cover:)
Oil Miracle by BC Bonacure (Schwarkopf Professional)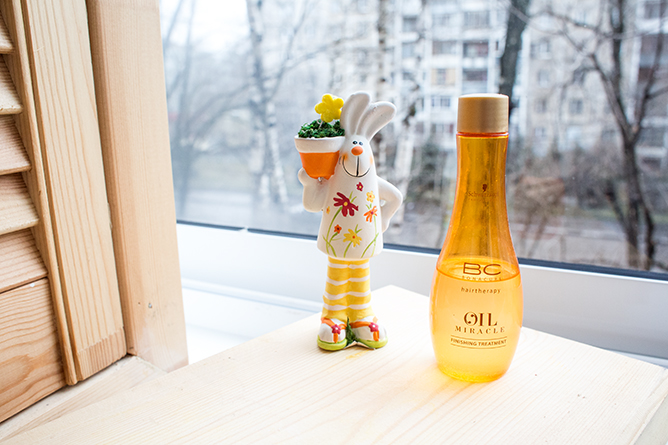 I clearly remember that there were several bottles like this one. And they were made for different hair types. But you know me – I can't resist to apply something on my hair. Now only this one left and I have no idea wheather it's for blondes or brunettes. But I can definitely say that there is no better cure for damaged hair. For good hair it may be a liitle too heavy.
Break Fix Repair by Matrix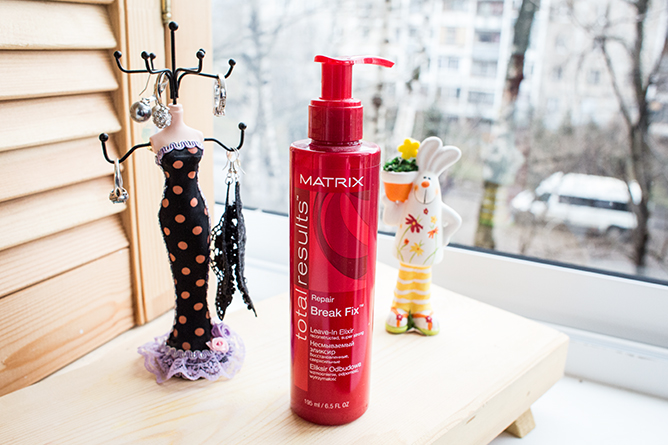 This one is surely one of favorites! The most delicate mousse ever: soft structure, soft refreshing aroma. And even hair after this one look unexpectedly soft like baby chicken fluff. Intelligent hair treatment!
Beauty Elixir by Syoss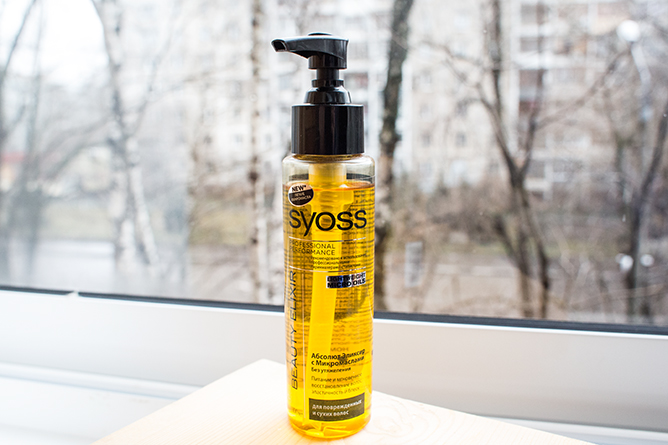 The main advantage of this oil is how glossy and shiny do hair look afterwards. If I use it in the morning I can't stop staring at all the mirrors around me during the day.
And what hair treatments do you prefer? Tell me everything, I already want them!