Once we had a discussion in one of my social network about the real aim of outfit bloggers. To show their style? To receive free clothes? To become models?:) There was no outfit posts in our blog for a long time, but now they're one of the most important parts of what we've been doing. And I'm going to tell what each such post means to me. Though I can lose some of my clothes partners, cause they will understand that clothes is not everything I'm interested in:) But I want you to understand me better so that we can always be on the same wavelength.
I might be wrong but I have a strong feeling that "classic" outfit posts with people or details as the main heroes of the picture are not interesting for readers anymore. Well, definitely not as much as they used to be 2 or 3 years ago! Just look through worldwide know bloggers' photos. You will never see a picture in not a best quality, made through mirror or in some strange place. Each new post is a story, a glossy photoshoot that needs special preparings before.
And that is exactly what I love about making such kind of posts the most. Me and Alesha even have special doc with all our shooting ideas like locations, styles and clothes, poses, reasons, etc. There was probably no more than one photoshoot made spontaniously within last months (and you will see it soon!). In order to publish 10-15 photos in blog, we have to find appropriate clothes (looking through my wardrobe, buying them or receiving as a gift from partners) – it can take much longer than one day, find location (but to be honest I'm such a fan of some places in Moscow that are not so popular among bloggers, that sometimes I choose my outfit to match the place), get there – sometimes much longer than an hour, shoot, choose 10-15 best photos out of about 700, improve them, post (with the english version of blog added it can take up to 3 hours)… Other words, each time it's a unique, intriguing for us and challenging projects. But isn't it cool – to realize afterwards that you did smth you've never done before? Found a secret spot (remember our roof photoshoot?), shooted against the light for the first time, mastered the new possibilities of postproduction, etc.? I suppose readers also get more engaged if they can not only look through outfit, but learn the mood and atmosphere around the blogger they like to read, get unusual city views (especially if they have never been to this place). Girls, please, tell me, am I right?
And despite this photshoot becomes less intriguing after my words, I'm going to describe it to you in details. This outfit with top and shirt by Charuel I was keeping for the first sunny days in Moscow. You should agree there is no better match to sun:) To increase the effect of shining clothes we were looking for some grey space. And of course it would never be that beautiful without blue-blue sky, matching the colorful top in photos shot from below (are you still following me?). And the lipstick! Once I was even asked: "Ksusha, where is your lipstick?". So I perceive it as my personal sign. This time I mixed burgundy M.A.C with pink NARS to get a little darker than needed for an outfit tone. I love one detail to "fall out" of an outfit. Or this time the shoes were that detail?:) Ok, let two details fall out!
So here is one of the stories behind each photoshoot. Could you ever expect that?:)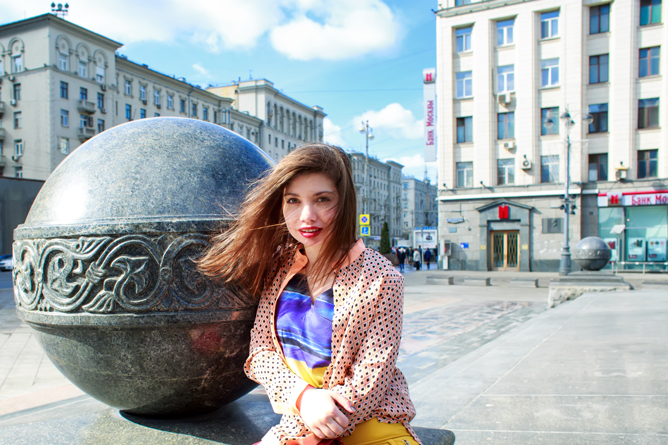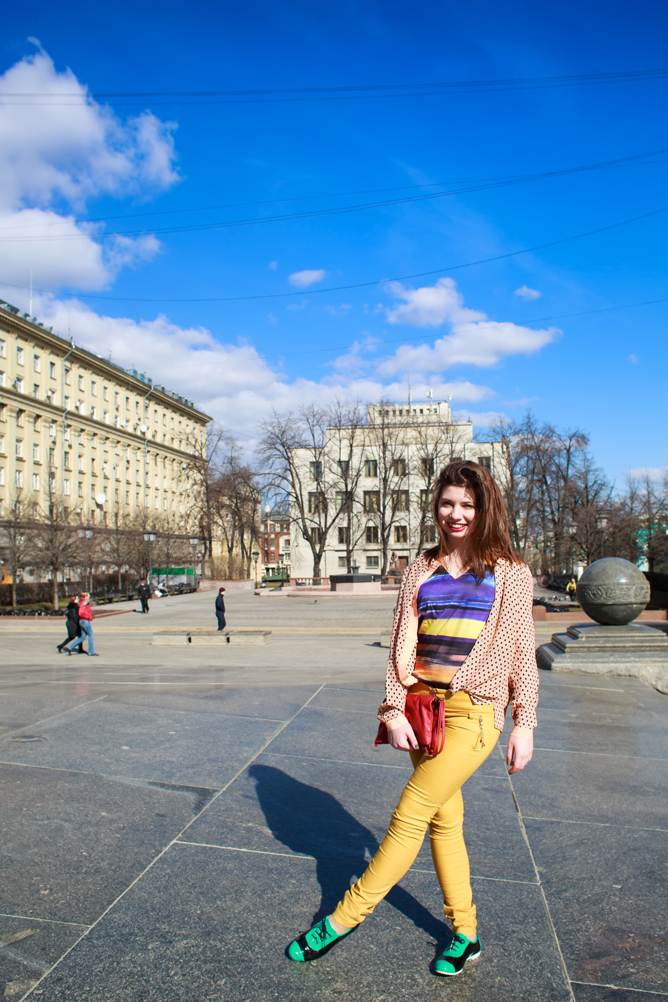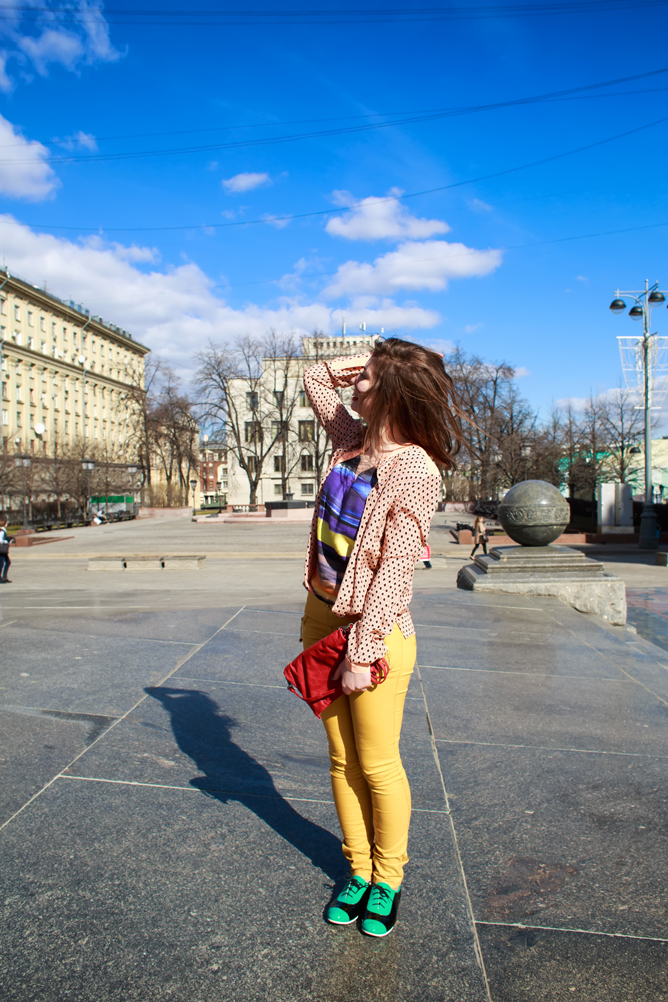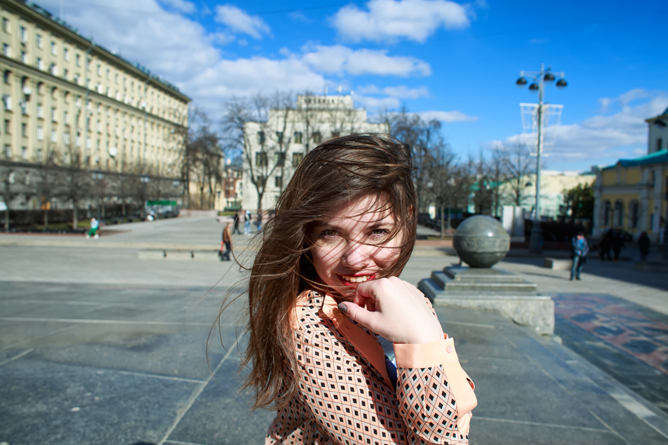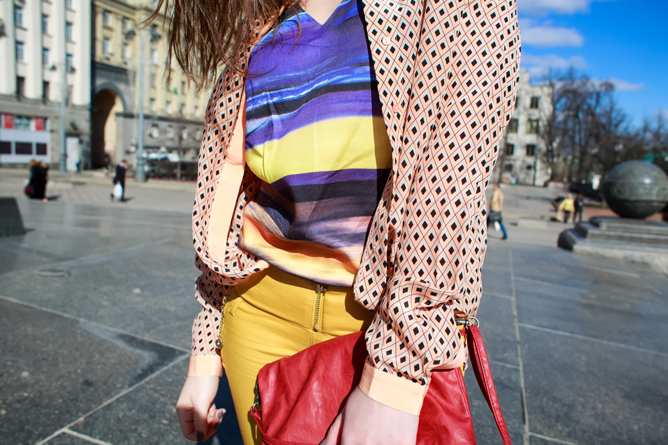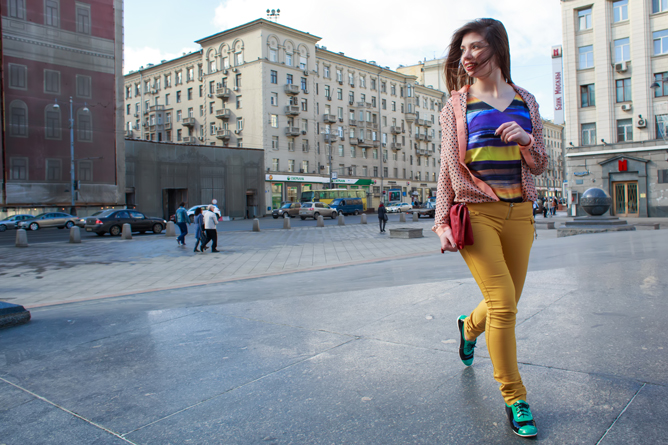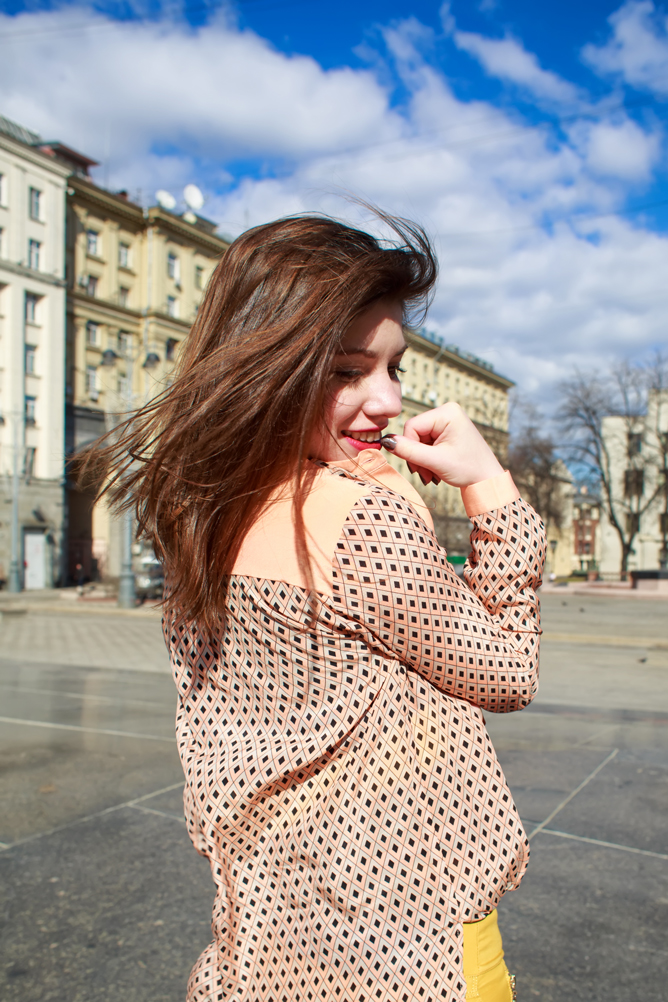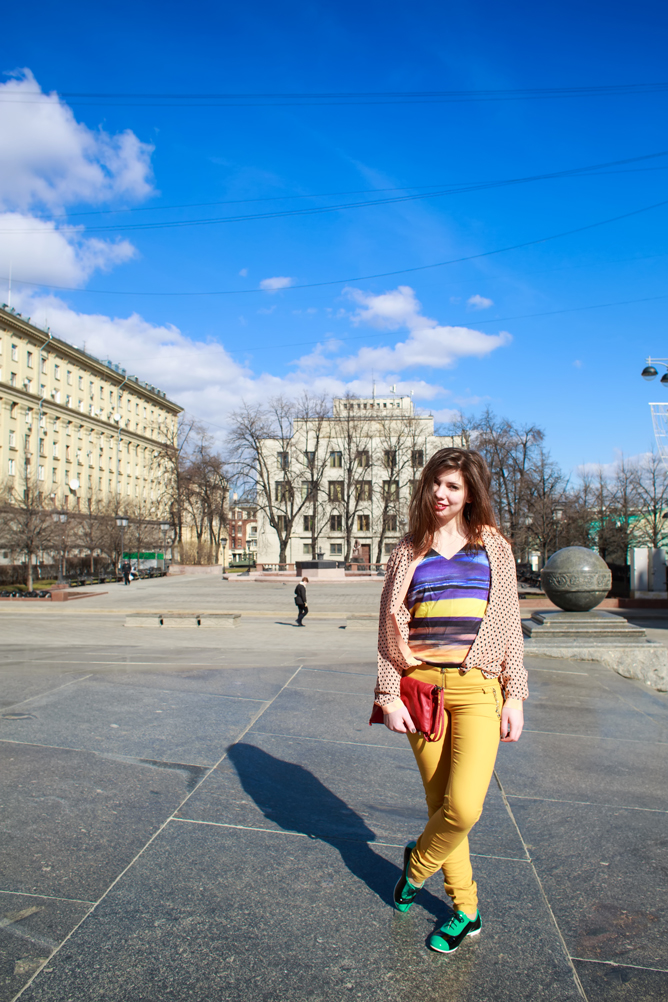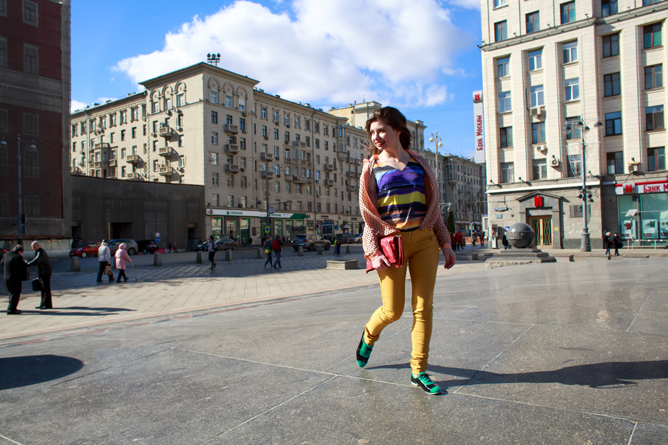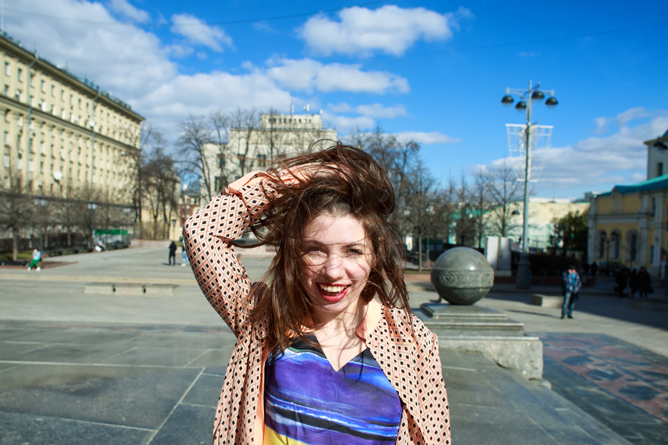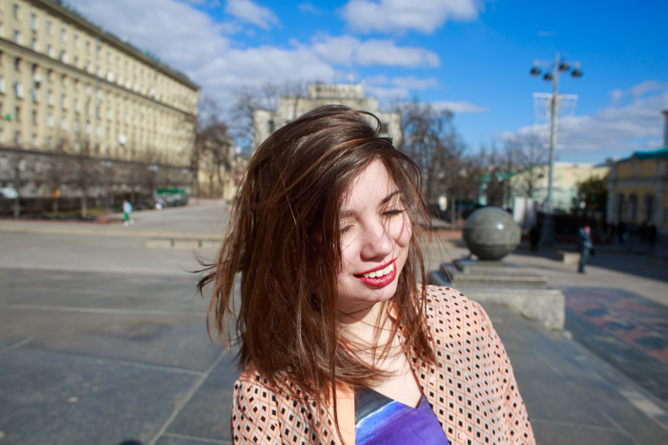 I'm wearing:
Clutch Sela
Shoes Vicini for Centro