We all have moments like that. Moments, when you are trapped in a daily routine, lacking inspiration and unable to do what you love and really want to. There is nothing bad about those moments – we are ambitious human beings, tending to ignore rest and relaxation on our way to the top. Though we all definitely need it sometimes! When Alex and I realised we have no more energy to keep the pace, we knew it was time to recharge our batteries. And what can be better than a good old road trip? Well, technically it wasn't even a road trip – just about 1.5 hour drive from Tauranga to the neighborhood region Coromandel. But Gosh, how awesome it was! Only two days and we felt refreshed and energised once again. And here is our plan for a perfect escape to Coromandel.
What is Coromandel?
Coromandel, or Coromandel Peninsula, is a a little piece of haven in between large North Island cities of Auckland and Tauranga. It is famous for its beautiful beaches and unique formations like Cathedral Cove or Hot Water Beach. Despite being a popular holiday destination for local people and tourists, Coromandel itself remains mostly uninhabited and preserves this really special feeling of an untouched nature. Admiring all sorts of landscapes from rocky Pinnacles to flat valleys and long beaches is the main activity in Coromandel. And for a cosy family style lunch or an overnight stay you can choose one of the small chilly towns like Coromandel, Whitianga or Hahei. I can't think of a better way to gain some inspiration and energy!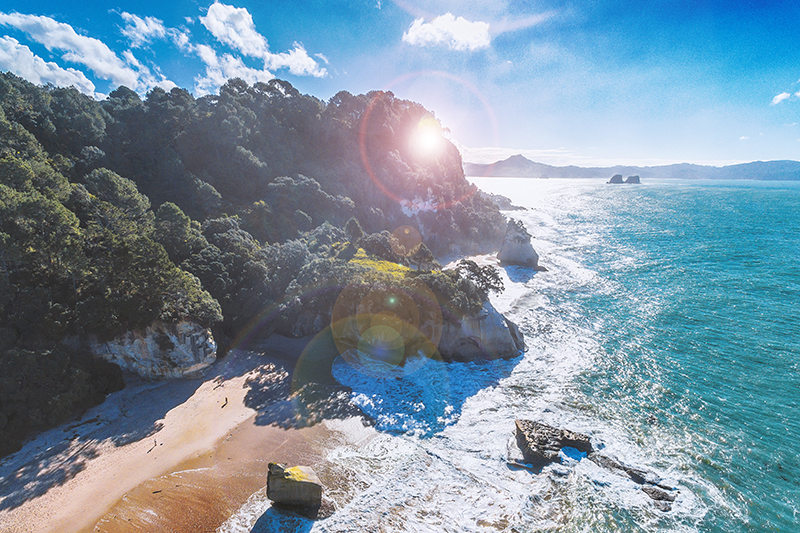 Where to stay in Coromandel?
The most popular way to travel around Coromandel is obviously in your own caravan. People just park by the beautiful beaches and enjoy their outdoor family time with barbecue and funny stories to share while indulging on grilled marshmallow. But what if it's not an option, because, hm, you simply don't have a caravan? 
Obviously, we were looking for some tranquil cosy overnight stay. And found the best, in my opinion, option for those willing to spend weekend away from the crowd – The Church. Cute hotel in Hahei, just 10 minutes away form the beach and the awesome Cathedral Cove walkway. 
This hotel provides its guests with the personal small houses with terraces overlooking beautiful garden – what else is needed to enjoy the sunrise while having a relaxed breakfast? By the way, everything you need is to bring some food with you, because each house is equipped with tea and coffee facilities, fridge, toaster and even milk:) Our house for three people costed us $205 – fair and nice price! Check the other prices and special offers at Booking.com.
Of course, there is also a restaurant on the territory. The one the whole hotel is named after. This building is actually a real Methodist Church built in 1916! After it stopped functioning, it was moved to Hahei from Taumaranui and received a second life as a restaurant. How cool is that?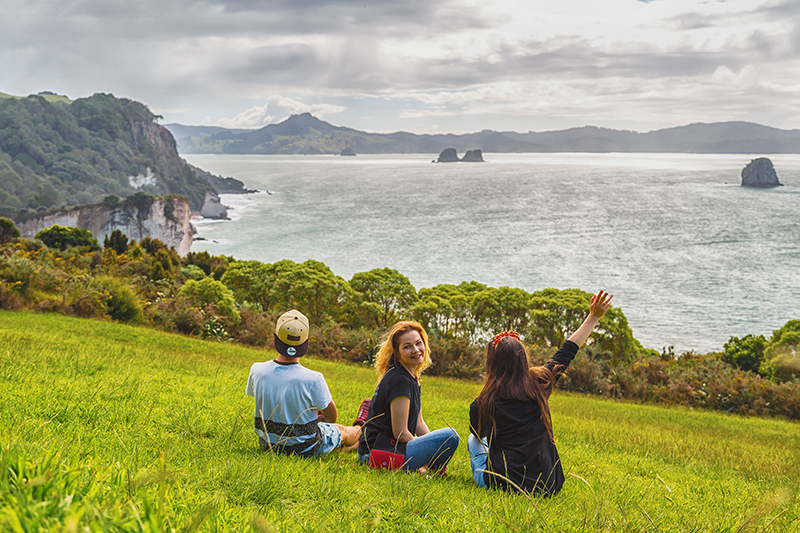 What to do in Coromandel?
As it wasn't crazy all-or-nothing trip for us, we took our time to wake up, get ready and made a couple coffee stops on the way as well. So in Coromandel we only arrived after lunch. Of course, our main focus that day was the famous Cathedral Cove (or Te Whanganui-A-Hei).
It turned out the walkway from the Hahei Beach up to the Cathedral Cove takes about 1.5 hours. But what a spectacular 1.5 hours those were! The route goes along the coast line – from the beautiful flat beaches to the scary bluffs and wonderful native bush paths.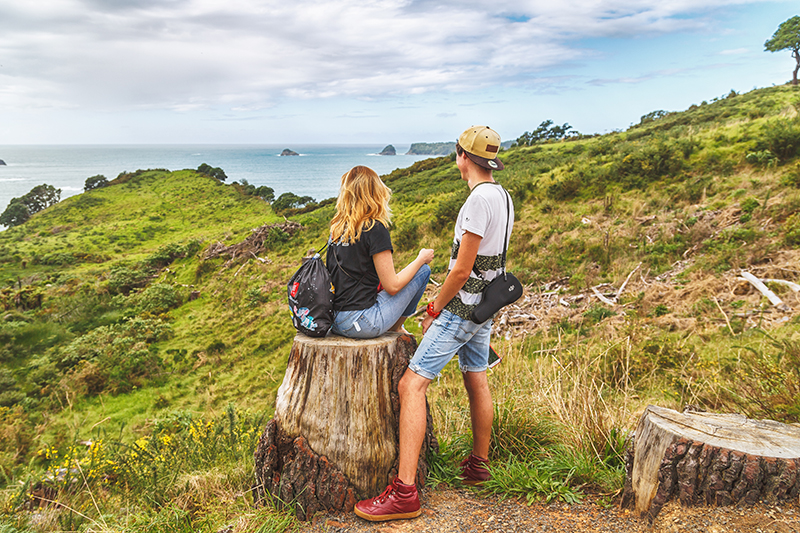 Though the walkway is an experience itself, nothing can be compared to the emotions of seeing the Cathedral Cove for the first time. Guys, it is EPIC! Huge, long all surrounded by rocks, waterfalls and enormous waves (no jokes here). It comes as no surprise this particular place was chosen as the door to Narnia in "The Chronicle of Narnia: Prince Caspian". I wasn't sure I wouldn't occasionally escape into the fairy land myself while walking through the impressive arch! 
After a long walk to Cathedral Cove and back we were starving! And went directly to The Pour House. It is hard to miss this restaurant in the heart of the Hahei town. Pretty much all the local cafes and attractions are located close to each other on a small square in between the beach and The Church. The Pour looked so relaxed and welcoming – we simply couldn't resist! Alex and Alya (house for three, remember?) enjoyed their large portions of fish&chips while I went for the delicious arancini balls. Don't be surprised to realise the main focus of this place is actually on the made in-house beer and pizzas. We just didn't feel like those options:)
The next day started with a short trip to the Hot Water Beach which is located not far from The Church and Hahei in general. Though it was our mistake not to check the low tide time as you can only enjoy the hot water pools on a low tide. Though we still enjoyed the morning by the water. Alex even satisfied his adventurous impulse with an attempt to reach the remote island crossing the high waves (which he almost succeeded with, only getting half-wet on the way back).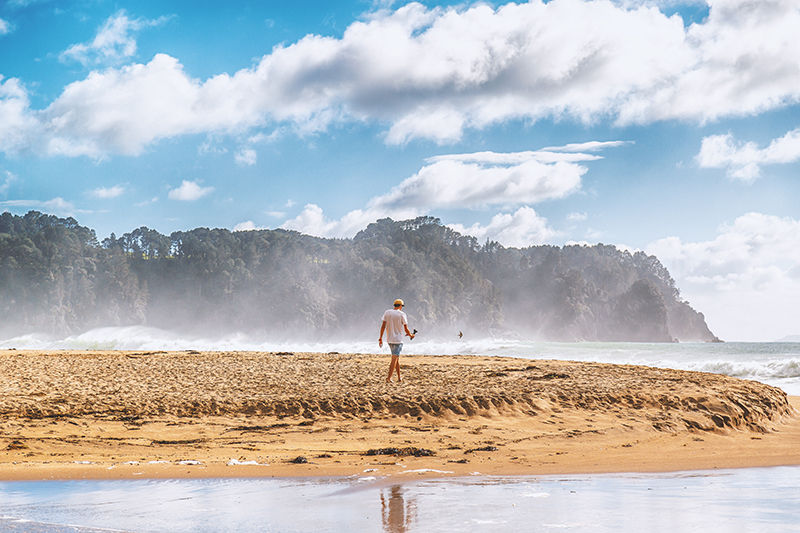 Don't miss your chance to grab a beautiful breakfast (or at least one of those delicious bliss balls with flat white) in the Hot Waves Cafe nearby. Not that it was the coolest cafe on Earth, but how can you ignore a breakfast with a view? Even when you already had one at the hotel:)
Our next point was Cooks Beach. This place has some of the country's longest history – back in 1769 captain James Cook anchored here to explore the Mercury Bay. Being there today is so awesome! You can literally imagine this important moment. This place is not only historic, but quite poetic as well – surrounded by the beautiful Shakespeare cliff on one side and a green small park with barbecues on the other. I was surprised by how little people there were at the moment, though it was a long weekend. But weren't places like that our mission after all?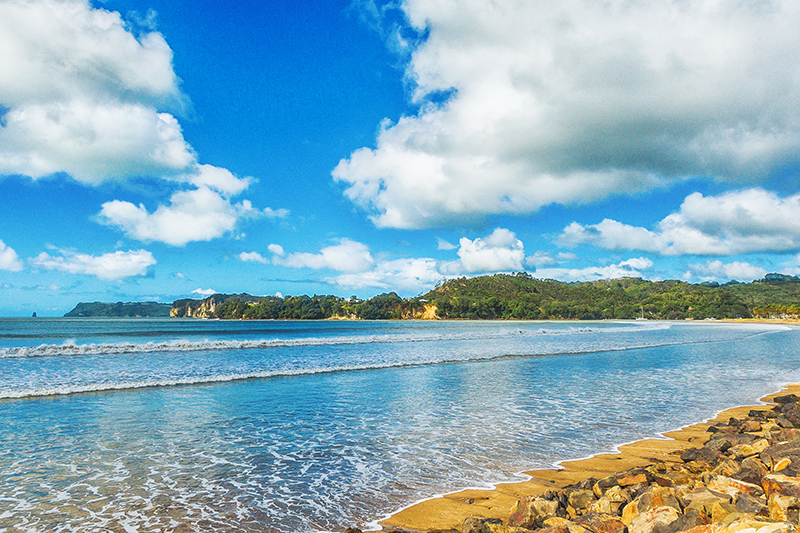 On the way back (Cooks beach is located a little off the road) we occasionally found ourselves at the Mercury Bay Estate – family owned winery. The entrance just by the road looked so welcoming! As an experienced winery-visitors (haha, wonder if the only visit to Hawke's Bay – NZ's oldest winery region allows us to say that?) we already knew – nothing can go wrong with the winery. And this time wasn't an exception! We absolutely loved the outdoor terrace where you can taste local wine. By the way, it's the only cellar door in the region that offers the tastings! Yet another reason not to miss this place. Selection of two wines will cost you only $10 and four wines are offered for $18. Make sure you will try Pinot Noir this winery is famous for. A bottle to bring back as a souvenir is $25-$38.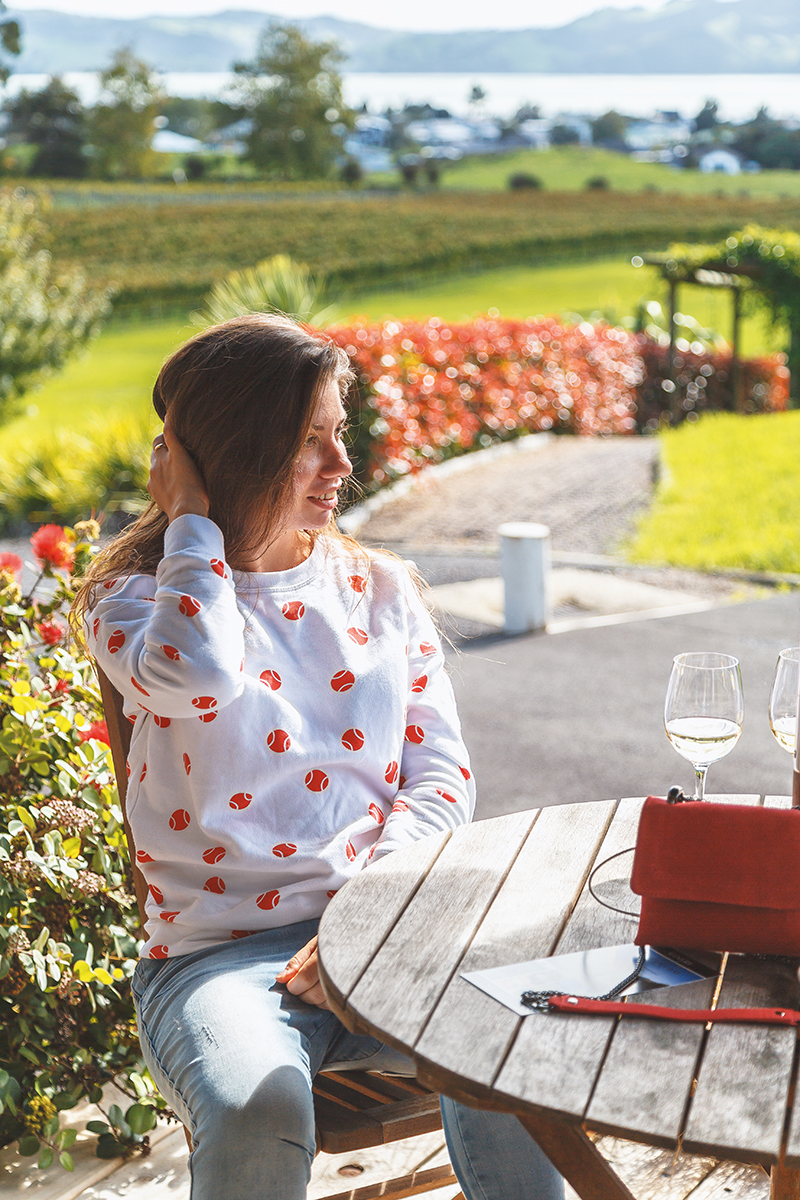 And finally, as if all those amazing places weren't enough, we arrived to Whitianga, where The Lost Spring Spa is located. Trust me, I have seen many spas: from the best and biggest one is Switzerland to the ones of Four Seasons and some of the luxurious Las Vegas hotels. But this particular spa is really special. It is not big, but made with such an attention to details and creative design! While exploring the pools you feel like being lost in jungles. But not those with dangerous creatures, of course. It is a true paradise on Earth. How about taking a hot bath in a volcano crater? You can, if you are at The Lost Spring! By the way, that volcano pool became my favourite due to the 40 degrees water. And the most exiting part of this spa is that you don't have to take shower after the day, spent in pools! The water comes from the ancient geo-thermal spring and is about 18 000 years old. Meaning? Has zero dirt or negative effects. On the contrary, it makes skin smooth and soft. 1.5 hour pass is $40 per person and I also couldn't resist a robe hire ($15) and a towel ($4).
This short trip to Coromandel left us overwhelmed with positive emotions and inspiration – exactly what we needed! The more we travel, the more convinced I am that there is nothing better than nature – to admire, to explore, to cure your problems. Do you guys agree?