When you meet one of Mini cars, it's like you meet your old friend. You want to ask: "How are you?", because you understand that a lot of things changed from your last meeting. But you still have a lot of good memories to share. Because we were travelling together across beautiful wineries in Krasnodar Region, exploring traditional handicrafts of Moscow Region in Russia. And that time was awesome because we were together. This new Mini Cooper S Convertible 2017 is like your old friend who still looks very stylish and fast.
Details
The version we had for test-driving is Mini Cooper S Convertible 2017. It has 192 hp 2.0 litres turbocharged petrol engine which helps to accelerate the car from 0 to 100 km/h for 7.1 seconds. Other details: max speed – 230 km/h, average fuel consumption – 5.8 litres per 100 km. This car has the same three drive modes as other Minis: Green, Normal and Sport. First one makes the car move very smooth and quite passive but it is very good in terms of petrol consumption (and saving environment). Normal drive mode works well in most of the situations. Sport mode seems useless for this car because it accelerates very good without it.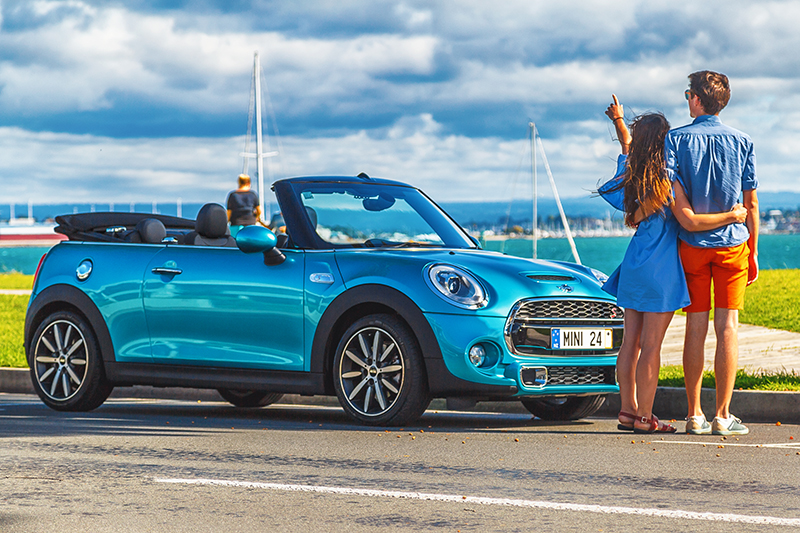 Canvas roof can be opened and folded at speeds up to 30 km/h and this process takes 18 seconds (which is 3 seconds longer than the previous generation of Mini Convertible). The roof is operated by a switch above the rear view mirror or alternatively, it can be achieved by holding the close button on keys. To stand out from the crowd (have no idea how you can not notice this car) canvas roof can be decorated with Union Jack. It also has two different modes: sunroof and fully folded.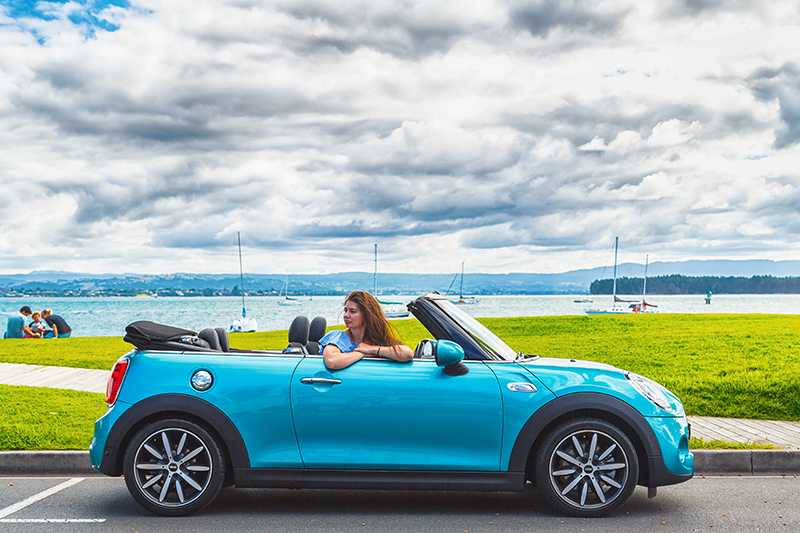 Despite its compact size Mini can be called a roomy car. When the roof is not folded, boot's size is 215 litres decreasing to 160 litres with folded canvas roof. Interesting fact – Convertible's boot is 4 litres bigger comparing to 3-doors hatchback. So it's no problem to go and grab groceries on your way from the beach.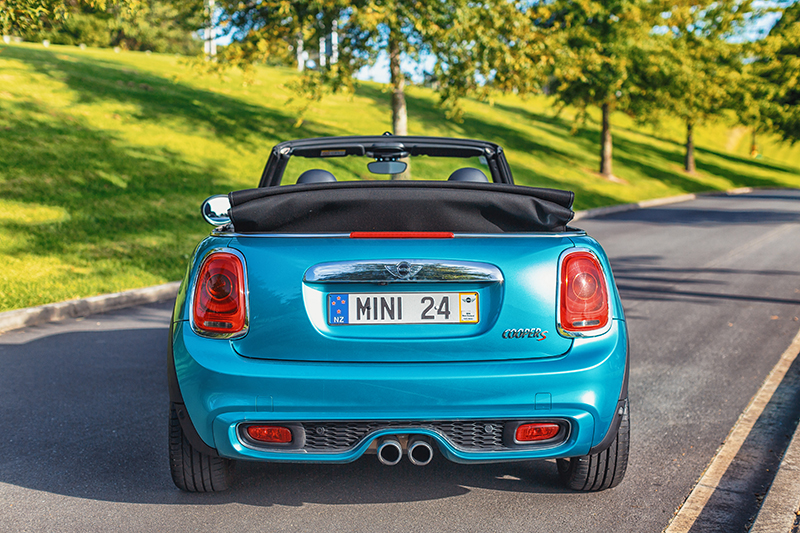 This car is comfortable for two people but it's almost impossible to fit an adult at rear seats. Seems like it is designed for skinny models or kids. Another problem for rear seat passengers is a very strong wind. If the speed is more than 60 km/h it is just impossible to stand it. Even with rear windows closed it is still very uncomfortable.
I'm not a huge fan of numbers and figures. It is not the most important thing when you are thinking about buying a new car. What really matters is feeling and style. So let's move to that part of our review.
Features
There are a lot of cool features in Mini Cooper S Convertible, it is full of style and entertainment. It looks a bit retro but with a modern trace: you can easily define its heritage from the 1960s but with cool huge LED headlights. Exterior looks appealing, especially for youngsters.
Although Convertible is built on the same platform as a hatchback, it looks more bright in a lot of aspects. The same engine, that you can hardly hear at Cooper S, sounds awesome and pleases the driver every time the roof is folded. When gearbox is switching up you can clearly hear the exhaust. This sound performance is one of the things you buy your car for. And it is worth it to put up with chilly weather and the wind and drive all the time with opened roof to hear this amazing sound symphony.
The unique feature for Mini Convertible is Openometer – function in infotainment system that shows how much time was spent with canvas roof folded. A useless but very cool thing to have. It just pushes you to open the roof and get more statistics for that. Another very interesting design feature is how all the switches look like. It is like operating an airplane. Great change in interior design is that side windows switches are no longer situated on the central console and moved to more traditional space near the door handle.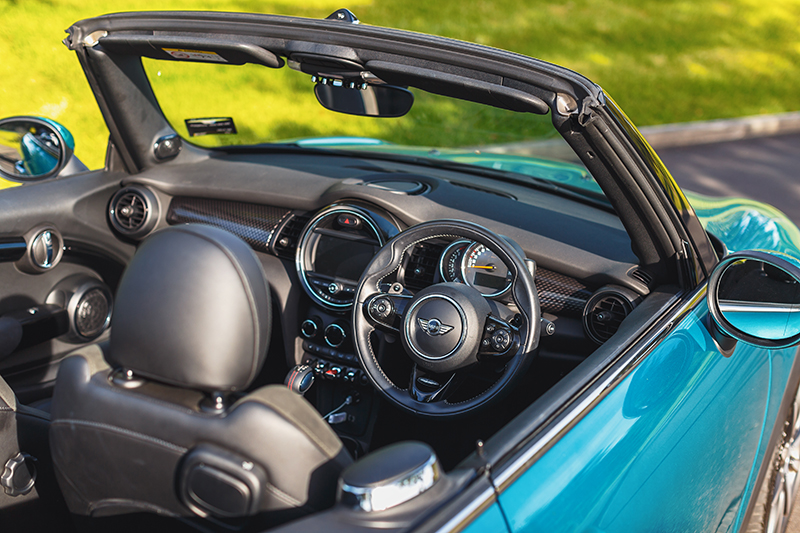 The infotainment system is still in the middle of the central console. It is a huge round thing with 6.5-inch LCD screen accompanied by a controller mounted between front seats (Hello, BMW!). Unfortunately, touch functionality is unavailable for all range of Mini cars. Brand representatives say that it is safer to manipulate the system with that controller and be focused on the drive. But why it can't be used while a vehicle is parked or if the passenger wants to use it?
On the other hand, top version of the multimedia system has Internet access and you can use apps like Spotify and Napster. Navigation is also here with optional small projector screen (our car didn't have this one, but Mini Clubman we were testing in Russia had). In addition, you can purchase the premium Harman/Kardon sound system with USB and Bluetooth functionality. The quality of sound is one of the best (or maybe the best) in the market.
Price
And what about the price? In New Zealand, you can buy Mini Convertible for $53 900 NZD in its basic configuration. Optional automatic gearbox adds $3 500 NZD to budget (but it is definitely worth it). The testing vehicle was traditionally full of installed options which made the price equal to $58 550 NZD. But don't forget about low fuel consumption we mentioned above and free servicing for first three years of ownership.
Emotions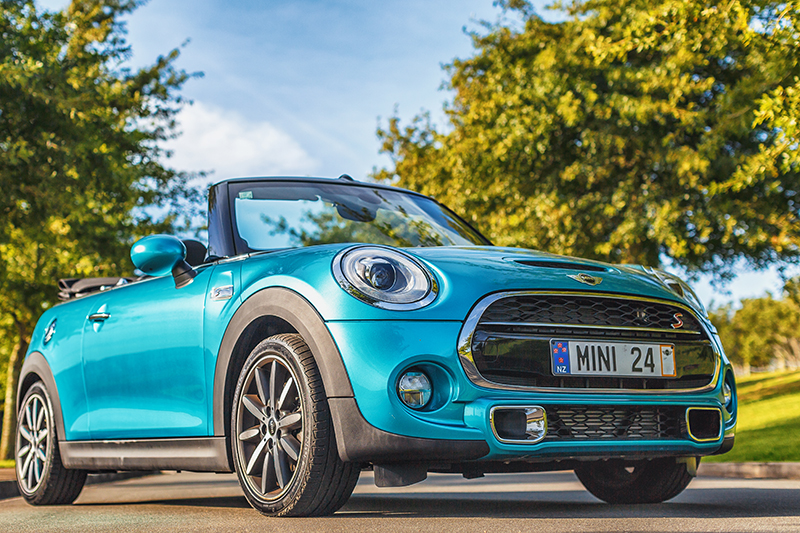 Although convertible cars are niche products, it is very desirable by a huge amount of people. Let's forget about weather dependence and no touch screen inside and we can sincerely say – Mini Cooper S Convertible 2017 is a very good car. Every single day I was enjoying the sound of its engine, the comfort of its seats and overall satisfaction of driving. I tried to choose the longest road available for my trip. Mini Convertible is for enjoying life and sharing your happiness with friends.
Do I want to buy Mini Convertible after this test-drive? Definitely, yes! As every car that Mini manufactures. Because it is the situation when you can buy a friend for yourself. A good friend who shares your dreams and passion, who understands you from a single push of a button. And this friend always wants to spend time with you. And this desire is mutual.