Though the oldest wine region of New Zealand Hawke's Bay looked intriguing from the very beginning, our journey turned to be beyond any expectations. I don't know, why it happens sometimes, but something just clicks and you find yourself in the middle of the most perfect trip you could have imagined. That is exactly what happened to us in Hawke's Bay – we were absolutely enjoying every single moment of being there. Even the one, struggling on the 5 km route around Te Mata peak, melting under the super hot sun and sweating make up (in my case) of:) We loved every corner and view, had only delicious food and met lots of amazing people. The secret behind such a wonderful trip? Plan it yourself! Only you guys know what is perfect for you. Not the Internet, not an experienced guide, it's you! And this time we planned everything ourselves, so I decided to describe this 3 days tour around Hawke's Bay for you to know what to start from, if you're also planning to explore this welcoming region.
Day 1 in Hawke's Bay
We spent three days in Hawke's Bay and for the first two nights arranged a stay via Couchsurfing. Though I recommended this web-site as a nice opportunity for those traveling on a budget long time ago, it was actually our first time to try couchsurfing. In Havelock North, one of the local small towns, we were lucky to meet Nick – a friendly traveler, who even visited Russia in 2015! I am very thankful for all his help and interesting stories about the region, that enriched our experience.
We arrived in Hawke's Bay late in the evening, so our journey really only started the next day. And we immediately went to the Birdwoods Gallery for a sweet breakfast. This place is an absolute must! They created cosy and artistic atmosphere there, by combining art gallery with the largest in New Zealand exposition of Zimbabwe sculptures, sweets shop and the real fruit ice-cream corner. Make sure you come hungry and definitely order tea or coffee set ($5) at least – they serve it in a super photogenic trays with tiny little flowers and beautiful cups. Birdwoods Gallery opens at 10 am and operates till 4 or 5 pm (depending on the season), so it's a perfect corner to relax, have a chat and enjoy beautiful scenery during the day.
Web-site: birdwoodsgallery.co.nz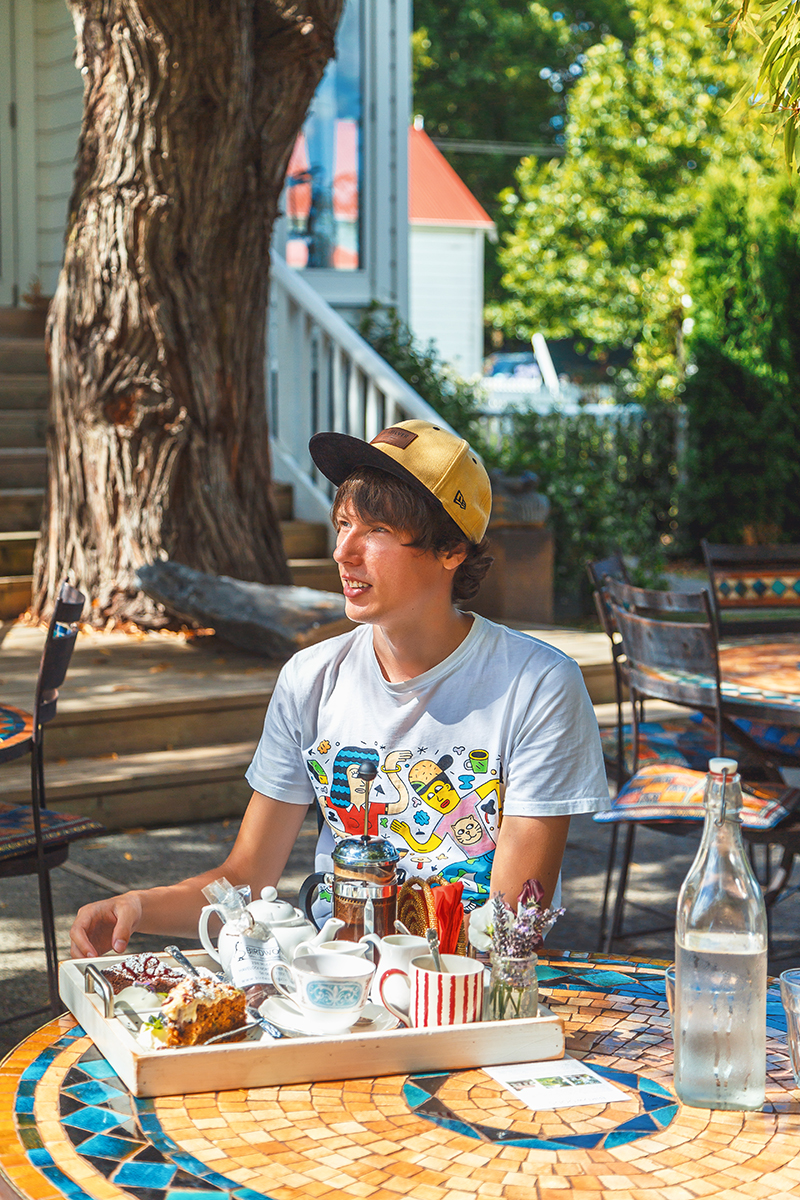 After an inspiring breakfast it was time to burn some calories. So we headed to Te Mata Peak and took one of the two longest hiking trails you can choose there. In general, they offer 4 different routes and only two of them will bring you to the very top. Taking the fact that the views from there might be one of the best you have ever seen into the consideration, you should definitely push yourself into one of the two 5 km long trails. It is not easy, especially on a hot day, so make sure you have a hat, plenty pf water and good shoes – I slipped several times and some parts of the road looked really scary, so as you can easily fall down. And Giant Redwoods forest will be a well-deserved chilly reward after the tough work out:)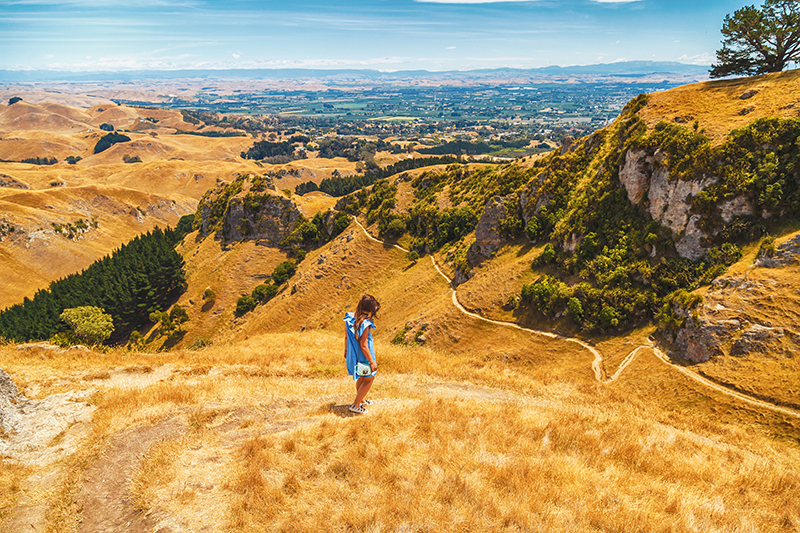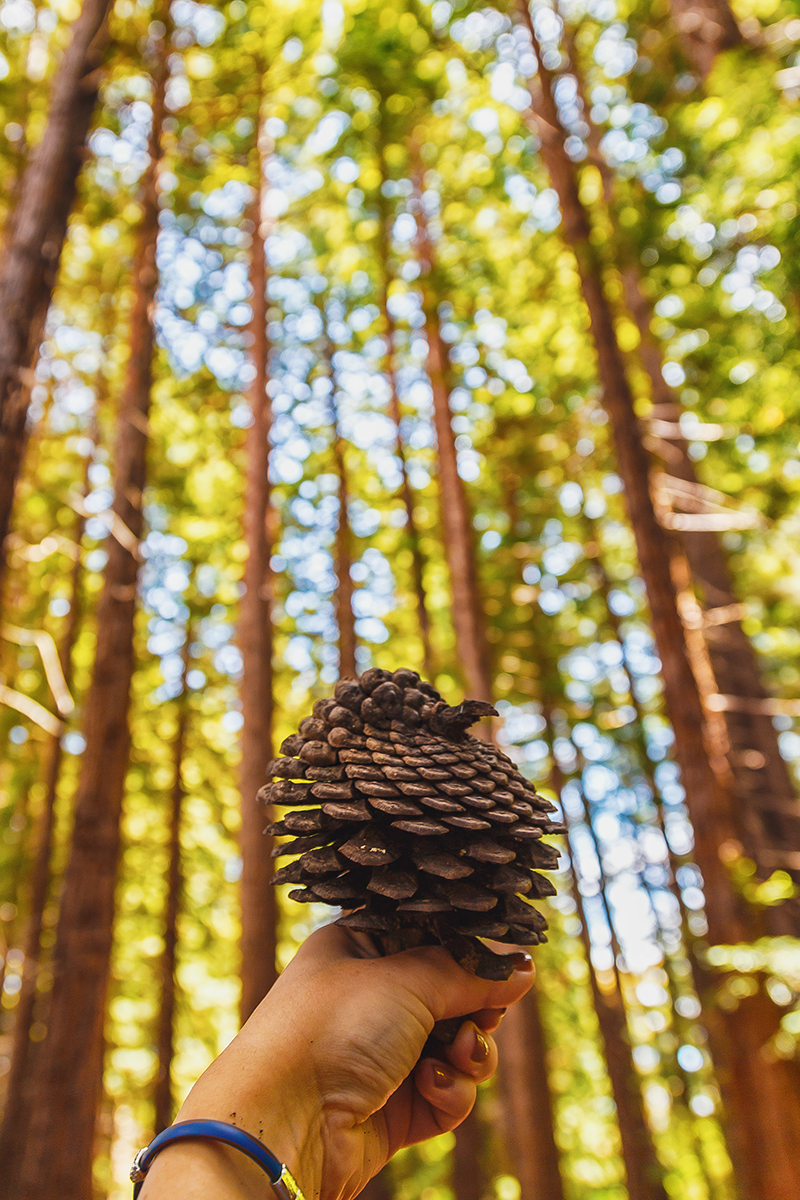 Looking for a perfect formula to a trip schedule? We've got it covered: alternate outdoor activities with something relaxing. Like an Arataki Honey place. This brand is #1 in Southern Hemisphere. And the place itself is just insane! It might look like a traditional gift shop from the entrance, but the main attraction is hidden inside. I am talking about small but interesting museum, where you can follow real bee's life, study them in microscope, smell honeycomb and learn some exciting facts. But the coolest part is a free honey tasting. Arataki Honey offers 10 different sorts of theirs honey to choose your favorite. By the way, every day they have special offer – -15% on one of them! And after choosing the one I like the most, I suddenly realized its price was reduced that day! Say hi to my small delicious Pohutukawa honey bottle for only $10!
Web-site: aratakihoneyhb.co.nz
By the time you are finished with all the tastings, your stomach will already beg for lunch. So why not to visit Craggy Range Vineyards – voted best winery in New World (how sick is that?). That is an aristocratic place not far from Te Mata (nothing is too far away in Havelock North, frankly speaking), that reminds me of the French wineries. Craggy Range is surrounded by epic yellow hills, that make green and chilling vibes of the place even more attractive. Impossible to describe what a picturesque place it is!
Web-site: craggyrange.com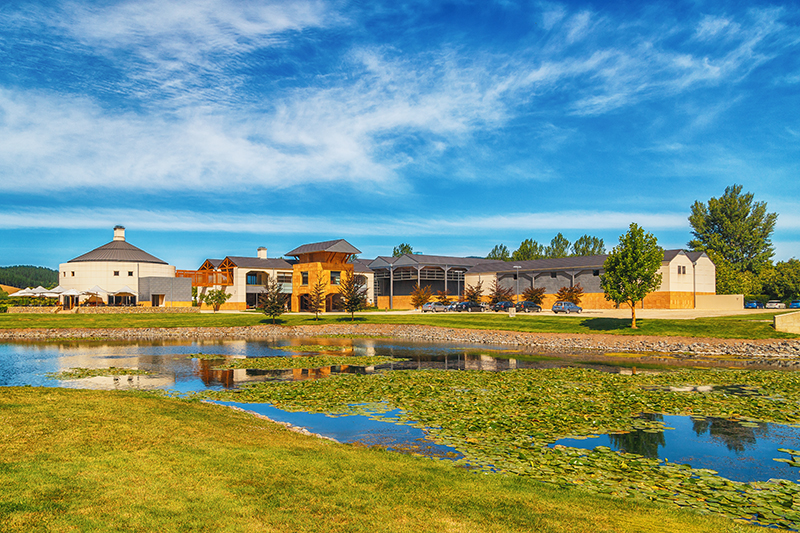 Right behind the corner of the Craggy Range you will find Maraetotara Falls. The nicest thing about these waterfalls? They are located next to the parking, so the walk to this hidden gem of Hawke's Bay will take no longer than 5 min (great bonus for the sore after conquesting Te Mata Peak legs!). I am not sure if it gets crowded during the day, as we only arrived a couple of minutes before the sunset, so had the waterfalls all for ourselves. But anyway cooling your skin after the freaking hot weather of the region is a pure joy in here.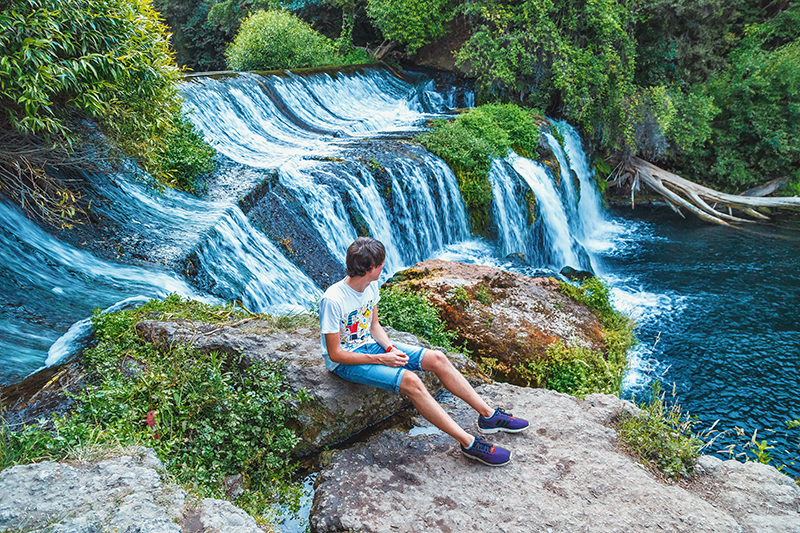 To finish this amazing day I would recommend to grab dinner at the cosy mexican restaurant in the city center of Haveloch North – Mamacita. They serve water in tequila bottles, offer two tacos for the price of one on Tuesdays and have really affordable prices – vegetarian quesadilla costs only $13. I went for Virgin Margarita as well and Gosh it was amazing! Instead of the traditional salt they add cinnamon and sugar:)
Web-site: mamacita.co.nz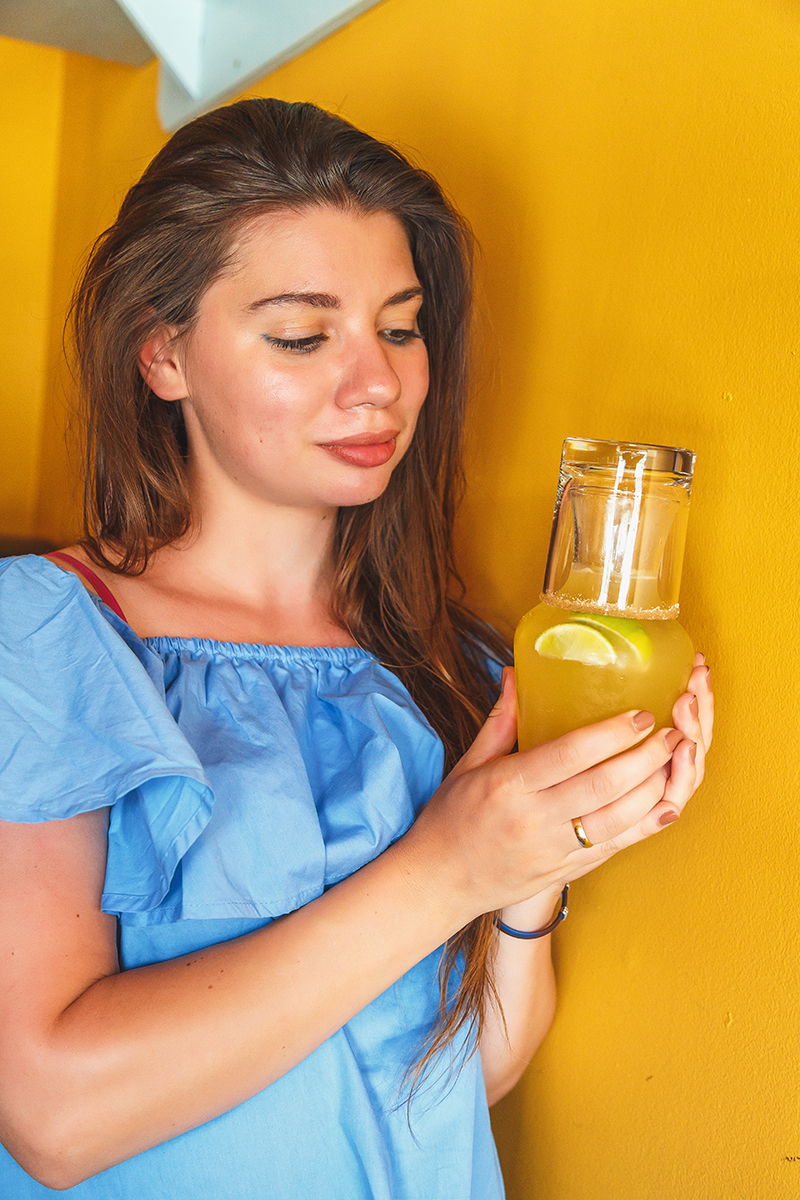 So that is exactly how we have spent our first day in Hawke's Bay and it was so emotional, beautiful and well balanced, that I would with pleasure recommend this plan to anyone:)
Day 2 in Hawke's Bay
If you ask me, what was I looking forward the most, I would definitely name the tour to Cape Kidnappers! Reckon, this place is the most popular destination of Hawke's Bay (exclusive Napier, of course) due to the spectacular cliffs and two large gannet colonies. Those birds are so huge! I was really surprised:) To reach the colonies we took Gannet Beach Adventures tractor tour along the beach. Trust me, you don't want to spend time walking 8 km one way, while in Hawke's Bay, cause there is still so much to do and see:) Tractor tour costs only $44 ($34 for students) and is a unique experience. It lasts for 4 hours and includes many interesting stories and lots of fun. Be ready to get a bit wet, drivers love those water tricks:) I would recommend to book the tour in advance, cause all the 5 giant tractors were loaded! Every day the starting time of the tour differs due to the low tide time, so be careful and check your time twice! Our journey started at 8.30 am!
Web-site: gannets.com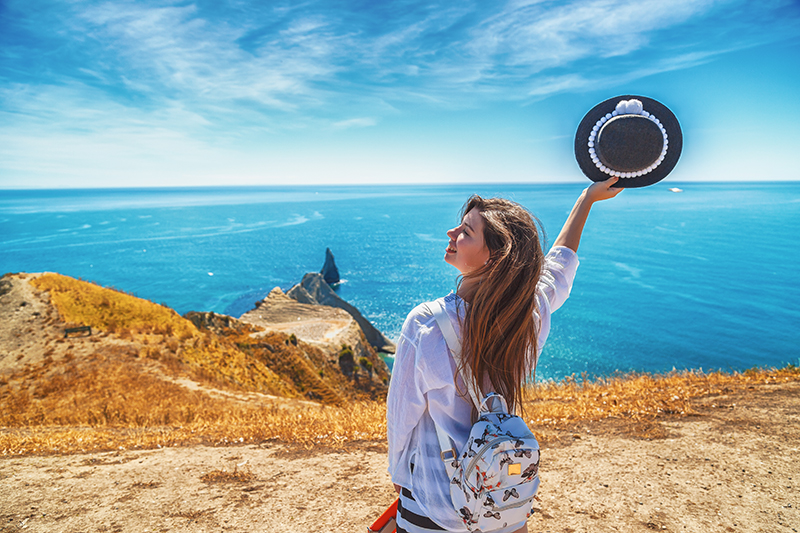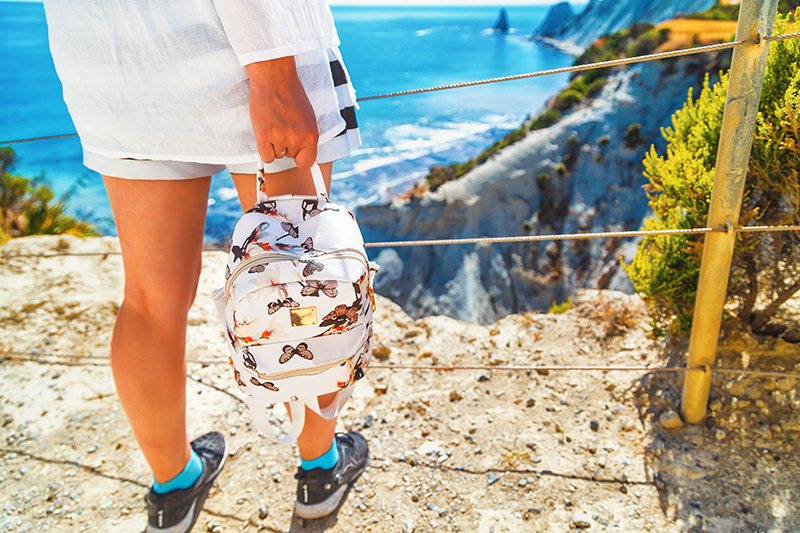 Gannet Beach Adventures are located on Clifton Road. As well as the stunning Elephant Hill Vineyard & Restaurant (see? That's the coolest in our trip plan – everything is located logically, so you don't spend too much time in a car and have a chance to enjoy the outdoors instead). Seriously guys this place is EPIC! It was made with the famous German thoughtfulness, so nowhere else would you find such a nice combination of natural colors, reflecting the sun glasses and even waterfalls. They really care about every detail bringing you that luxurious atmosphere. Obviously, Elephant Hill offers wine tastings and though they always have a good range of wines, some days you might be lucky to try exclusive Airavata Syrah ($120 per bottle) and Hieronymus ($95 per bottle).
Web-site: elephanthill.co.nz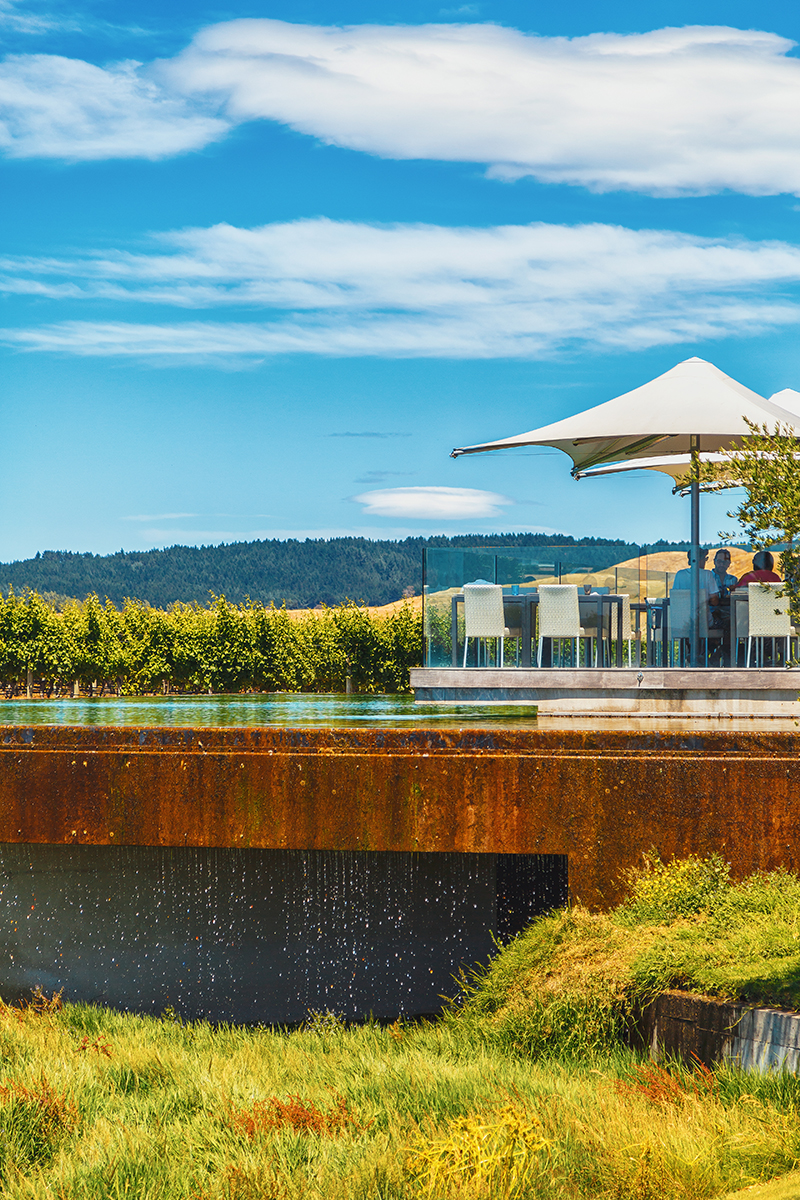 It goes without saying, visiting Hawke's Bay capital Napier is a MUST during such trip. But before entering world's art deco capital, don't forget to grab your lunch at the Mission Estate – the oldest winery in New Zealand! Aristocratic place was established in 1851 and is an impressive evidence of how everything looked over 150 years ago. Its historical atmosphere compliments the area a lot: the first thing you see is a giant fountain in front of the very beautiful building. Inside is the airy restaurant with a huge outdoor area, that couldn't be any more perfect. What a nice place to have some food! Talking about which, I would definitely recommend cheese platter of the local cheeses ($32) – the blue one is mouthwatering! Main courses also cost around $30 and are super delicious and beautiful. Pure haute cuisine!
Web-site: missionestate.co.nz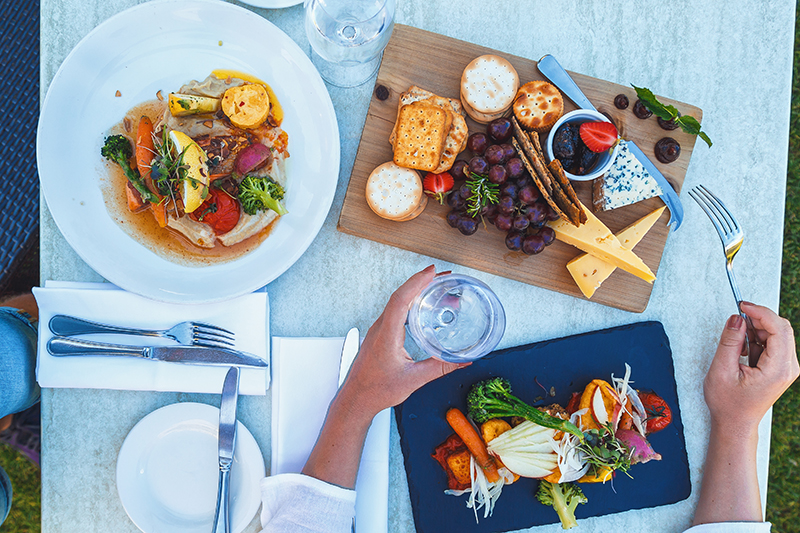 All filled up with the fanciest food ever, you will probably be too relaxed and happy to continue on exploring, so why not to go directly to the hotel in Napier? Art Deco Masonic Hotel is the best place to stay in Napier! It's located in the very center, across the famous Marine Parade and right next to the authentic retro cars. Masonic Hotel is one of the rare buildings to survive in the earthquake, though it was damaged by the fire, that followed. Anyway, the owners did their best to make it modern and comfy, but to keep the history at the same time. Did you know they even preserve the secret basement bar, used in the years when alcohol was prohibited? Obviously, it is not operating these days:) Staying at this art deco place is quite an experience – not a single room is like the another here, but they are all super cosy and memorable, so you can't go wrong with your choice.
Web-site: masonic.co.nz
Day 3 in Hawke's Bay (Napier)
To kick start another fantastic day in Hawke's Bay, I would recommend to visit cafe St.Germain for breakfast. They are located near the hotel, so you can even walk there. This eclectic cafe serves wonderful breakfasts! I was so happy with the bowl of oats and fruits – tasty and healthy! Alex ordered Egg Benedict and the portion was a wee bit smaller, than he expected, but delicious anyway. And by the way, they have a nice little patio at the back – quiet and sunny place to start the day.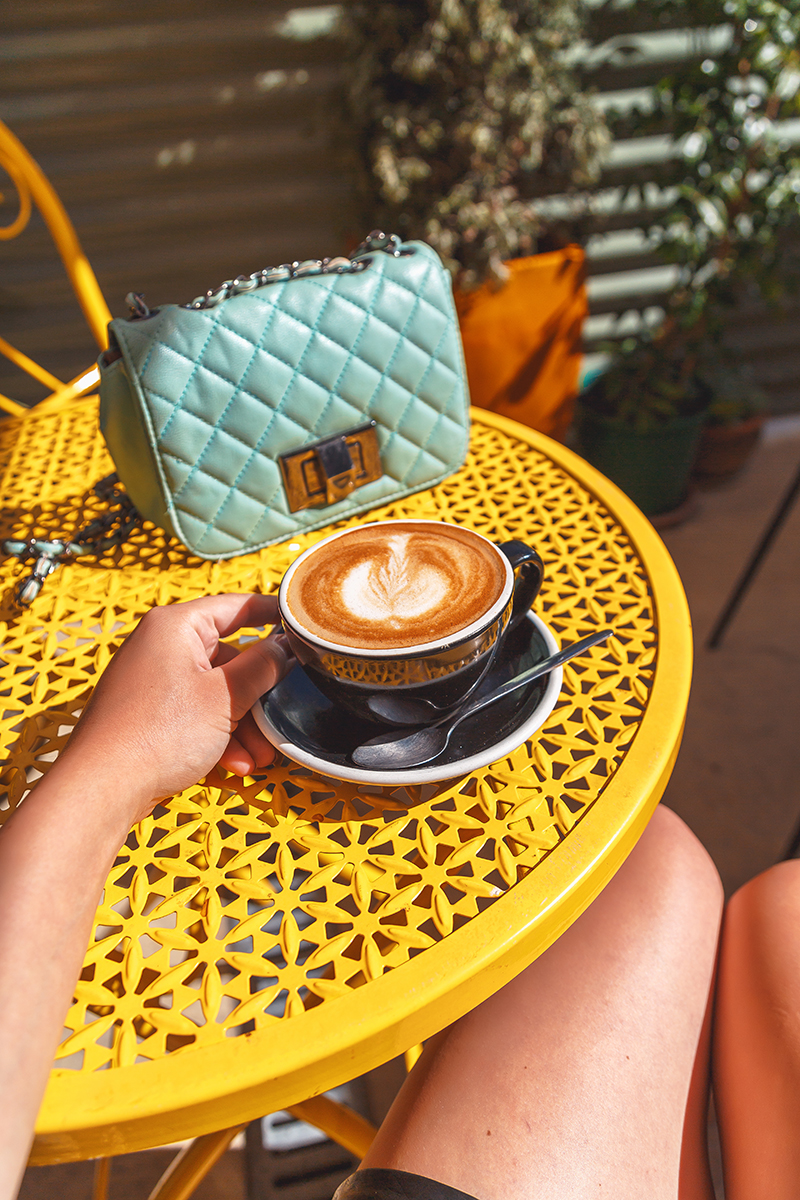 The best way to explore vibrant Napier is to take one of the retro car tours. Couldn't be more authentic! You can rent a car and drive it yourself (aprx $250 per day) or choose 45 or 75 minutes guided tour at the Art Deco Trust (building next to the hotel. Told ya!). We decided to give it a try and booked 45 minutes tour ($110). It was an amazing idea itself, but our guide Tere Morales-Probert made it even better! She wasn't afraid to change traditional routes, to show us something not normally shown on these tours and she knows a lot of unique and very special stories. Highly recommended:) The tour will take you around the main sights and help your future navigation inside the city.
Web-site: artdeconapier.com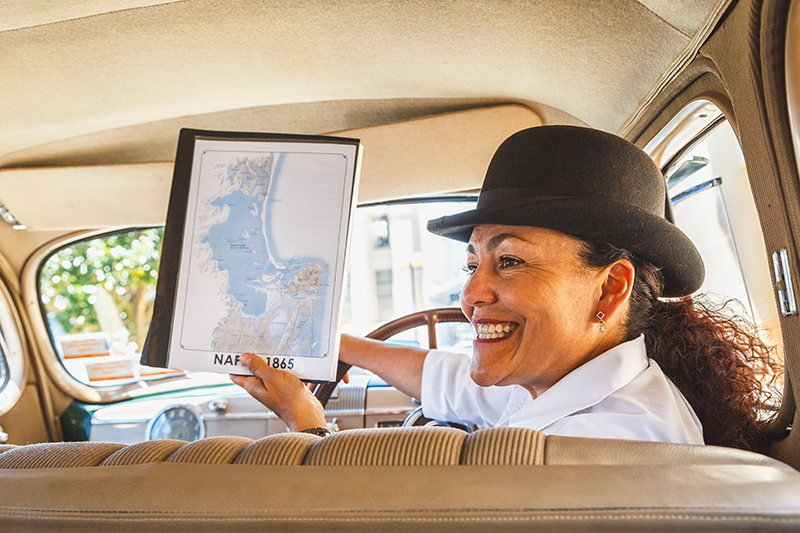 After such an inspiring tour we went for a little walk around – mostly along the same sights:) Napier is a perfection! Super cool city, where  casual walk around is already a feast – all the buildings are so colorful, so beautifully decorated. Probably, locals are the happiest people on Earth:) While strolling around, make sure you will visit the newest viewing platform – beautiful white construction at the shore. The most photogenic place ever! "Six sisters" buildings not far from there are also a must – cute similar houses all painted in different colors used to be an accommodation of real six sisters. How cool is that? And finally, don't miss the Sunken Gardens, located way lower the city level – it showcases the actual ground level of the city before the earthquake!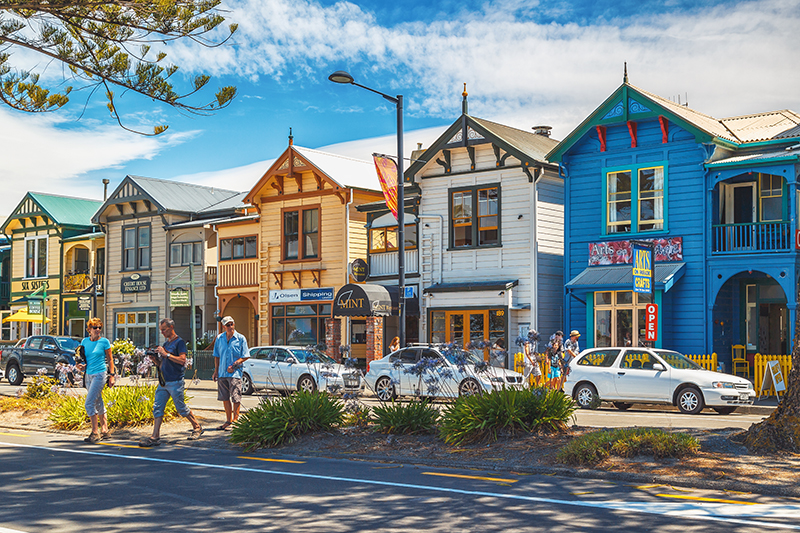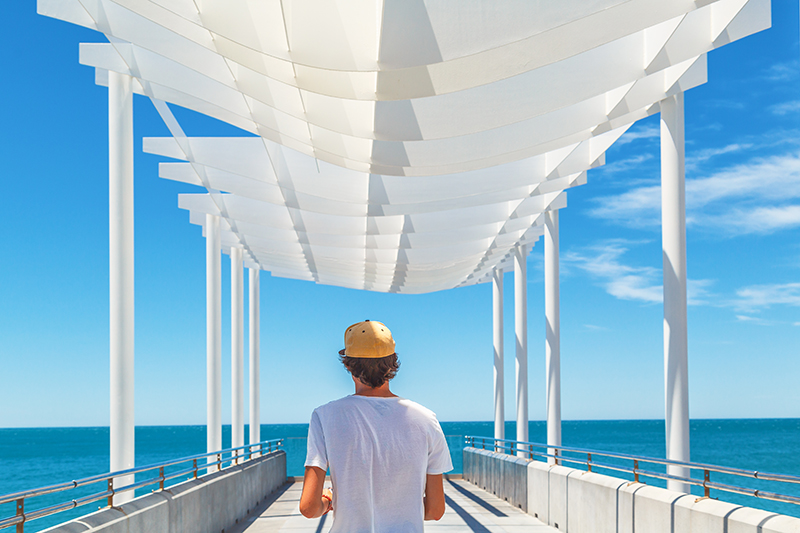 You might be surprised, but the most well-know building in Napier is located outside the tourists streets. I'm talking about National Tobacco Company building, of course. It will take you only 5-7 minutes to get there, but where else would you spot such a harmonic combination of art deco and art nouveau styles? Not a single photo failed here so far:)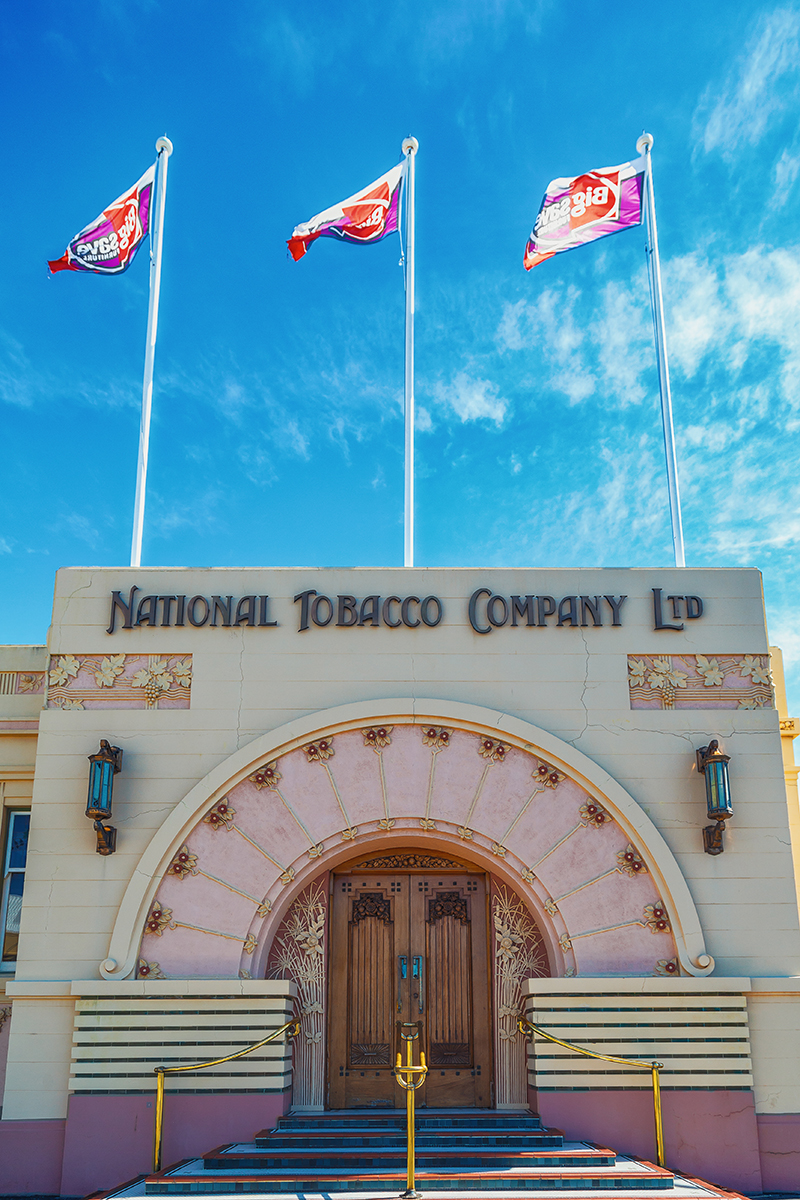 So that is the exact way we've spent our three days in Hawke's Bay and I wouldn't change a single thing:) Hope, my little guide will be useful for you as well. Let me know in comments if you have any questions. And stay tuned – there are so many beautiful stories from this region ahead!