A couple of weeks ago I decided to spend one of the first warm Saturdays discovering a new for me place in Moscow – Izmaylovo Kremlin. This walk might have at least two minuses. The first one is the weather – it was still not that welcoming that day, as a result – no sky on photos and a big cup of coffee to warm up. And the second one is the fact that Kremlin was only built in a year 2003, so it's not much more than a tourist's object. Though it looks quite realistic, far from those decorations of Disneyland villages, for example. An authentic place! So be ready to come here not for history (even despite that it was the place where Peter the First have started Russian fleet), but just to explore those colorful and very traditional decorations, to read a book by the pond and just to enjoy your own thoughts.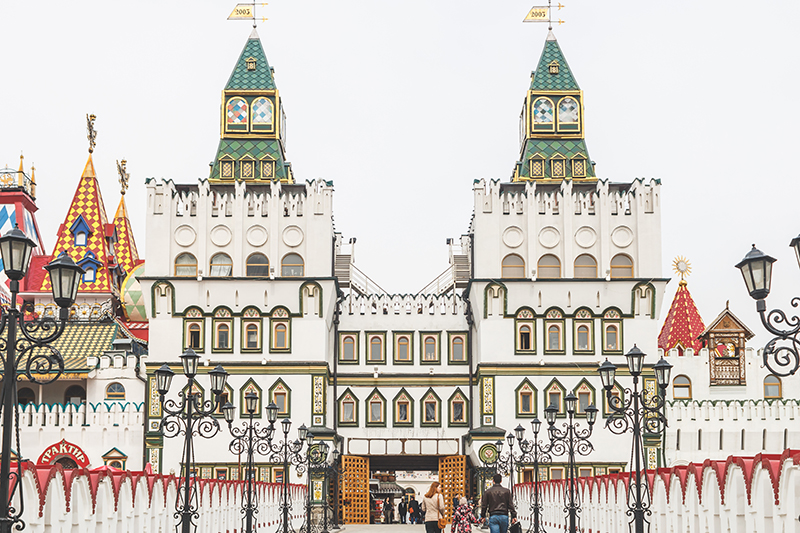 Izmaylovo Kremlin is situated in a three minutes walk from Partizanskaya subway station. You can take either official route, leading straight to the Vernisage (a market of local goods and souvenirs to be more precise), or walk in between different hotels with a marvelous view to the Kremlin. I prefer the second one, cause it will bring you exactly to the main gates – very beautiful and full of traditional Russian atmosphere (to compare with a bridge over the market).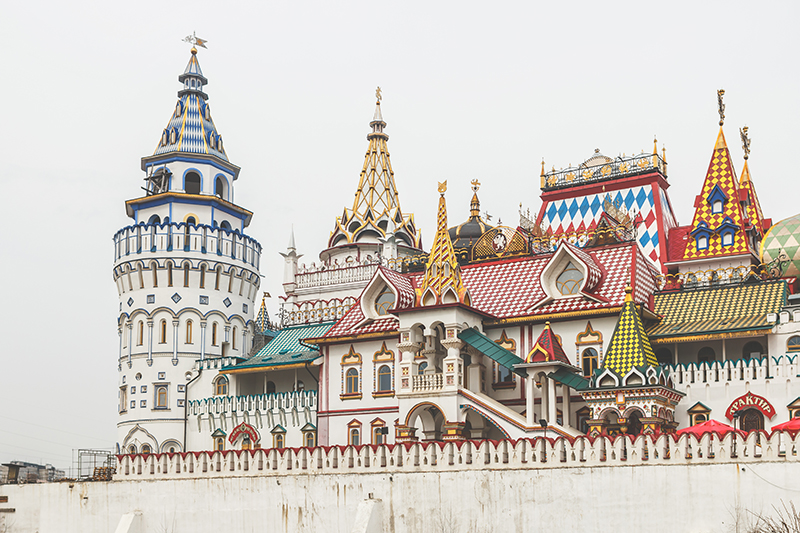 If all you want today is couple of amazing pictures, than don't hurry up to go inside. The views from the outside are way more breathtaking, especially taking into the consideration that all the people head straight inside and Kremlin can fit in 5 000 of them, so your photos can get really crowdy!
The main gates and the most beloved for wedding photoshoots bridge are preceding the main square, where people can enjoy the wooden carousel, controlled by a person in a traditional costume. This process can hypnotize for hours! What actually happened to me on my way back to home, when I decided to take a sit on the stairs of Saint Nikolay temple (the highest wooden temple in Russia!) and eat my banana with the rest of the coffee. But before relaxing here I decided to have a look around.
Because who cares, when Kremlin was built? What is more important is how everything organized in here. You just can't stop staring on every alcove or shutter with those wonderful decorations. Honestly, it will take you much more than one visit to discover them all!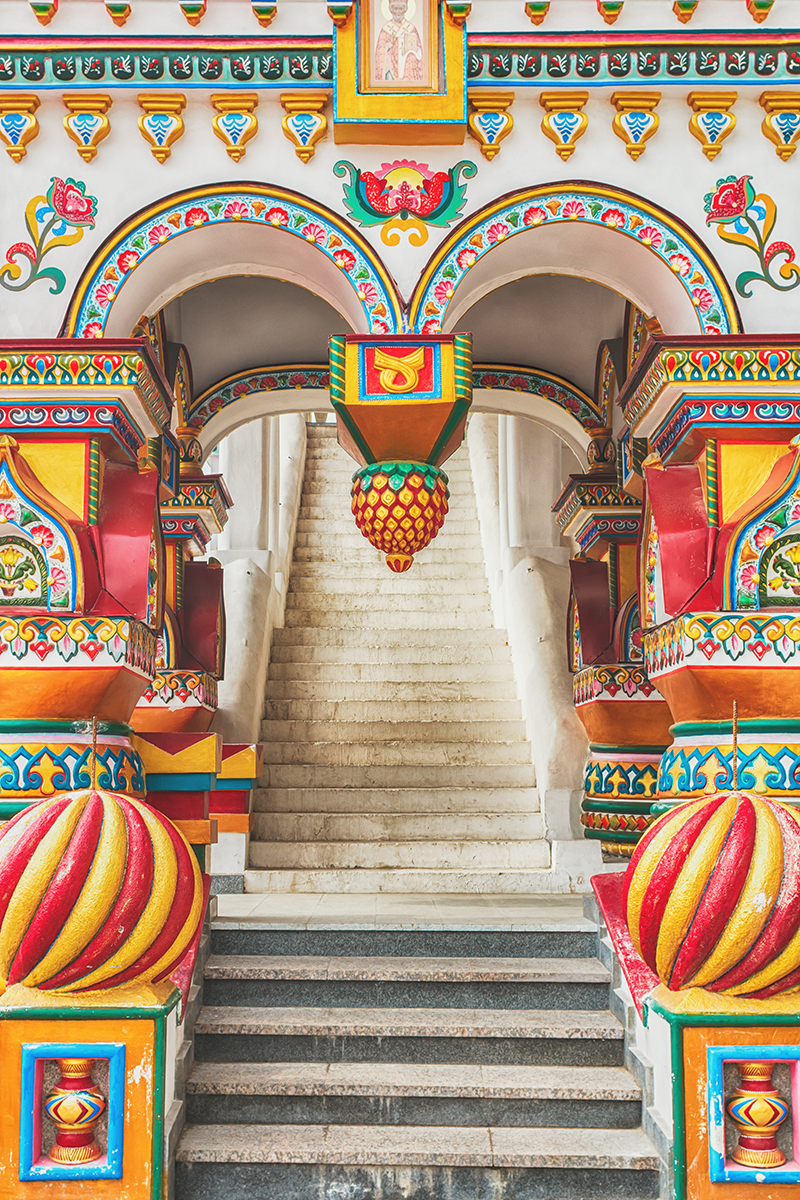 I would suggest to make the first stop while being behind the temple. You will find picturesque pond with a fountain surrounded by the high walls. Those walls are really helping Kremlin to keep its unique atmosphere from being ruined by the views of modern buildings and parkings around. Have a sit inside the alcove by the wooden bridge – the best place to observe local museums: chocolate museum, Russian dolls or bread museums. I wanted to visit the first one, but it was closed due to a workshop inside:( Anyway, this place was such a fairy tale, that I just couldn't leave it!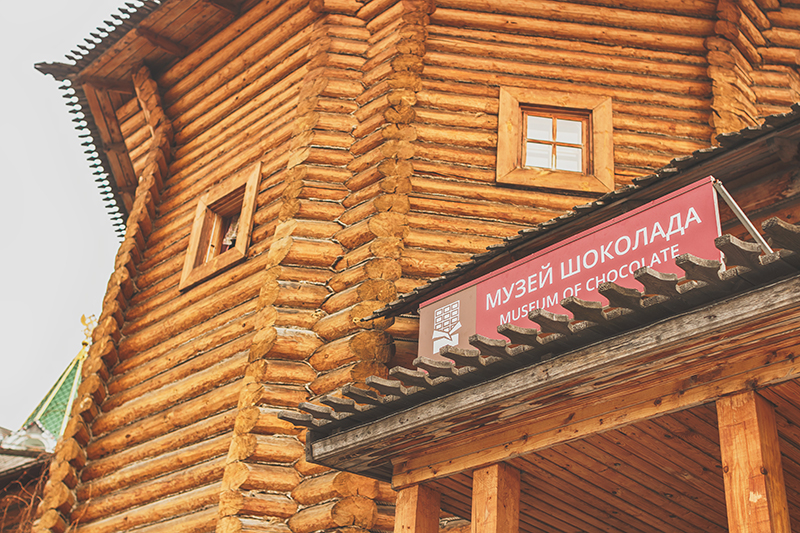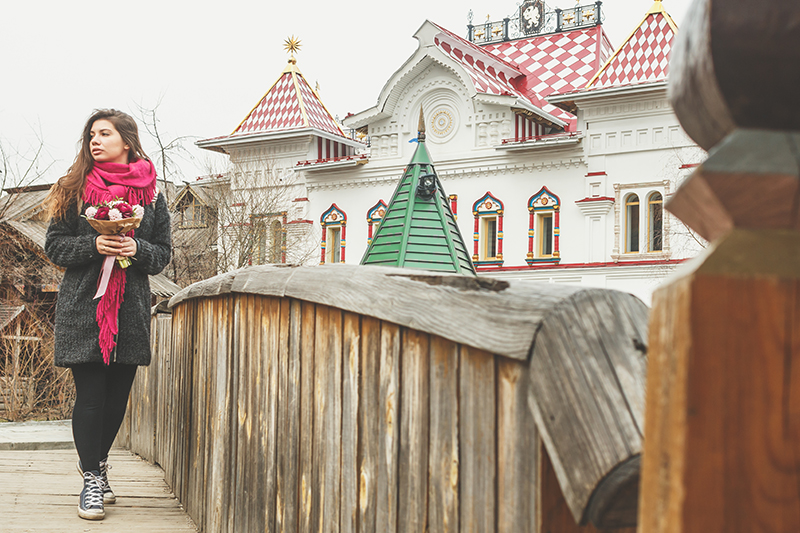 But the opposite part of the Izmaylovo Kremlin along with a picturesque observation point right in the middle were still ahead. Be ready to meet a lot of weddings on your way, cause registry office is hidden somewhere nearby. You will find it easily because of the great and colorful decorations.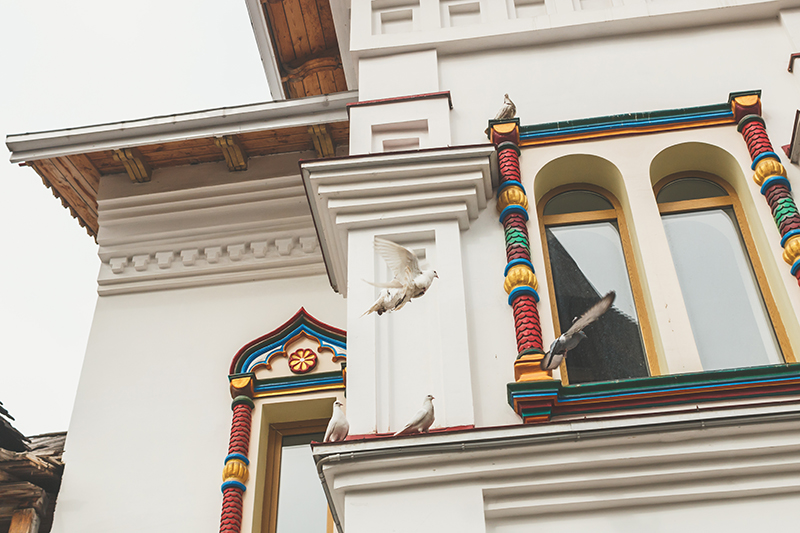 So, what else can you do inside the Izmaylovo Kremlin in Moscow, if simply walking back and forth is not for you? First of all, to enter one of those funny museums (have almost forgotten about the vodka one!), participate in an interactive excursion "Russian fun", ride a horse or a donkey, try traditional Russian dishes in an inn (homemade dumplings for only 250 rubles!), visit the big pond outside the walls. I guess, you can easily spend the whole day in here, while doing all that! Especially if you will take kids with you.