Rainy season is almost over in Thailand and India is already welcoming Russian tourists with much awaited +35. And it doesn't really matter, when equatorial countries do actually have the best climate, summer for us means vacations! So, Singapore nightclubs and Malay islands – be ready for an invasion of red, exfoliating, puffy Russians. Not that I do not believe in our natural beauty, it's just that most of the people do never think in advance if they will need any additional skincare for a tropical holiday. Let's have a look what might you really need except for the SPF 50+ (I never use a lower one, do you?), your favorite skincare products and cosmetics.
Once again: those are the products you will have to ADD to your normal cosmetics bag in order to prevent skin from being damaged by high humidity and temperatures.
1. Eyes patches. Help to get rid of the under eye bags after the long flight together with the conditioner. My latest discovery are those CellCollagen CellEctive masks. There are five of them in one box and one can keep its effect for up to three months! I only manage to see it for two weeks, honestly:) A highly effective thing! Once we tested it with my sister and mom before going to bed and just couldn't stop staring in the mirror the next morning. Spend 25 minutes (15 for the lower eyelid and 10 for the upper) at the first day of your vacation and get perfect beach selfies for the rest time!
2. Face shaping cream. Before blaming all inclusive for your extra weight, make sure it's not your body reaction to the high humidity (I had the same effect due to the height difference in mountains, by the way). In order to get rid of such puffiness remember to pick not only body shaping creams, but also one of those, made for the face. It can be a light serum or a mask, like I have. It looks scary – like I applied shaving cream:) But after 15 minutes of cold pricking and tightness, I finally see, how the lower part of my cheeks become smaller. Looks like beauty-makers managed to overcome the gravity!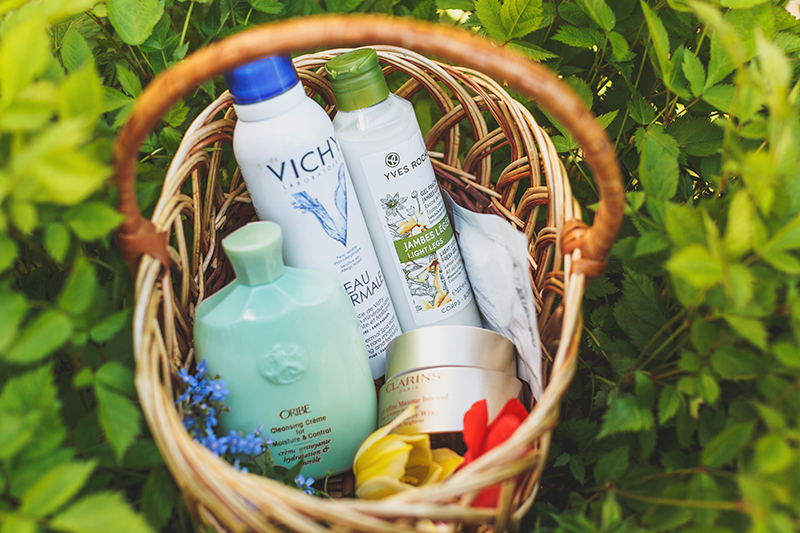 3. Co-washing. That cleaning routine have stepped way further than the first tradition of co-washing (which means "conditioner only washing"). Seeing how quickly without shampoo hair washing grows in its popularity, beauty-brands managed to develop the formula and create really powerful and effective cream for the weak and damaged hair. What I especially like in that new type is that it does not only clean hair and head from the previous products, sea salt or sand, but also protect hair from photo-aging and help to relax. Oribe cream, by the way, can be used together with your traditional haircare as well as all on its own. So you can even safe some plece in your suitcase!
4. Тhermal water. Frankly speaking, I'm still not really sure if it was necessary to mention this option in this rating, cause as for me, using thermal water is a must, especially during the summer, so probably most of the people do not even need a special occasion to try it. So just put it in your bag (the smallest version is only 50 ml – suits perfectly for the hand luggage). Due to the 15 minerals in its formula, this thermal water helps to keep humidity level, improves antioxidant defense, doesn't allow cells to be destroyed by the UV, neutralizes redness or allergic reactions. But please, don't forget to wipe it off in a few minutes. Cause many people don't do it, while those tiny drops serve as the small mirrors for the skin.
5. Cream for the tired legs. There are two ways of having holidays – to chill by the pool or have a look around. They are both cool, but also have their disadvantages. In the first one puffiness is back and in the second one puffiness is added by the tiredness. In order not to turn into a hater of all the shoes in the world the next day, make sure to massage your legs with one of the many cooling leg creams in the evening. I personally love Yves Rocher gel. It is 99% natural, as should be according to the oldest traditions and legends of the brand, and consists of the Luteichny Chistyak root, added by camphor and menthol.