Northland is the northernmost region of New Zealand. If you look at the map, it's that long and narrow peninsula towering above Auckland, often unfairly overlooked by tourists hungry for the world-famous epic views of the South Island or popular North Island attractions like Hobbiton and Rotorua. But don't be too quick to judge, as New Zealand's warmest area is so unique and has so much to offer, you'll regret not exploring it properly! From giant sand dunes to Maldives-like tiny islands surrounded by crystal clear water, from the largest kauri trees to the oldest industrial and stone buildings in the country – this 2-week Northland itinerary has all the highlights! 
This was our first time up North and that's the exact route we travelled. Not saying it's necessarily the best of the best as there are still so many places I wish we could've squeezed into the plan (historic Puhoi town and breathtaking views from Mount Manaia – we'll be back for you!) but the whole idea of this trip was to relax, unwind and enjoy the vacations while also filming lots of content, so we tried to keep balance between having super active days and relaxing days. Trust us, it's so easy to get overly excited by all the amazing New Zealand places and activities, that you'll need another vacation after this extremely exhausting holiday! Instead, this 2-week Northland itinerary will leave you well-rested while also allowing you to discover as much of the beautiful region as possible. 
This is only a brief summary of our awesome trip; more detailed posts are coming soon! We were filming so much and taking around 1,000 photos every day – so it will take us a while to properly edit and sort out everything  🙂
Things to know before going to Northland
First and the most important – Northland's official website is hands down the most informative, easy to navigate and useful regional website I've seen so far. Feel free to browse and pick your own preferred activities and destinations. They even have a few detailed 2-6 weeks itineraries to choose from!
Secondly, though Northland is the warmest region of the country, with average summer temperatures ranging from 22 to 30 degrees and winter temperatures rarely going below 14 degrees, it also gets quite windy there. Especially on the west coast and at Cape Reinga. You might also decide to jump on a cruise or two (must-do in the Bay of Islands!) – wind and chilly temperatures are normal for this kind of activities. So, it's wise to pack a jacket or a warm pullover for your Northland trip no matter the season.
Finally, think of the car you'll be road tripping on! Many Northland's sights are only accessible via unsealed gravel and crazily angled roads, not to mention legendary beach rides. If you plan to drive through Ninety Mile beach, you should have a 4WD car. It's not necessary for gravel roads but just make sure your car is capable of driving here. Better yet, do an extra car check before the journey – so you're confident you won't get stuck in a middle of nowhere because something you had no idea about was broken.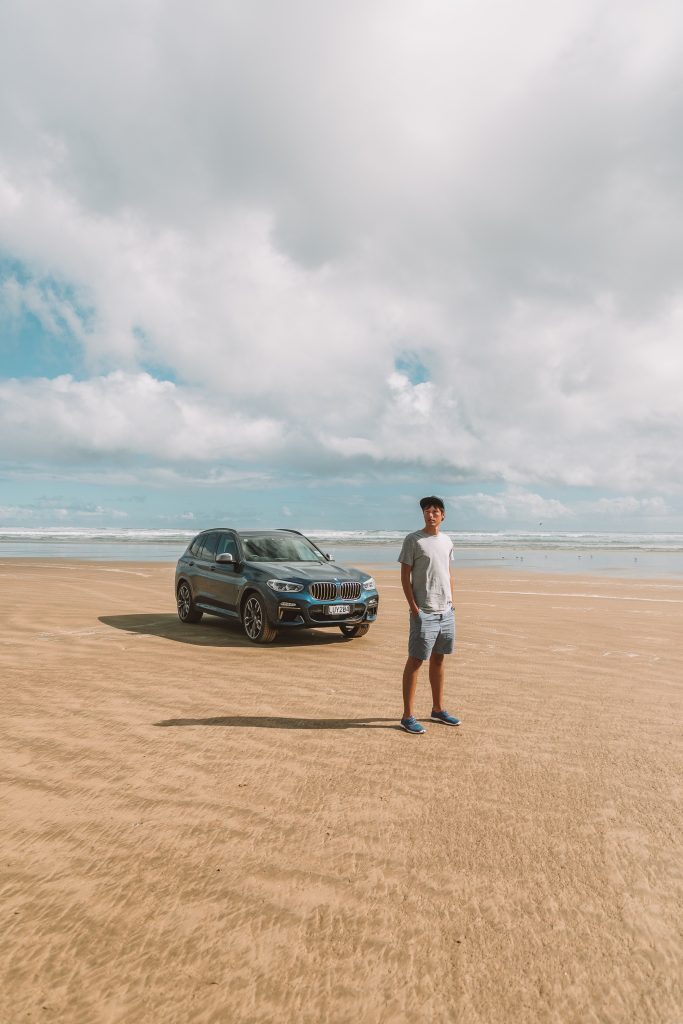 ---
The ultimate Northland itinerary
Days 1-3: Matakana
Stay at: Koru Hideaway
Eat at: The Parsley Pot Café (Warkworth), The Farmers Daughter (Omaha)
While technically Matakana is not a part of Northland, this luxurious and very picturesque destination is so worth a short stop. If you're lucky to be here on Saturday, make sure to check out the legendary farmers' market at Matakana Village (operates til' 1 pm). Otherwise don't miss local tranquil beaches – Snells beach, Omana beach; explore the sculpture trail of the Brick Bay winery ($10 per person and totally worth it!) and, our personal highlight, go hiking at Tawharanui Reserve. This peninsula is pests-free eco-sanctuary with many endangered birds and fishes living here safely and happily. There are a few walking tracks around the reserve allowing you to enjoy both the coastal views and ancient forests with the historical artefacts. Koru Hideaway is located at Tawharanui Peninsula, one can't wish for a better location! Finally, Charlies Gelato is the yummiest ice cream in the area.
We now have a very detailed guide to Matakana – click to read!
View from Koru Hideaway

Brick Bay winery
Day 4: Kerikeri
Stay at: Driftwood Seaside Escapes
Eat at: The Merchants of Kerikeri
Kerikeri is a town in the Bay of Islands, surrounded by rivers and streams, so its beaches are mostly muddy mangroves (unless you're staying at Driftwood Seaside Escapes – they have their own lovely beach). Kerikeri is famous for many other things though, like the oldest stone building in the country. The rustic Stone Store was built back in 1832 and still sells some of the things made over a century ago! Another awesome spot for treasure hunters is the new kid on the block – The Merchants of Kerikeri – a quirky mixture of small businesses and second-hand stores, united under one roof of an old building that used to be a demolition yard and second hand trader in the past. Don't forget to visit Rainbow Falls, it's hardly a 2 minute walk from carpark, and to try yummy artisan candies and chocolates at Makana Confections!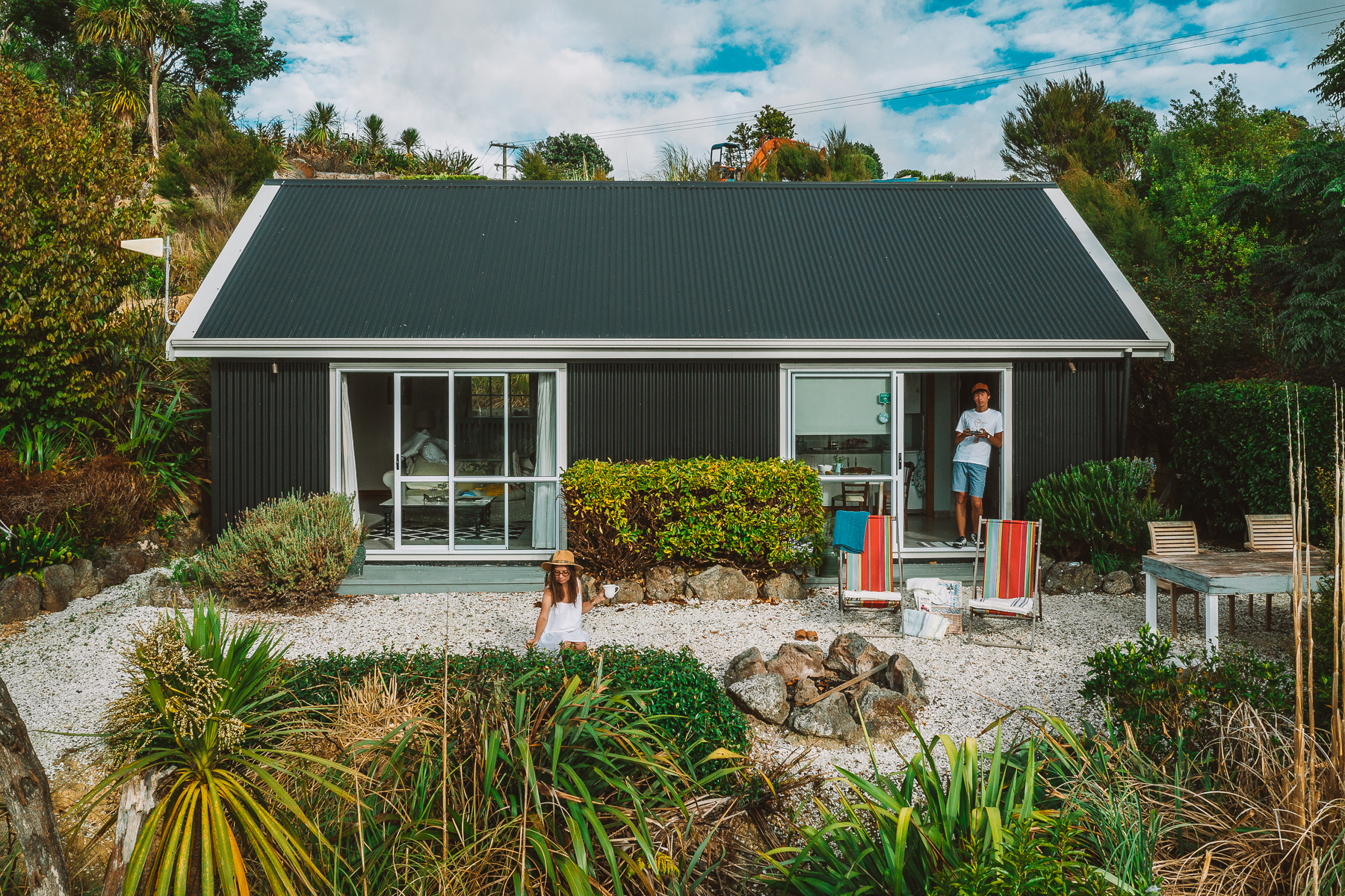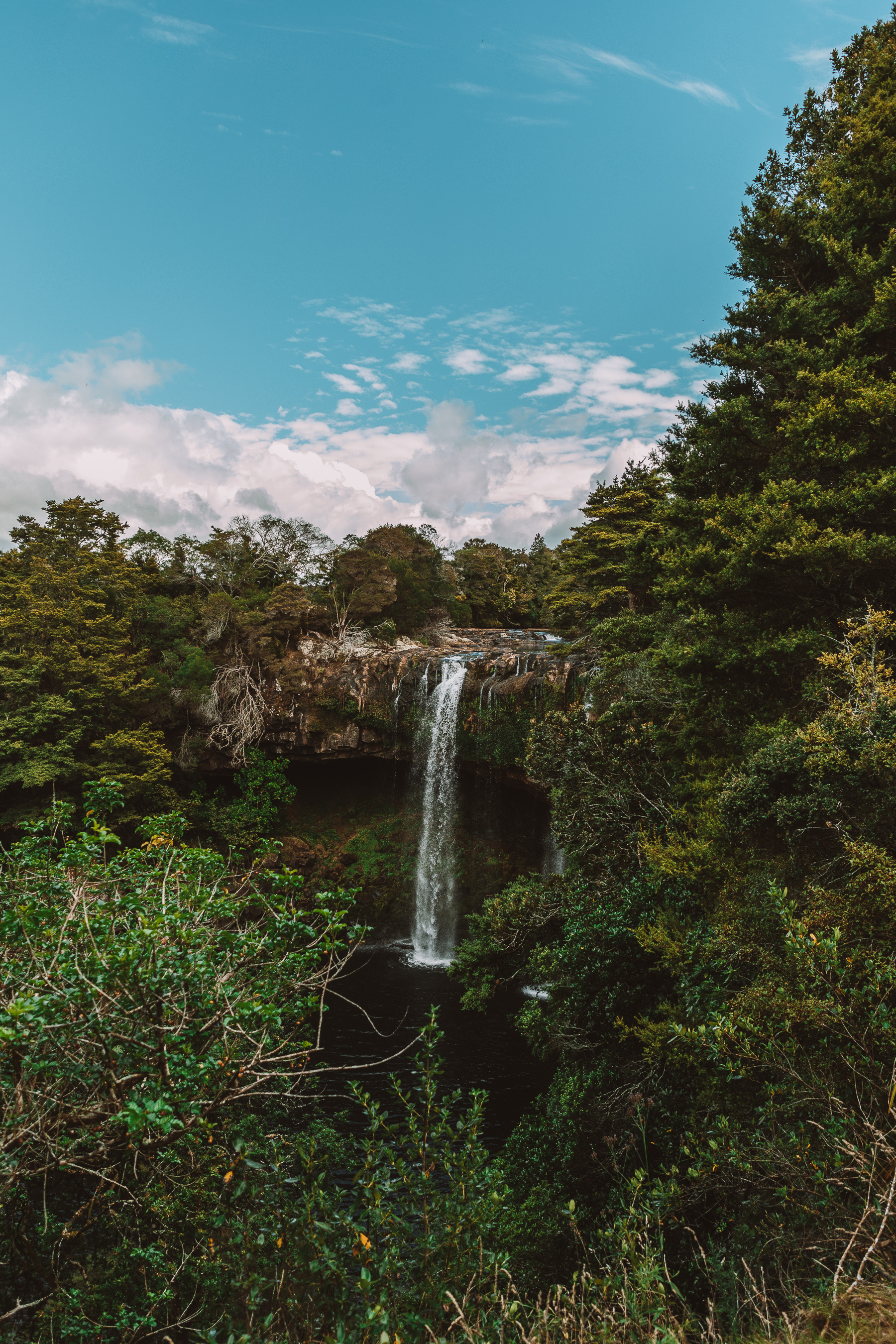 Day 5: Cape Reinga
You haven't really seen Northland unless you've visited the 'big three': Cape Reinga, Ninety Mile beach and Te Paki Giant Sand Dunes. All three are located far North, in a wild and remote area where barely any people live, so be prepared for a long drive – pack your lunch and change of clothes with you, make sure you have enough of water, wearing sunscreen and a hat. There are also bus tours, departing daily at 8 am from Kerikeri.
We were driving ourselves, so made sure we reach Cape Reinga as early as possible – before the arrival of the buses – to have this spiritual spot entirely for ourselves. A short walk to the left on the way from carpark to lighthouse is often overlooked by visitors but we can't recommend it enough – such a scenic walk through the cliffs down to the beautiful wild beach! On the way back from Cape Reinga visit giant sand dunes (gravel road!) and one of the short detour roads leading magnificent Ninety Mile beach.
Cape Reinga lighthouse

Te Paki Giant Sand Dunes
Day 6: Whangaroa Harbour
Stay at: Marlin Hotel & Restaurant
Eat at: Mangonui Fish Shop
Whangaroa Harbour is a bit off beaten track but that's exactly what makes it so worth visiting. This and the most incredible views out there. Even the view from the hotel over all the yachts parked at the harbor is amazing but wait before you see the entire harbour as a 360 degrees' panorama from the top of St. Paul's Rock! This short 600 m hike is not very challenging, though quite unusual as you'll have to use chains to get to the very top but the effort is so worth those breathtaking views from above! Another coolest track lies about 20-minute drive from St. Paul's and is called Mahinepua Peninsula Track. It's a 6 km return track that includes lots of steps up and down the hills but trust us, with all the gorgeous beaches and scenic lookouts you won't even notice the distance! Highly recommended. 
Days 7-8: Paihia
Stay at: Scenic Hotel Bay of Islands
Eat at: Charlotte's Kitchen (Paihia), Duke of Marlborough and Pompallier House (Russell)
Paihia is a gateway to all the paradise islands of the Bay of Islands, so devote one day to swimming all the way to the Hole in the Rock in the Pacific Ocean and relaxing at Urupukapuka, the largest and the most accessible local island, on the way back. Urupukapuka also boasts scenic hikes overlooking incredibly turquoise water and beautiful tiny islands around. This tour with 'Explore Bay of Islands' company is $99 per person. Before or after the trip you can quickly visit Haruru Falls – lovely spot not too far away with a convenient carpark and two-minute track to it. 
On day two jump on a ferry to Russell, the first European settlement in New Zealand. We took the car ferry, so ended up 8 km away from Russell, in the first capital of New Zealand – Okiato. From there we drove to Russel with a short stop half-way to enjoy a boardwalk through mangroves. Russell is a very authentic and pretty historic town (hard to believe it used to have a very dark reputation and was even known as the 'Hell hole of the Pacific' in the past!). Definitely take your time to explore Pompallier House – the oldest industrial building in the country, where people used to print religious books in Maori language. A tour is only $15, a tour + drink and croissant at the local French café is $23.50. We were really impressed!
Hole in the Rock

Urupukapuka island

Haruru falls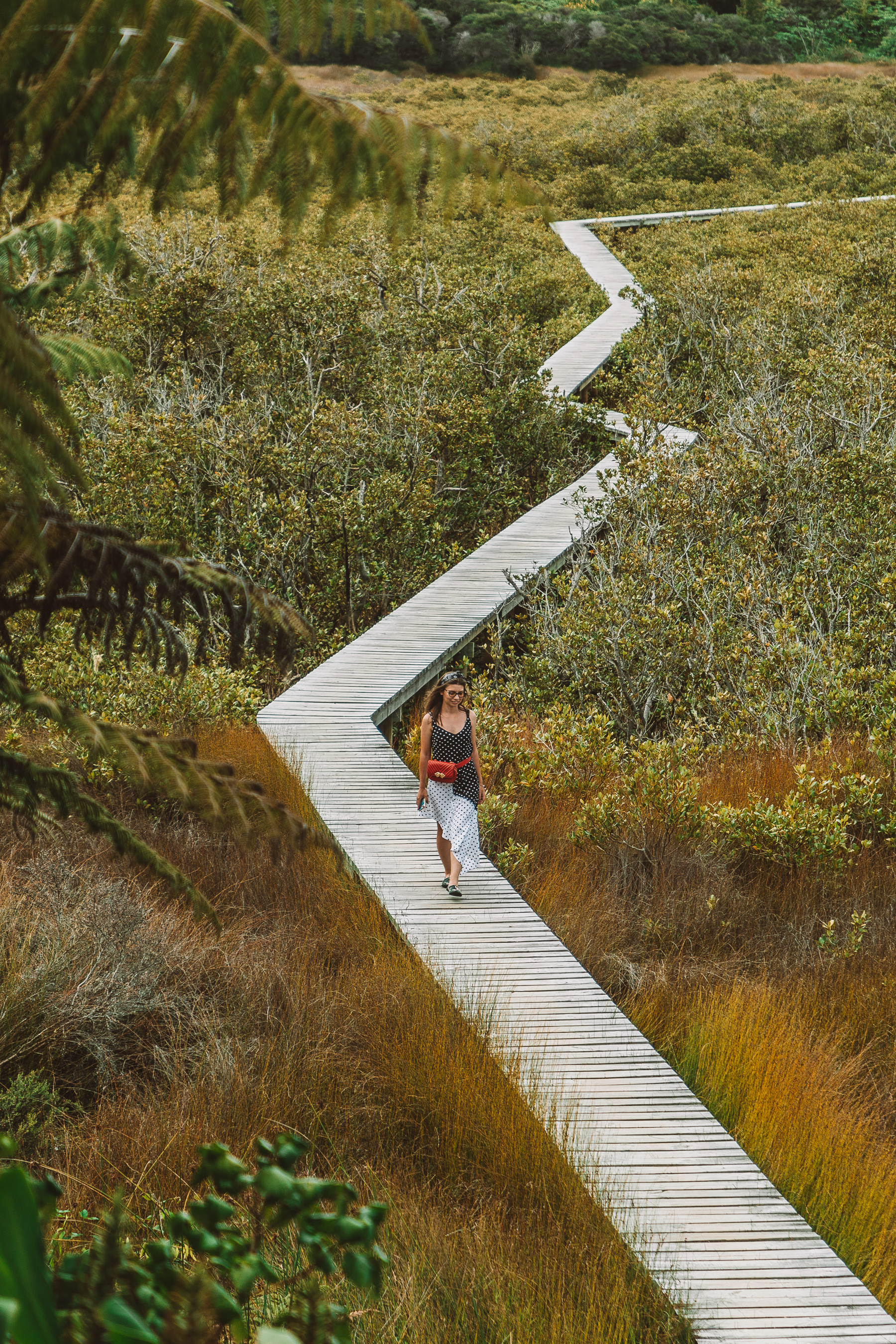 Days 9-11: Whangarei
Stay at: Distinction Whangarei
Eat at: The Quay Café, Tane Café (by Tane Mahuta walkway)
Whangarei is the largest city in Northland, not surprisingly it's also the most convenient place to hang out for a while when exploring the region. Start from Town Basin with its many cafes, fudge farm and famous Claphams Clock Museum – everything is in a walking distance from the hotel. 
Our personal highlights of this area:
Snorkelling at Poor Knights Islands. Jacques Cousteau rated Poor Knights as top-10 diving spots in the world! So this activity was on our must-do list long before we even started to plan this trip. We have chosen Dive!Tutukaka 'Perfect Day' tour that takes non-divers for a snorkeling tour to Poor Knights and it was hands down a really perfect day! With lots of swimming, gorgeous fishes and stingrays, seals, delicious lunch already included in price and a mesmerizing tour around the islands and into the world's largest sea cave. The tour is $200 per person. 
Kiwi North – incredible place that allows you to learn so much more about kiwi birds and endemic New Zealand flora and fauna. It's also the best place to see kiwi birds with your own eyes, trust us, we tried so many times and none of the places we've been to before was anywhere near in terms of convenience and how clearly you see these wonderful birds without disturbing them. Kiwi North is located on a historic site and also has a very-very interesting museum upstairs and some old and really vibrant buildings outside. $20 per person.
Tane Mahuta – the largest and the oldest kauri tree in New Zealand. With its age being somewhere around 2,000 years, this tree is extraordinary! Magnificent lord of the forest. So worth over a 100 km drive from Whangarei (by the way, it's a bit shorter drive from Paihia – around 80 km – we just couldn't squeeze it into our days there).
If you're driving to Tane Mahuta from Whangarei, we highly recommend to have enough time to explore 'kauri coast' at its fullest: lonely Waipoua Forest lookout; sparkly, transparent and warm Kai Iwi lakes (lakes formed inside the sand dunes, wow!), magical Trounson Kauri Park walk, wild and beautiful Omamari beach and all the historic houses and museum of Dargaville. Most of the roads here are gravel, your car will be the dirtiest little beast! 
SUP-surfing at Poor Knights Islands

Tane Mahuta

Kai Iwi lakes

Poor Knights Islands

Omamari beach

Whangarei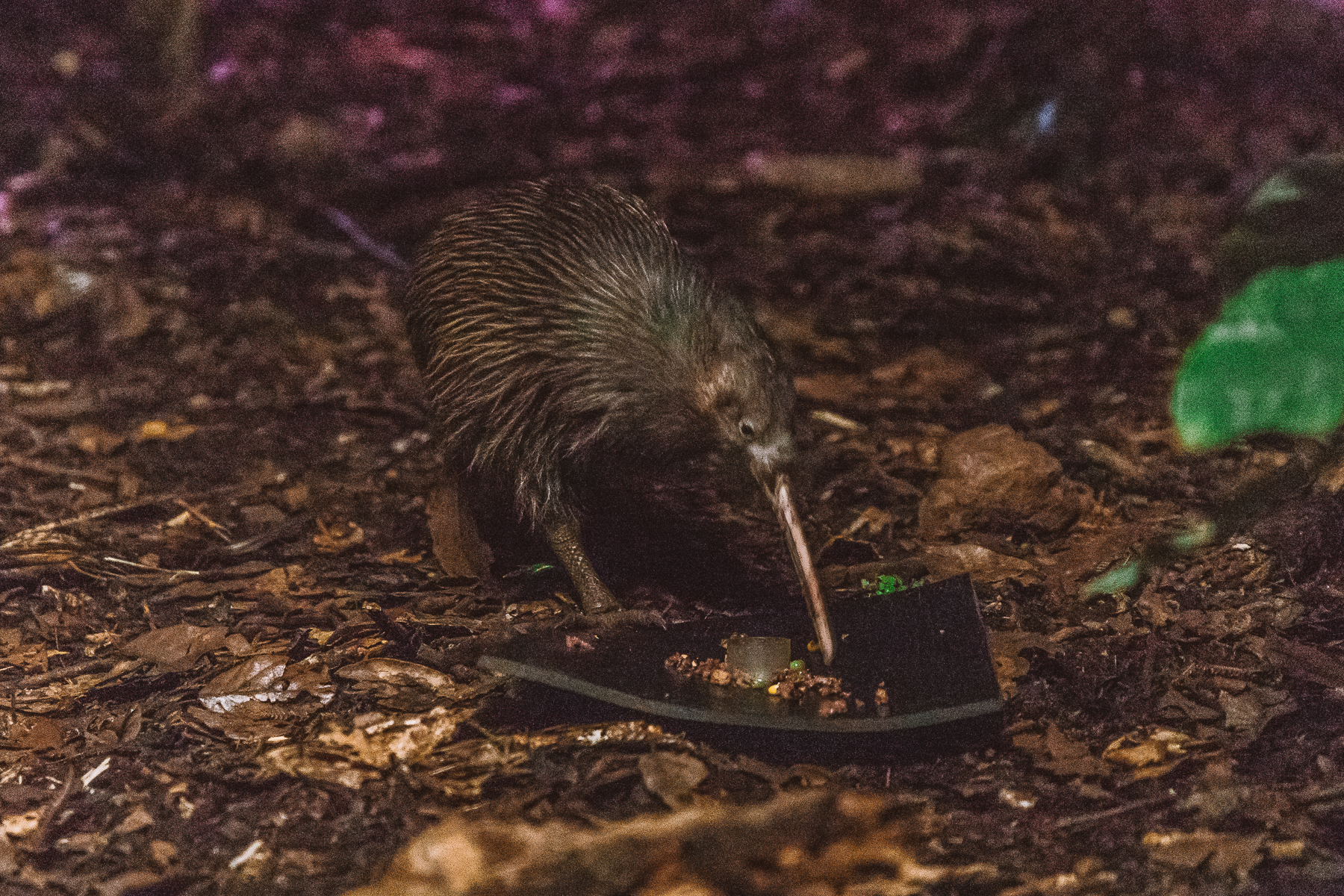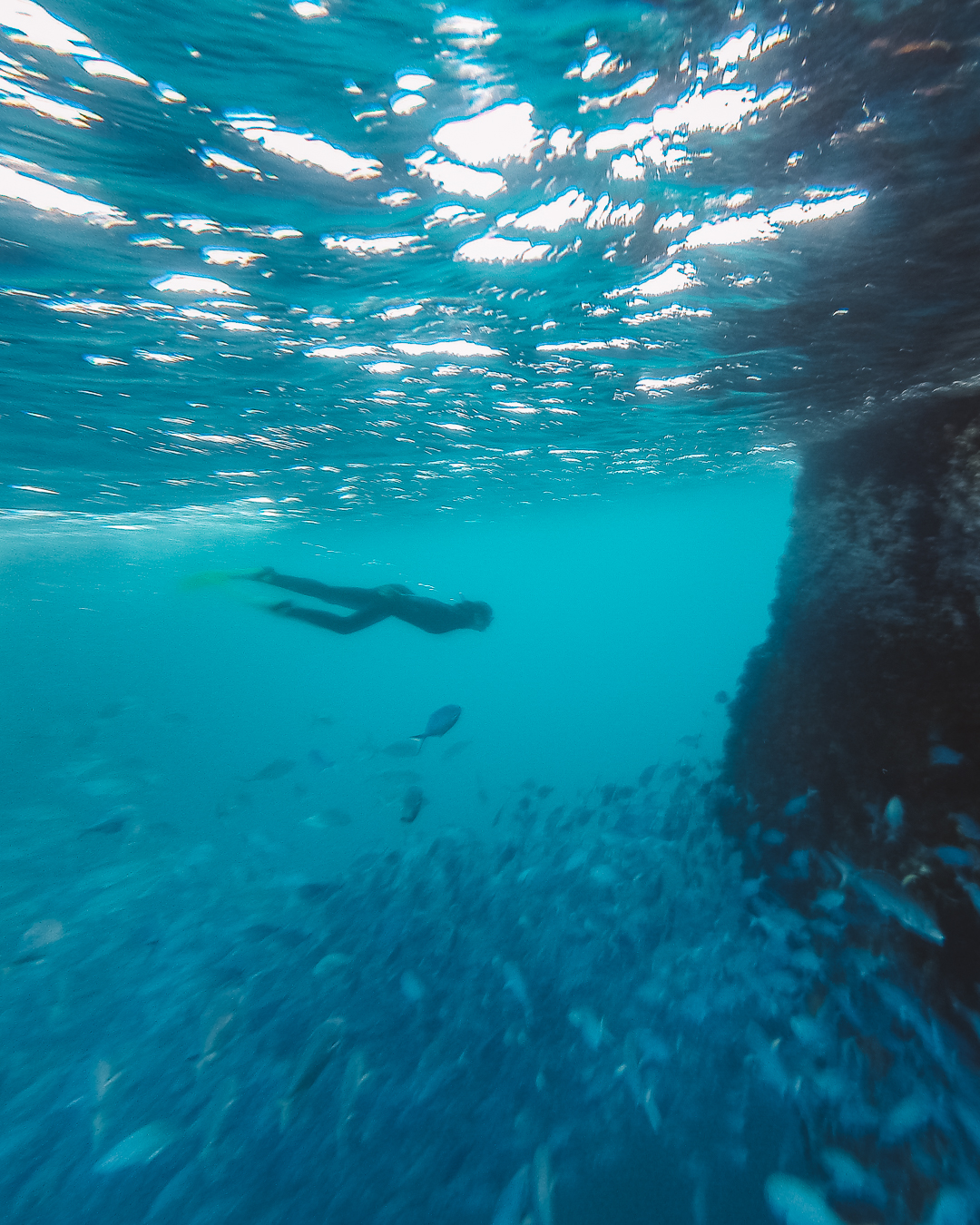 ---
We were travelling from Tauranga so stayed in Auckland for a night before and after the trip. Northland is a destination you don't want to explore in a rush, so if you're traveling from a different area, I would recommend to take a break in Auckland and start fresh.
Alex and I wanted to thank incredible team at Northland Inc. for recommendations and kind help with organizing this trip, BMW Group New Zealand for offering us to test-drive BMX X3 and inspiring us for this journey, all our wonderful partners and sponsors for making this trip possible, and of course you, our readers, for being with us, for reading and trusting us – nothing would've ever happened without your support!
---
Pin this post: