There is hardly a better word to describe Matakana than 'artisan'. And not because you'll see it repeated way too often in every single guide to Matakana. But because everything here has that 'handcrafted with the highest level of quality' vibe to it – from cheese and wine, this yummy magnet for lucky Aucklanders, who can simply jump into their cars and feast on local delicacies in less than an hour, to all those perfectly groomed and immersing in crawling plants heritage buildings hiding contemporary-style gelaterias and cafes inside (Warkworth and Puhoi, I'm looking at you!). This whole region is almost too picturesque, too perfect to be true. Yet, it's here and is waiting to embrace you in its oh-so-classy arms.
Looking for more video content? Check out our YouTube channel and watch videos about New Zealand!
Brick Bay Wines & Sculpture Trail
Matakana's calling card is certainly its boutique wineries, generously sprinkled all around the region. And because wine and gorgeous views also happen to be a perfect fit for weddings, every summer Matakana turns entirely white. 
I must admit, I'm your worst guide to the world of New Zealand's pinots, merlots and syrahs. All I know is they exist. Even less do I know about weddings – mine had 16 guests and no cake. So, if you're looking for sommelier advice or wedding advice – keep on looking.
But what I DO know for sure, is that there is one Matakana winery worth visiting no matter how good or bad you're in wines, weddings and other things, because this is more than just a winery – it's a sculpture trail right out of fairy tales, leading you along the pond, through a beautiful garden, into the bush and across the rows of grapes, with lots of art objects of all shapes, sizes and prices along the way. Spectacular! This place is called Brick Bay Wines & Sculpture Trail (duh) and is an absolute must for everyone visiting Matakana.
Brick Bay is open daily 10 am – 5 pm and the entry is only $12 per person, or even $10 if you stay to dine at their gorgeous restaurant after. Honestly, if the timing is right, do that! The Glasshouse looks spectacular and, I suppose, the food should be even better. We happened to be there somewhere in between the hearty lunch and leftovers dinner, so sadly missed on the opportunity. 
Matakana Village
Fancy bringing home something local and memorable? Sophisticated Matakana Village is your ultimate shopping destination in Matakana – from locally produced artisan chocolate to impressive arts and crafts, it has lots to offer for curious tourists. Not to mention it's refined (just like everything in Matakana) design and scenic location by the river. By the way, there are quite a few VERY attractive looking restaurants and eateries here, so come hungry! If you only have room for a dessert, Tram Car serves very generous portions of delicious ice cream.
The best day to visit Matakana Village is definitely on Saturday, when everything comes alive with probably the most famous farmers market in New Zealand. Though we've been here twice and never on Saturday and it was AMAZING anyway.
Steffan de Haan toilet
If you've ever heard of Matakana in general, chances are you already know about the surrealistic ship-shaped public toilet right across the road from Matakana Village. Sounds like a weird sight for a t won to have? Well, who doesn't like a good quirky attraction, right! Especially when it's also so practical 🙂
Stand-out toilet was built in 2009 and cost local council around $400,000 – that's three times more than you would normally expect for a facility like that! The idea was to attract tired tourists needing a pit-stop on their road trip up North and make them stay longer and, hopefully, spend some money in the cafes and shops around.
Did it work? You'd better check out for yourself 😉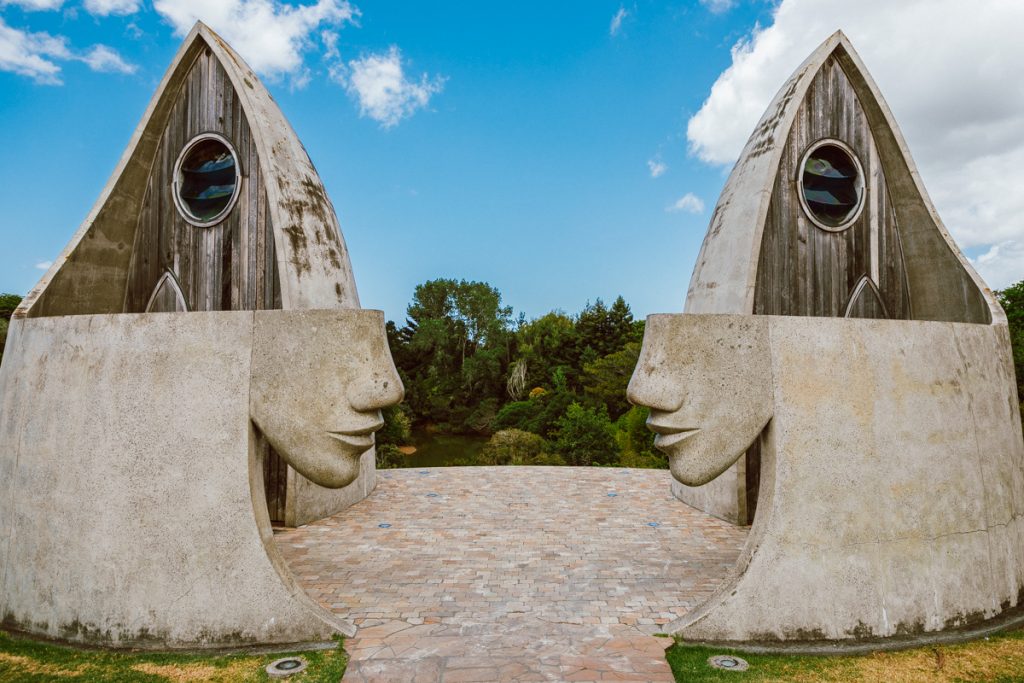 The Farmers Daughter
If you ask what the quintessential eatery of today looks like, I would simply show you a picture of The Farmers Daughter, as it ticks all the boxes. 
Located a little off the greed but not too much to make a detour here not worth the effort. Just enough to give it a feeling of exclusivity, of a relaxed country club 'for those, who know'. Serving healthy, on-trend (think buffalo yoghurt and burnt honey type of ingredients) and bloody attractive dishes from locally sourced seasonal products. Boasting top-notch views of Omaha Estuary from the deck, that gradually flows into their own garden – you can spot staff picking the freshest herbs and salad greens for your order if you manage to peel your eyes off the pretty water views. 
I might be dropping a few posh references here and there but The Farmers Daughter is actually laid-back and casual. So casual, we felt perfectly normal in our soaking wet clothes, with hair still dripping and the other evidence of spending time out at what was the worst rain of our life. Come at any time and in any condition – you'll love it there!
The Parsley Pot Café
Here is another hidden garden-to-table gem for the lovers of secluded, private spots. Located half-way between historic Warkworth (that we didn't have time to explore properly but that looked absolutely incredible even from the car window – you'd better write that one down as well) and the famous Snells Beach, it's a much-needed refreshing stop for travelers that's easy to miss if you don't know where to look.
From the carpark to the café leads a short and narrow pathway, that suddenly spits you into a cosy frontyard with lots of greenery, lots of sun and massive wooden tables. Two seniors are enjoying the sunshine and sweet treats in one corner, a young girl is reading local Junction Magazine while keeping an eye on her wee too playful little dog in the other.  Who would believe this place is only an hour away from New Zealand's largest city?
Aaaand they serve avocado toasts. Nothing more to wish for!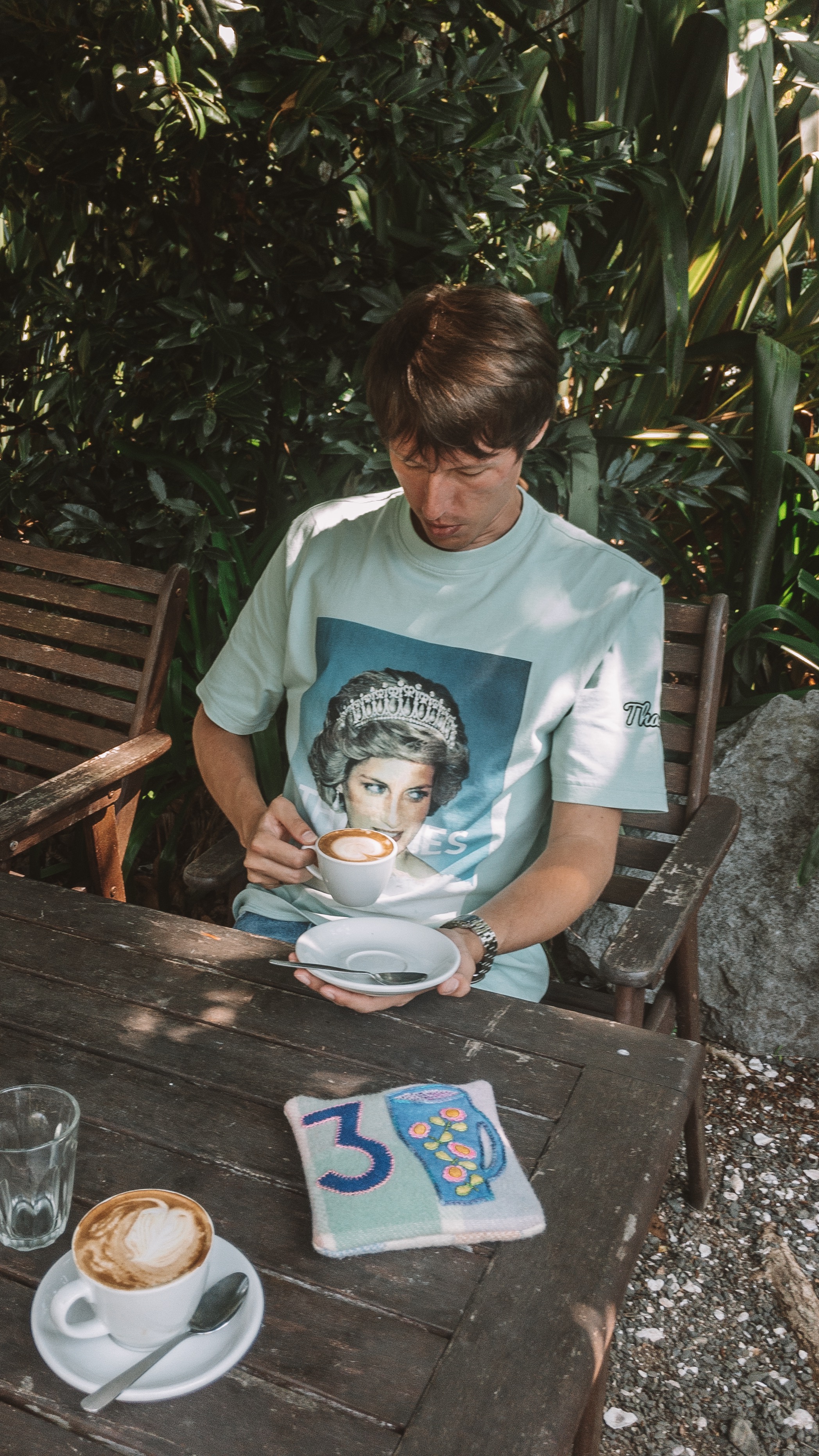 Tawharanui Marine Reserve
I have a strong feeling the crème de la crème of this reserve is protected from our eyes by layers of water – Tawharanui park is above all known for its underwater life: over 50 spices of fish, lobsters, bottle-nosed dolphin and orca live here or at least pop by every now and then. Avid divers, that's your place to be!
Terrestrial tourists, don't get disappointed too quickly! Tawharanui Regional Park also boasts one of the country's most beautiful white sand beaches framed by ancient rocks, sitting here from the Jurassic period.
To get the most out of your time here without committing to exhausting long walks, pick 4 km Ecology Trail. It leads from the seashore, through the pastoral landscapes of farms and valleys and deep into the picturesque native bush with kauri trees, streams and a real-life birds' orchestra.
By the way, Tawharanui reserve is protected from pests, so it's one of just a few places to spot the rare dotterel birds. At night, you can also try and find New Zealand's legendary nocturnal kiwi birds. Here is our detailed article on Kiwiness Tours that take you to Tawharanui reserve at night.
Puhoi
Also known as 'the gateway to Matakana Coast Wine Country', this little historic settlement is like an open-air museum. Literally one street with one of the smallest libraries in New Zealand on one side and a beautiful church of Saints Peter & Paul on the other, this is a vibrant and unusual place. It has that special atmosphere you'll only find in places closely tightened with historic events and proudly preserving the original architecture, like Arrowtown on the South Island, Whangamomona in Taranaki or Napier in Hawke's Bay.
Puhoi was founded in 1863 by a group of immigrants from what is now Czech Republic. You'll learn more about that part of the local history at Bohemian Museum and by browsing through the many photos and old tools at Puhoi Village Pub.
Before leaving this extraordinary place, pop into the Puhoi Cottage Tearoom – rustic paradise with peacocks freely running around your table, lots of different garden games and God only knows how many but not less than 25 types of tea.
Charlies Gelato Garden
If you've once been to Giapo in Auckland, any other gelateria will hardly ever be able to impress you. Though odds are, Charlies Gelato can do that!
A crazy amount of flavours to choose from range from all-time classics to the most original ideas ever (ginger beer ice-cream, anyone?), from refreshing vegan sorbets to the creamiest milk options. Beware, scoops are VERY generous! Though who am I kidding, did this warning ever stop anyone from buying more ice-cream they can possibly eat in a lifetime?
Take your ice-cream outside and enjoy it in a shady backyard overlooking, yes, you knew that was coming – the rows of grapes. These grapes, by the way, alongside other fruits grown on the property, are the future ingredients for the ice-creams. Matakana lifestyle at its finest!
Koru Hideaway
Spending a night or three in Matakana is out of the question – how else will you manage to see that all?
Especially, when staying at Koru Hideaway means you'll spend one full day simply enjoying all the perks of this luxurious accommodation. I'm talking infinity pool with gorgeous views and a waterfall wall like in the best hotels of the best holiday destinations. I'm talking evening BBQ on a beautiful patio, built from scratch by a co-owner of this place, Brian. You'll feel his love and care in every small detail! I'm talking slow evenings in the outdoor spa-bath perched on a balcony of each of two guest rooms. And so much more!
This place wasn't even meant to be available for public at first – Lindsay and Brian were building home for themselves. But stunning sunsets, unbeatable tranquility and friendly atmosphere is not something you keep to yourself. So, the owners decided to open their house for occasional guests. 
Prices for this paradise on Earth start from $295 per night for two people.
If you wish to travel further to the North after a quick relaxing stop in Matakana, here is our detailed itinerary for a two-week trip around Northland.
Liked this post? Pin it: