I told you already that recently I had a chance to meet wonderful Andy Torres, Style Scrapbook author. Our conversation was absolutely lovely. Andy is such a positive, open-minded and interesting person. I really hope this interview will help you to know more about her personality and show Andy's best qualities.
– What does for you as a blogger your friendship with Mango and coming here to Moscow mean?
– It's a huge honor to be recognized with such brand, because there are so many bloggers… And I've been working with them for a long time in different kind of small activities. It almost feels like a real friendship. And I'm really happy to be here in Moscow with them. It's my first time in Moscow!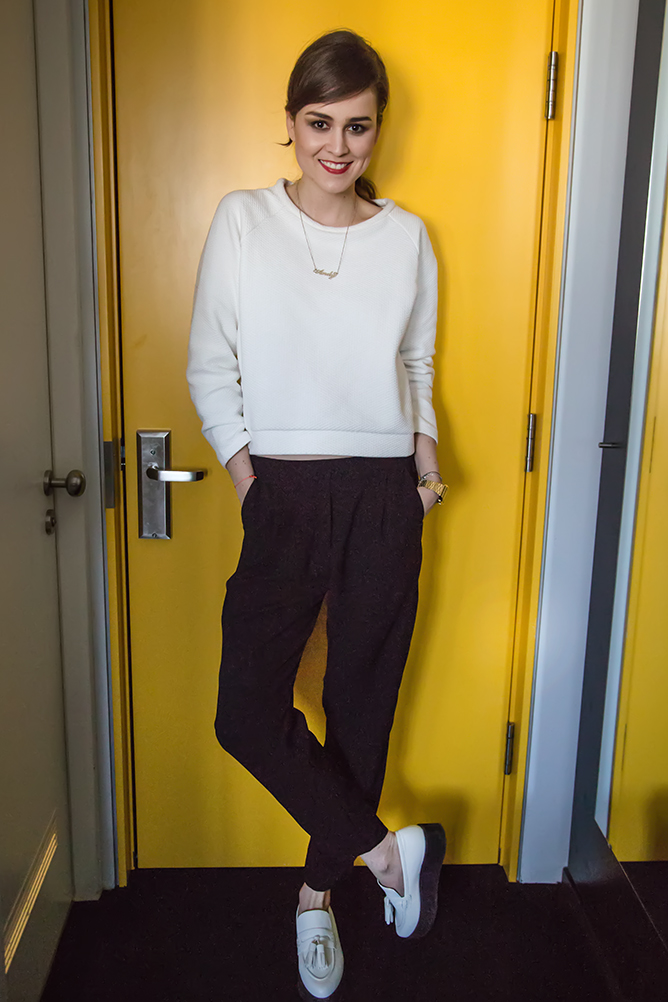 – And you've probably have already seen new collection. Can you name some must-haves?
– I think, that my favorite piece is definitely the white suit with the oversized blazer. At the fashion show in Barcelona model was wearing nothing underneath. Masculine suit that shows some skin was really sexy! There was a lot of white, what I also liked, because I'm wearing mostly black lately, that is what I feel like in winter. But I think for spring and summer white is going to be all around.
– That white suit sounds brave. Is there something you will never wear?
– I'm not sure… I really love experimenting. For example, I said that I would never wear overalls and I was wearing overalls last spring! Because I have found that cool vintage denim pair in a store and it looked like I was going gardening. I wore it with high heels and I rolled them up, so I kind of made them more stylish. And I think now they are coming even stronger – there are many leather overalls in different collections. I never say that I would never wear certain kind of thing, because my friends always say: «You told you would never wear that and you are wearing that!», so now I just keep my mouth shut.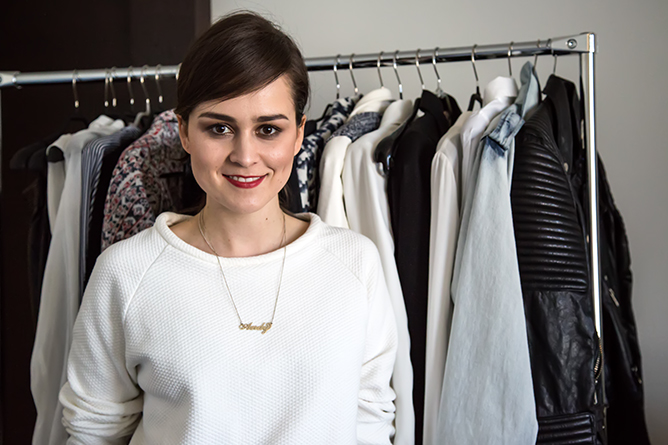 – You're also known for your ability to mix and match luxury brands with maa-market. Are there some secrets of successful combination we need to know?
– I think, the key is to find expensive pieces you can wear with a lot of your closet. For example, my favorite bag – I bought it a year and a half ago and I wear it all the time. It's very iconic brand, very iconic style of bag and it's black, so I can wear it with everything I have. Cause it's very tricky when you want to spend a fortune for a bag and you go for a neon yellow one. Ok, it's great, but you're going to wear it for two month and then you suddenly realise that you don't like neon yellow anymore.So you'd better find some investment pieces (I know it sounds ridiculous – investment on a bag), that you can wear again and again.
– And when you wake up in the morning – do you already know what you're going to wear today?
– Sometimes I do. For example if I buy a jacket yesterday and I'm really excited to build my outfit around this jacket. But normaly I don't do it! Unless it's fashion week season. In that case I really plan everything. I even make pictures to have a small lookbook on my phone, so that when I get to New York or Paris, I just get the look needed out of my suitcase. I would never be able to pack everything and decide what to wear every day. I need to be so organized! But normaly I just wake up, go to my closet, choose one piece I feel like I want to wear today and built my outfit around it. It can be pants, jacket or shoes. .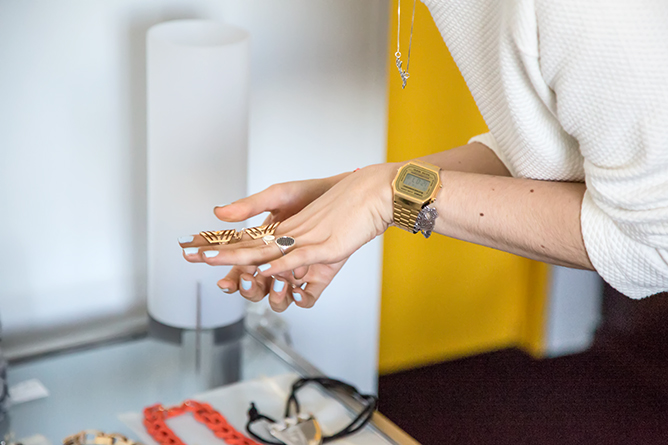 – By the way, you're missing Paris fashion week now. Are you OK with that?
– I'm OK with that, cause I've been doing fashion weeks seasons for five years now and now I'm happy to have a little rest, because sometimes it gets really hectic. I didn't go to New York this season either, cause I had some commitments I had to stay for. But I also had a really big-big collaboration happening in London and I didn't want to miss that… Last season I almost missed my flight to London because of the weather and it happened again this season – there was that snowstorm. So I made a decision to miss New York, but I have seen all things happening on Instagram and I was like: «Oh, thank God I'm not there!» – because it was so cold as well. So now Im missing Paris, but I'm going to be there for a fashion event in the middle of March.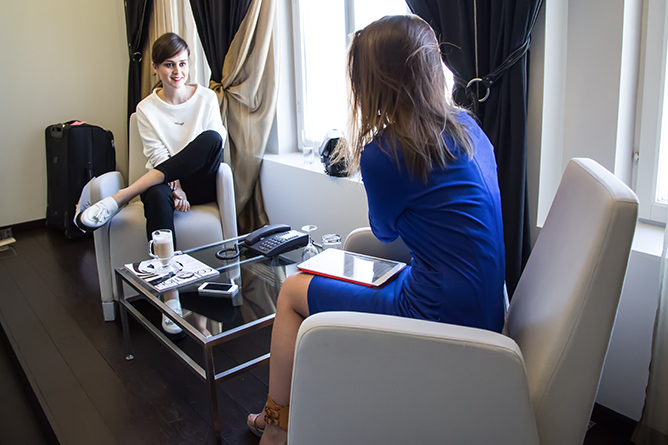 – How do you survive fashion weeks in February? For Russian bloggers to dress beautiful in winter is the most difficult target!
– I was just talking with my friend about how do Swedish bloggers blog because it's freaking cold there! And they still have very beautiful photos. I think, you, guys, have the same climate? Some of them go to the street, take of their jackets, make photos and put them on again. I can't really see myself doing that, because it's not good for your health! So I guess, it's just a lot of layering! What I sometimes do in New York is I put thin tights underneath my skinny jeans or leather leggins or I put two layers of tights. I also buy thermal longsleeves and I can put 3 or 4. I've seen people in New York going bare legs and I can't understand that, I would never do that! So I really admire bloggers from cold countries who have to shoot in winter. It's really hard!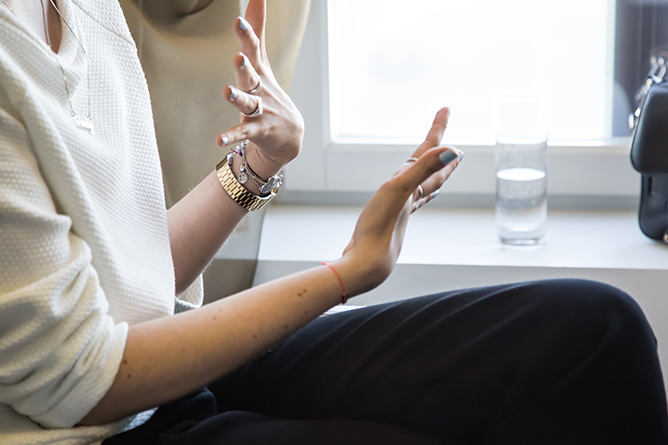 – And my last question may seem a little strange… I've noticed that you don't often smile on your blog photos, but you're such a positive person! How can it be?
– You think?! I get that all the time! I don't know, it just happens! I think I don't smile because I don't want to look like a tourist in a new place. I'm starting to do it a little more often now. But you're not the first one to ask me about that, so may be I should think about that!