As you guys know, besides writing about our travels in blog, we also write quite a lot of travel articles for different New Zealand and worldwide magazines. In 2018, our texts and photos were published in six New Zealand magazines and two websites from another countries. All together it was about 30 articles! Of course, each one is very special for us because it reminds us of an interesting adventure we had and because there is so much love and passion involved in taking and editing photos and writing texts! But I should be honest with you, quite a few of them do really stand out from a crowd. And I'm happy to share our favourite travel articles of 2018 with you today. Note, articles and mags are listed in the order they've appeared in press not according to our preferences 🙂
March 2018: Best hotels in Maldives for UNO. magazine
Last year's trip to Maldives was a dream come true. Alex and I were invited by a few local hotels to check out this paradise on Earth. Need I even mention we were absolutely blown away by the beauty of each and every Maldivian island we got to visit? Each of them appeared to be absolutely unique. Some are tiny, some are huge. Some are loud and partying 24/7, others are tranquil and relaxed. I'm so glad UNO. offered us to share our opinion on the hotels we've visited and to recommend what type of people will each of them suit the best.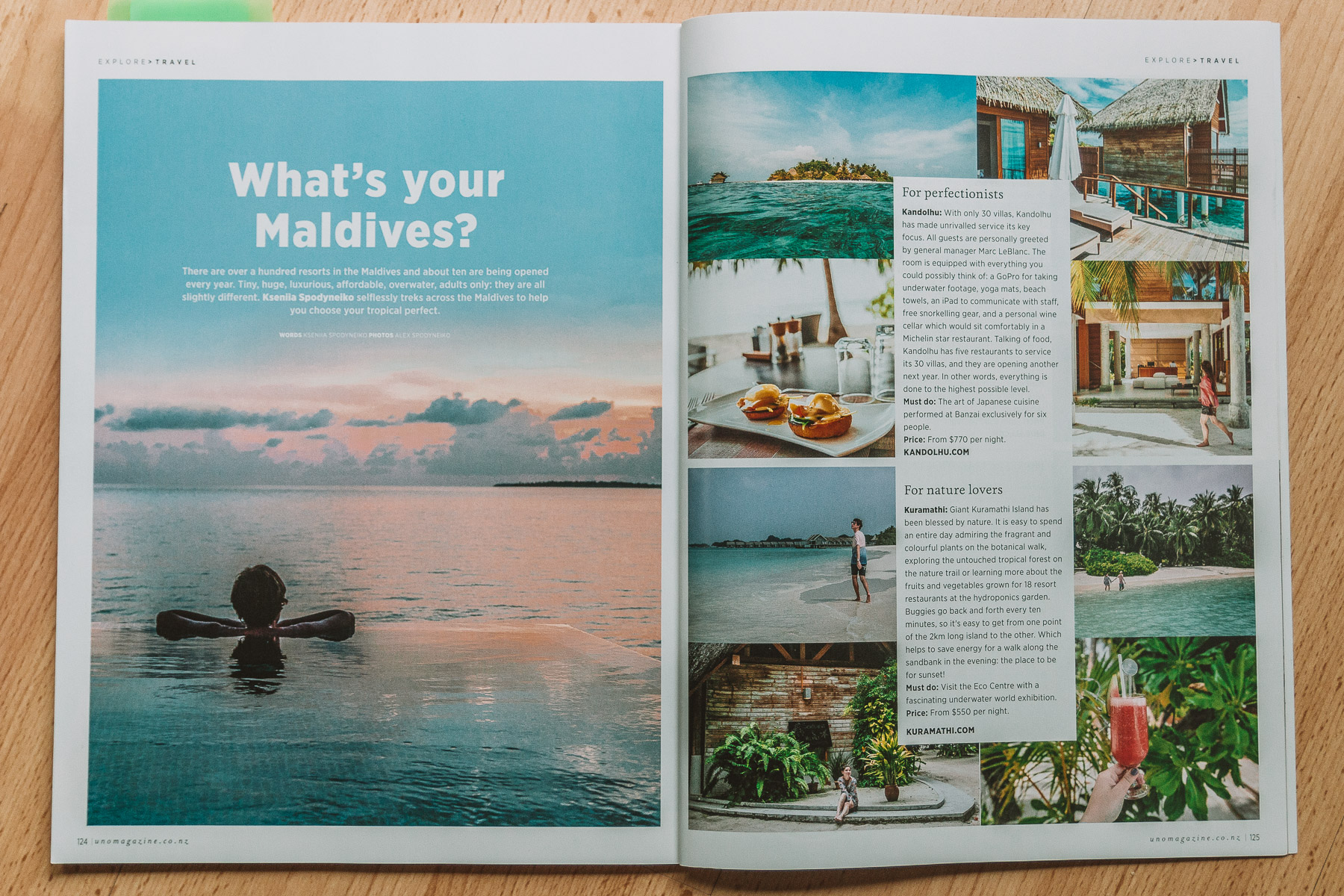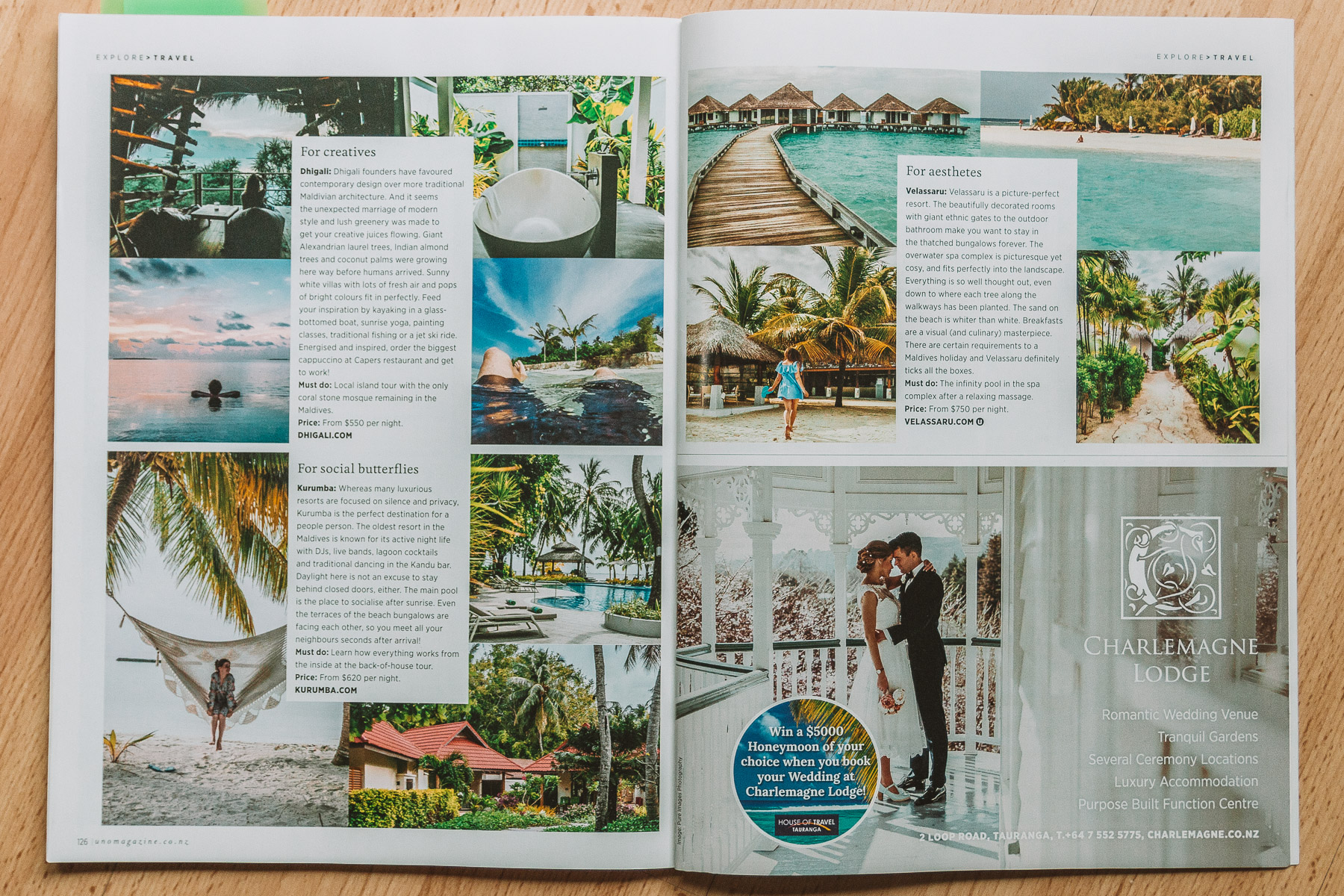 April 2018: Kaikoura guide for focus magazine
If I had to name my favourite places of the South Island, Kaikoura would definitely be somewhere at the top of the list. This small coastal town is a perfect example of how nature, wildlife and humans can live in a perfect harmony. Because where else can you lunch at the beach cafe with seals peacefully lying all around? I got to explore this gorgeous corner of the country with my dearest sister, whom I haven't seen for 1,5 years by that time and, of course, it added a lot to overall cheerful and happy vibes of the journey. By the way, here's a quirky glamping we stayed at – I can't recommend this accommodation enough! So, I couldn't be happier to share my emotions with focus readers in April/May 2018 issue.
You can also read this article online.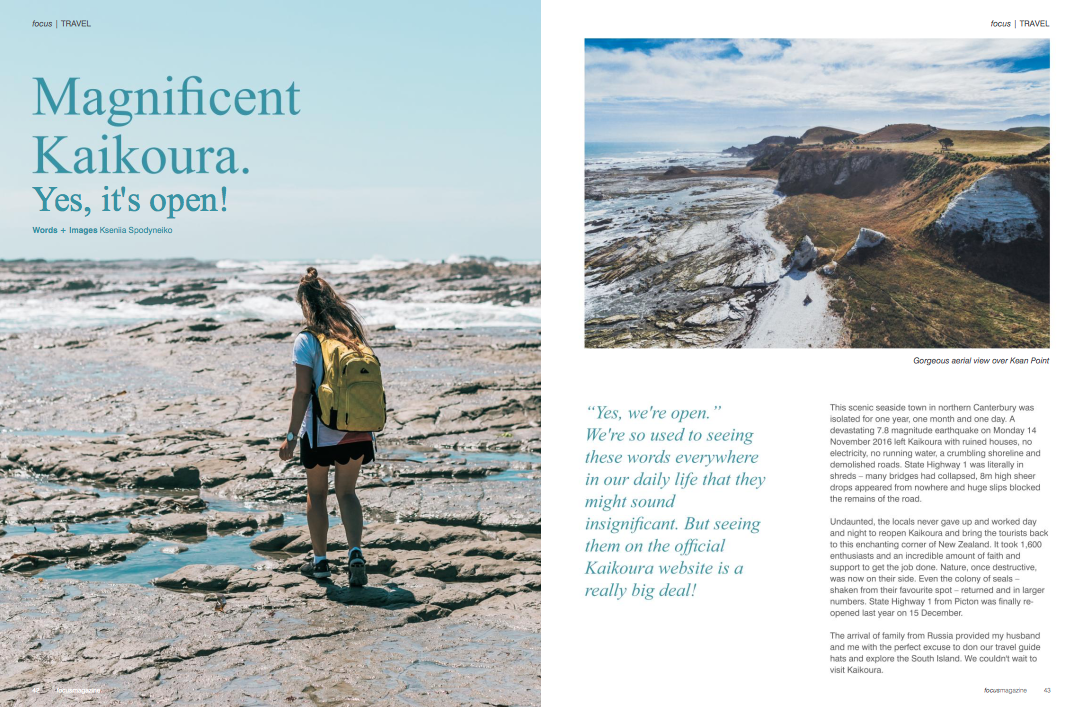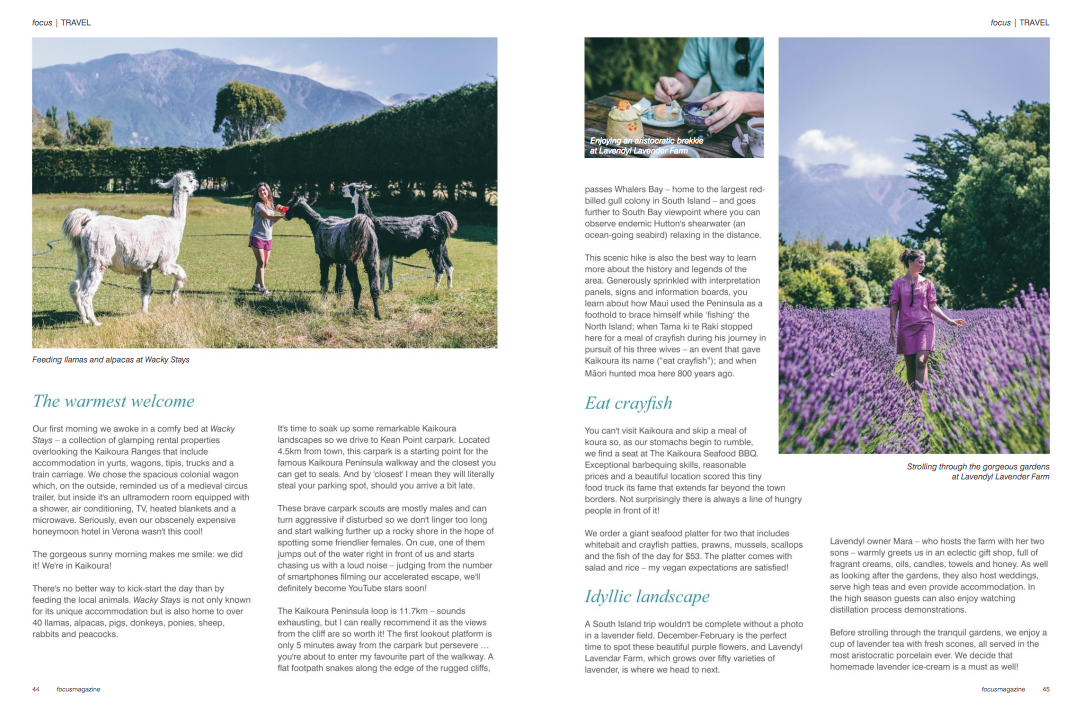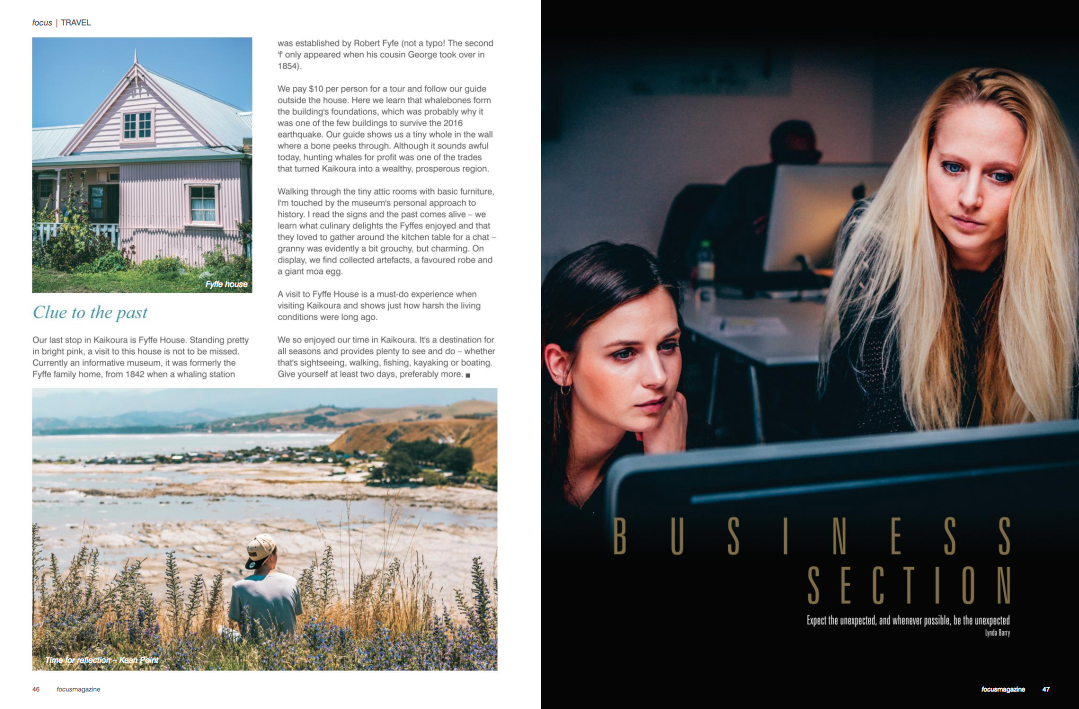 May 2018: Castles and old cars of Czech Republic for Verve magazine
A while ago Alex and I travelled to gorgeous and mysterious Czech Republic with Skoda. That year local auto brand was celebrating it's 110 jubilee, which certainly had made this trip absolutely outstanding. Not only did we get to test-drive the latest models but also received a chance to drive some vibrant and really beautiful old-timers. We wrote a lot about this trip in blog but thanks to Verve have now also shared this unique experience in media.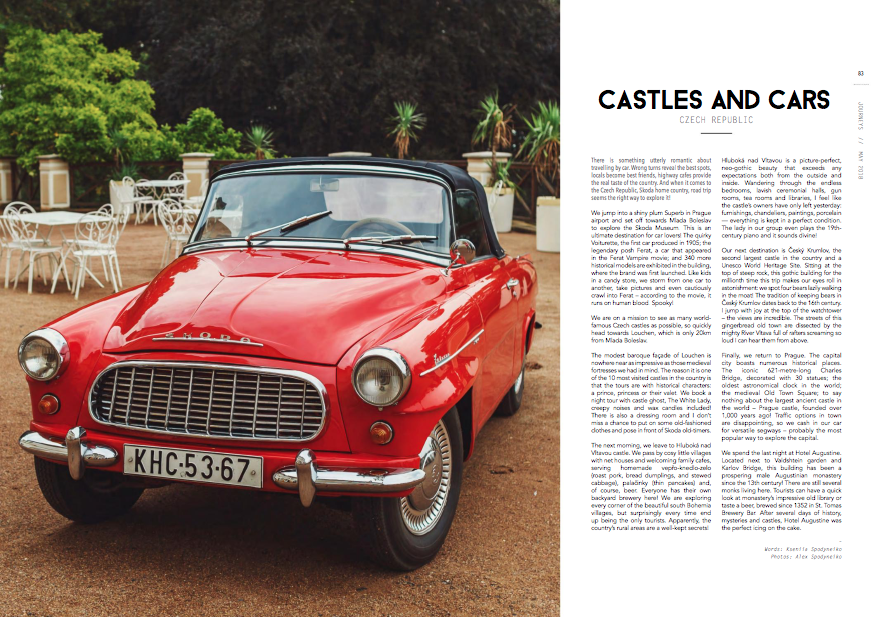 July 2018: Saint-Petersburg guide for Verve magazine
Two months after our first publication in Verve, we were honoured to write a cover story and do a cover photo for this magazine. Hands down, journalism highlight of the whole year! And I'm especially proud that the cover story was devoted to a beautiful historic city of our home country. We wrote Saint-Petersburg guide, highlighting our favourite palaces and gargantuan cathedrals of this city.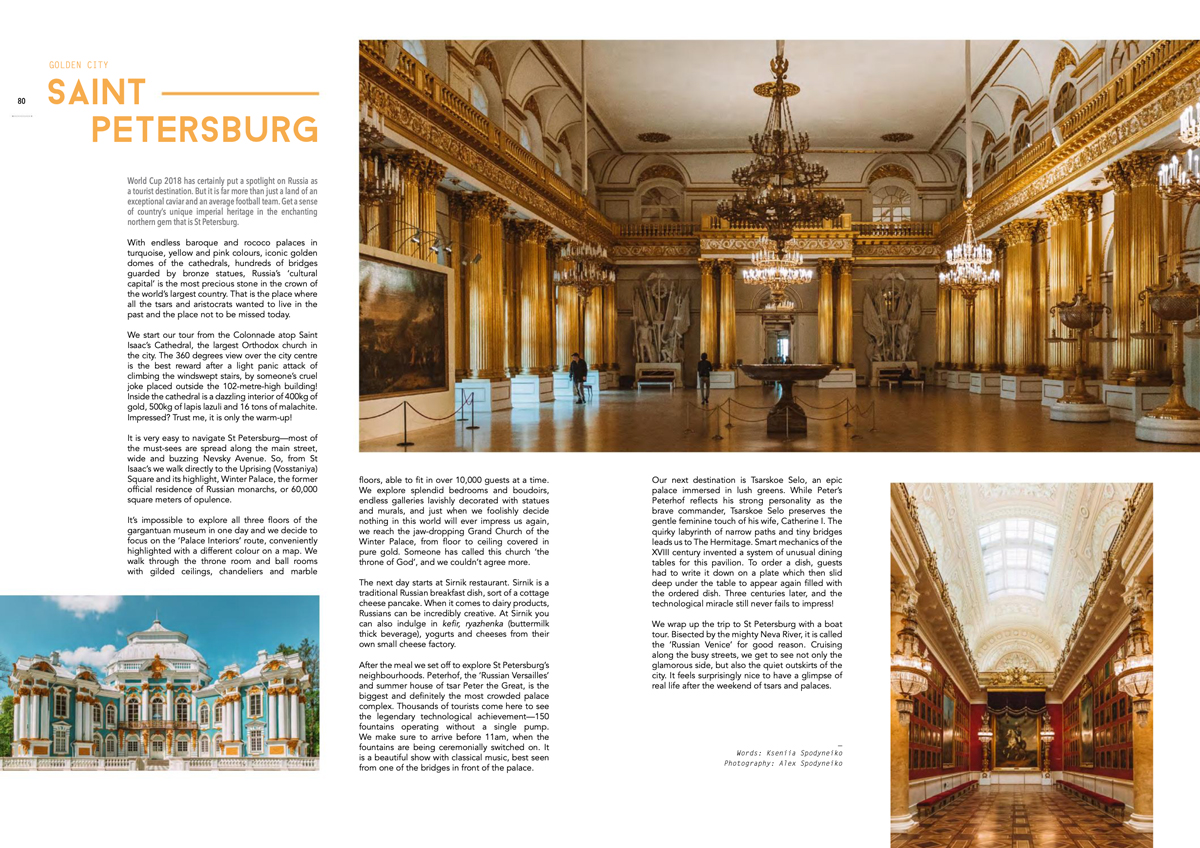 August 2018: New Zealand's North Island guide for DameTraveler website
New Zealand's South Island is stunning, that's true. But I think, our North Island is often underestimated by tourists who jump on a plane to Queenstown or Christchurch straight after landing in Auckland. Not fair at all! In order to show how many spectacular places there are waiting for them on our island, I wrote this very detailed and informative guide (and there's still so much more I want to add there!)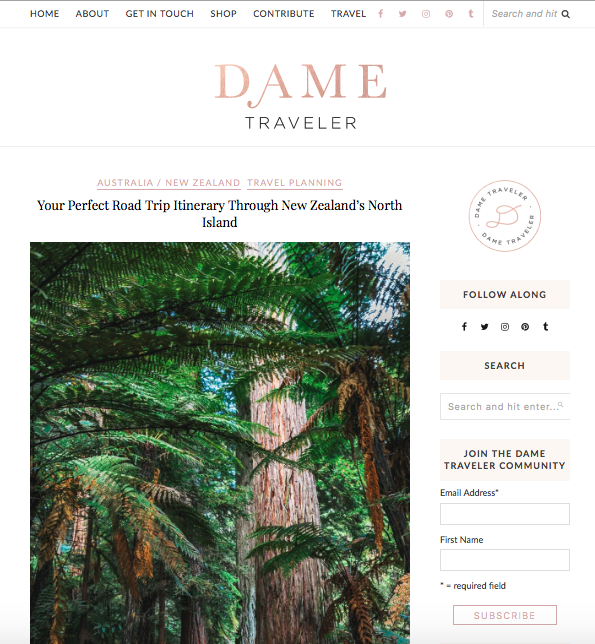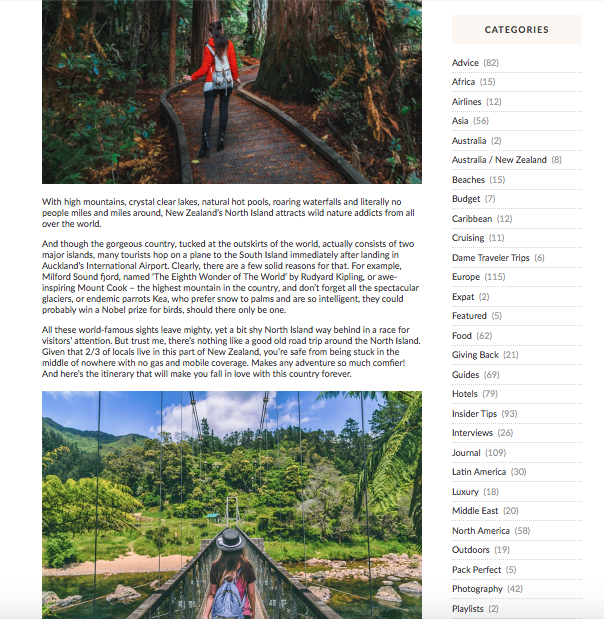 October 2018: 50 places to see in the Bay for focus magazine
You might have already noticed, I looove writing detailed guides 🙂 I had this ambitious idea – to collect 50 (!) places of our region worth checking out – for quite a while already and I'm so happy focus editor supported me and provided with enough pages in the mag to cover them all (very briefly, of course). How many have you been to already?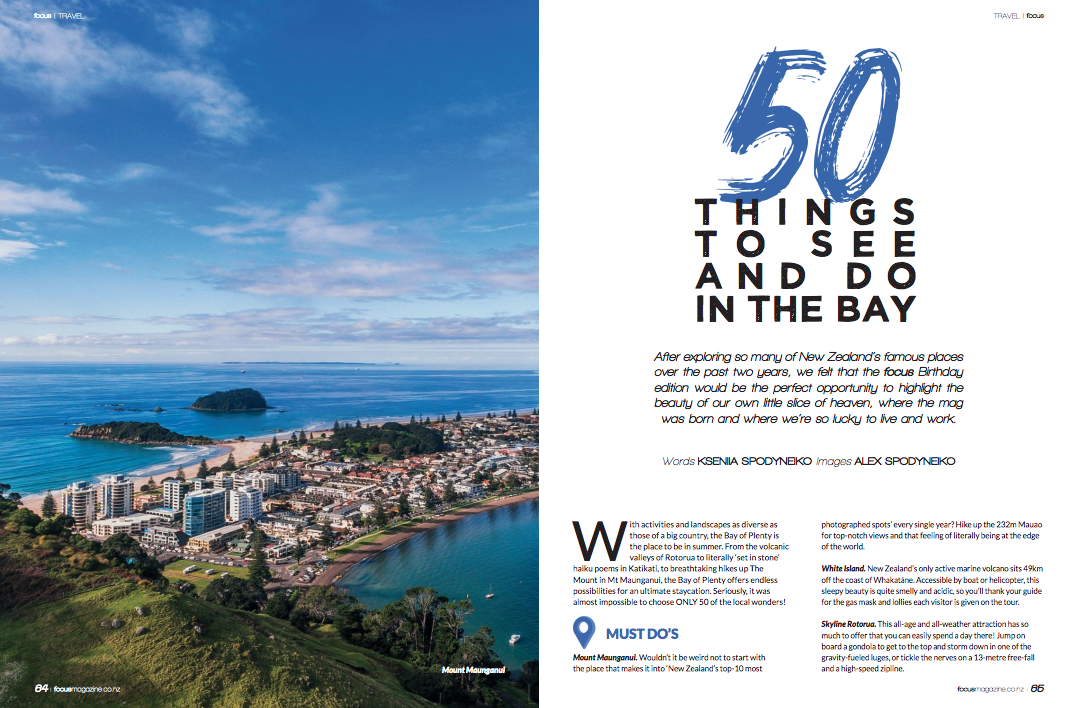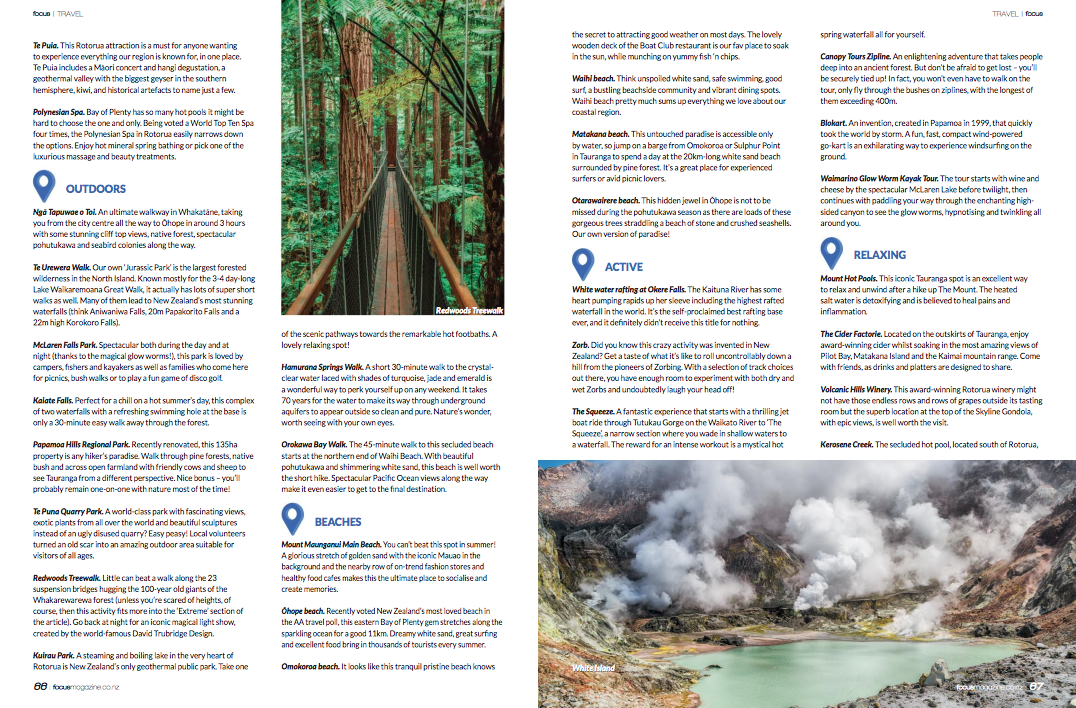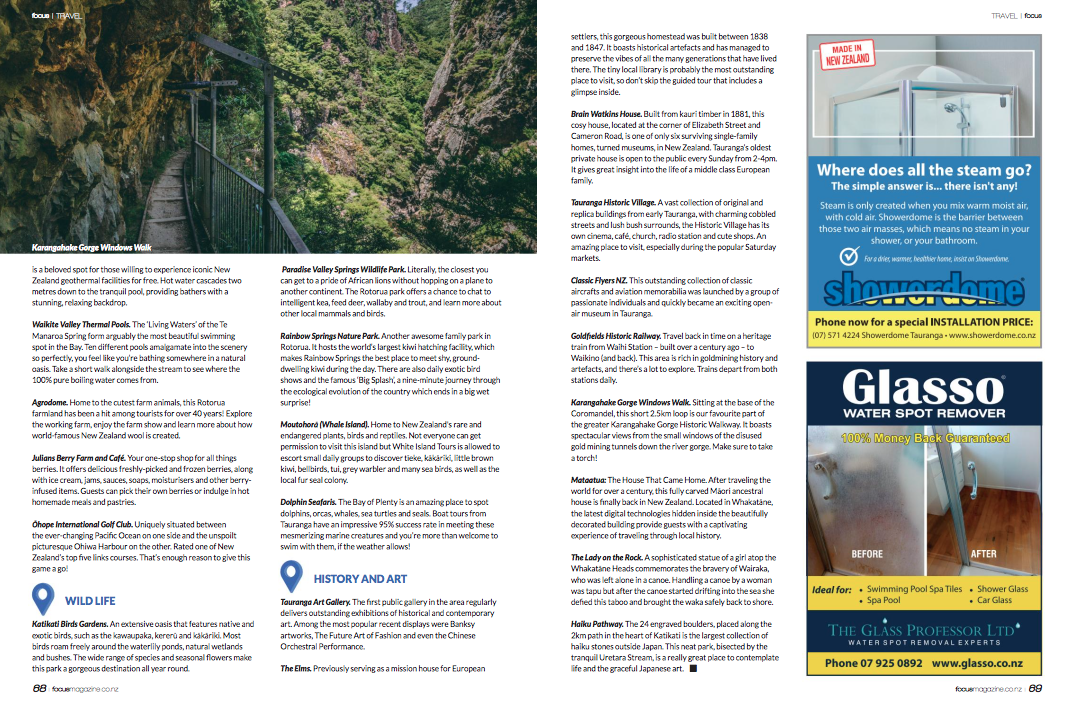 December 2018: Moscow guide for Nourish magazine
Another article born after our recent trip back to Russia 🙂 We were really impressed to see how much had changed in the capital city in only two years and couldn't wait to share how beautiful, international and worth-visiting Moscow became.
This article hasn't been published online yet but the mag itself is available for reading online.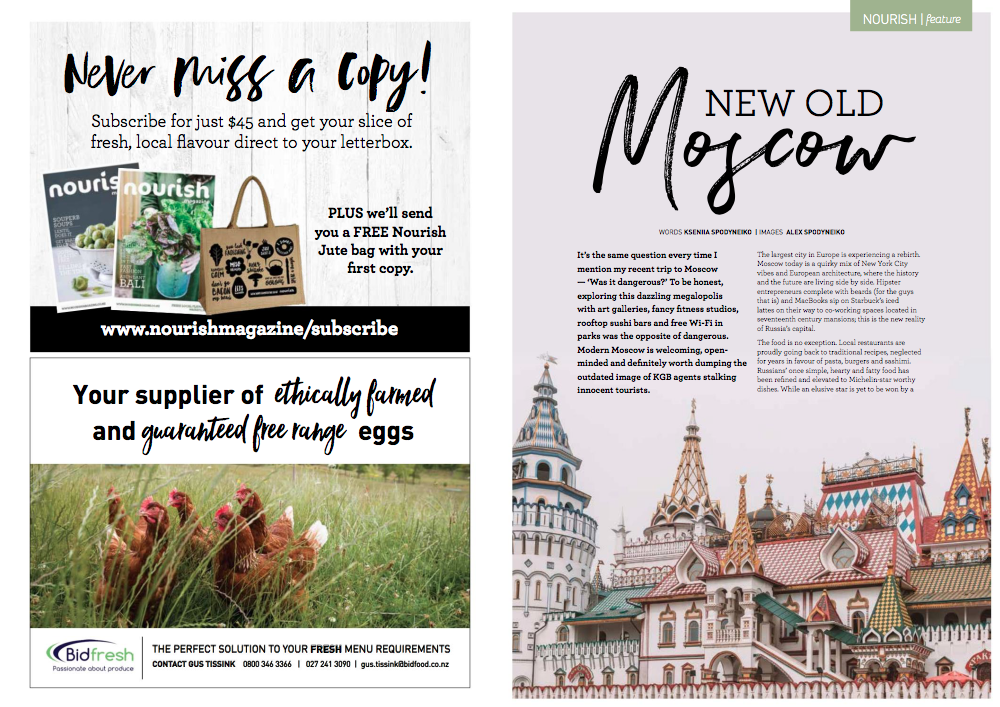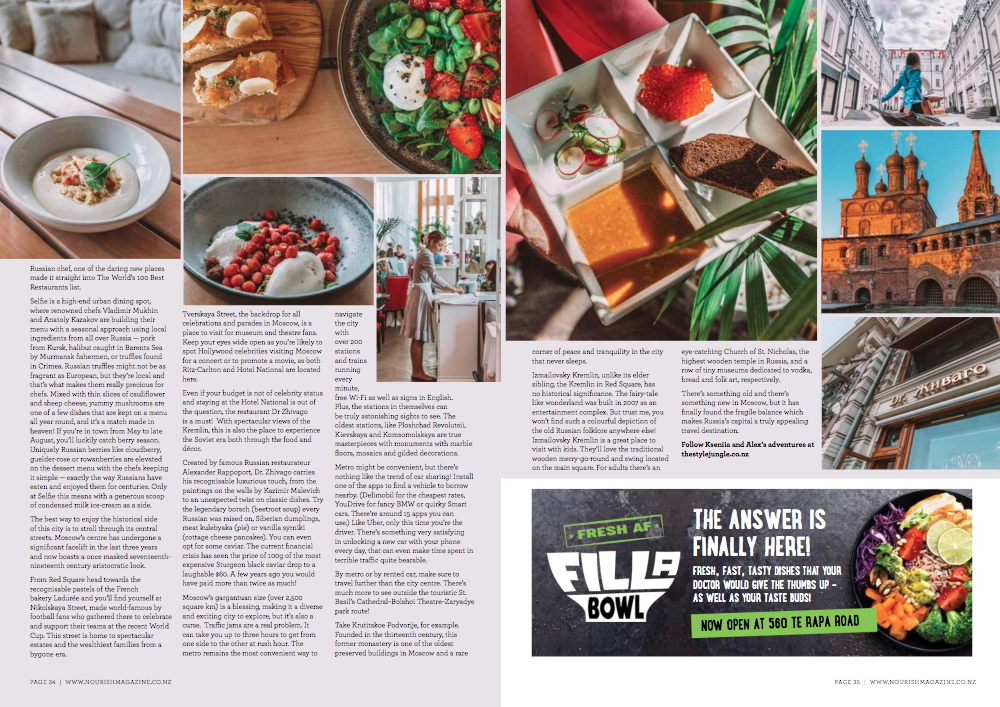 Which one is your favourite? 🙂