Built in the late XIX century, Forgotten World Highway is the oldest heritage trail and one of the most scenic roads in New Zealand. This beautiful, remote and desolated route boasts incredible views, historical artefacts, colourful birds and friendly animals and is overall an amazing adventure for any nature lover.
What is Forgotten World Highway?
It's a 155 kilometres long road, connecting Stratford in Taranaki and Taumarunui in the central North Island. Though you'll spot lots of farms and tiny villages along the road, they are mostly uninhabited these days. After coal-mining activity in the area ended, what used to be prospering towns with up to 1,000 locals turned into abandoned places with zero to 40 residents. Nevertheless, there are no depressing, negative vibes. On the contrary, exploring 'Forgotten World Highway' is extremely fun and exciting. There are over 30 points of interest along the road and some of them require a few hours of hiking – many people even prefer to stretch the drive over the two full days in order not to miss anything!
Things to remember before entering Forgotten World Highway
There are no gas stations in between Stratford and Taumarunui, so make sure your tank is full.
There is no coverage on the road, which means no texts or phone calls during the day – make sure your relatives know where you're and are not worried!
Take a paper map with you! No matter how awesome your GPS is, no coverage can play a bad joke with you.
155 kilometres don't sound like a lot but the road is super winding, sometimes unsealed, with one-way tunnels and lots and lots of attractions and views worth stopping for, so don't expect to cover it in an hour or two. It took us around 10 hours to explore everything we wanted and we still had to miss a lot of spots! There is a hotel in Whangamomona in case you decide to spend two full days on the road.
Whangamomona hotel and Lauren's Lavender Farm (excluding winter months) are the only two places to grab food and drinks on the Forgotten World Highway, so having some snacks in car is a great idea.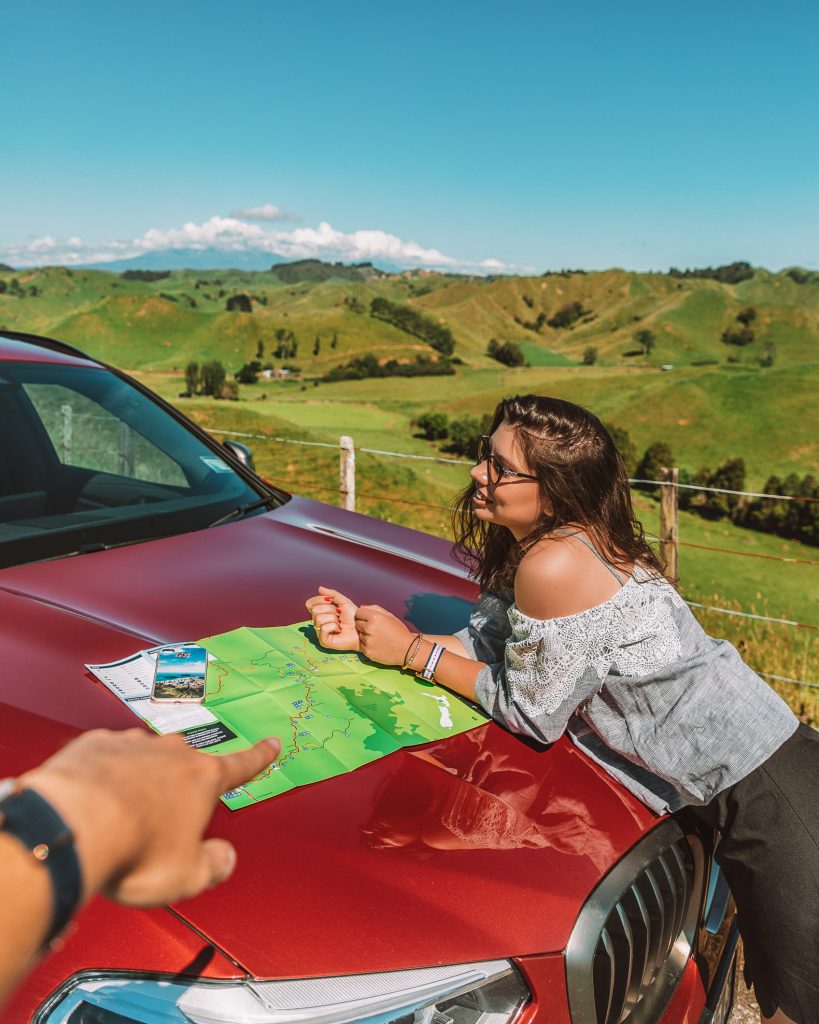 Forgotten World Highway detailed guide
Stratford
The day before our adventure, it was showering and even hailing in Stratford. Though it was only around 6 pm when we arrived to Amity Court Motel, because of the heavy storm it was so dark outside, it felt like late night already. Weather forecast didn't look very promising for the next day as well…
'I have a feeling it's going to be a great day today!' said Alex in the morning. I'd just checked the forecast once again and wasn't that optimistic. At least, there was no rain on the radar til' lunch, so we decided to hurry up.
I would definitely recommend to have a look around Stratford before entering Forgotten World Highway. This green, relaxed town surprises with its architecture and streets named after William Shakespeare's plays and characters.
The main sight of Stratford is the huge Edwardian-style clock tower on Broadway street. Every day at 10am, 1pm, 3pm and 7pm Glockenspiel plays a five minutes piece from Romeo and Juliet.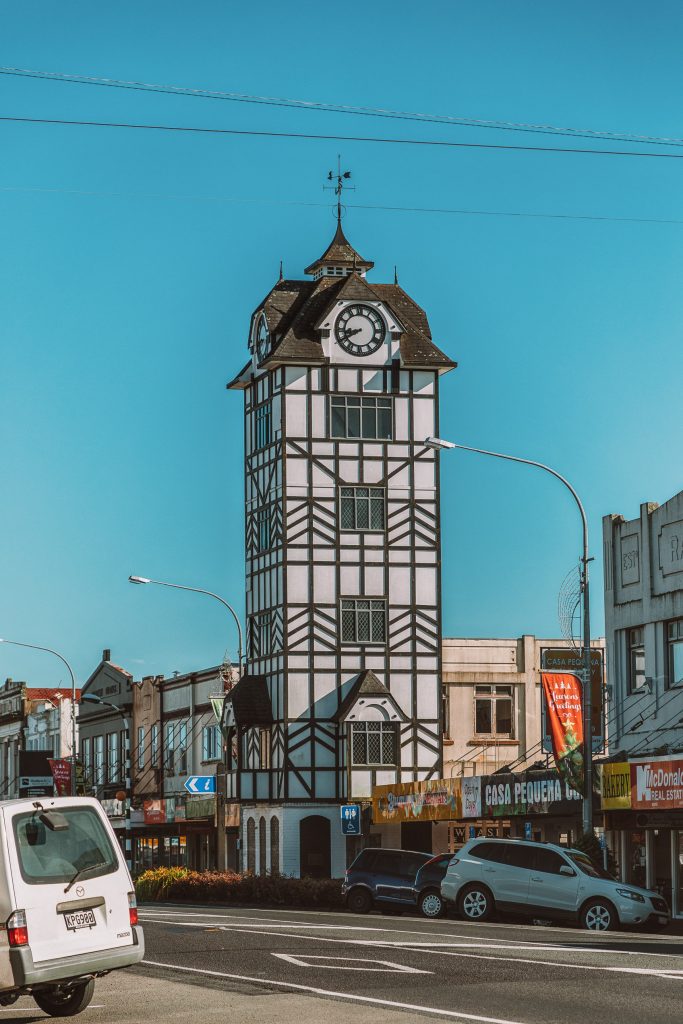 The other points of interest are all located within a walking distance. Opposite the Glockenspiel we find King's Theatre (the first one in the Southern Hemisphere to show talking pictures in 1925!), on the next street is Bell Tower commemorating the WW1 and Boer War soldiers and Malone Memorial Gates (the largest war memorial for an individual soldier).
Malone Gates mark the starting point of the 4 hour Carrington Walkway, one of quite a few Taranaki walkways notorious for stunning views of the local queen – picture-perfect Mt Taranaki. We decide to leave it for the next time though.
Mt Taranaki in a distance

Bell Tower

King's Theatre

Malone Memorial Gates
Forgotten World Highway begins!
Before diving into the wild nature of the Forgotten World Highway, we make a quick photo stop next to the very special sign, marking the starting point of the scenic route. Isn't it an uplifting moment foretelling a day of adventures? So worth being noted! It's also an amazing opportunity to wave goodbye to the glorious Mt Taranaki, peeking through the private houses.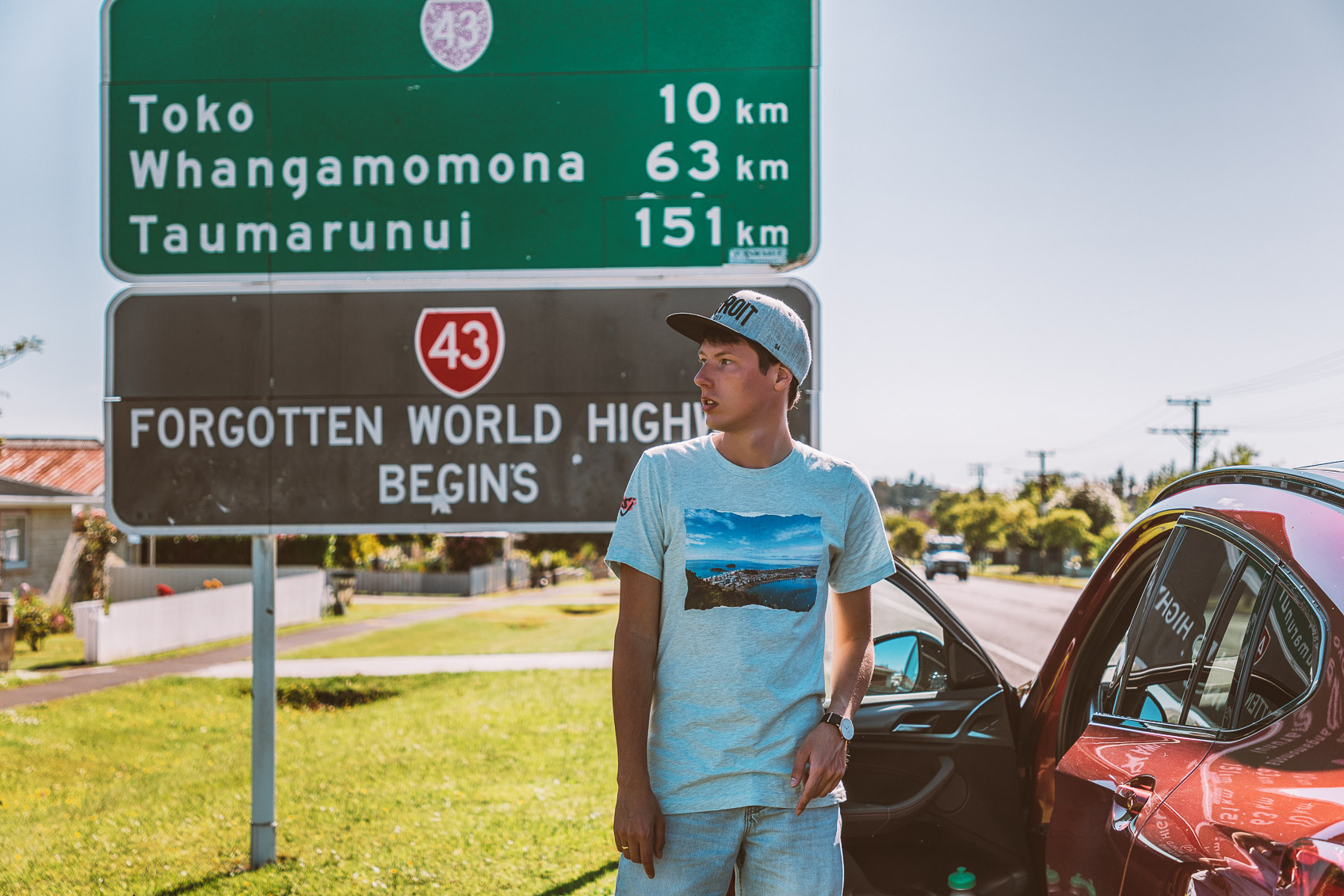 On the outskirts of Stratford lies Taranaki Pioneer Village, the first recommended stop on the route. This is an outdoor museum, sharing the story of the Taranaki pioneers in the XIX and XX centuries. Visitors can also take 'Pioneer Express' train ride around the 10 acres property.
We skipped a tour into the past and rushed straight up the untouched vivid green hills of the Taranaki region. The further we drove, the less cars we met. By the time we reached our first stop, Strathmore Saddle, spotting a campervan parked there and people lunching next to it already felt quite weird and unexpected.

There are four natural saddles on the Highway and while checking out the rest of them is entirely up to you, this first one is A MUST! First of all, because you're still in the very beginning of the adventure and everything around is just too fascinating to ignore. And secondly, because on a clear sunny day you can spot Mt Taranaki on one side and Tongariro, Ruapehu and Ngauruhoe on the other side of this lookouts (… at least, so they say. The day was nice and clear and I was wearing my glasses but couldn't spot Ruapehu and Ngauruhoe anyway. Maybe, I simply wasn't trying hard enough, distracted by the stunning views of the rolling hills, valleys and peaceful cows. And you know what, I don't even feel like I've missed on something!)
The next highlight of the route is the 'Bridge to Somewhere'. It was built in 1937 in the very unlikely location (it takes around 45 minutes of walking from the nearby village of Starthmore to get here) to commemorate the ambitions of the first pioneers of the region.
Republic of Whangamomona
Two saddles later we reached the legendary Whangamomona town. What used to be a bustling frontier town, the so-called capital of the region, with 300 residents is now a sleepy village with only around 30 locals living here permanently. But these guys don't seem to be disappointed at all! On the contrary, they demonstrate a great sense of humour, positive attitude and an amazing feeling of a small but friendly community that makes us want to become a part of it immediately.
And by the way, it's very easy to do that! The thing is, in 1989 Whangamomona declared itself an independent republic and nowadays every visitor can purchase his own Whangamomona passport in the iconic Whangamomona hotel. Of course, that is the first thing we do after parking the car!
This historical fact attracts tourists to Whangamomona all year round but the main celebrations are taking place every January, during the annual Republic Day. Around 6,000 people gather in a small town to celebrate and to elect the new president of the Republic. Currently it's ruled by the first lady-president in the world, for example.
It's time for lunch and coffee break, the sun is still shining bright, so we position ourself at the table outside the hotel and indulge into smokin' hot fish 'n chips. After a few hours of driving, it feels so nice to relax and slow down a bit. I can see now, why so many people prefer to divide Forgotten World Highway into two parts and to spend a night in a cosy, old-fashioned Whangamomona hotel that preserves the spirit and the stories of the brave local pioneers in its interiors, furniture, decorations and endless photos and newspaper articles hanging on the walls.
The wild Forgotten World Highway
Republic of Whangamomona is not even halfway from Statford to Taumarunui and most of the sights are still ahead. Nevertheless, we decide to speed up a bit to reach Nevalea Alpacas Farm in Taumarunui before 3 pm.
Nevalea is the largest alpacas farm in New Zealand. With over 800 animals living there permanently, it's nearly twice as large as any other alpacas farm in the country! And you can feed alpacas yourself there. Of course, we had to see it!
We drove through a single-lane 180m long Moki Tunnel, also known as the Hobbit's Hole (by the way, didn't feel tight or small at all) and famous for fossilized giant crabs living in it (we've even slowed down but didn't spot any), and entered probably the most spectacular part of the whole Highway – 12 km of unsealed road through the breathtaking Tangarakau Gorge. Gosh, it was like driving through Jurassic Park! It doesn't matter here, how evaluated and smart are people of the XXI century, how cool are our technologies and how bold are our ambitions. People don't mean anything here at all. Tangarakau Gorge is still ruled by wild-wild nature! It's so lush, so dense, so authentic, it literally takes your breath away!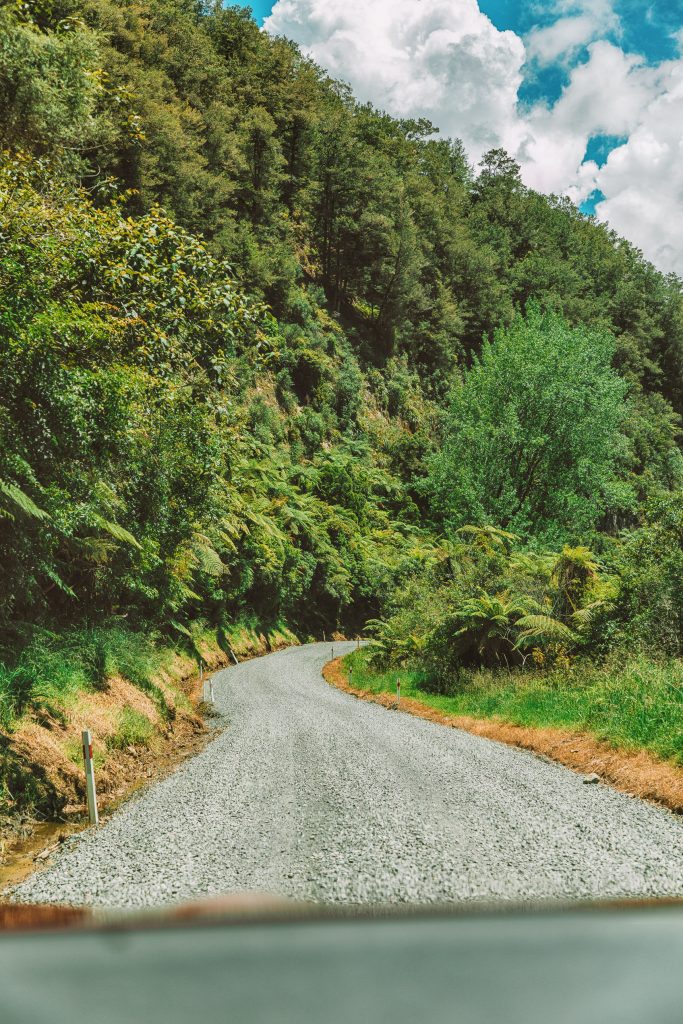 We also pass by another iconic sight of the Forgotten World Highway – Joshua Morgan grave. This brave man died at the age of 35, most probably from peritonitis, while surveying the gorge. His assistant dashed all the way to the coast for medicine but didn't make it back in time… This place is also a memorial to many other pioneers who spent their lives in this remote area.
Nevalea Alpacas Farm
Finally, we are here! The excitement is real. The farm doesn't look that huge from the carpark – as Neville, the owner of Nevalea Alpacas Farm explains to us later, most of the animals are currently behind the hills so we can't see them. The ones that are wondering around are either too young to walk too far (we've even met two days old baby! OMG!!) or are waiting for their turn to be sheared – Neville personally shears all 800 alpacas, so it obviously takes some time!
He shares some alpacas' food with us and calls on his pets. I'm impressed with how obediently they react to his voice and come to us. Neville knows every single alpaca by name, we rely on small plates on their ears to track who didn't eat yet. The day is so hot and we're probably not the first visitors today, so many alpacas ignore feeding time and choose to just lazily lie on the grass and slowly chew whatever they can reach.
It only costs $10 per person to feed alpacas. If you also want to take them on a scenic walk for some really outstanding photos, make sure to book tour in advance on nevalealpacas.co.nz – short walks start from $25 and up to $69 per person for an Ultimate Trek Combo (includes a guided farm walk, hand feeding alpacas, cuddling with babies, shear demonstration and a presentation on how alpacas' fibre is turned into the high end garments).
Before we leave, we nearly bounce into two gorgeous colourful parrots freely flying around. We will see a few of them further on once again. Overall, Forgotten World Highway might be 'forgotten' by people but it's a real paradise for animals. Farm animals like cows and sheep are everywhere on the hills, along with wild goats, rabbits and colourful birds hiding in the native bush. I doubt I have ever seen so many animals in the nature in one day!
Back to Forgotten World Highway
Happy, sunburned and scared by the dark clouds over the Nevalea hills, we jump back in the car and drive towards another 'Forgotten World Highway begins' sign, only this time we're on the opposite side of the 155 km road. We have two more places to check out and the rain can't stop us!
Luckily, by the time we get to Lauren's Lavender Farm, the rain stops. We find ourselves in the idyllic peaceful place, the one where you imagine yourself escaping from the civilisation, writing a book and meditating. It has everything you need for that: beautiful little cafe with outdoor terrace overlooking lavender field, short track through the native bush to the river and, of course, the most delicious pastry.
We explore the territory and take our time to enjoy some tea with the views. By the way, there's no entry fee to Lauren's Lavender Farm! The only downside of this place is that you can only walk along one row of lavender (when we were visiting Kaikoura lavender farm, for example, we were able to run and jump everywhere we wanted).
But it's time to explore the last beautiful place for today – Mount Damper Falls, the second tallest waterfall on the North Island (one of our favourite and most stunning New Zealand waterfalls).
To reach it, there is a 15 km detour drive down Moki road. We leave the car by the entrance to the private farm and climb over the fence. Not illegally, of course! There are special steps for visitors. The fence is needed to prevent endless sheep and goat from running away from the farm. And you know what? Not the waterfall itself but that short 10-15 minutes track through the farm is probably the highlight of this hike! I was on cloud nine to be so close to the sheep and I wish they weren't that cautious and let me hug them 🙂 But they preferred to watch us from a safe distance instead.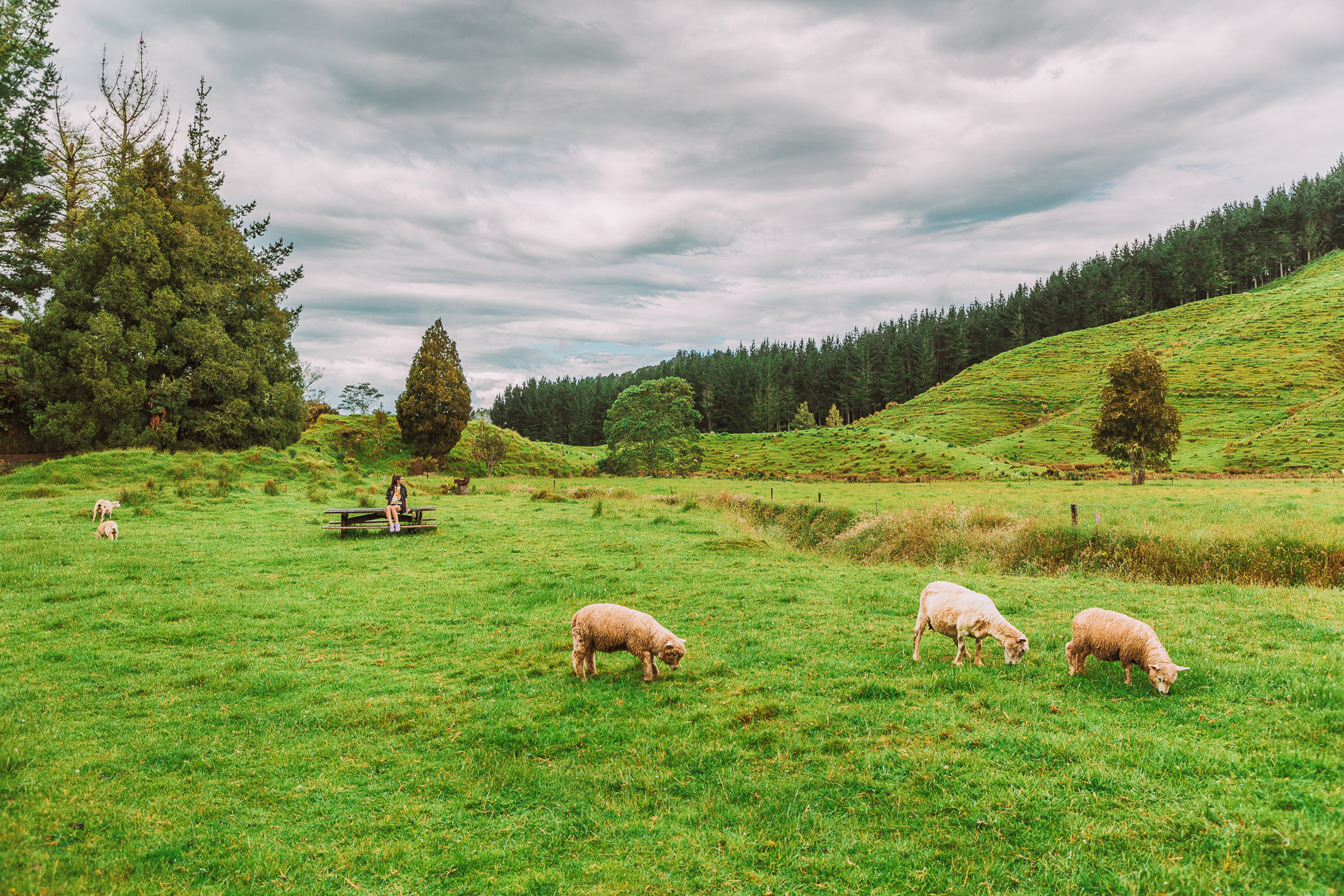 Another gate – and we enter the magical wild bush. There was something so special, out of this world in this forest! First of all, because there was no one around except for us and it created an atmosphere of being the only people on Earth. Or being the first explorers of this region! And also because of all the quirky stunning trees that are growing here in no particular order and without any logic.
After another 7-10 minutes walk through the forest we reach the first lookout platform at the top of the waterfall. Mt Damper Falls is a narrow veil type of waterfall and it's not the water itself that grabs our attraction but a stunning view of the wild nature, high hills, caught up in tree tops fog and a hint of sun, seen through it, we're facing. Another platform a few steps down gives a better perspective over the 85m tall beauty.

An even more forgotten road to New Plymouth
It's time to get back to Taranaki – this night we'll be spending in New Plymouth. Instead of returning to Forgotten World Highway we decide to take rural Okau Road to SH3. And I can't think of a better ending for this outstanding day! Road snakes through farms, hills and native bush. Nothing new? Don't be too quick to judge! Somehow, everything becomes even prettier and has a greater scale here on Okau road. If you only meet another car on a rare occasion on Forgotten World Highway, here we didn't meet a single car throughout the entire trip! Instead, we spotted so many wild animals (tiny wild baby goats jumping all around are my favs now!) and got to admire the most beautiful views ever.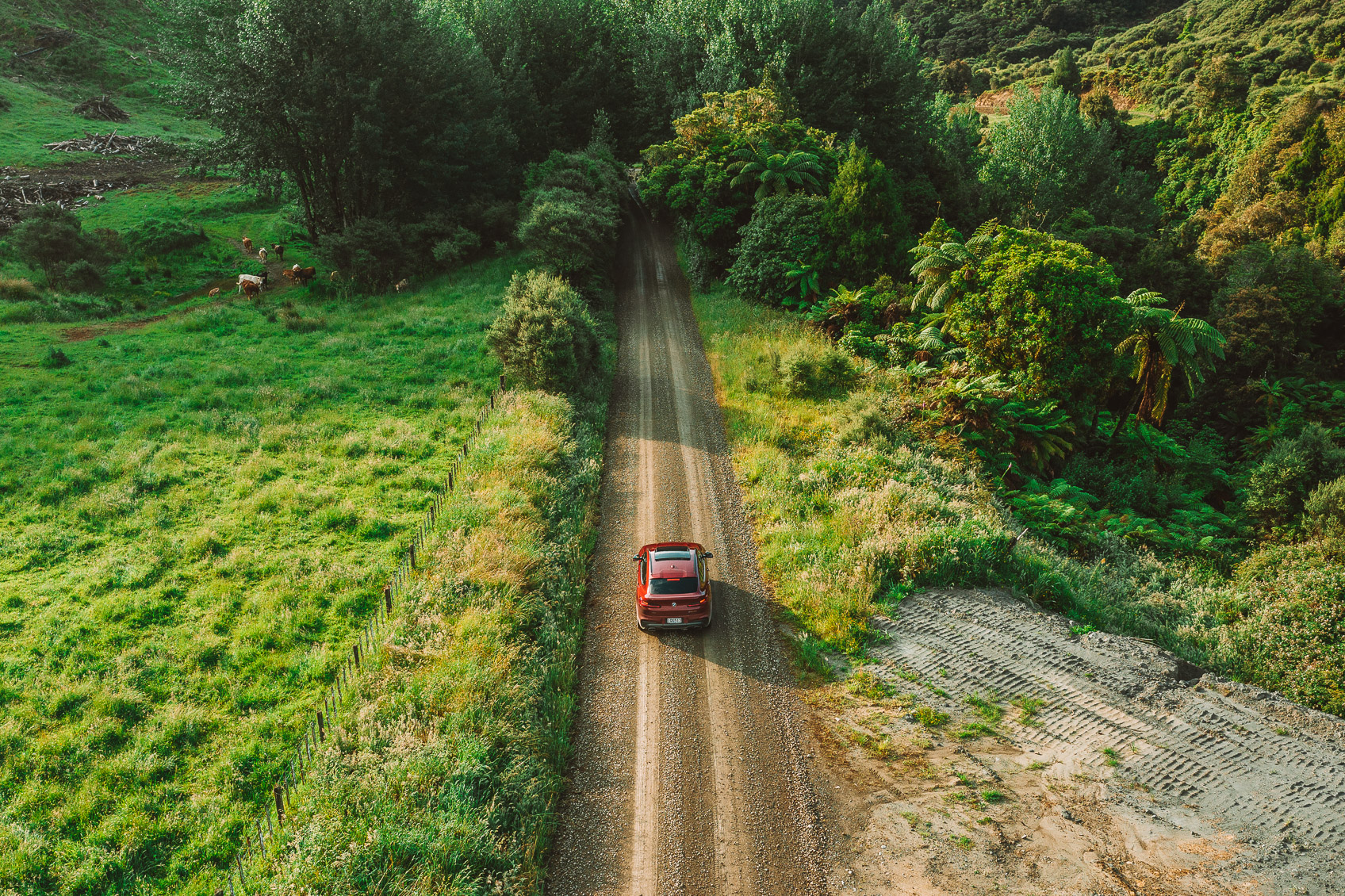 Of course, we had to skip a lot of amazing lookouts, interesting museums and abandoned villages to fit this trip into one day. If you want to embrace everything Forgotten World Highway has to offer, I would definitely recommend to spend two full days here (you can stay at Whangamomona hotel or park your campervan at the local camping ground). But even if you don't have the whole weekend, exploring New Zealand's oldest heritage trail in one day is still so worth the trip to Taranaki! Just make sure you identify what excites you the most in advance and follow your plan. Trust me guys, this road is so unique, so authentic that you'll never regret taking it.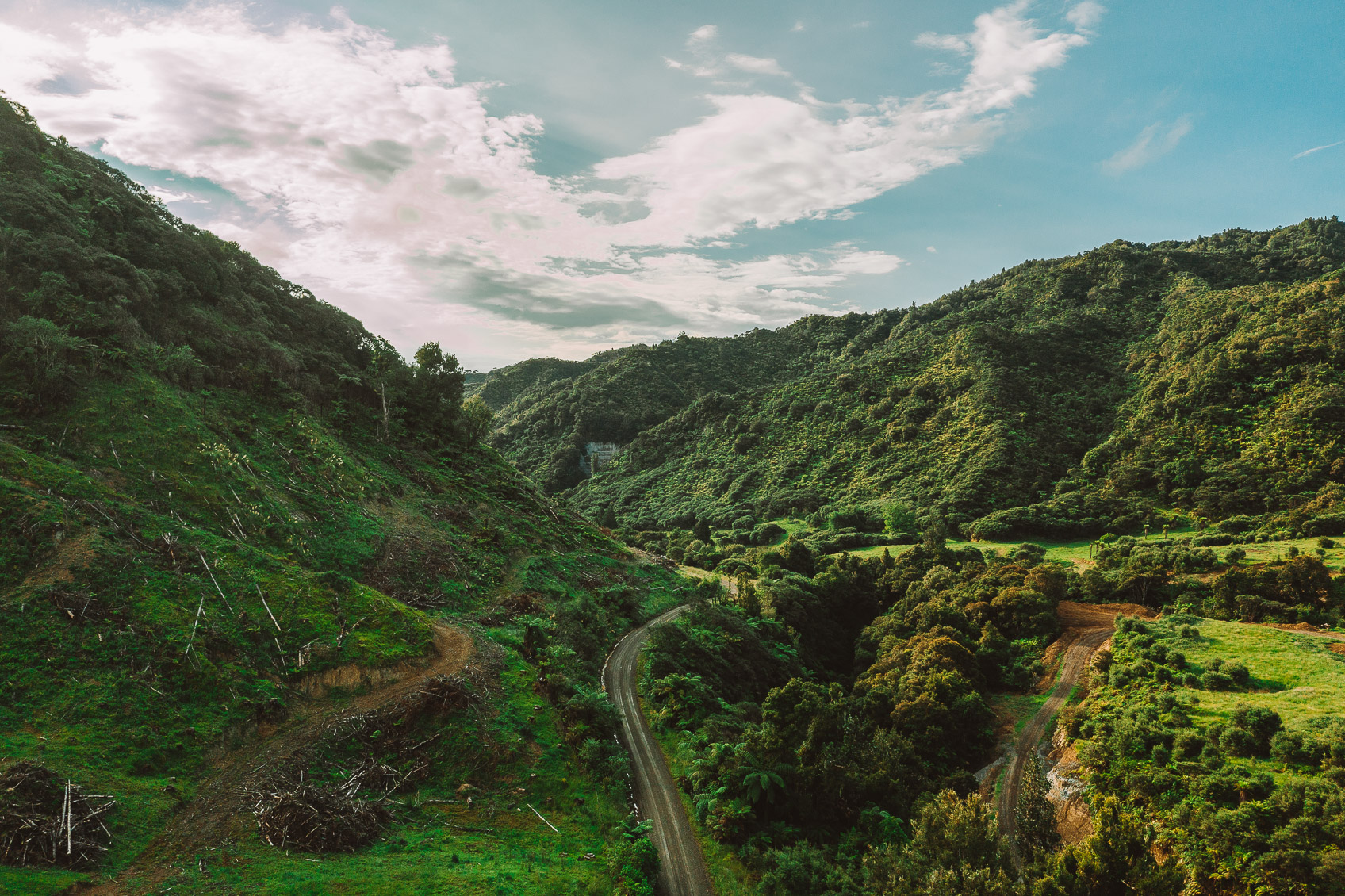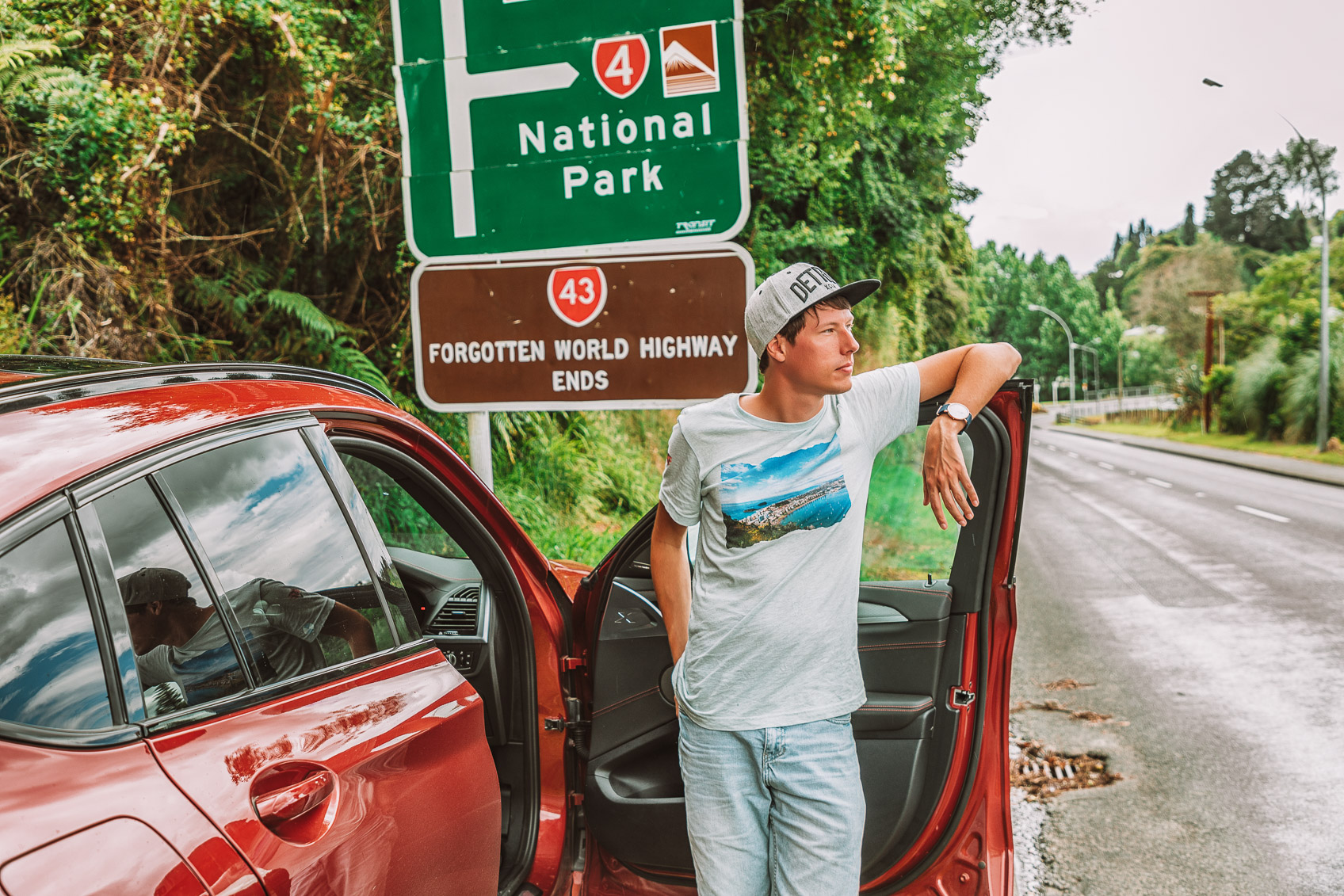 ---