There is something special about the way you first enter any Maldivian resort. It always starts from the water. You either land on a seaplane or arrive on a speed boat. But in any case, way before making your first step on an island's jetty, you see the entire resort itself: a small island with a row (or two) of overwater villas stretching out into the electric blue water. An iconic view that makes this corner of the world so famous and so desirable.
Kandolhu resort manager Marc and assistant manager Laura elevated these first few minutes to a whole new level by personally greeting all the guests. I mean, how often do you even get to know who rules the place you're vacaying at? Let alone being introduced to these people. But it's all about communication and dialog here, in Kandolhu.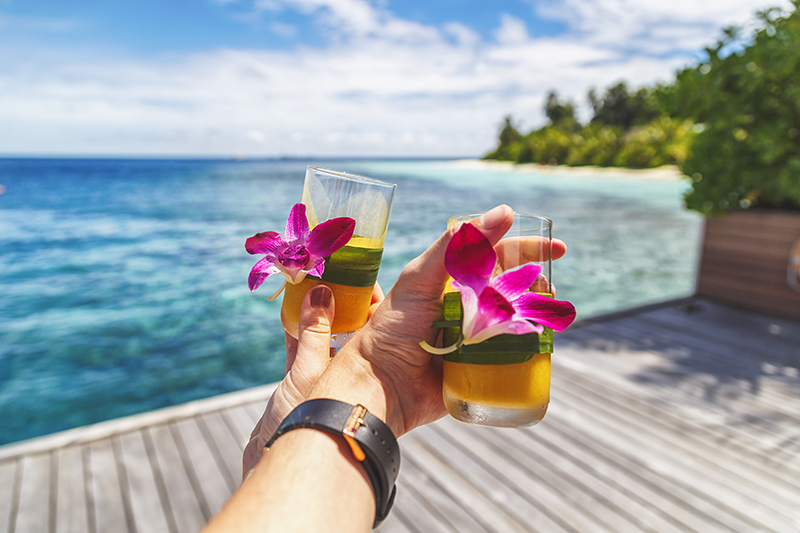 Even the way you're being supervised upon arrival – managers show you around the island and your villa, explain how to use in-room iPad for booking any activities or restaurants and goPro that is being given to all the guests, check whether you have any food restriction or allergies, so that you don't have to worry about that. From the very first seconds we felt like kittens wrapped in a blanket – cosy, safe and taken care after.
Kandolhu was the smallest resort out of five we've visited during our last trip. It only has 30 villas (that are pretty much occupied all year round)! Probably that also makes this communication and attention to the tiniest details easier.
Truly, here we felt like they've thought of everything. Being Kandolhu resort guest means being spoiled by so many little thingies you never receive at any other resorts! Some of them might not be REALLY important. For example, yoga mats. How many of the visitors do ever use them? But isn't the fact that you have two beautiful, brand new yoga mats in your room just makes the entire vacation a wee bit more luxurious? I have already mentioned the fact that each guest is given a goPro. You still have to return it when checking out, don't get me wrong, but you get to keep all the beautiful underwater photos from one of the best snorkeling places in Maldives! You also receive a giant bag of beach necessities (blankets, water bottles, badminton racquet and God only knows what else, we didn't even have a chance to look through everything properly, to be honest!). You can rent all the snorkeling gear for free. You can find all the info about the resort – from the map to spa prices and fishing tours – on the iPad. And trust me, the list of these nice bonuses is nearly endless.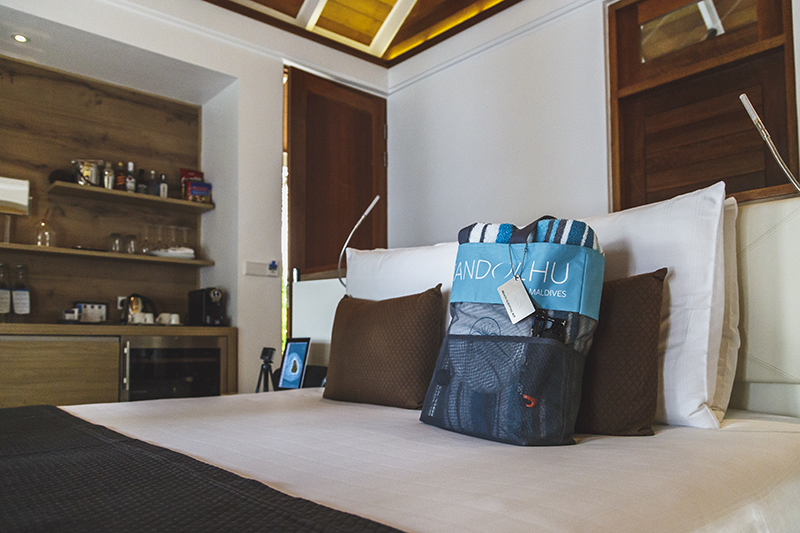 The tiny size of this island made Kandolhu unbelievably cozy. But not in a "fireplace – hot chocolate mug – wool socks" type of coziness. Ha, I bet no one craves anything like that in Maldives, where +30 degrees is a year-round temperature! No, Kandolhu coziness is in those whispering dialogs guests are having while walking along the beach… By the way, nowhere in Maldives have I met guests that intelligent and sweet, as here. Seriously, that group of four tanned posh Italians, honeymooning Chineese couple busy taking selfies all the time, beautiful and fit German family with two kids who behaved like lessons of manners were included in their curriculum since they were born… Nothing ruins a perfect holiday faster, than too loud people, don't you agree? So in this regard Kandolhu was exactly what we were looking for!
But I got distracted from describing that unique coziness we felt there, sorry:) It was also in having all five restaurants in one place, in getting to know all the staff immediately, and in them knowing your names, in fact that you can dine barefooted and pretty much spend your entire vacations here without wearing your jandals even once. We loved it from the first sight! Or, from our first lunch, to be more precise.
Unlike many Maldivian resorts, Kandolhu is a 100% a la carte dining. You'll still see a tiny buffet corner at breakfast, but they have so many awesome, mouthwatering positions on a menu, I saw no need in this buffet.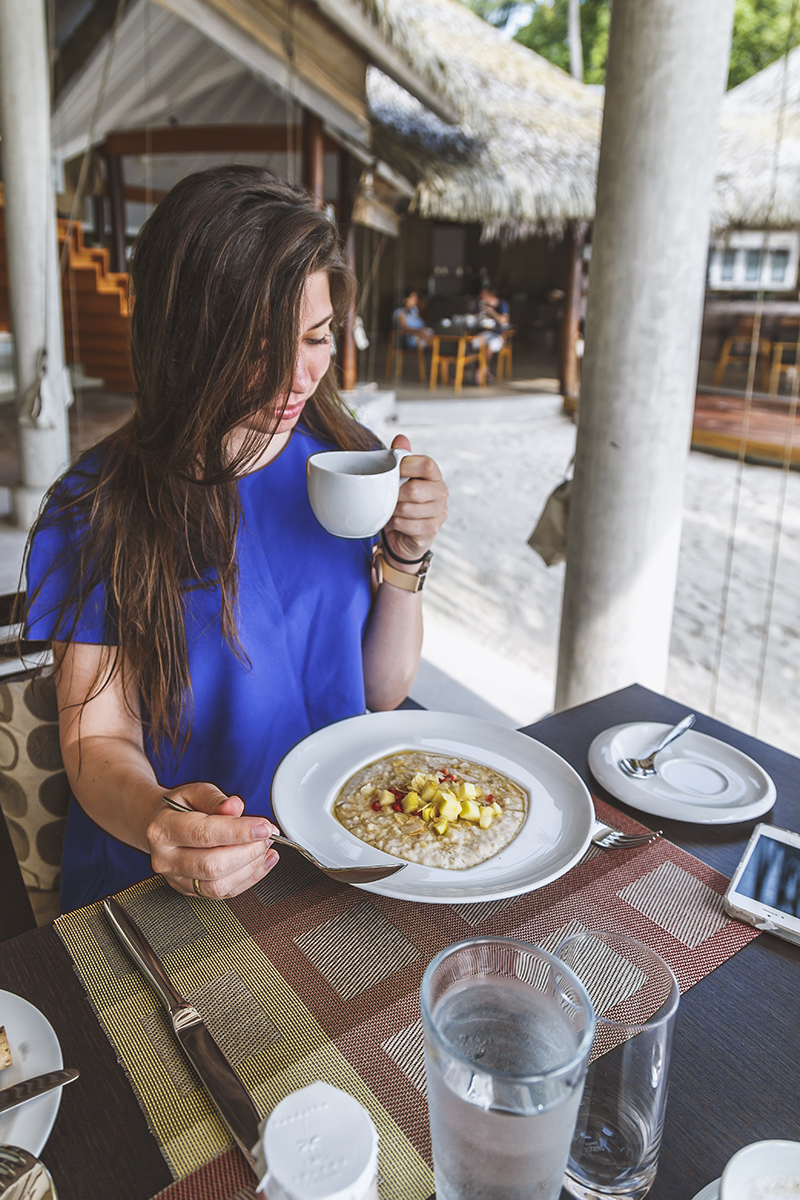 Five restaurants offer a great variety of cuisines. Facing the ocean, The Market is an all-day go-to destination for an international cuisine lovers. We had a divine pizza here, accompanied by the freshest Caprese salad in my life. Next to The Market sits relaxed Vilu Bar – the place where you want to be during the sunset, sipping on one of their signature cocktails (mango-passionfruit smoothie is my favourite!). Elevated above these two is Olive – mediterranean restaurant with the most breathtaking views. A bit further is a Sea Grill – beautiful place to have dinner at! Its arches, that remind me of Greek or some sort like that architecture, were actually built out of the local corals. Of course, today it's illegal to build houses out of corals, but people in Maldives used to do that for ages, so at Kandolhu they just took an old house, that would have otherwise been destroyed, and rebuilt it in this fancy way.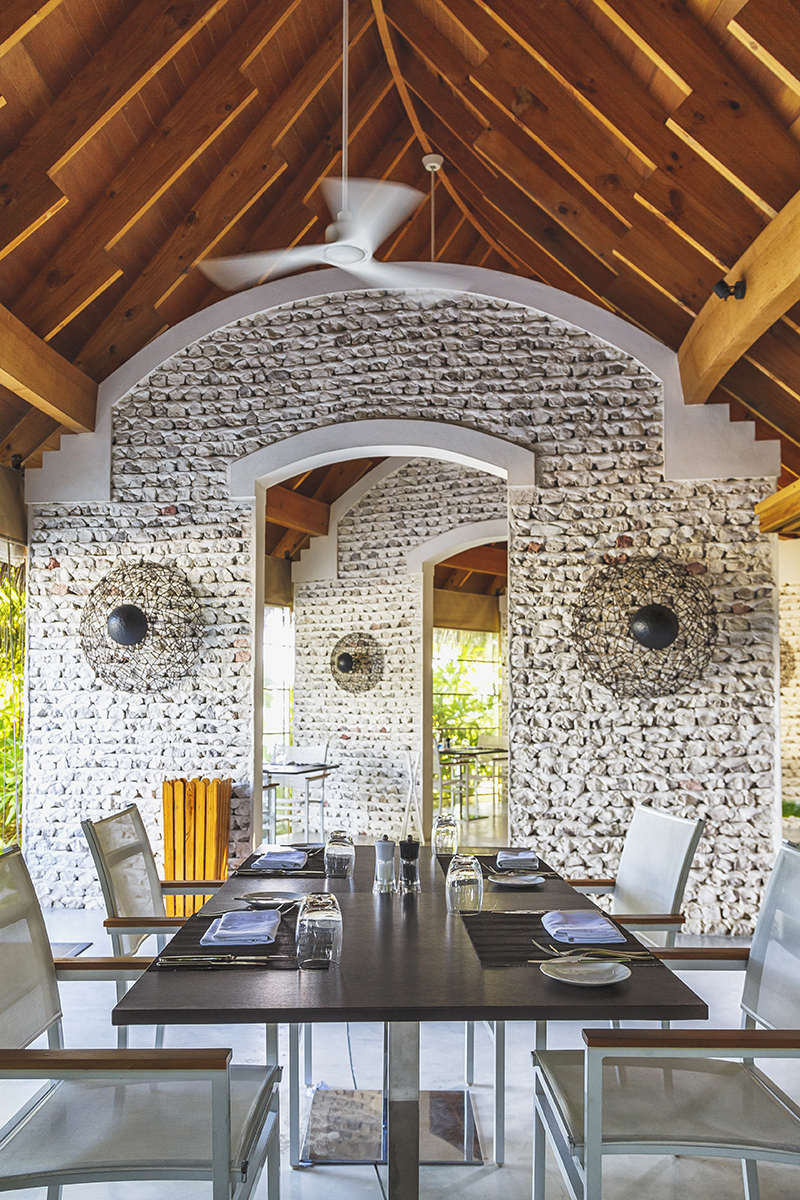 But the main gem of this resort when it comes to food is, of course, Banzai. The place, where Japanese cuisine is presented in the way you've never seen before – cooked spectacularly on the teppan. This compact restaurant only fits six people, but we were incredibly lucky to have the whole show for us two. And you know what? I've never overeaten that much in my life, but I don't regret it! How could I sacrifice those vegetarian sushi made by angels or those impossible flavourful grilled veggies in favour of feeling less fat afterwards?
By the way, Kandolhu is proud to have one of the highest ratio of restaurants per number of guests staying at the resort! And they are aiming for more – soon to come is a new 'fast food' place (don't think 'burgers' and 'fries', think delicious, light and fresh meals you can grab and have them wherever you want).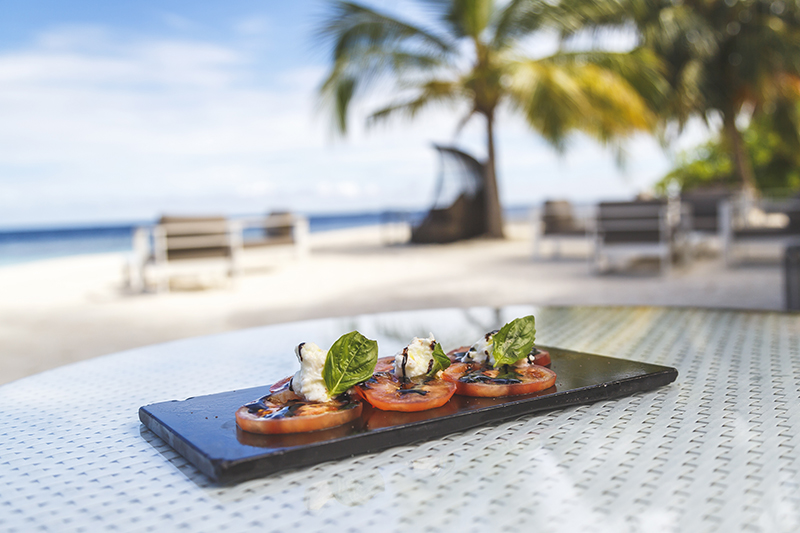 And though avoiding any other activities and thoughts except for those connected with food is pretty much my type of vacations, my favourite time of the day at Kandolhu surprisingly wasn't me spooning my way through another exotic dish. The best time of the day here is certainly an early morning. Our overwater villa faced the sunset, so during the sunrise (and we were waking up at 6 am in Maldives every day – you don't want to miss a single daylight second here!) it was still a bit dark and chilly. The water was incredibly blue and welcoming. So way before going to breakfast we had an hour or two of an obligatory swimming and sunbathing. There is a special joy in doing that without even officially leaving your house. Wake up, open the terrace door and take several steps down. Here you are! The way these overwater villas are designed allows you to always feel the privacy, despite the closeness of the other villas.
On our last day, we were snorkelling in front of our villa, when suddenly we saw a sea turtle! Maldives are known for these beautiful creatures, but seeing them in pictures is not the same as seeing one in real life! Gosh, I have no words to describe that rainbow of emotions I felt while swimming with it. It was so calm, so graceful. It looked like a king of this place:) Of course, the fact that there was no more than 1,5 meters depth only added the beauty to this moment: all the fishes, all the corals and that gorgeous turtle were like under a microscope. What a huge difference with seeing them in a blurry distance of deep reefs!
Pin this post: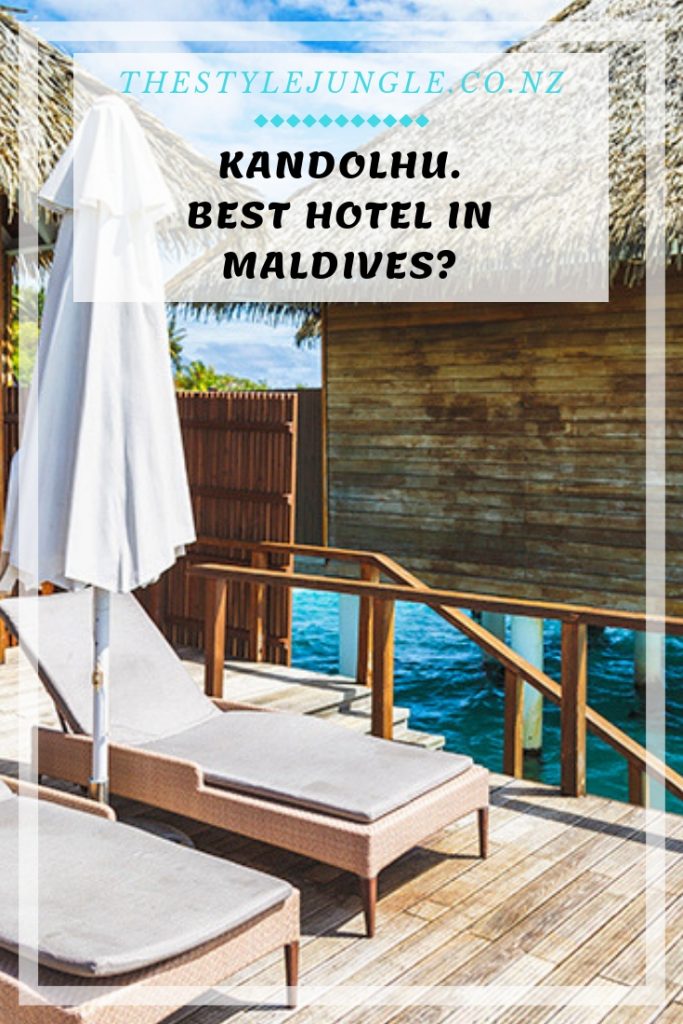 Besides snorkelling you can do millions of other things at Kandolhu. How about windsurfing, catamaran sailing, sunset cruise, hanging out in SPA or even taking an adventurous private boat tour? Though, to be honest, I would swap any of these for yet another hour at a marvellous small library they have above the reception. Narrow wooden stairs take you to the spacious, full of air and light loft with cozy bean bags and book shelfs. For many spending time at the library might sound ridiculous, but not for me! I wanted to go there since we've only arrived and was the happiest child, when we were trapped there by an intense rain, that happens in Maldives in November.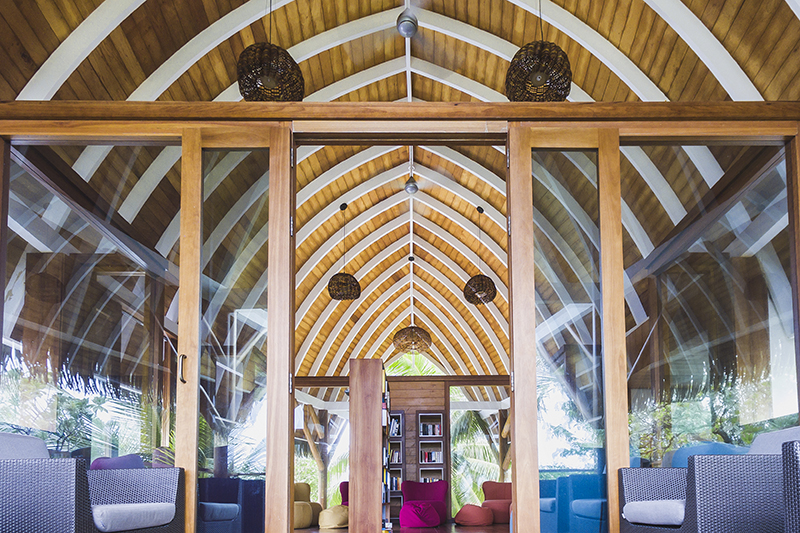 The only sad thing that happened to us at this paradise island lost in the Indian ocean was the departure date… I rarely have that feeling of "Nothing better will ever happen to me" during our travels. I only had it once before, to be honest – when checking out the Four Seasons Langkawi in Malaysia. And here, at Kandolhu in Maldives it happened for the second time! I mean, I nearly bagged EFTPOS to reject my card, so that we had to stay and clean dishes instead:)