A girl should want to be beautiful. If you have curves like booty or stomach – it's fine! Just do something: paint hair, wear heels. Don't sit still, eating cakes
I first met Katya Zharkova at Cosmo birthday party about two years ago. The party was already over, it was dark and cool. We were sitting at the ship restaurant covered in plaids, some people were drinking the last bottle if wine. And Katya in spite of tiredness, in spite of early waking up next morning (because of the shooting or some important meeting – she was in the middle of prepairing new TV-project "There is one secret" at that moment), was shining like our own sun with her optimism, smile and funny stories.
A little earlier all my collegues could already only talk about our new heroine – Katya Zharkova, Russian plus size model making outstanding career in America and being incredible beauty, sport lover and wise woman advocating healthy lifestyle and healthy beauty. Katya was my motivation since than. And I couldn't be happier meeting her in Moscow and chatting about her ideas and moto (which inspired me that much I even settled training schedule, returned to the healthy eating, heels and cosmetics even for a routine days – and now I'm already enjoying the first results!).
I need to tell you so much in Katya's words now! And I can't even imagine how to do it in the most compact way possible:)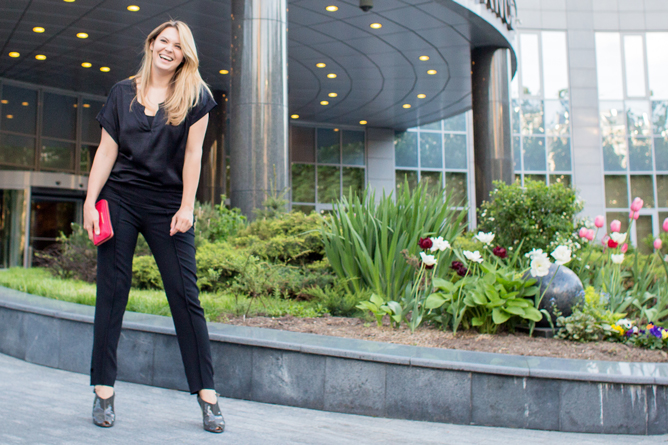 About the career
The world noticed model Zharkova after the provocative photoshoot where Katya was possing naked with the 40-size girl. She got that idea after seeing the photoshoot of a young model later dying of anorexia. "I was a TV-host back than and I understood that many of my female collegues now look just like that poor girl. They are working behind cameras as producers, editors, assistants, but when they accidently see themselves on a screen, they get scared. Whereas it's not because of their weight, you just have to be properly dressed, wear proper make-up and chose proper poses to look good at the screen. But those girls just stop eating. At all". And that is not the way you have to choose! I hope you, my friends, understand that?:)
To make her idea come true, Katya went to America. "I was looking for the right photograper for the very long time. I was sure it should be a woman with the perfect sence of shooting bodies, to show everything right. Two years passed before we managed to do it. But it became girly project I dreamed about. The day we finished our make-up artist said: "Wow, today you really did something special and important!"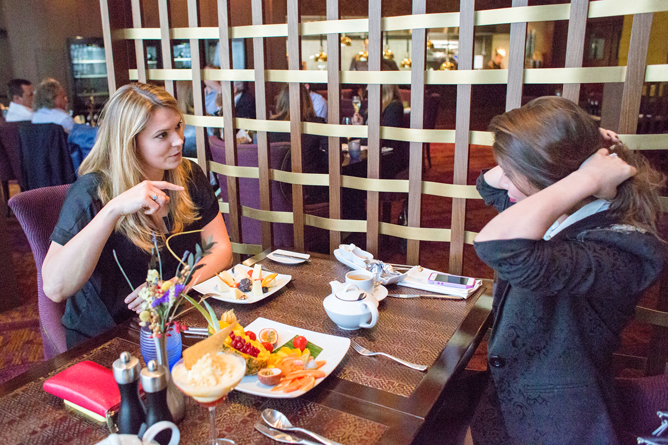 But Katya's career started much earlier and not in America. She moved to Moscow when she only was 14. Without having friends or anybody here. "I was calling everyone, saying: "Hi, it's Katya, fatty model", – remembers Katya. – Many people still call me "fatty model" when we meet. I even called Udashkin, but they were very surprised and hang up the phone. Strange… They are dressing our celebrities who are often not tiny at all. Why not to work with the plus size model?"
Now Katya Zharkova is represented by several model agencies all over the world. "I have chosen Wilhelmina myself. Do you know why? I watched "Gia" with Angelina Jolie – and that is the same building! Each time I'm entering it, it's like a movie. And I often feel worried, because I know all the history of the place, agency, of the legendary model Wilhelmina Cooper".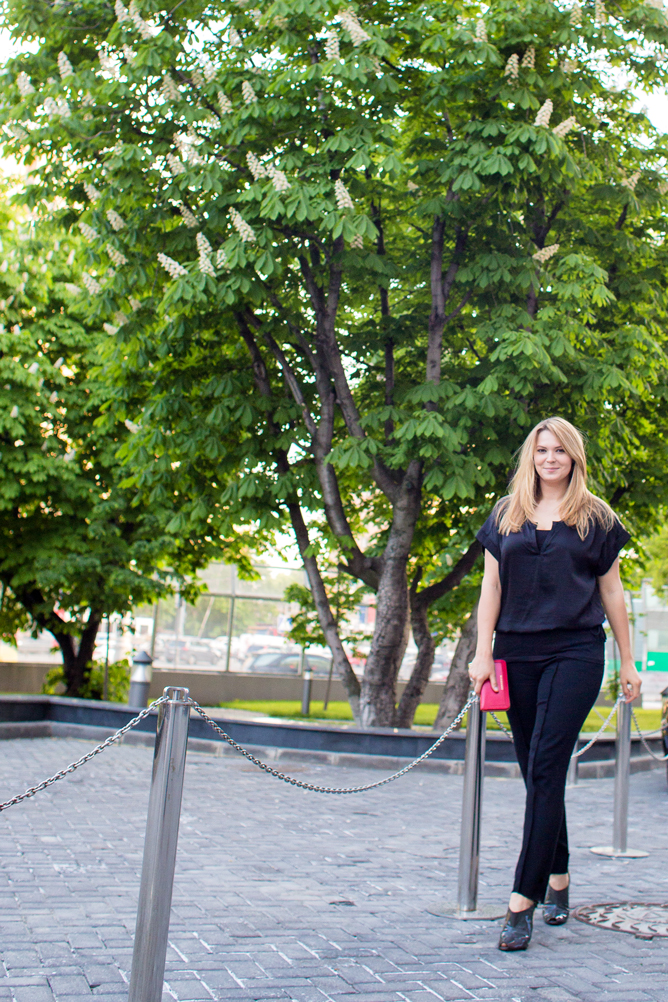 America was the place to discover Katya as a model. "Here I was more TV-producer and TV-host, worked at TNT, – remembers she. – And I pay taxes and have full time modeling job there. Modeling profession in America is profession, modeling profession in Russia is hobby. You can't earn money with it. Working as a model here, you will never buy a car or an apartment. It's just impossible!"
About goals
"We are fighting to include one plus size model in each fashion week show. Not for fame, no names needed, just let us do the catwalks! How many women can be saved from their invented complexes – they will understand they can look beautiful in right dress!"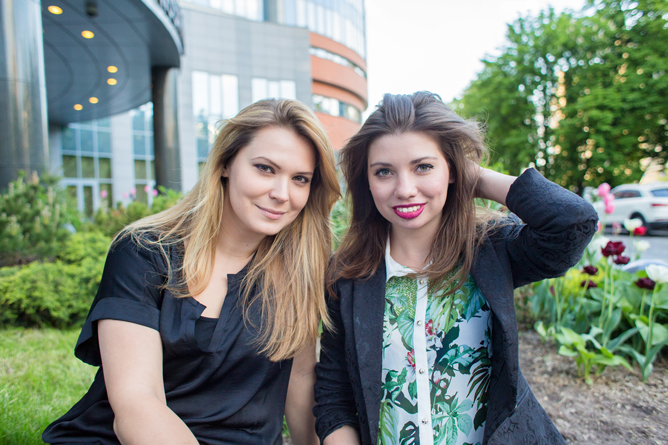 I'm ready to demonstrate my fashion knowledge, saying that it's quite complicated to sew dress for a plus size because each figure should be fitted personally. "Of course, producing clothes for size 0 and for me are two different things. It's not enough to be an artist in that case, you need to be designer, tailor. I have breasts, booty, waist – to sew for me you need to be able to sew".
OK, I can understand Alexander McQueen – it's a different story, it's an art, it's like Monet. I'm not even talking about high fashion. But making commercial collections and ignoring plus size models? It looks absurdish! There are a lot of people bigger than size zero. Don't they have rights now? By the wayб America is now thinking about aproving size 14, my size as a standart. It's a NORMAL figure, see?
Katya's ideas and goals are so right and somehow… humanic. But I have a feeling that plus size models in fashion world are like Russian designers in Russian glossy magazines – always on a side, in special editorials, special themes. "Yes, we don't have covers, – says Katya. – There was only one Vogue cover with three plus size models in last 50-60 years. And it was made by a photographer capturing social moods in his works. But women beauty standarts are always talked about and we're going to continue in fighting for our rights".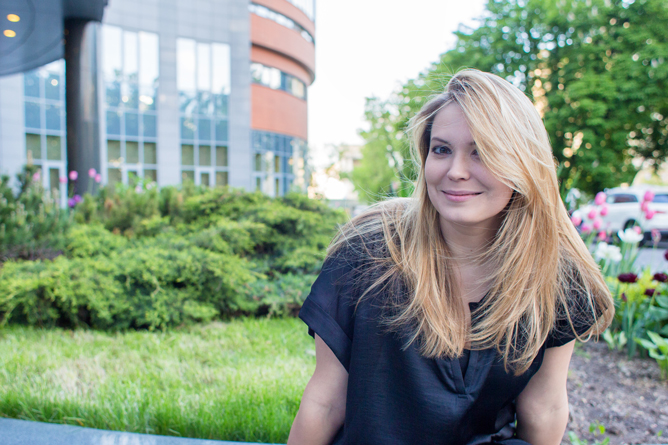 "Aren't you afraid of not being heard because of the lack of covers and editorials?" – "I'm going to get there someday! They don't have other options!" That person just doesn't accept any barriers!:) Bravo, Katya!
About beauty and health
People always tried to reproach me with my body. So I never allow myself to relax and give them reproaching reason. But what is the most important for me – to make sure other girls can do it as well!
I always liked how Katya proves that every girl is beautiful. No matter if she can fit Miranda Kerr clothes or not. And it's time for the main question: "Don't you afraid to be wrongly understood? Talking about beautiness of any figure, you are talking about healthy, sporty girls. What if some girls will decide you just allowed them to lie on a sofa eating Olivie-salad all day long and love themselves like that?"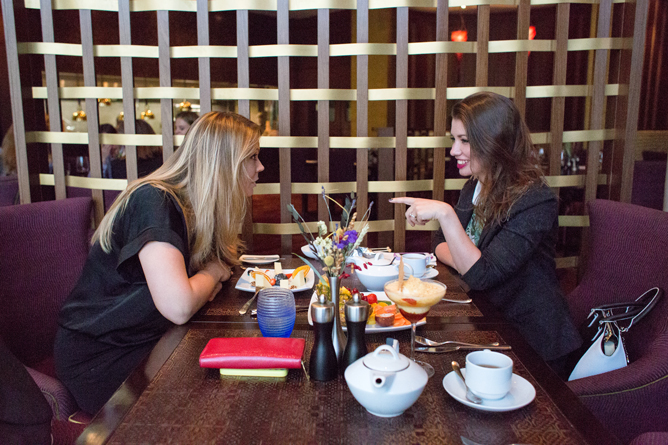 "I was always advocating sport, – Katya answered. – That is why we also made one photo of me in a difficult yoga pose in that photoshoot with a skinny girl. We wanted to show that I'm not just "fatty model" and you, people, try to repeat the pose first and that make comments about my body. But that is really frightening how many so called plus size models are now working in Moscow. They are sure they don't need sport in their lifes! During castings to the new show "Model XL" I was surprised by how few girls were ready to face a month long fitness marathon as part of the show. Respect yourself and your profession! Go in for sports! And if you still have those curves after all, you can call yourself professional plus size model".
There are a lot of sporty and beautiful plus size women, but there are a lot of those who just try to hide their laziness and inability to lead healthy way of living as well
"What is the purpose in hating yourself so much? If you were born like this, you still can do something: buy beautiful clothes, read books, do something and you can achieve anything! But some can just dream lying on a sofa: "I wish I could skiing". Than go and ski! All you have to do is to get up. It's easy. But I understand that it's not always about laziness. Some people just have no idea how to behave correctly. When you're 20 and all you have are pancakes, cakes and Olivie in your Instagram – it's just the lack of knowledge. Who eats meat with tomato? No one! Everyone add potato, bread and mayonnaise".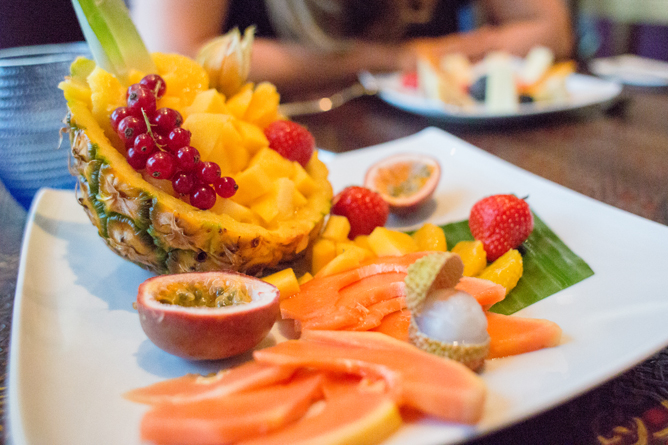 I ask what Katya eats herself. She follows separate diet and eats in right time. "I usually have curd for breakfast. And have rich dinner. But I will never eat buckweat with meat. I eat buckweat with pickled cucumber. Doing my best not to eat pancakes, "sharlotka". Especially at nights! But if I want choko, I can eat a piece. The main rule is not to prohibit anything. Because as you only say "must not", you will eat a box of it! Each year I do Lent, but that is only because of religion. And I feel I soon will become a vegetarian. Don't get me wrong, I love tasty, good meat. But that is so complicated to find it now. I sometimes look at the chicken in the supermarket and think: "How many antibiotics she got to grow so big?" And why should I eat that? And run afterwards?"
By the way, Katya is a huge fan of sport. She runs in the mornings, does yoga, rides a bike. And that is mostly because of the favorite job: "We don't advocate illness on a runway, we advocate health. Many models today are not even able to walk on heels for a day! If you can't walk in heels, you are not fit enough for this profession! You really need strong calves and feets. I was only 14, when I was forced to walk on tiptoes with books on my head – to strengthen feet muscles – for the first time".
And that is who she is – always wonderful, optimistic, inspiring Katya Zharkova. And very-very beautiful, of course. I hope her words will become your moto to improve your life as it was with me.