Ho-o-o-oray! Finally the problem with comments is solved and I can begin with the stories about our mega-trip through Russia. We have already met 6 bloggers and today I'mgoing to introduce you first 4 participants of the Live your Life, Love your City project. The post abouth the cities will be a bit later, so only my beautiful girls today.
We went to Nijniy Novgorod to meet cutie Nastya first. So sad our shooting was so short, cause the dreadfull weather spoiled everything. But instead we spend a cool time in a cool caffe, chatting about blogs and bloggers and our food habbits, of course (I must say that Nastya here is doing much better than me cause I can now hardly fit into our car chair already).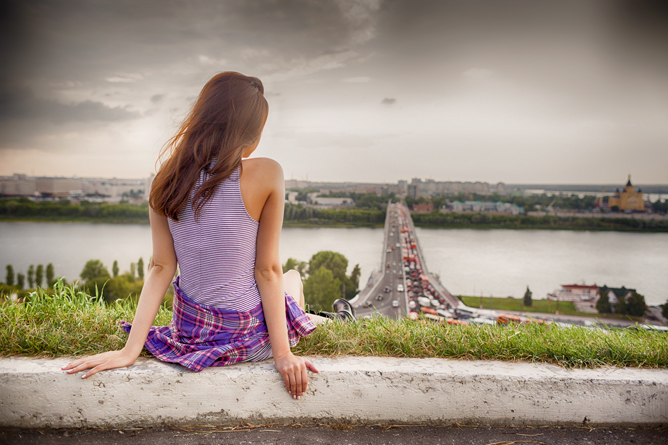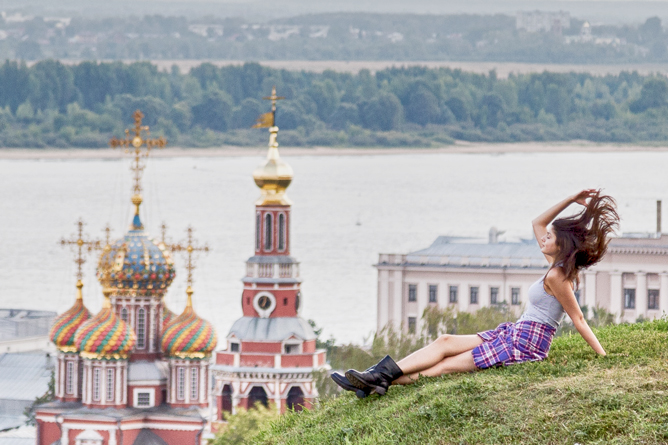 Nastya wears: dress and shirt American Eagle Outfitters
The next morning I and Alesha had a little time for a small walk. We went to Kremlin and looking at the city from the high walls we felt how beautiful and epic our country is. This feeling we first got while traveling through Russia last year and wanted to receive it again so much!
By the way, Nastya is now leaning architecture and told as so many interesting facts about streets and houses of her city! I always was a little jelous for people who are so good in history. That is so interesting! And world around looks a bit different:) Unfortunately, despite all my efforts in school and university I forget the most important facts really easily…
Not far from Kazan are the most beautiful views we have ever seen! Though the city itself is marvelous as well. I think, it is the most impressive place from all our trip for now. And mostly because of Tanya's behave:) We follow many Russian bloggers and Tanya was always among favorites. Each shooting in her blog is unique in her outfits, locations and atmosphere. But Tanya is not only posting personal style photos, she often gives useful advice in style and beauty. Moreover she now has one of the most impressive number of followers among Russian bloggers and seems to have kind of successful year winning trip to Chic Outlets in Europe and collaborating with Net-a-porter. Now you can understand how much I wanted to meet her!
As soon as we only entered Kazan, she treated us like kings! Presented traditional sweets and food, invited to her house for a lunch with barbecue. At some point I started to feel like not going anywhere else:)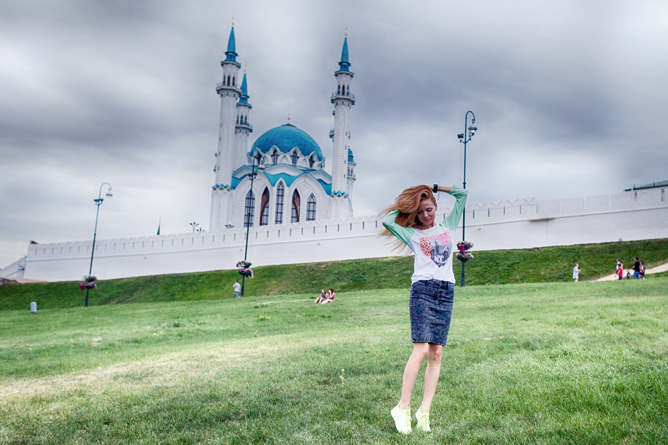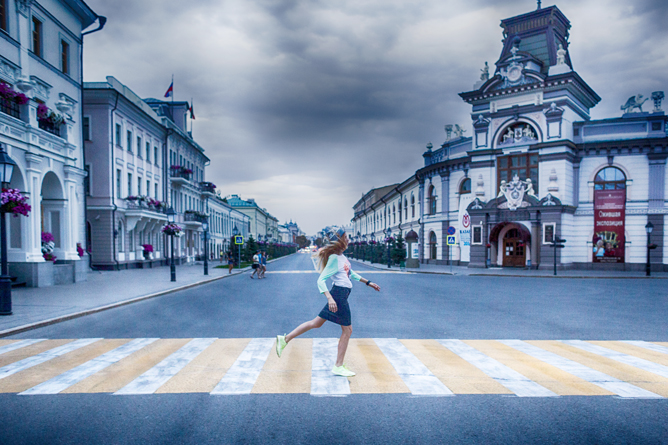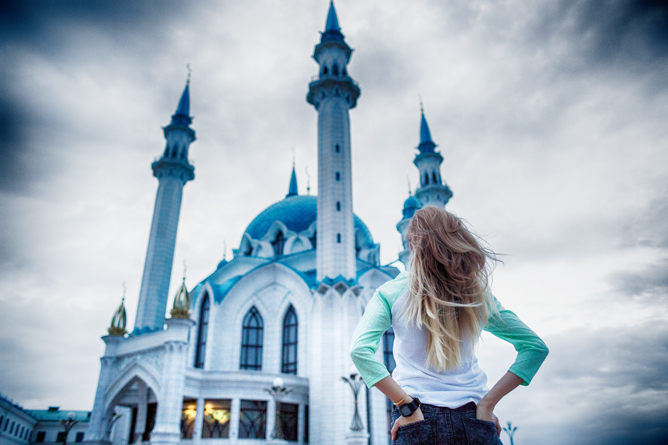 Tanya wears: longsleeve, skirt and hat American Eagle Outfitters
Photos with Tanya are so cool, though the weather was about to spoil everything! And I'm so happy to know that she and Alesha liked working together.
God, how much I liked shooting with Liria in Naberejniye Chelni! I always liked people who are creative in what they've been doing. Liria invited friends to shoot with her, made an agreement with the wakeboarding station to use it as a location, brought a lot of stuff like candies and even homemade knite! It was so much fun! And sooooo hot:) Though at that moment we still haven't visited Volgograd and strakhan at that moment and had no idea what the real heet is.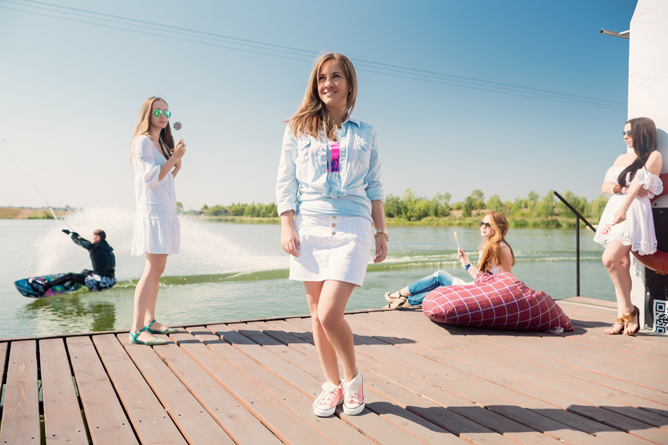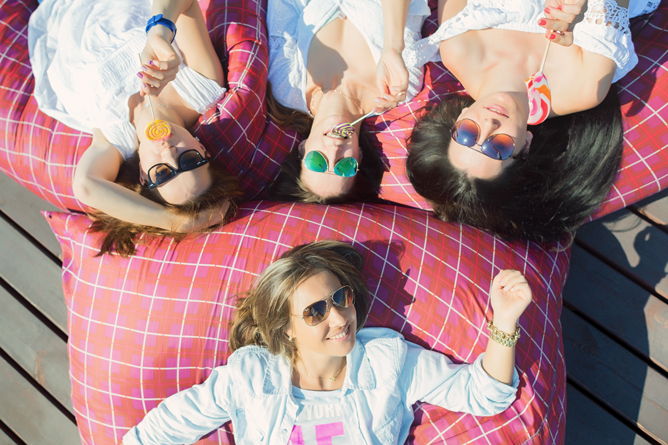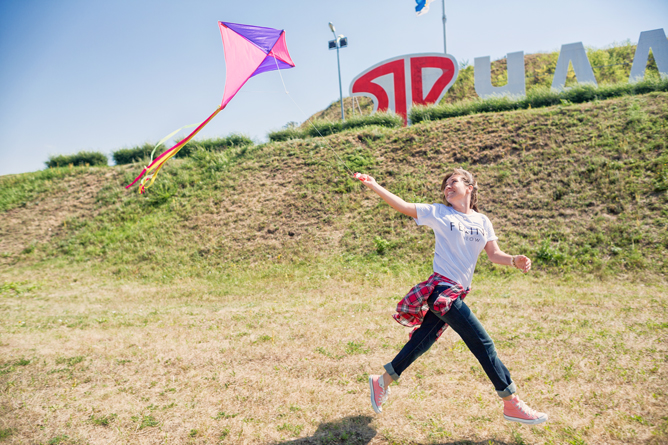 Liria wears: top American Eagle Outfitters for the first outfit, jeans American Eagle Outfitters for the second outfit
While being the main food lover of this blog, can't stop myself from telling you about the great place we had lunch at after shooting. It is called Dacha. But don't expect any village style there. This was quite modern, even minimalistic place with modern european cuisine. But why on Earth am I talking about that?! The main thing is there was that crazy ice cream machine. You could buy a 20 rubles coupon and creare an ice cream yourself. Isn't it cute? Especially for such ice cream fan as me:)
Two beautiful sisters from Izhevsk were shooting for the Aerie collection by American Eagle Outfitters. Hnoestly, the only thing I was doing while not carrying all over cameras back and forth (yes, it's the main thing I've been doing in this trip!) is wondering how cold they must be now, jumping under the rain almost without clothes. But they certainly did their best and this shooting was a constant pleasure. I really enjoyed watching how they were working: jumping and smiling simultaniosly and even throwing balls at the same high. Sisters magic:)
Girls have just started their blog recently, but have been working as models since 14 years. Anya even won a nomination in "Miss Povoljie" contest. Now girls are studying (in different universities, surprisingly) and participate in shootings or fashion shows only in free time. Cara Delevigne can be safe for now, main competitors are now busy:)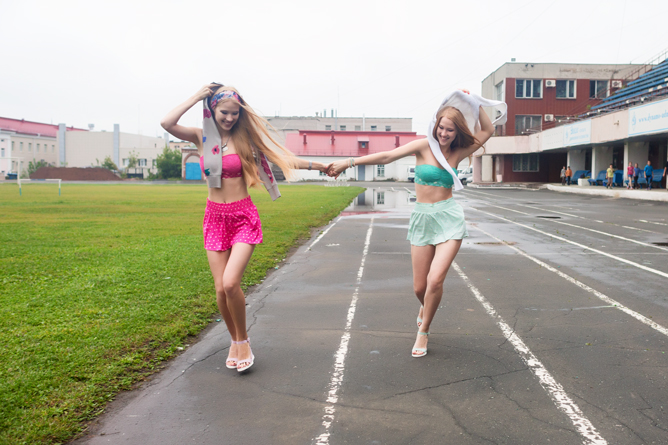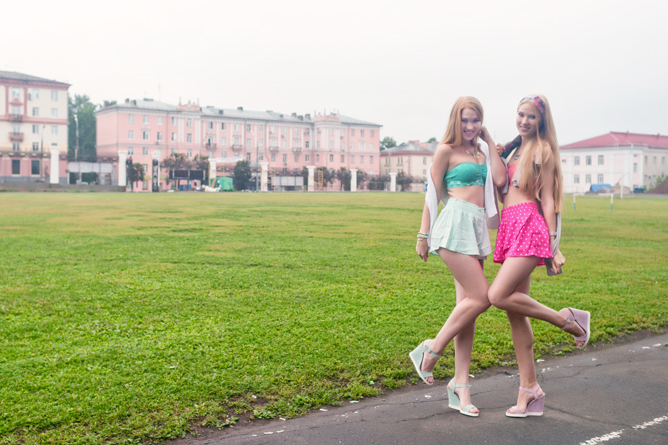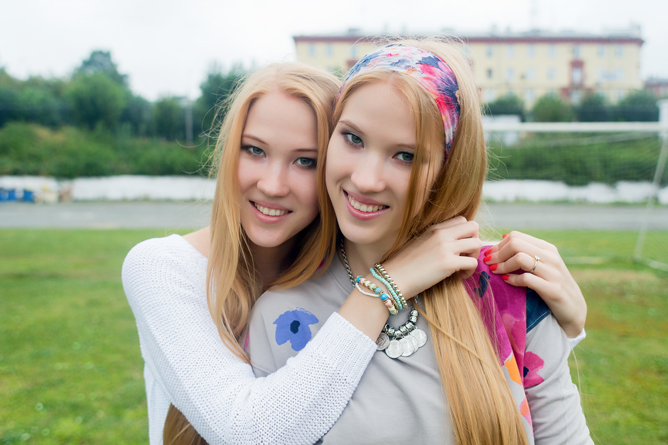 Nastya wears: top and shorts Aerie by American Eagle Outfitters, shoes Vicini for Centro; 
нAnya wears: top, shorts and pullover Aerie by American Eagle Outfitters, shoes Vicini for Centro
Though we are already at the middle of our trip, I still can't believe it's all for reall. Traveling through wonderful Russia, visiting new city everyday, meeting girls we've benn following online for a long time and spending time like we've know each other for ages… This project is definetely the most marvelous and huge of all I ever had in my blog! And now I have the feelikng like our car is some kind of eraser disabling km's between people. I can see how all girls are chating with each other, making questions and suggestions. Isn't it just crazy? I feel myself in a middle of a big company of friends. 7 000 kms wide company:)