At some stage I was ready to admit we're some sort of travel losers. Imagine having a tour cancelled TWICE due to the weather conditions… Doesn't sound too bad? Wait until I tell you the tour is located in the SUNSHINE CAPITAL of New Zealand. Yep, story of my life:) But after the success of our third attempt to visit White Island (I bet, you have guessed by now), I truly believe the timing was just perfect!
When visiting Whakaari, New Zealand's only active marine volcano, you want everything to be perfect: blue sky, mild wind, nice temperature. Not because paying $438 for two makes you quite picky:) But because seeing something that unique should be the best experience of your life!
And I already knew it would be like that, when a nice lady on the phone (all visitors receive a phone call the day before the tour to confirm it) told us, that our check-in time is 9 am, not 8 am, as we have expected. Extra hour in bed on Saturday? That's a good sign!
The best advice I can give is to come earlier. PeeJay cafe at the White Island tours' office was made for a perfect morning coffee! Wooden outdoor tables overlooking the pier with the boats that are about to take you on an adventure kick start this unique experience way before you step aboard.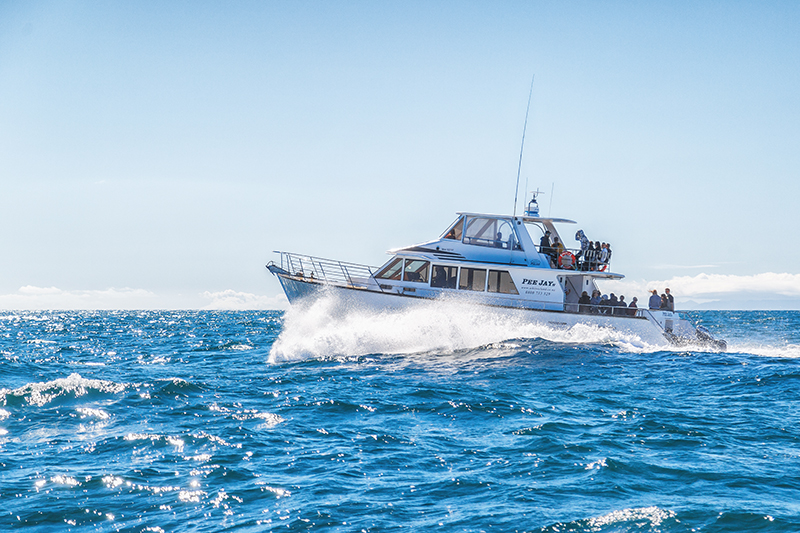 It takes around 80 minutes to get to White Island from Whakatane. Knowing that we might see dolphins or other awesome creatures along the way, we settled ourselves outside. Though everything we saw in the next hour were horizon and water (Alex also added several dreams while resting comfortably on my shoulder to the list), I still never regretted this choice. Bouncing on the waves and licking my salty from the ocean spatter lips was so much fun! And we DID run into a sunbathing on a rocky island seal after all! Yay.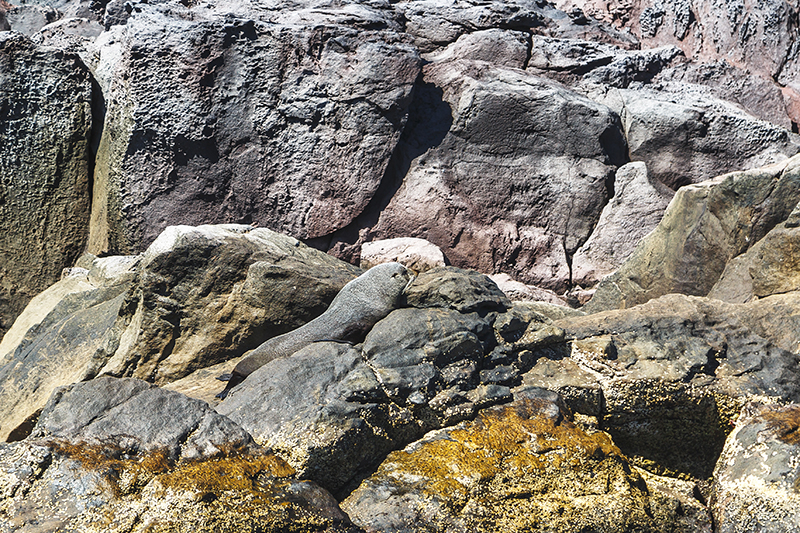 There are no words to describe the moment you land on White Island for the first time. To be honest, after all the travels around New Zealand, I was a bit afraid that we kept on delaying this tour for too long and won't be amazed any more. We've seen all three geothermal valleys of Rotorua after all! But there is nothing you can compare to Whakaari… It is colourful, steaming, smelly, loud, powerful, it is LIVE!
Currently White Island is sitting on Level 1 (out of 5) of volcanic activity, which means it's not extinct, but will doubtfully erupt right now. "Try not to step on those small white hills, as they are fragile and might crack. Remember, magma is only 3-5 kilometres under our feet" the guide says casually. Wait, what? With my hair turning grey, I wonder, how many times do you have to pronounce this phrase before mastering the intonation as if you were announcing the next bus stop. OK, no one promised it's going to be a leisure walk, and unless I'm stupid enough to climb one of these creepy hills, I'm kinda safe, right? I mean, I am wearing a helmet, what can possibly go wrong! Thank God, the next thing I hear is that White Island is stuffed with cameras like Thanksgiving turkey with… whatever it's normally stuffed with:) Cameras an other hi-tech devices help scientists to track possible eruptions or earthquakes and no way they are bringing people to the island if there is even a tiny hazard risk.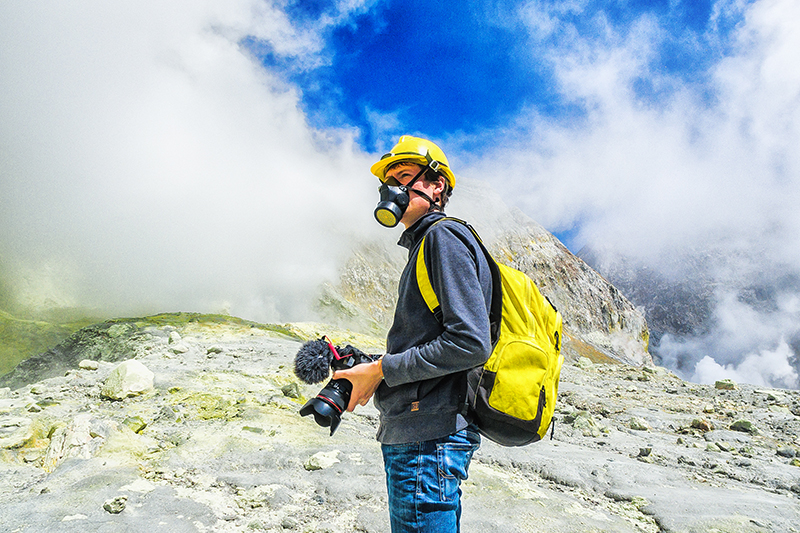 Trust me, the phantom danger of the active volcano is nothing compared to what you see there. White Island is spectacular. Walking there is like exploring new planet somewhere in the furthest corner of the Universe – pale brown sand mixed with bright yellow sulfur, baby blue lake covering the main crater, and the remains of the old factory, where people used to mine this sulfur a while ago.
The tour around White Island lasts around 1,5 hour. We spent this time hectically trying to get some beautiful shots for our vlog and Instagram accounts. Quite a challenge when exploring the place in a group and with a strict schedule. XXI century problems:) So my advice would be just to switch off all your digital devices and soak in the moment. Sounds stupid, I know, but so worth it. Photos don't do any justice to this place anyway. Make the memories of the fantastic landscapes, of the acid smoke that makes you cough despite wearing the gas mask, of the 45 degrees water in one of two narrow fresh water streams. Far from something you see or feel every day, right?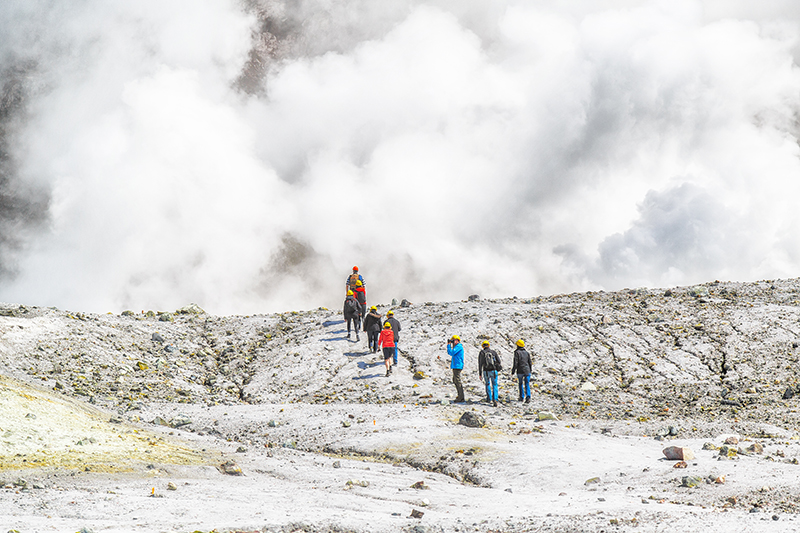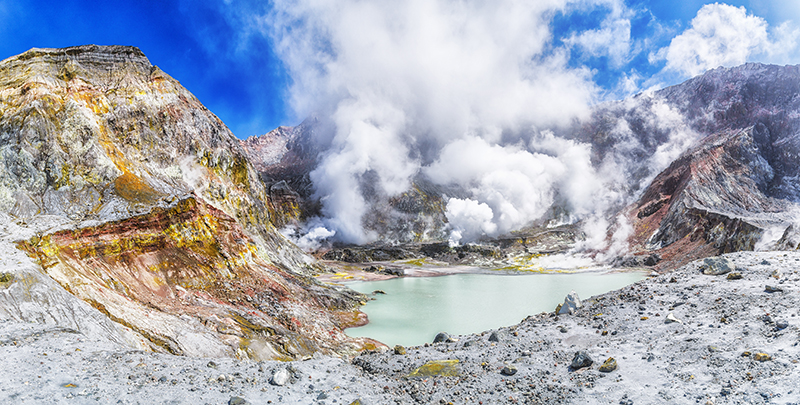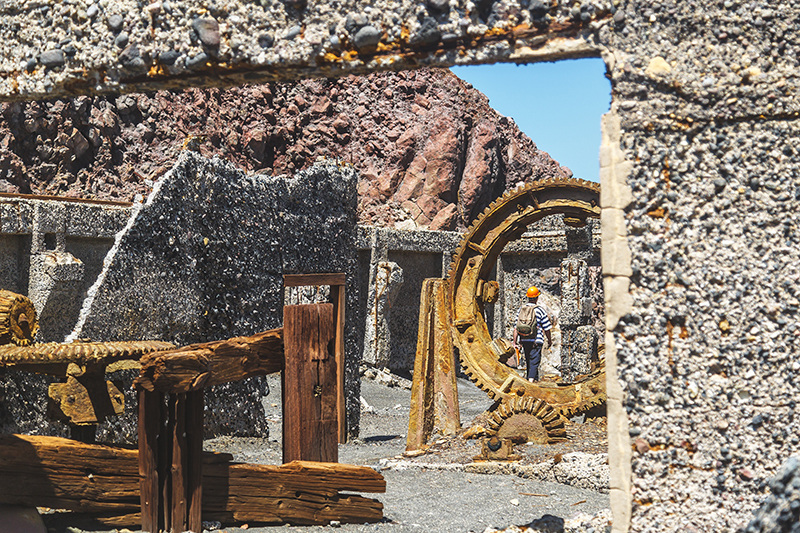 On the way back to Whakatane everyone are treated to a lavish lunch, that includes sandwich, sweet sponge cake, apricot bar, an apple, tiny chocolate candy and a bottle of water. Being experienced travellers (always wanted to write this), we saved hot tea thermos for this moment. What a nice moment it was – back on boat, tired but happy, indulging into so much wanted food and sharing our emotions with each other!
To wrap up this awesome day, we went back at PeeJay cafe for another cuppa. As a whole, the tour to White Island from Whakatane took around 5-5,5 hours, but we felt so impressed and refreshed as if we were already traveling for weeks! Can anything be better than that?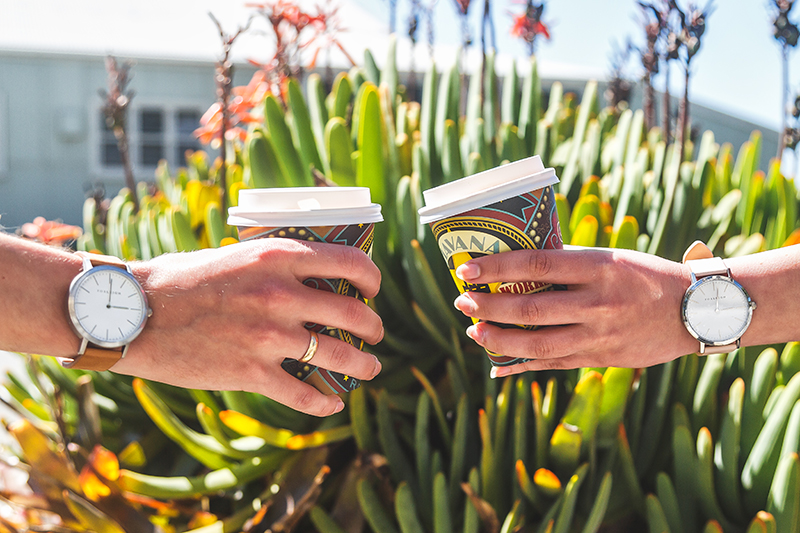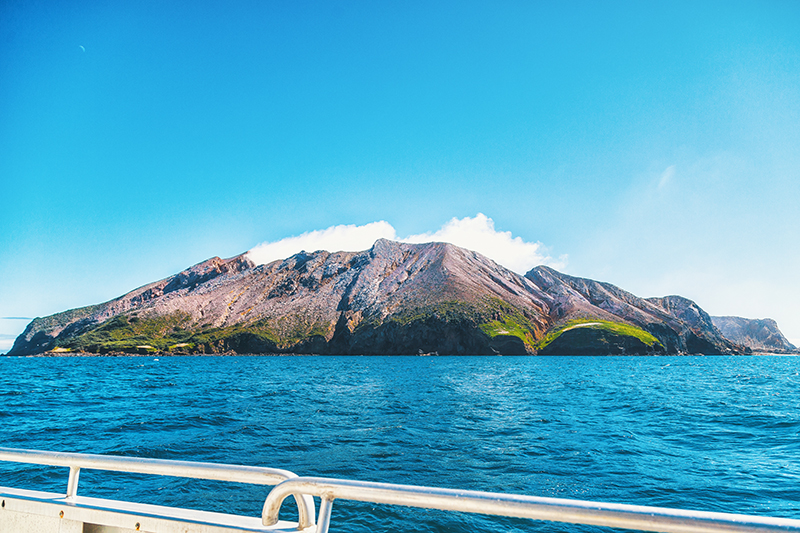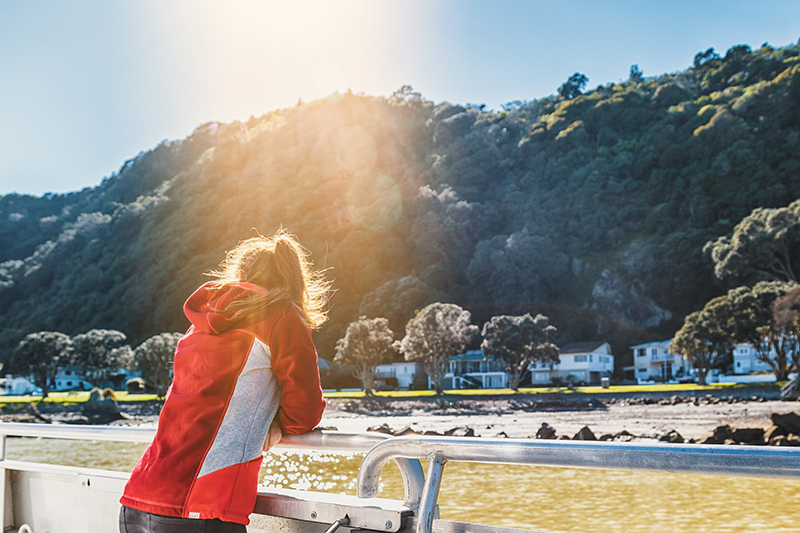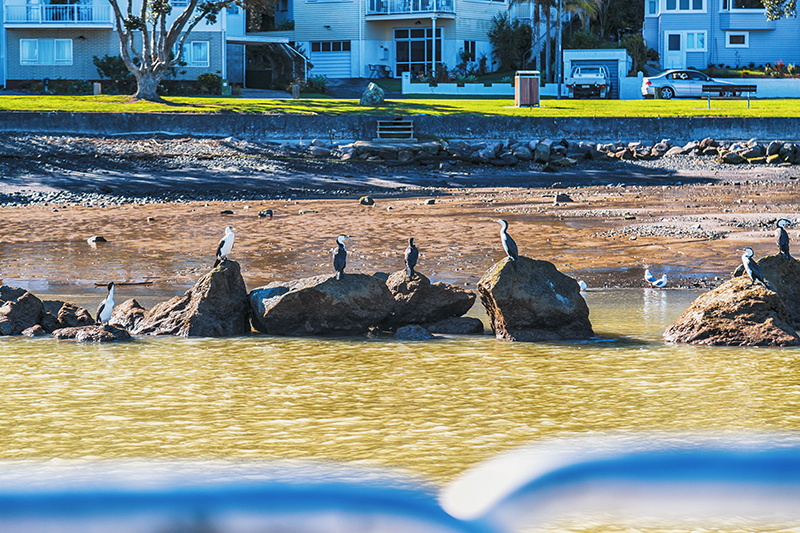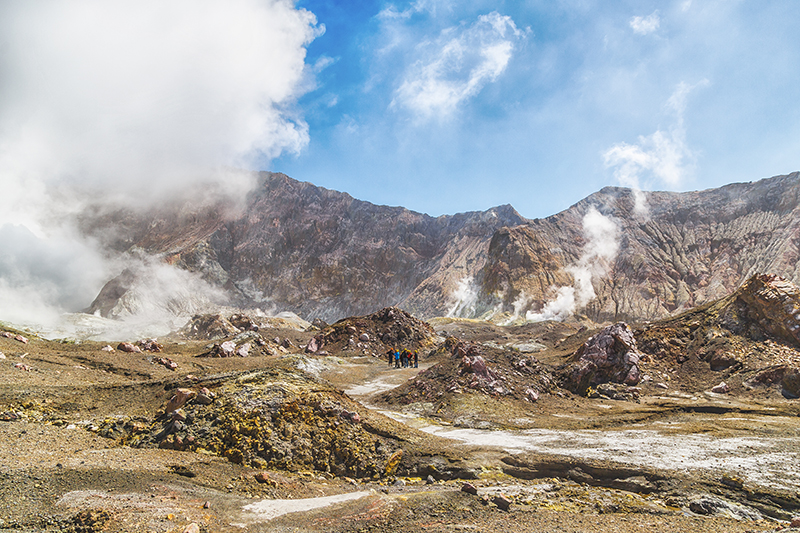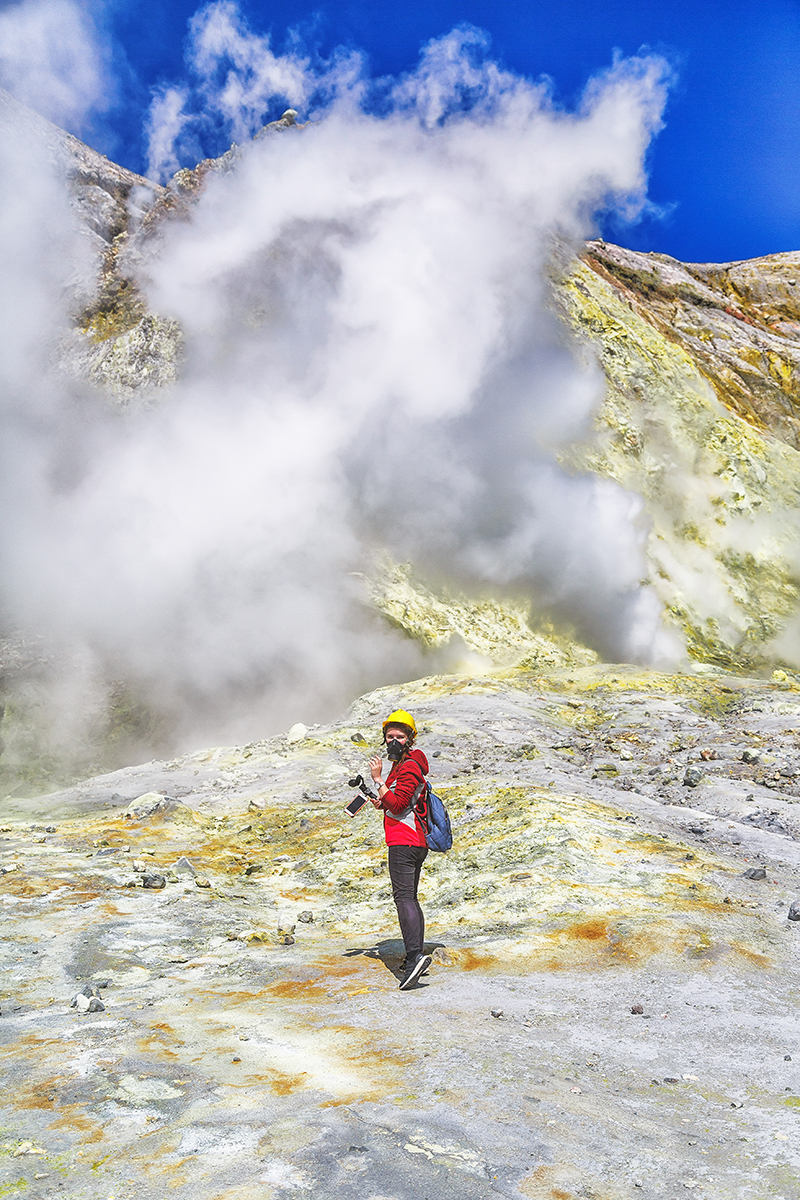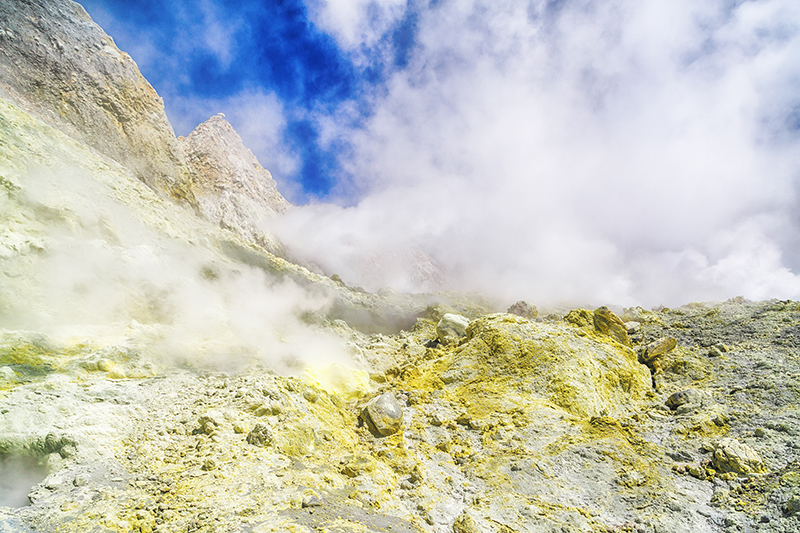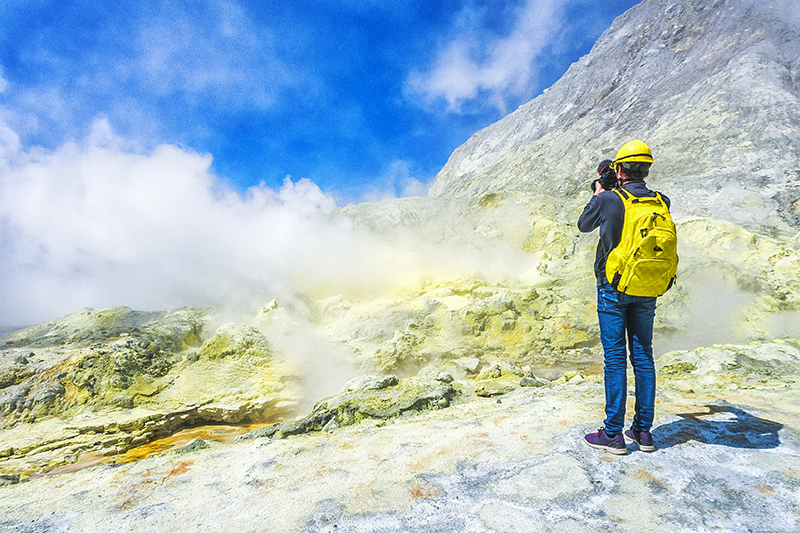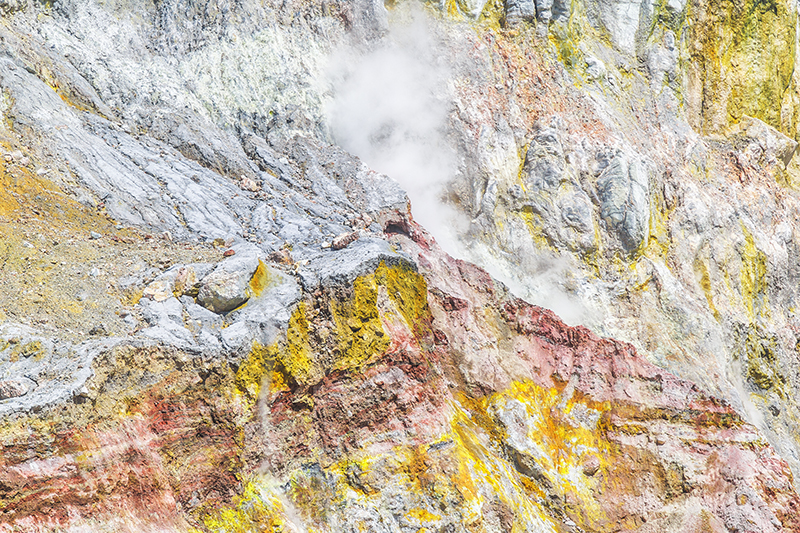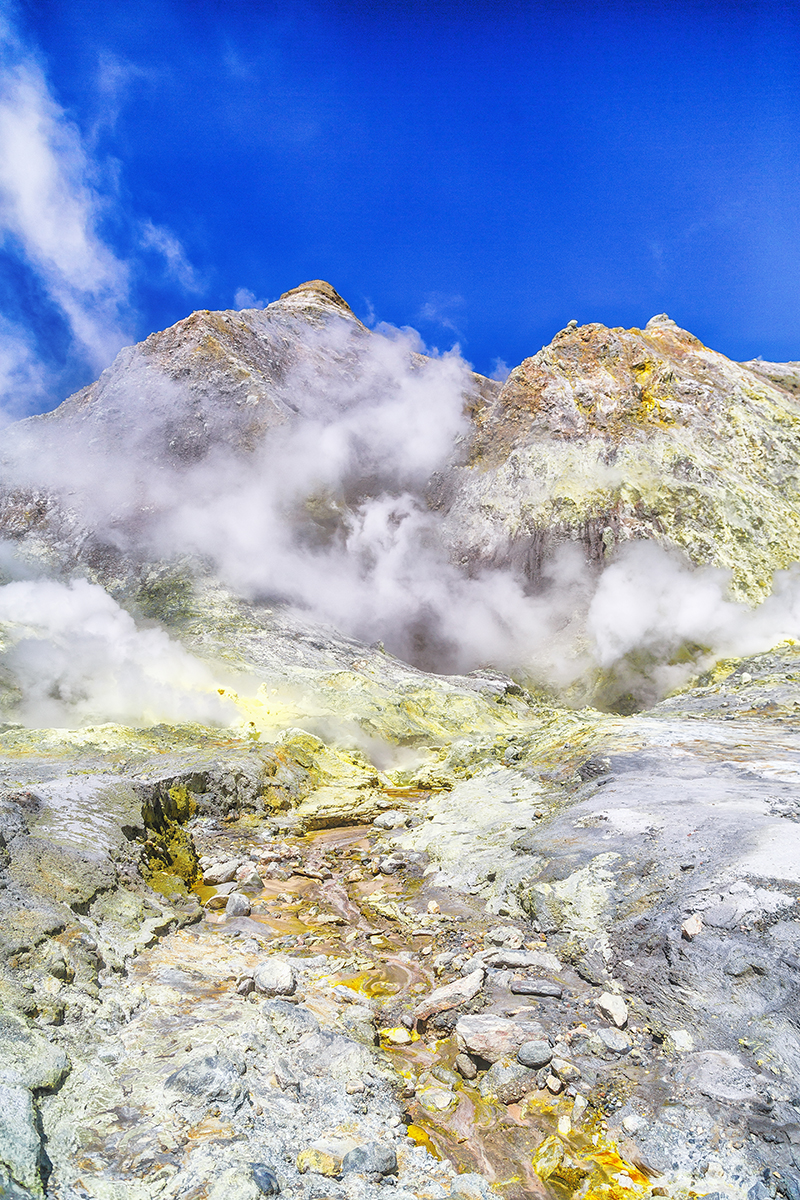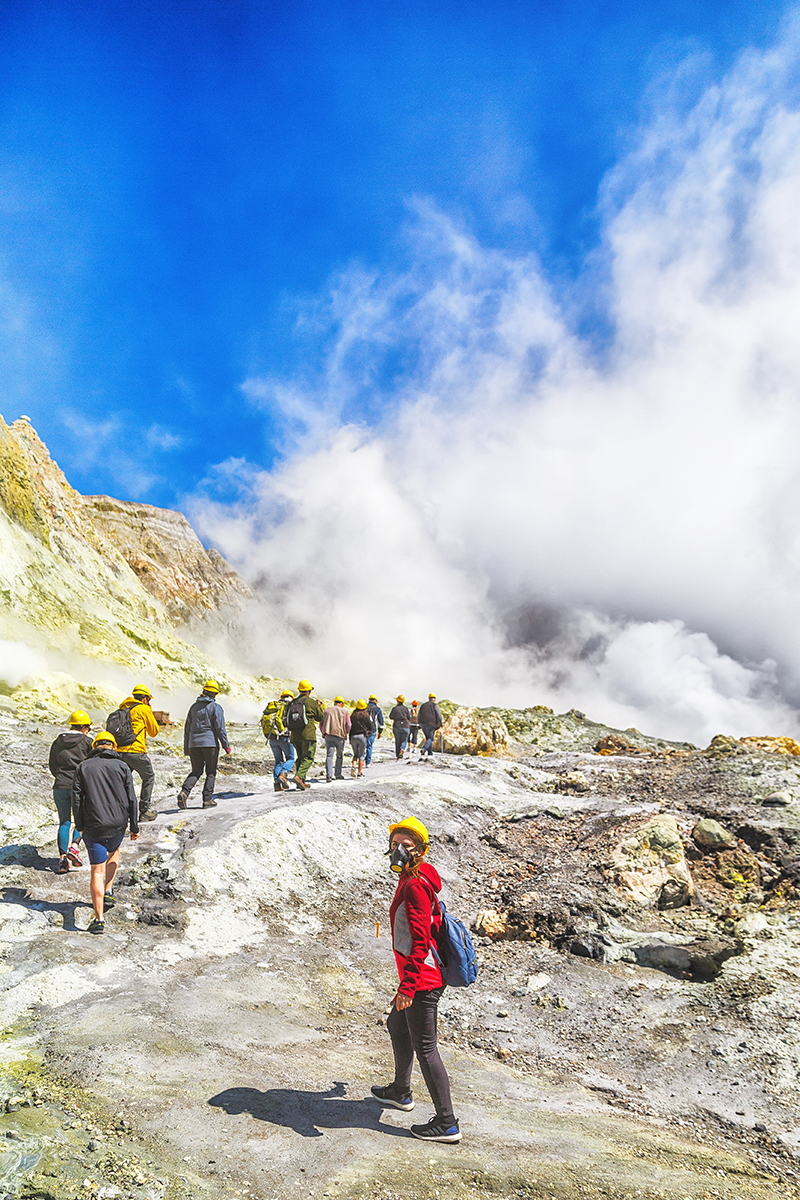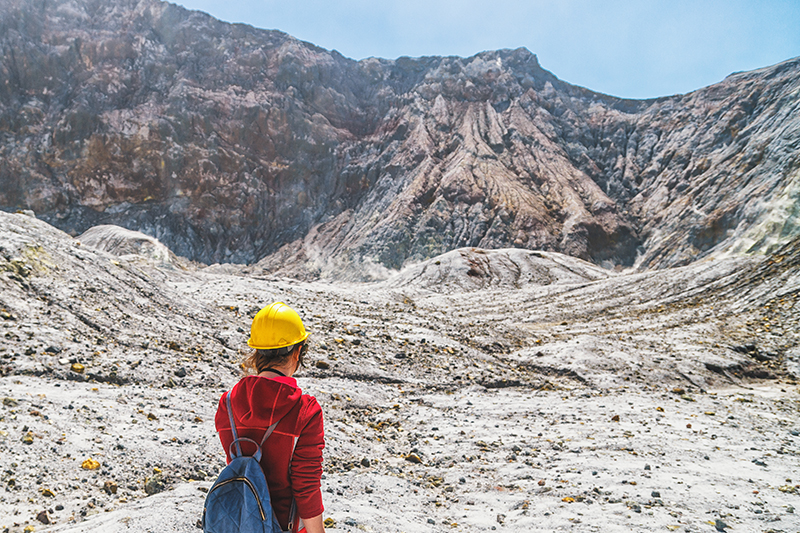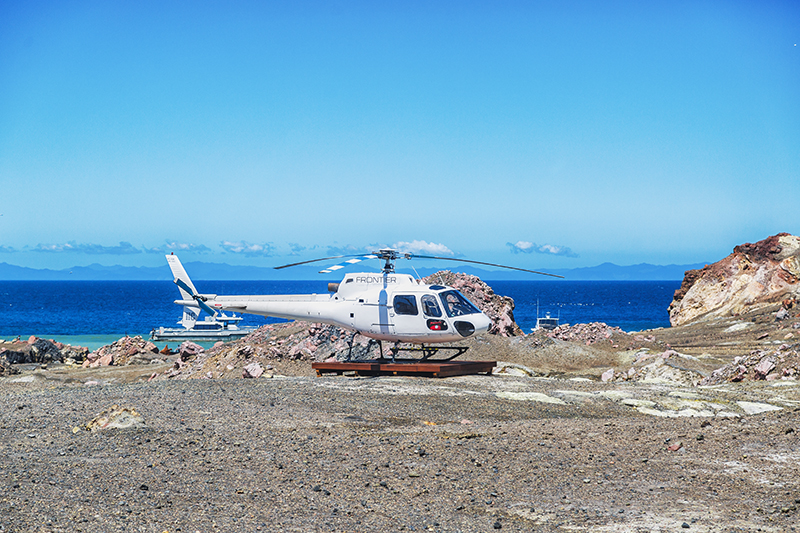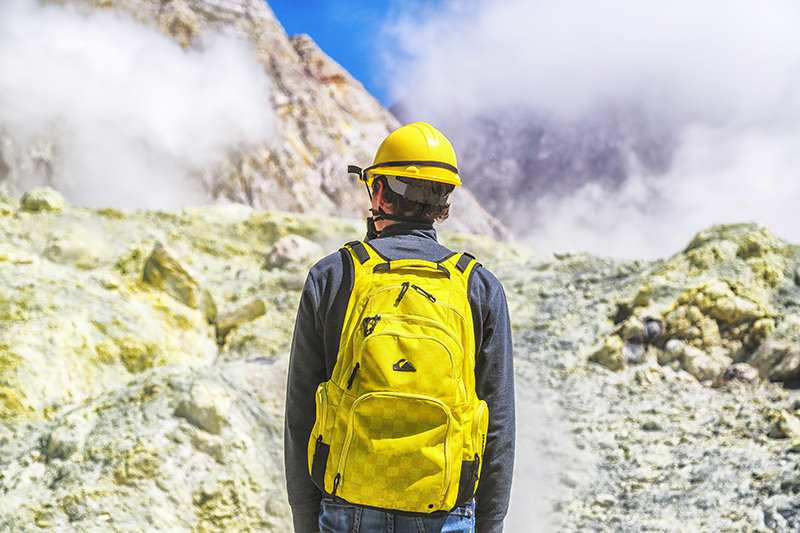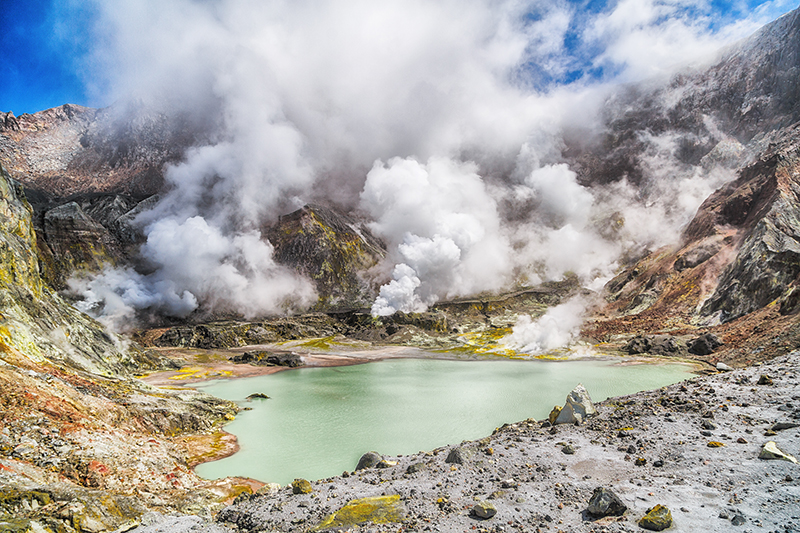 Pin this post: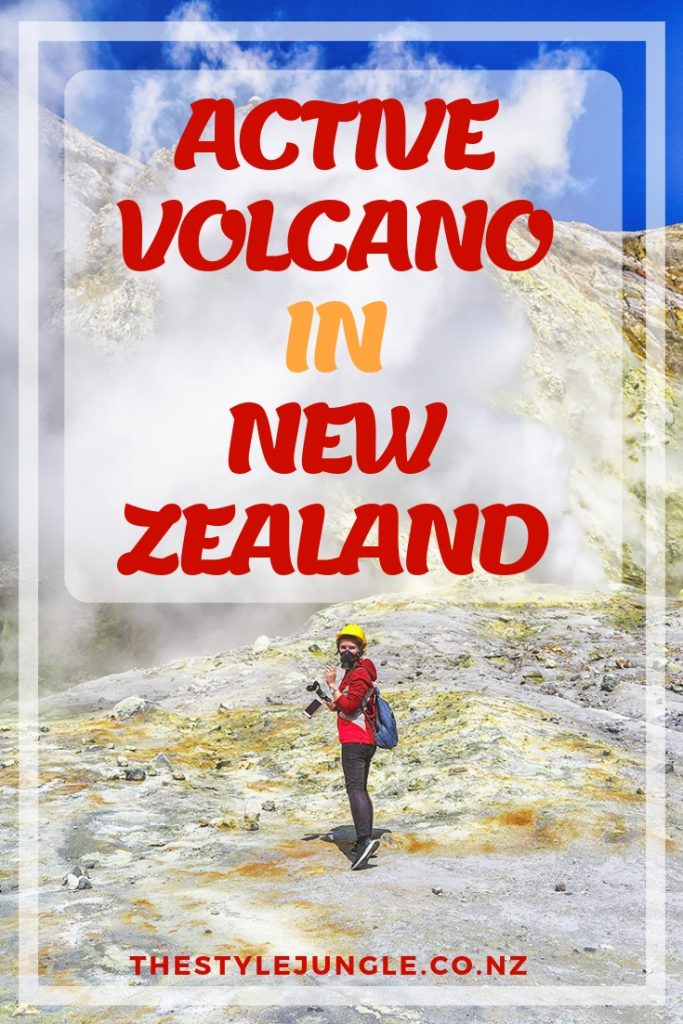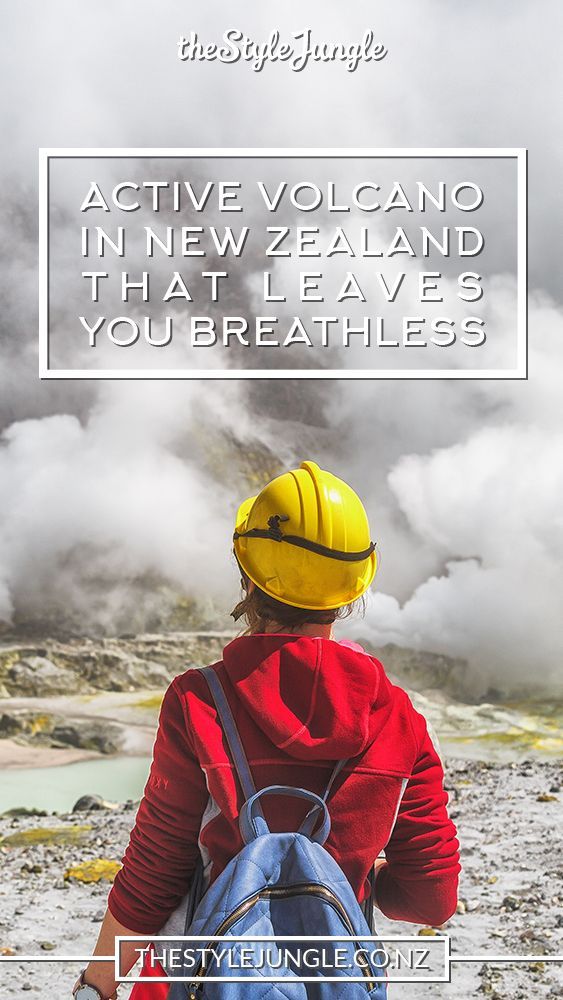 =====
Many-many thanks to White Island Tours and Bay of Plenty Tourism Board for this amazing experience.