Dhigali was our fifth (and last) resort of the big Maldives trip back in November. And Gosh, I prayed it to become that superb, unbeatable icing on the cake of the exceptional time in paradise. Unlike all the previous resorts, I knew almost nothing about Dhigali up to the time we arrived. Back then it was only functioning for four months – not surprisingly, there weren't many reviews online! But that was also what intrigued me the most. When it comes to hotels and resorts, I'm a huge fan of everything modern and progressive, so seeing "the newest Maldives" straight after spending several days on the oldest Maldivian resort, was exciting.
Dhigali is located in the Raa Atoll, which makes it one of the most remote from Male hotels in Maldives. After a 20-minutes domestic flight we arrived to Dharavandhoo airport and had to take a speedboat for another 70-minuts ride. But don't let the distance scary you! Actually, there is nothing like a long trip to your resort in Maldives! The excitement of getting to the beautiful island lost in the Indian ocean only gets bigger with every resort and local island you leave behind, going deeper and deeper into the unknown. And should I even mention how comfortable are the speedboats?
I fell in love with Dhigali as soon as its huge palm trees and contemporary white villas with flat roofs (very unusual for this country!) appeared at the horizon. The harmony of green, white and blue colours, sparkling in the hot Maldivian sun, reflects the name of the resort perfectly. "Dhigali" in local language means "Long light". And this island is truly a celebration of the beautiful gleaming lights!
After meeting the team of the resort, we went to the reception – airy, spacious building, made of bright concrete with sand floors. Yes, we can walk barefooted here! By that time we already knew – we would love our stay at the resort, if we are allowed to walk barefooted everywhere:) There is something special about Maldivian unofficial motto "No shoes, no news". Resorts ignoring it, loose those unique vibes of an island life we were seeking during our holiday.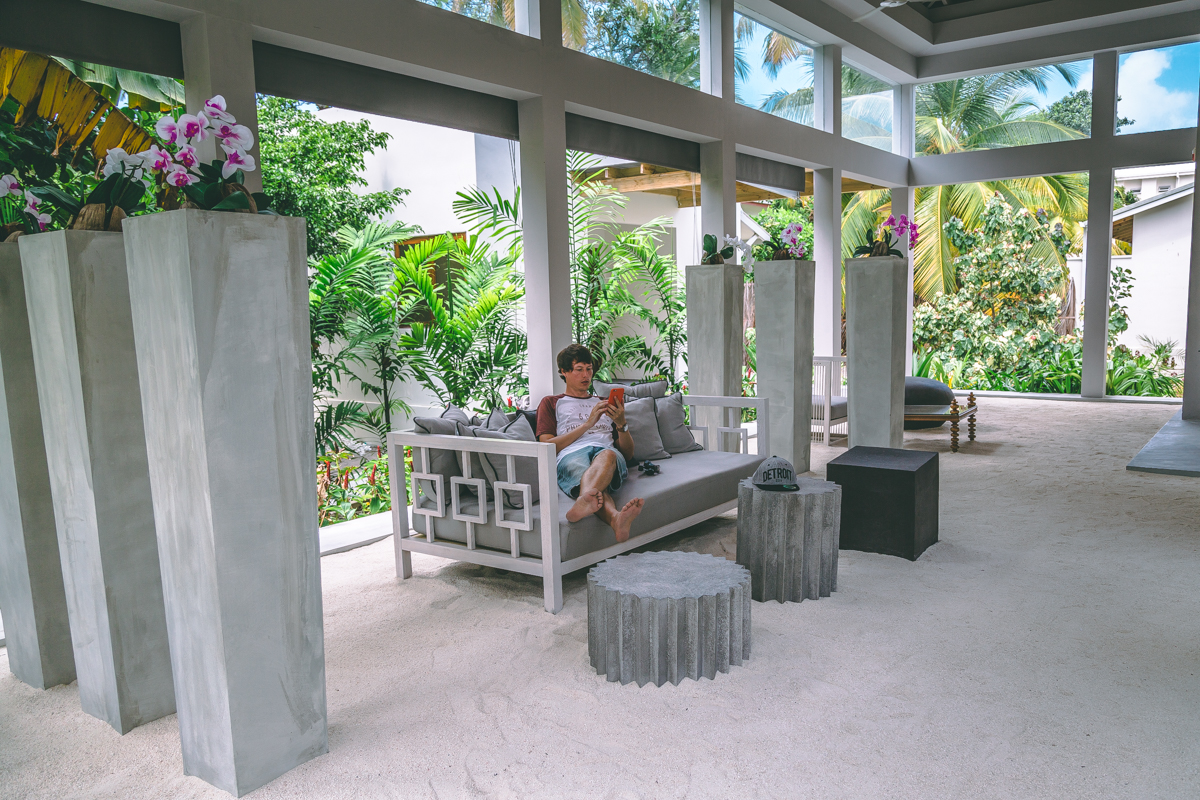 Alex relaxing at the reception
Later we have also learned that Dhigali is probably the most environmentally conscious resort we've been to. While building it, developers did their best to keep the vegetation of the island untouched. That's why villas and restaurants are built along the shore, around the giant Alexandrian laurel trees, Sea hibiscus, Indian almond trees, coconut palms and other native trees growing inside the island. While many Maldivian islands-turned-resorts are being completely leveled and than planted from scratch, in Dhigali 70% of the original forest is left exactly as it was before people arrived. And the plan is to keep it like that forever!
Remote, relaxed, modern, respectful to nature… We were looking forward to explore this place in the next three days!
WHAT WE LOVED AT DHIGALI MALDIVES
Friendly atmosphere. Don't get us wrong, friendly and welcoming staff is a must for any Maldivian resort. They make you feel like at home (well, a luxurious version of your home) from the very first seconds: always smiley, helpful, chatty. A day later – and they know all your habits and you know their daily schedule and favourite spots around the island.
But in Dhigali this family atmosphere is elevated to a whole new level. We really loved the fact that guys, who work there, are wearing jeans or shorts instead of being dressed in a uniform head to toe. They make jokes and truly enjoy their time. On our way back from a local island, for example, they noticed a beautiful sunset, turned a boat for a perfect angle, climbed up the roof with us and started taking pictures! Epic moment.
I will never forget that cocktail party for guests and staff we were lucky to attend on a day of our arrival. Once a week they serve cocktails and appetisers by the pool, so that you get to know people working at the resort better, while sipping on delish drinks and chatting to managers. The atmosphere was magical! Huge pool lit by the tiny lights hiding under the water, glowing stars above, warm wind and music.
Flexibility. "Dhigali is all about choices," says Melissa Naude, PR & Marketing executive upon our arrival. So instead of printing out our schedule, they let us decide what and when do we want to do in the next three days. And this attitude is seen everywhere: restaurants here don't have particular closing times, because it's up to guests at what time do they want to eat; scheduled free and paid activities can always be moved to another time or changed; food can be cooked according to your preferences; and housekeepers are cleaning your room at the time convenient for you, not just following some standard schedules. Isn't it something you expect from a Maldivian vacation?
The harmony of architecture and nature. I have already mentioned that traditional thatched bungalows were rejected at Dhigali in favour of ultra-modern contemporary design. Dominating white with the pops of bright colours in cushions, blooming plants and ponds, high ceilings, lots of open spaces and panoramic windows allow the breeze and beautiful light wander freely around the resort. Wherever you're in Dhigali – you always feel like being outside.
There are eight different types of villas here. And what a futuristic design is hiding inside those huge white boxes! Sloping, smooth lines, neutral colours with occasional bright splashes, big mirrors, lots of space, obligatory outdoor bathtub surrounded by native plants (we even had banana branch!).
We were lucky to live in two different types: beach villa and lagoon villa with the pool. And we can't fail to mention the exceptional privacy of both categories! Though you share the beach with other guests, your terrace is tucked away in lush green bushes, allowing you to sunbathe or relax in quiet, peaceful environment. And a fence of the lagoon villa stretches far out into the water, so you're not disturbed by the others while swimming in the pool or the ocean.
But a true masterpiece of Dhigali's architecture awaits at Haali bar. Translated as "Bird's nest", this two-storey bar is located on a small sandbank and is a perfect place to admire gorgeous sunsets. You can swing by the bar, flop onto a beanbag outside or occupy VIP spots on the second floor. Either way, it's going to be a perfect evening! Especially when all non-alcoholic cocktails are around 10 USD only.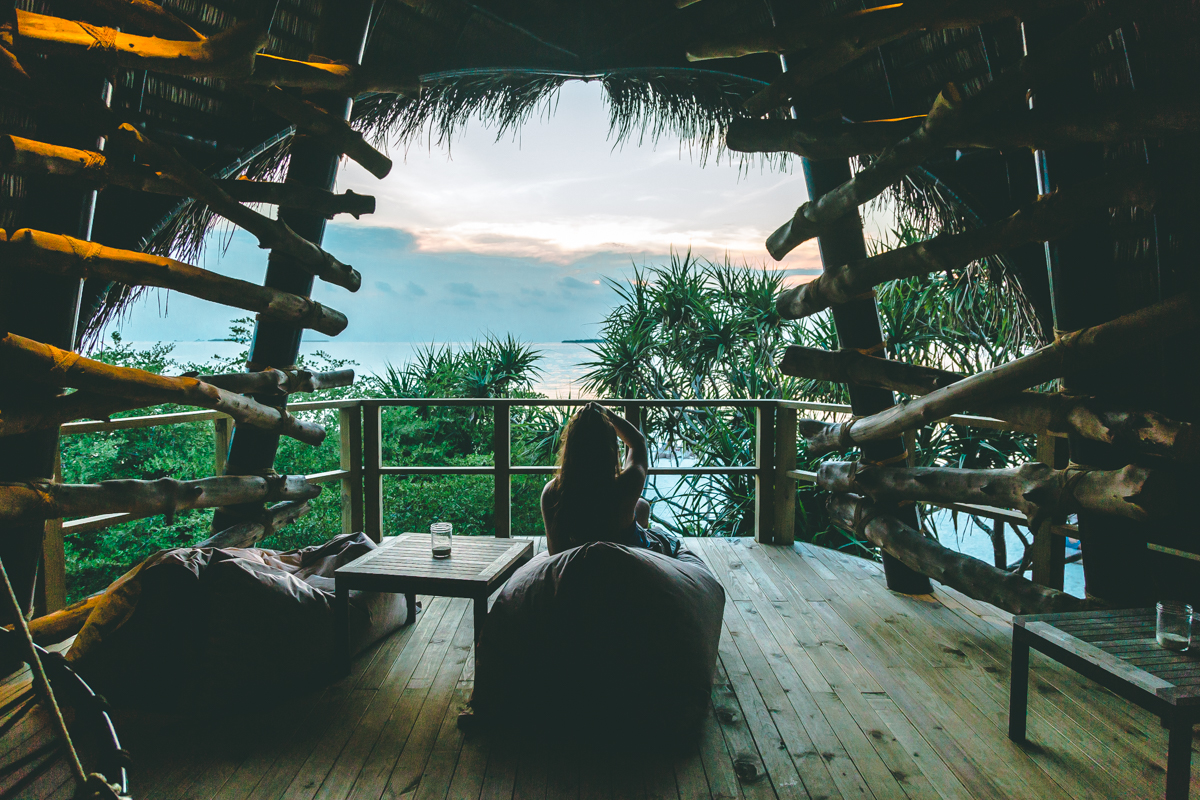 Giant cappuccinos. What? That's really important! Because there is nothing like a long and lazy breakfast, when you don't have to disturb your waiter every time you need a refill. These cups can easily fit in a good soup portion. And I couldn't be happier!
TOP ACTIVITIES WE TRIED AT DHIGALI MALDIVES
I have to admit, I'm one of those many people who used to think of Maldives as of spectacular, but pretty boring holiday destination. And now I can happily admit – I was wrong. There are so many things to do on these tiny islands, you need an entire life to try them all!
Knowing there might never be a second chance, we decided to explore as much as possible at Dhigali. And their intense weekly programme was really helpful. Maldivian style fishing, dolphin cruise, sunset champagne cruise, cast away inhabitant sandbank picnic, local island hopping, jetski fun ride, banana boat ride, wakeboard lessons, glass bottom kayak to name a few… And I didn't even yet mention complimentary activities like sunrise yoga, painting, boot camp, jungle walk, pool exercises! So what experiences did we enjoy the most?
4. Glass bottom boat. For 43 USD per hour you can rent a completely transparent boat and swim around the main jetty and all the way down to the lagoon villas. Boat was surprisingly easy to sail (even though Alex was mostly doing nothing at the back, being too busy taking pictures) and it's a very special feeling! And we were lucky to spot a stingray. But to be honest I expected a way clearer view through the kayak! In reality, sun reflections and water drops leave almost no chances to watch the fish life through the bottom of the boat…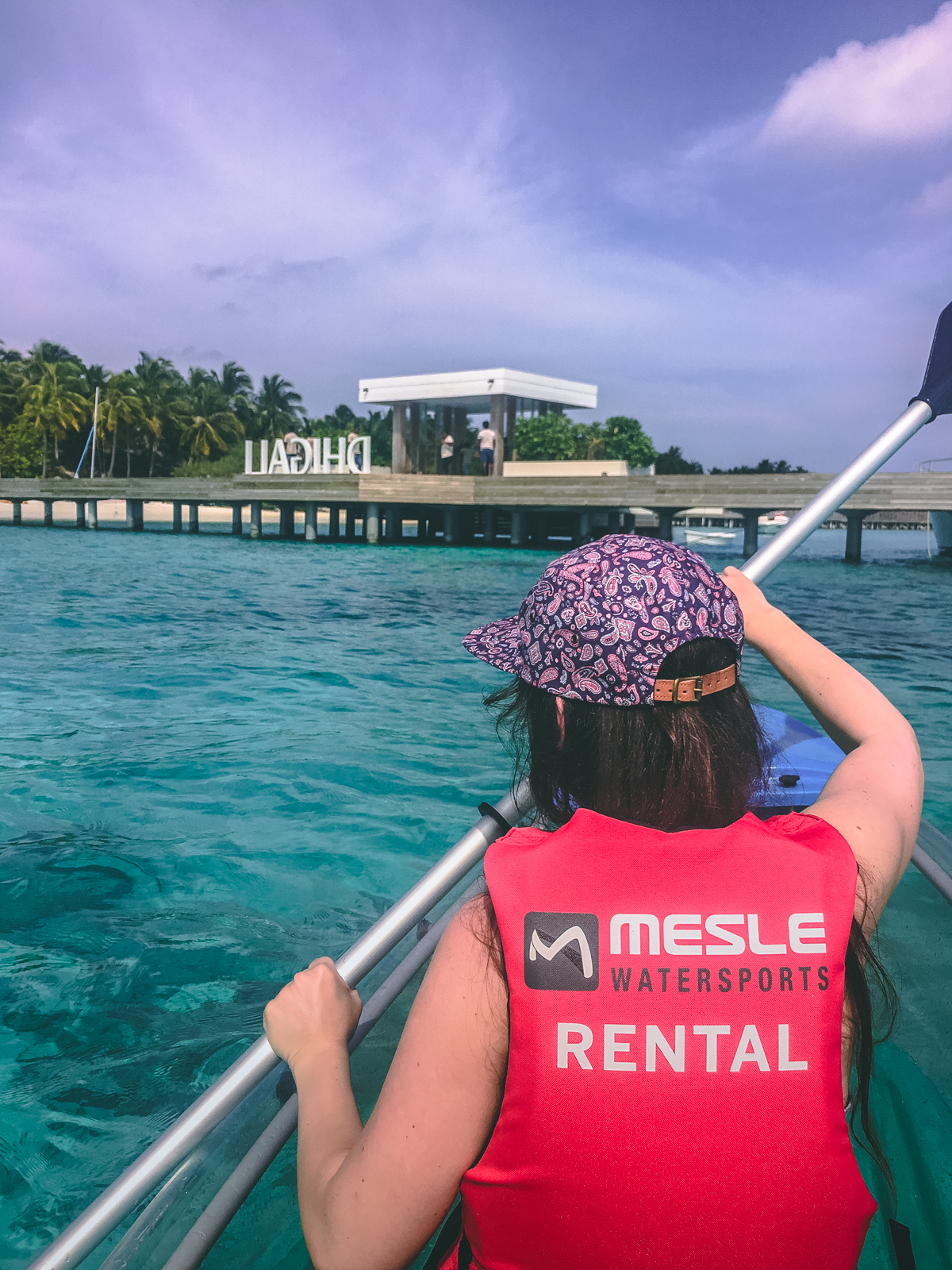 3. Sunrise yoga. One of the complimentary activities, sunrise yoga takes place at Dhigali main pool every Tuesday, Thursday and Sunday at 6 am (followed by a sunset yoga at 6 pm on the same days). As a huge fan of early morning workouts I couldn't miss on this opportunity and it was magical. One of the most spectacular sunsets in my life and a private yoga session. Even though it's free for all guests, I was the only one for half of the class, with only one more lady joining me later. We didn't do anything special, just the basic poses and breathing exercises, but Gosh, how awesome, how fulfilling it was to do that in Maldives, on a jetty surrounded by the crystal clear turquoise water, white sand and sounds of nature. I was jumping with joy on my way back to our villa!
2. Snorkeling. Diving and snorkeling in Maldives is awesome regardless the place. But Dhigali is definitely one of the best places. The distinctive feature of this island is the closeness of the reef's edge. As we have discovered, from under water Maldivian islands look like giant mushrooms with the cap being an island itself (imagine diving here!), that's why there's always an edge, where relatively shallow bottom falls away sharply 10 or more meters down. And that is the best place to spot all the diversity of the local fishes, turtles, sharks and other underwater creatures. So, in Dhigali this place is very close to the beach, which means you don't have to swim too far away to witness the pure beauty of the Indian ocean. Very convenient! And it also means some curious exotic fishes often swim along the beach, where you don't even have to wear snorkeling gear to see them! That's how we noticed funny transparent fishes right by our villa. Captivated by their courage and cheerfulness, we hurried up to rent snorkeling gear. By the way, it's free for all guests! You should only pay for renting an underwater camera, if you need one. For example, 4 hours GoPro rent cost us 35 USD.
1. Visiting local island. That was hands down the best tour we had during an entire trip! I was really keen to learn more about local life outside luxurious resorts and luckily "Local Island Hopping" (100 USD) was one of the activities at Dhigali.
Normally they take you on a three hours tour around two local islands, but to have this tour running they need at least four people. That week Alex and I were the only volunteers, and that was the moment when the flexibility of Dhigali was revealed at its fullest. They gave as a phone call a day before saying there is no one else wanting to join, but they will do everything to organize this tour for us and at convenient for us time.
As a result, we had a chance to privately explore wonderful local island Meedhoo with a local guide, who explained us a lot about local rules, laws, schoold, hospitals and religion. He also showed us the only coral stone mosque remaining, that is believed to be 300 years old. Unbelievable! After an interesting tour we were treated to local snacks. Add beautiful sunset with unexpected funny photoshoot at the rooftop of our speedboat on the way back, that I have already mentioned, and here it is, the best experience ever!
Our stay at Dhigali resort in Maldives was definitely a time to remember. Even now, three months later, I can't stop smiling reviving the memories of beautiful sunsets, relaxing swims, unique activities, endless chats with staff, delicious food, mesmerising views and architecture. That is truly the place that has everything for your first-class Maldivian holiday!
Learn more about Dhigali Maldives: dhigali.com
Follow Dhigali Maldives on Instagram: @dhigalimaldives
Book your Maldivian adventures right now
Our vlogs from Dhigali Maldives
Epic photos of the epic holidays at Dhigali Maldives