Unless you'd spent the last decade hiding in the bush with no Wi-Fi or TV, you must've already discovered the power of good contouring. This Yin and Yang of any makeup – from professional stage coverage to an amateur high school efforts to wow that guy – took the world by storm and completely changed the way we assess beauty.
No matter how long we've been practicing it, contouring is bloody damn hard. To be honest, on sleepy cold mornings, the necessity to sacrifice those priceless 20 minutes of snuggling in a blanket in favour of properly contouring my face still makes me miss the days when eyeshadow and lipstick on bare face were regarded as top of the line efforts. But let's admit it, there's nothing like a perfectly smooth, glowing skin with high cheekbones and highlighted tip of the nose – no one will ever dare to mess up with this sophisticated confident babe. Girl, you win the day before you even leave the house!
Luckily for us, beauty brands are reaching for the starts to make the process as simple as possible even for all thumbs like myself. There are tons of different contouring and sculpturing kits on the market these days. The only question is – which one to choose? While strolling through the rows and rows of my personal paradise at Mecca Maxima Bayfair the other day, I might've finally discovered the perfect contouring palette! Please, welcome Urban Decay Naked Skin Shapeshifter!
In a new episode of my 'Talk to me' series, where I chat to beauty products (not creepy at all), I decided to have a conversation with this masterpiece of a contouring palette.
To say the least! Nine colours – four powders and five creams. All your contouring, highlighting and colour-correcting needs covered! Not to mention two mirrors in the middle.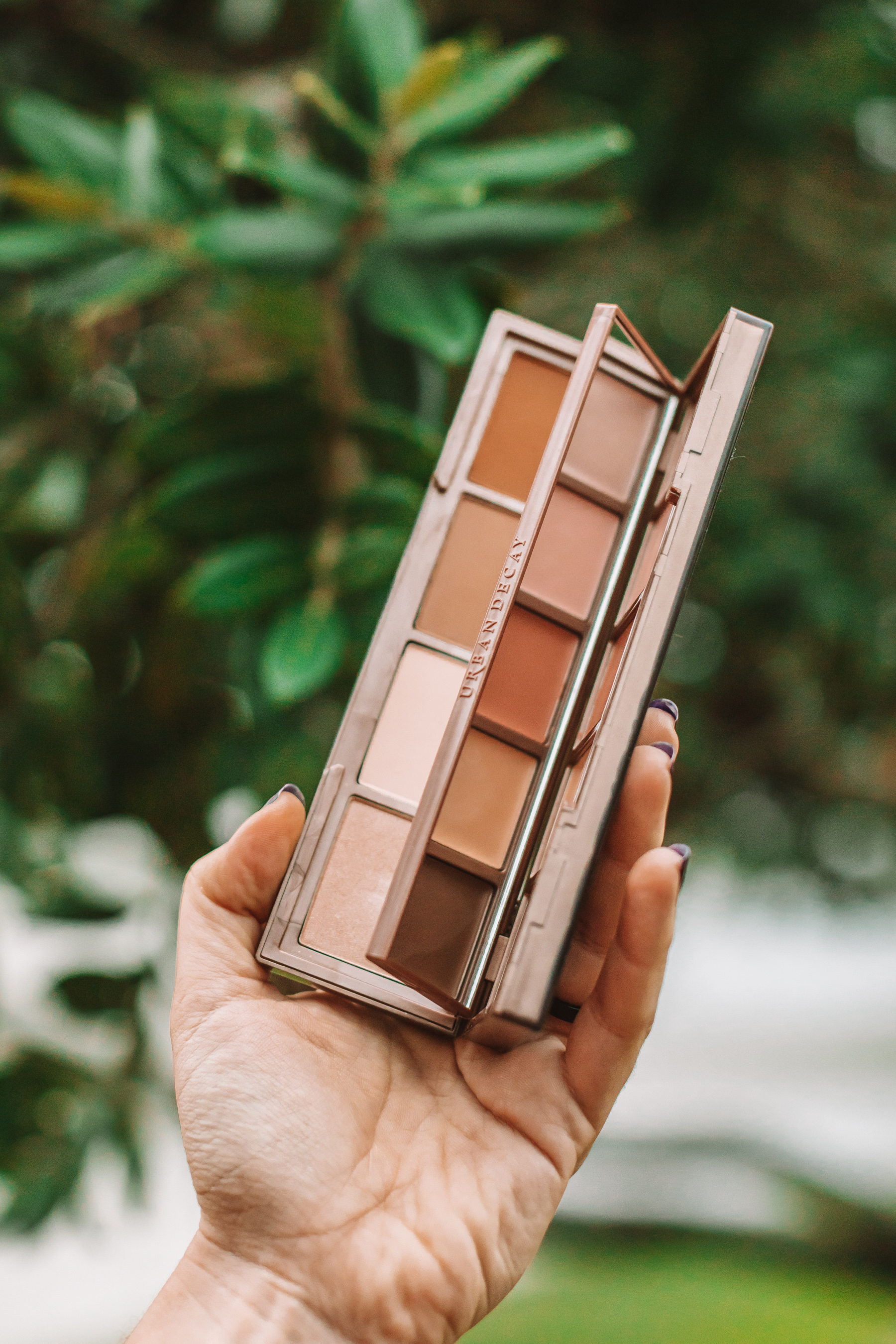 But does it really make sense? I thought, people prefer EITHER powders OR creams, not all at once.
Well, if everyone does something, it doesn't necessarily mean they are right. In fact, creamy and powdered products make a perfect combo. You can use cream contour first and tap a bit of powder on top to make it last longer. Or use creamy contour on your cheekbones and powdered highlighter around the eyes – skin here doesn't always behave and makeup products happily settle into every single crease and fine line they can find. This outcome is way less likely with powders! Creams and powders also have different intensity – creams are more natural, as if it's really just a tone of your skin, whereas powders give you a more matte and defined finish (think red carpet looks!) 
Does your skin type matter in this case?
It's not set in stone but generally, powders are recommended for oily skin type and cream-based products work better on dry or normal skin. The latter is also a better choice for mature skin, powders tend to accentuate fine lines. But you should remember, that in case with contouring palettes like Naked Skin Shapeshifter, the rule doesn't always work because we're not talking about using these products on bare skin. Creams are normally applied on foundation, and powders – on, well, powder. So, it's two different stages of your makeup. The more important rule to remember is 'wet is to wet and dry is to dry'!
Isn't it too much? Will my makeup still look natural?
Both 'Light Medium shift', that you have, and 'Medium Dark shift' palettes are highly pigmented indeed but creams are super easy to blend and with powders, you can begin with applying a thin layer and keep on adding the product til' you reach the desired intensity. Try it once and you'll see how convenient it is!
We keep on talking about contouring and highlighting. I realise it's your main goal but what about the colour-correcting tones?
Yes, of course. They were designed to mask blue undertones, also known as 'dark circles', in the eye area. I might be called 'triple-purpose' but I'm actually so much more! Just be creative and mix and match colours to receive a perfect concealer, blush, powder or bronzer as well. Shapeshifter is basically your travel makeup kit, combining all you need in one palette.
Pin this post: