Experiences like watching native birds having fun in the bush or feeding alpacas in the morning are elevating every trip to a whole new level. It's something you then cherish forever. New Zealand boasts places where you can get up close and personal with birds and animals and here are our favourite locations and secret spots for that.
North Island of New Zealand itinerary for wild life lovers
North Island of New Zealand is amazing for snorkeling and bird watching. Softer, warmer climate attracts many colourful birds to local bushes and beaches and also creates wonderful conditions for fish. In some places, you can even spot tropical fish, sea turtles and other amazing creatures you would mostly expect to see somewhere in the Maldives, rather than in New Zealand. Of course, there are also orcas, dolphins, seals and penguins you can see on the North Island at the particular months of the year but in my opinion, South Island is a much better place for those on a mission to meet them. So where are the best places on the North Island of New Zealand to get up close and personal with birds and animals?
Poor Knights Islands in Northland
Rated as one of top-10 diving spots in the world by Jacques Cousteau, Poor Knights Islands is the place not to be missed no matter if you dive or not. We don't dive, for example, so we did a snorkeling tour with Dive!Tutukaka and it was such an incredible experience, oh my God! Everything from the rich underwater life with literally millions of fishes, stingrays and other beautiful creatures to activities like SUP-surfing and kayaking and even delicious fresh lunch that they provide on board, was extraordinary good. The tour is called 'Perfect Day' and is $219 pp.
But why Poor Knights? The warm current from Tasman sea keeps the water temperature here a bit higher than at the mainland, attracting an abundance of fish and some tropical guests. They're ALWAYS there and all you need to do is just jump into the water and look around. I have never seen so many fishes in one place! Warmer water also improves visibility, so even without diving you can see deep down and far around and just soak in all the incredible underwater life we don't get to see too often. It's so gorgeous and tranquil, after a few minutes of quietly swimming around you feel absolutely whole, connected with Mother Earth on a different level.
Kiwi North in Northland
It's quite hard to define what exactly is Kiwi North: it's a museum, an amusement centre, one of the oldest buildings in Whangarei but also a Kiwi House. And that last one is the reason why Kiwi North made it into this article. The thing is, you will most probably never see kiwi birds in the wild – they are nocturnal and they are very careful so don't patiently wait for you to spot them. And it's not any easier to spot them in special nocturnal houses – they are normally so dark, you can't really distinguish a leaf from a kiwi bird from an insect.
Kiwi North is the only place in New Zealand where we've finally managed to see kiwi bird properly and all thanks to their smart feeding system – every day at 11 am, 1 and 3 pm they give kiwi birds some food at a special spot of the house that is lightened with an artificial Moon. So, it's still proper night for a bird but when it comes out into the 'moonlight' to eat, the visitors get to see it pretty clearly. Kiwi birds here are not kept to entertain us, Kiwi North is only breeding them and waiting for them to become proper grown-ups – strong and independent, capable of surviving in forests that became really dangerous for these species after humans introduced possums, dogs, cats, etc. – before releasing them to live their own life in Whangarei forests. 
Entry price is only $20 and you can also donate a little to help their kiwi programme. Our TSJwear 'Kiwi bird T-shirt' was created after the visit to Kiwi North and features the bird who lived there at that time. We donate 50% of sales from our clothing line to 'Kiwis for Kiwi' trust, so you can donate by purchasing this T-shirt and have a great reminder of your visit.
Despite all the efforts of conservations, sanctuaries and places like Kiwi North, kiwi birds' population in New Zealand is still decreasing. If you want to learn more about them and how we can help these unique birds survive, read our article.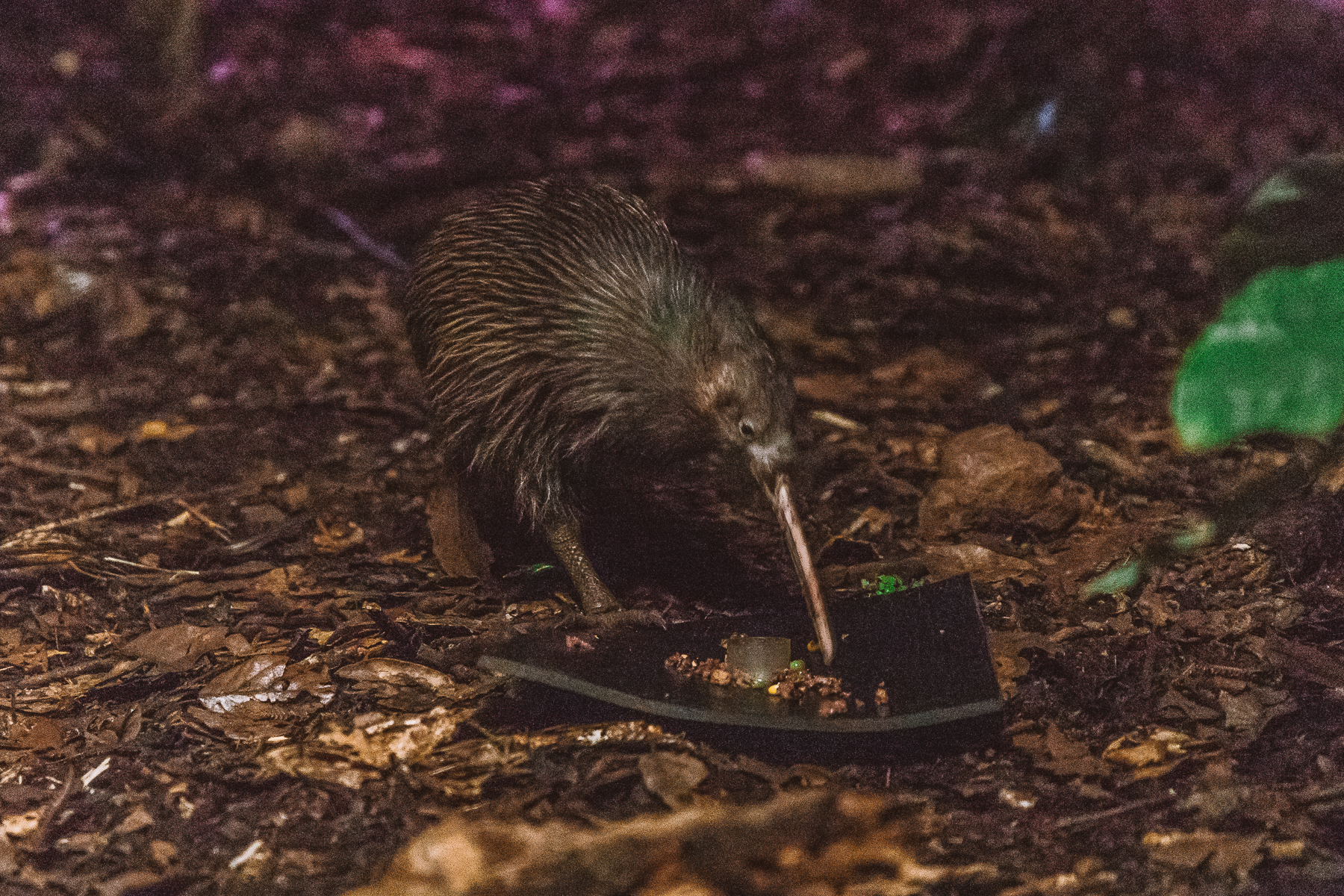 Cape Kidnappers in Hawke's Bay
The largest gannets' colony in New Zealand is not that easy to reach. Perched atop a steep cliff 10 km away from the nearest carpark, with gusty winds blowing all the time and huge waves crushing somewhere far below, it will see you riding a tractor along the shore first and then walking the last km or so uphill. Of course, you can also take a bus all the way up to the colony but where is the fun in it? If you go to Cape Kidnappers, you won't regret booking a tractor tour. We've explored this slice of paradise with Gannets Beach Adventures twice already and would 100% do that again! Of course, avid hikers can also walk there but make sure you plan your trip around the low tide times, have enough water and food with you and prepared to walk that far.
Cape Kidnappers in Hawke's Bay is a great place to visit for many reasons. Not only will you see TWO colonies in one place but it's also such a picturesque coastline, you'll definitely drop quite a few 'WOWs' along the way. If you're on a guided tour, you'll learn a lot about the history of this corner of the world and how the earthquakes and volcano eruptions and other events shaped and changed it within the years.
Sanctuary Mountain Maungatautari in Waikato
Mighty Waikato has a lot of hidden gems and this sanctuary is definitely one of them. No mobile service, no people around and almost no people inside – Maungatautari Mountain is a land ruled entirely by birds. It has the longest pest-proof fence in the world, which allows many endangered species live and breed here safely. If you're lucky to arrive at the right time, when local volunteers bring sugary water to special drinking stations, you'll enjoy the show of kaka parrots jumping and flying around, fighting for their favourite treat and just having a time of their life. You'll also see many other smaller and bigger birds while walking around. They have kiwi birds, hihi, kereru, bellbirds and many others.
Tours start from $33 per person and you can walk around for as long as you want after the tour.
Nevalea Alpacas farm in Taumarunui
Nevalea Alpacas is the largest alpacas farm in New Zealand. Though it's definitely impossible to believe there are over 900 alpacas living here when you just arrive – you simply don't see them all because the farm is so huge and located on the hills, allowing these curious cuties to wander around freely and stay hidden from your eyes if they don't feel like interacting.
It's a family business, with Leonie and Neville personally shearing and taking care after their 900 alpacas and another 200 alpacas around the country. That means, these hardworking people are quite busy, so if you plan a visit – plan it in advance and book your experience online at least a day before. We didn't book in advance, so Leonie and Neville kindly invited us to feed alpacas but there is also an option to take an alpaca on a tour around the farm, cuddle with baby alpacas or even have a picnic with alpacas! Prices start from just $25.
Muriwai beach in Auckland
If you've been following our Instagram account for at least one day, you probably already know we're huge fans of gannets. And while Cape Kidnappers with all its rugged hills, tractors and hiking is the most thrilling experience with gannets you can possibly get, Muriwai beach is the most convenient place for a budget tourist to meet these birds. First of all, you don't pay anything to come here. It's only a short drive from Auckland. And finally, it's just 2-minute easy walk from the carpark to gannet's colony.
Muriwai is a stunning black sand beach, so allocate some time to have a walk around, maybe even have a swim in summer and grab yummy lunch at the local café.  
Ambury farm in Auckland
Another great place to spend some time with animals in Auckland is Ambury farm. It's also free to visit and not only kids but all adults will love it here. Ambury farm is home for many farm animals – cows that you can hug, furry sheep, gracious horses and others. There are a few walking tracks around the farm (some of them are quite long!) and a campground.
Ambury farm is only 15 km drive from Auckland, so expect it to be fairly crowded on weekends or during summer holidays.
---
South Island of New Zealand itinerary for wild life lovers
New Zealand's South Island boasts native birds and wild life. There are still so many secluded, pristine places not spoiled by people, where birds, penguins and other species feel at peace. You can literally come back to your car after lunch and spot kea parrots jumping around. I must admit, there are still so many wonderful spots we haven't seen down there – Dunedin with all its wild life, rare white herons in the Waitangiroto Nature Reserve, all the marine life at crystal clear waters of Abel Tasman… Damn, even our whale-watching tour in Kaikoura was canceled due to bad weather! But here are places that we've checked out already and would 100% recommend.
Wacky Stays glamping in Kaikoura
If you're spending a few days in Kaikoura (which is a MUST! So much to see and do here), you won't find a better location than Wacky Stays. This glamping is full of quirky, weird accommodations like retro-wagon, teepee or train that look rustic from the outside but are very modern and comfortable inside. I mean, our wagon had heated floors and a TV sliding from the floor when you needed it!
But it's not the room that makes this place so outstanding. And not even the views of the mountains (though must admit, there are pretty breathtaking). But all the animals who live on this farm: llamas, alpacas, deer, pony, pigs, chickens and many-many more. Every morning you can come to the main house, where the owners live, and they will give you food to feed animals at no extra cost! If you want the best experience, book retro-wagon – it's tucked at the most secluded corner of the farm, so it's very tranquil there, and it's also the only one to face llamas' territory, so you'll be waking up to them starring through your doors every morning. Surreal! Price for retro-wagon starts from $166 per night for two people.
Kaikoura Peninsula walkway
Though, of course, the best animal encounter you can get in Kaikoura is whale-watching tour or snorkeling with seals, you can enjoy the latter even without leaving terra firma. Drive to the stunning Kaikoura Peninsula walkway and get ready to see as many seals in one place as you can only imagine. Most probably, you'll spot the first few before you even leave the car but should you only walk a bit further along the beach (don't follow the stairs up to the beginning of the walkway, just go along the water) and there will be a whole colony, enjoying the sun and relaxing on warm rocks.
When admiring the seals, make sure you keep a distance (around 20 m ideally, you'll be surprised how fast they can be!), don't make any loud noises and don't ever try to feed them – they have enough healthy food in the water!
Dolphin safari in Akaroa
There is this joke between me and Alex that dolphins are fictional creatures. No matter where and when we try to spot them – in the Bay of Islands or in the Maldives (multiple times) – we never see them! Even when the chance to see dolphins is 99,9% – we still never see them!
Needless to say, Alex was quite skeptical when booking yet another dolphin tour in Akaroa recently. But this time he was extremely lucky! Dolphins were swimming and jumping all around their boat. And he also saw one happy penguin and one very lazy, relaxed seal. Isn't it a perfect combo?
'Akaroa Dolphins' operate all year round and have three daily tours during the high season and one tour in winter. Adult price is $92.
Milford Sound underwater observatory
Visiting this fjord is hands down the most breathtaking experience ever (read more about our trip and things to do before and during the cruise here)! High mountains, super-deep water and waterfalls so tall you can hardly see where they begin. It's not rare to spot seals relaxing around but it's the unique Underwater Observatory that every nature lover would be absolutely blown away by.
Southern Discoveries is the only cruise company that takes you to this incredible place and it only costs an extra $25 to go there. What you get in exchange is a chance to go 10 metres under the water and observe marine life from the safety of this 'reversed aquarium' where fish can come and go as they please and people are contained in a sphere with huge windows and fresh air. From here you can see rare black corals that normally only live at 500 metres depth and many different fishes. Trust me, going literally under the water surface while still staying dry and safe is so weird and unusual, you need to experience that!
---
LIKED THIS POST? PIN IT!