It is always good to have friends. But it's even better to have friends who can give you a car to test-drive. Thanks to the Universe we have friends like that. And these guys from BMW Russia gave us this beautiful and very powerful baby BMW M235i. This car can literally make your life more colourful and positive! And maybe more adventurous and risky as well. So let's dive into the review of this amazing BMW M235i to see what is it about.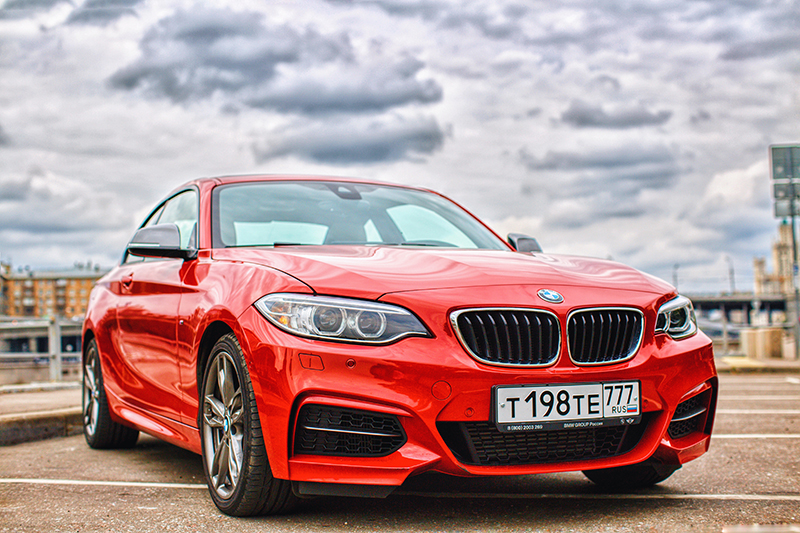 Before leaving Russia and heading to New Zealand we had so many things to do. Pack everything, move stuff from our apartment to parents' place (and even to our country house), to sell our car and at least 100 things more. But how can you manage to do that without a car? And that was the moment when our friends from BMW helped us a lot. They offered this small but very cute car for our last week in Moscow. What can be better than this kind of present before leaving?
If you have already read my review of BMW X4 or my top-10 of our best test-drives you may know about our passion for BMW cars. These German cars are just perfect. The consistency in quality of building cars and the satisfaction from driving every BMW car are just outstanding. It is hard to compare it to anything else. Do I need to mention the fact that cars like M235i are catching all the glares in a traffic flow? I never had so many requests from other people to take a picture or to have a ride. But it's ok because cars like this one deserve a lot of attention.
Maybe lots of people are wondering if BMW M235i is the same as M2. Unfortunately, no. It is still the 2-series but with a powerful 326 hp engine, loud exhaust and M-performance look inside and outside. So it can be called "kinda M2". But I can tell you that it's probably even better than M2. M235i looks really great, drives perfectly, sounds awesome, consumes less fuel and costs cheaper comparing to an actual M2.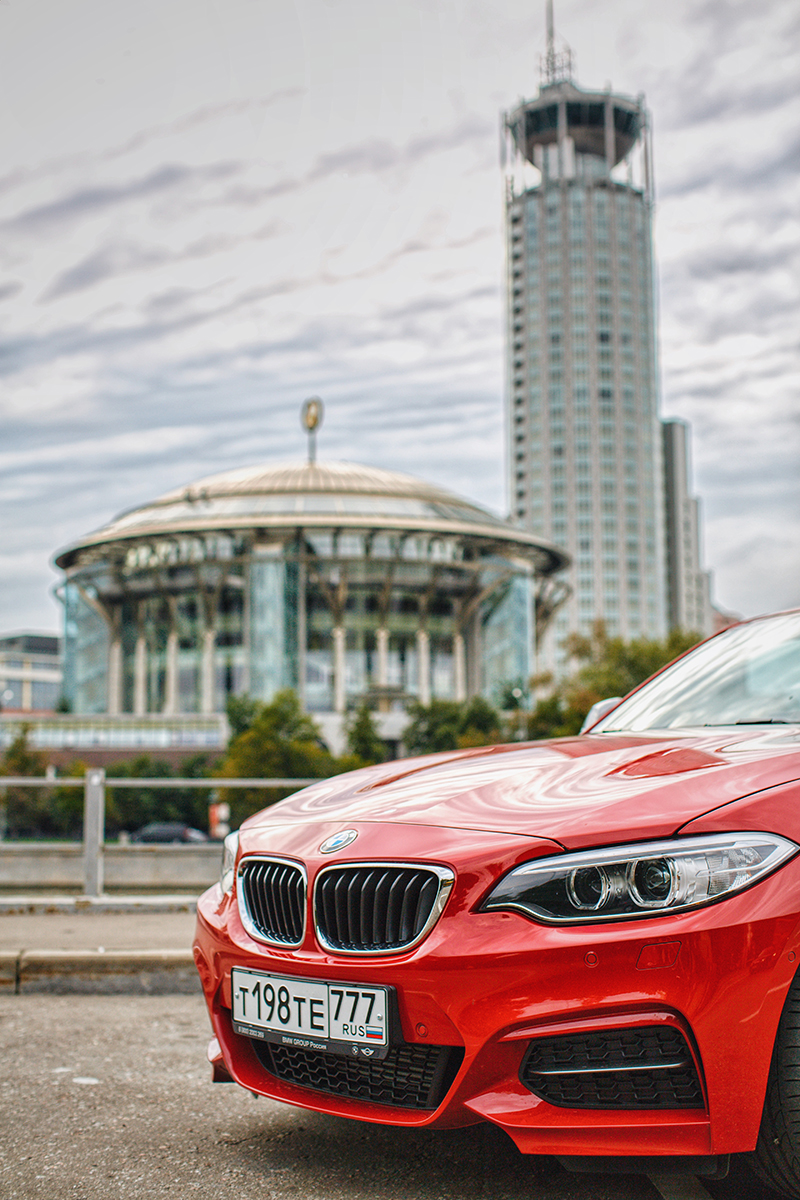 Is this car worth a 3-5 years finance to take? Yes, it definitely is. Every single time you drive BMW M235i, you feel happy like a kid. This car is a toy for grown-ups. Of course, this is not a family-type car, it is for young people who want to feel adrenaline from every ride. No, I don't mean street racing or drifting or whatever. I'm talking about feelings when taking off from a traffic light or when you make manoeuvres on a road. Or when you enjoy fast driving outside the city. But because of the power you should be aware of fines, this car accelerates to 100 km/h in 4.6 seconds.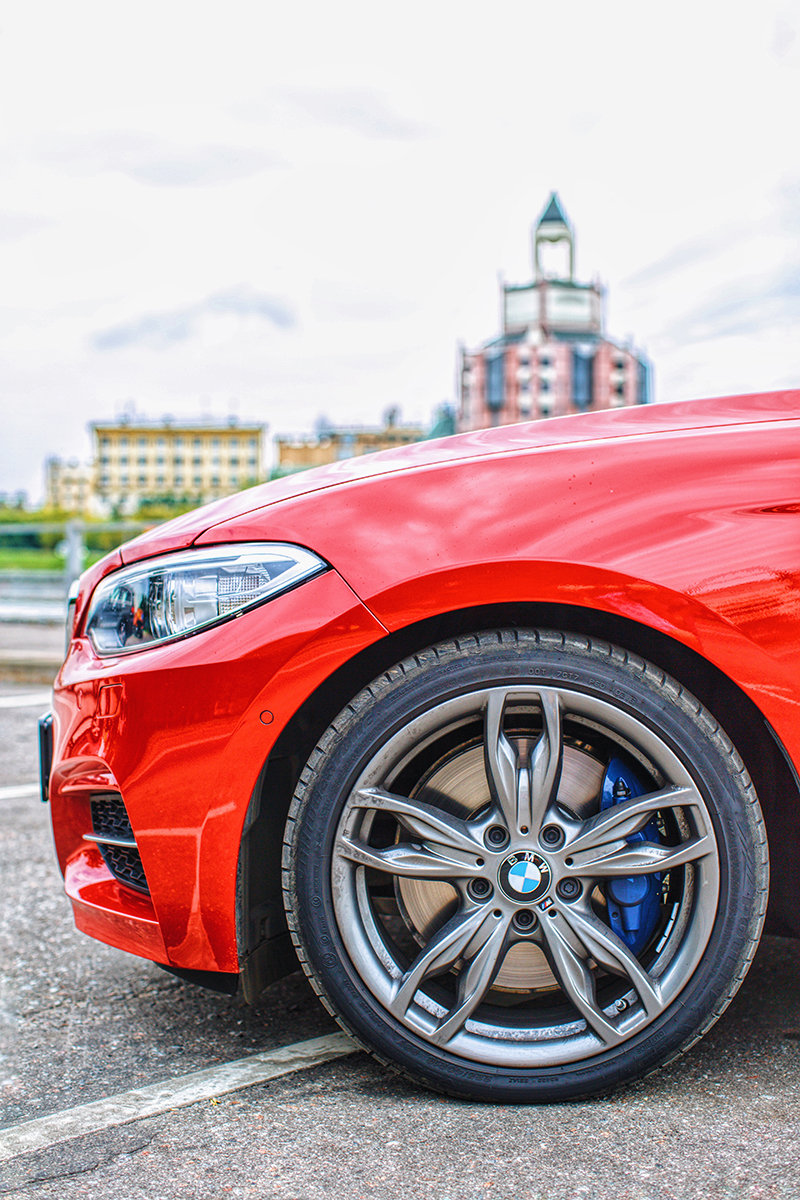 Obviously, BMW M235i is not a racing car. But, in my opinion, it is a huge advantage. You don't need to put up with discomfort just to have a powerful car. This car is super comfortable inside. The steering wheel has a racing feeling about it, but it is made from leather or alcantara and has all the control buttons on it. Sport seats are the best! They are so cosy and comfortable that you literally don't want to leave your car. Do you know what I mean? This car is a combination of comfort and racing spirit.
Pin this post: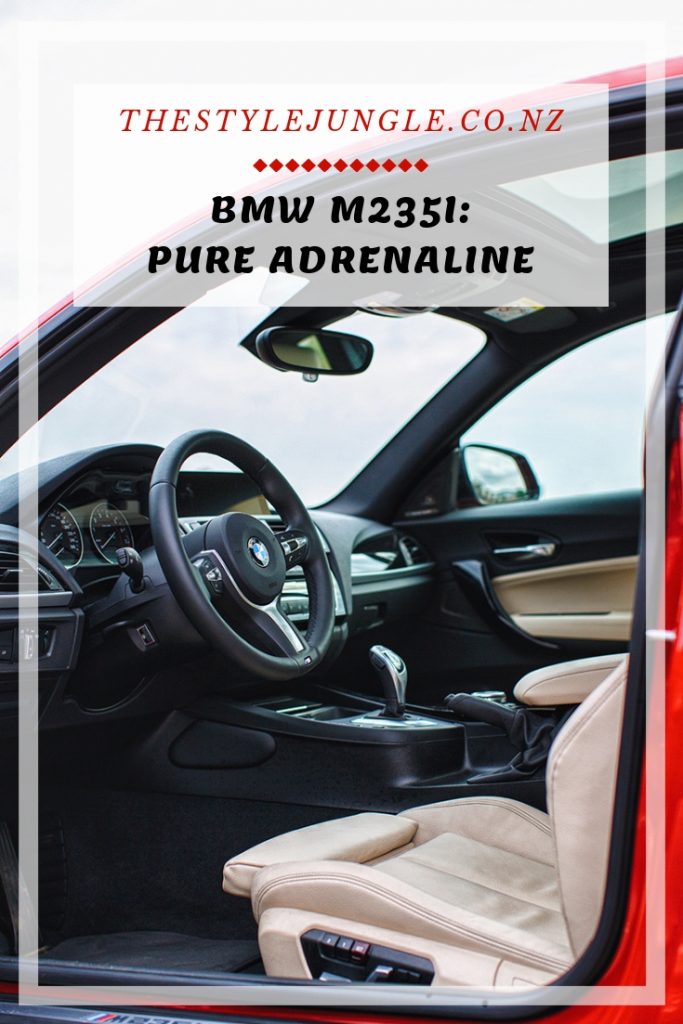 Other things are quite usual for current market but the execution is on the highest level. Active cruise control, rear-view camera, automatic air conditioning, bi-xenon headlights and very good multimedia system with a big screen – these are the options you are getting with your car. And for extra money you can also add an outstanding harman/kordon sound system, adaptive headlights, electric seat adjustment and lumbar support (must have!), glass sunroof, speed limit assistant and parking assistant. Our test car had options worth more than $10 000 NZD. Add it to the starting price of $89 900 NZD and you might as well start thinking about public transportation and cleaner environment instead of buying this car. But it will never be the same fun, right?